Subscription analytics tool is the heart of a SaaS business.
Without analytics tool, your business cannot survive for a long time in this complex business world.
In today's world, every online business needs a perfect subscription analytics tool to get all the financial stats and metrics of your business like MRR, ARR, Net Revenue, Churn Rate, etc.
Knowing all such stats will not only let you understand your business's health more effectively but also help to take a proper cure for the betterment of your business.
That's why I have covered 10+ Best Subscription Analytics Tool by which you can keep an eye on every payment transaction.
Have A Glimpse At Some Best Subscription Analytics Tools
You may also find some services which allow creating multiple subscriptions according to the number of customers. That's a good thing!
To know more features like the above one, you must read out this article & choose the best tool according to your needs!
Go through the following blogs and get to know more about analytics tools –
Let's explore these subscription analytics tools one by one:-
---
Pabbly Subscriptions offers top class Subscription Analytics services at very low cost. It provides a dashboard which is extremely user-friendly which help you monitor total sales, refunds, revenue collected, subscription details, etc.
You also get reports, customers details, track payments of your business using it.
---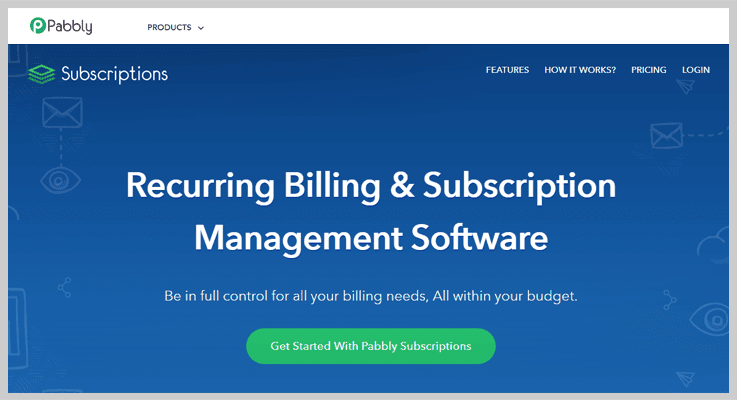 ---
One of the most exciting factors which convinced us to implement Pabbly Subscriptions in our business was.
Before Pabbly Subscriptions, we had to pay $149 to $200 every month separately for Recurring Billing Solution and Payment Analytics Software.
But now we perform both tasks form single software Pabbly Subscriptions and we paid around $5/m for this software.
---
Pricing & Plans
For the novice, this could be a perfect plan that will cost you $5 per month for 50 customers.
It also has a Rookie plan billing only $29/m for 1 to 1,000 customers for whom you can create unlimited subscriptions.
You can also think about its Pro plan which bills $59 on monthly basis for unlimited customers.
If you have a large business needs then you must try its Advance plan charging only $99/m. You will get to use the analytics features for unlimited customers & can also create a custom domain multilingual checkout page.
Characteristics
Pabbly Subscriptions allows you to accept and analyze payments from different gateways and it also supports 25+ currencies to simplify global transactions.
You can perform advanced sales analytics and get inside details about monthly revenue, net revenue from sales, recent subscriptions and more.
Also, you get a complete API framework using which you can easily integrate Pabbly Subscriptions in other SaaS-based applications & software.
Payment Gateways Integration:-
– Stripe
– PayPal
---
2. Baremetrics:-
Baremetrics is the best subscription analytics tool for SaaS business which shows you subscription and financial metrics such as MRR, ARR, LTV, Churn Rate, Net Revenue, Refunds, and much more on a single dashboard.
---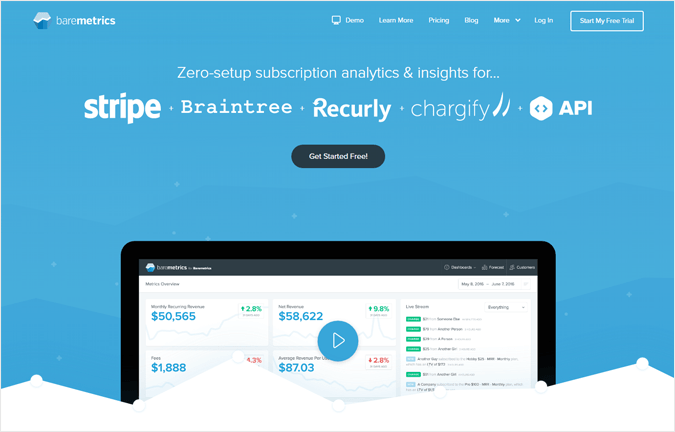 ---
Pricing & Plans
Baremetrics pricing plans are based on your business monthly recurring revenue.
Startup plan starts from $50/month where you can manage up to $10k monthly recurring revenue.
If your business revenue is limited to $50k/month, then the professional plan is best for your business and it costs only $100/month.
For a business plan, you will charge $250/month and manage up to $200k monthly recurring revenue.
If your business monthly recurring revenue up to $500k then you need an enterprise plan that will charge $500/month.
Characteristics
Baremetrics lets you create customer profiles so you will get all the information of customers including customer name, address, his credit card expiry date, upgrades/downgrades, entire transaction history.

Automatically sends daily, weekly & monthly email reports to you and your team, so you are being updated about your business activities.
By using intelligence projection feature, you can forecast your business data like user counts, revenue in both linearly or exponentially format.
Payment Gateways Integration:-
– Stripe
– Braintree
---
3. ChartMogul:-
ChartMogul is an amazing subscription analytics platform which provides deeper insights that enable you to understand the performance of your business.
This subscription analytics tool is the most trustable software which is used by 800+ great companies.
---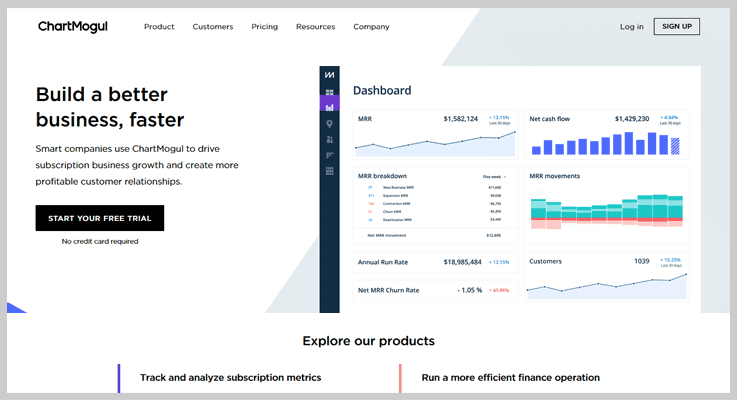 ---
Pricing & Plans
ChartMogul provides three packages Launch, Mogul, Volume.
Launch package limited to $10k MRR and gives you one-click integrations, API access, unlimited data source, cash flow reports and much more in this free plan.
Mogul packages charge $100/month and offer you advanced features such as cohort analysis, filters, custom reports, finance reports etc.
Volume package pricing can be availed by requesting a quote.
Characteristics
This system will give you each and every detail related to your customer transaction which helps you to understand your customer behavior.
Using this software, you can also track gross cash flow, net cash flow, refunds, non-recurring revenue and much more.
Payment Method Support:-
– Stripe
– PayPal
– Braintree
---
4. Grow:-
Grow is an advanced payment analytics tool which shows you all the financial metrics such as MRR, ARR, net revenue, customer retention and churn rate etc so you are able to make the best decision for your business.
---

---
Pricing & Plans
Pricing quotes are available only upon request.
Characteristics
This system sends dashboard snap to you and your team automatically that will keep you updated about your every business activities.
This software has advanced capabilities like data cleanup, pivoting, filtering, grouping etc that will help you to get useful data about what you need to your business.
In just one click, you can see cash balance, churn rate, monthly recurring rate, annually recurring rate, customer retention on a single dash.
Payment Gateway can be Integrated:-
– Stripe
– Authorize.net
---
5. Metricsco:-
Metricsco is a useful software that automatically calculates all the key metrics that you need to simplify your business, this respective software is easy to setup, connect, customize and access.
---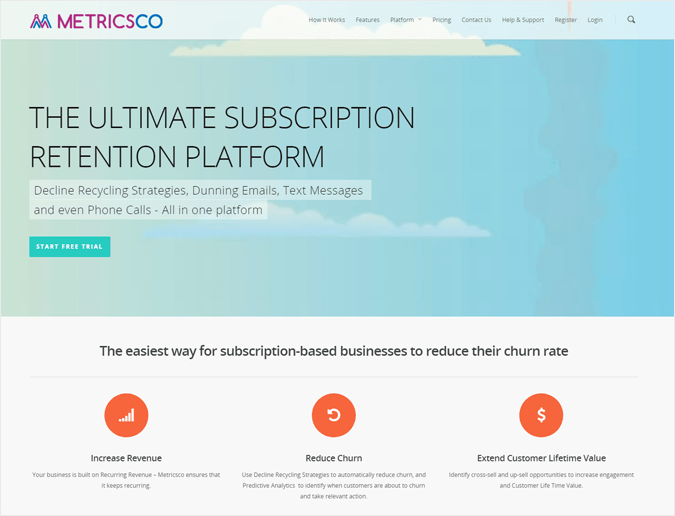 ---
Pricing & Plans
In Metricsco, you'll get 3 different pricing package namely Starter, Professional & Enterprise.
Starter Plan costs $49 which includes 1000 monthly unique subscription, create 10 pricing plans, email support etc.
In the professional plan. you'll get a 10k monthly unique subscription, 50 pricing plans, phone support etc. This plan will charge you $199/month.
Anthe d enterprise plan gives you unlimited pricing plans, profiles, high volume packages and much more, for pricing you'll have to contact them.
This software also provides 30 days free trial.
Characteristics
This system supports all major platforms, from the web to mobile to tablets, so you can manage your business from anywhere, anytime.
It provides a dunning management facility if customer payments fail for any reason, Metricsco automatically sends a message to your customers and let them know about the failed transaction.
Payment Gateway Support:-
– Stripe
– Jetpay
– Braintree
– Paysafe
---
6. Databox:-
Databox is a powerful subscription analytics tool which helps you to retain and grow your business by giving you all the valuable insights like MRR, ARR, Churn rate and much more.
---

---
Pricing & Plans
Databox provides you multiple plans like free, basic, business and custom plan.
Databox comes with a free plan of three data connection, three data users, three databoards plus refresh your data on daily basis.
The basic plan will charge you $49/month and you'll get 10 data connections, 10 databoards and can fetch your data using API.
Business Plan suites for every small and medium-size company. It will charge $249/month and provide 50 data connections, 50 databoards, and 20 users access.
To know custom plan pricing you need to contact them.
Characteristics
This software can be integrated with multiple data sources such as Shopify, Salesforce, Hubspot, Zendesk, Help Scout, GitHub, Mixpanel, and much more.
With this system, you can customize your views by adding metrics and change visualizations at any time.
With the help of drag and drop editor, you can create beautiful KPI dashboard easily and quickly.
Payment Method Support:-
– PayPal
– Stripe
---
7. Woopra:-
Woopra is a real-time data analytics tool which tracks all business activities as well as sends reports on a daily, weekly or monthly basis.
With the help of this software, you will get all the financial and subscription metrics in a few seconds.
---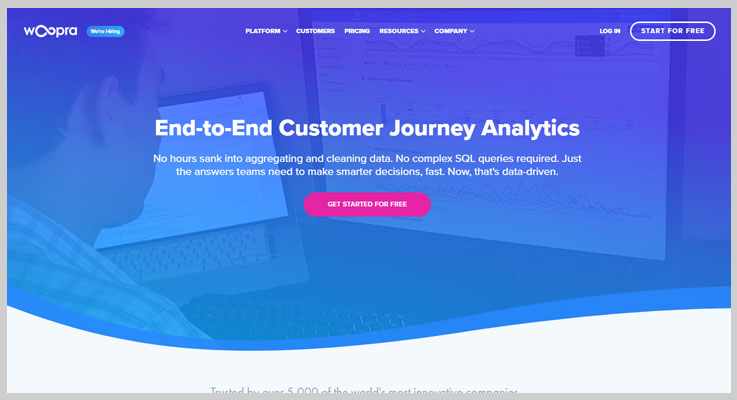 ---
Pricing & Plans
This service provides the number of pricing plans for their customers.
The Core plan allows you to perform 500K actions at no charge.
It has a Pro plan which costs $999/m for 5 million actions on monthly basis & a lot more features.
For more than 50 million actions & advanced features, you have to contact its sales department.
Characteristics
With this Woopra software, you can also predict your business future by using financial metrics or other forecasting methods.
Using this software, you can effortlessly track all important key metrics like MRR, ARR, Churn rate, customer retention and much more.
By this, you can see trends in your data without spending a lot of time and also compare your present values to week, months and even years ago.
Supported only one payment gateway:-
– Stripe
---
8. SaaSOptics:-
SaaSOptics analytics engine gives accurate and real-time insight into a monthly recurring rate, annual recurring rate, churn rate, net revenue etc so you have all the details that you need to understand your business performance.
---
---
Pricing & Plans
The prices of this tool will vary as per your business revenue. To know more, you have to submit your query to SaaSOptics.
Characteristics
It simplifies CLV (customer lifetime value) based on any segment you provide and deliver the analysis that you need to figure out which clients are the most valuable.
Cohort analysis is an incredibly powerful feature by which you can see how churn and retention rate change over time.
Supported only one payment gateway:-
– Stripe
---
9. SaaS Metrics:-
SaaS Metrics is an ultimate subscription analytics tool which gives you valuable insights and metrics through which you will be able to see MRR, ARR, net revenue, funnel, growth rate and much more.
This subscription analytics platform trusted by 100 of awesome subscription based companies all over the world.
---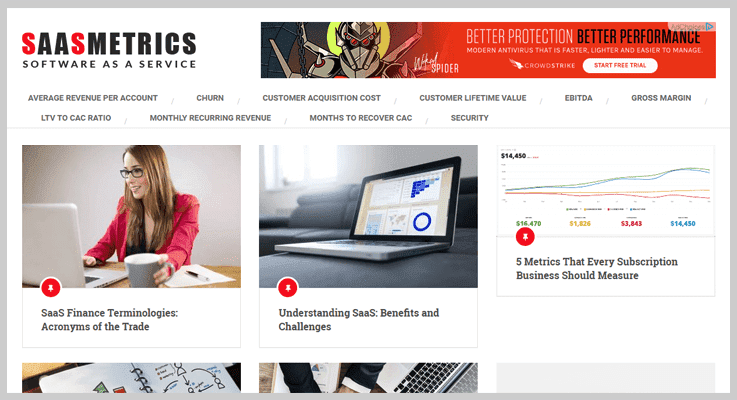 ---
Pricing & Plans
SaaS Metrics offers you multiple plans like personal, start-up, professional, corporate and enterprise.
Personal Plan price $9/month which includes email support, one user access, manage up to fifty customers etc.
Startup plan charges you $39/month which provide email support, unlimited user access and manage up to 500 customers.
Professional plan is the most popular plan, it offers email & phone support, unlimited user access, manage up to 2000 customers etc and will charge $109/month.
For enterprise Plan, you can contact SaaS Metrics sales team.
This subscription analytics tool also provides 30 days free trial.
Characteristics
With this software, you can track your customer entire life cycle events like upgrades, downgrades, and cancellations.
Using this, you can analyze your sales, revenue per plan and understand which plans bring more revenue.
Integrated with only one payment gateway:-
– PayPal
---
10. DataHero:-
DataHero is a cloud-based subscription analytics platform By using this, you can track all the financial metrics like MRR, ARR, Net revenue etc that you need to run a successful online business.
---
---
Pricing & Plans
This software comes with different plans namely free, premium, team, enterprise and all these plans offer you different features.
In the free plan, you can create and share charts, upload CSV files and import data from different services.
Premium Plan costs $99/month which includes unlimited dashboards, customized chart branding, automatically update your chart etc.
Under the team plan, you can share your dashboards, add custom logos, create and administer a team and much more. This plan charges $250/month.
For enterprise and agency plan, you can contact the sales vendor.
Characteristics
With this software, you can easily fetch out data from different sources, uncover trends and share insight with your team to keep your business forwards.
In just a few clicks of a mouse, you can change chart types, filter, or even advanced marketing analytics function like cohort analysis with DataHero.
Automatic update your data allows you to stay up-to-date about all the business activities.
Payment Method Support:-
– Stripe
– Braintree
---
11. ProfitWell:-
ProfitWell provides all the important key metrics including customer retention, MRR, delinquent churn or cohort reports in one place and can also export drill down metrics for deeper analysis.
---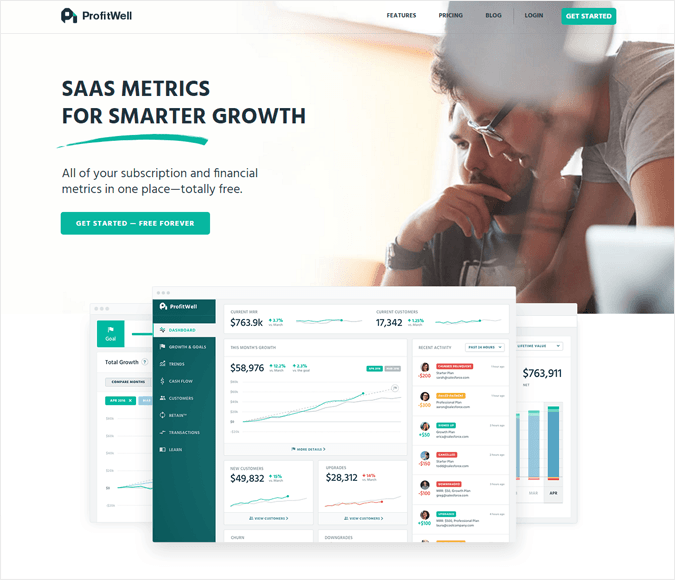 ---
Pricing & Plans
For unlimited users & reports on revenue trends, this product is free.
It has two additional plans. Retain which is a custom one & based on revenue. The other one is Recognized which costs $1000/m for focused revenue recognition.
Characteristics
With this software, you can see how little changes in annual subscription, refund, affect your business growth over time.
Keep an eye on your customer's activities and understand your customer's subscription journey easily.
Supported payment gateway:-
– Stripe
– Braintree
---
Conclusion:-
Above I have mentioned 10+ best subscription analytics tools which are perfectly capable to manage your business in a great manner and provides you all the information that you require to run your business smoothly.
Some of them also allow to create & manage unlimited subscriptions without any restrictions. Now you have to decide which software is the best for your business.
And if you want some other related stuff, you can go through these blogs.