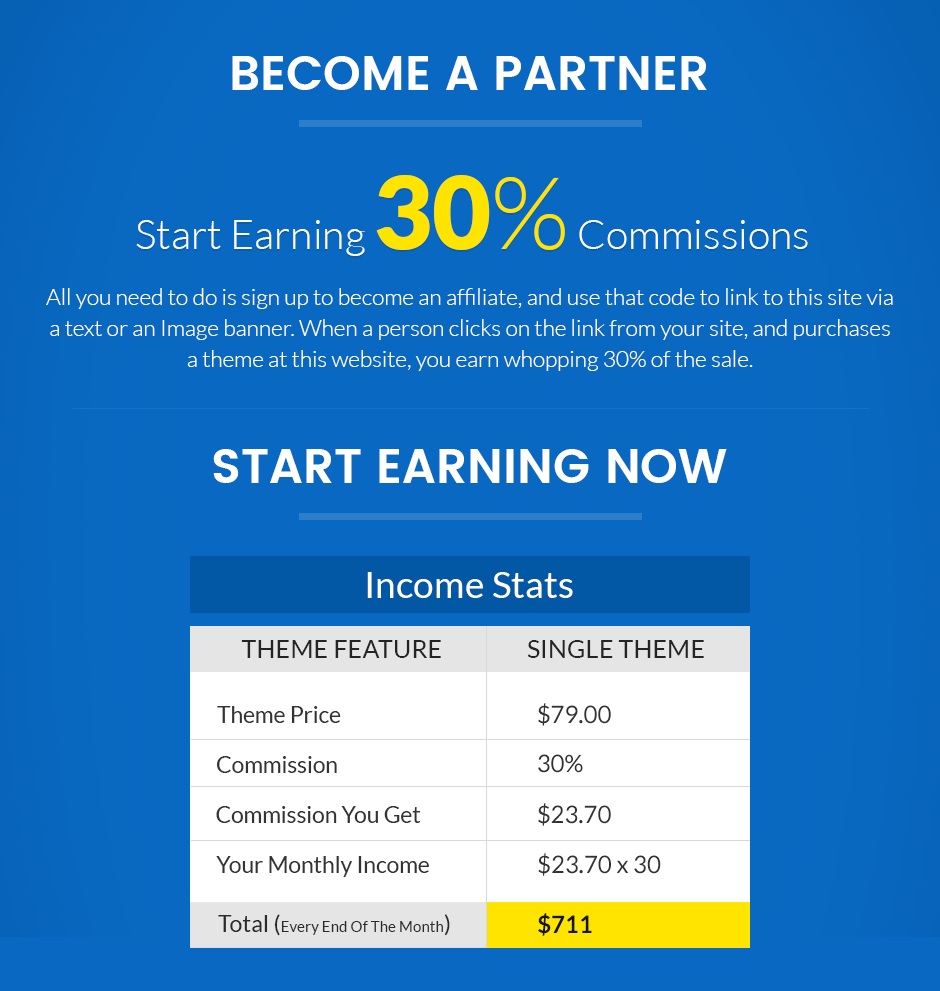 For any query please contact us at – enquiry@inkthemes.com

---
Affiliate Program – Payments and Earnings
Below is a list of FAQs regarding our Affiliate Program Payment and Earnings:
How will I know that orders came through my blog or website?
The affiliate links that you generate, so if a visitor you refer to us doesn't purchase immediately, but then returns within 60 days, you will still receive the commission for any products they purchase.
How much money will I earn through your affiliate program?
You will get 30% of every sale you bring to us. (Applicable to all the themes). Just get us first 4 sales done through your network & receive 30% commission for each.
How do I know how much commission I have earned?
You can login to the dashboard at any time for access to real-time reporting, which provides up-to-the-minute information about the commissions you've earned.
When will I receive my Affiliate Commissions?
All affiliate payments are processed sent directly to you by the 5th of each month for the previous month's sales, via the Paypal.
Can I earn commissions on my own purchases?
You will not receive credit when purchasing a theme package through your own affiliate link. You may receive an automatic notification from InkThemes to let you know that a sale has taken place, but your affiliate payments will not include this amount.
Affiliate Registration
Sign up is easy and takes just a few simple steps.
Apply
Sign-up for an affiliate account and apply for our Affiliate program in one step by filling out the application here
Acceptance
Once you register with us, You are now eligible to promote our products.
Linking and Banners
You can link to us using text links or banners. Once you have selected a product you want to promote you can then copy and paste the code into your website or blog. Find our creatives here including all banners and text links.
Affiliate Program – FAQ's
What is your Affiliate Program?
Our affiliate program financially rewards you for directing customers to our WordPress Themes and theme collection. When a product is purchased by a customer you refer, we pay you a commission for the sale(s).
How do I join your Affiliate Program?
You can just make a registration on our website for the affiliate, Once your registration get complete you are eligible to promote our product with your affiliate link.
How does your Affiliate Program work?
Our affiliate program allows you to make money by referring customers to our website. You can do this by placing links, banners, product reviews, or any of the other content we provide you with on your website. Each time you refer a customer to us and that customer makes a purchase, you earn a commission.
How do I get Paid?
You will get paid on every first week of the month, You will get your sale amount directly in your Paypal account.
Does it cost me anything to become an Affiliate?
It's absolutely free to join our Affiliate Program. There's no charge to apply and there's no minimum sales requirement.
How much can I expect to earn?
That's completely up to you. We can help if you need something specific to promote InkThemes your way, but your profit potential completely depends on your sales. Our standard commission rate is 30% of every sale and you will get paid out for each after bringing first 4 sales to us.
Can I promote InkThemes on more than one website?
Yes, absolutely. You can promote our themes across one or all of your websites. The more links and content you place on your websites, the more qualified visitors you're likely to send us — and this should translate into a higher conversion.
I don't have a blog or website. Can I still participate in your Affiliate Program?
Yes, you can. Please see the Affiliate Guidelines for more information about this. If you don't have your own website yet, you should definitely check out our excellent selection of WordPress themes.
How do I find my Affiliate banners or text links?
After being accepted into our program, you can log into your affiliate account. Once you log in, follow these steps:

Find the "Affiliate Info" tab.
Click on the "Get Affiliate banner and links".

Where should I place affiliate links on my blog or website?
You should place your affiliate links where they're easy for your visitors to find — your website's home page, navigation bar, and any other high-traffic areas. By placing the links on easily accessed locations, visitors will be more likely to click on your links and make a purchase. But remember too that we also provide you with articles, reviews, blog posts, and many other marketing tools to make converting your visitors into sales as easy for you as possible.
Can I use my Affiliate Commission for purchasing the product..?
We do not have this thing in our policy. You can buy the product from InkThemes by making the full payment but not using your Affiliate commission. However, you will get your payment by the first week of every month.
Affiliate Program – Guidelines
Below is a list of guidelines regarding the InkThemes Affiliate Program:
You need to have Paypal account to receive your funds. No other payment methods are supported at the moment.
You can NOT use your own affiliate links to purchase themes & plugins. Doing so will terminate your affiliate account and you will forfeit any potential earnings.
We do not accept any kind of Coupon based site for promoting our products as an affiliate. Any earnings done through coupon site would not be considered for payment.
You can not use "InkThemes" word in your domain name where you are promoting InkThemes themes because this creates brand conflicts.
Thanks so much for supporting InkThemes.