"Let the Customers Subscribe And Rest Will Be Managed Automatically"
---

---
Managing task manually requires a keen attention and when it is about financial matters then the bandwidth for the errors reduces. In such a case, you need a self-working system that handles all your subscriptions and finance pertinent activities.
The system which will simplify the need for you is the subscription and invoicing software which are mentioned in this article. These software will synchronize your work by managing all the subscriptions and the billing that occurs in your business.
Take A Look At Some Subscription & Payment Invoicing Softwares
The various factors that are involved in the software that helps you recognize your business stats effectively and help you further plan for your business expansion keeping aside the management of the subscription and invoicing because the software will take care of it.
So just read out this article with a free mind & finalize one of the best subscription payment & invoicing software according to your needs!
You may also like:-
So without further ado, let's explore these amazing software one by one:-
---
1. Pabbly Subscriptions
Through Pabbly Subscriptions, you can send invoices to an unlimited number of users and collect payment as well.
Also, it allows the admin to create unlimited subscriptions for their customers who have already purchased a product or service. As a result, the admin can also create limitless products, plans & coupons on his dashboard.
---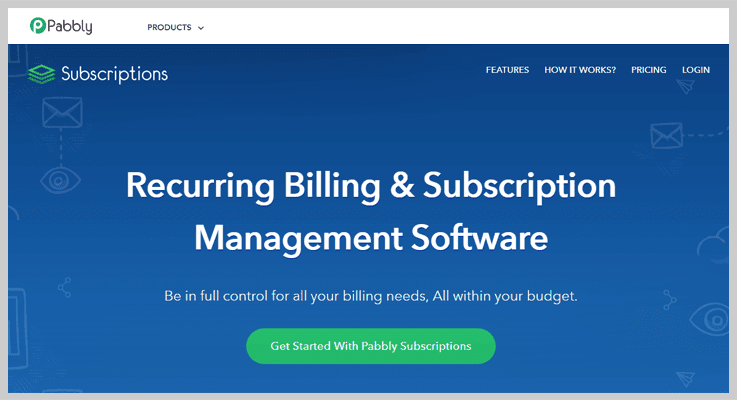 ---
Pricing:
It has a Starters plan which cost $5/m for unlimited subscriptions & 50 customers.
This tool also has a Rookie package charging $29 per month for 1,000 customers & 25+ currencies support.
For unlimited subscriptions, you have to pay $59 on the monthly basis for more features.
It also has an Advance plan charging $99/m which allows modifying the domain of the checkout page as well.
Features:
From customers to unlimited products to invoices, Pabbly Subscriptions handles everything in one place or in a second.
Customer payment portal is available through which a customer could make payment with 

choice of their own payment method.
Fast & Free customer service available to respond to your queries anytime.
IMPORTANT!
A successful business starts with insightful planning, research, and best partner.
So make Pabbly Subscriptions your business partner and touch the new heights of success.
Pabbly Subscriptions covers all your billing needs at just $5/m only.
Don't miss the chance!!
This opportunity is only available for the first 500 customers.
For more info Hit the button below!
---
2. Invoicera
Invoicera is a stupendous software that allows you to manage all the parts of the subscription business. The software will enable you to send bills to customers on a periodic basis. It also controls the frequency and type of billing that system has to offer.
---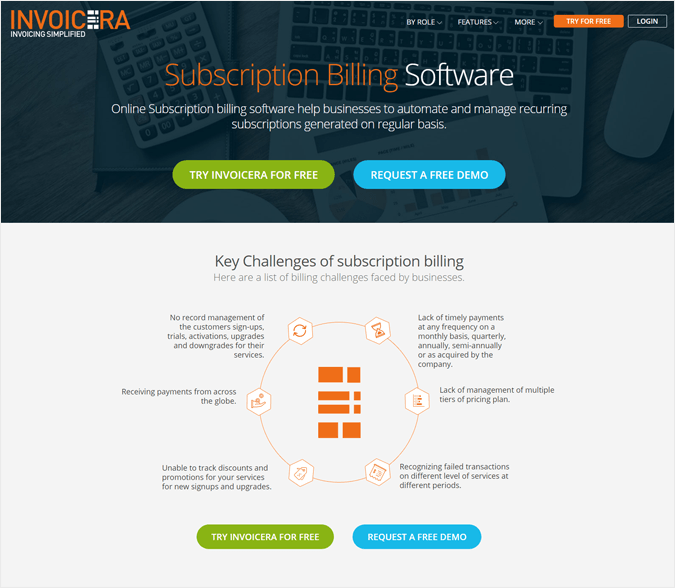 ---
Pricing:
It has a Starter plan which is always free of cost & allows 1 recurring profile.
For unlimited recurring profiles, you have to pay ₹2499 per year according to Indian currency.
Features:
An amazing feature termed as the automated billing which will help the user to receive clients payments online.
Due date and the late fees can be added to the recurring invoices for getting payment on time.
You can track the progress in real time reports and can have detailed reports to forecast expenses and manage business finances.
---
3. Zoho Subscriptions
Zoho Subscriptions provides the ways of managing the recurring and subscription through its exclusive software, which also handles the complete customer lifecycle. In addition, the user can create the pricing tiers and set up add-ons as well.
---
---
Pricing:
It has a Standard plan charging $29/m for 500 customers & 10 automated modules.
You may also think about its Professional plan which costs $69/m for unlimited customers & users.
Features:
The system gives the power to quickly set up a recurring billing schedule and will let you send professional invoices to the customers.
Zoho subscriptions automatically manage clients about the payment failure, and again submits the charges based on a predefined schedule.
Spy subscription metrics like MRR, ARPU, and LTV using the Zoho powerful business reporting.
---
4. Aria Systems
Aria Systems is a great platform to manage your recurring revenue which permits you to expand your new base of customers, to whom the software provides the usage-based solutions. As a whole, the system gives you the authority to monitor the recurring revenue generated with each purchasing.
---

---
Pricing:
Need to get in touch with the software dealers.
Features:
The user will have an imperative data security system through the software which provides a PCI compliance.
Get real-time analytics with deeper insights into the products that you sell to your customers, make invoices and statements through service applications and email directly to your customers.
Have a complete end-to-end recurring revenue which will support subscriptions, usage, user self-service, activation, and delivery transactions all included in one.
---
5. SubscriptionGenius
SubscriptionGenius provides an awesome subscription management solution which assists you to organize, hunt and dispenses your customers list from anywhere. Plus, this software also reminds the customer about the end of the subscription.
---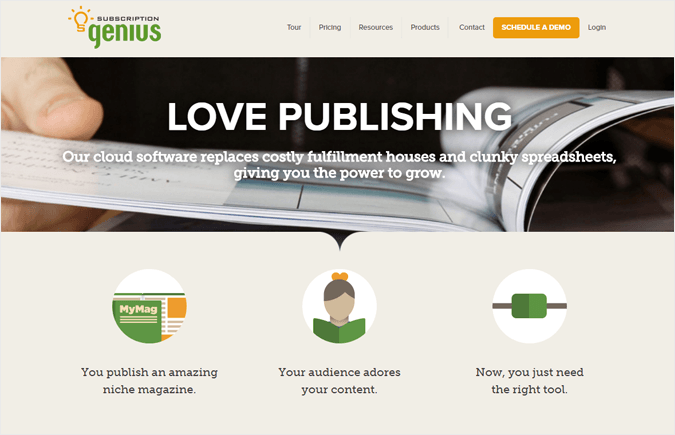 ---
Pricing:
This tool has a standard plan which bills $149 on the monthly basis for subscriber management & more features.
It also has a Plus plan which costs $349/m for seamless checkout feature & hands-free renewals.
You may also think about its premium plan which charges $499 per month for profile builder, surveys & many more features.
Features:
The system gives the user a secure checkout portal to manage all the e-commerce functions which you can customize to match your branding.
Another feature known as the integrated paywall option is included in the system, in which, just by adding two lines of code you can secure your data.
Automatically adds demographic attributes for your customers or subscribers and giving powerful insights to the customer as well.
---
6. ChargeOver
ChargeOver is an effective subscription management software which ensures that invoices and payments are created on time. Along with this, there would no transactional charges which is an added advantage.
---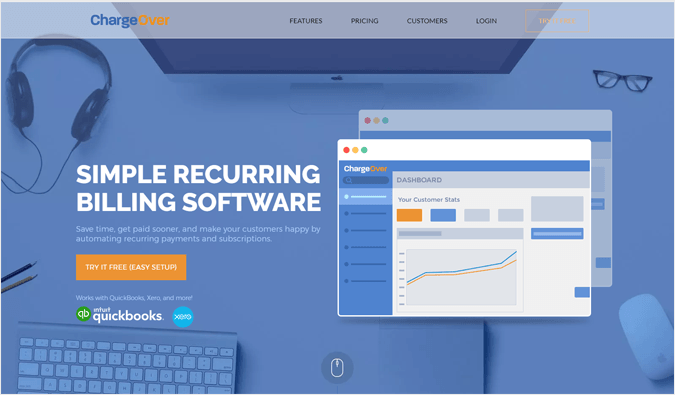 ---
Pricing:
It has plans depending on the number of active customers. In the first plan, the figure is 1 – 50 customers at $65/m.
This tool also has a plan for 150 customers charging $115 on the monthly basis.
For 500 customers & their subscriptions, you have to pay $229 per month.
If you have the requirement of more than 500 customers then you have to contact to its sales department.
Features:
The software let you accept payments in the form of credit card, ACH/eCheck, PayPal, and many more types of payment.
Get real-time visibility in the key metrics like churn rate, MRR, recurring revenue and customer averages.
Deliver flexible billing with one-time fees, free trials, prorated charges, split payments, renewals, and also custom tax rates.
---
7. Avangate
Streamline your subscription management system through the avangate management software which gives a powerful 360 view of the subscription entitlements and activities, apart from that, the software also provides account management for CSRs in a single-page.
---

---
Pricing:
The Growth edition costs 3.99% + $0.99$ for $15K revenue per month.
Its Standard charges 4.9% + 2.9$ for unlimited revenue.
The Enterprise is a custom pricing plan for which you have to contact Avangate.
Features:
The software provides advanced CRM features, such as campaign and lead management, customized email templates and tracking which helps to reduce churn and increase retention.
This tool also provides customer support in nine local languages like English, French, German, Italian, Spanish, Japanese, Dutch, Romanian, Chinese.
The software offers your customers a full-featured shopper portal with advanced customer management specialties which includes renewals as well.
---
8. Chargebee
Chargebee is an amazing management software gives flexible subscription management plans which manages free trails, quantity, setup up and similar other factors. You can create comprehensive invoices giving essential information and evolving regulations.
---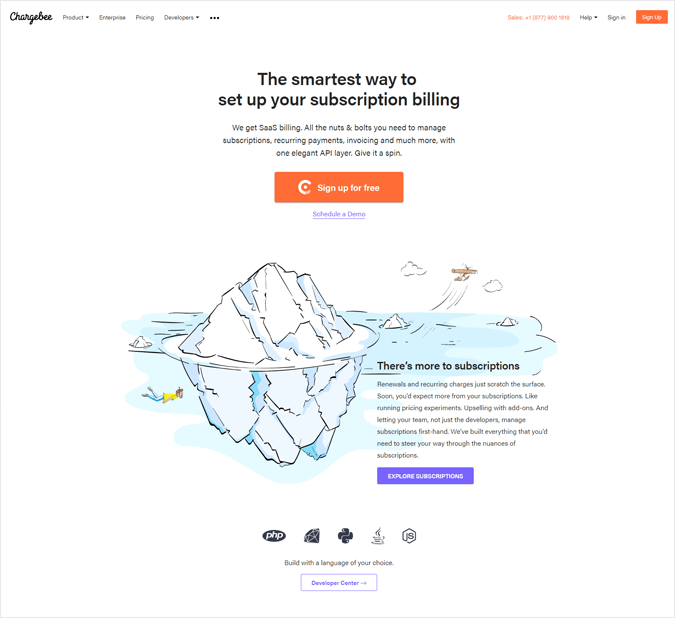 ---
Pricing:
Chargebee has a standard plan of $99/month for $25/m revenue.
It has a Pro plan which costs $199/month for revenue up to $50K per month.
Also, it has an Enterprise package of $599/month for $75K per month revenue.
Features:
Chargebee gives metered and usage billing which tells the user the exact charges for the services they have used.
Another amazing feature is the built-in proration which does the calculation accurately even when a customer switches its lane from free to paid.
The software allows you to keep your customers informed with personalized notifications through emails developing more trust towards your brand.
---
9. SalesForce
Salesforce is an amazing software that allows you automate the entire billing process which will help you to eliminate the errors, along with that, the system manages free trials & offers, setup charges, refunds and renewals at one stop.
---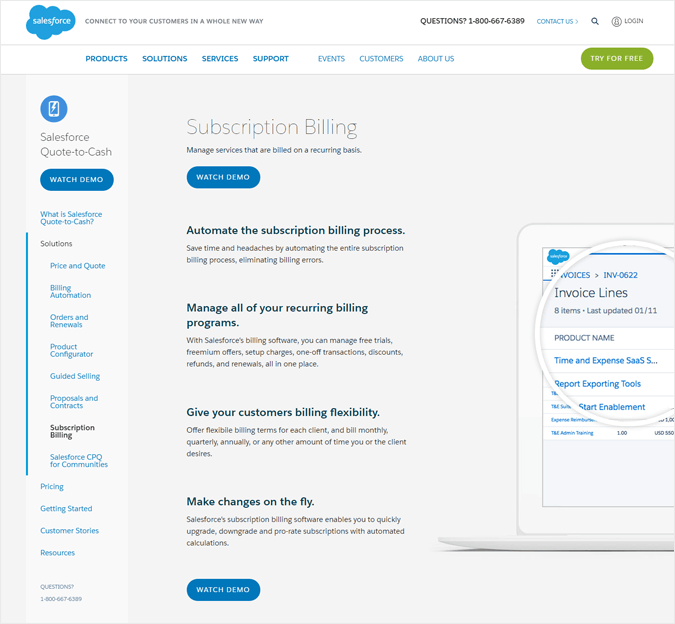 ---
Pricing:
Its CPQ plan costs $75/m for product catalog, configuration & selection.
This tool also has a CPQ+ package charging $150 per month for advance approvals.
For more features, you have to contact Salesforce.com.
Features:
Salesforce subscription allows you to manage the upgradations and prorate subscriptions with automated calculations.
Inbuilt APIs to link third-party systems easily, reducing coalition time and invoicing errors, the software also processes payments faster.
Speed up payment collection and improve your cash flow by integrating all the current payment methods and leading payment gateways.
---
10. Scoro
Scoro is an elite subscription management system that manages planned tasks and meetings, invoices & expenses, comments & files and similar other activities can be handled effectively. Assess all your billable and nonbillable work in real time.
---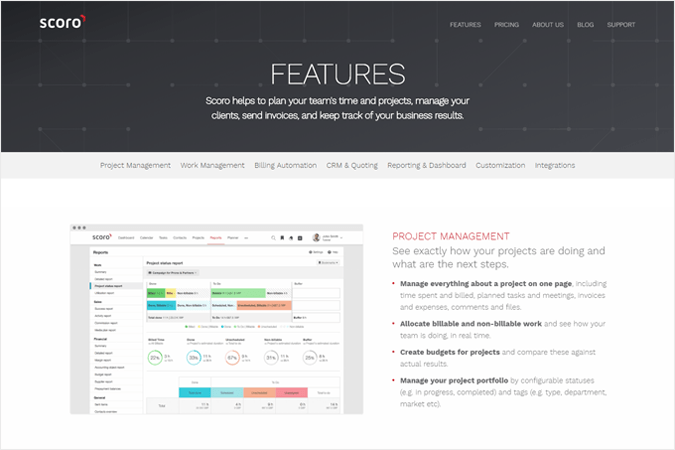 ---
Pricing:
Its basic plan charges $22/m for 5 users at a time.
This product also has a premium plan charging $33 for the same number of users & work-time billing as well.
Its ultimate plan charges $55 per month for advanced resource planning.
Features:
Monitor both the actual and billable time spent on a task or a customer and transfer the time to an invoice.
Get a complete overview of the client or supplier on one page from the first message to the final invoice which will include contact details, linked files, communication history.
Track on your KPIs and actionable items – all under one effective dashboard, view specific financial reports on real outputs with budget low and highs.
---
11. Moonclerk
Moonclerk is an effective tool for the subscription management system which works on any device like a mobile laptop or any such other media, the software can be set up in minutes that provide customizable payment options and also supports trial periods, durations, and limit checkouts.
---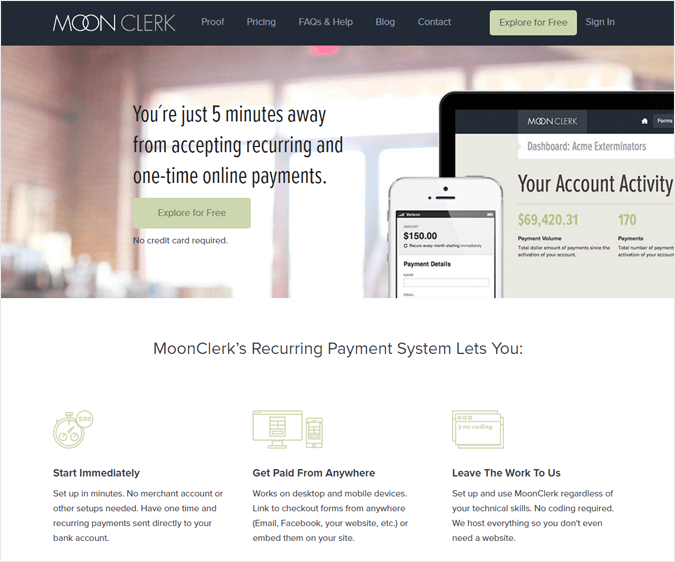 ---
Pricing:
It ranges from the  $15 to $500  per month to a volume of $0 to $150,000 which you can choose as per your need.
Features:
Provide secure transaction assessment through the full SSL encryption and PCI compliance.
Gather custom information from players and send automatic notifications to the customers, plus, you can also create coupons.
One time or recurring payments can be directly sent to the bank account and for the software setup you do not need a coding knowledge and can be initiated very easily.
---
Conclusion:
So above are some subscription payment and invoicing software that cover all the financial task related to your business. These software will let you manage the plans that are provided by you and keep you updated for the same.
You can select the best software among the 10 Best Subscription Payment & Invoice Softwares which best customize your business needs and requirement. It is because some of them allow collecting unlimited monthly recurring revenue.
So give them a shot & increase the growth rate of your business!
For more related stuff you can go through the following blogs:-