"Try out Payment Analytics Software For PayPal"
You must be wondering, why?
To answer this, I would like to quote- "A penny saved is a penny earned".
The path to steady growth starts with wise investments, followed by an in-depth analysis of your metrics, irrespective of your business nature.
Payment analytics software are the only means to highlight your payment metrics and the ones which have PayPal integration are definitely considered as the best.
Monthly/Annual Recurring Revenue, Average Revenue Per User, Churn & Cohort analysis are few metrics that an ideal payment processing service covers.
---
---
To help you with your quest to find an optimum low-cost payment analytics for PayPal, we've come up with the list of affordable payment analytics solutions.
For more related information go through the following blogs –
Now, without wasting another second, let's find out the best software for analyzing the payments!
---
Some software covers only SaaS business, merchandising business or manufacturing business. But Pabbly Subscriptions is an all in one payment analytics software in which you can integrate your PayPal payment account & can monitor the growth of any kind of business.
Apart from payment analytics, Pabbly Subscriptions also allows you to manage your subscriptions, one time & recurring bills, invoices & many more.
I've used Pabbly Subscriptions [Thriftiest Payment Analytics Software] to track my business growth.
It has a price plan of $5 for a month.
With this plan, features like the generation of UNLIMITED invoices & survey of PayPal payments are allowed which charges nothing for transaction & taxes apart from price plan charge.
Just Try Pabbly Subscriptions To Know More
---

---
Pricing-
Pabbly Subscriptions offers you 3 varied pricing plans-
Starter Plan- For this plan, you need to pay $5 per month & get access to all the basic features of the software.
Rookie Plan- To avail this plan, you have to pay $29 per month. And, with this plan, you can collect unlimited revenue, recurring or one-time payments & a lot more.
Pro Plan- If you want to opt for this plan, you need to spend $59 per month. Also, you get access to some pro features like client portal, invoice billing, dunning email & much more.
Advanced Plan- Whereas, you can acquire this plan by paying $99 per month. Along with this plan, you also get access to various features like custom domain, client portal, affiliates system, and much more.
Features-
The dashboard of Pabbly Subscriptions consists of the metrics such as total sales, refunds, new subscriptions & many more. All of it can be monitored through Pabbly.
In this software, a user can easily create multiple plans, products & create customized invoices & manage all of them through the dashboard.
With an advanced API feature, this software allows you to integrate it with any kind of software whether you have a Saas, merchandising or manufacturing business/software.
Click Here For More Information
---
While other payment tracking services may focus solely on SaaS business, Putler cover SaaS as well as other online businesses.
With the availability of 75+ business metrics, 15+ payment gateways, e-commerce platforms and Google analytics integration, this is a must-have software for your transaction analytics needs.
---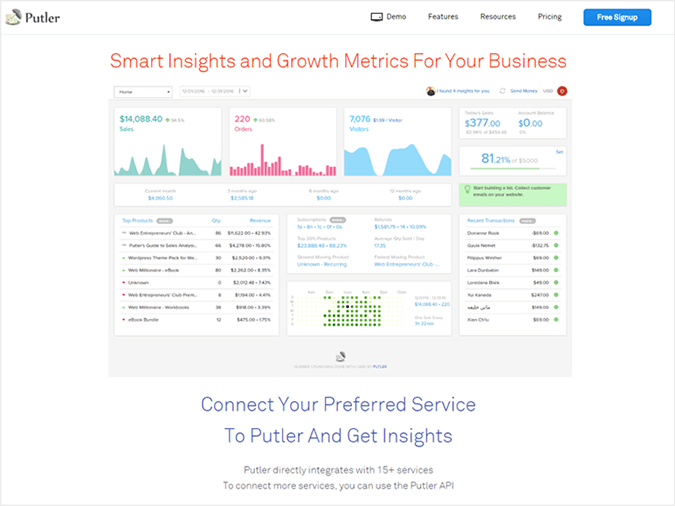 ---
Pricing –
Putler provides three affordable pricing plans with additional features –
Plus – $29/month for 3 accounts and 1000 transactions/month.
Pro – $59/month for 7 accounts and 2500 transactions/month.
Max– $109/month for 25 accounts and unlimited transactions/month.
2 weeks FREE trial is also available.
Features –
In-depth analysis of sales, customers, products, transactions, visitors and subscriptions can be monitored via Putler.
Accurate assessment of MRR, ARR, Churn rate, visitors, etc. can be handled with this cheap payment analytics software.
Apart from PayPal integration, Putler also facilitates multiple payment gateways, shopping cart and e-commerce integrations.
Click Here For More Information
---
Zoho is another example of a cheap payment analytics software which also packs multiple functions for metrics monitoring.
Apart from this, Zoho can also provide you with recurring billing and subscription management services for your business.
---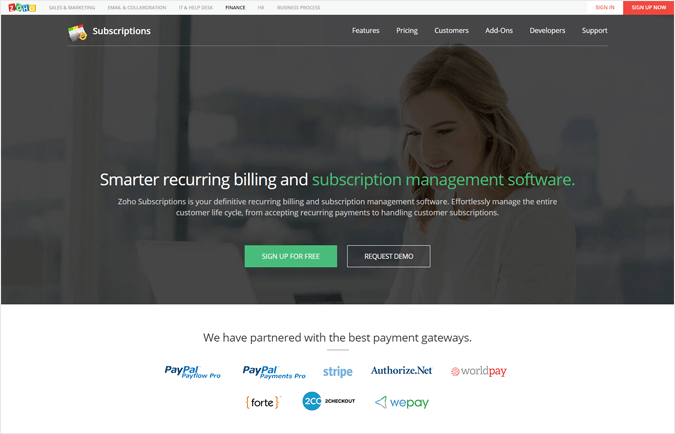 ---
Pricing –
Zoho offers two extremely affordable plans –
Standard – $29/month for 500 customers and 3 users.
Professional – $69/month for unlimited customers and users.
Features –
The dashboard of this economical payment analytics solution is convenient enough to show your MRR, ARR, Churn, etc. with just a click.
Zoho Subscription allows you to sync your accounting data in Zoho Books automatically to increase the efficiency of their service.
Along with PayPal integration, it permits you to integrate other applications with Zoho too.
Click Here For More Information
---
If you are running a SaaS-based business then this software is ideal for your payment tracking needs.
Being a third party integration of Braintree, PayPal is one of the prominent options of payment gateways for Mainmetrics.
---

---
Pricing –
Aside from providing four inexpensive pricing plans, Mainmetrics ensures 30 days full money back guarantee.
Hobby – $29/mo for 100 paying customers.
Startup – $79/mo for 1000 paying customers.
Professional – $149/mo for 2500 paying customers.
Business – $249/mo for 5000 paying customers.
Features –
The real-time knowledge of your key SaaS metrics will be possible through this payment analytics software.
Mainmetrics is incorporated with the latest encryption algorithm which ensures the security of data transmission.
With the availability of multiple plans, Mainmetrics provides its customers the flexibility to change their plans anytime.
Click Here For More Information
---
If you are looking for a payment analytics software for PayPal which can easily analyze payments from PayPal and other gateways then ChartMogul will be an ideal solution for your business.
Excluding the affordable pricing plans, ChartMogul also comes loaded with advanced monitoring metrics which are performed automatically and the software does all the calculations in real-time.
---

---
Pricing –
ChartMogul provides three Free and Paid plans to analyze subscriptions –
Launch Plan – All the actions in this software are free till $10K MRR limit is achieved.
Mogul Plan – A cost of $125 per month charged with 1,000 paying customers.
Volume Plan – This is a customizable plan designed for higher-volume businesses, for pricing contact sales team.
Features –
This payment tracking solution provides you with all the revenue related metrics like Monthly Recurring Revenue, Annually recurring Revenue, Average Revenue Per User, etc.
ChartMogul simplifies the process of MRR segmentation and gives you the growth details of the business.
With this software, you can easily analyze refunds, Fail payments and other complicated transactions.
Click Here For More Information
---
Cheddar is considered an out-of-the-box payment analytics software because of its unconventional and radical approach.
The software allows the tracking of free & paid activities and exempts its users from merchant fee if payments are processed through PayPal standard.
---

---
Pricing –
Cheddar offers only one chargeable pricing plan worth $99/month + 2.9% + 30¢ per transaction. Although, you can also opt for a Developer plan for unlimited testing and integration for FREE.
Features –
Since Cheddar is a cloud-based payment metrics tool, you can access and monitor your business growth from anywhere.
Apart from PayPal, it also supports multiple payment gateways and methods.
Subscription management and recurring billing are some other services that Cheddar provides.
Click Here For More Information
---
One of the most prominent names in the field of payment analytics software for PayPal is Chargify.
Because of the in-depth view of your transaction records and metrics, you get to make wise and much-educated decisions for the betterment of your business.
---

---
Pricing –
After giving 30 days FREE trial of the software, Chargify offers three pricing plans –
Essential – $149/mo + 1.2% of revenue (basic features included).
Advanced – $299/mo + 1.2% of revenue (advanced features included).
Enterprise – Chargify generates a custom plan based on your needs (all features included).
Features –
The reporting feature of Chargify allows customers to define other subcategories of revenue in an eye-pleasing format.
The dedicated feature – churn analysis of this payment processing software focuses on all the churn numbers and rates which allow you to quickly access and devise new strategies
Chargify permits its user to export all the required data and graphs in the CSV format.
Click Here For More Information
---
Conclusion –
In the quest to find the best & low-cost Payment Analytics Software For PayPal. The blog should have provided you a decent number of options to choose from.
Moreover, you must have got a brief description of the various features and pricing details to help you in narrowing your search.
If not then consider reading the following blogs as well –
Further, for any more queries, you can contact us!
Last but not the least, Thanks for reading 🙂