"Use Payment Reporting Software For Stripe to easily track & analyze the transactions in minutes!"
---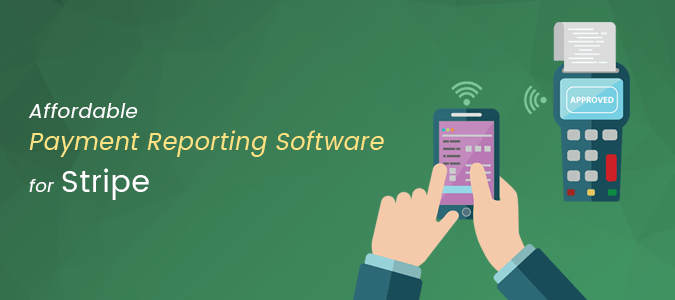 ---
Tracking all the payments related processes you can decrease churn rate which will ultimately lead to a huge increment in the revenues of your business.
But doing it manually will be a tough job.
Just integrating a decent payment gateway software like the stripe is not enough.
Therefore, you need to add a good payment reporting system to your business.
Analysis of Stripe data is also necessary so that you can make a powerful decision which will help you to land your business at a profit earning platform in this competitive world.
So, without wasting time implement the following formula in your business:-
Stripe Account + Payment Reporting Software
Get instant updates of each and every information related to churn rate, cohort, MRR, LTV and much more all on a single dash.
---
Further, to know more about payment reporting tools here –
Some affordable payment reporting software is mentioned below. All you need is to select one of them according to your business needs. And, let your retention go high by using the benefits of these amazing software.
---
Pabbly Subscriptions is the pillar of both payment analytics & subscription billing tool. It has a well-designed & easily understandable interface.
Besides, you can easily collect one-time & recurring payments, provide a client portal, send dunning emails, and a lot more with the help of this software.
This tool costs around $5 for a month. That's why it is so much popular in the market for both subscription billing & payment analytics.
---
After using various costly analytics software, I came up to Pabbly Subscriptions which provides both payment analytics & subscription billing features.
It charged me only $5 for a month & I got the access to its features like UNLIMITED invoices, subscription management & so on.
So, manage both of your payment accounts i.e., PayPal & Stripe through it without any hindrance.

---
Attributes-
Monitor Subscriptions & Revenue:-
In this software, you can monitor various sections such as new & active customers, subscriptions, revenue & so on.
Versatile API Feature:-
This tool allows us to integrate it with any kind of business or SaaS software with its perfect API environment.
Multiple Currency Support:-
With its 25 global currencies, all the international payments & customers can be managed easily which will help you to expand your business globally at an exponential rate.
Pricing-
Starter: This plan will cost you $5 per month. And you can use all the basic features of the service.
Rookie: For this plan, you have to pay $29 per month. Along with this, you also get features like set up unlimited plans, products, etc
Pro: If you want to opt for this plan, you gotta pay $59 per month. Plus, you can send dunning emails, invoice billing, and a lot more.
Advanced: You get unlimited access to all the features like client portal, affiliates system, custom domain, etc. All you have to spend is $99 per month.
---
2. Metricsco
Metricsco is a subscription retention platform that comes along with decline recycling strategies, dunning management, etc all under a single software. The important and worthful feature it gives is payment analytics.
Integrate your stripe account with Metricsco and boost your retention within a minute.
---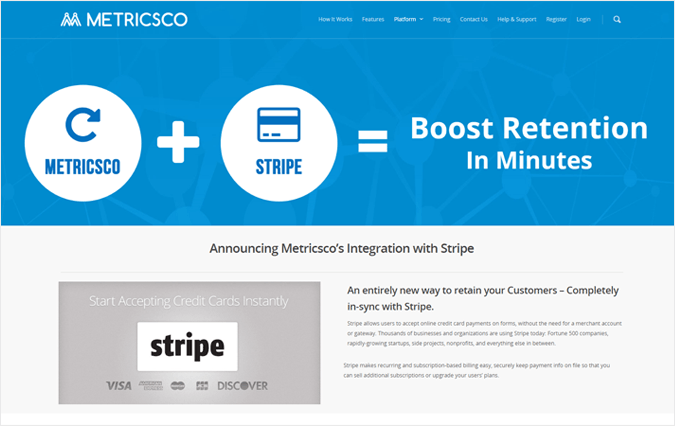 ---
Attributes-
Intelligent payment routing:-
Enables you to easily configure multiple sales parameters such as – currency, country, language, type of product, MCC code and more.
Customer success team:-
No matter whether you're a fledgling startup or a fortune 500 company Metricsco's support team will always be there for you and will leverage you with billion of subscription management experience.
Frictionless card updates:-
Without any login process, you can easily update your card information in a safe and secure way.
Pricing-
Starter:- Free trial + $49 per month + 1000 unique subscription/month.
Professional:- Free trial + $199 per month + 10K unique subscription/month.
Enterprise:- For this pricing plan contact Metricsco.
---
3. Grow
Grow will display all the data related to payment on a beautiful dashboard. You can also view a pre-built dashboard for every integration or can create your own customized dashboard and monitor all the transaction metrics which play an important role in the growth of your business.
---

---
Attributes-
Set monthly goals:- Grow will help you to track the relevant KPI's of your targeted goal and will update you about the entire progress throughout the month.
Fully-Customizable Analytics:- Through this feature, you can easily receive the insights of your business data. This information will help you know about the activities that are happening and find the remedy for it.
150+ Instant Integrations:- From here you can comfortably integrate your business with some big brands such as 10K', Act-On, Active Campaign, Agemni, etc.
---
4. PowerBI
Power BI is the backbone of business analytics tool that delivers insights throughout your organization. It also can connect to hundreds of data source such as AppFigures, Adobe Analytics, HDInsight, MailChimp, Github, etc or simplify data preparation or drive ad and much more.
More than 587 partners Power BI has and the name of some are:- Agile BI, Avanade Inc, Bismart, Dell, Manga Solutions, Teksouth Corporation and more.
---

---
Attributes-
Transform and clean data:-
Try the most convenient way of shaping and modeling your data with Power BI that saves working hours of your busy daily schedule.
Complete analytics life-cycle:-
Here you will find an elegant desktop which gives end-less solution for building analytics and it also has all the capabilities to connect, visualize, shape and share the insights data through it.
Share data easily:-
Now easily hand your interactive data reports with the decision maker through this software.
Pricing-
Author:- Download for free and get connected to hundreds of data source.
Share & Collaborate:- Free trial pack + $9.99 per user/month
Scale Large Deployments:- Here you can create the cost plan according to the number of user data displayed in the report.
---
5. Statsbot
Grow revenues and insights of your business intelligently with Statsbot analytics software. Around 20,000+ companies are using Statsbot nowadays.
Here you don't have to build any mathematical model for examining the data. You can simply analyze it using anomaly detection.
---

---
Attributes-
Data-driven collaboration:-


Now you can easily combine your Google Analytics, Mixpanel, SQL and other data all in a single platform. And share these insights with the whole team, partners, investors in just a few clicks.
Schedule reports:-


Get comparative analysis metrics and funnels daily, weekly or monthly reports anytime anywhere.
Accurate predictions:-


With this you can smartly predict results from your revenue data which will help you to make a solid strategy to survive in this competitive world.
Pricing-
No Payment required..! It's Free to start and for further pricing plans get in touch with Statsbot.
---
6. SaasOptics
SaaSOptics the new open API analytics software which fulfills each and every requirement of subscription-based business and also delivers best-in-class, SaaS-optimized metrics and analytics.
With the open API key of SaaSOptics, you can easily connect numerous data source and analysis of some important factors like MRR, churn rate, cohort, etc.
---

---
Attributes-
Instant visibility:-


This feature enables you to

keep an eye on the most important part of your business with the help of which you can easily manage your entire subscription journey.



Never miss renewal:-
Here you will find details about the subscriber which is up for renewal and can take action by manually updating their renewal pack or by setting it to auto-renewal mode.
Simplify order management:-
Save time and eliminate manual efforts by automating the flow of new orders, subscriptions, and renewals between Salesforce & SaaSOptics.
Pricing-
To know the pricing plan contact SaasOptics.
---
Conclusion…!
Consequently, this blog gives complete details about some amazing Payment Reporting Software For Stripe. Also, with the help of these software, you can easily analyze the data of your stripe account and design understandable reports of your revenues.
Moreover, by using these tracking tools, you can effortlessly increase the revenue rate of your business which will help you drag your competitors out of this race.
The following blogs will give help you grab more useful information for your business:-
For any further queries & suggestions, you can contact us!
We'll get back to you as early as possible.
Lastly, Thanks for taking time out and reading this blog.  🙂