Some people believe that it is very tough to create a portfolio website for their established business. They must have technical tools, development knowledge and much more.
But, in today's world, you can create your own portfolio sites within minutes by using custom WordPress templates.
So, if you are planning to go for a WordPress theme that minus your decorative knicks and knacks, then you should probably go for our World's Best Flat Design Responsive Portfolio WordPress Themes.
All such themes are easy to customize, beautiful & SEO optimized that brings your photography, studio, cinematography & artistic related business out from the crowd.
You may also visit our another portfolio articles-
Let's start your own photographic journey with one of our portfolio template from WordPress theme collection.
---
MovieFolio – Film Portfolio WordPress Theme
Movie Folio is a premium WordPress theme best suited for film production houses, movie framing agencies, video advertising firms, cinematographers, etc. Any motion pictures related business you are in, Film Portfolio WordPress Theme would be a nice option to create a web portal for your business.
---
---
Projecting Features Of MovieFolio Template-
3-Column Service Section –

This premium movie &

provides you well-defined 3-column service section. Here you can display the top of your portfolio services right away. It is the best way to present your services in a professional manner that gives a pleasant look to your commercial site.

Full-Width Or Box Gallery –

With MovieFolio Template, you can add a full-width layout or box layout gallery page to your website. Through this section, you can ideally post some behind scenes of pictures to enhance the outlook of your website.

Testimonials With Parallax –

The testimonials section of Film Portfolio theme comes with a parallax effect that gives your website more of a creative look.

Blog Section – This videography WordPress 

theme offers you pre-built blog area which allows you to post some cinematography blogs to your business portal. This zone will definitely help you in increasing your audience outreach.
Theme Info + DownloadLive Demo
---
CanvasColour – Art Portfolio WordPress Theme
CanvasColour is a very elegant choice if you are looking for a WordPress theme for your art, portraits, craft designs, etc. Any visual artist can use this theme to flaunt their creativity online. Whether you are an artist, portrait creator, drawer or canvas painter, Art Portfolio WordPress Theme would perfectly suit your business website.
---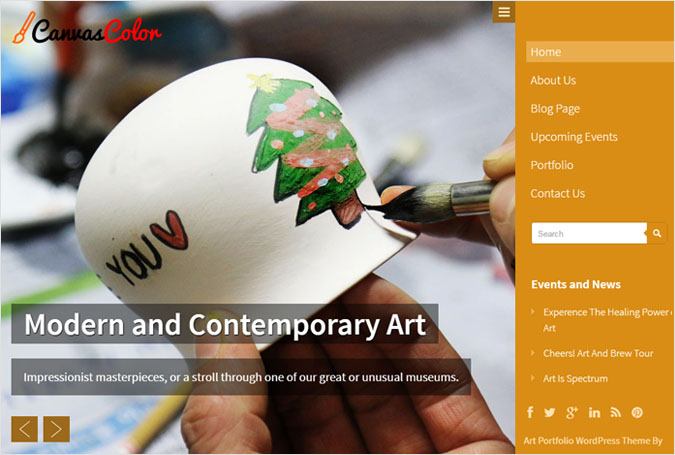 ---
Remarkable Factors Of CanvasColour Template-
Art Blog –

You can create an art blog of your own with this canvas or wall painting WordPress theme where you can talk about your artwork, creativity & fine art in form of media-rich blogs.

Art Gallery –

CanvasColour even allows you to create a dedicated art gallery on your website where you can flaunt all your artwork beautifully.

Inbuilt Contact Form –

With this theme, you get an inbuilt contact form for your website using which you can always be in touch with your potential clients.

Dynamic Sidebar –

This theme adds a dynamic hide-show sidebar to your website. This gives your website a more lively and creative look.

Search Feature –

Art

Portfolio

template can even be enabled with a header search bar. This can help the website visitors to find what they are looking for from your artworks.

Image Slider –

The homepage of

CanvasColour Template

is fully covered with fullscreen slider area where you can add up to 10 images with text heading & description. All such images will scroll vertically when you click over slider arrow button.
Theme Info + DownloadLive Demo
---
FineArt – Art Store WordPress Theme
FineArt is a flat WordPress theme for fine art stores to express and sell their work online. Whether you are an art creators, painters, illustrators, tattoo artists or anything else, Art Store WordPress Theme would help you set up a professional yet creative website for your business.
---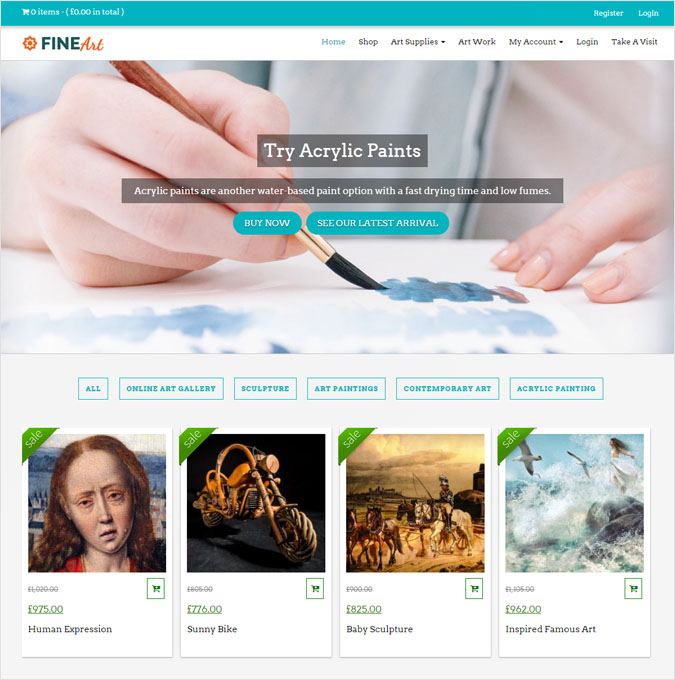 ---
Amazing Features Of FineArt Template-
Product Categorisation –

The theme allows you to sort your work into various categories. This would help viewers to browse your store products very effectively and easily find whatever they are looking for.

Bootstrap Compatible –

Bootstrap compatibility of this theme customizes the picture size and resolution according to the device through which it is browsed. It helps you to evaluate your work in a better way.

3-Column Feature Section –

The 3-column feature section of

FineArt

Template allows you to highlight the best of your artistic services that give your website a completely clean and crisp look.

WooCommerce Plugin –

The inbuilt WooCommerce plugin of art gallery WordPress theme allows you to moderate your website as an e-commerce site. Plus, the shortcodes of this plugin allow you to create additional pages i.e login page, cart & checkout option.

Blog Template –

The theme allows you to create a separate blog section on your website. At this zone, you can share tips & tricks of canvas paintings, rock art & color combinations.
Theme Info + DownloadLive Demo
---
RealPhotography – Classic WordPress Theme for Photography
RealPhotography is a clean, classic and professional WordPress theme for Photographers. It is one of the best themes which would help you to set up online photo studio, fashion store or glamor industry.
---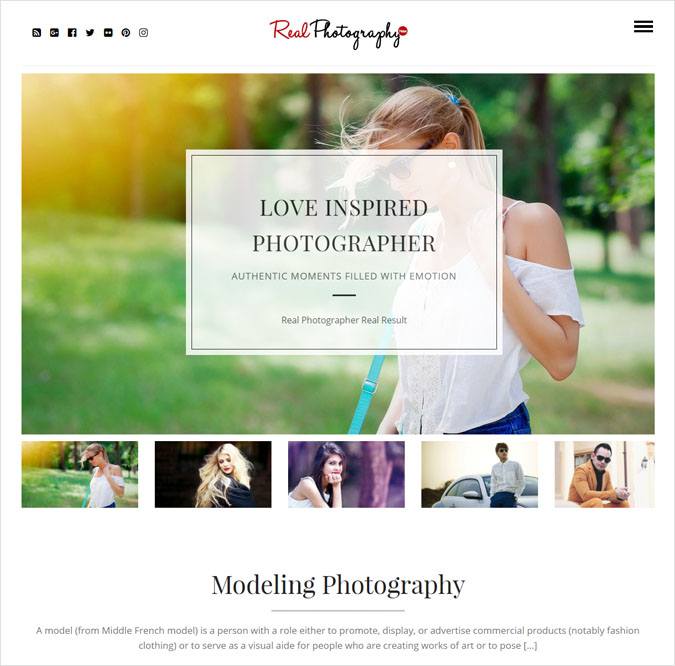 ---
Charming Factors Of RealPhotography Template-
Thumbnail Slider –

The thumbnail slider is a very attractive way of displaying your studio work on your business site. Also, you can add a title, subtitle and a bit of body text to present your slider images.

Homepage Blog Section –

The homepage blog section of

RealPhotography

Template enables you to publish relevant blogs to your website. With these blogs, you can share everything related to your industry which you feel would be helpful for users.

Custom Instagram –

You can link your website to your Instagram account as well. This way, the website will display all the pictures that you post on Instagram.

Gallery Section –

Since the PhotoPoint WordPress theme is designed best for photographers, such as they can showcase all their realistic photographs with an exquisite gallery section.

Contact Form –

The theme comes with an inbuilt contact form. This section will really become helpful for your customers to reach you easily.

SEO inbuilt –

Real Photography comes with inbuilt SEO plugins. Thus, you don't need to put extra inputs for getting a better search engine ranking.
Theme Info + DownloadLive Demo
---
Photographer – Portfolio WordPress Theme
Photographer is one of the best photography portfolio WordPress theme for individuals or professional photographers who wants to display their studio work on the web. They can also sell their workroom pictures online using the inbuilt eCommerce functionalities of the theme.
---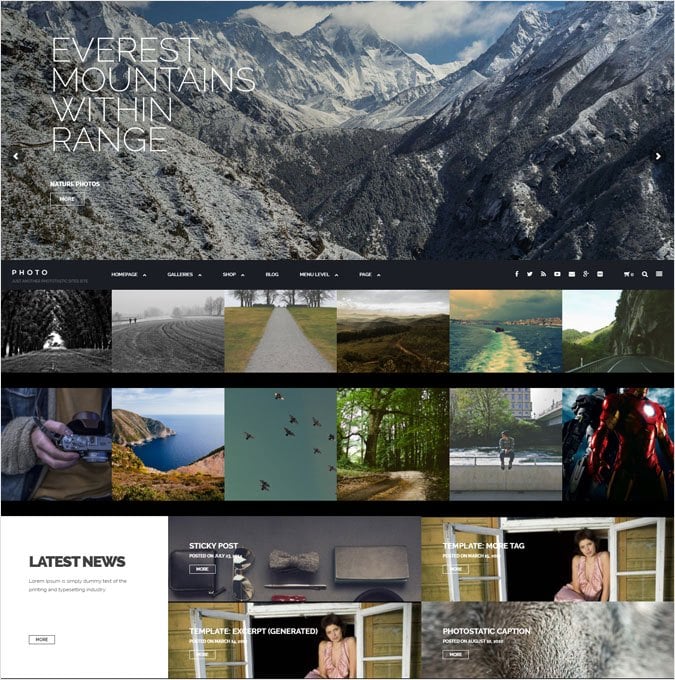 ---
Crafting Elements Of Photographer Template-
Homepage Elements – The homepage of the theme is followed by 2 different portfolio uploader elements i.e Full-width slider & Grid view portfolio.
Full-screen slider home page – Showcase all your studio arts in full-width resolutions such as viewers can quickly examine your fine world at their first land.
Photo grids view home page – You can display the images as photo grids instead of a slider and stand out from similar sites.
WooCommerce Support – Photographer Template allows you to use WooCommerce plugin features to make your website ready for selling. This includes the WooCommerce Quick View plug-in (premium), WooCommerce Wishlist (free) and Ninja Form (free).
SEO Compatibility – The photography studio WordPress theme is compatible with All in One SEO pack and Yoast SEO. This helps you improve your rankings on search engine results.
9 Post Formats – You can post your business blogs in any of these 9 supported post formats – standard blog, aside from post, image, video, gallery, quote, link, audio, and status.
Theme Info + DownloadLive Demo
---
Conclusion
Any artistic niche business can use these Flat Design Responsive Portfolio WordPress Themes. Choose one from this list to create the world's best of your portfolio website.
Also, focus on some other lightning articles-