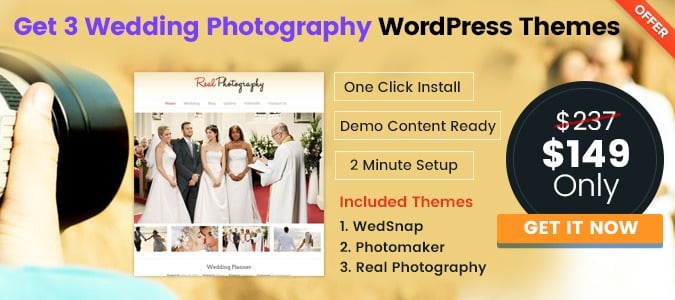 Are you a wedding photographer and in need of a great online portfolio?
Think no further!
WordPress themes might just be what you are looking for:
Whether it is for pre-wedding or a post-wedding session, simple indoor wedding or a destination one, it will get it all covered.
So,
Here is the list of 10 best wedding photographer WordPress themes that gives you a platform to showcase your wedding portfolio and perfectly suit the taste and need of different photographers.
Also check out our another related article :-
---
Let's have a look at all these interesting themes –
1.Colorway – Wedding Photography WordPress Theme
Colorway is a feature-packed, highly responsive & Elementor based WordPress theme that requires no coding knowledge while building the website. As a result, you can create a website for any kind of business like wedding photography, sports, portfolios, etc.
Many photographers, bloggers, agencies can use this theme to build a photography website to showcase their work on a large scale. In addition, it is compatible with third-party plugins are WooCommerce, Yoast SEO, Contact Form 7 to make your website fast & feature your business online.
Along with this, Colorway is fully optimized for speed & SEO that makes your website faster & gives you better user experience.
---

---
Colorway WordPress Theme Luxurious Features –
This theme has multiple stunning sliders such as text, multimedia, post & many more that will make your site content to extraordinary.
Colorway is extremely customizable WordPress theme, so you can set your own logos, color variations, custom widgets, etc. on the website easily.
Empowers you with more than 35 templates at no extra cost, to craft any type of kind of business niches with great presentation.
This theme provides you image comparer feature to compare before & after images that will help your users to show better results.
Colorway supports the Leadup addon for providing lead capture forms on the website to engage more site visitors.
Works great with all the latest browsers.
These features are available free of charge.
Live DemoTheme Info + Download
---
2. WedSnap – Wedding Photographer WordPress Theme
WedSnap is a modern up-market WordPress wedding photography theme that would give photographers an exceptional platform to showcase their talent.
This theme comes bundled with a comprehensive feature list that one needs to make the portfolio website stand out from the rest. It is really easy to use and you do not need to be a techie to make this theme up and running.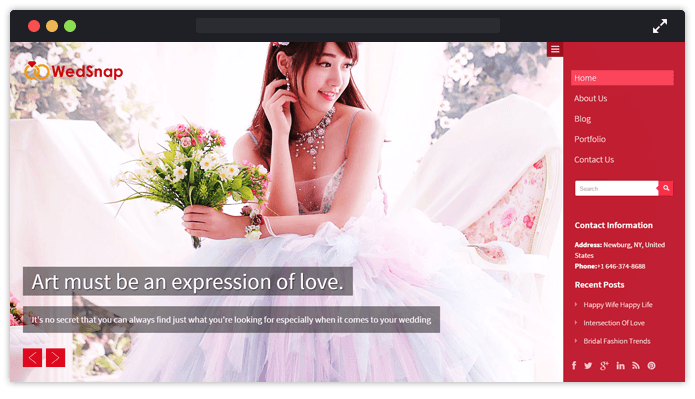 Features that make WedSnap a best wedding photographer theme –
Offers premium quality and functionality on a single platform.
SEO friendly and comes with a state of the art blog module that keeps you updated and increase considerable web presence.
Integrated with the major social networking sites making it easy to showcase your talent to the masses.
Each portfolio can be customized to your own taste whether it is a destination wedding or a normal in-house wedding, you can pick and choose the colour schemes.
Allows you to create unlimited pages and add unlimited images to your portfolio that make it very useful and workable theme.
Live DemoTheme Info + Download
---
3. JPhotolio –Wedding Photography WordPress Theme
JPhotolio is another top wedding photography WordPress theme which provides a new dimension to your online portfolio.
If you do a lot of wedding photography where you focus on the destination itself or the bride and the groom, this is a really good choice.
The theme is specially designed for wedding photographers who want that extra out of their portfolio. It adds a lot of finesse to your online presence and would impress your clients like no other.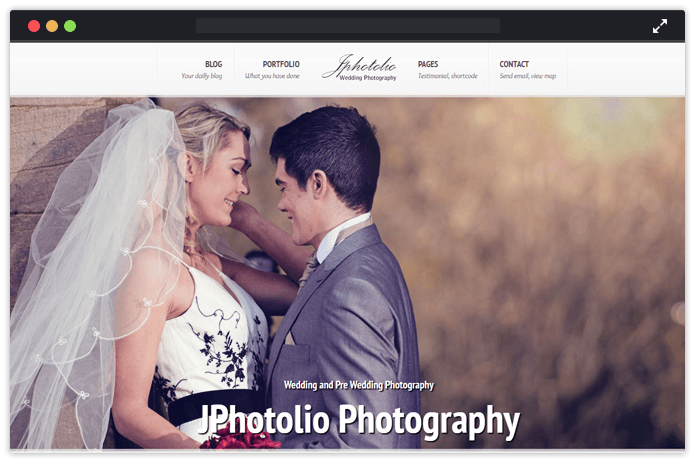 Features that make eJPhotolio a best wedding photographer theme –
It has an innovative slider with embedded video. You can play a wedding video in the background while navigating with the slider.
Integrated with an interactive music player creating a refreshing experience for all website visitors.
Allows you to protect images from unwanted visitors with a security password when required.
Gives you an option of uploading unlimited images to your portfolio.
Customize your portfolio in the style of your choice and make use of a filter to showcase the image of your choice.
Live DemoTheme Info + Download
---
4. PhotoPoint – Professional Photography WordPress Theme
PhotoPoint Photography is a WordPress theme providing a refreshing experience to all the visitors of your portfolio website.
It uses a minimalistic design to help you load your website without any undue lag even when with images are of higher resolution.
The theme is great for any wedding photographer as wedding photography needs excellent quality images and that equivalent to much-enhanced resolution.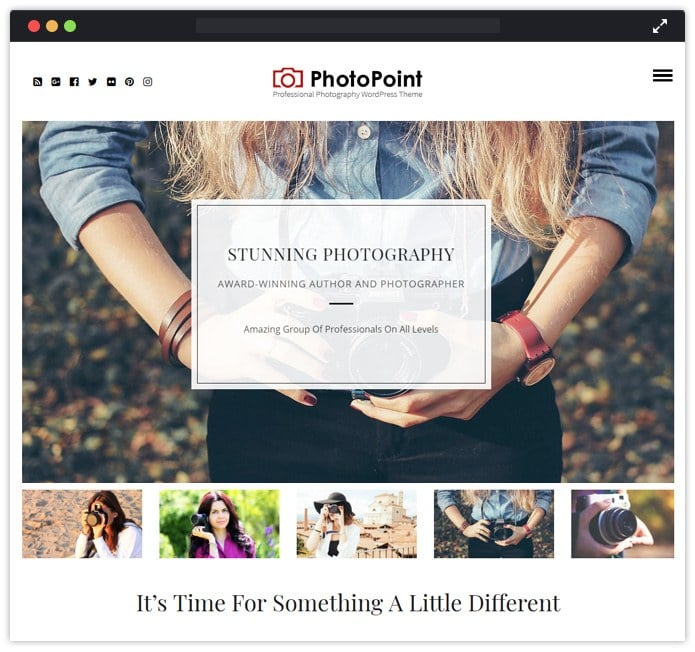 Features that make PhotoPoint a best wedding photographer theme –
It helps a user to navigate easily throughout the website making it easy to upload, showcase and edit all the pictures.

It has an inbuilt visual composer that makes custom coding effortless.

Make any of your wedding photography style portfolios stand out from the rest.

It has different blog styled that make your website more engaging and attractive to your clients.

It is compatible with multiple browsers for that seamless experience across browser platforms.
Live DemoTheme Info + Download
---
5. Phototastic – WordPress Photographer Portfolio Theme
Phototastic is another top WordPress theme that is a perfect blend of artistry. It is compatible with both the latest versions of Woocommerce and WordPress, making it a great theme for professional wedding photographers.
Phototastic really looks great and feels premium with great features to compliment.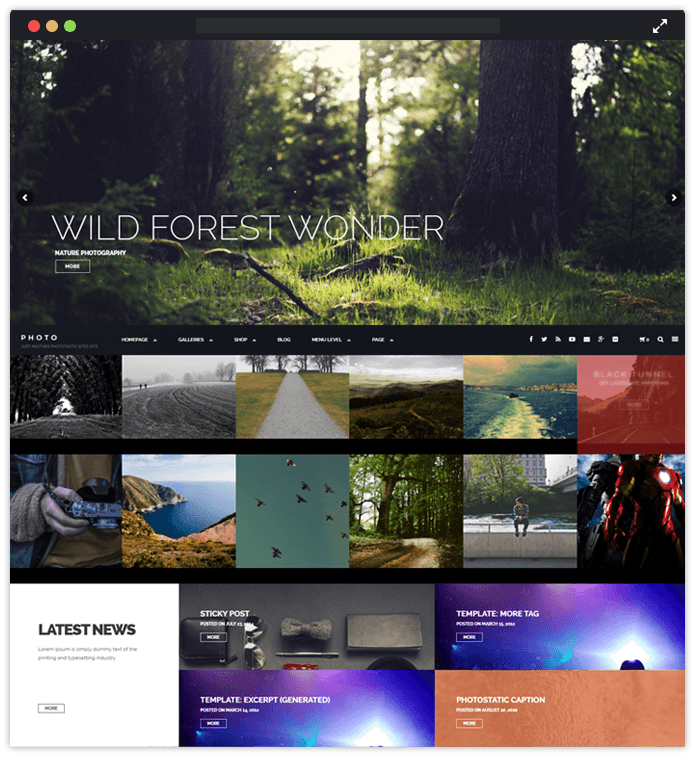 Features that make Phototastic a best wedding photographer theme –
Show your best dramatic wedding photographs or any form of styles effortlessly to the world with Phototastic.
The full-screen slider helps to portray every pixel in your photograph and grab the attention of your clients.
It comes bundled with multiple utility plug-ins like YITH Woocommerce wishlist, Ninja form, and Woocommerce Quick view.
Compatible with YOAST SEO to ensure maximum visibility among users.
Multiple posting formats- 9 options for you to choose from.
Live DemoTheme Info + Download
---
6. Photomaker – Photography Desire WordPress Theme
Photomaker is another best WordPress theme that has a stunning design with great utility features.
It is delightfully easy to use for wedding photographers to showcase their talent to the world and completely compatible with the latest version of WordPress as well.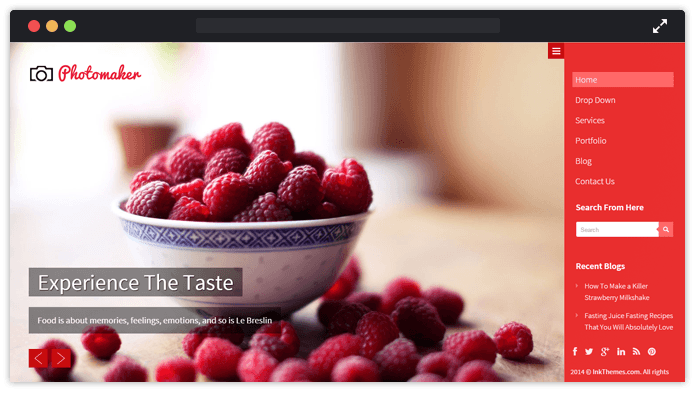 Features that make Photomaker a best wedding photographer theme –
The dynamically designed sidebar that is ideal for displaying high-resolution full-screen images.
Versatile blog section allows you to post blogs on six different options to choose from.
Allows posting a video with embedded I-frame.
A highly responsive design that makes the view of a website just perfect for wide range of devices including mobiles and tablets.
There are 12 skin colors that come as standard with Photomaker, just pick the color of your choice.
Live DemoTheme Info + Download
---
7. Real Photography – Classic WordPress Theme For Photography
Real photography is a classic WordPress Theme that boasts super quality interface with great functionality.
The whole theme is straightforward and it is simple to use as well. It is one of the best theme to showcase your work as a wedding photographer.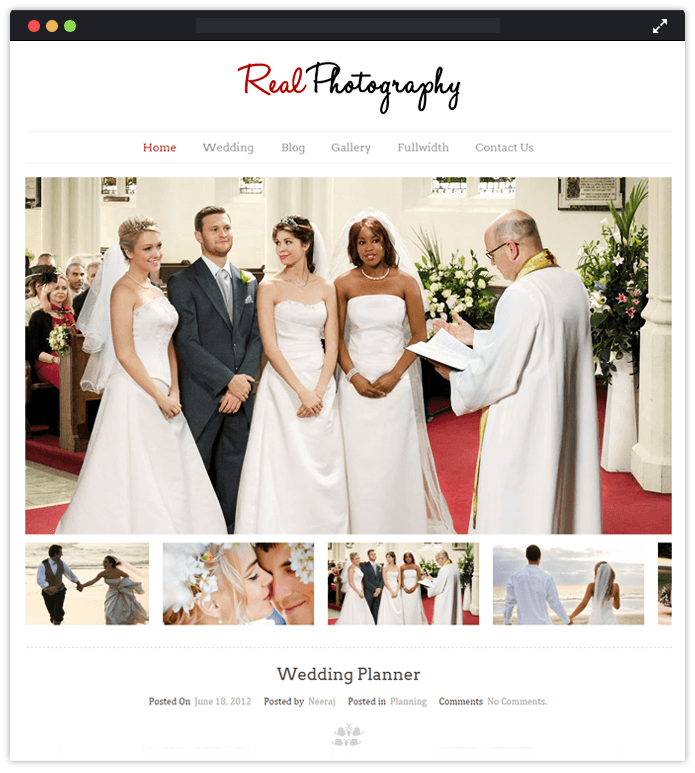 Features that make Real Photography a best wedding photographer theme –
It comes with a gallery feature which showcases your gallery images comprehensively.
It is inbuilt with thumbnail sliders or commonly known as classic sliders to showcase your captured photographs.
Large Landscape and 2-column layout
It comes with three classic templates, all unique in their own right. The Blog Template, Portfolio Template and Contact Template!
The layout of the theme is very responsive with a percentage rating of 100%. Mobile devices, computers, tablets would never be an issue if you want to showcase your best classic wedding photographs.
Live DemoTheme Info + Download
---
8. Vivah – Wedding WordPress Theme
Vivah is a great way to showcase your talent as a wedding photographer. This WordPress theme is simple yet very effective.
If you, as a photographer is looking out for web presence then, Vivah is a really good way to proceed.
It is a boon for photographers and especially for those who are into wedding photography as there can be a lot of pictures to import or export.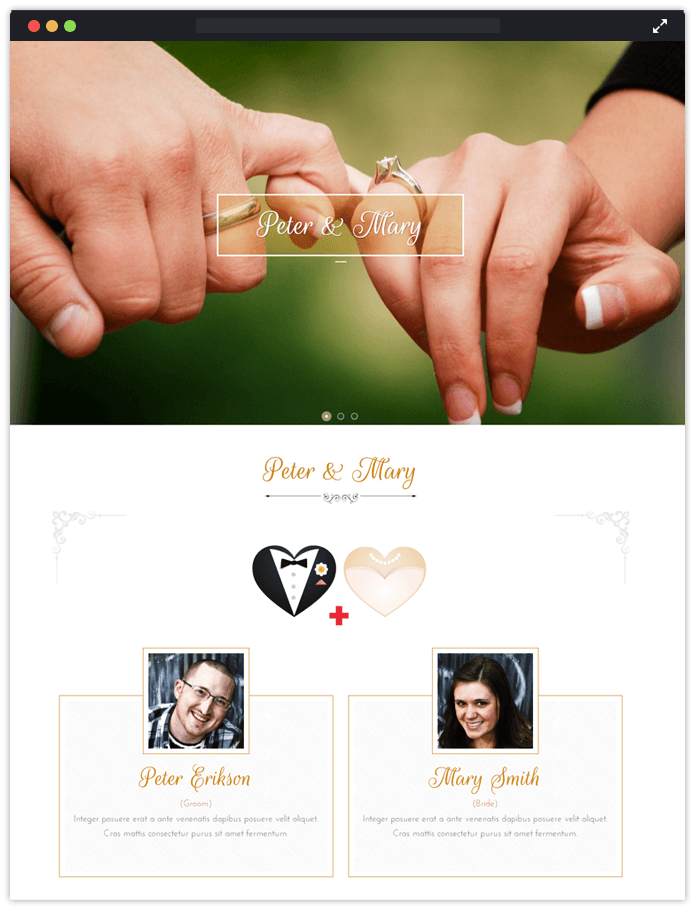 Features that make Vivah a best wedding photographer theme –
Compatible with the latest WordPress and extremely responsive, thus well suited for any photographer.
Integrated slider plug-in and offers tremendous functionality and workability.
Retina ready – offers high resolutions, great visibility, more pixels per square inch and sharper images.
One-click import and export which saves a lot of time and hassles.
Custom CSS and Fonts Enabled.
It boasts unlimited colors to choose from.
Live DemoTheme Info + Download
---
9. Florence – Wedding Photography WordPress Theme
When your clients spend years to dream and prepare for their wedding day, you would want to deliver the perfect captures to frame those moments forever as their photographer.
These templates, tailored exclusively by Florence come with immaculate presentations, myriad layouts, and vibrant galleries to make one and all cherish the memories of that special day.
Florence undoubtedly adds the glamour and finesse that makes your photograph stand out from the rest.
Features that make Florence a best wedding photographer theme –
Florence is vibrant, responsive, extremely easy to install and lets you access your pictures on the go.
Create numerous albums in the gallery.
Wide ranges of options to showcase your art. The masonry-styled layout stands out in particular and lets you showcase a lot of content in limited space.
Built-in slider, clean and minimally designed and provides an enhanced view of your photographs and videos through its tailor-made a full-screen slider.
Live DemoTheme Info + Download
---
10. Fotographer – Wedding Photography Portfolio WordPress Theme
Everything is minimalistic yet special about Fotographer WordPress theme. It is one of the best themes that is out there with stand out features and each one of them being very functional.
If you are a wedding photographer and you need a platform to showcase and sell your digital wedding pictures, then this can be a great choice.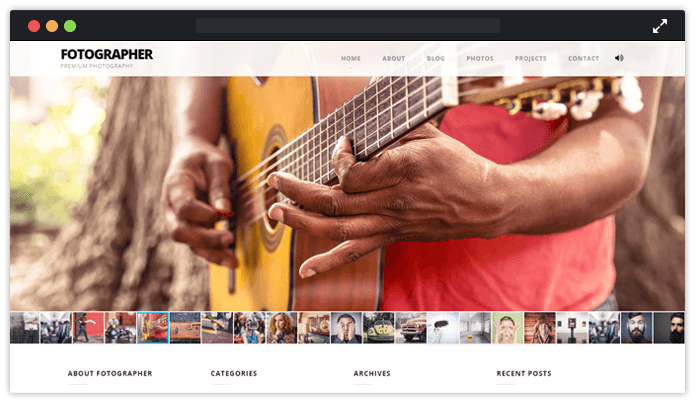 Features that make Fotographer a best wedding photographer theme –
100% responsive to multiple devices.

It comes with unlimited colours as well as fonts to choose from. This leads to an unlimited number of layout variations.
Compatible with browser panels.

Stable and Customizable layout options.

It is equipped with Fotorama and Revolution Sliders. This is extremely helpful for portraying your best photos without any sort of hassles.
Live DemoTheme Info + Download
---
11. Photocrati – Wedding Photography WordPress Theme
Photocrati understands your needs completely and has come up with a theme to frame your clients special day.
Be it to capture the lively scenes of the pre-wedding bash or the poignant exchange of vows, the themes cover them all. Customizable functionality, color modifications, and pixel-perfect design are sure to make your pictures turn a lot of heads.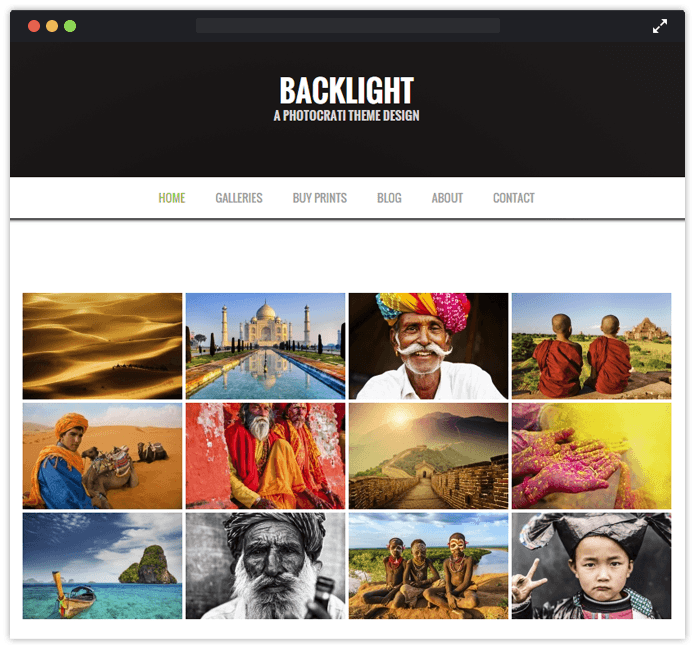 Features that make Photocrati a best wedding photographer theme –
The package features more than sixty beautiful starting designs to get you going.

The interactive themes and built-in gallery management let you seamlessly upload, display and manage unlimited photographs.

Sell your pictures on Photocrati s built-in e-commerce gallery.

Numerous blog template styles for each theme.

Widgets: You have full access to customize your entire homepage to suit your style.