Here's a list of handpicked '10+ Best Ecommerce WordPress Themes'. The themes contain all the features that you might ever want to have in your online shop.
Without a www platform, you cannot break the boundary bars that will take off your business to next level.
So WordPress comes in as your savior. It's a platform where you can create inexpensive and professional websites without any tricky codes in a stroke.
And when it comes to building Ecommerce sites on WordPress, Ecommerce WordPress themes come in handy.

The interchangeable themes, customizable design layouts, and the numerous other functionalities ensure that all flexible templates can be moulded to suit your purpose.
These themes come with unlimited options for E-commerce plugins, shopping cart extensions, etc., with which you can instantly convert your normal shop to an online eCommerce shopping website.
Now dive in as this list will give you a deeper insight into the options you can pick from. Put your trust in us as this list is a result of exhaustive delving into the deep sea of internet. We haven't left any stone unturned for you!
Check out some more related stuff here-
---
1. ToomMorel
As you are browsing the list of multipurpose themes so here present a flexible versatile ToomMorel theme that can be used for different type of businesses.
It comes with 5 multiple business previews on sports, pet & animals, non-government organization niche, technology, health & yoga. So, one can easily select any of the niches as per his requirement and create an attractive business website quickly.
The theme has a unique image slider where you can insert astonishing images of your company or business and catch the visitors attention.
Blogs are the most interesting part of any website. The template lets you post interesting articles daily, engage customers & increases their stay time on your website which ultimately enhance your website traffic & reputation.
---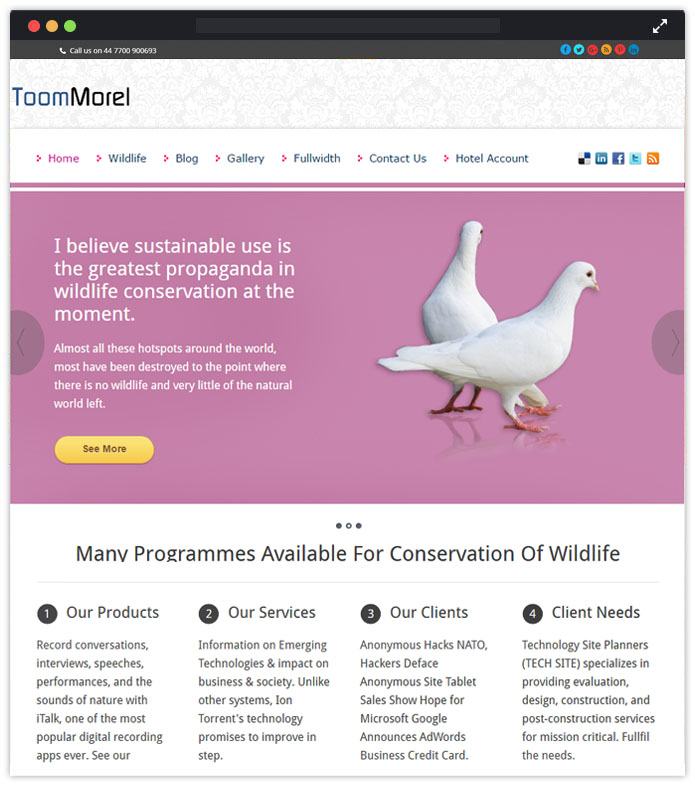 ---
Speciality Of Responsive WordPress Template – 
Call to action button to redirect users to the targeted page.
Wonderful gallery section.
Cross browser compatibility.
Social sharing icons.
Inbuilt Contact form.
Multiple colour styling option.
An adaptable layout that works on all devices.
Theme Info + DownloadLive Demo
---
2. Covera
Another multifaceted WP theme comes on the list is Covera that can be adopted by fashion industries, sports, non-profits agencies, movies, technology sector, hotel & restaurants. Just go for a demo that suits your business and easily customize a website for your company.
A full-width slider is the special feature of the template where you can upload glamorous images along with text & make a better impression on customers. Call to action button is another eye catchy characteristic of the theme to make your website navigation simpler & easier.
---
---
Functionalities Of The Template – 
Suitable for all browsers & viewing devices.
Get a variety of color option to choose from.
Incredible blog area.
Different social sharing icons.
Make a harmonizing portfolio.
Easy to connect contact form.
Theme Info + DownloadLive Demo
---
3. Squirrel
Squirrel is all purpose handy WP theme with an elegant and modern layout. The theme is specially developed to suit any business or a professional website that can be viewed across multiple platforms and web browsers.
Here, you get 9 different demos on multiple niches using which any non-techy person can build up a powerful website for his business.
The theme is loaded with a variety of features including a slider with text, 2 column & 3 column feature section right on the homepage where you can flaunt your business services, work images & other information about your firm, agency or enterprise.
---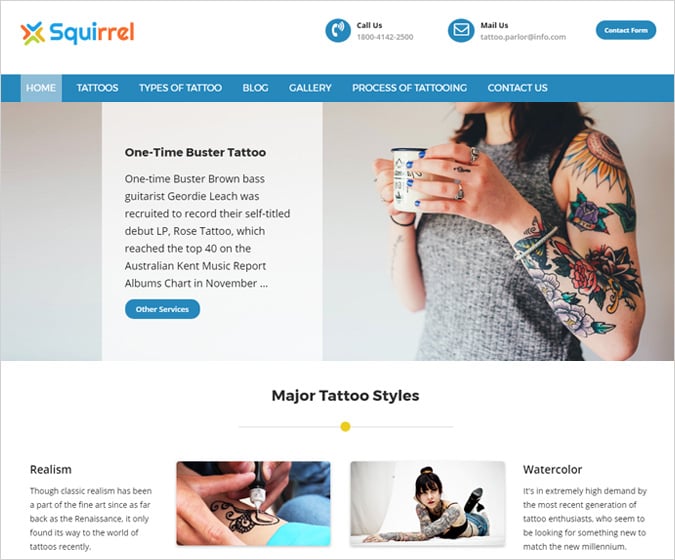 ---
Attention Grabbing Features Of The Template – 
Unlimited color option.
Plugins included worth $65 for free.
Responsive all device friendly.
Google Fonts supported.
Built With HTML5 and CSS3.
Sticky menu for better navigation facility.
Theme Info + DownloadLive Demo
---
4. One Page Theme:-

The one-page theme is an amazing theme where all the multi activities can be shared which are subjected to your business, all the services that are provided by you can be exhibited magnificently with the help of the theme. The exclusive video section is the area where the amazing virtual experience can be given to them.
The theme has a hexagonal portfolio gallery where all the business features can be shared and the same section can work as a center of attraction for the customers as the images draw more attention of the viewers.
---

---
Features Of The OnePage Theme:-
The blog section.
Exclusive video section.
Pricing table.
Testimonial section.
Team section for partners profile.
Full-width slider.
4 column feature area.
Make the most of the opportunity and download free theme
Download ThemeClick here to know moreView Demo
---
5. Prollective WP Template
Prollective is a versatile theme that can be adopted by various organizations and firms as it is a multipurpose template and comes with several unique functionalities. so, one can easily create & customize a website of his own using this flexible & easy to use a theme.
It is a one-page layout theme with side menu bar, consists of amazing full-width slider section where you can upload your company images & catch the visitor's attention.
A contact form is also provided along with an integrated Google map to easily connect with your clients. You can also post the real feedback of users & display your team members on the front page of your site.
---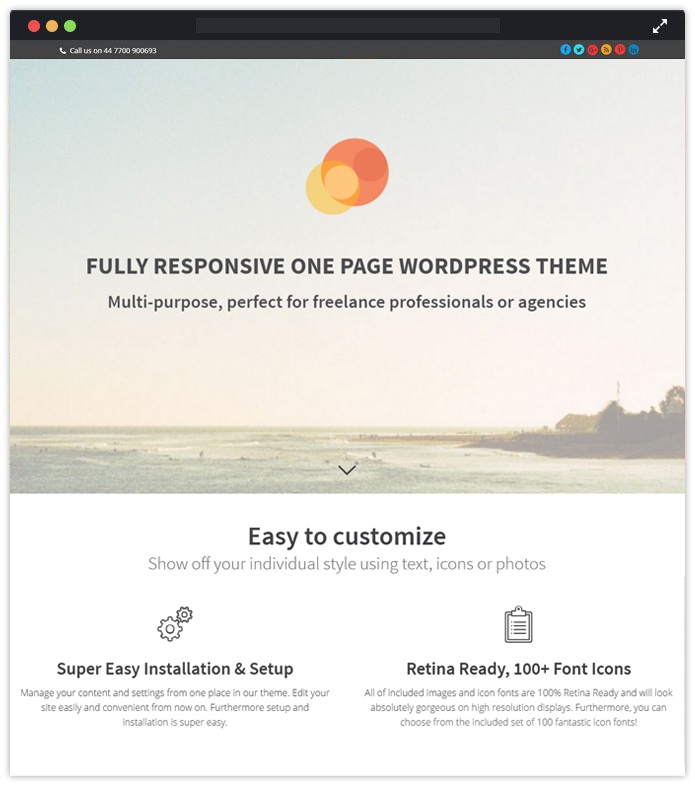 ---
Attractive Feature Of This Multipurpose WordPress Theme – 
Stylish & retina ready portfolio.
Responsive layout that gets adjust in all screens like a smartphone, tab, desktop, etc.
Cross-browser compatibility.
Beautiful parallax effect.
Several social sharing icons.
Theme Info + DownloadLive Demo
---
6. BurgerShop – Burger Shop WordPress Theme
BurgerShop is a one-page, fully responsive and multipurpose WordPress theme that was developed using twitter bootstrap framework. With its unique drag & drop page builder, users can build customized, elegant page layouts.
The template is loaded with multiple business features such as fully customizable service sections, and quick navigation options which users can easily alter using an inbuilt theme admin panel. A responsive full-screen slider.
BurgerShop usable over a variety of devices and even supports cross-browser compatibility.
---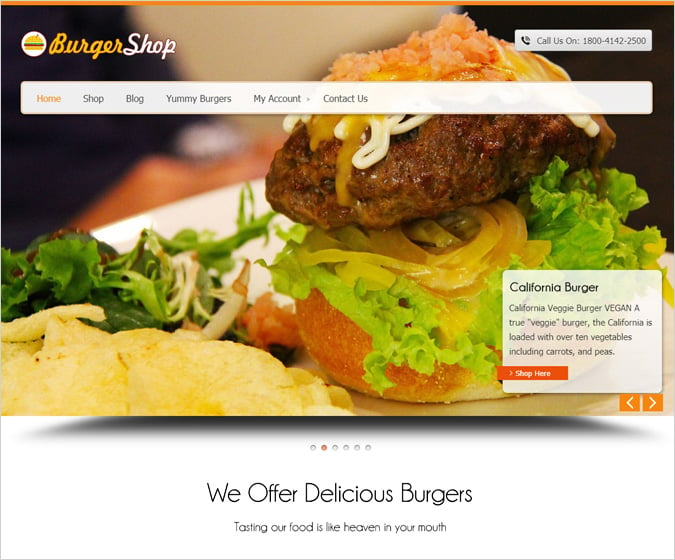 ---
Features Of This Multipurpose WP Theme –
8 number of colors.
One page design.
Ajax Contact Form.
Beautiful portfolio section.
Theme Info + DownloadLive Demo
---
7. Titania – WordPress Multipurpose Theme
Encompassing numerous design facets, the Titania WordPress theme ensures to satisfy every design need. The template offers a unique homepage setup option that allows users to select from 16 different styles of landing pages to suit their purpose better.
Also, the included portfolio and masonry framework settings allow creative users to make use of the template to showcase works of art, products designs, photographs and so on with ease as well.
The addition of some of the best WordPress plugins makes the template a real pleasure to use. Users can enable private chat rooms and personal emails for their corporate website, setup posting pages, and social media synchronization for blogging, and even live photo editing for creative users.
---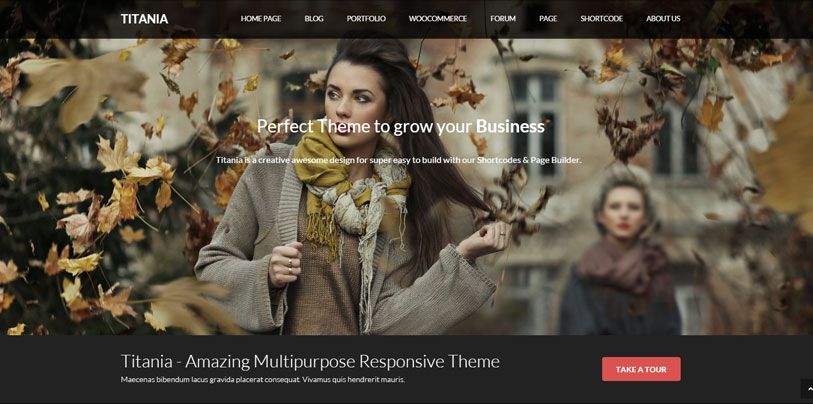 ---
See What You Get With This Template – 
Fully Responsive template.
100+ shortcodes to create elements such as buttons, pricing page, etc.
16+ Homepage styles
5 custom post templates ( standard, video, link, gallery, audio) to showcase your blog
posts.
Icons from 369+ Font awesome icons.
Integrated Woocommerce.
Multiple Wp Plugins.
3 Header styles.
Theme Info + DownloadLive Demo
---
8. AutoPoint – Auto Part WordPress Theme
Whether you intend to set up your very own e-shop, a personal portfolio web page, a professional business site or anything that you want to let the world know, you can definitely bet on AutoPoint premium beautiful WordPress template to deliver the best.
Make use of the included WooCommerce plugin to create your online retail outlet with just a few clicks, or delve into the specifics and change everything from the page logo to copyright watermarks to completely personalize the template for your business. Also, the responsive design and the high-resolution, Retina-ready display ensures that your portfolio profile gets the attention it deserves.
Also, the responsive design, high-resolution and retina ready display ensures that your portfolio profile gets the attention it deserves.
---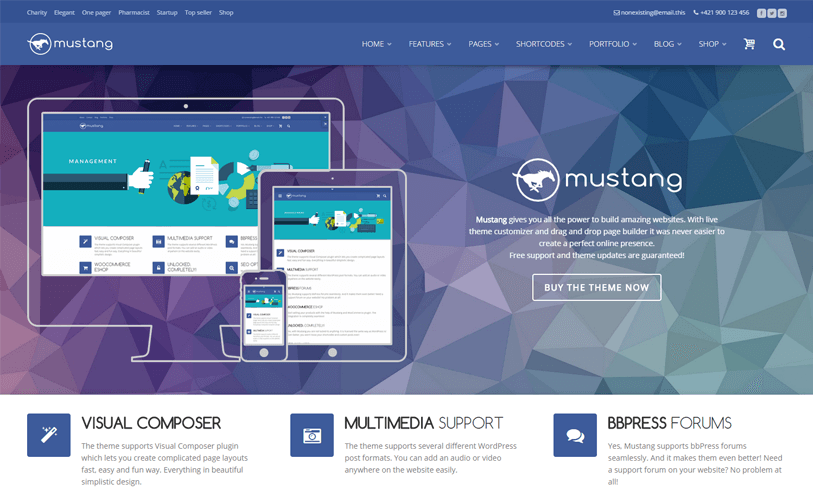 ---
Features Of AutoPoint Website Template – 
The theme has inbuilt add to cart feature and PayPal payment option
Interesting blog section.
6 feature area
Beautiful gallery area with special animated effects.
Cross browser compatibility, Custom Google WebFonts, Multipurpose functionality.
Theme Info + DownloadLive Demo
---
9. RainDrop – Multipurpose Feature One Page WordPress Theme
The inviting design and the clean layout ensure that Raindrop can be utilized for any web designing purpose right from business design, portfolio design, art websites, blogs and lots more.
The feature-rich three column layout allows users to update content and posts with ease making it ideal for bloggers, writers, social websites and so on. Also, the different post templates and the social media integration serve the same purpose as well.
The numerous color themes included with the template and the various navigation menu options can be utilized for creating stunning portfolio style sites and e-commerce sites as well.
---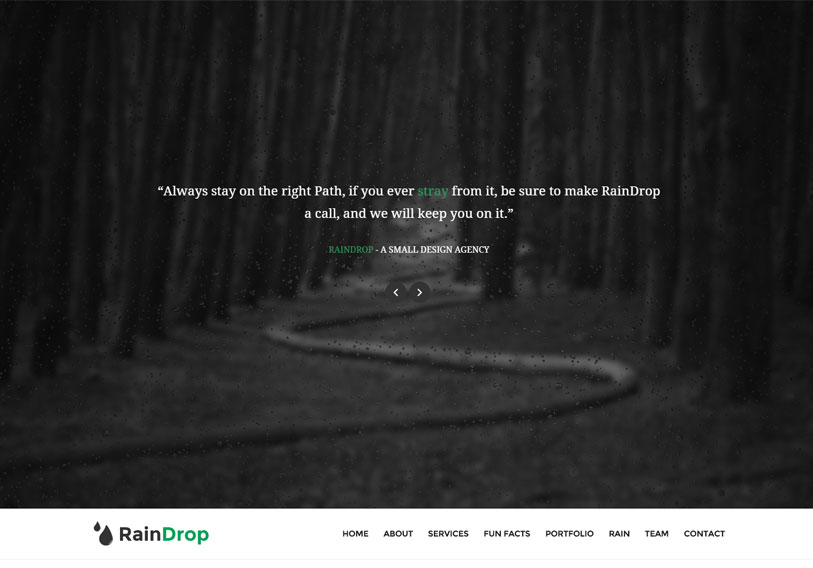 ---
Attractive Features Of Template – 
100+ Shortcodes.
Latest browser & device compatible theme.
Font Awesome Icons and wonderful parallax backgrounds.
Smooth scrolling retina ready.
5 Post Templates (Standard, video, link, gallery, audio).
CSS3 Features and Animations.
Theme Info + DownloadLive Demo
---
10. Geocraft V2 :-
The theme includes all the listing facilities and can be one of the best multipurpose websites one can have, you can share the premium listing options for paid members and free listing for all the members, the google map integration is another feature that helps customer to navigate through the path.
The search listing option is another feature in the theme via which the customer can reach to its desired result by with the help of the specific section of the theme. The blog section is the place where lots of descriptive content can be shared with the customers.
---

---
Features Of GeoCraft V2 –

Amazing sidebar section.
Inbuilt banner section.
Multiple colors schemes.
Widgetized area for videos
Search listing option.
Google Map integration.
Grab the opportunity and download free
Download ThemeClick here to know moreView Demo
---
11. Mason – Ultra Responsive Woocommerce Theme
A WooCommerce plugin integrated design theme is an ultra-responsive, ready to use beautiful WordPress template that has been designed with content writers, e-publishers, and bloggers in mind.
The theme comes in a cool masonry layout, which makes it the ideal platform for bloggers.
It can be viewed on multiple devices and comes pre-loaded layouts to choose for your website.
---

---
Special Functionalities Of This WordPress Responsive Theme – 
Perfectly fits with all screen sizes.
Compatible with all type of latest browsers.
WooCommerce Integrated.
Blog Masonry Layout.
Customizable Footer
Powerful Admin Interface.
Font Awesome and Font Elegant Icons.
Theme Info + DownloadLive Demo
---
Conclusion 
Doesn't matter what kind of business you are running, the above-listed templates can be used for any type of businesses as they are completely responsive, adjustable & multifaceted Wp Themes.
Have any suggestions of your own? Drop out in the comment box below.
Want some more responsive themes? Click
Contributor: Irshad from TEMPLATE.NET – A neatly organized one stop shop for amazing templates spread across multiple platforms.