This is a productive collection of the Best Portfolio WordPress themes. The templates are appealing for designers, professional photographers, creative industry people, advertising agencies, and various other business companies to depict their work elegantly.
All the themes are of premium quality and are responsive in nature, where you can share ample amount of portfolio images, multiple theme options, shortcodes and other sources to prepare your own professional website.
Hope your hunt for the theme gets over here because we have come up with the stunning theme in the market like
---
1. LT Portfolio
LT Portfolio WordPress theme is deeply flexible, robust, straightforward, crisp, tech savvy and extremely customizable, the template gives you a calm and pleasing look. The skin is enabled with full WooCommerce compatibility, the art gallery has a short description where data that drives the customers can be shared.The theme is WPML compatible i.e it has all the qualities to translate your web page. The scheme is retina ready and SEO optimized. The full width slider can be used to illustrate business products and services. The 100% responsive and equally stylish theme enables the marketers to put their products and design work in the best light possible.
Portfolio section comes in an attractive fluid layout which grabs user's attention instantly. The service section is basically a 3 column area where all business specifications can shared. Various content layouts let you choose the most suitable layout for your blog pages like – left sidebar, right sidebar, no sidebar, etc. This stunning theme comes with additional short-codes of high utility, multiple widget sidebars, a variety of features and high functionality.
The customers always curious to know about  the team and the business partners and the owners that's why the theme has a team section to share profiles of the staff and other members. Sharing content via blog section would way more easier now, and will enhance your theme outlook.
Core features of the theme-
Built with Twitter Bootstrap, CSS3 & have hybrid framework.

Member feature area for describing about your teams & supportive

Shortcodes enable the easy insertion of useful elements to pages like buttons, widgets, accordions and drop caps etc.

Supports language translator to enable the users to read it regardless of any word area.

Blog which can be tuned up to your taste, update news on activity performed, tips and events.
You can get this theme for just 79 USD.
Theme Info + DownloadView Demo
---
2.One Page Theme
The One Page theme is highly flexible and and amazing theme, the theme acts an one stop solution for many business outlets, the template is robust in nature and can be used to show prices through pricing table and images through the sliders.
The template also has a 4 column feature area where all the services and prominent features can be shared with the help of the theme, the hexagonal portfolio gallery is another amazing feature where all the images can be uploaded.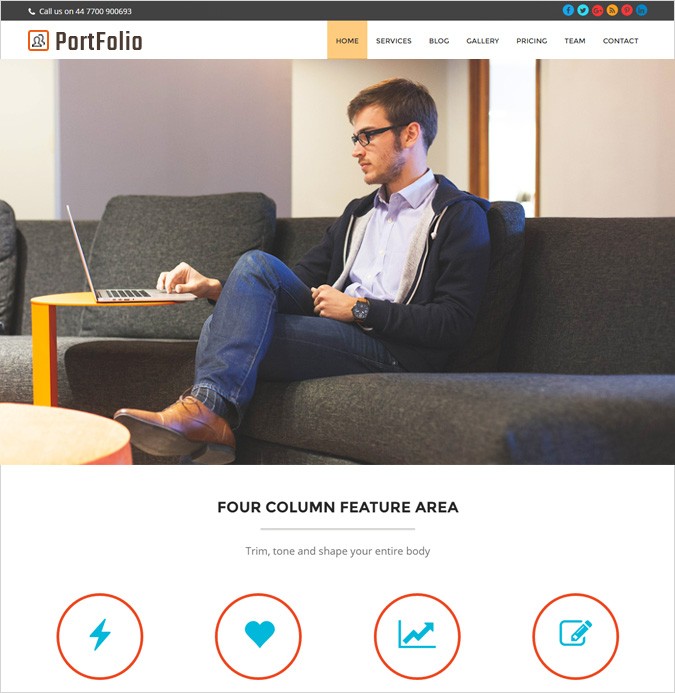 Features Of The OnePage Theme :-
One click installation.
Pricing table included.
Retina ready display.
High performance theme.
Exclusive video section.
4 column feature area for services.
Full width slider.
Responsive outlet.
Theme Info + DownloadView Demo
---
3. Mynd
Mynd is a sophisticated versatile, niche oriented, performance oriented, target achievable,visually accomplished, extensive, informative, trendy, fashionable, resourceful perfect blog and portfolio WordPress theme designed for creative professionals, bloggers, painters, etc. The theme have an stylish layout to make an excellent artist's and is equally good for imaginative endeavors, interior decorator, fashion or lifestyle blogger.
Showcase your artistic taste and art pieces with this stylish WordPress portfolio theme that increases your web beauty many folds. The theme has a 3 column feature area can be used to dispense services of your business in most stylish way. You can also, give complete control over font choices and color schemes with just the click of a mouse. The theme offer you three picture uploading layout options to set your gallery page uniquely according to your choice i.e. two, three or four column masonry styles.
The Mynd WordPress theme has incorporated with multiple variations in the paging layout of the theme and allows to choose from over wide variety of options like – page with sidebar, buttons, columns, count blocks, progress bars, quotes, skills chart, typography, iconography, iconography with boxes, iconography with boxes (left), bread crumbs, etc.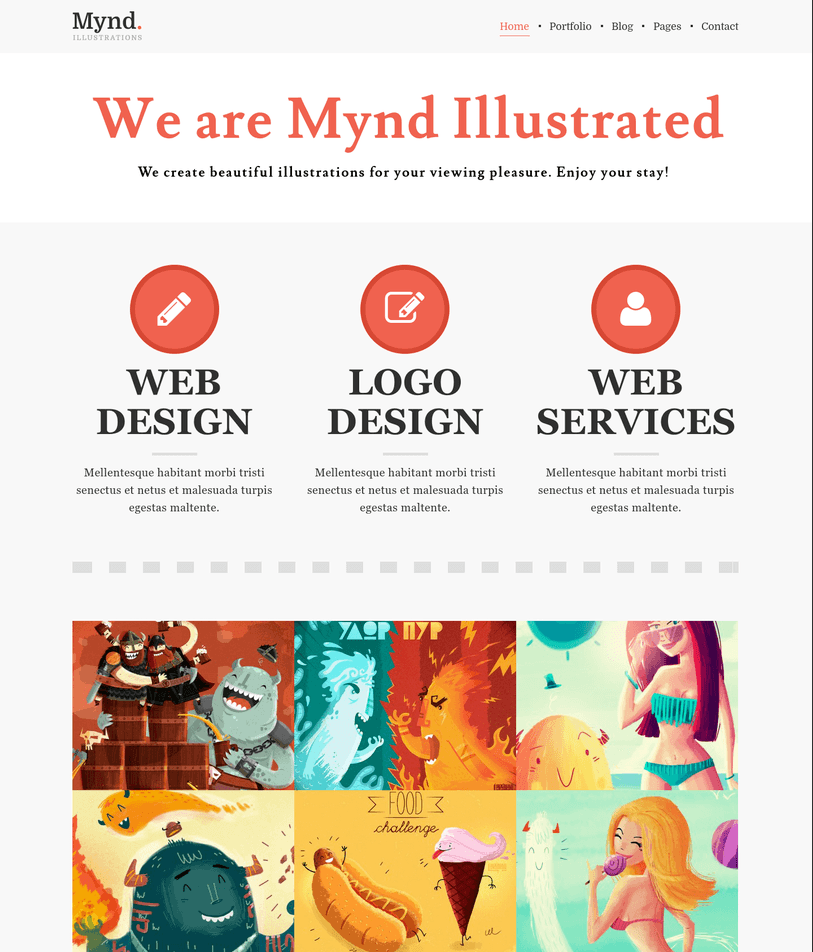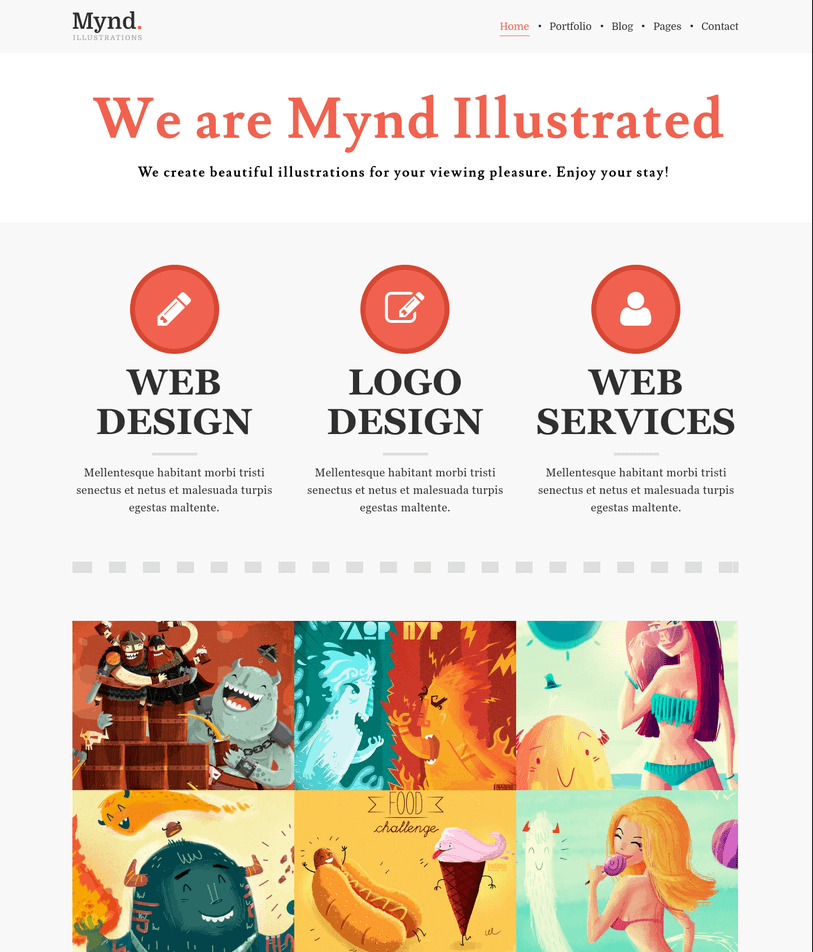 Number of unique features-
Extremely easy to install and modify.

Great deal of flexibility for modifying the interface and layout.

Specially optimized to be used seamlessly across all screen sizes.

Customization options in terms of fonts, colors, and styles.

Short-codes enables the user to make a creative website.
Get this theme for 29 USD.
Theme Info + DownloadView Demo
---
4. GeoCraft V2
The GeoCraft is an amazing business directory theme which can be used to show directions through maps and show premium listing, the theme can help the people to increase the business of the user.
The theme is fully responsive in nature and is custom made for organized site lovers and other specifications can be easily be made through the website.

Features Of GeoCraft V2 –
Fully responsive.
One click auto installs & extremely easy to use.
Create featured business listing – generate revenue via PayPal.
Create Free/Paid business listing.
Integrated user submission system.
Google Map integration – with each business listing on the basis of the city.
Make the most out of the offer and download theme 
Download ThemeClick here to know moreView Demo
---
5. Web Ding
Web Ding theme is unique, responsive, professional, bright, dynamic, mobile friendly , elegant, eye catching, resplendent WordPress theme designed for web designers, development companies and other related corporate sectors like software companies, mobile app developers, graphics, logo designers, etc. The looks & working of this theme is like an ampli designed website by a developer.
The theme has incorporated lead capture form so that your interested customers do not miss the chance for getting updates on upcoming functions and events. They can send message to you along with email ids, that get stored into your back-end. You can collect all such leads for spreading information on corporate sessions, meetings, reunion, etc.
Web Ding is a modern theme that fits easily on any viewport whether on smartphone or laptop. This template lets you develop creative market by showcasing your web design techniques, agency services & portraits.The theme is fully integrated with multiple font-awesome icons & slider options for posts formatting. Besides, it perfectly fits for professionals who wants to display microfilm, artwork and other graphics with delightful ease.
Add retina-ready icons to highlight particular blocks of content, choose from over 600 different Google Fonts, organize gallery, picture section by category etc.This Web design agency minimal portfolio WordPress theme can be a great fit for a wide range of businesses!!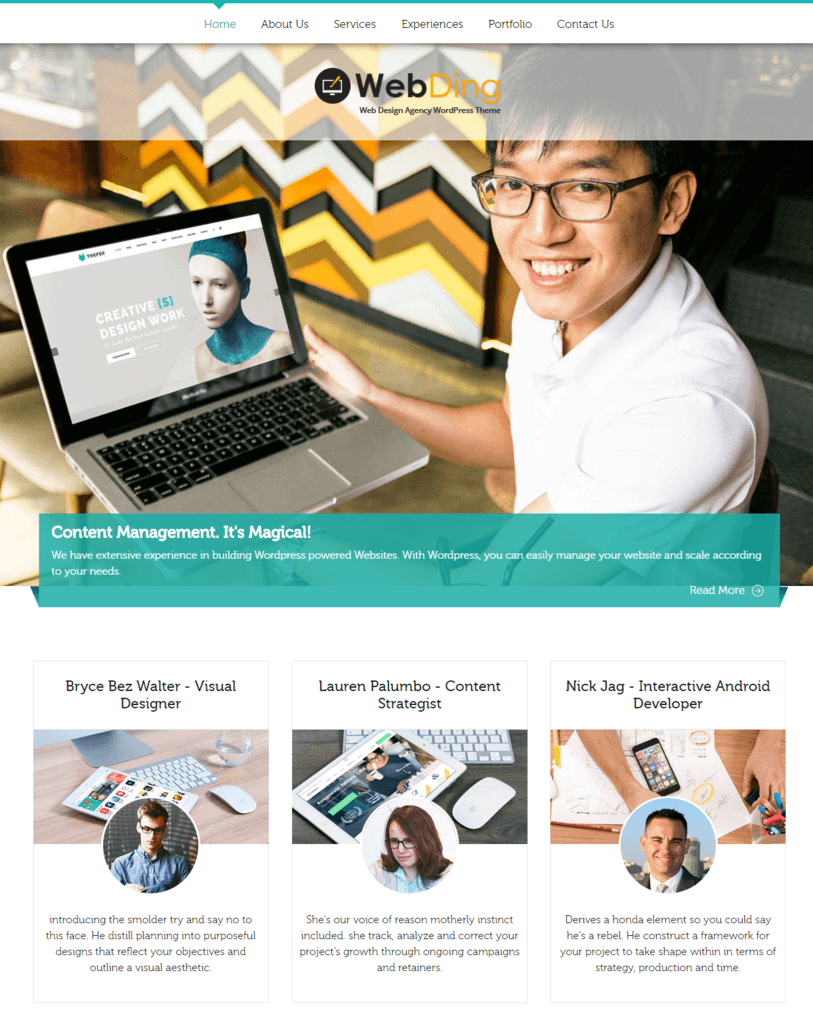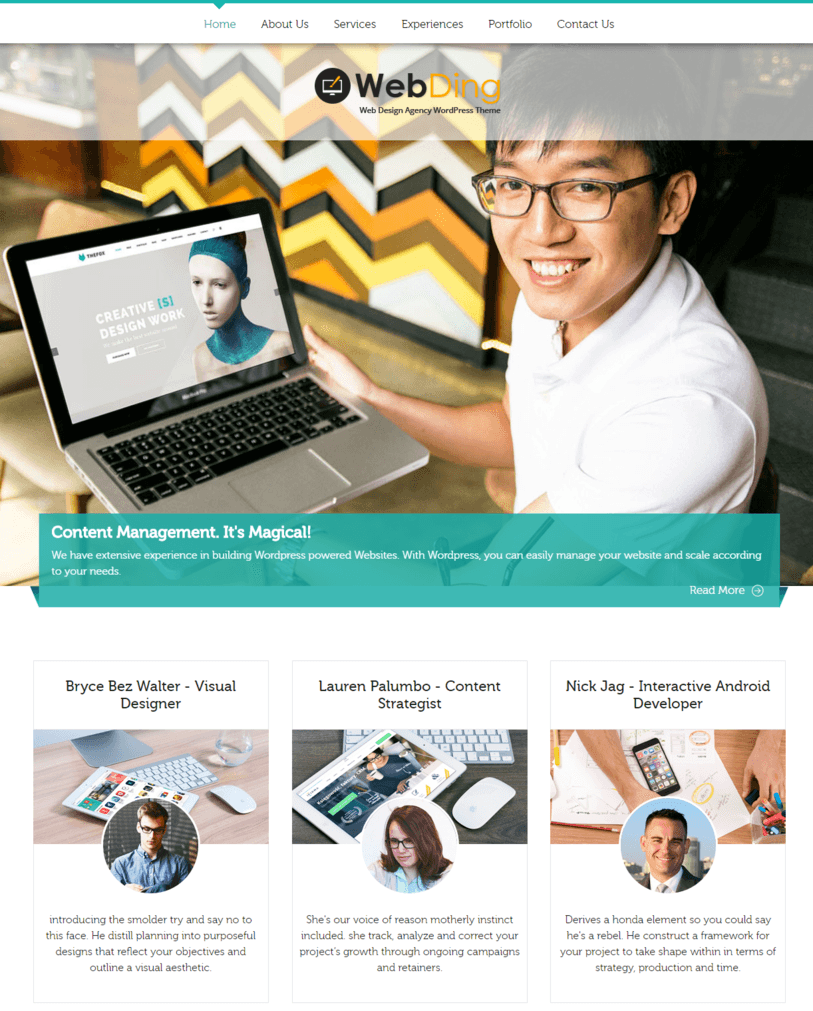 Have a look at its additional features-
Represent multi-platform based services.

Easy to start and maintain.

3 – Column featured area.

Separate sections – to describe different members of the team and their special expertise areas.

The user can even edit the CSS codes to tune it up to their level.

The contact page features a location map.

FormGet Widget – to record the queries of the visitors to use another widget, you can replace it.
Get this stunning theme for 79 USD.
Theme Info + DownloadView Demo
---
6. Canvascolor
Canvascolor is a fresh-faced and youthful, clean and pristine, attractive and engaging, purposefully designed and professionally graphically composed, modern and resourceful, very easy to use and wonderfully enticing, tech-savvy and colorful, charming and elegantly structured, robust, unique and responsive art portfolio WordPress theme that can  used by people belonging to the niche of fine arts. Whether you are a painter, a graphics designer or a creative expert in artwork, this theme can be used to showcase your talent at its best.
The theme gives you the ability to feature 7 images in the slider, a dynamic sidebar with menu hide and show option, promote featured painting exhibitions, an attractive gallery to flaunt drawing and theater functions moments, inbuilt contact template to let your customer reach you easily.
The theme has introduced 8 delighting color schemes to suit your requirement and incorporation of appealing social share icons by font awesome let you promote your sculpting events, local portrait show, exhibition, craft fair, sketching projects, and online carving contest effectively.
The stunning looks of the theme, the way art pieces are showcased and the creatively designed theme makes it the best to portray the creativity of both an individual artist or an organization or a group focusing on arts.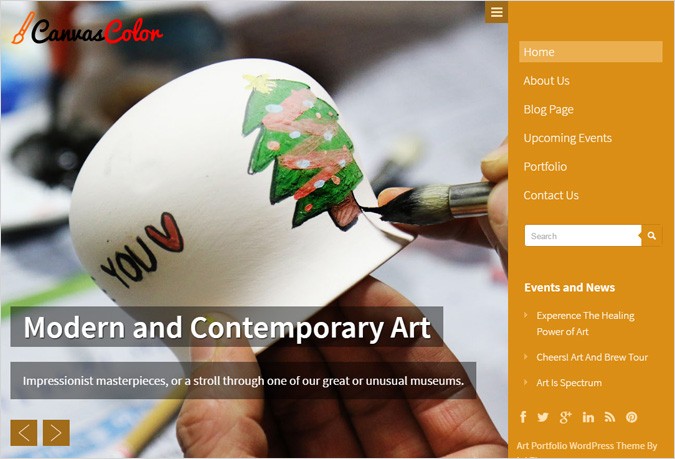 Some of the salient factors-
It supports a blog focused on art, graphics design, beaux arts, videos, architecture and motion design supporting all the popular media formats.

Gallery to showcase your artwork in the best way possible in gallery style. You just have to drag and drop your art pieces in here and the website is up and running.

Ability to create an arts event page and promote it on your website as well as on the social media to get loads of audience.
You can get this amazing theme for just 79 USD.
Theme Info + DownloadView Demo
---
7. ArchDesign
The ArchDesign is a classy, mesmerizing, pleasing, good looking, captivating,fresh-faced and youthful, clean and pristine, attractive and engaging, purposefully designed and professionally graphically composed, modern and resourceful WordPress theme If you are a designer, draftsman, an architectural firm, this is the best theme for you to showcase your architectonics talent in a professional portfolio.
The theme is a one page layout which works horizontally, all the sections such as 'blog' to share content ,'experience' to introduce your business , 'portfolio' to share multiple images, 'Academics' to show your successful and ongoing projects and various other similar data can be presented.
The theme is Bootstrap enabled which gives a sleek, intuitive and powerful front-end framework for faster and easier website creation. Integration of Glyphicons to graphically enhance your website, inbuilt SEO helps you to rank your website high in Google and the Architect website incorporates several unique color styling options.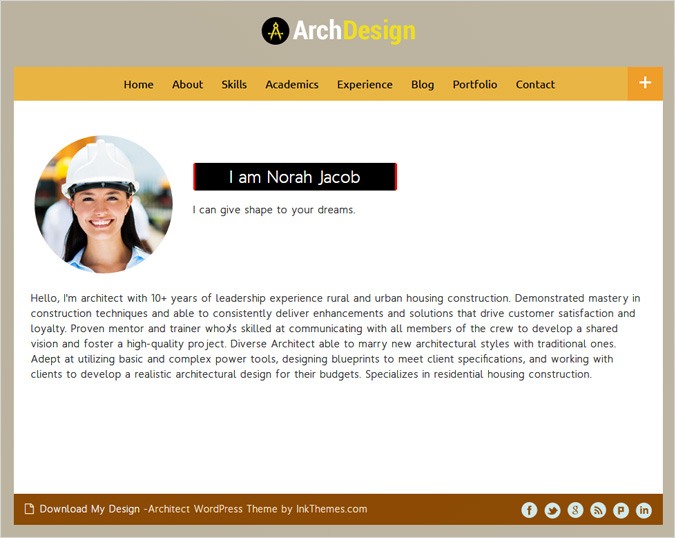 Extraordinary features of the theme-
Sections to showcase your – qualifications, skills, previous projects, experiences and the areas of expertise.

You do not need to know HTML or any other coding at all. Just install the theme, fill it up with your data and you are good to go.

Upload a vCard so that the potential clients can download it and have your contact information in their contact books.

An innovative Quick Navigation solution to make scanning the website easier for the visitors.

The theme changes pages when scrolled horizontally allowing the clients or visitors to have a thorough look easily and without hassle.

Architecture Portfolio Gallery to impress the clients.

Skill chart to let the visitors know skills architect has acquired including academic achievements.

Blog template – to let you show people your ideas about art and architectural design.
Talking about the pricing, you can get this amazing theme for just 79 USD.
Theme Info + DownloadView Demo
---
8. Photomaker Theme
Photomaker is an amazing theme where all the images of your photography can be exhibited amazingly, the theme also has a contact us section where all the customers details can be received and will help you to contact for future reference.
The service section and the blog section are the places where all the business features can be displayed in a defined and organized way and hence increasing your possibilities of business boost.

Features Of The PhotoMaker :-
Fully compatible with all kinds of mobile devices i.e completely responsive
Simple to install and easy to use for all users.
Bookmark effect for perfect alignment.
High quality Photographer WordPress template at reasonable prices
Highly responsive and retina ready.
Stylish social icons are present.
Download Free theme from here
Download ThemeClick here to know more View Demo
---
9. Tattoo Maker
The Tattoo Maker is a clean, subtle, beguiling, engaging, charming, enchanting, appealing, delightful, irresistible and modern template. It is one-page template designed specifically for the tattoo artist, tattoo salons and tattoo experts.
The theme offer you a attractive gallery area to flaunt real time & temporary tattoos, classic designs, needlework and all of your picture stock. Parallax effect of tattoo portfolio theme grab the viewer's attention from the first time he see your online portal.
You can even share your designing ideas, methods, apprentice advice & tips through the latest eye-grabbing blog section featured area on the homepage. Also able to fix images of your studio artists, premium styles, ink momentary, piercing, etc using deceptively full screen slider area. Bestow your dazzling features through 3 column feature area.The portfolio gallery that is used has a gridview to make all your tattoo images look fascinating.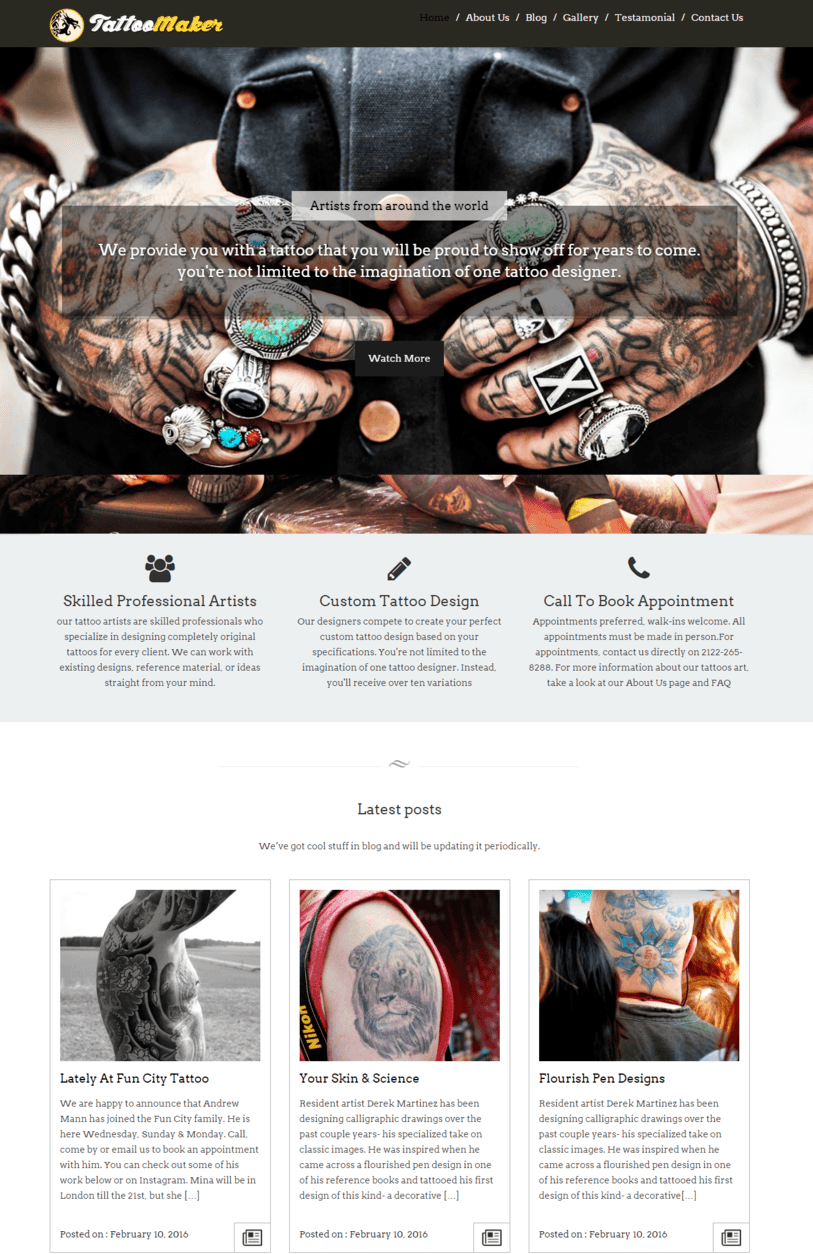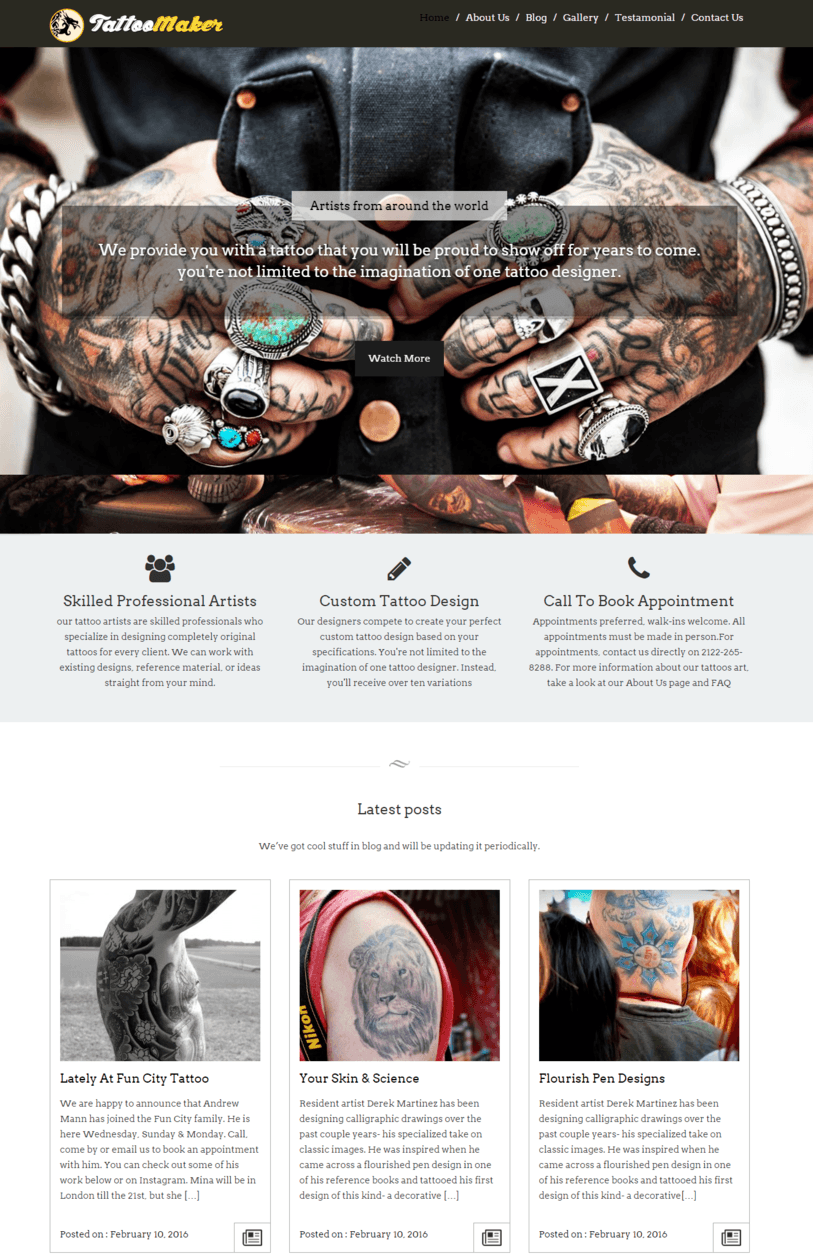 Amazing elements of Tattoo Maker-
Show the comments, thoughts of previous customers in testimonial section.

Contact form enables the customers to ask question if they gets confused somewhere.

Column feature section to show facilities, services and techniques and set glyph-icon according to niche.

The skin can be turned to your taste by varying the color schemes.

The contact form allows clients to stay in touch with you always.
All these cool features can be acquired for just 79 USD.
Theme Info + DownloadView Demo
---
10. Photolab 
Photolab is an outstanding,appealing, agreeable, pleasing, inviting, tempting, interesting, fascinating WordPress portfolio theme with awesome one page layout. The theme is designed for photographers, graphics designers, art portfolio, freelancers or shutterbug to represent their talent at its best.
You can showcase every appearance of your visual art on one-page.Theme has a hexagonal Gallery Section with background color option where you can show your snapshot of engagement, wedding, commercial, child, maternity or wildlife according to their category with short description.
Photography Studio WordPress theme lets you introduce various artist's portfolio expert in a wide range of services like – videos, short films, commercials, online content, social media, etc. in team featured section. Google map integration on contact page helps your visitors to easily locate you.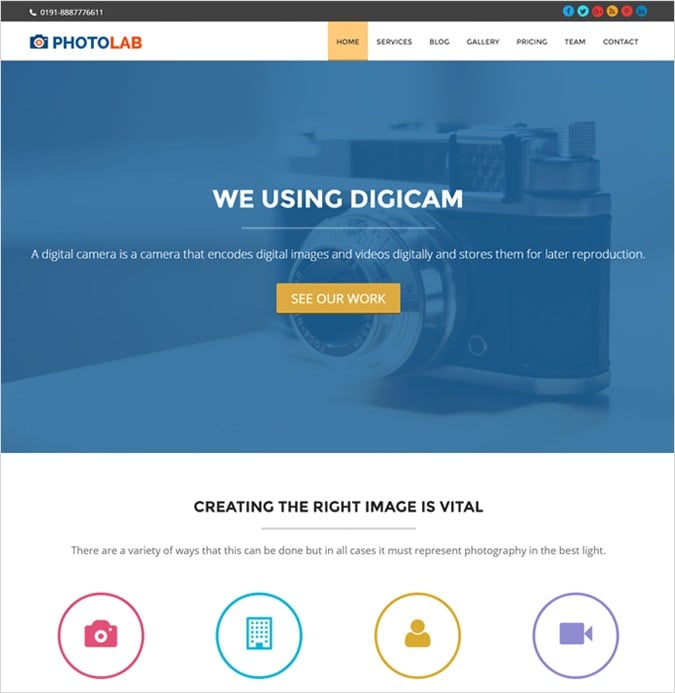 Special properties of Photolab-
Layered Slider section where you can configure the slideshow of your top photographs in a horizontal or a vertical transition.

Colors, fonts, and other design features are totally editable to let you design the theme up to your taste.

List your cinematography services in featured service section

Share your clicking tips and tricks with the audience.

Compatible with the latest WordPress 4.5+ version.

Testimonials of past customers/clients can also be included.
Priced at a mere 79 Dollars.
Theme Info + DownloadView Demo
---
11. PhotoFrame
PhotoFrame WordPress theme is impressive, remarkable, extraordinary, outstanding, exceptional, staggering, incredible, amazing, astonishing, phenomenal, coruscating, imposing, breathtaking, thrilling which is designed for minilab, graphic lab, photo laboratory, studio, photographic developer, workshop, and digital photo printing. Theme helps you to build your online photo developing website for your photo studio.
Theme allows you to share some tips, guidance like how to capture a perfect picture through the blog section. Also, you can promote your event and services through this section.
The template looks great on every mobile device and browsers as it provides a responsive and clean interface, custom menu option, gallery pages with categorization, features your photography services in a highly customizable manner, contact us template gives an ease for most photographers to contact you by email to set up a portfolio review.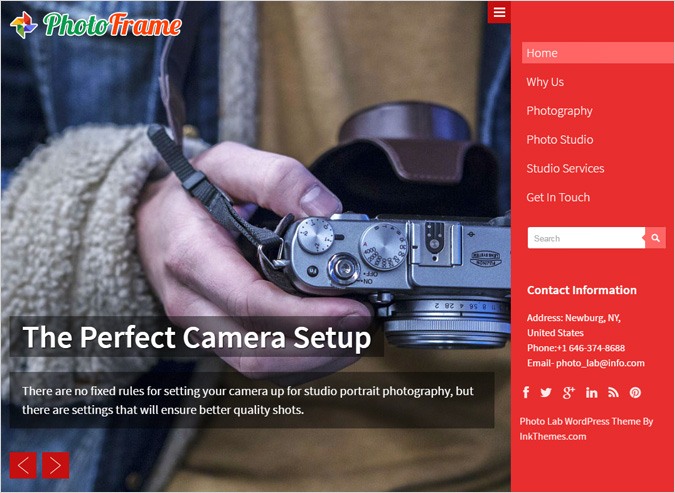 Technical aspects of PhotoFrame-
12 Color styling options

100% Responsive layout

Customization service included

Powerful admin panel

Custom logo and favicon uploader

Well organized and clean code
All these features can be acquired by paying as low as 79 USD.
Theme Info + DownloadView Demo
---
12. Responsive
Responsive is a clean appropriate, acceptable, befitting, amazingly beautiful, technologically cutting edge and smooth, lightweight and user-friendly, aesthetically clean and minimal, visually fluid and dynamic, stunning and engaging, immersive and highly intuitive and developer friendly and multipurpose theme with a boxed slider to showcase all your business related images. The developers have created the theme in such a way that 6 column feature area is perfectly built to meet your needs. Responsive is highly customizable WordPress theme where you can access multiple fonts and different color theme options.
The 8 column creative portfolio gallery to mesmerize everyone is such designed that it grabs the instant attention of the visitors. The theme is WPML compatible which is exactly a translation ready option.The theme has a tagline section along with a call a call to action button to redirect your user to another medium. The 'Responsive' has all the necessary features that you require to create an awesome and unique site.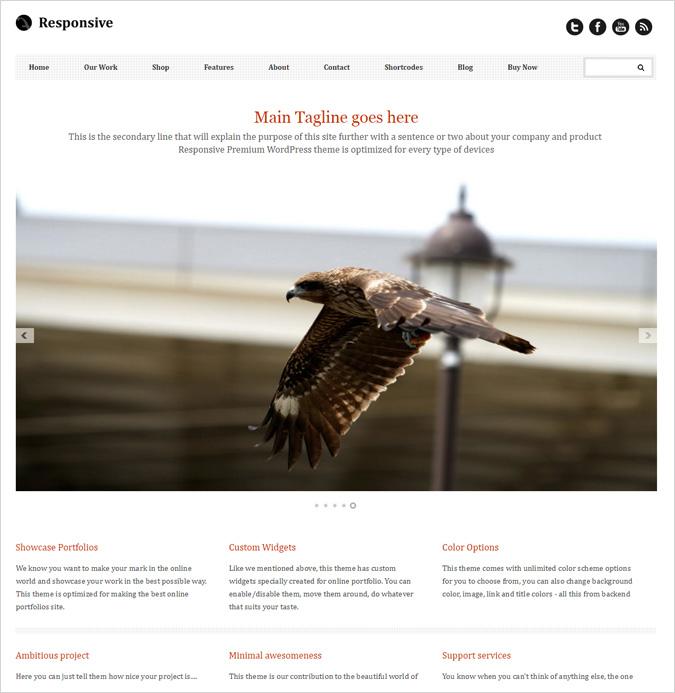 Features of the theme-
The theme is completely secure and is frequently checked for any defects/viruses.

Extensive tax and shipping options.

One page checkout for improving conversions.

Various sharing options.

The theme is very good to be used cross-platforms.
Available for $ 29 to be installed on one domain and for $ 79 you can use it on up to 5 domains and if you pay $299 you can get an unlimited access to use it on any domain.
Theme Info + DownloadView Demo 
---
Conclusion – 
All these premium portfolio WordPress themes are excellent in their own place, you can pick any one of these randomly. While choosing a WordPress theme, make sure you have a clear idea of how do you want your website to look and what is the purpose it is being built for. 
Have a look on other Photography WordPress Themes as well –