Do you seek minimalism in your designs? Are you an avid whose eyes revolve around simplicity and least adornment frameworks? If Yes, then you've got bonbons today as we have curated the list of 4+ Best Flat Design WordPress Themes. Here we present you the ultimate collection of Flat Design Premium template designs for News and Magazines to satiate your rapacious thirst.
We have challenged ourselves to create a visual treat for our clients that harmonizes the tenets of great design with the advances in technology, the possibility of innovation and creation into a single outlay. Our WordPress themes build up a solitary fundamental framework that takes into account a brought together affair crosswise over your business services and product sizes.
Check more collection of WordPress Themes
The foundational components of the theme consist of typography, space, scale, shading, and utilization of symbolism. These components do significantly more than satisfy the eye. Think shading decisions, edge-to-edge symbolism, vast scale typography, and deliberate white space make a strong and realistic flat template interface that drench the client in the experience.
These blueprints work for diverse niches varying from bloggers to foodies to bibliophiles. All the strata would be able to quench your unending thirst for flat gradients and textures. An accentuation on client activities shows the usefulness of our designed templates quickly clear and gives waypoints to the clients.
---
MyBlog – Personal Blog WordPress Theme
MyBlog is a perfectly sculptured template to fulfill all your personal blogging needs on a single platform. MyBlog WordPress theme is packed with all the necessary tools and resources as in no specific coding abilities are required as such! Simply pick your most loved page layout and get splitting.
Within minutes you'll have all the specially created modules and tweaked components you need, ready for broadcasting. You can spare these components and segments for some other time, as well. The simplistic and plain design of the slider section enables you to display your latest information and services including amazing tips and tricks you or your company offers to your clients. We've got the plainest theme for the personal blogging fellas that is MyBlog. Go on and customize the theme as per your blog niche. MyBlog's elementary design will be a perfect match for all that you need to put-upon display- basically your most highlighted blogs, products and services.
---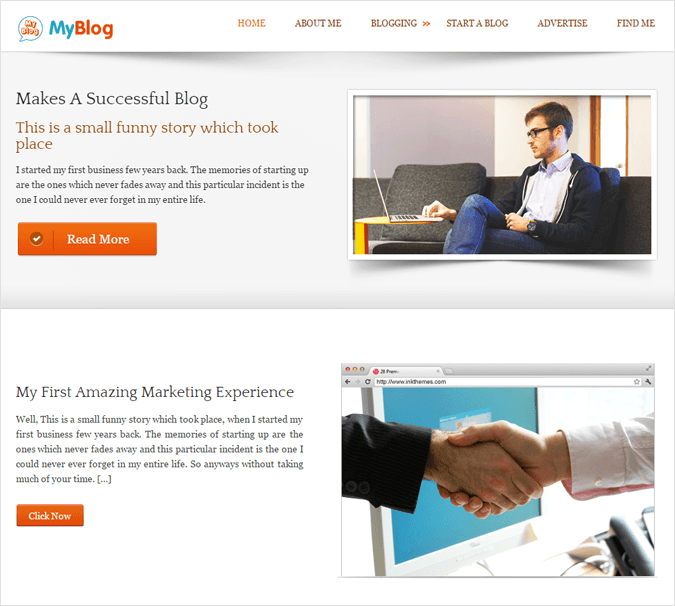 ---
Special Characteristics Of Personal Blog WordPress Theme:
Boxed slider with superimposed content and 'Call to Action' button.

Cross-browser support & responsive framework.

Well Organised header with drop down menus.

Display your latest articles in a special queue on the fully stretched blog area.

Social sharing characteristics on the footer.

Bottom display area for your sponsors or investors.

Bottom 'Call to Action' button for easy contact form filling.

Personalized footer – display your gallery and other important ingredients.

Compatible with latest WordPress version.
Theme Info + DownloadLive Demo
---
BlogSpring – WordPress Theme For Blogging And WordPress Magazine Sites
BlogSpring WordPress theme is a versatile framework for your news and magazines blog. It allows you to impress even the most skeptical clients. This Theme is a power packed package that includes two template options whether you wanna create a technology blog or an environment blog.
Choose from whichever multiple layouts goes with your needs as per the suitability of your blogging/business prospects. The unembellished sidebar on both the templates allows you to display the latest and popular trends in technology and nature that you want to show your clients and make them more aware. A long stretched section of the blog enables one to show the latest blog updates to make easy visibility of the information in a single click.
---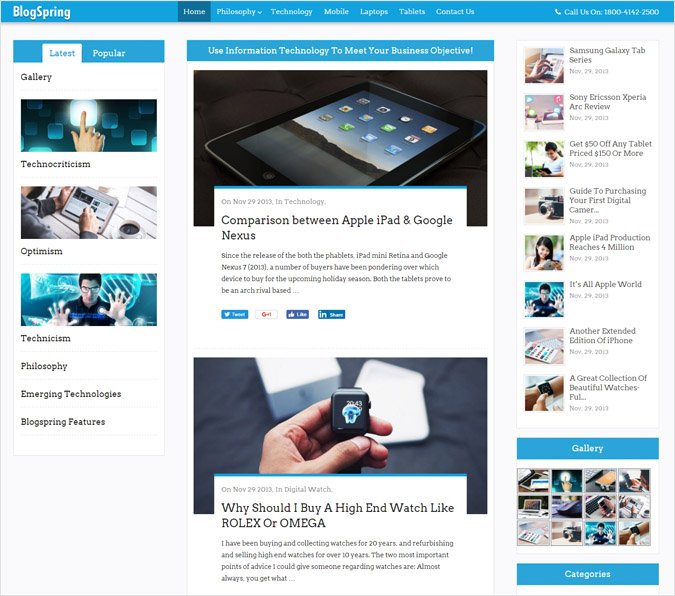 ---
Important Aspects Of BlogSpring WordPress Theme:
Fully fledged front page for all the important articles to be displayed.

Freezed header for better aspect visibility of the lists while scrolling.

Call to Action button on the header.

Unlimited color schemes & typography options available.

2-fully personalized theme options for different blog niches.

Dual sidebar which is customizable with any available widgets.

Flaunt your categories, gallery and videos on the sidebar.

Cross-browser support & responsive framework.
Theme Info + DownloadLive Demo
---
BlogsTrend – WordPress Blog Theme
BlogsTrend is a present day and complex, outwardly staggering template, which includes rich and profoundly responsive WordPress multipurpose blog. BlogsTrend is stuffed with numerous natural apparatuses including templates for fashion, travel, technology, personal, food magazines and blogs.
BlogsTrend WordPress Blog Theme will make your life less demanding and your site assembling quicker and smoother with the customizable header and many other helpful features and efficient shortcodes to boot. This theme offers you a rich structure for the improvement of sites in an assortment of enterprises and site prime examples over all fields. Moreover, the motley of sections in the footer area allows you to showcase any specific feature on your blog.
---
---
Essential features Of WordPress Blog Theme:
Fully accustomed slider area with images and superimposed text.

Lead capture form to collect the details of all essential clients.

5 customizable theme features for different blog niches.

Cross-browser support & fully responsive framework.

Header banners to advertise & flash the names of your sponsors.

Sidebar lead capture form that is helpful for easy contacting.

Compatible with latest WordPress version.

Custom CSS for networks & coded with search engine optimization.

An ancillary area on the sidebar for gallery & follower's details.
Theme Info + DownloadLive Demo
---
PostCover – Blog Installation WordPress Theme
A penny-plain installation framework that is provided by our PostCover WordPress Responsive theme which is specifically designed for all your web blog cravings. This is a perfect minimalist and unadorned structure that suits any niche of a functional blog. It is easily manageable and undemanding resourceful blogging WordPress free template.
PostCover offers you fantastically alluring realistic styling decisions, it has an inbuilt pixel culminate level that makes your site/blog look sharp and current, with fresh looking components, symbols, products and designs over all the stages. This theme is perfect for acquainting potential bosses or customers with your assortment of work through awesome portfolios, even to showcase your publications and products specifically off your site to the general population on the loose.
---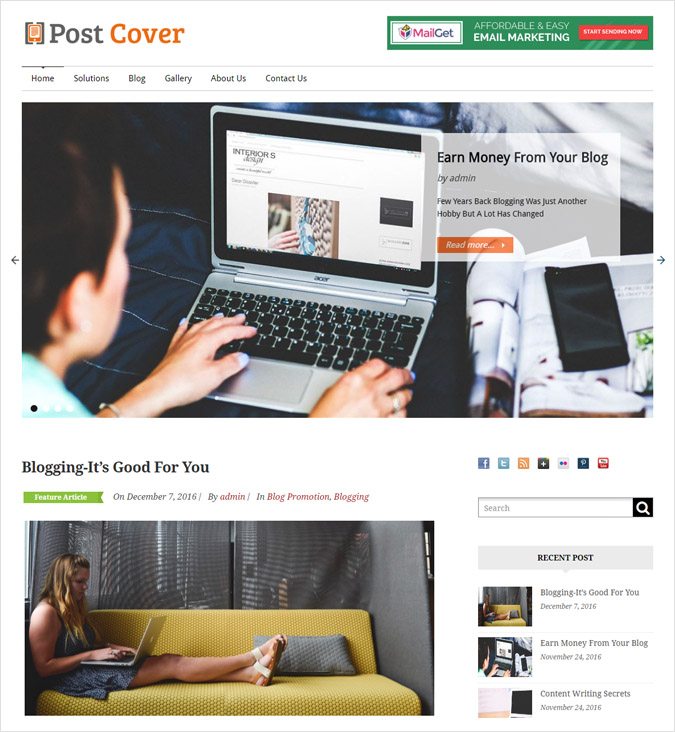 ---
Necessary Ingredients Of Blog Installation WordPress Theme
Banners to advertise subsidiary services & flash posters of your sponsors.

Easy to navigate header with drop down ingredients.

Custom favicon & logo upload to personalize the job probe website.

Clean code and easy to navigate admin panel.

Fully developed widgetized sidebar for recent posts, gallery and categories.

Highly Responsive theme and supported on all browser platforms.

Options for the necessary content to be presented in the blog on the front page.

Widgetized footer and social sharing icons available just below the slider.

Compatible with latest WordPress version.
Theme Info + DownloadLive Demo
---
Kavya Pro – Blog And Magazine WordPress Theme
What's more, with a smooth and exquisite template all through the subject than our Kavya Pro WordPress Premium Theme which is dependable in style, emanation and luminance prose, perfectly crafted for your personal blog and magazine production firm.
There are numerous personalization options through which changes can be made with a specific end goal to make your page emerge. It is conceivable to modify the shades of text styles, page areas, and transfer custom brand logos or symbols. A demo preview icon is made accessible for the individuals who wish to view this theme. Additionally, it has an easy to navigate header that includes drop-down menu and typography options will completely make you raving bonkers.
---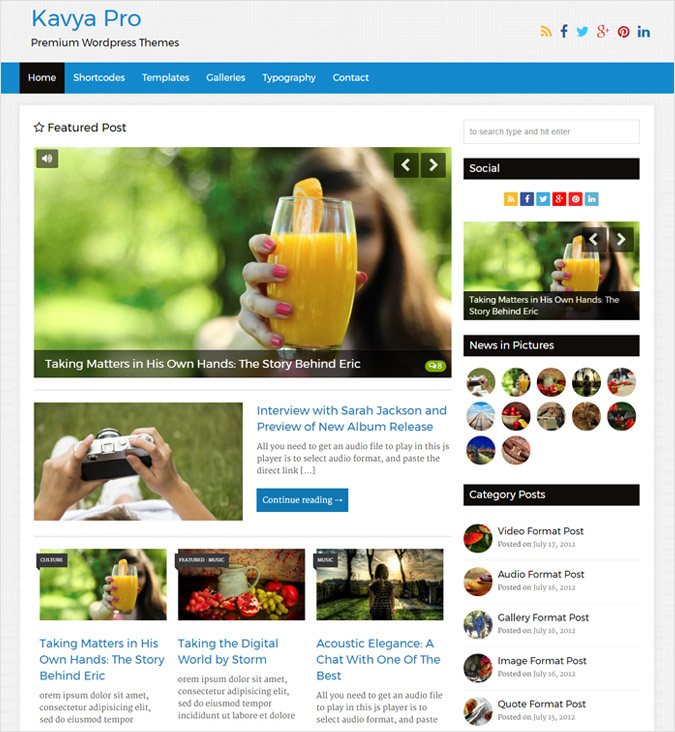 ---
Subsidiary Attributes Of Blog And Magazine WordPress Theme:
Well versed image slider and navigational admin panel.

Cross-browser support & fully responsive framework.

Compatible with latest WordPress version.

Built-in CSS and shortcodes options.

Subsidiary Multilingual, typography and multicolor option.

3-columned feature section area just above the blog area.

Social sharing attributes on the top right end of the page.

Clean code and easy to navigate admin panel.

Ancillary news, gallery and recent post display options on the sidebar.
Theme Info + DownloadLive Demo
Last And Indeed The Most Important Words:
Mentioned above are some of the best Flat Design WordPress premium themes For news and magazines from which you are free to choose whichever you prefer for your business website. We believe that the most important is design and first outlook that these themes would provide to your blog which is purely palpable and sky's the point of confinement. We also have a huge collection of other templates. Go ahead and give'em a try!
Feel absolutely no bar in sharing your thoughts and giving us your views. Let us know what you liked about our theme collection via the comment section below.