Bootstrap WordPress Themes is an autoflow framework for creating a responsive and user-friendly web-based application or website which fits on every smartphone as well as PDA devices.
The majority of people in the world use internet through their mobile devices like iPhone, Android, Windows, and tablet. So it's quite important that your website gets automatically optimized according to the screen size.
It's free and open source module contains HTML5 & CSS3 codes and best for forming a button, form or mobile navigation header.
So, here listed below some popular & best premium bootstrap WordPress themes that will give you a bandstand for developing a responsive website for your business.
For more related information just go through the link-
---
ButterBelly (Trendy)
ButterBelly is an excellent and trendiest theme built with Bootstrap. It is a corporate style template that allows you to showcase your services and features with ease.
If you are aiming to build a better reputation in the online world and growing your audience, ButterBelly is the best WordPress theme you should be using. The homepage is just magnificent, contain full-width slider to show trading relevant images, a testimonial area to show valuable client feedback.
The layout the theme is bedazzled and based on cutting-edge Bootstrap technologies, it is extremely easy to handle and can be completed in just minutes. There is no coding skill needed, and this makes the overall experience using the theme extremely powerful and easy.
Several other features that come with ButterBelly are –
Inbuilt contact form (using FormGet).
Uploading business logo.
Testimonial section.
Showcase of services and products.
Widgetized footer.
Multiple feature areas to utilize.
You can purchase ButterBelly with a one-time payment of $59.
Live DemoTheme Info + Download
---
Business Grow (Most Popular)
Business Grow is one of the popular single page WordPress themes which built on Twitter Bootstrap framework. The theme is high-resolution retina screen support which allows you to display your prime images of your business aspect.
The parallax scrolling effect which provides a unique feel to the website makes Business Grow stand out from the crowd.
Apart from it, Business Grow comes with contact details at the top of the navigation bar. This ensures that potential customers do not need to click on the 'contact us' button. Instead, they can quickly increase leads without losing any potential ones.
The theme comes with 4-column feature area where you can utilize this to share your services with visitors. Space is also useful as you can highlight your team members.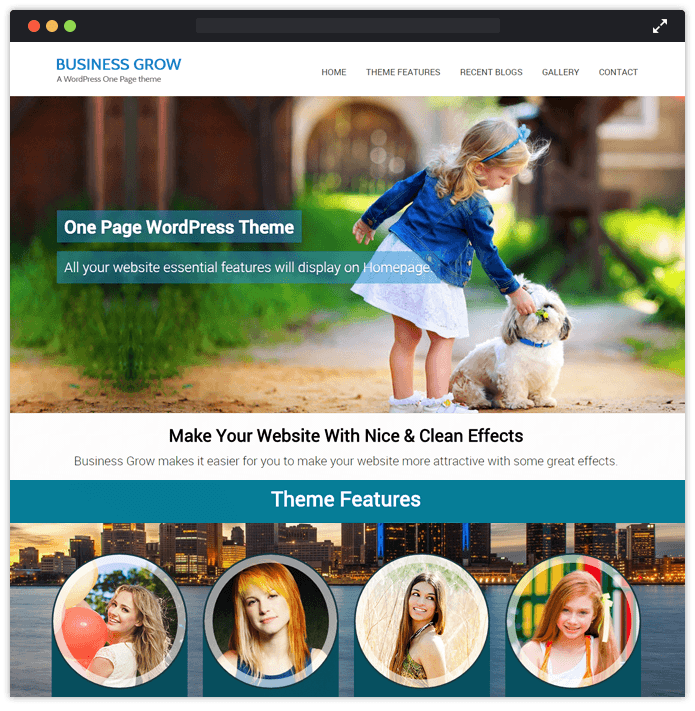 Here are a few more features of the Business Grow WordPress theme –
Fully mobile responsive.
Masonry Effect (Gallery section).
Easy to install and setup.
Parallax scrolling feature.
Homepage sliders that could hold up to 8 images at one time.
Easily customize tagline.
Full-width slider.
Business Grow WordPress theme is priced at $59 for a one-time purchase.
Live DemoTheme Info + Download
---
Compass (Responsive)
Compass is a warm and inviting WordPress theme and thrive for promoting your venture services and approches.
The sketch of Compass template is coupled with so many features which surely support and emphasize your business marketing, also the theme RTL compatible that allows you to display site content from right to left, nearly all the features of the template comes with awesome animation effect one of the biggest advantages is the attractive multiple image slider that allows you to display precious images.
This WordPress theme also comes with a great, inbuilt SEO feature that allows your content to rank better on search engines. Plus, the website theme also allows cross-browser compatibility such as Chrome, Safari, and Mozilla FireFox.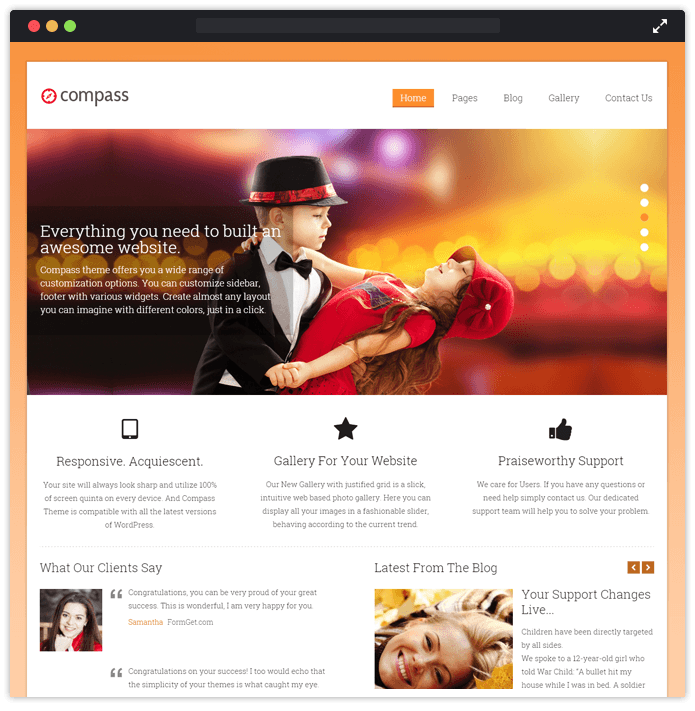 Besides this, Compass comes with several other features such as –
Different templates – like a blog page, contact page, full-width page and default page template.
Portfolio gallery section.
Multiple color skins to choose from (eight colors).
Mobile responsive.
You can get a copy of Compass with a one-time payment of $59.
Live DemoTheme Info + Download
---
Real Photography (Portfolio)
Real Photography is more than just an elegant WordPress theme built on Bootstrap. The theme is creatively developed to ensure that photographers can portray their best work on the website.
Real Photography is fully responsive and mobile friendly that ensures the website adjust itself on any screen whether visitors are using smartphones or a PC, also the theme is decked with so many features that entrust an amazing bandstand for the photographer to showcase their showcase their pic arts, photos, and snapshots in a painstaking manner.
Besides that, the theme comes with inbuilt SEO, which will assist you in ranking on search engine result pages. Therefore, no expensive or third party tools are required to get the job done.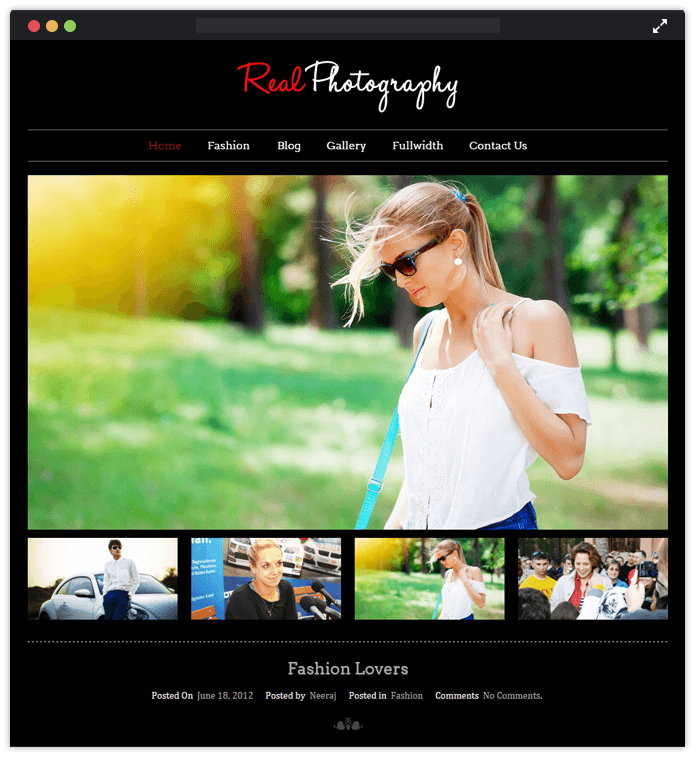 Here are several other features which you and other photographers will find useful when using this theme:
Availability of thumbnail slider
Image security (avoid hotlink)
Comes with three different classic themes to choose from
Social media icons
Instagram sharing widget
Landscape layout feature
Real Photography is priced at $59 (one-time payment).
Live DemoTheme Info + Download
---
ColorWay
The colorway is an innovative WordPress theme that endows an outstanding look on your business website. Any local or small business owners can take an avail of the template.
The pilot of ColorWay has a beautiful slider where you can flourish images of your business strategies blueprint, also it has an inbuilt gallery page template that allows you to frame your business portfolio that gives a pictorial presentation of your business.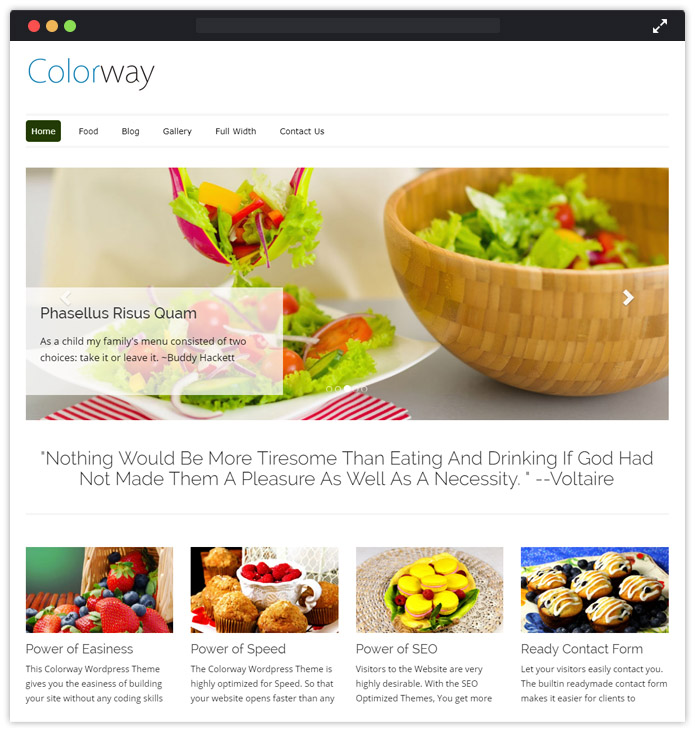 Extreme Features –
Inbuilt contact page template.
The slider has two layouts (fullwidth or boxed).
Custom favicon upload option.
Multiple colors option.
Testimonial section.
Click Below To Download Free Theme
Live PreviewDownload ThemeClick Here To Know More
---
Traffica (Yoga Style)
The design of Traffica is an impressive, attractive and comes with multiple features. The manifestation of this WordPress theme is an excellent not only for forming a website for yoga, but can also be used by businesses and accountancy niche.
The theme is extremely lightweight and is built on Bootstrap. When you first land on the homepage, you will be greeted with a full-width slider that allows you to showcase your products and services with the images.
There are many widget areas which ensure that you will be able to maximize your business opportunity as they allow you to share blog posts, about us page and images.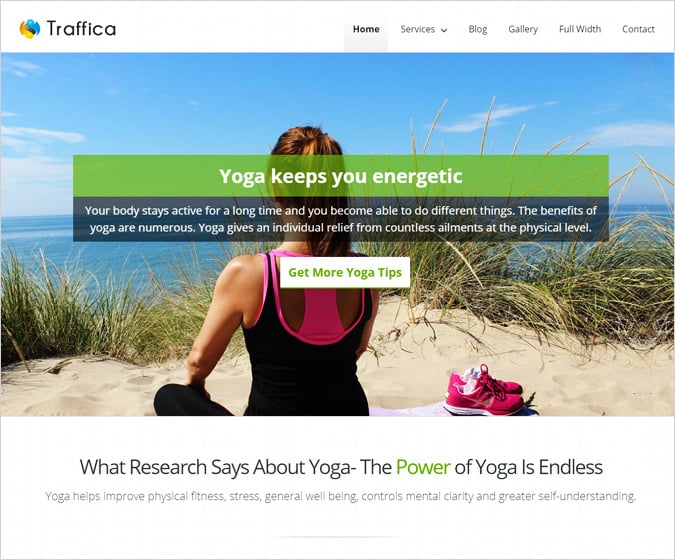 On top of everything, Traffica also comes with several other features such as –
Different template colors to choose from.
Custom CSS.
Integrated social media icons.
A professional typography standard.
Inbuilt Facebook like box plugin.
One-click installation.
Inbuilt testimonial section (widget area).
RTL compatibility.
At this moment, you can get a copy of Traffica at $59 (one-time payment).
Live DemoTheme Info + Download
---
SwiftRay (Fastest Theme)
SwiftRay is fast, and it is an excellent theme for speed junkie.
If you are looking for a WordPress website that loads blazing fast, SwiftRay is the one for you. Built on Bootstrap, SwiftRay is super lightweight which reduced website loading speed and increases the speed of navigation.
The theme comes with both left and right navigation. Of course, you can choose either one side of the navigation in the settings.
SwiftRay loads faster than most conventional WordPress themes because JS and CSS files are removed to reduce the loading speed. Codes are also being minified to ensure that the website does not overload which can lead to a longer loading time.
Furthermore, the codes are extensively optimized to ensure that search engines can scan and understand the website content (without issue).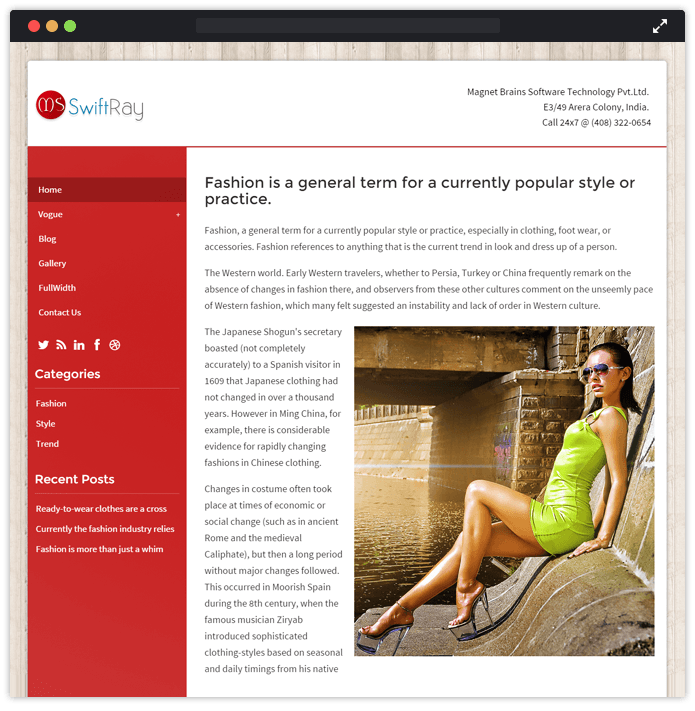 Here are some other features of the SwiftRay:
Custom background support.
Unique optimal page title tags and content presentations (for SEO reasons).
Left and right menu options.
Integrated with various social media platforms and icons.
Availability of vertical menu.
You can purchase a copy of SwiftRay with a one-time payment of $59.
Live DemoTheme Info + Download
---
GeoCraft
GeoCraft is the jewel of WordPress directory themes that gives a surpassing platform for creating a website for any business.
The layout of GeoCraft theme is built on Bootstrap technology which gives a responsiveness on your website, advertisers can place their business ads by price listing module, they can pay their ad payments via an integrated PayPal payment gateway channel.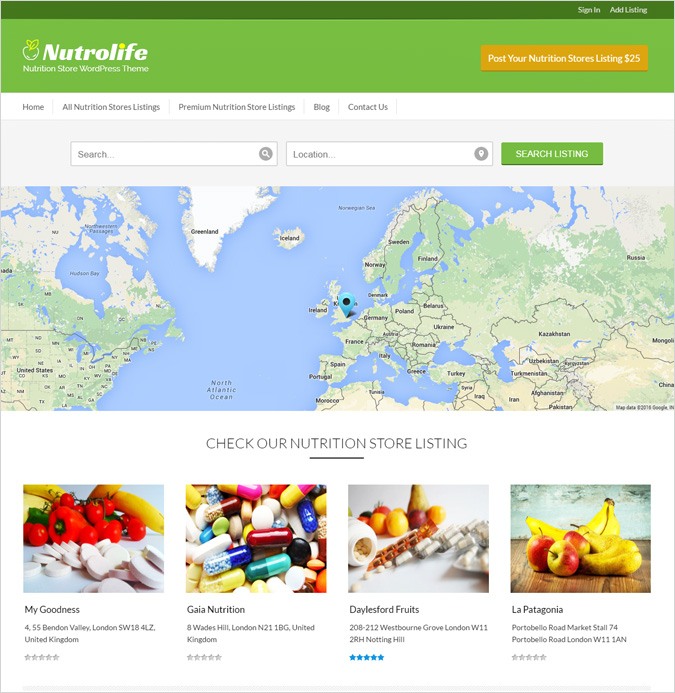 ---
Outstanding Features –
Set the price listings.
Call to action button for listing submission.
Easy add listing for business owners.
Recurring payment based listing.
Create Free/Paid business listing.
Get Responsive Directory WordPress Theme For Free
Live DemoDownload ThemeMore Info/Download
---
ResumeWay (Perfect For Resume Website)
ResumeWay is an awesome WordPress theme that allows you to create a professional look on your website while sharing your skills with your potential employers.
For starters, it is extremely clean and simple template that allows you to share a thing (or two) about yourself. It is enormously uncluttered which makes reading much easier and reduce the bounce rate, also the theme framed with HTML & CSS3 codes that give a clean & crispy look for the reader. ResumeWay also allows potential employers to download the curriculum vitae (CV) with just a single click of the button.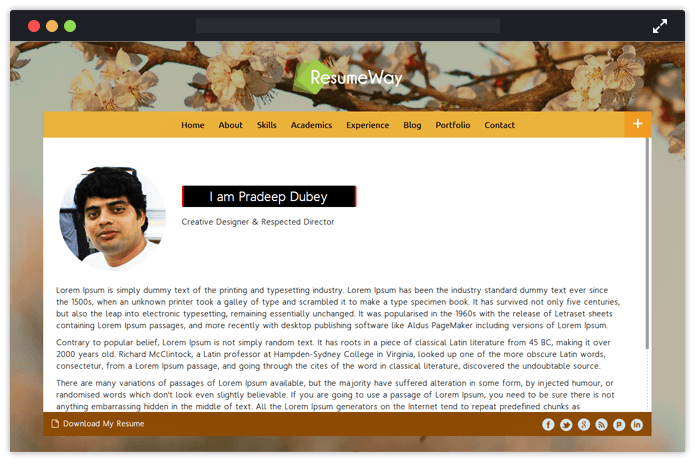 Apart from the above features, ResumeWay comes with additional features such as –
Built on Bootstrap.
Glyphicons enabled.
Inbuilt SEO features.
Comes with eight inbuilt color templates.
Mobile responsive.
Integrated with popular social media icons.
You can get a copy of ResumeWay with a one-time payment of $59.
Live DemoTheme Info + Download
---
Biznex (One Page)
Biznex has a dual structure layout (one page or multipage) that gives a magnificent path to develop any merchandise website like IT sector, Corporate World, or other local business.
The presentation of Biznex has both single and multiple page layouts that provide an option to switch according to your requirement, a team member segment where you can introduce your staff to the visitor, also an about the area that permits you to brag about your venture. This Bootstrap built theme provided great exposure for your customers and users.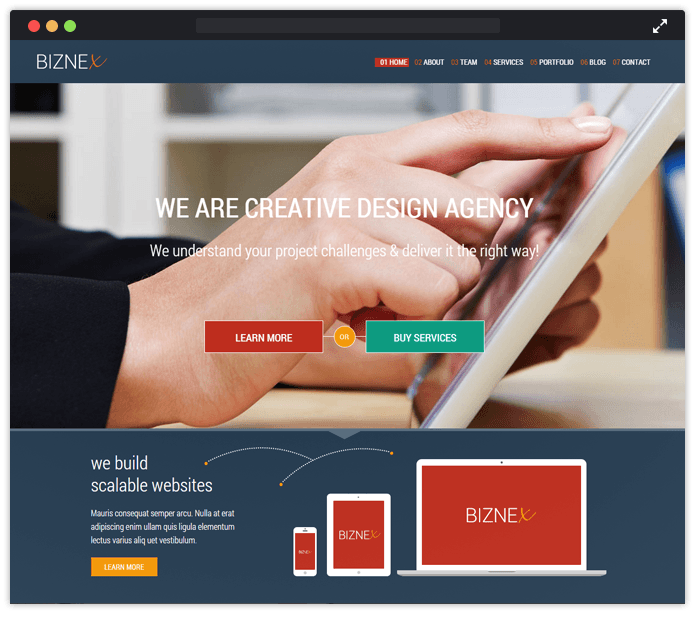 Some interesting features of Biznex WordPress theme are – 
Stylish portfolio.
12 columns grid and 9 custom posts.
Parallax scrolling.
Twitter bootstrap and cross-browser optimization.
Well-commented code.
Google Maps.
Get this theme with a one-time payment of $42. 
Live DemoTheme Info + Download
---
OnePage
OnePage is one of the best single page WordPress themes which can be adopted by those business owners who want to elaborate a responsive and flexible single page website. The layout of the template is a unique which surely suits your desire need.
The formation of OnePage skin is built on Twitter Bootstrap framework that gives an outstanding flexibility on your website, you can make the use of video section to give a virtual tour of the latest Bootstrap technologies, also it has an integrated Google font icons to set service relevant icon.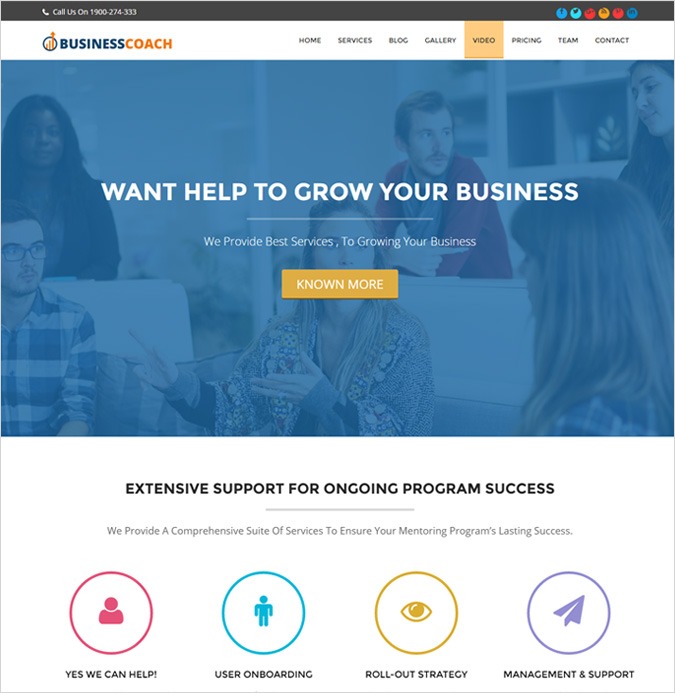 ---
Prime Features –
Back-to-top button.
Smooth scrolling function.
Customer's testimonial area.
Portfolio categorization feature.
An inbuilt contact form on the homepage.
Get This Single Page Theme At Free Of Cost
Live PreviewDownload ThemeClick Here To Know More
---
LT App Showcase (Flat UI)
LT app showcase is accomplished for app developers to proliferate and describe the motive of a newly launched app and software. The theme is built on twitter bootstrap and hybrid framework and perfect for corporate websites.
The delineation of the LT app showcase has a vertical slider where you can flash the screenshots of your app for guiding the visitor, share tips through the blog. You can use the theme for different purposes by simply replacing the old content from the theme & add a new one, and your new responsive website is ready in few minutes.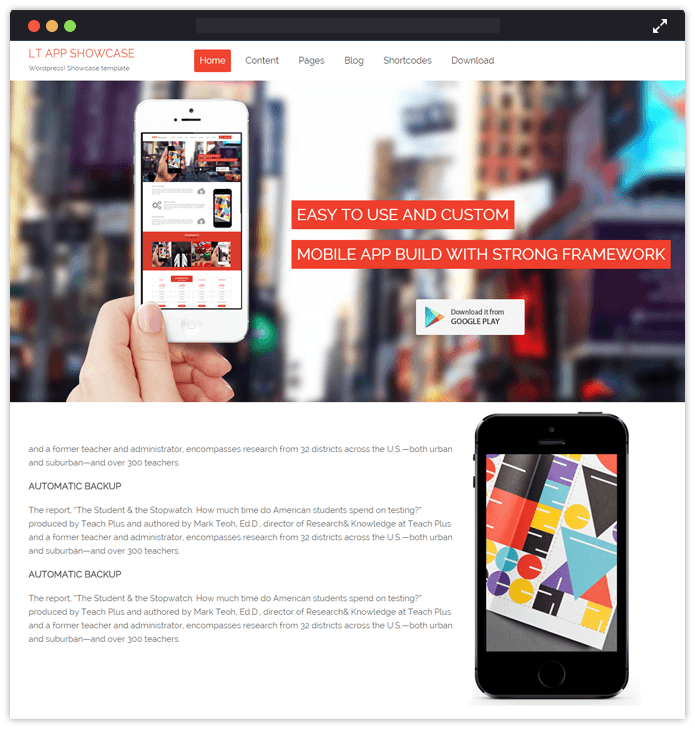 Features that make LT App Showcase theme outstanding –
A fully responsive theme that bends for any type of devices like laptop, mobile, tablet, etc.
 Unlimited color styling.
Different content styles.
Showcase your images and videos with a beautiful portfolio.
Compatible with every type of browser.
Purchase LT App Showcase theme with a one-time payment of $29.
Live DemoTheme Info + Download
---
CarSafety (Business Template)
CarSafety is yet another Bootstrap WordPress theme that is perfectly suitable for the small type of corporate who want to capture leads for your online car insurance agency.
CarSafety gives you a customization option using which you can change the background image and every section of the website.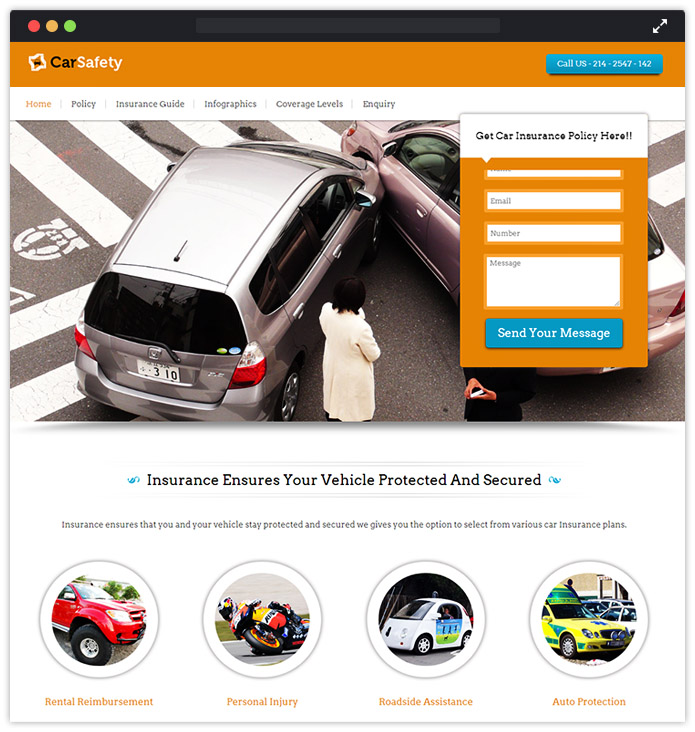 Few more interesting features that make the theme outstanding –
Fully responsive design with multiple built-in features.
Attractive 4 Column feature area.
Flexible drag and drop page builder.
Interesting portfolio with Photo preview.
Compatible with all the latest browsers.
100% Fluid website layout.
Advanced theme options.
Buy CarSafety theme for $79 (one-time payment).
Live DemoTheme Info + Download
---
AIR (Single Page)
AIR WordPress Theme is a jewel of one-page WordPress theme and well suited for creating a "Coming Soon" landing page for your upcoming business project launching.
AIR (Single Page) has a powerful admin panel that permits you to select or deselect the section you want, also a newsletter form for collecting subscribers before the launch. The theme is framed on is made with Wrap Bootstrap framework that gives flexibility on your site when the comer explores your website.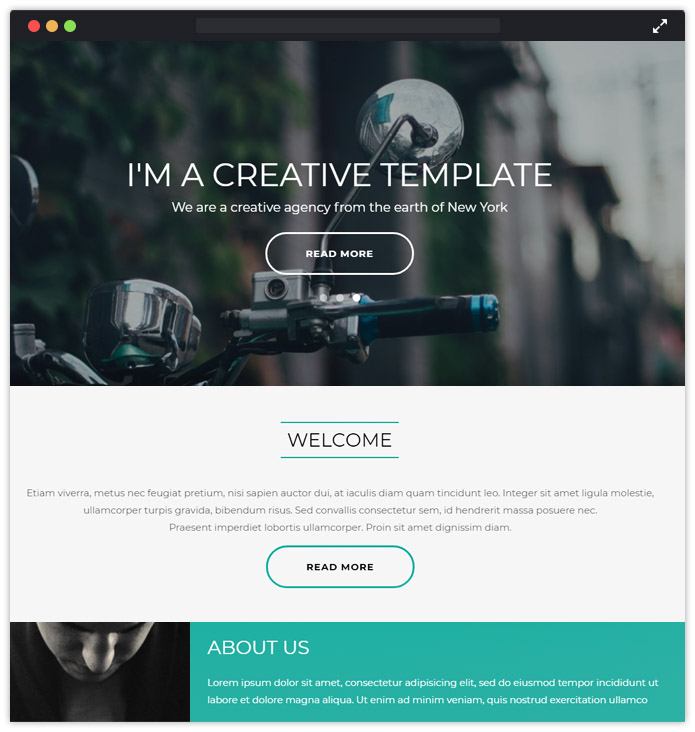 Some interesting features of AIR (Single Page) WordPress theme are –
Full-screen backgrounds with responsive layout.
Built Bootstrap With Quick navigation enabled.
Full width HTML template.
Font Awesome icons.
Working AJAX contact form.
Google Map.
Buy AIR (Single Page) theme for $14.99 (one-time payment).
Live DemoTheme Info + Download
---
HTML Template
HTML Template is a WordPress theme is a responsive designed for schools and educational institutions which helps you create websites in a few minutes and without touching any single code.
The blueprint of HTML Template is built on the bootstrap framework and incorporated with lots of features that will keep your site users stay tuned until your project is ready, also an AJAX-based email subscription form that converts your visitor into a subscriber.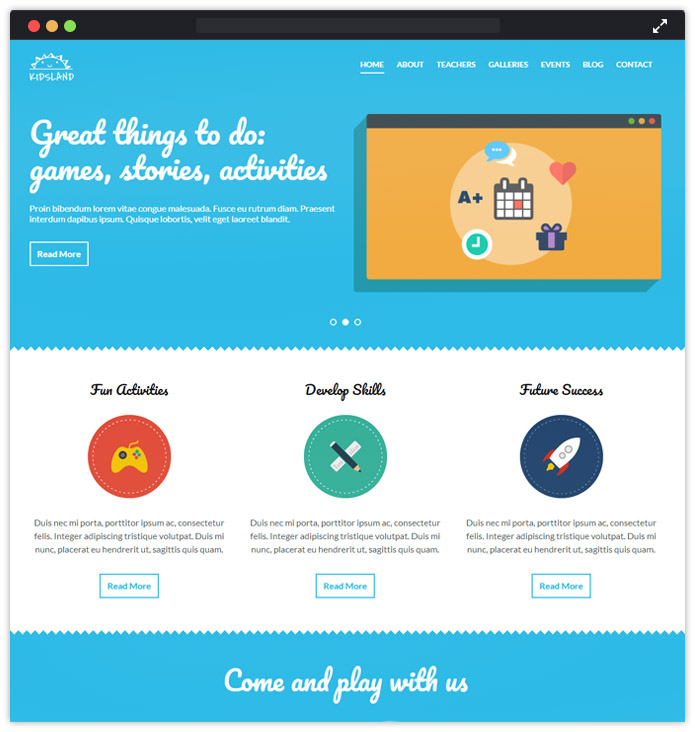 Have a look at some cool features of HTML WordPress theme are –
Easy to use theme option panel.
Subscriber form to build your own email list.
Twitter Bootstrap 3.1.1 framework.
Font Awesome icon.
Working Contact Form.
Buy HTML Theme for $25 (one-time payment).
Live DemoTheme Info + Download
---
CheckMate (Lightweight)
CheckMate is another theme to use on your WordPress website for creating a "Coming Soon" landing page for your upcoming product or service, for your personal or commercial projects.
CheckMate is crafted with an eye detail and focus on all most each and every part to deliver high-quality and retina ready layout. Its responsive layout allows your to operate your website on different devices like computer, laptop or mobile phone as well.
Some more features of Chess WordPress Theme are –
Background Slideshow.
Lead capture & woocommerce is also available.
Comes in 8 different color skins.
Retina ready and 100% responsive
Social icon integrated
Buy Chess WordPress Theme for $79 (one-time payment).
Live DemoTheme Info + Download
---
 Conclusion –
There are many themes that are built on Bootstrap, and the above are the top 10 Bootstrap WordPress themes.
Do you have a favorite Bootstrap WordPress themes you would like to share with us? Leave a comment below and tell us more about it!
Check out our other interesting posts –