Construction is the most primitive form of engineering in the human kind, it requires great skills and concrete foundation to provide society a magnificent structure where a number of people can reside. To channelize this facility to the maximum people an online presence is a must and for that, you must have a best Construction WordPress Themes which will help you to boost your business.
WordPress is an ideal place to demonstrate your business achievements and your mastery of technical and aesthetic skills. All of these construction website templates are built on a WordPress platform which is renowned for its stability and fast loading.
Construction involves inventory management, masonry works, designing, architecture, planning, implementation, proper supervision, minute and artistic work, material and elements used, proper elevation and various other activities are to be taken care off.
These themes are perfect for – builders, civil engineers, architects, construction sites, building contractors, commercial construction companies, home construction companies, residential construction companies, and much more.
To synchronize your construction activities and services, we have come up with 12 best and vibrant Construction WordPress themes.
You can also visit our other informative posts on constructions:-
The website must look good, and must have the following minimum standard features:
It must be fully responsive and display beautifully on any size screen.
The template or theme should be easy to customize. You have enough to do just running your own business; you should not have to learn how to code just to set up your website!
It should be cross-compatible with a range of browsers: Google, Firefox, Internet Explorer, OS X and iOs, Safari and more.
Well-organized, clean code. WordPress may be well-known for its reliable and fast loading, but the stuff 'under the hood' matters and you should choose your template designer carefully.
A powerful admin panel, where you can change your settings, content, upload photos and update your blogs. This panel should have a simple, clear layout to make it easy for you or your administrator to make changes to your website quickly, critical for when you have a promotion, special offer, or just want to upload pictures of your newest project.
---
1. Build & Design – Construction Company WordPress Theme
Our Build & Design construction company WP theme is extremely beneficial and fits in every aspect of construction business establishment, it is enriched with lead capture plugin form which gives access to you to capture the lead on your website, the construction WP theme has an impactful layered slider which impresses your customer.
The dazzling theme has a lead capture form where all your leads can be generated with the help of the respective section, the customers can fill in their basic details and that information can be used to contact them for future reference. In addition to that, the theme has a boxed slider to show your amazing construction images. The theme is also supported by a 3 column feature area which can be used to project your construction services.
Perfect for: Builders, architects, construction companies
What's different:
Photos are displayed in slide format just below the full header. It grabs attention without dominating the page.
Ideal for companies with a well-known logo as this template has loads of space. This helps customers to identify with your brand immediately.
Everything you want to know about the business is present on the homepage. This is a great theme for 'lazy clickers' or people in a hurry.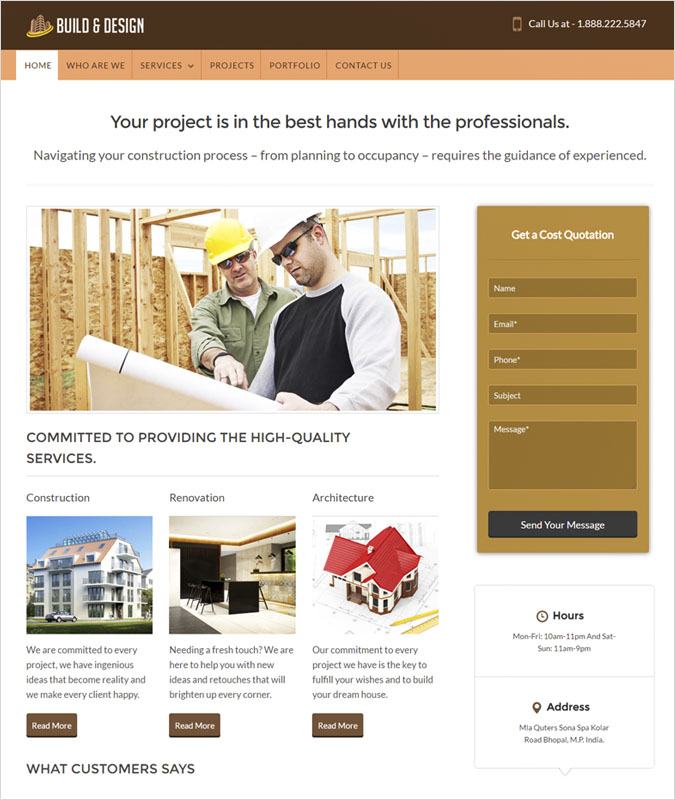 ---
Awesome features:
3 column services area where you can add your projects, services, team members or more details about your business
Unlimited gallery with Twitter-enabled slide views has pop-out images
Expand your services in a blog. Easy links to blogs from a widgetized sidebar
Prominent phone number and logo section
A different widgetized sidebar for home, and content pages. The homepage contains a Google map for easy reference, business hours and contact details. The sidebar on content pages contains your contact information, a video link, search button and blog post links
Customer reviews or testimonials section
Elegant slimline footer with social media button
The drop-down menu gives you room to expand information on your services
Customizable contact form with captcha – you will not receive spam from your website, just good leads
11 stylish colors enabled
Price: $79
Theme highlights:
Two different forms to remind your customer to get in touch with you.
'Heavy' footers are now popular in website design, which is not everyone's taste. This design refreshingly only features social media links in its discreet footer without further embellishment.
The contact form appears very prominently on the front page. Excellent for people who surf in and just want you to send them a quick quote.
Live DemoTheme Info + Download
---
2. Architect WordPress Template
Architect WordPress theme is strengthful remarkable domain support for your business in the field of construction, It is the first choice for displaying models, drawing, graphs, apart from this it covers brief info about projects in its different section, 'Architect' is embedded with NextGen plugin to provide a way to your clients in your gallery garden.
'Architect' also consists of feature top section and its description box where you can make your readers read the best of yours and top of that 7 astonishing sliders can redirect your user to any of your page and service area, through slider link and homepage features settings including bottom, complete your template in best possible way.
Suitable for: Builders, Architects, and innovative construction companies
What's specific:
Add up to 7 images with permalinks on the homepage image slider
Excellent use of 'above the fold' space for your tagline or high-impact text
Rich page layout with photos breaking up large areas of text to keep visitor's attention
Clear CTA's (Calls to Action). The slideshow contains prominent 'Contact Us' buttons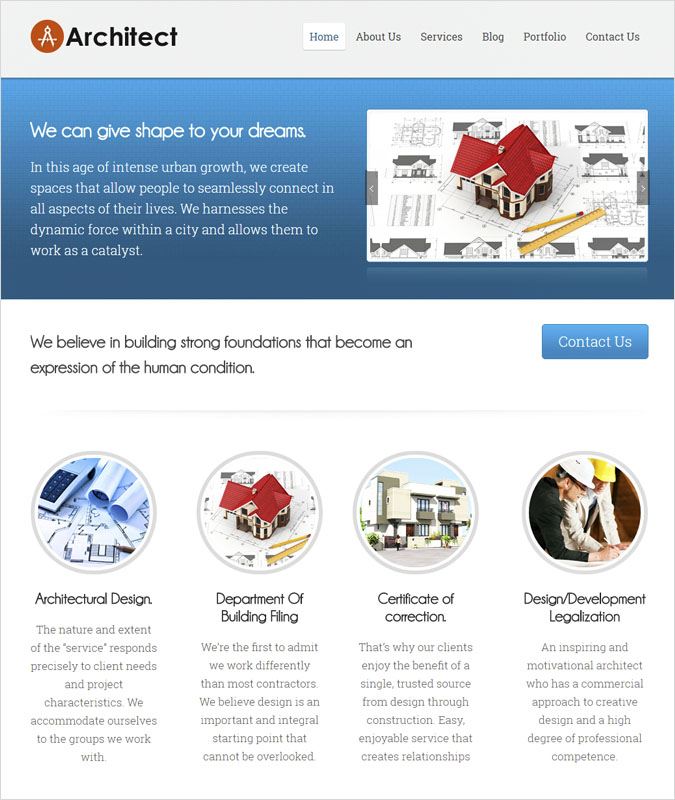 ---
Splendid features:
4 column services area for projects, services, team members or more details about your business
Gallery with elegantly framed Twitter-enabled slide views has pop-out images
Post your new projects in the form of a blog – it's simple and fast
A different widgetized sidebar for homepage and content pages. The homepage contains a brilliant, neat table with a summary of your services
The sidebar on content pages includes your contact details, search button, and blog post links
The 4-column widgetized footer has room for discreet social media icons, your mission, blogging highlights, About Us summary and contact details.
Integrated contact form
10 Vibrant colors included
Price: $79
Template covers:
The option for adding a body background image.
Choose from various page layouts e.g. full-width, gallery, default template and other options.
Live DemoTheme Info + Download
---
3. QuickDraft – Drafting WordPress Skin
When it comes deep technicality about the planning behind any of your construction projects, then we need to move out with a template like QuickDraft which can introduce about your supreme strategies or approach related to fabrication in a unique dimensional manner to your new users.
QuickDraft gives you the privilege to fetch any notification you want to give to your customers existing in the database by its lead capture ability. It also enhances your theme by providing a full-width slider section where all your drafting business related images can be shared. The 4 column feature area is the further value addition to the theme where all your business services can be shared.
Appropriate for: Engineering drawing specialists, technical drawing experts, and agencies
What's unconventional:
The fast-loading slides provide a good first impression
Prominent 'Call Us' button with Integrated tap-to-call Button option for mobile user calling
Neat numbered or bulleted list of services in sidebar
Clean and straightforward layout, it's a snap to navigate
The 4-column widgeted footer has an About Us summary, thumbnails of your gallery, links to recent blog posts, contact details, search button and social media icons
Stylish 8 Colors to grab users attention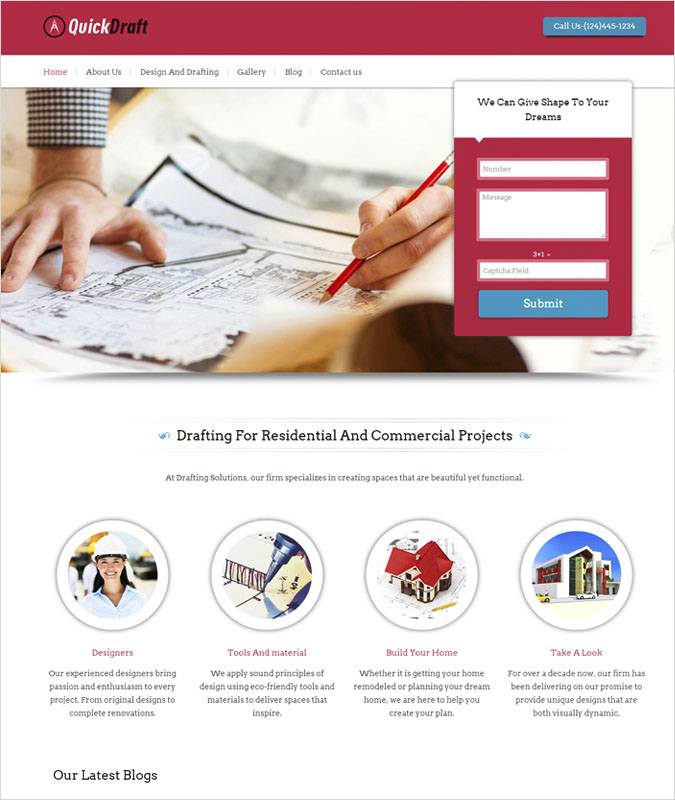 ---
Astonishing features:
4 column services area for your services
Gallery with Twitter-enabled slide views has pop-out images
Blog with images on homepage is good SEO
Drop-down menu to describe your services in full
A different widgetized sidebar for homepage and content pages. The sidebar on the homepage offers two video slots and a neat table with a summary of your services. The sidebar on content pages contains your contact details, search button, blog post links, and categories. It also provides thumbnails of the gallery
The super pop-up customer contact form is integrated and customizable
Price: $79
Skin serves :
Live DemoTheme Info + Download
---
4. CleanHouse – House Cleaning WordPress Theme
To identify what's working for you and implement accordingly is the need of the hour, CleanHouse is a masterpiece created by WordPress, Once you have experience CleanHouse WP theme you will belittle other themes, the theme is ought to raise your business standards, the template is a clear effort to minimize your house cleaning complexities.
The template features are distinct from one another which will be reducing operational costs, to keep your work progressing its essential to have a web presence. The skin has a full-width slider section to present your all house cleaning images, along with that the theme has a 4 column feature area where various services can be featured like washing, cleaning, and other similar services.
Ideal for: All general service providers and contractors in window washing, construction clean-up, housekeeping, carpet or expert cleaning industries.
What's Peculiar:
Slider with transparent color overlays for heading and sub-headings is a very powerful way to quickly present services and provides a very high visual impact
Parallax scrolling
The deceptively simple layout provides lots of space for you to highlight important details about your business with plenty of room for your tagline 'above the fold'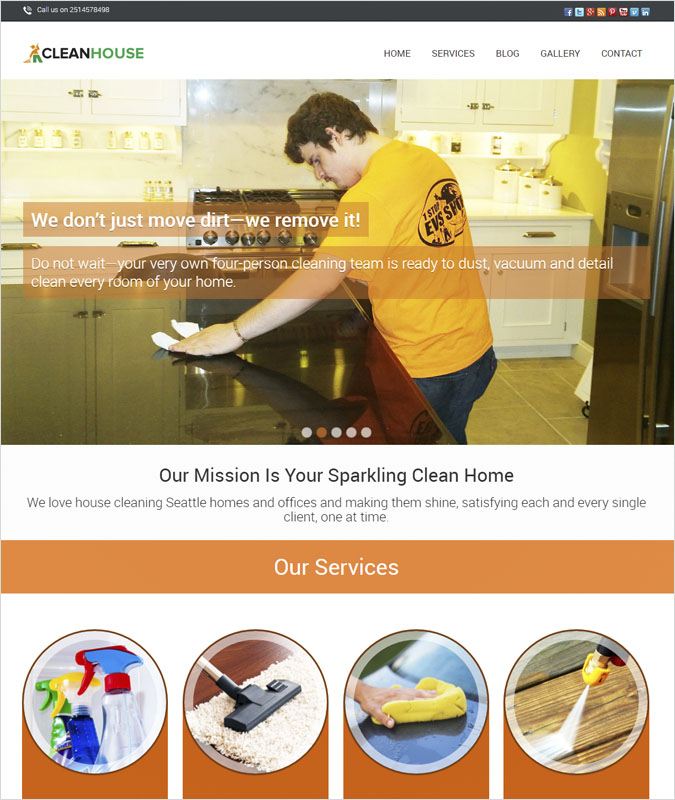 ---
Vibrant features:
4 column services area to feature your services
Hexagonal gallery presentation
Display your DIY tips and blog posts on homepage with or without photos
The widgetized sidebar on the blog post contains a search button and an immaculate presentation of recent posts and categories.
The four-column widgetized footer provides links to recent posts, a video, contact details with room for a mission statement.
Prominent address and contact details. Phone number and social media buttons repeated top and bottom
Integrated contact form and Google map
8 Unique colors in a fresh, clean style
Price: $79
Theme captures:
Repeated use of social media icons in header and footer
This template features a unique gallery presentation where you can choose the gallery of the service you are interested in, not just a wall of photos.
Live DemoTheme Info + Download
---
5. CustomHouse – House Building WordPress Template
Indeed, every brick and concrete deliver not only a complete property but a package of happiness to your clients and they express a big gratitude towards you. So, it is really necessary to avail the customer's confidence from your business templates.
And 'CustomHouse' is so versatile to increase the mob of customers once they visit your domain. Its portfolio gallery options straight away let you drive your customer into your progress through beautiful images. Apart from this, a contact section with map covered to create a quick interface between you and your clients.
The theme has a full-width slider section to display your best house building pics, The 4 column feature area has a parallax effect in the background where your multiple business services can be featured.
Compatible with: Architects, home building and alteration contractors, home designers
What's Extra:
A full-width slider for up to six photos of your projects
Eye-catching parallax effect in the services and gallery sections
Great use of eye-soothing fonts and room for taglines on this clean one-page layout
The emphasis is on clean transitions and very easy navigation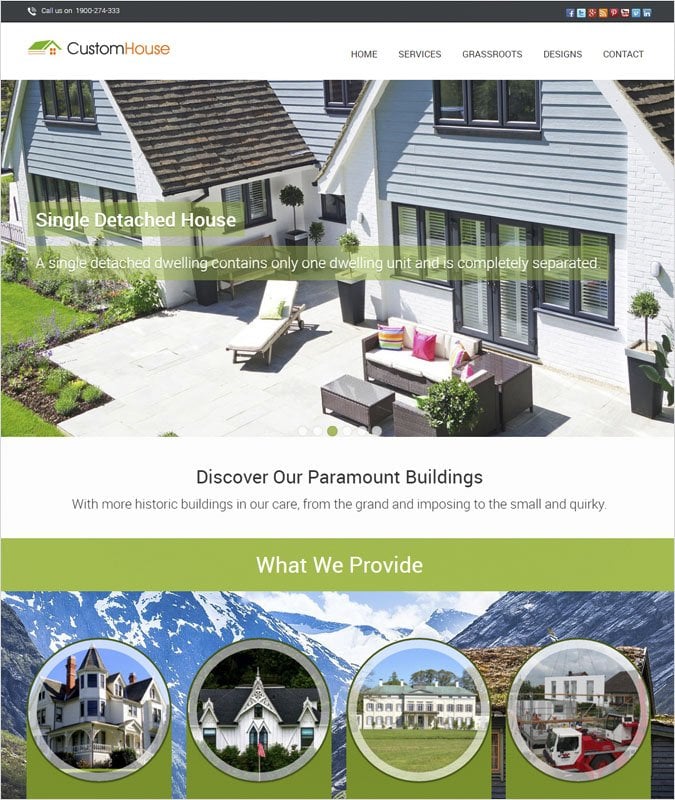 ---
Mind-blowing features:
4 column services area
Hexagonal gallery section on a parallax displays background
Blog section for news and tips, which leads to a separate content page.
Widgetized sidebar blog pages with a search button and a neat table of contents and categories.
Four-column footer with video, blog post links, social media icons and room for your mission & vision
Integrated contact forms with Google map integration
8 Colors enrich the template
Price: $79
Template encapsulates:
The one-page design with added blog features that will supercharge your SEO.
The parallax background in the gallery section.
Live DemoTheme Info + Download
---
6. ExterioGrapher – Exterior Design WordPress Skin
ExterioGrapher is a graphically design WP theme that will evince the exterior design and building works in most flexible way, your construction projects can be easily featured with ExteriaGrapher.
The theme is enriched with home blog feature and a lead capture plugin form to receive contact details and generate a lead. The theme also has WooCommerce functionality to enable trade and commerce. The template has a full-width slider where all your business related images can be flaunted in the most dazzling way. 
In addition to that, the skin also has an "About Us" section where you can briefly introduce yourself, you can share your successful business journey all your projects that you have undertaken. The testimonial sectional helps you to receive feedback from the customers and help you improve your business accordingly.
Useful for: Exterior design and exterior remodeling businesses, landscaping or building alteration contractors
What's Special:
This theme unique does not offer a 'traditional' services area in columns, but rather presents your services in a blog-style area on the homepage, with content accessible through direct links as well as the drop-down menu
Showcase your projects in the sophisticated above-fold full-width slider and add your text descriptions
The parallax scrolling packs a powerful visual punch although the overall look is uncluttered and clean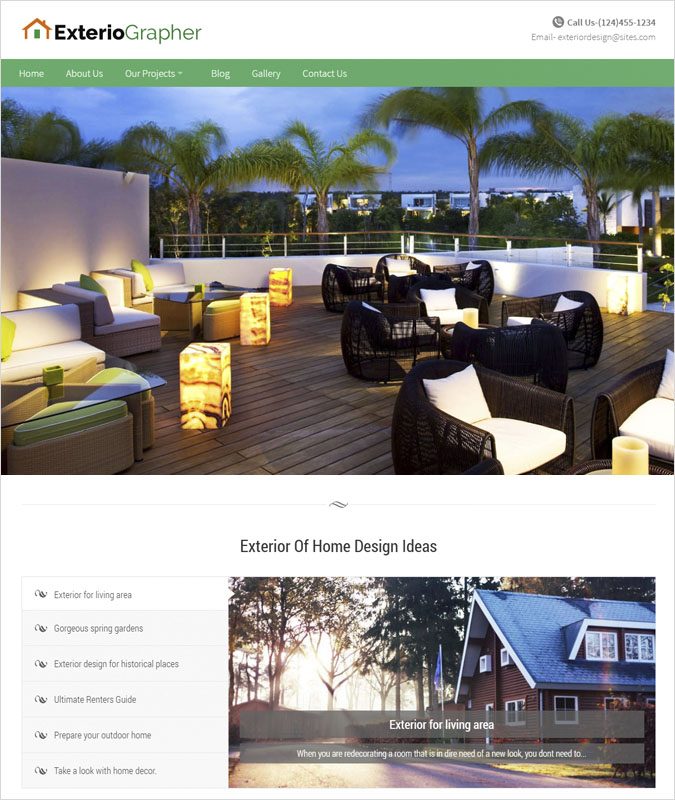 ---
Resourceful features:
Gallery with Twitter-enabled slide view has pop-out images
Homepage blog section
Widgetized sidebar on content pages include thumbnails of your gallery, search button and links to your articles
Widgetized footer contains social media icons, blog links and categories, search button and contact details.
Integrated contact form
Sliding customer reviews keep the homepage lively
Several unique color palettes
Price: $79
Skin includes:
Integrated 360-degree Google map with rotating photo view.
Understated line elements used to distinguish different sections in the text.
Live DemoTheme Info + Download
---
7. OnePage
OnePage is a single page architecture WordPress theme that assists for creating a website of builders, private or government companies, etc. You can depict each and every aspect of your construction business at the front page of the template.
The layout of a OnePage theme has a separate price listing section that permits you to manifest different service blueprint along with price and other additional services, also you can disclose city master plan news via blog posts.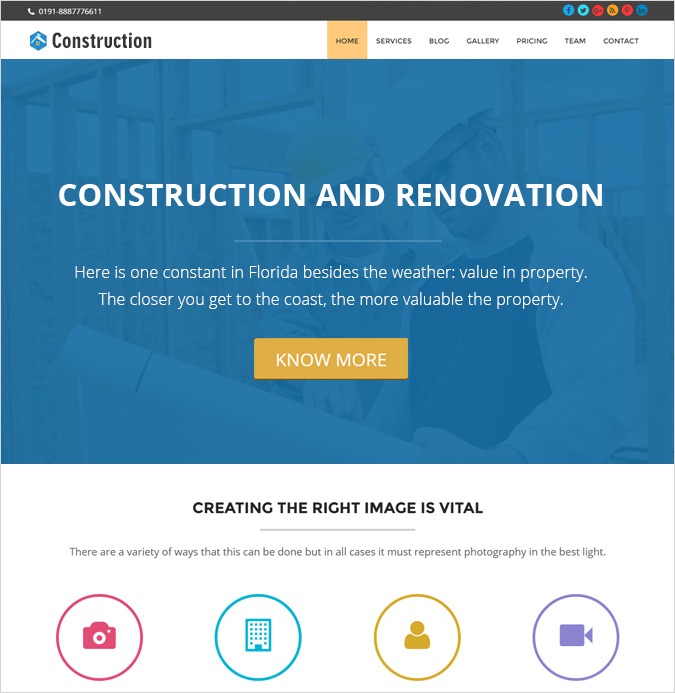 ---
Surpass Features –
Single page layout.
Full-width slider.
Three column feature area.
Video section.
Back-to-top button.
Get This Free One Page Theme For Create Your Construction Website
Live DemoDownload NowClick Here To Know More
---
8. Home Improvement WordPress Theme
There are plenty of people who are concerned about their home and environment, so for such folks and individuals, we have come up with Home Improvement WordPress theme that will take care of miscellaneous home improvement activities such as repairing, interior-exterior designing, paints, Waterproofing solutions and whole outlook of your home.
Some of the features which will help to uplift and enhance your renovation business is efficiently induced in this WordPress theme. To name a few, the slider section in the template can be used to exhibit your most dominating images that will make an immediate impact on the visitors. The 3 column feature area is used to demonstrate your business services in an organized manner so that the users don't have to wander here and there to look for your prominent services.
A small video section has its own importance in the theme and plays a vital role to uplift your business by giving customers a video presentation to have a deeper understanding of your home improvement business.
Worthy of: Building maintenance projects, building alteration contractors, home repairs, and renovation businesses.
What's Dominant:
A trendy TV-slider for your pictures where you can add pop-up taglines and descriptive text.
The modern design is ideal to emphasize your business successes
Instantly make your website unique by adding a background image rather than traditional solid color
---
Excellent features:
3 column services area to highlight your strengths
No-fuss gallery with pop-out image enlargement
Blog on homepage keeps contents fresh and improves SEO
Video and sliding customer reviews on homepage
Multiple page templates, with or without sidebar. If you do install the sidebar, it comes complete with widgets for your blog, listing page and
single posts
The widgetized footer has four columns with blog links, categories, and contact details.
Multi-Level Dropdown Menu.
Contact form with integrated validation
8 resplendent colors
Price: $79
Theme targets:
The modern, sleek take on a traditional layout.
Live DemoTheme Info + Download
---
9. Handyman's – Home Repair WordPress Template
The technical regulations, standards and features, and conformity assessment procedures and services of a home repair business can be precisely implemented through the Handyman's WordPress theme. Any kind of floor or ceiling works, foundation, and building task other infrastructure development can be provided to your customers.
Handyman's can be precisely termed as a descriptive theme, all your designs and services can be easily displayed. Images grab the instant attention of the visitors which tempt users to try your services at least once. Adding to the quality, the theme supports a blog section where all the home repair relevant stuff can be shared. The page layout feature of the theme enables you to shift your primary widget area according to your need and requirement.
Acceptable for: All types of home repair & maintenance services or contractors
What's Incredible:
Images break up large areas of texts in the rich text layout, which stimulates visitors' attention
Very clean big header with just enough 'above-the-fold' visibility of your images to add interest to your homepage
Elegant, more traditional look throughout with a very familiar browsing experience for users.
Fast loading vertical menus. You can display the menu either to the left or the right side of the page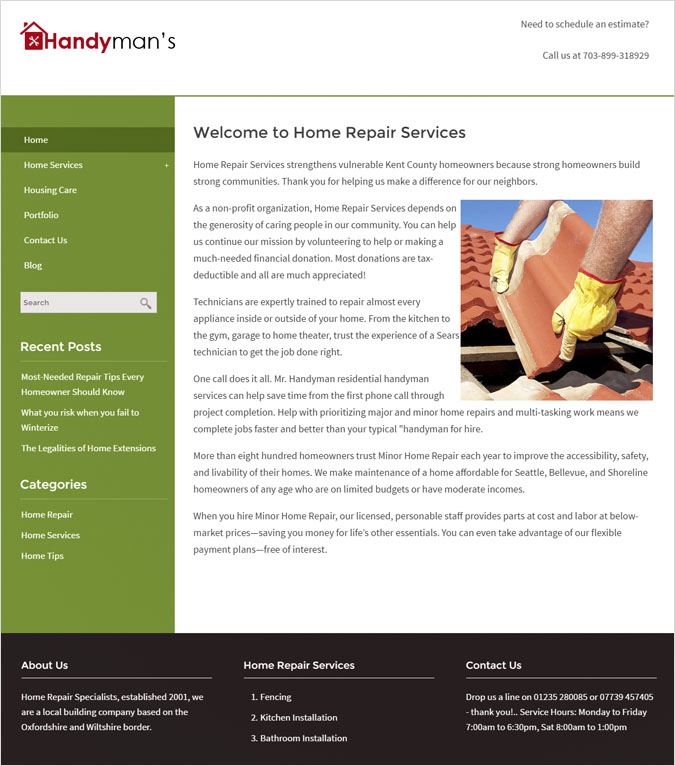 ---
Incredible features:
Create unlimited services sections with multiple levels of drop-down menus.
Fast links to blogs from the side panel which also contain categories and a search button
Neat gallery with pop-out images
You can add an image instead of solid color to your background
Repeat your contact information and important details in the three-column footer
Room for large logo and contact information in header
Several striking colors induced
Price: $79
Template promotes:
A very familiar layout has been widgetized to provide a better customer experience.
Live DemoTheme Info + Download
---
10. GeoCraft
GeoCraft is an innovative and dominating WordPress theme which gives a spectacular platform for elaborating a directory website of resident construction companies, builders, architects, etc.
The unique feature of the theme is ad business listing (one is free and second is premium), site admin can earn extra money with premium listing by placing advertiser ads on the homepage horizontal slider which gives a maximum viewing visibility to website guest.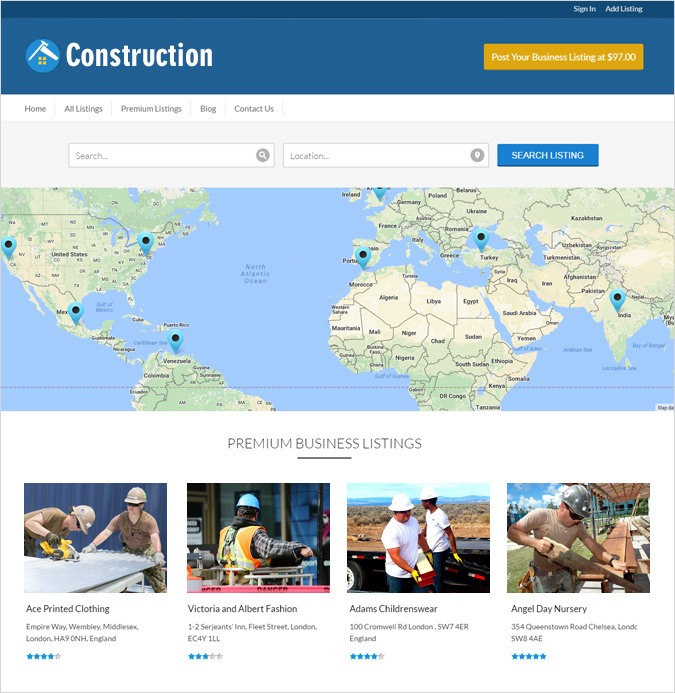 Additional Features –
Search by name & location option.
Ad banner area.
Prevent spam registrations with captcha.
Integrated PayPal barrier for collecting payment.
Set the ad listing expiry.
Create Your Construction Directory Website At Free Of Cost
Live DemoDownload NowClick Here To Know More
---
11. Home Remodelling WordPress Skin
Having enough capabilities to match up the customers needs with compactness but not getting sufficient numbers of customers then it could be a fault of your conventional template of your business site.
So, for now, all you need to do is to adopt our Home Remodelling WordPress theme which can quickly increase the customer's traffic towards you by its magnificent attractive features includes three column which is exclusively created for your user to explore more about your business.
The slider section on the homepage of the theme is used to show all your business related images subjecting to the home remodeling domain. The theme also has a client testimonial section where feedback from the customers can be received to improve your business and its services according to the customer's needs. The elegant blog section further enhances the theme layout providing you a descriptive area to write something about your remodeling business.
Satisfactory for: Home renovation companies, infrastructure remodeling contractors
What's Outstanding:
High visibility text fields on color block overlay in the slider display. It allows immediate introduction to your unique services
A newsletter signup integrated into front page
Full-page blog layout makes it easy to impress customers with your guideline and tips articles
---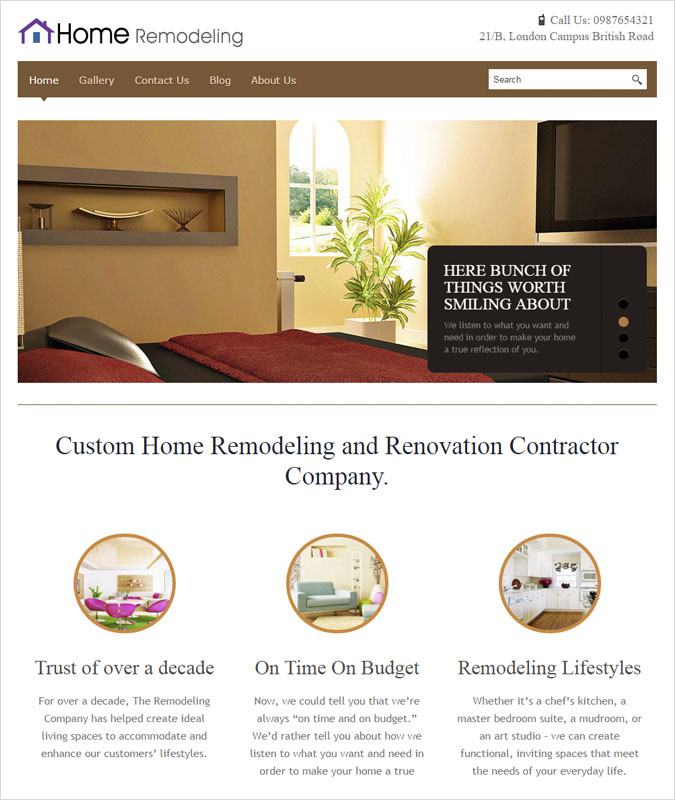 Stunning  features:
3 column area for your services
Framed images in gallery integrated with Twitter
Outstanding blog layout on homepage with options to customize individual pages
Customer reviews and testimonials on homepage
Widgetized sidebar
Three-column widgetized footer provides social media links, contact details, and room for extra information
Form submission requires the user to complete a captcha
Unlimited levels of Dropdown Menus and search button integrated into menu
10 colors encompassed
Price: $79
Skin envelopes:
Very sleek and stylish layout. Clean design adds impact to your tagline or headers.
Prominent Call to Action in content page sidebar.
Live DemoTheme Info + Download
---
12. Builder – Contractor WordPress Theme
Dealing things with the right approach can be one of the greatest assets on can have and as you propel in your business it's very important that you maintain the consistency in the quality of work and services that you offer to your customers. 
One such way of assessing and progressing in your field is to make an online mark and get in touch with a maximum amount of individuals, that can be done by opting our 'Builder' WP theme which will simplify all your business intricacies. The skin is encapsulated with a full-screen slider to give your theme a magnificent view. "Builder" also has a 3 column feature area where all your business pertinent details can be presented.
The theme has a stupendous video section where a virtual tour to the customers can be provided. The customers can see the inner world of your business like what services you offer and how you manage them all.
Tailor-made for: Tradesmen, contractors, builders, engineers, architects
What's Catchy:
The homepage is a stunning full-page image with text overlays. This design is essentially a one-pager but wows the user with its unique layout
Highly familiar menu similar to the experience on a mobile phone. Clicking on the menu icon provides you with a dynamic sidebar
On/off menu section, breath-taking in its simplicity
Single page scrolling with all information at a glance
Social media sharing buttons for each of your team members!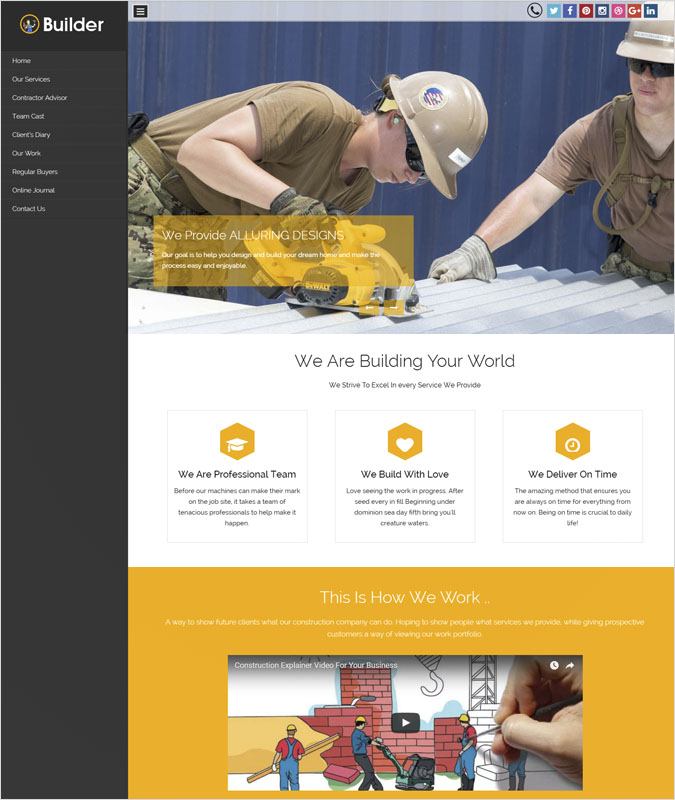 ---
Breathtaking features:
3 column services area
Circular disk gallery with permalinks to services or blog content
Widgetized sidebar on content pages includes search bar, thumbnail gallery, category and video links
Contemporary look social media icons on footer
Testimonials with photos on parallax scrolling background
Video and team sections on homepage
Sliding gallery for clients' logo's
Full-width integrated contact form and google map
10 Colors incorporated
Price: $79
Theme consists:
The overall impact this single-page-in-disguise template
Designed for mobile responsiveness. This is the future of the internet
Live DemoTheme Info + Download
---
13. SilverCement – Cement Factory WordPress Template
Make your web domain solid like your cement, as it too plays a very crucial part in your business growth. An impeccable theme where your latest services, technologies sections make your business move ahead of your competitors. that's why we have developed 'Silver Cement' cement factory WordPress Skin for all cement manufacturers for making your brand more familiar in every constructional area.
'Silver Cement' consist of a full-width slider where different types of types of cement can be presented. In addition to that, the skin also has a 4 column feature area to share services that customers can use. The 3 column blog area also elevates the theme projection where your cement types and its effects can be explained, people will acknowledge you by fetching your services and products.
The hexagonal portfolio gallery is the further enhancement of the theme where all your cement images can be displayed and behave as a strong platform to exhibit all your cement business images and albums.
Custom made for: Clinker cement, white cement, rapid hardening and all other cement manufacturers, construction contractors
What's Unusual:
Full-width slider section with prominent text overlays complements the elegant design
A smooth Parallax scrolling experience adds interest to this classic one-page theme
Easy navigation. The deceptively simple layout makes for a great user experience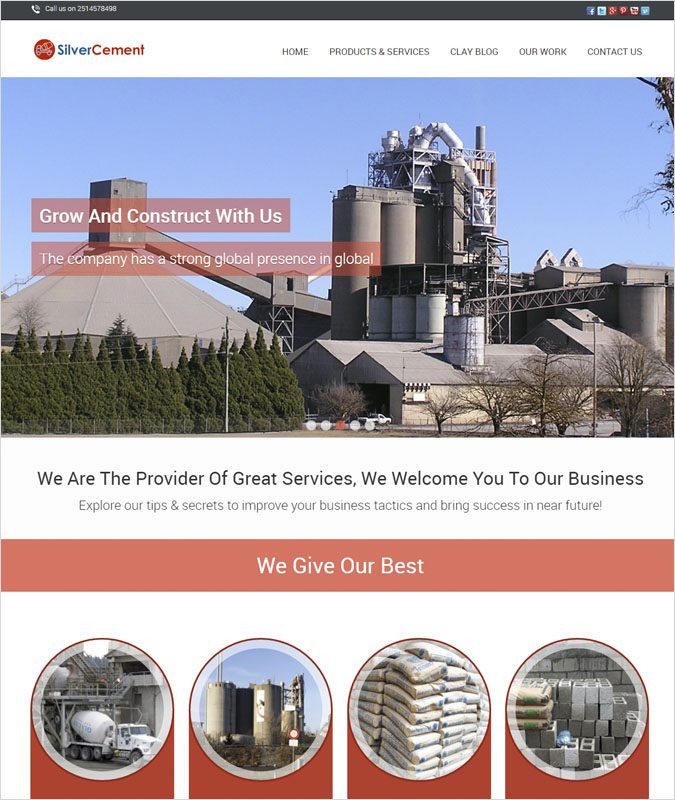 ---
Superlative features:
4 column services area
Smooth scroll to hexagonal gallery
Blog on homepage with permanent links to content
Widgetized footer contains blog links and categories, search button and video link
Integrated Google map and contact form
8 Glittering Colors glittering inserted
Price: $79
Template Wraps:
Live tiles in hexagonal gallery display on a parallax view background
Video link in the footer.
Live DemoTheme Info + Download
---
14. Flooro – Flooring WordPress Skin
People always look for well-constructed floor and roof, whenever they develop their interest to buy any real estate property they search it online, so in order to attract them to your construction business, you are required to connect them through a medium to mount all your services and projects.
And one such interface could be our Flooro WordPress Skin, Flooro consists 6 beautiful sliders with text to assign and link to redirect and also homepage bottom feature to show more. The astonishing 3 column feature area can be used to share your services in a defined way. The 3 column blog area is the descriptive section of the theme, adding more value to the theme outlook.
The testimonial section of the theme further enhances the business prospects by receiving feedback from customers and help you customize your work accordingly and hence, making it look more appealing.
Designed for: Roofing & Flooring businesses and contractors
What's Unique :
The Ken Burns slider rocks your images! The smooth illusion of video-like movement provides depth to your photos and grabs immediate attention
Distinct tagline area
The weighted picture frames give solidity to the display. The layout is exceptionally well-balanced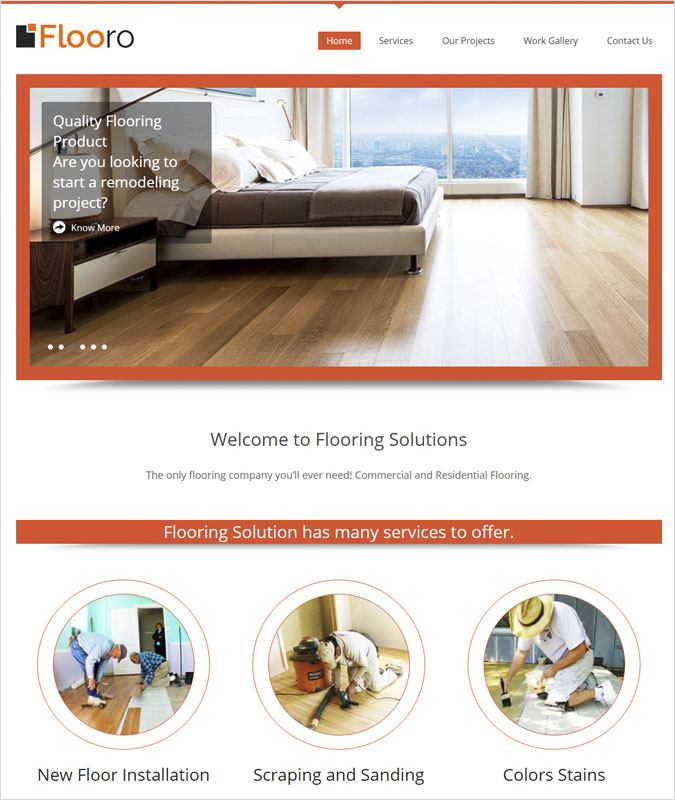 ---
Dazzling features:
3 column services area
Clean-look gallery with framed images integrated with Twitter
Blog section for news with room for images
Widgetized sidebar with search button, video, and links to blog posts
Beautifully presented framed widgetized footer
Display multiple testimonials
A full-width contact form an integrated Google map
8 Colors embraced
Price: $79
Skin discloses:
Ken Burns slider gives a broad view of your images which provides an illusion of movement to homepage
Overlay text boxes are unobtrusive yet effective
Live DemoTheme Info + Download
---
15. IronBend – Iron Bending WordPress Theme
It is important that you give your supplier a place to deal with, as informed clients are better clients and they make for better design. You can easily feature/supply or export your work of blending business through IronBend WordPress Theme. Showcase your services and blogs in a much presentable form on the front page, the theme is ought to raise your business standards, the template is a clear effort to minimize your bending business complexities.
The theme features are well defined and clean from one another which will be reducing operational costs and increase operational efficiencies, to keep your work progressing it's essential to have a web presence. The theme has a full-width slider where your iron bending images can be displayed. To add value to the theme, it also has a 4 column feature area where your iron-related services can be shared. The skin also has a sliding blog section where multiple data can be uploaded to enlighten your customers about your iron bending business.
Suitable for: Metal Bending Machines – manufacturers, suppliers, producers & exporters, metal bending machine, sheet metal cutting, iron bending tools, etc.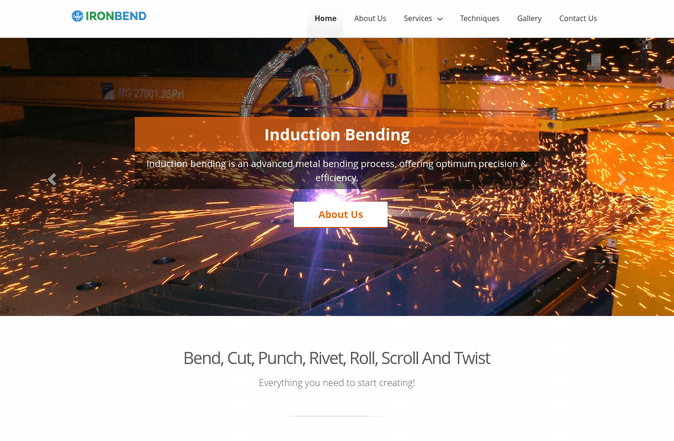 ---
What's unconventional:
A fluid layout of the theme caters more numbers of users, it makes use of the entire browser window by spreading out.

4 Column feature section with a flip display.

Layered slider enables you to display different titles, descriptions and visible links on top of each image and edit them easily at any time.

Video advertisement section that grabs visitors immediate attention.

Widgetized Footer & Sidebar

SEO optimised and Retina ready.

Testimonial section for your happy clients.
Price: $79
Live DemoTheme Info + Download
---
Conclusion
All of the themes we picked share the certain features that have become a standard for all good websites over the internet. These are not only fast and easy to install but also very easy to update and maintain.
So, choose the best WordPress themes for your Construction Company and start growing your construction & architecture business all over the world. 
Also, visit these popular posts ->