Approaching people and helping them to bring out extreme classy outlook of their place when they get assisted by your formulation of designing.
Every single fellow lives with a desire to have a home or working space which is attractive and uniquely designed. Thus in search to build it with such ideas taking in mind they look for brilliant experts to cast it in real time.
Now it is really necessary for the remodelers and interior designers to hold their genuine and authentic mark of presence over the web. Doing this enables you to build straightway path for such customers.
So, here we have obtained some of the best furnishing and decorative WordPress templates that are especially embedded to classify the girdling services of remodeling and designing industry.
Read more our popular designing article:-
These WordPress glowing skins will not only bring good conversions but will also improve the cosmetic priority of your furnishing domain.
Explore these Remodeling and Designing WordPress templates for from the below stack.
---
1. Dekor – Furniture WordPress Theme for Carpenters
Dekor is furniture WordPress theme with its elegant design is surely a perfect choice for the carpenters and wood merchants to showcase their newly arrived furniture like Wall Decor, Home Accent, Dining Room Furniture, Bed Room Furniture, etc.
Individual carpenters, furniture showroom owners, professionals like designers and architects can also make excellent use of theme's pleasing design and functionality.
The theme has WooCommerce integration so that customers can place their order through various payment options such as through PayPal transfer, direct bank transfer or Cash on Delivery.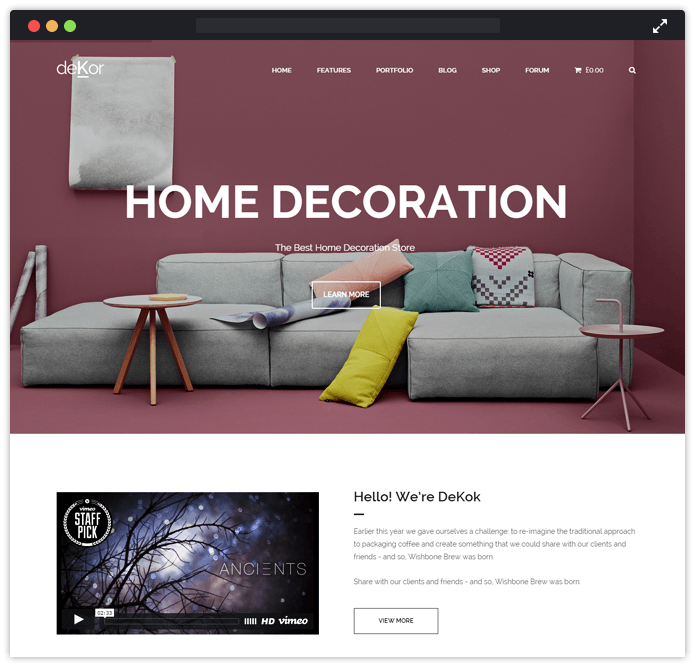 Dekor's stunning features are –
Ultra stylish 4 fullscreen sliders

.

Homepage left feature widget area

Royal homepage portfolio gallery.
Multiple browsers compatibility.
Extensible business service section with shortcode.
Tagline with parallax effect.

Google

web fonts available and t

ranslation-ready.
Live PreviewTheme Info + Download
---
2. Home Decoro – Decoration WordPress Theme
Home Decoro WordPress template is suitable for businesses which runs house decoration, indoor furnishing, layout designing and other similar types of services. The theme is beautifully crafted and has a simple sleek design that presents an entirely excellent viewing website.
It has various sections where you can showcase your new launches and product to your customers in a very appealing way. Further on, the delightful slider section of the theme restricts visitors from leaving your website.
You will love to use the photoblog section, which allows you to put images and product related post for showing proficiency in your work.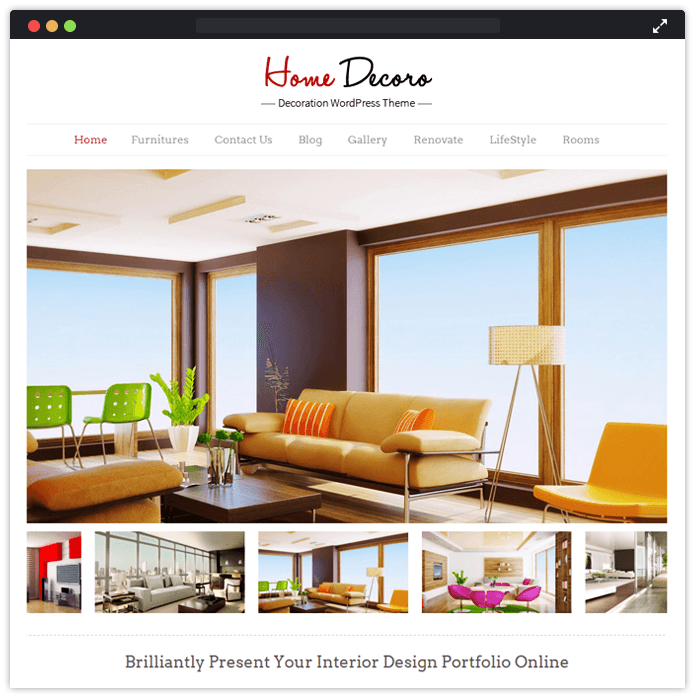 Listed below are some other features of the theme 
Toggle menu for a navigation bar.
Sliders with the text: title, subtitle, and description.
Blog section with 4 different layouts: masonry, layout-1, layout-2, layout-3.
Compatible with all the

latest browsers.

Easily theme

customization options.

Unlimited

Drop down menu levels

.

Easy n

avigation system.
Live PreviewTheme Info + Download
---
3. Home Remodeling WordPress Theme
Home Remodeling is a perfect WordPress theme option available for infrastructure companies, home renovation services and house remodeling service providers who are planning for building their online website.
The themes consist of a various section on which you can showcase different services you offer in a very appealing way so that visitors attraction can be grasped quickly.
You will love to see the lead capturing form available at the bottom as Sign Up form which will bring you potential leads, which you can nurture them and build a business relationship with them.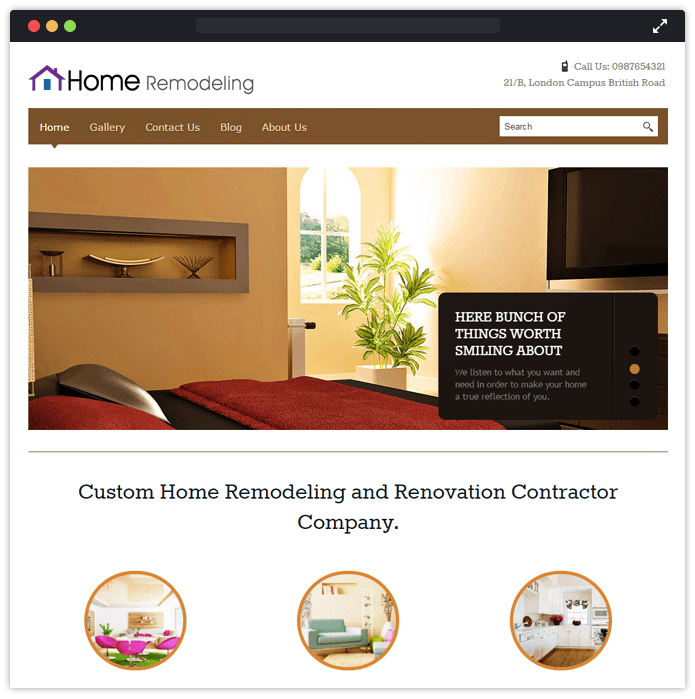 Some of the salient features of this theme are –
Stylish 4 boxed sliders.

Heading option for your exclusive features sets.
Testimonials section for building trust.
Newsletter with a subscription.

Improved

Zoom box along with full theme PSD.

Custom t

emplates and contact form available.
Social s

haring support with m

obile-optimized

design.
Live PreviewTheme Info + Download
---
4. Home Improvement WordPress Theme
Home Improvement WordPress Theme is what it takes to make a home improvement business thrive worldwide online.
This theme meets all requirements for building a perfect professional site for those who got businesses based on maintenance projects, home renovation services, and even home construction companies can use this theme.
The best part is that you can easily customize the theme – putting your own text and images, which makes everything easy for you to understand without any technical coding.
Home Improvement WordPress Theme includes features below –
5 splendid boxed sliders.

Homepage informative text and description. 

Three different column feature area.
Multiple

sidebars (blog,

page, and single post)

Custom

CSS Editor – easily c

ustomize appearance of the theme

Widgetized

footer area with

3 columns
Live PreviewTheme Info + Download
---
5. Handyman – Home Repair WordPress Theme
With tons of amazing features, Handyman is Home Repair WordPress theme is another choice available to home repair & maintenance businesses which can be used for building their business website.
The theme has an elegant and simple look, which allows presenting efficiently all the services you offer in a straightforward manner.
Besides that, the theme has "Search Bar" panel available on the sidebar, which makes your website seem more user-friendly for your visitor.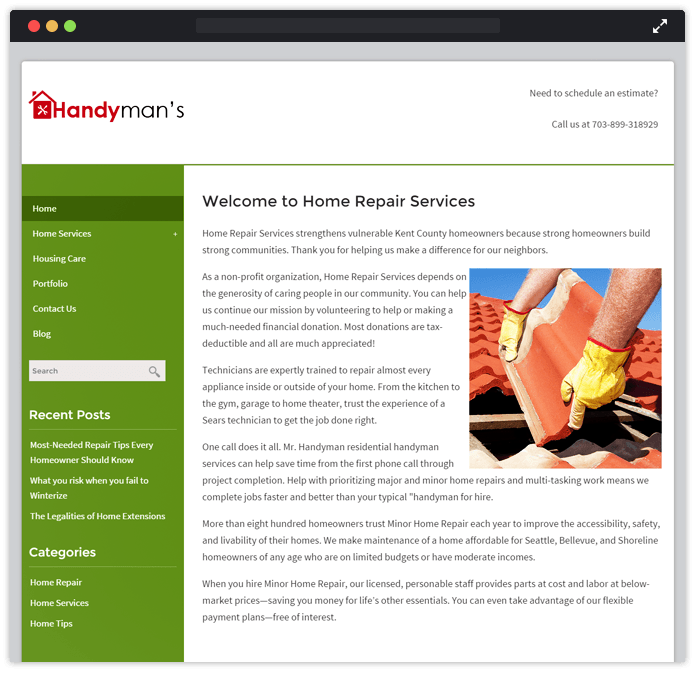 Features in Handyman's WordPress Theme –
Automatically layout gets optimized according to the viewing device.

Exclusive top header right bar for contact number or address.

Google Maps, Your contact information, Recent Posts and more elements available at widgetized footer area

Massive customization styling options of color and layouts
Various social sharing buttons: Add Twitter, Facebook, Google Plus, StumbleUpon
Multiple sidebar options to flip the menu to the desired style
Live PreviewTheme Info + Download
---
6. Blackwell WordPress Theme for Interior Decoration
Blackwell theme is preferably suitable for home decorators and interior designers service websites. The theme comes up with a one-page layout which can enhance your interior decoration commerce in best possible ways.
The theme includes an attractive scrolling slider at the top, which makes your website more engaging one. The portfolio and video embedding section of the theme can be your trump card, which you can effectively use for showing your professionalism.
Further on, the single page layout serves perfectly in showcasing all your services in a very devasting manner. It becomes easier for the visitors to know about your service and ultimately could lead conversions.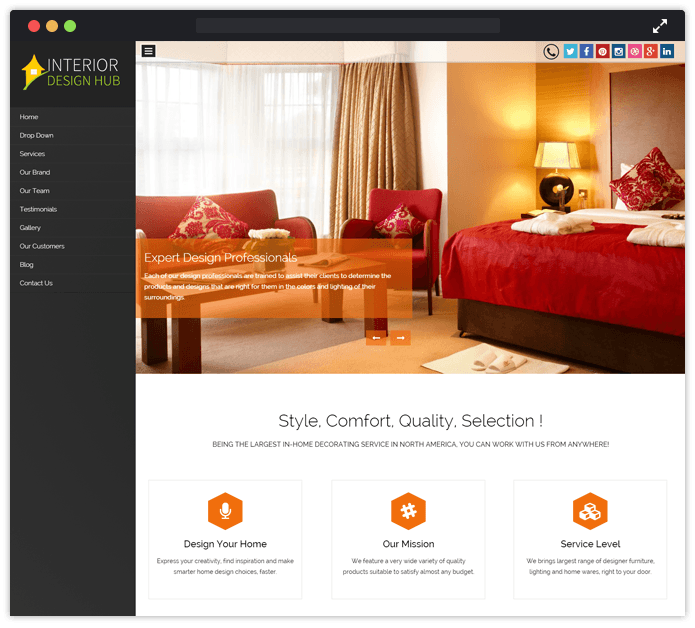 Other features of Blackwell theme are
Adjustable Layout and a d

ynamic sidebar with single page scrolling.

Astonishing fullscreen sliders.

3-Column feature area for business services.

Video box to grab extra attention.
Gallery comes with parallax effect.

Contact section along with Google map.

Inbuilt SEO and f

ully widgetized sidebar.

3- Column Testimonial section to display reviews.
Live PreviewTheme Info + Download
---
7. Smoky – Granite WordPress Theme
Whether it is a kitchen work or a renovation of any room of the house, the commercial owners can go ahead with Granite WordPress Theme. It would be more pleasant if you add your extra efforts to reach your customers heart. To fulfill this, Smoky WordPress Theme will help you to design your website. A group of people who can use this theme is granite manufacturer, remodeler, retailer or other marble related industries.
Theme with fully responsive features is simple, easy and has an elegant design. You can share creative interior designing & architecture ideas through a blog, as blogging is an excellent way to gain popularity among the mass by sharing tips and ideas. Similarly, testimonial section allows your potential clients to give feedback and views to your work and also to new clients and customers.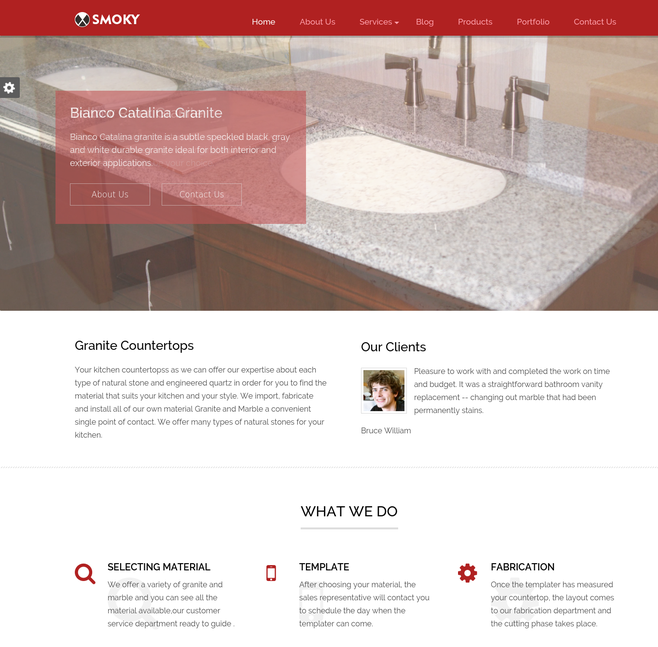 Features Of Smoky WordPress Theme Are –
Sections

– testimonial and Blog help connect people.

Full-width slider

with image description.

7 appealing color skins.

Images

in the gallery

can be arranged according to categories.

Post formats layout.

Plugin compatibility.

Support social share and SEO optimized.
Live PreviewTheme Info + Download
---
8. RoofRepair – Roofing Company WordPress Theme
RoofRepair is an ideal One-Page theme build for people engaged in the home remodeling business. This theme can also be best in use for Residential Roofing Firm, Ceiling Contractor, Roof Replacement Center, Repairing Association and Roof Construction Systems.
Let users to this services reach you and you provide them in consideration world-class services with your experts' team. You can flaunt your services and work in a very presentable form. Parallax effect in the gallery section allows you showcase your present work.
The plus factor of the theme is you can give your customers every little information about your business on one single page and for you plus factor is there is less to manage and also scrolling is intuitive.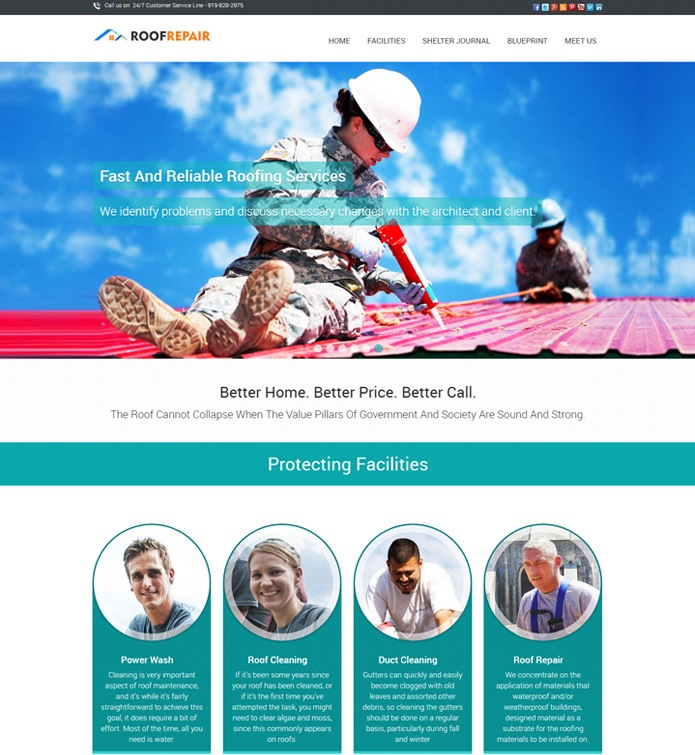 Features Of RoofRepair WordPress Theme Are –
One-Page layout

– theme looks fantastic on any devices.

Unique full-width slider.

Sticky header bar –

saves users time and energy.

WPML multilingual ready.

Separate

mobile header option

– easy navigation on mobile like devices.

Prompt support always.

Inbuilt contact form and Google map integration.

100% Responsive and Fully Customizable
Live PreviewTheme Info + Download
---
9. Furnish – Interior Design WordPress Theme
Furnish Interior design WordPress theme targets all those interior designers who want to make a website an effiecient mark for thier superiority in interior designing and it should look nice as well.
It consists of an excellent slider through which you can showcase your best works and with gallery section, you can present your full portfolio to visitors.
The star factor of the theme is at top right corner, where you can place your email id and contact number so that visitors can reach you easily.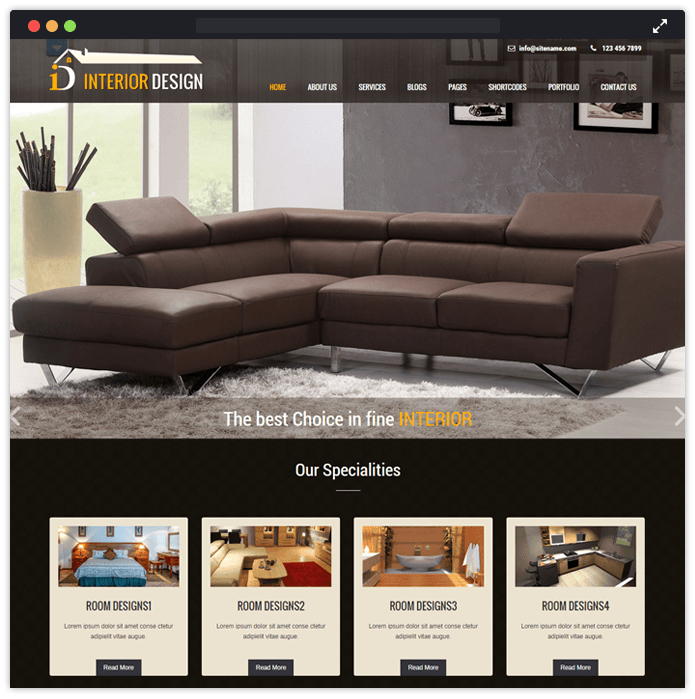 Some essential features of the Furnish theme are –
Various social media widgets with significant

parallax background section
SEO friendly and contact form plugins available
WooCommerce Integration available
Gallery to showcase your work done
Add over 20 sections on the homepage with the ability to hide them as well
Live PreviewTheme Info + Download
---
10. reModell – WordPress Theme
Another great and effective theme available for house building companies, remodeling and renovation services is reModell. reModell is well crafted and integrated with numerous strengthful traits to impress customers with illustrative unique construction and architectural techniques adopted by you.
The sliding background of the theme will let visitors into big "wow". Further, you can customize it and put images of your work to highlight your professionalism in house renovation field.
And, the retina display of theme will make your website looks stand out from your competitors and will definitely drive you more leads.
Additional features of the reModell theme are 
Megamenu – It allows to organize your categories, subcategories easily with different content showing-off.

CrossBrowser Compatibility- No need to manually test anything in different browser versions and platforms.
Google Map to show whereabouts of your company
Contact Form – Customers can easily get in touch with you, inquire more information about your services and give feedback on using them.

Widget Ready – Allows you to add static and dynamic content to specific areas of the theme such as sidebar, footer, and header.

SEO Optimized and Google Web Fonts available
Live PreviewTheme Info + Download
---
11. CurtainCountry – Curtain Selling WordPress Theme
With plenty of fascinating features CurtainCountry WordPress theme is another choice available to curtain selling/traders/dealers/walmart/ and curtain cloth – manufacturers, wholesale suppliers & exporters, handloom house, etc.
Build your interior home decor businesses beautiful and ravishing because the key to great design is capturing the attention of the client and the essence of the space.    
CurtainCountry has an elegant and simple look, which allows presenting efficiently all the services you offer in a straightforward manner.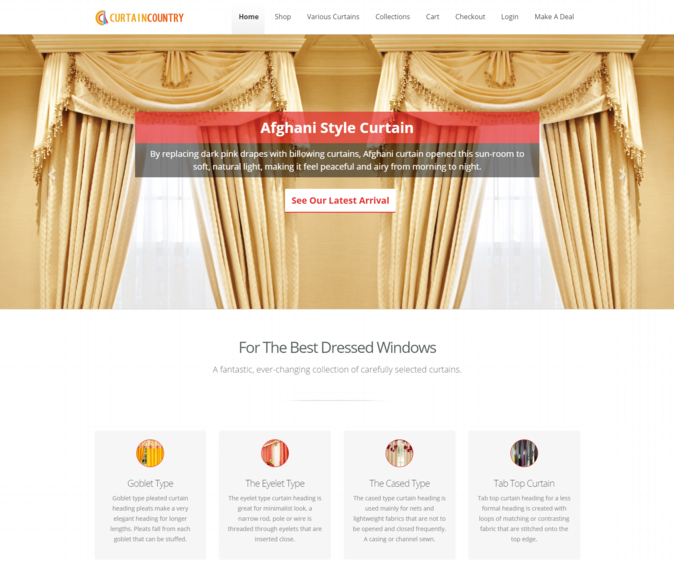 Some wonderful features of CurtainCountry are –
4 column services section with a flip display.

Materialistic blog section on the front page.

WooCommerce integration available.

PayPal payment system.

RTL & WPML compatible.

Add to cart.

In-built Ink option framework.

Advanced animation & typography.

Mobile header styling options.
Live PreviewTheme Info + Download
---
12. Home Renovation WordPress Theme
A fully responsive and multi-lingual website theme crafted for contractors, decorators, and other home renovation businesses.
It welcomes the visitors with large vivid background images. Such web page will tell the story of your project and guide viewers through the services with building a positive attitude towards your services.
By picking this design, you will be able to create a user-centric and result oriented website that helps you maximize the number of clients and money you earn.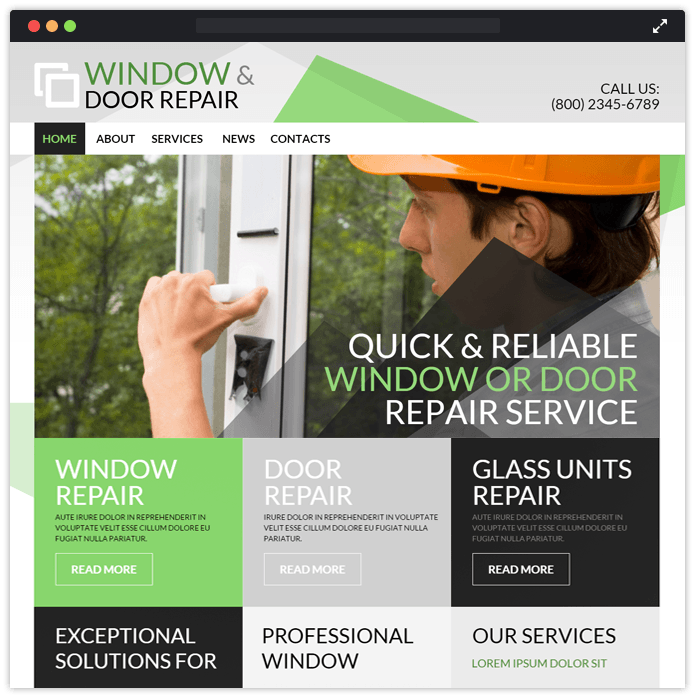 Listed below are the features of the Home Renovation WordPress Theme –
100% responsive design and f

ully editable

Multilingual Ready with official WPML certification

Parallax effect and b

uilt-in Theme Customizer
Filterable Portfolio and Fantastic Sliders to share your images

Custom Widgets for comments, social sharing etc

Multiple color options
Favicon and Google Map support
Live PreviewTheme Info + Download
---
13. Renovation WordPress theme
The Renovation WordPress theme is setup with all the things you need to have your renovation services portfolio online.
Designers, decorators or any such type of home improvement business can benefit greatly from having a professional website that shows the visitors how beautifully you can transform their homes.
From the highly attractive image slider on the homepage to detail pages of your finished projects, the theme comes with various preconfigured pages which you can easily alter your content and images.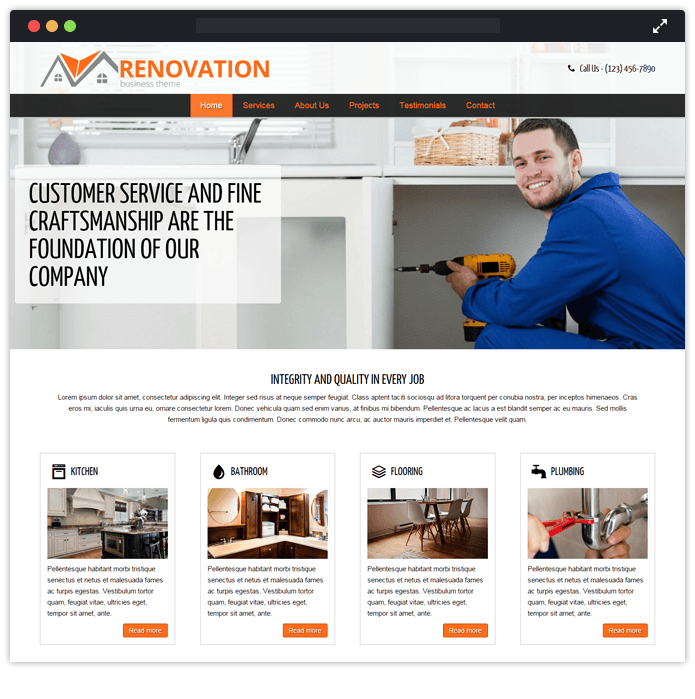 Listed below are the additional features of this theme –
Easy Maintenance of no coding required.

Eye-catching full-width image slider and beautiful image galleries.

Effective SEO made easy – optimizing your website for improved search rankings.

Social Media Integration – It allows you to display icons, a Twitter feed, Facebook like a wall or a Flickr gallery.

Show the fascinating overview of your project portfolio.
Built-in contact form makes it easy for visitors to get in touch and tell you about their project.
Live PreviewTheme Info + Download
---
Conclusion
These premium and responsive WordPress themes will be perfect for your home interior designing and remodeling business regarding providing you an excellent online visibility so that people can easily find you and know about your services.
After having seen each of them, choose the one that best fits your requirement and answers all your needs.
Also, read our new listing post –
Feel free to post your suggestions in the comment section below.