WordPress gives you the fundamental way to make a website. So, if you are in need of a responsive website, you can get it in a few clicks by just installing these best Architect WordPress Themes.
Presenting an interior design portfolio and building project plan online are the most important tasks nowadays, you need a perfect bandstand to showcase the sketch of your home and interior designs.
So, if you are an architect or an interior designer and want to grow your business online.
Then, WordPress Themes would be a great option to spread your architecture business among the audience and increase the awareness of your venture.
In the businesses like home decorators, designers, architects you need to flaunt your work over the web so that people know your work and talent.
So here, I am giving you a list of 10+ Best WordPress Themes For Architects & Designers that help you to make a unique and eye-catching website quickly.
You can also check out our other informative posts on architectures:-
---
ArchDesign
ArchDesign is a sleek and purposeful WordPress theme which gives a thriving option for designer and architect to create their resume and V-card website.
ArchDesign is coupled with several interesting features which surely emphasize and support any person to express their self over the web, also its layout is one page to display each and every activity in a single page.
Theme option of the theme has multiple sections such as home to introduce, architecture skill & academic area to show your strength & achievement profile, also an experience to flaunt your work experience. Download option allows job recruiter to download your resume in pdf format.
You might also like-
Interesting features of Themia that make your architecture business website fabulous –
One page CV template.
Upload your resume from the backend of the theme
Quick navigation menu.
Horizontal scrolling.
8 Built-in color schemes.
Built on Twitter Bootstrap framework.
Live PreviewTheme Info + Download
---
Blackwell
Blackwell is one page architecture WordPress theme and aesthetically crafted for interior decorators and architects to show their latest art designs and persuades probable client to hire your services.
Using this architecture design shop template, you can showcase all your designing and architecture business services on your website within a single page, it has a beautiful portfolio section to showcase different images, a contact section with a Google map, pop in & out navigation menu for easy browsing experience, a testimonial section with background parallax effect to display your customers opinion about your services, a clients feature area to show your sponsorship partners.
The theme is perfect for an interior designing website.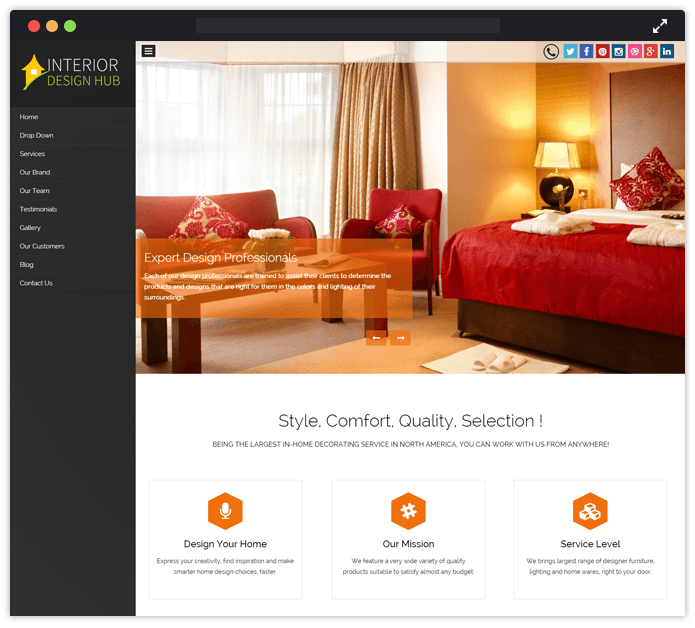 Interesting features of Blackwell that make your architecture business website fabulous –
Different post formats in blog area (Video, gallery, image, link, quote)
One-Page theme with elegant design.
Add a video of your brand.
10 different styling options.
Parallax effect in gallery.
Live PreviewTheme Info + Download
---
Architect- Architecture WordPress Theme
Architect is an incredibly versatile WordPress theme that can be used for creating flat and clean user interface layout for your interior designing business website.
The layout of the Architect is enabled with a slider with a descriptive area to flaunt your home and wall designing along with the description, brag about your art services in the three column feature section, a footer section that allows you to place your desired widgets.
This virtual interior decorators theme built on HTML5 & CSS3 codes so your each and every design looks clean and crisp, also it has the option to upload your venture logo and favicon.
Its unique features make the theme useful for architectures, designers, and other business owners as it is a multipurpose theme and can be used for various art niches.
It has an interesting style switcher and theme optional panel by using which you can make changes to the theme as your desired, so design your interior designing website in no time.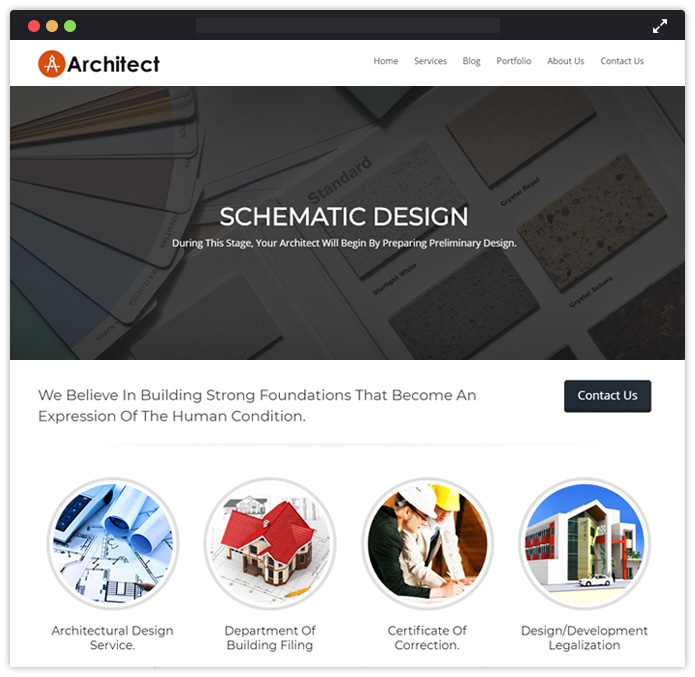 Interesting features of Architect that make your architecture business website fabulous –
Multiple slides support of images and videos.
8 built-in color schemes.
Lots of amazing shortcodes – Images, Buttons, Columns and more.
Unlimited drop-down menu.
Background images bonus.
Live PreviewTheme Info + Download
---
Regal
Regal is an another gorgeous and top class responsive WordPress theme thriving option for any architectural firms to present their interior decoration art on the web.
Regal theme permits you to flourish your six impressive designs images in the full-width slider and allows you to control the speed of the slider from the back end panel of the theme, all the technical stuff of the theme is passed through W3C validation hence no technical error will encounter when you developing a professional website for your architecture business, an integrated gallery page template is perfect for presenting your various artwork.
Take the multiple advantages of Regal, green architecture template and built hassle-free architectural decor website.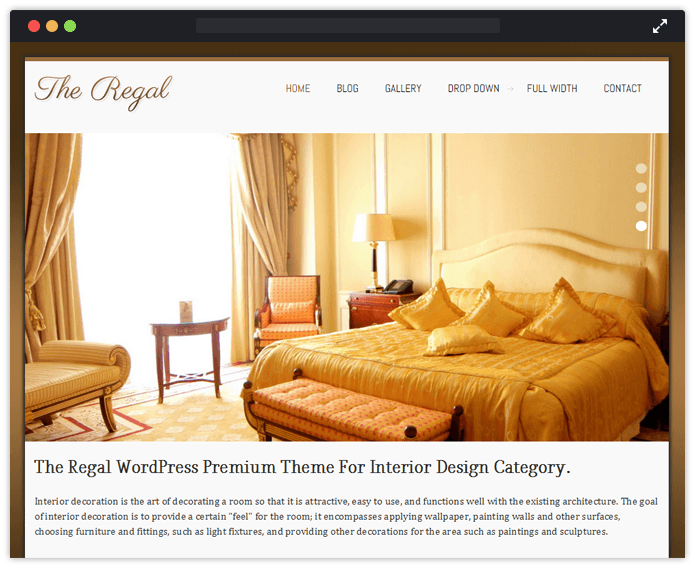 Interesting features of Regal theme that make your architecture business website fabulous –
8-builtin color schemes.
Background images bonus.
Responsive to all the main devices like- iPads, Mobiles, Tablets, etc.
Unlimited drop-down menu level.
Interesting layout.
Live PreviewTheme Info + Download
---
Photomaker
Photomaker is a deeply stylish and amazing portfolio WordPress theme that gives a grandiose platform for architects and domestic decorator to brandish their best designing sketch and images.
Showcase the collection of pictures and designs of your architect business website and attract more potential customers, all the images will appear one by one vertically in the full-screen slider, on your website, also Photomaker has 6 formats of blogs like image, standard, gallery, link, video, quote, and service so you can use it for sharing your designing tips over the web, a fluid pop in or out toggle menu for the easy browsing experience, showcase the latest art pic of your interior designing and sort them according to their type.
Along with interior designing and architecture business, you can also use this theme for photography and food purpose.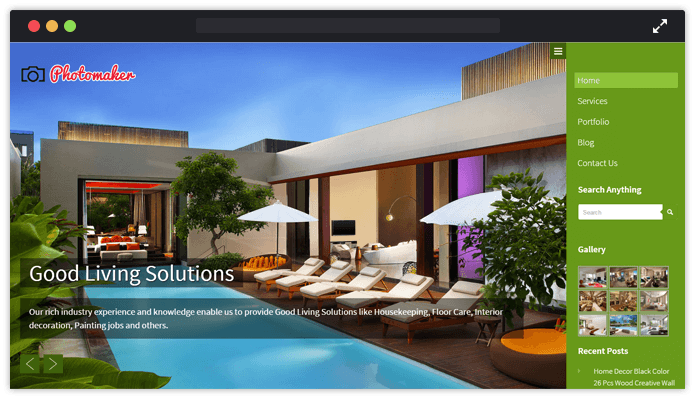 Interesting features of Photomaker that make your architecture business website fabulous –
Simple to install and easy to use.
Show images, gallery, quotes & post videos in the blog section.
Bookmark Effect for perfect alignment.
Fantastic gallery and different styling colors.
Stylish social icons.
Live PreviewTheme Info + Download
---
Architect
Architect is an understated construction WordPress theme with the professional edge over the others and mostly preferred by most of the architectural firms and websites for start up or renovation of their business websites.
The theme is optimized with varied architectural layouts with a unique way of posting content on the website. The homepage customizer option gives ease to the web owners to make changes to the layout whenever they desire, blog page layout options available are also eye striking.
Drag out your services and approaches in the four column feature area along with the circular images, a home page link panel to show your business specialties.
The various elements of your architect business plan can be popped up with the help of the diversified widgets available. It enhanced CRM (Customer Relationship Management) that makes the business better and bigger.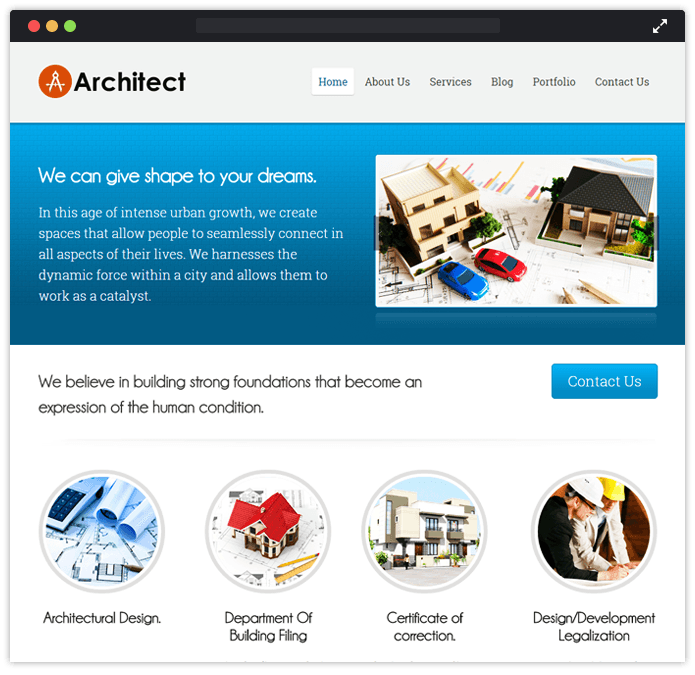 Interesting features of Architect theme that make your architecture business website fabulous – 
Add a logo of your organization, so the customer can easily remember you.
Homepage image slider – add up to 7 images with links.
4 column featured area here you can add your projects, services, team members or anything special from your business.
10 outstanding color skins and various social media icons for social connectivity.
Various page layouts for individual pages like blog, contact, full-width, gallery, default template.
Live PreviewTheme Info + Download
---
HomeDecoro
HomeDecoro is one of the most popular WordPress themes for elaborating a luxurious interior and exterior home decoration website.
You can display the snapshots of the designer's portfolio creations with the help of fantastic sliders of HomeDecoro theme, also it is framed with extraordinary blog which is completely different from other themes blog and portfolio gallery, you can use it as a photo blog where you can share your best snapshot of the designing work allow visitor to comment on the particular post that creates a story behind the scene, also
Also an Instagram account widget in the footer section that permits you to place your Instagram account id. Design your home, office, schools, and display your best services and achievements through the website.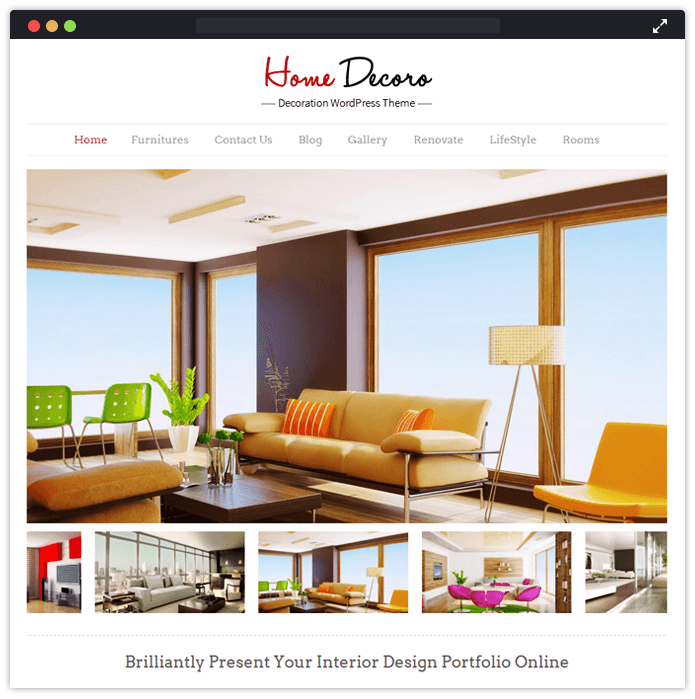 Interesting features of Home Decoro that make your architecture business website fabulous –
The theme is compatible with the social networking sites through the display of iconic migration makes the appeal stronger.
An inbuilt Search Engine Optimization system for easy optimization of the keywords.
Responsive to multiple gadgets designs, it is the best way to increment traffic on the designer's website.
Unlimited Drop down menu levels.
Widgetized sidebar & footer that shows videos, galleries, Facebook pages, etc.
Live PreviewTheme Info + Download
---
TilesTone
Tiles Tone is an extremely versatile and imaginative WordPress Theme for stonemasons, tilers, home decorators, interior designers, constructors, architectures and other designers. The theme can also be adopted by building companies, freelance architects, and architectural firms.
TilesTone has got many features that will make your website look amazing, you can in display awesome portfolio your previous work so that people can trust you and engage in your work, blogs will help you present your recent post on the related topics and you can exchange views with the people,  also the theme is SEO optimized that brings your designing and decoration project on the top of the Google page. It is built on Twitter Bootstrap framework that eliminates resizing issue of the website.
Theme not only goes perfect for the decorators but it is also valuable for the real estate builders that give a full furnished house as well. And because of its customization, you can mould them into any niche specific website.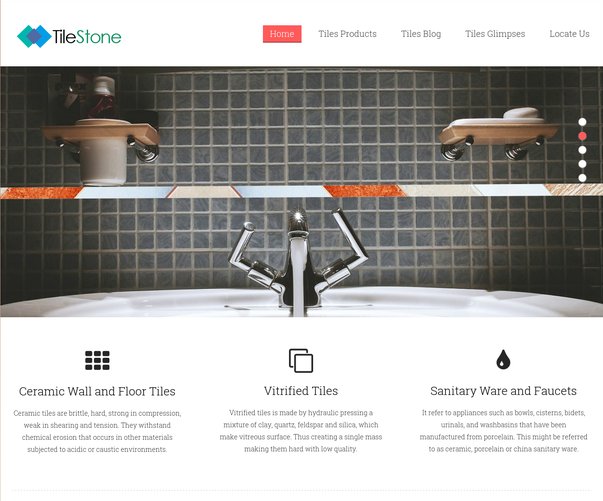 Interesting features of Squirrel that make your architecture business website fabulous –
Fully responsive theme.

Google map integration & Social sharing icons.

Built-in contact form and Call to action button.

3 column features area.

Blog and testimonial sections.

Right widgetized area with – search bar and video.
Live PreviewTheme Info + Download
---
Dekor
Dekor is an attractive and sophisticated WordPress theme which is professionally designed for carpenter, creative interior designers and decorators or those people who wish to exceed numbers of traffic on their business website.
People get attracted towards your site in order to decorate their home with beautiful furniture. So, it is essential that the carpenters make use of this theme that is available for a variety of contrasts in layout designs on the website.
Ample spacing available for enlisting the specifications of the furniture is present. Customized layouts for different types of furniture such as dining furniture, room furniture, etc and display carpentry with instant booking feature.
Dekor is one of the thrive WordPress themes for creating an e-commerce website for architects, it is framed with powerful WooCommerce plugin which gives you the flexibility to sell your furniture and interior designs 24 hours online, an add to cart feature endows your visitor an astounding browsing experience, present you recent or future designs in a masonry section, a shop page where you can brandish all your project blueprint.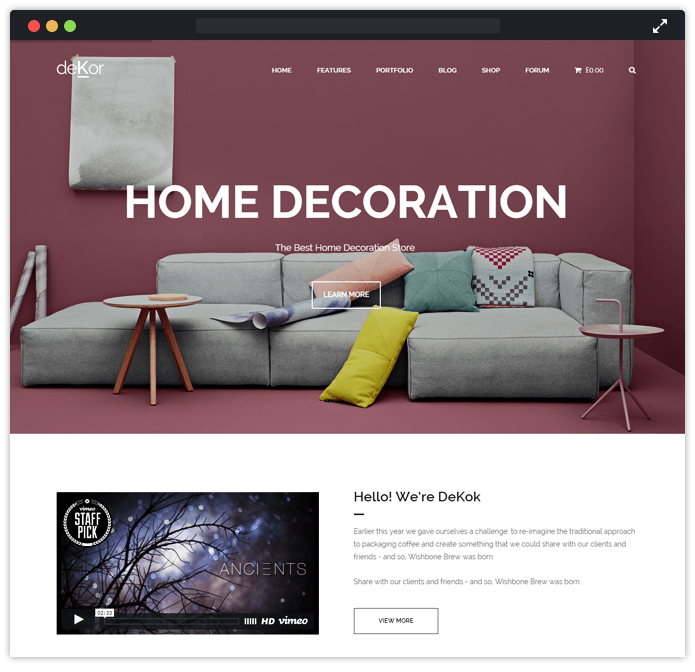 Interesting features of Dekor that make your architecture business website fabulous –
An easy profile setup option is available to all the customers which are captivating at its first glance.
Having the cross-browser compatibility and revolution slider icon supplement, the theme is highly responsive.
5 beautiful home pages with different designs and colors.
It is compatible with WPML also which makes customization better.
Live PreviewTheme Info + Download
---
HomeRemodeling
HomeRemodeling is a creatively free and sleek WordPress theme that gives a thriving option for creating a designing, architecture or construction website that proliferates their venture marketing.
Being an affordable theme to be purchased for online businesses, it allows the home remodelers to execute their picture of the brilliance they have achieved prior to the boxed slider, three column feature allows you to demonstrate your business services along with circular images, a newsletter subscription form for collecting subscriber before the launch of the product, spread the project through the blog your and your recent post will be displayed on the homepage of the theme.
Let the customers explore the wide variety of remodeling services by displaying it on your website using numerous features.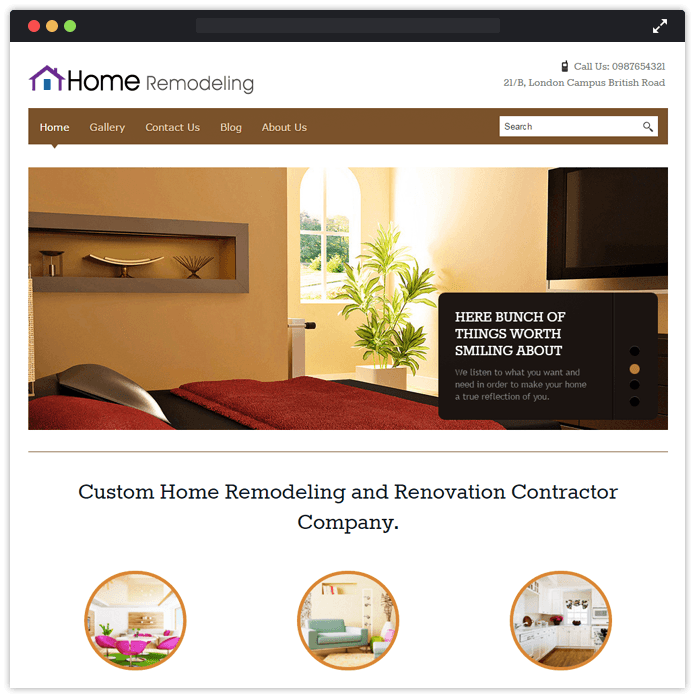 Interesting features of Home Remodeling that make your architecture business website fabulous –
Serves to imbibe customers through the system of blogging which is interactive and augments the betterment of the business fostered.
Enticing the customers with an array of customer engaging fonts and pictures with widgetized columns is an allurement.
Scope for an instant conversation with the customer services is also easy and compatible to be used.
The theme is compatible with all the WordPress versions.
Various colored layouts are also available.
A detailed and responsive theme makes the theme most suitable for remodeling businesses.
Live PreviewTheme Info + Download
---
HomeImprovement
For that business firms who deals with the improvement of home both the interior and exterior maintenance of the house, HomeImprovement theme is a perfect match for them.
HomeImprovement is a polished and professional architecture WordPress theme, and fully competent of handling all the requirements and needs of the architects or home interior decorators, you can use gallery page template to create an interior designers portfolio.
The theme is renowned for it's built up to alter the website into a simple and handy place where even without coding technicalities, the information is correctly channelized.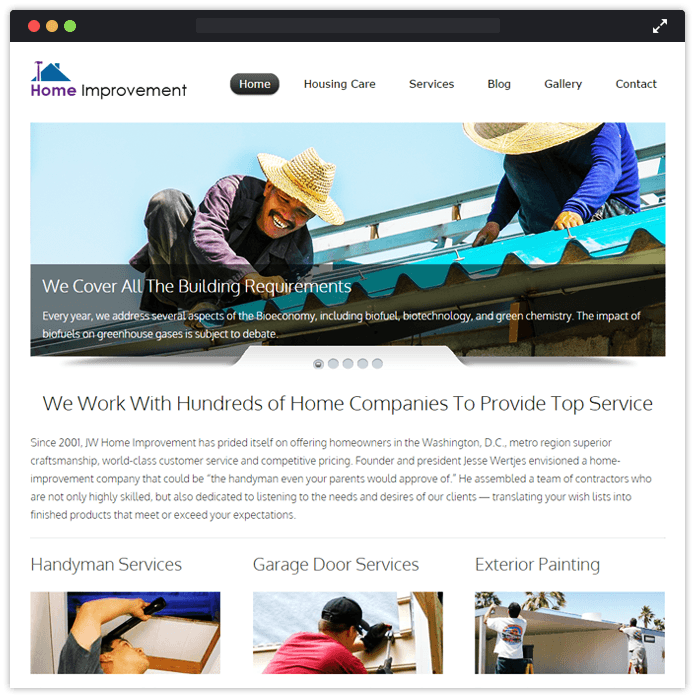 It can improve your business by improving the dealing agendas of the clients, showcase your key services, images, etc. The theme can be used by the contractors, architectures, and interior designers in order to spread their renovation and home improvement business.
Interesting features of Home Improvement that make your architecture business website fabulous –
Showcasing the images alongside with the features that are provided for in the home improvement business is a plus for this theme.
Blog posts that have relevance and designs composed by the professionals are customized and compatible alongside all devices.
With variation in colors and multiple ranges of templates for every page, the theme is excellence in its responsiveness as well.
From customizing the logo to widgetizing the footer heads, all is a part of this thematic contrast.
Live PreviewTheme Info + Download
---
CeilingStyle
CeilingStyle is yet another top class distinguished WordPress theme for Interior Designers, Civil Engineers, Decorators, Builders, Construction Firms, and Furnishing Industry.
The theme has Lead capture form on the right side of the homepage, this will help users to clear and inquire about anything related to your site. Plus you will be able to grab more of clients and turn it into revenue generating sales.
Another notable thing about the theme is its homepage that has a beautiful background, awesome sliders, blog pages, etc. The theme is perfect for presenting portfolio site, frame view content display, etc.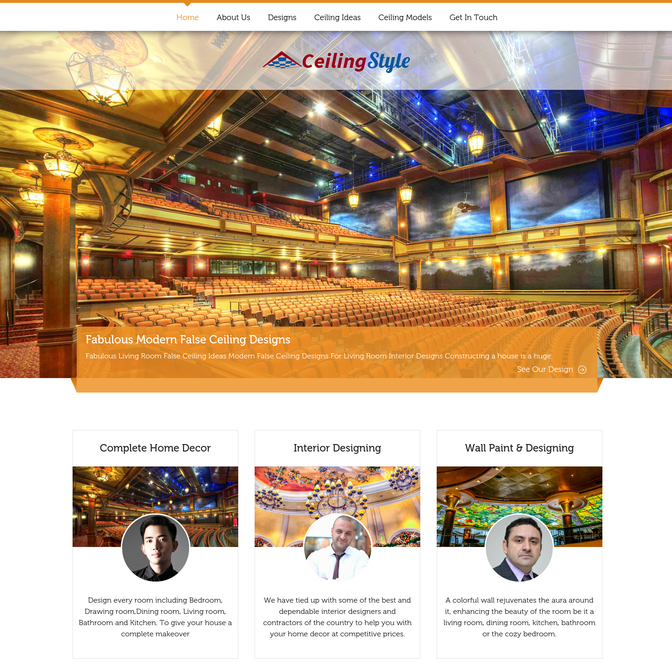 Apart from the designing business, the theme is also multipurpose, so any business niche can be well set for facing online experience.
Interesting features of CeilingStyle theme that make your architecture business website fabulous –
8 classic color skins.

3 column featured services section.

In-built Lead capture form.

Child theme included.

WPML multilingual translation ready.

Prompt support.

Cross browser compatible.

4 column widgetized footer.641680

RTL compatible.
Live PreviewTheme Info + Download
---
Conclusion
Well, these were the 10 best WordPrss themes for architect & designers.
As per my opinion, you can go with either Blackwell, Themia, or Architect as these are the best selling and most popular themes among architects, designers, and other business owners with lots of interesting features.