Satisfied customers play a defining role in the success of any service-oriented business.
Irrespective of whether you are offering innovative solutions to your customers or looking to build an online marketplace to promote your products, you must ensure that the customers are happy with the quality of service on offer.
Word of mouth promotion is the best form of advertisement and for that to happen, you should take every possible measure to resolve the issues raised by the customers in a quick and organized manner.
You need to be constantly in touch with your customers for building a relationship based on trust and mutual respect.
---

---
Setting up a customer help-desk can help you to remain connected with your customers. Moreover, it can be the most straightforward way to resolve customer conflicts and respond to their queries and complaints in a systematic way.
If your business website is powered by WordPress, then it's literally a breeze to set up a ticket-based customer support system. There are a whole lot of plugins, both free and premium, that can provide you the necessary functionalities to maintain a support system efficiently.
Let's take a look at some of the highly rated and feature-rich customer support ticket system plugins for WordPress.
Click on the link below to get more related information-
---
InkTicketing is regarded as an end-to-end customer support solution with the ticketing system, knowledge base, and troubleshooter all clubbed into a single package.
If you are looking for a solution to interact with your customers and resolve their issues in a well-organized and professional manner, then InkTicketing can be your best bet. Irrespective of whether you are running an e-commerce website or any service-based online business, this plugin can seamlessly integrate all customer-oriented activities under a single roof.
---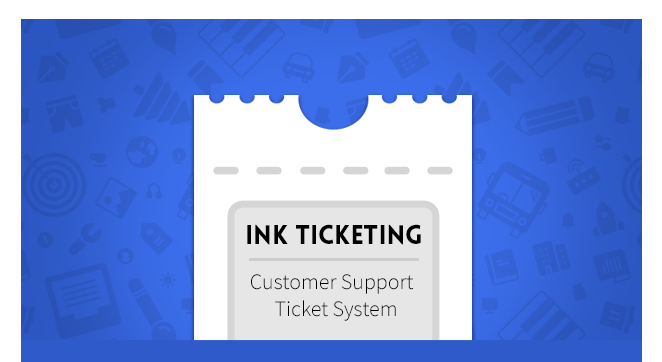 ---
While the ticketing system comes with a neat front-end user interface, the customers may refer to the knowledge-base section to get guidance on how to use the system. Moreover, the Troubleshooter section can act as a self-support portal and allow the users to solve their issues on their own – without creating a support ticket.
The plugin comes with a comprehensive notification delivery system which can be configured to send automated email messages to the customers. It's a great feature to keep your customers informed on the progress made with respect to their tickets.
Query Filtering is another awesome feature brought to you by InkTicketing. It allows you to filter queries by usernames, product type, query type, department type, date range, or by current status. InkTicketing allows you to prioritize tickets based on query types so that the higher priority tickets can be looked upon with urgency.
It supports an unlimited number of support agents. You can map the support agents to specific departments and the tickets can be routed to them accordingly. Tickets can also be reassigned to other departments if needed. Ticket reassignment feature can help the support agents to distribute the work-load according to their bandwidths.
As far as the pricing is concerned, InkTicketing would cost you a one-time fee of $97 for lifetime usage. There would be no recurring payments. It comes with a Developer License, which means that you can use the plugin on an unlimited number of websites.
Considering the extensive range of features it brings, the price seems to be quite justified. All in all, if budget is not a constraint, then InkTicketing is the way to go to impress your customers with an excellent customer service experience.
InkTicketing Features:
End-to-end customer support ticketing solution suitable for all types of online businesses and e-commerce websites.
Comes integrated with a knowledge base.
Features a Troubleshooter for the users to solve their issues on their own.
Easy-to-use front-end and back-end interface.
Comprehensive notification delivery system with automated email alerts.
Supports Query Filtering based on different parameters.
Ability to prioritize tickets based on the query type.
An unlimited number of support agents, products, and departments.
Department-wise ticket assignment for distributing work-load.
Unlimited license and lifetime support.
Regular product updates for enhanced features.
Excellent value for money.
Get More DetailsPrice: $97 (Unlimited License for Life Time)
---
SupportEzzy Ticket System is a premium WordPress plugin that comes with an extensive set of features to manage your customer support activities. Coming in from the stable of CodeCanyon.Net, it is designed to be customer friendly.
Your users will love the elegant and neatly designed front-end layout, while the support agents will have a feature-rich back-end interface to view, track and work on the tickets.
---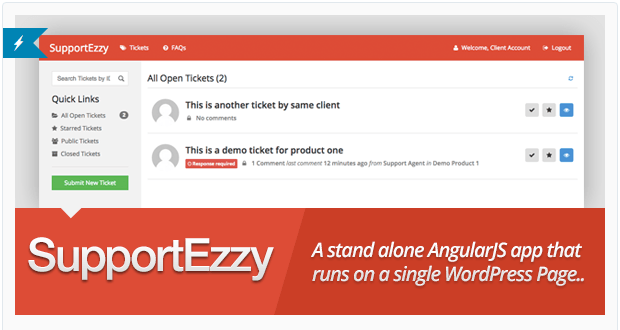 ---
SupportEzzy offers you the ability to create an unlimited number of tickets, departments, products, and agents. It supports custom fields and file uploads as ticket attachments. You can also customize the color-schemes, fonts, and layouts to suit your existing website.
The support agents can search and sort tickets based on ticket ID, department, product, or date. They can also transfer tickets with internal notes to other departments. It allows you to set ticket priority and status.
Acknowledgments and notifications are automatically sent to the customer's email address as soon as the ticket gets updated by a support agent. Customers can also send email to a specific mailbox address to create new tickets.
SupportEzzy Features:
Easy to install and configure.
User-friendly front-end interface.
Ability to create unlimited tickets, departments, products, and agents.
Supports custom fields.
Files can be uploaded as ticket attachments.
Customizable color-schemes, fonts, and layouts.
Searching and sorting of tickets on demand.
Inbuilt email notification integration.
WooCommerce integrated.
Ability to transfer tickets between departments and/or agents.
One time payment and no monthly fees.
Automatic upgrades from WordPress dashboard
Pricing:
It is available in a regular license with the charge of $45 only in which you will get 6 months of support and all the future updates.
Get More DetailsPrice: $45
---
Knowledge Base is one of the leading ticketing system plugins for WordPress websites. It's an excellent choice for interacting with your customers and maintaining a working relationship. It comes with a wide range of features to adequately complement all your requirements with respect to customer relationship management.
It has a flexible design with an amazing responsive backend and front-end that looks elegant properly managed.
---
---
Knowledge Base is highly customizable. The plugin allows you to create custom fields so that you can collect the desired information from your customers.
The neatly designed user interface will help the customers to easily create their requests. They can choose the priority, select the concerned department, and specify other preferences using a simple drop-down menu. The plugin is also capable of generating support tickets from emails sent to a specific email address.
Knowledge Base Features:
Easy configuration – just download, install, and activate – and your support ticket system will be ready to use.
Clean user interface.
Customers have the ability to choose ticket priority and concerned department.
Auto acknowledgment and notification.
Automatic email to ticket conversion.
Ability to sort tickets based on priority, department, date, or any other custom fields.
Fully responsive design with the live article search feature.
Pricing:
This plugin provides two licenses in which you will get 6 months of support and all future updates. 
Regular license

–  It will cost you only $49

Extended license

– For this license, you have to pay $200
Get More Details Tooltip content
Why We Think Knowledge Base Could Be A Better Choice
Knowledge Base provides email notifications, ticketing system, file and media uploads, and custom fields.
Plus, it has a demo so that you can test back-end as well as front-end of the software.
---
WSDesk is the premier WordPress Helpdesk plugin that offers top-notch features for the best customer support experience. With this plugin, receive all your customer queries, issues, and suggestions in the form of tickets.
The plugin is boosted with unlimited tickets, unlimited agents and has features like supervisor profiles, email piping, auto-tagging tickets, auto-assigning tickets, custom ticket submission form, email filtering, email blocking, triggers & automation, quick reply templates, agents' satisfaction rating and customer feedback and much more!!
Unlike other SaaS-based plugins, WSDesk does not store your data in the cloud. Rather, all your data is stored on your system, making it one of the best WordPress support desk plugin in the market. Data privacy is one less thing to worry about with WSDesk!
Features of Wsdesk:
Budget-friendly
Cost-effective
Automation-driven
Email-based
Workflow efficiency
Notification system
Agent Creation
User Interface
Performance Analytics
---
Appy Pie Desk is the newest, and snazziest HelpDesk application that you can get. Appy Pie provides users with a complete customer support system helping you redefine your customer support system.
---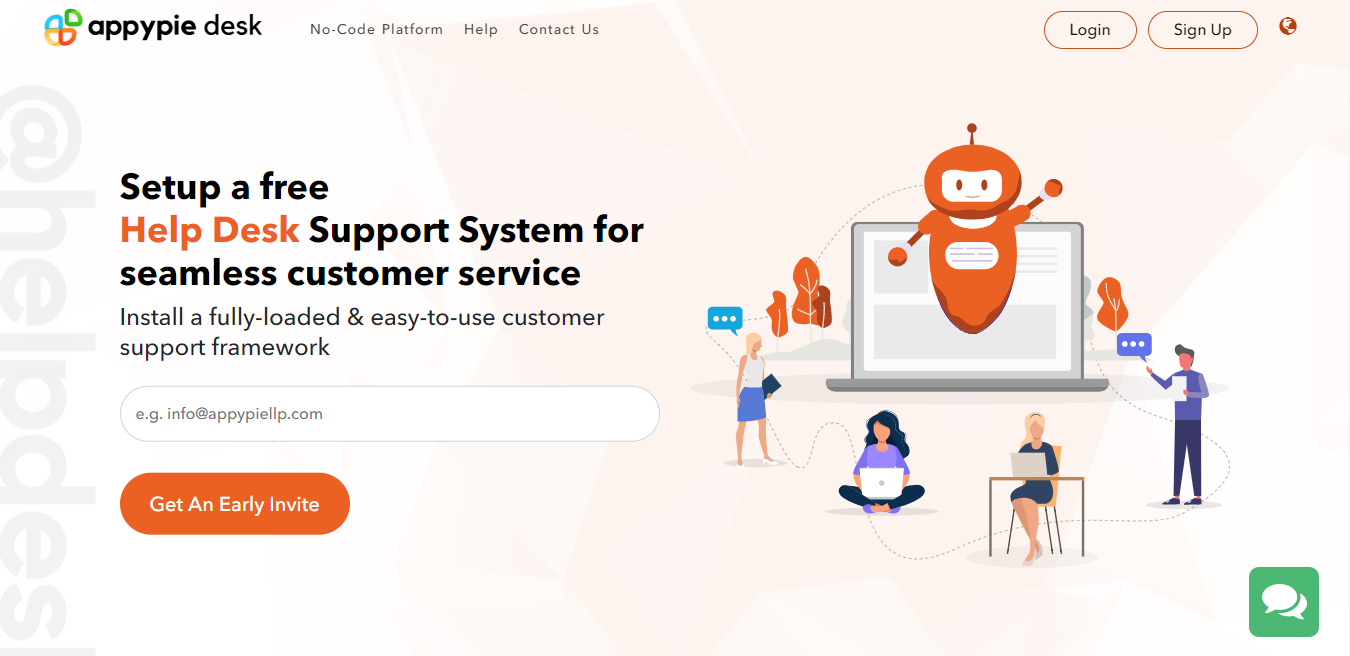 ---
Appy Pie Desk comes with state-of-the-art omnichannel support that enables the collection and management of customer queries in the form of tickets from multiple channels like email, chat, social media, and more, onto a single platform to ensure that no customer query is left unattended.
The helpdesk from Appy Pie also has automotive processes such as canned responses, triggers, etc that can be set up to reduce customer response times and ensure better customer service. Apart from that, here are the best features that Appy Pie Desk has to offer.
Appy Pie Desk Features:
Common Inboxes that can be customized in infinite ways to suit your needs
Easy integrations with other software that you might use
A self-serving knowledge base to assist your users.
Smart Notifications to ensure that your agents are actively answering users.
Community building feature that allows you to create a support forum alongside the helpdesk and increase customer retention
Reporting and analytics along the latest metrics to ensure that your reports are clean and efficient.
Pricing:
Appy Pie Desk is currently a free product open for public beta. Check it out!
---
Another open-source ticketing system for WordPress websites, Chat – Support Board stands apart from the other similar plugins due to the availability of live chat, voice support, and video chat features. It's a customer support combo pack that not only helps you to manage an organized ticketing system, but also provides multiple options to interact with your customers on a need basis. It comes with an advanced reporting feature to give you more insight into your business.
This plugin is cross-browser compatible and responsive to nature. It supports multiple languages. It comes with a visual customizer to customize the outlook of the front-end interface without touching a single line of code. Besides the ticketing system, it allows your customers to make use of voice and video chats directly from your website without installing any additional software.
It allows you to view and track website visitors in real-time. Moreover,  Chat – Support Board can also provide you with accurate information on customer location and IP address.
Chat – Support Board Features:
An open-source plugin can be downloaded free from the WordPress plugins repository.
Complete customer management solution with the ticketing system, live chat, voice messages, and video chat features.
Live chat and video call integration with G-Talk and Skype.
Send and receive files from the chat widget.
Cross-browser compatible, fully responsive.
Multi-language support with the 'Click-to-Translate' feature.
Visual customizer to modify the front-end outlook.
Advanced reporting feature.
Visitor tracking with accurate information.
Inbuilt social integration toolbar.
Pricing:
It is available in regular license and extended license with the charge of $45 & $399 only in which you will get 6 months of support and all the future updates.
Get More DetailsPrice: $45 & $399
---
---
A plugin that can attract some of the world's leading brands like Warner Bros, Sennheiser and Whirlpool must have something special about them.
HappyFox Helpdesk does have some exclusive features to rank among the very best. A versatile ticketing-based customer support system, with HappyFox you can easily manage all your customer interactions, including feedback, complaints, compliments, and queries in a systematic manner.
It's a cloud-based solution that can be integrated into your WordPress website via a simple API call. You may also install it on your WordPress dashboard through the traditional mode of plugin installation. You can view and manage the tickets from within your WordPress dashboard.
FAQs and knowledge-base sections are there to help the users in creating tickets. HappyFox offers you multi-lingual support and is available in over 35 different languages.
It's fully responsive, so your customers can raise tickets from the convenience of their handheld devices. Your data is highly secure with built-in SSL support and you can restrict ticketing access by managing visibility preferences.
Last, but not the least, you can enroll for a 30-days free trial to evaluate the system before deciding to invest your hard-earned money. Give it a try, you have nothing to lose.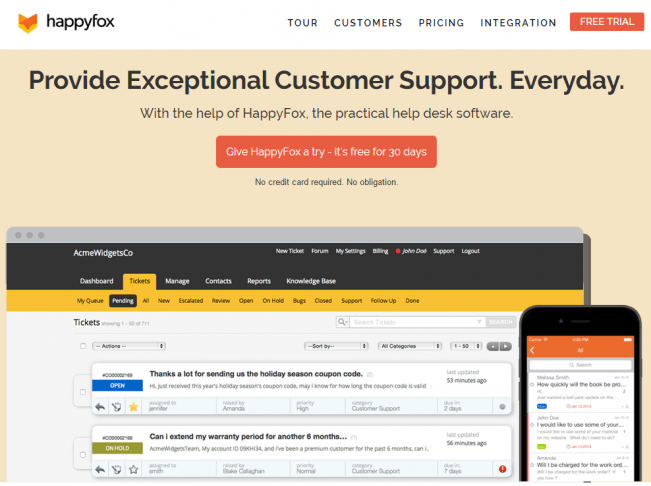 HappyFox Helpdesk Features:
Cloud-based solution.
Easy installation and set up.
View and manage tickets from WordPress dashboard.
Responsive interface can be accessed from mobile devices.
Secure with SSL encryption.
Access restriction with visibility preferences.
Multi-lingual support, available in 35 different languages.
30-days free trial available to try the solution before buying.
Get More DetailsPrice: $19 onwards (per month)
---
---
LiveAgent is award-winning omnichannel helpdesk software that serves millions of end-users. LiveAgent has been paving the way for other helpdesk software since 2004, acquiring many prestigious clients such as Oxford University, Forbes, and BMW along the way.
LiveAgent help desk software is an all-in-one solution that offers a unified agent desktop, ticketing capabilities, social media integrations, a native live chat, and a built-in call center. Users can also enjoy powerful reporting features, a context-rich CRM, and a customer portal complete with a knowledge base builder.
The help desk is completely web-based and can be integrated with WordPress in a matter of minutes through an API key.
LiveAgent help desk software can be customized, scaled, and adapted for any business type and size. Whether you're a remote or in-house team focusing on inbound customer support, or outbound sales, LiveAgent can be adapted to your needs. It's a suitable software solution for all industries, including education, automotive, SaaS, e-commerce, banking, and healthcare.
LiveAgent prides itself on its unparalleled customer support. Customer support representatives are available 24/7, 365, and offer support in multiple languages across multiple channels.
---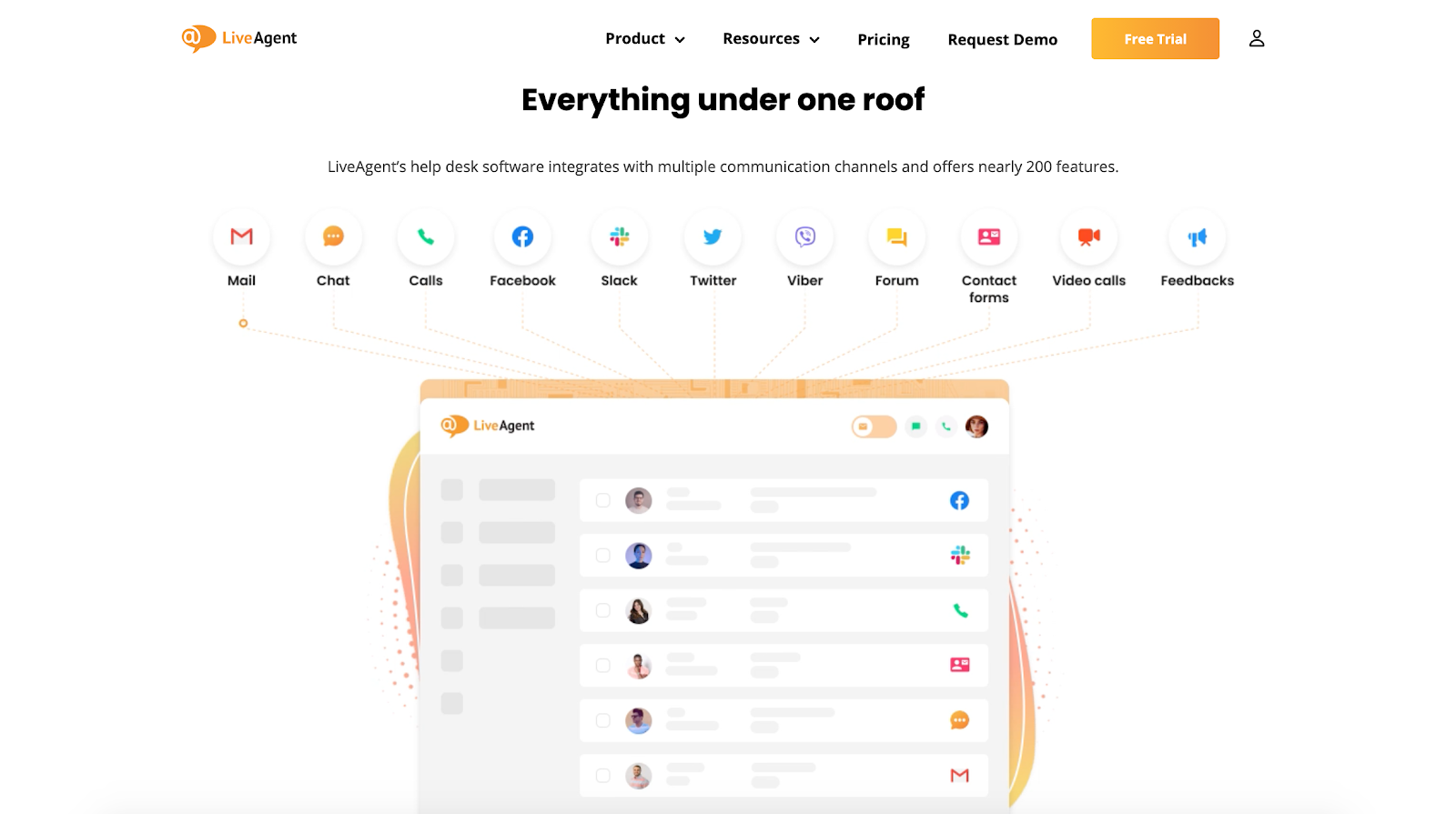 ---
LiveAgent Helpdesk Features:
Unified agent desktop
Omnichannel ticketing
Fully customizable native live chat
Built-in call center equipped with IVR and callback features
Social media integrations with Twitter, Facebook, Instagram, and Viber
Customer portal complete with WYSIWYG knowledge base builder
Automation
Built-in CRM
Reporting dashboards
Gamification
Cloud-based, GDPR compliant, and securely encrypted
Mobile app
Free 14-day trial
Pricing:
LiveAgent is a freemium helpdesk software that offers 4 different plans: LiveAgent Free, Ticket ($15/mo./per user), Ticket + Chat ($29/mo./per user), All-Inclusive ($39/mo./per user).
Get More DetailsPrice: $15 onwards (per month)
---
---
Awesome Support is arguably the best open-source ticketing system plugin for WordPress. It's free to use and you can integrate the plugin with any number of websites.
Getting started with your customer support wing is as simple as downloading a zipped file, installing it on your dashboard, and activating it from your installed plugin's repository.
This plugin is good enough to handle all the generic functionalities associated with a help-desk support system, but if you are looking for extended capabilities, then there are premium add-ons that can be purchased separately.
Built with the Titan Framework, most of the settings in this plugin are customizable. It was created with flexibility in mind. It allows you to easily set up new custom fields.
You can have multiple help-desk agents to manage the tickets and respond to them. It also allows users to attach files with their tickets. All the actions are notified to the relevant users via emails.
Awesome Support Features:
Open-source license – you can use the plugin at no cost.
Easy installation and setup.
Highly flexible – allows custom fields feature.
Ability to set up multiple help desk agents.
File upload is supported.
Supports email notification.
Multi-language support – available in English, French, Dutch, Hungarian, Italian, Portuguese, Spanish, Swedish, Persian and Polish.
Get More DetailsPrice: Free
Why We Think Awesome Support Could Be A Better Choice
Amazing features like Email notifications, restricted access, file upload and much more.
In addition to this, it is compatible with other extensions as well.
---
Support Dynamo is a premium WordPress support system plugin with many useful features. It comes with a built-in Customer Interaction Manager (CIM) to analyze customer behavior and preferences.
This plugin not only provides you a mean to interact with the customers but also helps you in getting to know them well. It allows the customers to submit support tickets via email or through an easy-to-use Customer Support Portal (CSP), while you can manage your customers' queries straight from inside your WordPress dashboard.
This awesome ticketing tool allows you to prioritize the tickets and assign them with custom status. If needed, you can easily create a new custom field in your ticketing system.
You may decide to keep your support system open to your members only or even provide access to the non-registered visitors also.
It also brings you a customizable array of features like Knowledge Management System (KMS), graphical reporting and analytics interface, ticket options meta box, customer value calculator and dashboard widget.
---
---
The pricing plan is flexible too. You can choose between a monthly recurring pricing model or buy the license f a r lifetime. The monthly plan for a single website starts at $9.97, while you may decide to pay a one-time fee of $199 and continue to enjoy the awesome features forever.
Support Dynamo Features:
Works seamlessly across all major browsers and devices.
Supports multiple languages.
Option to choose between member-only support and open to all support.
Features a Customer Interaction Manager (CIM) to analyze customer behavior and preferences.
Inbuilt Customer Support Portal (CSP) for ticket creation and management.
Allows setting ticket priority and status.
Integrated Knowledge Management System (KMS).
Graphical reporting and analytics interface.
Dashboard widget with quick-view and quick-reply feature.
Flexible pricing structure.
Get More DetailsPrice: $9.97 (Per Month) onwards or $199 (Life Time)
---
Conclusion:
For today's web-based businesses, a customer support ticket system is not a privilege, but rather a mandate. It not only helps in creating great customer experience, but also allows the organizations to interact with their customers, know their preferences and get detailed insights.
If you are on a tight budget, then the open-source plugins are there to help you, but otherwise you should seriously consider investing in a reputed premium support system software to serve your customers better and take the relationship to the next level.
You Can Also Visit Our Other List Post Articles

WordPress Optimization Plugins