Knowledge and wisdom are acquired only when there is a curiosity to know something, and the desire could only be fulfilled when you asks questions, and answering such questions functions well when the synergy of the experts works.
Nothing can be better than an online platform where all queries of the knowledge seeking aspirants can be resolved. If you are planning to launch yourself on the world wide web and start a forum where all the questions can be answered then we have elicited the finest WordPress themes that will enable you to get your job done.
These WordPress themes can be used by banking and finance industry, information technology industry, technical support firms, business process outsourcing and similar other belonging to the similar lot.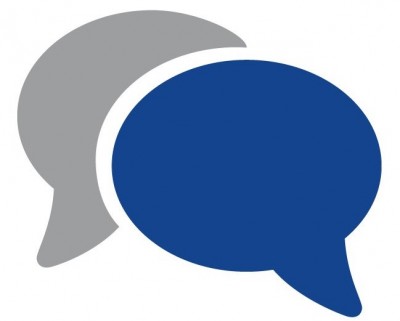 If you are planning to provide a Q&A platform for your audience, then go through to this collection of WordPress themes.
You can choose any of the below-mentioned themes to create your new forum.
Also read the below post for question answer forum work portfolio
1. ForumEngine
It is a fantastic theme which helps to make forums without having any coding skills and technical knowledge. It is supplemented with modern settings and updated responsive features like custom forum skins, Gravatars, vast language choices, an effective front-end and back-end. The theme offers to start your discussion forums on WordPress hosted website.
There is a posts classification section on the homepage of the theme, where all the question and answer discussion can take place. There is a "Statistics"  section on the homepage of the theme where all your members, how much threads you have and the number of replies can be mentioned, exploring the theme further, you will find a "category" section where all your forum categories can be manifested.
Key features:
It provides quick search preview at the header which helps the users to find easily answers.

Offers sticky thread which allows the user to stick or pin a post at the top of the screen.

Offers quick customer registration and login module

It provides complete statistics. The user can view member, threads and replies stats at a glance.

Gives the power to either approve or reject topics which are not of your viewers concern.

Set members as a moderator who helps to maintain smooth, high-quality conversations.

Offers private space where the user can all activities relevant to their posted threads.

Provides user banning system.
Price: $49
Theme Info + DownloadLive Preview
---
2. QAEngine
QAEngine is a complete forum functionality inbuilt WordPress theme that provides users to get their forums live with least efforts. It has its dedicated forum framework and offers easy user interface. Apart from this, it also gives well-managed system controlled through the back-end admin panel.
The forum contains category which shows number of questions along with their answers, you can show what are your latest posts and besides that you can show a number of tags, badges, categories and users on the sidebar of the theme. You can filter your results that you want your customers to see. The template has poll section showing number of polls per page.
Key Features:
Simple and optimized UX

Enables the user to research and learn systematically with tags and category

Offers Badge and point system which helps to grow a personal brand

It provides live notification for new content and interactions, etc.
Price: $49
Theme Info + DownloadLive Preview
---
 3. Knowledge Base
It is an excellent WordPress Theme for wiki and knowledge base websites. The theme best supports your customers by offering distinct features. You can add bbPress plugin to this theme. bbPress plugin offers ease of use, integration, web standards, and speed.
The theme has a search bar where all important data can be searched, all relevant stuff can be shared with your site visitors with the help of this theme. You can provide links to multiple posts subjecting your QA session can be shared with your website surfers who wants to acquire, gain and share knowledge.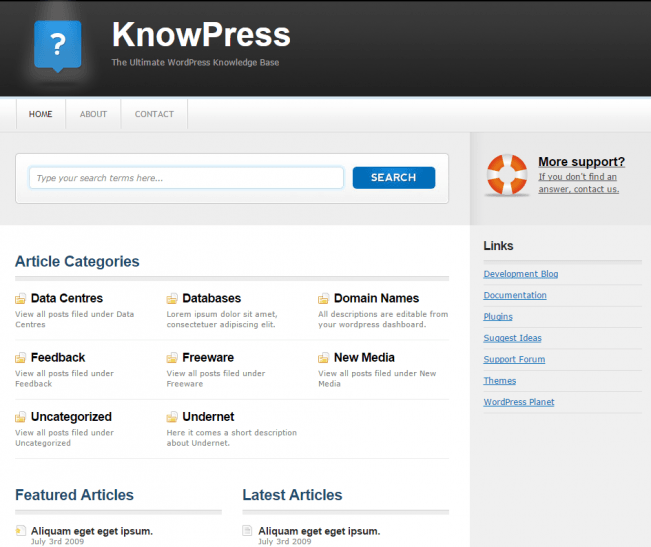 Key Features:
It is fully responsive i.e. built in Twitter Bootstrap, HTML5 & CSS3

Offers full localization support and contains .po and .mo files

It has four skin colors

Offers three kinds of post format supports: Standard, Image, and video

Three Home Page Templates, Faqs, contact (with ajax based contact form) and full-width page Template (without sidebar).

Child Theme and XML import file included

Various shortcodes.
Price: $59
Theme Info + DownloadLive Preview
---
4. HelpGuru
HelpGuru is a self-service support WordPress knowledge base theme. It is complemented by a clean, functional and responsive design which is helpful in brand visibility. It provides an amazing framework for building an interactive knowledgebase website.
The HelpGuru has a search bar area where all your posts and QA topics can be searched. The template is supported with a 3 column feature area where educational topics and news can be covered. You can show your popular articles and helpful data can be exhibited through this wonderful WordPress Theme.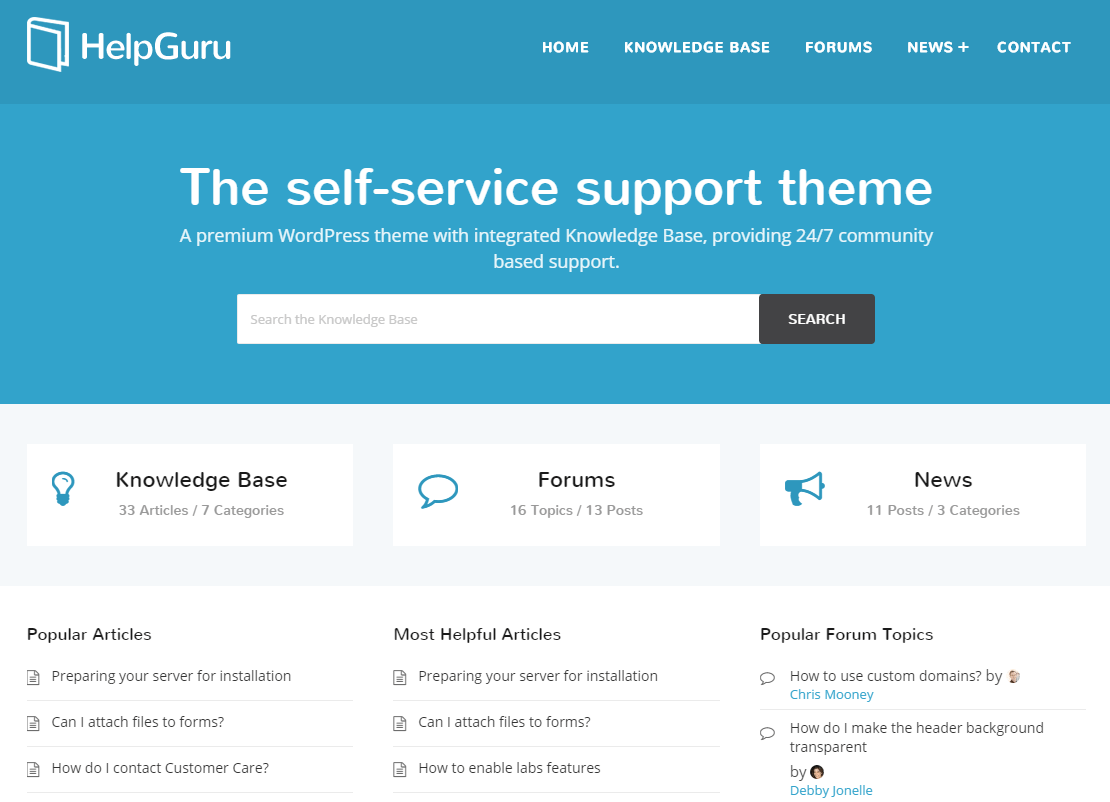 Key Features:
Enhanced live customizer support, control colors and text

Help to get feedback on articles which gives space for improvement

Provides drag and drop category and article ordering

Translation ready po/mo files included

Include child theme

HTML5 and CSS3 support
Price: $59
Theme Info + DownloadLive Preview
---
5. Ask Me
Ask Me is a responsive WordPress theme with an excellent control panel. It is retina ready and has a simple layout and design. The theme is a highly customizable template for Q&A websites and has unlimited color options. Ask Me has multiple users options.
The design of AskMe is framed with multiple page templates like a login page where a visitor can create an account on your site, few tab like a recent question, recently answer, most respond and no answer for the ease of customer to navigate your forum content. Also, it supports RTL feature so your guest from the region like Arabic can also make use of your website.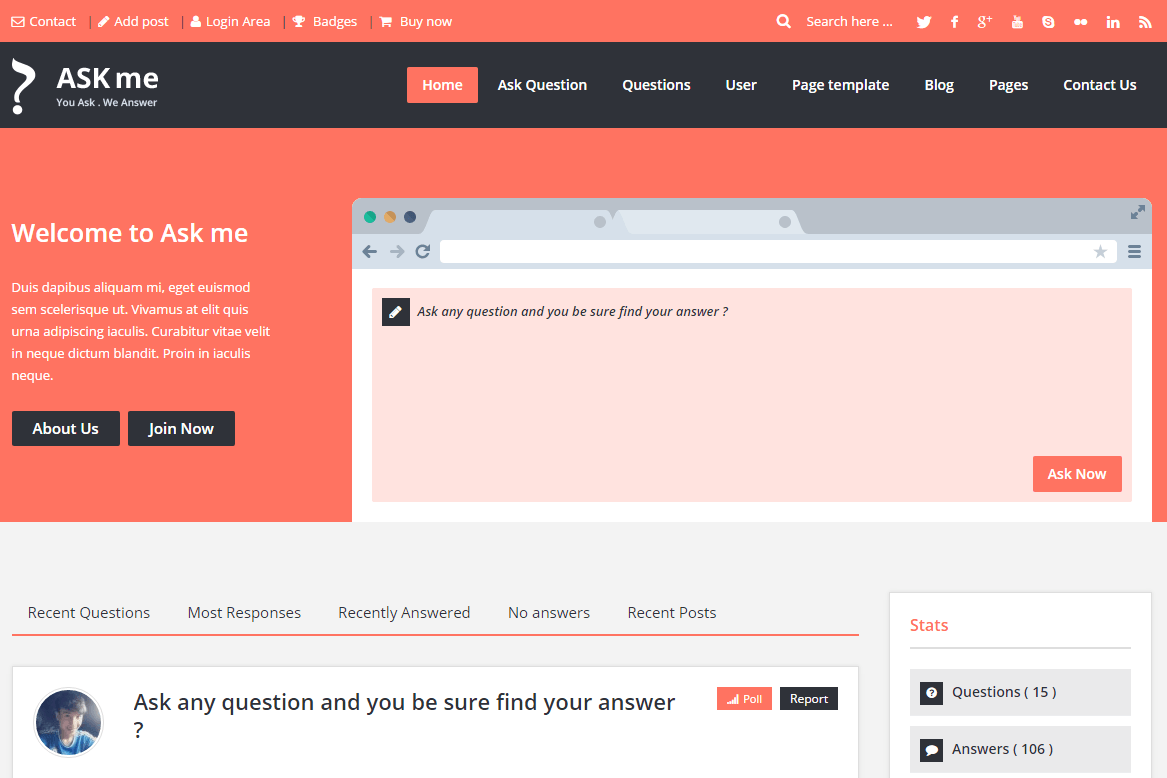 Key Features:
Offers unlimited sidebars and colors

3 Headers style Light and dark

Multiple Blog Layout

33 page templates with customization option

19 customized widgets

Custom background image, colors and custom layout
Price: $59
Theme Info + DownloadLive Preview
---
6. Robust Q&A
Robust Q&A make sure your site looks appealing and attractive with its large set of features. Robust Q&A also has custom sign up and login pages for users so that each user has an individual profile.
The prime feature of the theme is leader board that allows you to display premium member of your site, also it offers a separate area for selling your membership plans, ajax based search panel that provides fast and more convenient search results to the user.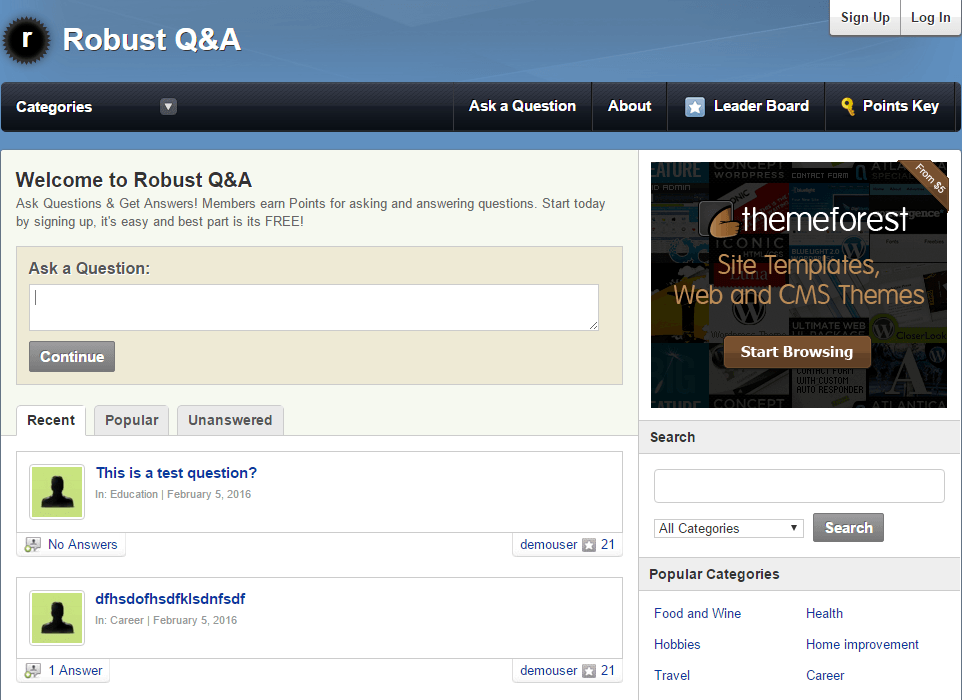 Key Features:
Sign Up is equipped with re-Captcha spam option

Question askers have the ability to select the best answers and like them.

Allows the member to report on any question, answer or comment that they feel is not appropriate to the site.

Members can track their site's ranking.
Price: $49
Theme Info + DownloadLive Preview
---
7. Support Desk
Support Desk is a responsive knowledge base WordPress theme. It is easy to personalize and provides excellent support for your user. It let your website adapt effortlessly to any screen size which gives your visitors an incredible browsing experience.
The theme offers you AJAX live search feature to provide instant answers solution for your customers, also an integrated bbPress plugin that helps to create meaningful relationships with the customers, manifest your business features and services with an amazing font awesome icon in three column feature area.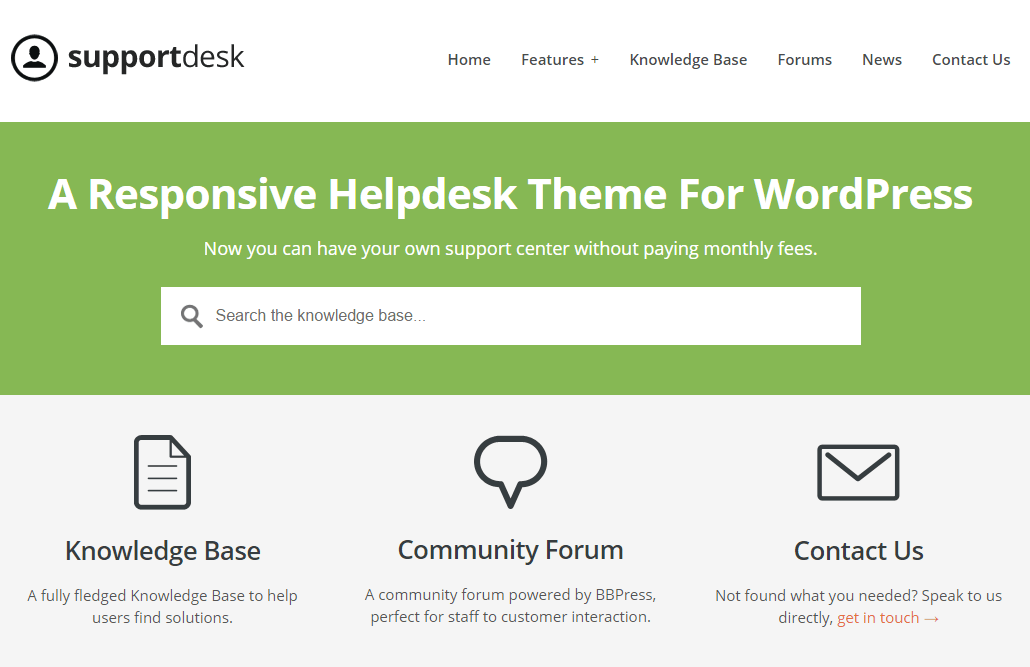 Key Features:  
It is fully compatible with BBPress which helps to build relationship with your customers

Possess AJAX live search feature which contributes to getting instant answers

Offers one page for FAQs

Fully compatible with SEO plugins like Yoast SEO

Includes translation

Great Support From An Elite Author

Offers 3 Custom Widgets (Latest Articles & Popular Articles, Alerts, Toggles, Tabs & Accordions)

Multilevel Animated Navigation
Price: $59
Theme Info + DownloadLive Preview
---
 8. Flatbase
Flatbase is a professional and clean theme that offers a complete website template for a knowledge base site. It makes your site look modern and fashionable. It combines a Knowledge Base, FAQs, Forums with bbPress integration and brings in many more fabulous features.
The presentation of Flatbase is packed with varied features that a complete all in one solution for developing your own customer support website. The theme is fully compatible with WPML with PO & MO files means there is no need to share any language translator plugin an integrated language switcher is predefined.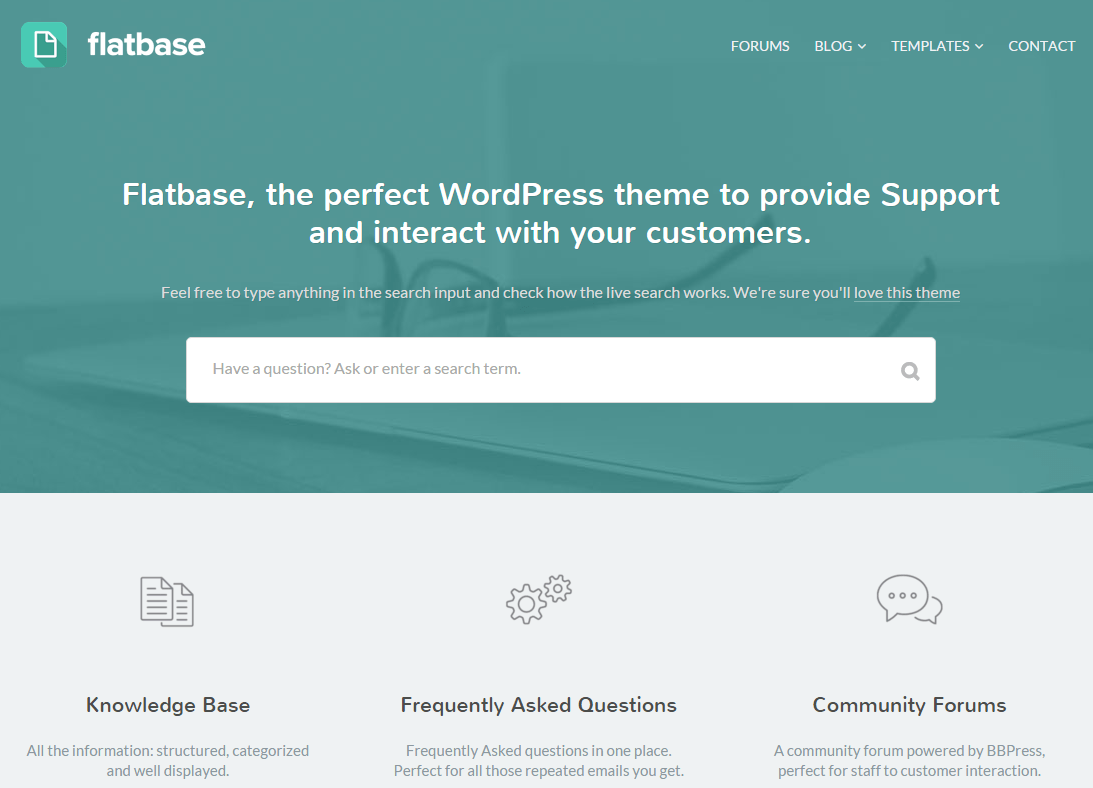 Key Features:
Possess knowledge base to help users find solutions.

Powers community forum by bbPress which is perfect for customers interaction  

Has AJAX based live search which helps your user to get answers fast.

Extensive design options and features

Preview your customization with the live customizer

Translate your theme by using Poedit

Search engine optimized and clean coding

100% responsive WordPress theme
Price: $49
Theme Info + DownloadLive Preview
---
9. Manual
Manual is a prominent WordPress theme. It has many realistic and useful features, and a remarkable design that can easily impress your potential customers and employers. The theme is integrated with .po and .mo files which offers to target enormous demographic.
A powerful admin panel of Manual theme let you customize your forum site as you want, it allows you to customize header design style, Google font icon will help you to demonstrate multiple features and aspect of your support venture, a separate section with parallax background effect where you can display website status including number of projects and happy customers, back to top button for easy navigation.
Key Features:  
AJAX based live search feature helps the user to get answers fast

Fully customizable

Fully Responsive

Offers two headers and footers layout

Offers to like and dislike an article with social sharing ability

Child Theme Compatible

Great SEO Built-In

Demo XML file included
Price: $49
Theme Info + DownloadLive Preview
---
10. Instant Q&A
Instant Q&A is a custom WordPress template which offers to turn any WordPress blog into a powerful question and answer site. It works best with WordPress 4.4.2.
Instant Q&A WordPress theme is a thriving option for creating a customer support based website, an integrated user login & signup page template, one customer can make multiple accounts also they can generate their own password, users can also change their password in future, a forget password module for your site member to retrieve password if they forget.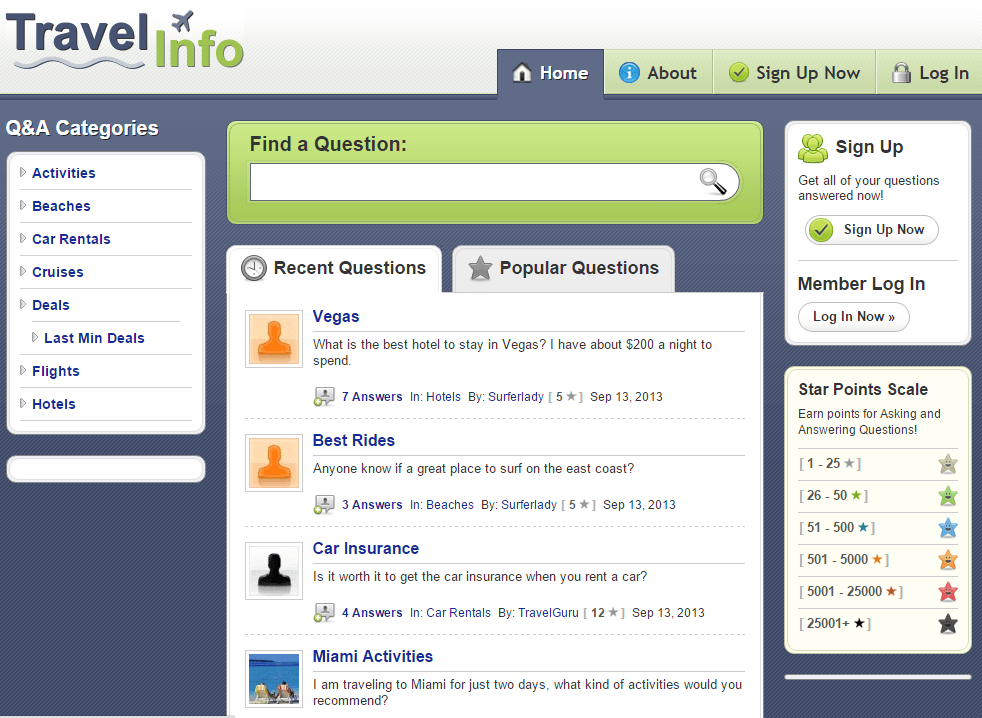 Key Features:   
Turnkey Question & Answer website solution

Custom Sign Up with user-generated passwords

Member Profile Pages

Gravatar Integration

Unique Answer pages for Answering Questions

Star Rating System where members earn points for asking and answering questions
Price: $44
Theme Info + DownloadLive Preview
---
Over To You
I would like to know from you, which of the above themes got your heart and why.
I would be glad to know if this helped you to pick one.
So kindly do mention in the comments below.