If you are looking for a software that can manage your entire subscription lifecycle events and take the hassles out of your day to day operations then you must try some recurring billing & subscription management tools
As we know that managing a subscription-based business is a very complex and time-consuming task these days.
Therefore, recurring billing management tools is a must need for every SaaS business as. It helps to rapidly increase your business's revenue every year.
That's why we have listed top recurring billing management tools in this article which can automate the entire subscription lifecycle from signup to renewals and everything in between. So, you will be able to focus on your business growth.

Take A Look At Some Recurring Billing Management Tools
Now, you might have understood that which tool is the best one. Still, we want you to read out this article & choose the tool according to your needs.
Also read our latest listing posts:-
Let's have a look at some smartest and most popular 10 subscription management tools that offer great features and reliable services:-
---
1. Pabbly Subscriptions
Pabbly Subscriptions is economical yet efficient recurring billing management tool that you will ever find. It thinks out of the box and offers you a complete range of its services at just $5/month charge.
Through it, one can add unlimited subscriptions without even have to worry about monthly recurring revenue. It is because that is also unlimited.
---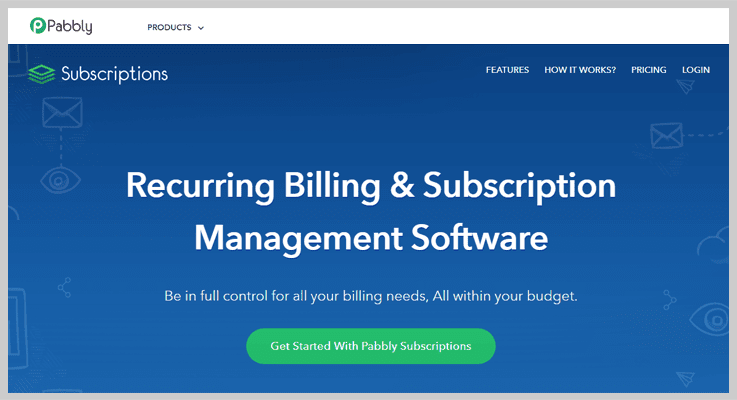 ---
Pricing & Plans
Starters:- This plan costs $5/m for customers ranging from 1 to 50 for whom you can create unlimited subscriptions.
Rookie:- The Rookie plan charges $29 on monthly basis for 1,000 customers & unlimited products as well as plans creation.
Pro:- In the Pro plan, you have to pay $59/m for unlimited customers & multiple currencies.
Features
Go unlimited with Pabbly Subscriptions, add an unlimited number of customers, products, coupons and promo codes in seconds without being charged an extra penny.
It automates all your recurring and one-time payments and also generates invoices for each of transactions. Also provides you with API-Key, so you can integrate Pabbly with web-pages of your choice.
Supports you with multiple currencies, multiple payment gateways and multiple payment options to ease off payments for your customers.
Looking for a software for all your subscription billing that fits your budget too? Go for Pabbly Subscriptions and save your time and money both.
It does all your subscription billing efficiently at just $5 per month.
Now, boost your business with Pabbly Subscriptions like never before.
Hit the button to make it your growth partner.
Click Here For More Details
---
2. Tridens Monetization:-
Tridens Monetization is an enterprise recurring and usage-based billing management platform where you can automate recurring billing process in a Quote-Order-Cash digital economy.
Along with subscription and metered billing, Tridens Monetization also gives you analytics facility by which you are able to see your monthly and annually recurring revenue, refunds, churn, sign-ups & activations, usages, and many more that helps you to measure the business performance.
---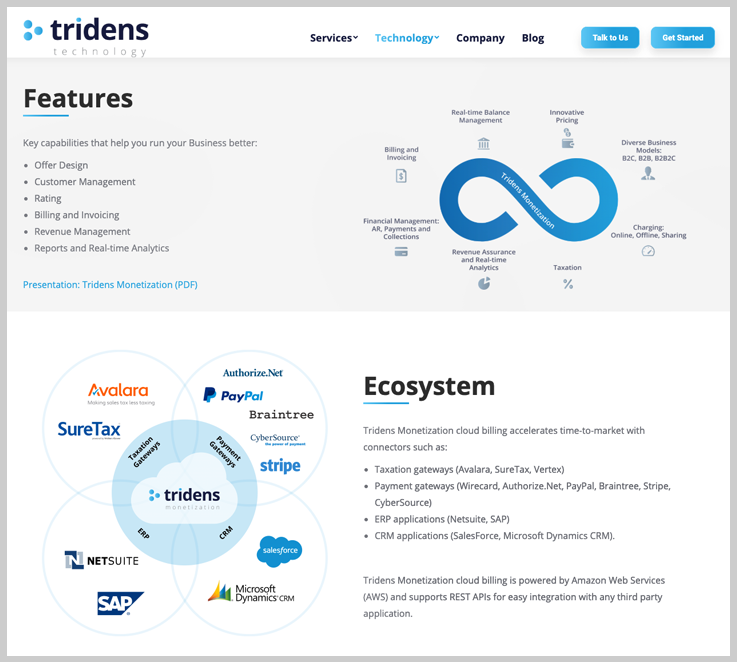 ---
Pricing & Plans
You may contact Tridens sales team for the pricing details.
Features
Innovative Pricing Design
Customer Management
Diverse business models (B2C, B2B, B2B2C)
Rating& charging (real-time online, offline, sharing)
Taxation
Billing and Invoicing
Revenue Management (Payments and Collections)
Reports and Real-time Analytics
---
3. Zuora:-
Zuora is a powerful recurring billing management platform where you can automate recurring billing process and monitor all the payment transaction in real time.
Along with subscription billing, Zuora also gives you analytics facility by which you are able to see your monthly and annually recurring revenue, deferred revenue, churn, and usages, that helps you to measure the business performance.
---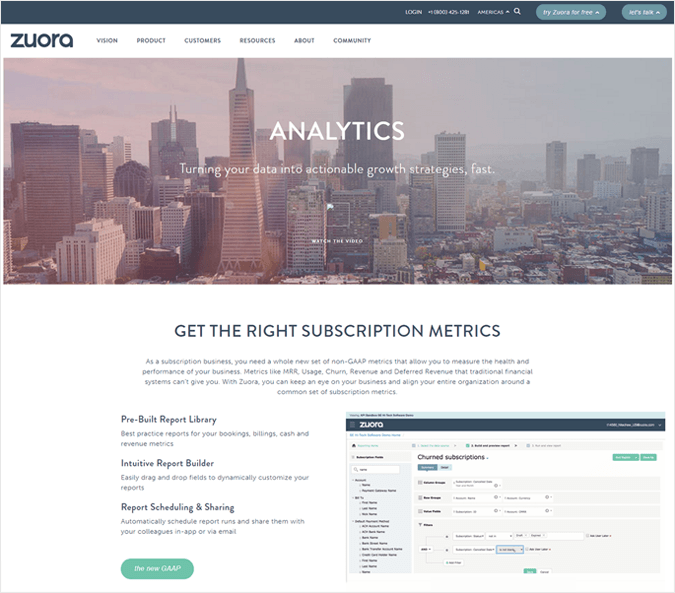 ---
Pricing & Plans
You can contact Zuora sales team for the pricing details.
Features
Zuora lets you create and change pricing/packaging every time you need without interrupting your existing customer's subscriptions and these changes instantly get updated across every channel.
Every time it sends accurate and unambiguous invoices to your customers, so they are always being updated about each payment transactions.
Whenever customers upgrades, downgrades, change & cancel their subscription plan, etc  Zuora able to handle all these prorations and calculation automatically.
---
4. Fusebill:-
Fusebill has all the subscription billing and management capabilities that you need to manage your subscription-based business. It's recurring billing engine capable to handle both simple and complex recurring recognition.
---

---
Pricing & Plans
You have to contact Fusebill sales vendor for pricing and plan information.
Features
Fusebill's intelligent payment management allows you to accept payment through credit cards, ACH/EFT, PayPal, check and cash in any currency.
If you want to give a seasonal discount to your customers, you can create coupons and promos for one-time use or a certain period of time.
With the help of subscription catalog option, you can control the billing types, payment frequencies, upgrades/downgrades, usage or product expiry and much more.
---
5. Chargebee:-
Chargebee automates all aspects of your subscription business including recurring payment, revenue recognition, invoicing, subscription management and a lot more.
This software is a comprehensive and intuitive solution for companies facing subscription management issues.
---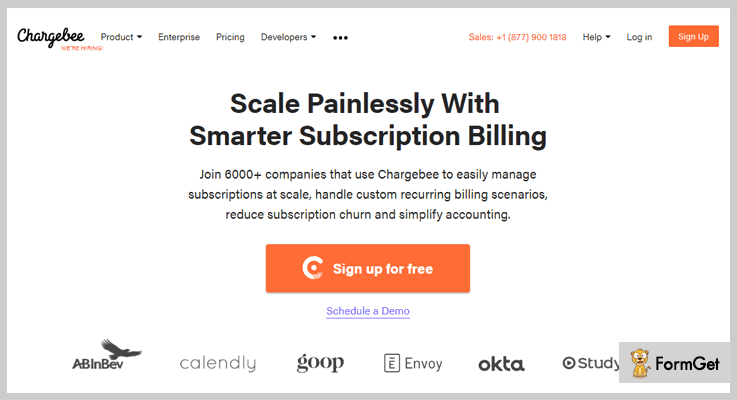 ---
Pricing & Plans
Go Plan:- Go plan costs $99/mo in which you can manage up to $25000 monthly revenue and if you exceed this limit then you have to pay 0.5% for extra revenue.
For example:- If your business generates $35000 in a month and as per plan you can manage up to $25000. So revenue will be calculated for extra $10,000 revenue earned will be:
0.5% of $10,000 ($50) + base price ($99) = $149 per month
Rise Plan:- In this plan, you would be charged $299 per month and able to manage $50000 monthly revenue and for extra revenue you need to pay 0.6%.
Scale Plan:- Scale plan allows you to manage up to $75k monthly revenue in $599/mo and for extra revenue, you would be charged 0.9%.
Features
Chargebee provides self-serve customer portal through which customer can upgrade/downgrade their own subscription, update their address and card details, change existing plans, etc.
If monthly customer switches to annually or from a higher plan to lower plan in the middle of the billing period, Chargebee's proration makes sure that your customers to be charged the right amount.
Chargebee' dashboard shows all your data such as MRR & CMRR, refunds, churn, sign-ups & activations, transaction trends and much more in one place.
---
6. Aria Systems:-
Aria Systems is a useful recurring billing software which made your recurring payment simple and easy. This software is trusted by world's most popular companies such as Philips, Falck, Pitney Bowes and many other companies.
---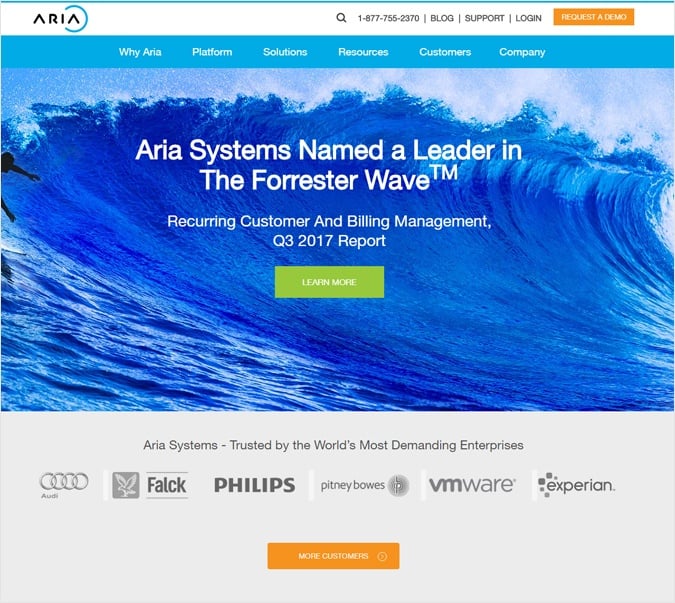 ---
Pricing & Plans
You can contact Aria sales vendor to know about the pricing details.
Features

This subscription billing software generates bills with clarity and transparency that assure your customers that they are only charged for the products and services they purchase.
Fully automated and secure platform which support more than 15+ global payment processors. If your processor is not in the Aria's list then Aria's payment API allows you to integrate with new providers.
Aria provides you all key performance metrics such as MRR, ARR, retention rates, churn rates, cross-sell revenue, up-sell revenue, CLV scores and much more at your fingertips.
---
7. Rerun:-
Rerun is a powerful set of tools for any kind of business and organization who wants to automate their membership billing and subscription.
This software can be integrated with AccountEdge, Xero, QuickBooks, Slack and much more.
---
---
Pricing & Plans
You can contact Rerun sales team to know the pricing information.
Features
Email automation allows you to automatically send notification and reminder to your customer when a specific event occurs, such as an upcoming payment, successful/unsuccessful payment, credit card expires etc.
With Rerun, you can track every payment transaction, generate reports using filters and export all these reports to excel for further analysis.
Rerun provides you full control over payment collection including payment amount, frequency, type of billing, payment method and much more.
---
8. ChargeOver:-
ChargeOver gives everything that you need to manage your subscription-based business. It is a great tool which not only handles automate billing tasks but also saves your time and improves cash flow.
ChargeOver is PCI-DSS compliant which keeps your data secure on a server.
---
---
Pricing & Plans
Unlike other software, it does not charge on the basis of revenue rather it charges on the basis of a number of customers you manage.
All these three plans namely starter, basic and professional plan offer you 14 days free trial.
Starter Plan:- In the starter plan, you will be able to manage up to 50 active customers in $65.
Basic Plan:- The basic plan will charge $115 per month and allows you to handle 150 active customers.
Professional Plan:- You can manage less than 500 customers in the professional plan which costs $229 per month.
If you have more than 500 customers, then you have to contact them for pricing.
Features
With ChargeOver, you will get real-time visibility into key business metrics such as net revenue, customer lifetime values, deferred revenue, churn rate etc that will help you to understand your business performance.
This software generates accurate and outstanding invoices for your customers and sends them automatically to your customers.
It fetches the data that required to prepare the bills for customers after that create bills for various recurring payments and generate invoices for them.
---
9. Accumulus:-
Accumulus is an amazing subscription management software through which you can automate recurring billing, payment processing, customer communication and many other aspects of the subscription lifecycle.
---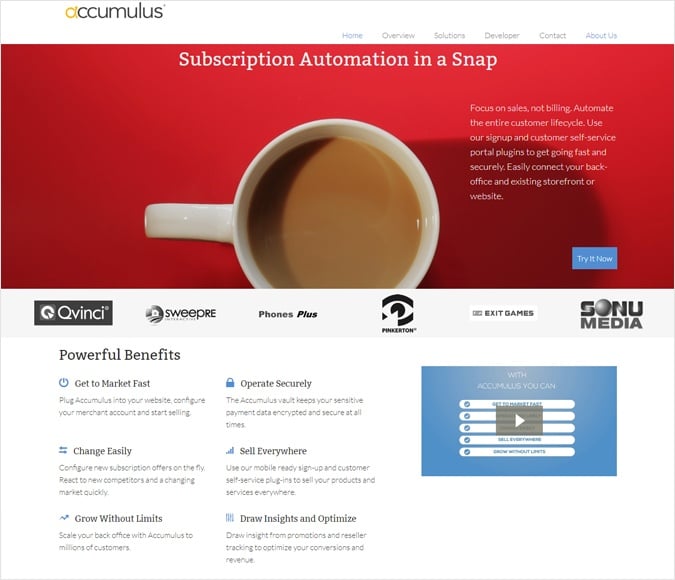 ---
Pricing & Plans
Pricing quotes available only upon request.
Features
With the help of this software, you can automatically send subscription confirmation emails, monthly statements, trial expiration email and many other.
It is user-friendly and easy to use recurring billing management tool which maintains your customer details and their subscription at one place.
By using this, you can easily and quickly set up all your product and service plans with their pricing details.
---
10.Cheddar:-
Cheddar is a secure and reliable platform which manage your financial activities such as recurring billing, subscription, etc. Its real-time dashboard delivers the valuable metrics that you need to run your subscription business.
---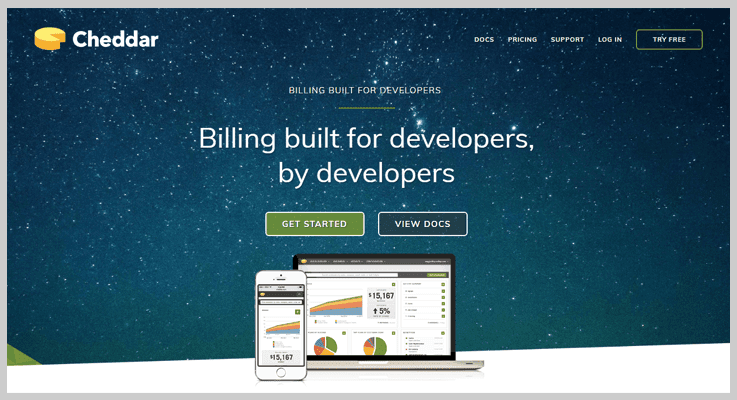 ---
Pricing & Plans
Starter Plan:- The pricing for this plan would be $99/mo + 2.9% of the revenue + 30 cents per transaction
For example:- If your business generates $1000 in a month and there is a total of 10 transactions took place so for this calculation will be:-
base price ($99) + 2.9% of $1000 ($29) + 30 cents of 10 transaction ($3)  = $131
So you have to pay $131 for the starter plan.
Enterprise Plan:-  For enterprise plan, you need to contact the service provider.
Features
With Cheddar analytics, you can easily see which pricing plans are working out the best, who is your best customer, which of your product/service generate more revenue etc, so you can understand what changes you needed.
It can be integrated with multiple payment gateways including Stripe, Braintree, Beanstream, Authorize.net, Worldpay, SecureNet, Payvision, CardWorks and many other.
In just a few clicks, you can see your customer activities, manage records and track all the important metrics like revenue, deferred revenue, churn, refunds and much more.
---
11. Cleverbridge:-
Cleverbridge manages all the complexities related to subscription billing lifecycle events such as recurring payment, subscription billing, order management and much more in a single place.
---
---
Pricing & Plans
For Pricing information, you have to contact Cleverbridge sales vendor.
Features
Through the customer's portal, the customer can update or change personal data, manage renewals, access purchase history, modify subscription plans and much more.
Cleverbridge acts as your merchant account and handles all from collecting payments to issuing refunds, record & reconciling your transaction data, managing currency exchange and more.
With Cleverbridge, you'll get all the import key metrics and reports. Eventually, they will help you to analyze trends and measure customer satisfaction.
---
12. Wallee:-
Wallee is fast-growing subscription billing software which makes your recurring payment easy, safe and secure. It offers multiple payment options such as PayPal, credit/debit card, online banking, direct debit and much more. So your customer can easily choose their preferred payment method.
---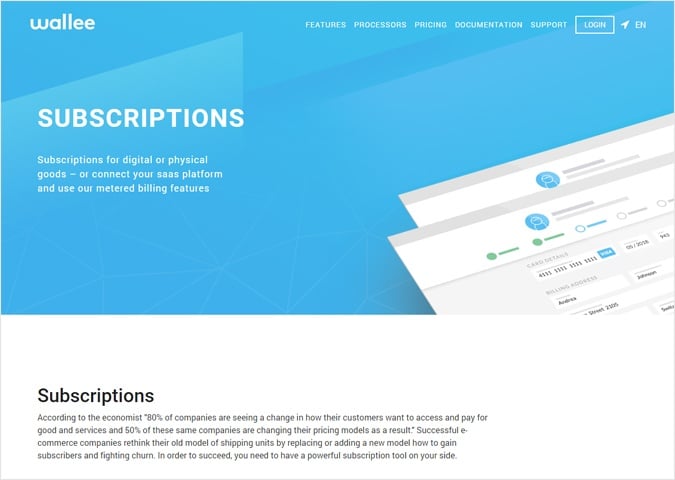 ---
Pricing & Plans
Starter Plan:- Starter plan starts from $4.95/ month and allows you to manage 300 transactions. If you cross the transaction limit then you would be charged $0.23 per transaction.
Advanced Plan:- In this advanced plan. You can handle 1000 transaction per month in $14.95. If your transaction limit exceeds then you would be charged $0.16 per transaction.
Business Plan:- Business Plan will manage 4000 transactions per month in $59.90 and you need to pay $0.065 per transaction if your transaction limit exceeds from 4000 transactions.
Features
Wallee takes care of automated customer communication as well as the management of recurring payment of each customer according to their plan.
It offers a variety of different billing models and pricing plans. So the customer can choose plans as per their business requirement.
This tool also provides a dunning management facility. It automatically reminds your customers regarding the failed transaction and sends a follow-up to the customers.
---
Conclusion:-
Hope you have found above information helpful. All the recurring billing management tools mentioned above are perfect for your subscription-based business.
So it's up to you now to choose the one among these recurring billing management tools which suits your business needs.
For more related stuff, you can go through these blogs:-