Subscription management and recurring billing is a technique that manages every aspect of your business like handle billings & invoices, charging your customers, tracking your payments and much more.
Millions of companies have adopted this technique for their businesses and making a lot of money day by day.
But, you might not be aware of the software like these which will make you earn more from your competitors.
To let you know about the best subscription & invoicing services, I've listed some of the primest recurring billing API tools which you can easily integrate into your business by using their API keys and start handling every billing & payment process of your business.
Have An Quick Look At Some Recurring Billing API Tools
Even you can collect unlimited monthly recurring revenue from some of the services mention in this article. Along with it, some of them also allow you to send limitless invoices to the customers.
Yes! That's true! These features are really profitable for business point of view. That's why you must read out this article & choose the best recurring billing API tool according to your needs!
You may also like:-
Go through the following details and decide which service is best for the growth of your business.
---
Pabbly Subscriptions recurring billing software gives you full control over subscription management & billing needs of your business.
It allows you to do sales analytics, dunning management, multiple plan creations. You can also manage unlimited invoices and collect payments from customers without paying any transactional or additional charge.
Also, this tool provides an extremely user-friendly dashboard which helps you monitor products, customers, invoices and other business details.
Tips That Will Help You Reduce Monthly Bills
Pabbly Subscription = $5 a Month. Manage unlimited subscriptions, invoices etc.
Rebilly = $149 Monthly + $0.10 per transaction fee.
Hiveage = $19 Monthly, 250 recurring profiles.
PayWhirl = $49 a Month plus 2.0% transaction fee.
Now What?
---
---
Pricing Plans
Starters Plan
The Starters plan of Pabbly Subscriptions is one of the cheapest packages in this article. It costs only $5/m for managing 50 customers at a time.
Rookie Plan
Its Rookie plan charges $29 on the monthly basis which will give you the access for managing recurring bills of 1,000 customers.
Pro Plan
When talking about the Pro plan, you will be able to manage the recurring bills of unlimited customers at just $59/m.
Advance Plan
The advance plan costs $99 per month. You will get to use some features like custom domain checkout page URL, affiliate system (upcoming) & many more.
Characteristics
Advanced API Environment
Pabbly offers a full-fledged API which makes it easy to integrate any application or SaaS service in it. This is one of the most helpful features through which you can make use of your existing applications as well.
Multiple Payment Gateway Integrations
Pabbly subscription supports multiple payment gateways [PayPal & Stripe] and different currencies which simplify the payment collection process. It has also got separate integration guides for PayPal & Stripe which is a great help.
3rd Party Integration
You can integrate numerous 3rd party apps like gateways, autoresponders etc and make effective use of your existing applications. Plus, you can also reduce churn rate with inbuilt dunning management system and prevent payment fail conditions.
---
2. PayWhirl
PayWhirl the best subscription and recurring billing software that helps you manage all your revenues, invoices, plans and almost every aspect of your business. It also provides a live demo facility for its customers.
You can effortlessly integrate Paywhirl with for business by using its REST API key.
---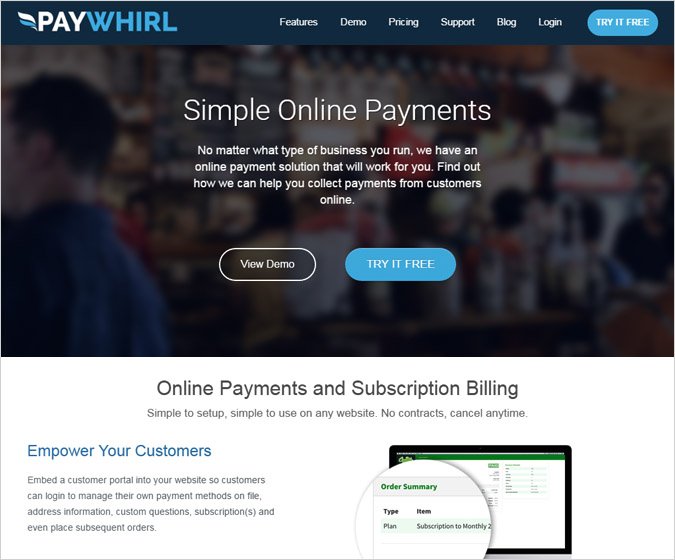 ---
Pricing Plans
PayWhirl gives amazing 4 pricing plans all along with 14 days free trial pack.
Starter Plan
The customers who use Stripe to process their payment for them STARTER Plan cost is $0/month. But it also costs 3.0% of transaction fee, lets me make it clear to you with an example:-
Suppose you made 10 transactions per month in your business each of $1000 then, the cost you have to pay in this condition will be equal to –

3.0% of $1000 (by 10 transaction) = $30 per month
Business Pro Plan
The BUSINESS Pro plan cost is $49/month but there, is also an extra price that you have to pay along with this basic charge.
And that extra charge is transaction fee (2.0%) then, the grand amount will be –
i.e 2.0% of $1000 (by 10 transaction) + $49 (basic charge) = $69/month
Business Plus Plan
The price of this BUSINESS PLUS plan is $149 per month but with an additional charge of 1.0%(transaction fee) then, the total amount will be –
1.0% of $1000 (by 10 transaction) + $149 (basic charge) = $159 per month
Business Unlimited Plan
The cost of BUSINESS UNLIMITED Plan is $249 per month with an extra charge of 0.5%(transaction fee) so then, the exact cost for this plan will be –
0.5% of $1000 (by 10 transaction) + $249 (basic charge) = $254/month
Characteristics
Customized Customer Portal
This service allows the customers to log in & securely manage their payment information, subscription, view billing history, etc. Also, allows you to browse the available subscription and go through purchase funnels that you set-up.
Growth & Forecasting
This amazingly talented service will calculate the growth rate, churn rate, revenue trends of your business and help you know whether your business is processing in the right direction or not!
Gives Embedded Widgets
You just have to paste the embed code of PayWhirl and instantly have a secure, customized checkout experience from within your website.
---
3. Rebilly
One of the best and amazing subscriptions and recurring billing tool is Rebilly which will help your company to achieve a profit-maximizing state. Along with this, it is integrated with top payment gateways such as – PayPal, Stripe, Vantiv, Braintree, WorldPay and much more.
Rebilly can be easily integrated with your business only you have to add its REST API key with your service.
---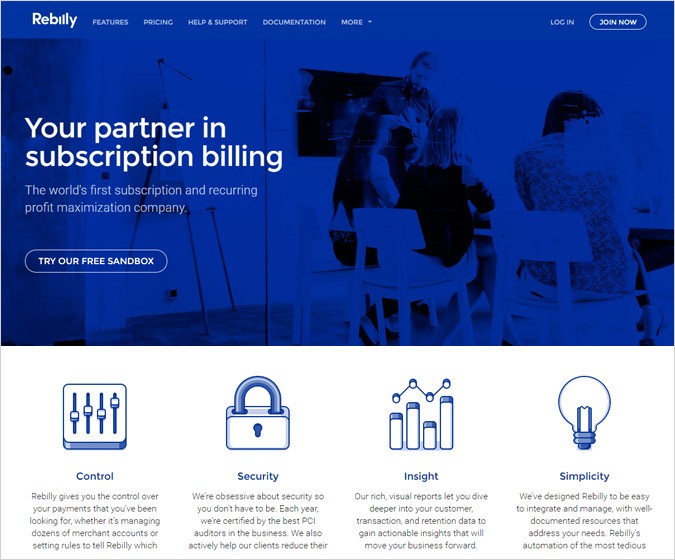 ---
Pricing Plans
Rebilly give 4 pricing plan for its customers along with 3 month free services on all of it.
Pioneer Plan
The PIONEER Plan is completely free if you generate revenues up to $1.000/month. For managing more revenue you have to switch to its next plan.
Entrepreneur Plan
The cost for ENTREPRENEUR Plan is $149 per month if the revenue generation is up to $50,000/month. But along with this basic charge, you have to pay an extra charge of $0.10 as a transaction fee.
Let's understand this charges with an example –
Suppose you per month revenue generation is $50,000 and you made 200 transactions per month then, the charges you have to pay is –

For $50,000 revenue generation = $149

$0.10 for 200 transactions = $20

Then, the total amount will be $169 per month.
Executive Plan
If your business produces revenue up to $150,000 per month then EXECUTIVE Plan is best for such organizations as this plan cost just $1497. But here also you have to pay an extra amount of $0.10 (per transaction fee).
So, the total cost according to above example will be –

$1497 (basic charge) + $20 ($0.10 per 200 transaction) = $1517
Enterprise Plan
An organization that generates revenue of more than $150,000 per month can go with ENTERPRISE Plan whose basic cost is $3000. For more detail contact the Rebilly support team.
Characteristics
Automated Rebills
This feature allows you to create plans and schedules them with this powerful subscription management software. You can also design free trials that help you to convert regular recurring periods and set the period duration in terms of days, weeks, months, years…up to you.
Alternate Payment Methods
Now you can make transactions other than payment cards with many sources like the check, cash, wire, Bitcoin, or barter.
Backlist and Greylist
Greylist is a temporary list where you can add IP and email addresses, credit cards, device fingerprints, and many more. You can set and manage the expiration dates of this list or can permanently blacklist them.
---
4. Azimio
Azimio is a plenary subscription billing management tool which will vigorously handle all the aspects of your subscription business. You can use its API key which is designed in such a way that it suits any business operation.
This subscription handling software supports many payment gateways but currently, the available payment gateways are PayPal Pro, Authorize.net and Stripe. The additional gateways will be added shortly.
---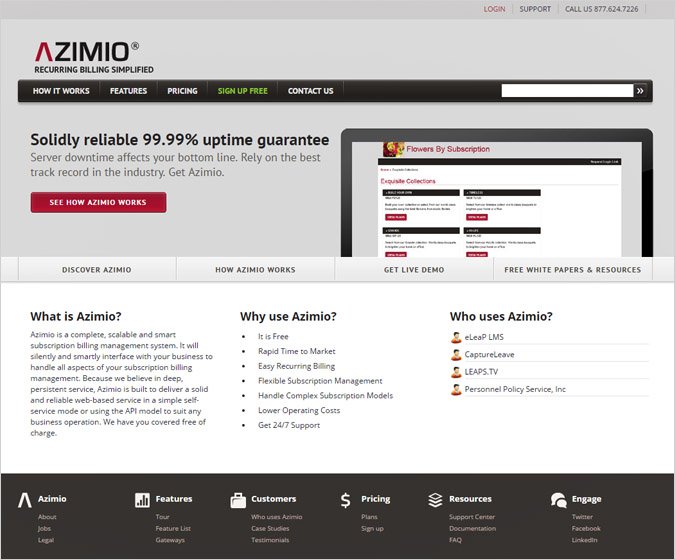 ---
Pricing Plans
Azimio is total free of cost so you can start it anytime, anywhere..!
Characteristics
Easy Manage Your Projects
For any subscription-based businesses, projects are their backbones so Azimio lets you add projects and every project that you generate, comes with a unique URL at the same time.
Create Coupons & Discounts
Allows you to create coupons and discounts for your products. These coupons will help you to provide discounts at the time when a customer subscribes to any of your product rates.
Special Invoicing Specifications
With Azimio invoicing function, you can set the number of days after an invoice is issued and if you have a payment profile then this service will automatically deduct the due amount provided you have a customer payment profile details.
---
5. Hiveage
Hiveage is the best online invoicing and billing software which is trusted by 50,000 small businesses and freelancers. This service accepts payments via many gateways such as PayPal, Stripe, Razorpay, Square, Authorize.Net, Braintree, and a lot more.
---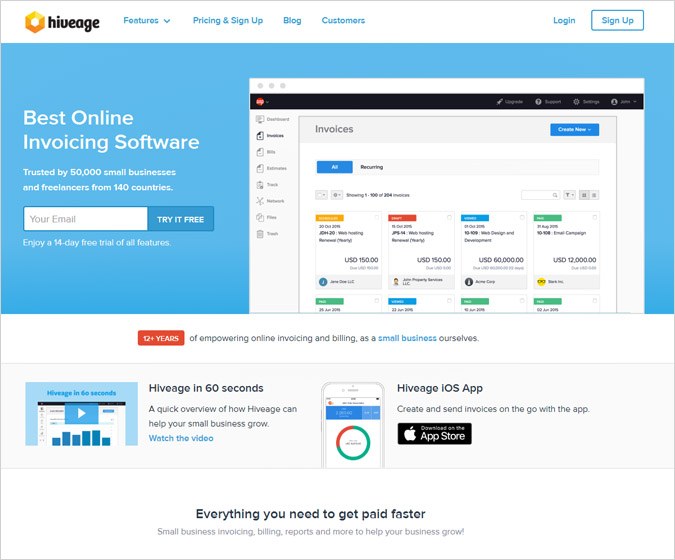 ---
Pricing Plans
Hiveage gives 4 simple and affordable pricing plan that comes with 14-days free trial pack.
Starter Plan
The STARTER Plan cost $15 per month with 250 recurring profiles, 50 auto-billing profiles, unlimited clients, bills, invoices, payments reminders, dashboard reports and 1GB file storage facility.
Basic Plan
The cost that BASIC Plan charge is $29/per month which provides 500 recurring profiles, 100 auto-billing profiles, time and expense tracking, online payments, multiple currency support and 2GB file storage.
Studio Plan
Just pay $59 per month for this STUDIO Plan which gives 1000 recurring profiles, 250 auto-billing profile, daily back-ups, 99.8% uptime, multi-lingual statements payments reminders and you can also store 4GB files.
Company Plan
The COMPANY Plan is for those who need unlimited recurring profiles and 500 auto-billing profiles. The cost for this plan is $79/month and also gives so additional features like unlimited bills, invoices, 24×7 engineer support, taxes, discounts, shipping, data import/export and 8GB file storage.
Characteristics
Track Expenses And Time
With Hiveage, you can track the time that you spend on managing tasks and also you can charge your clients for the tracked work. Along with this, you can track the expenses of your own accounting and convert that expenses to bill your customers.
Flexible Scheduling
This service enables you to easily schedule your recurring payments on the daily, weekly, monthly or yearly basis. You can also send automated invoices as per your choice.
Manage Multiple Teams & Businesses
You can easily manage multiple businesses and team with Hiveage subscription and invoicing solution. Collaborate all your team member and share invoices, estimates, and bills with your teammates.
---
6. Wallee
Wallee the most amazingly intelligent subscription handling and billing solution. You can easily merge this tool with your business by using its API key. Other than this it provides a various source for payments such as Alipay, PayPal, DaoPay, Cashu, Giropay, etc.
---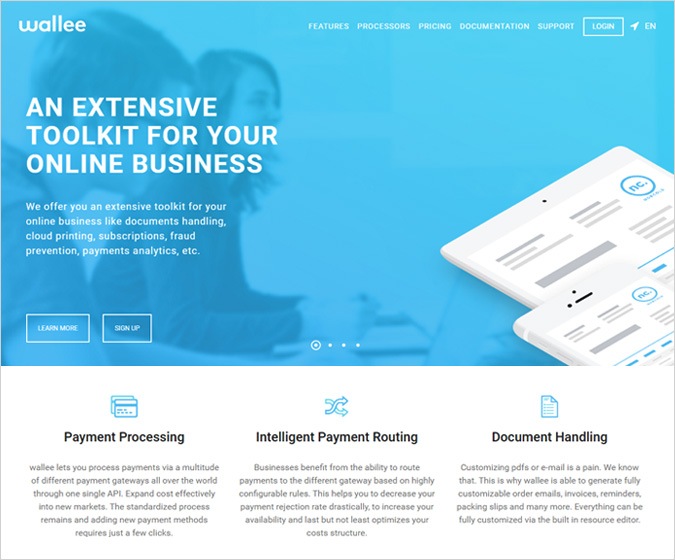 ---
Pricing Plans
Wallee gives 4 stunning pricing plan for its customer, along with a free trial pack in each plan.
Starter Plan
The cost of STARTER Plan is just $4.95 per month but it gives a limit of 300 transactions. But you can bypass the threshold anytime by just paying an extra charge of $0.23 for every extra transaction.
Let me make it very clear for you with an example:-

If in a month you made 400 transactions i.e 100 extra transactions, the amount that you have to pay for it will be equal to –

$0.23 (for 100 extra transaction) + $4.95 (basic charge) = $27.95 per month
Advanced Plan
Similarly, in ADVANCED Plan the basic cost will be $14.95 per month for 1000 transactions. And, if you made transactions more than 1000 then for that you have to pay an additional cost of $0.16 per transaction.
Then, the total amount will be –

$0.16 (for extra 100 transaction) + $14.95 (basic charge) = $30.95/month
Business Plan
Same for BUSINESS Plan you have to pay $59.90 for 4000 transactions per month and the extra charge for the additional transaction for this plan will be $0.065.
So, the total cost is –

$0.065 (for extra 100 transaction) + $59.90 (basic charge) = $66.4 per month
Enterprise Plan
The ENTERPRISE Plan is suitable for large companies who manage high-volume invoices. To know the pricing detail of it contact the Wallee support team.
Characteristics
Store payment Details
This keeps an eye on every moment of payment method and if in any case, the payment of customer is going to expire then Wallee will automatically ask that customer to renew it.
Manage Upgrades & Downgrades
You can easily manage your plans upgrade or downgrade rates with this powerful recurring billing software because it automatically takes care of customers communication and manages billing history of each customer according to their plan.
Reduce Churn Rate
By making a strong Charging strategy you can effectively increase your conversion rate and lower your churn which is caused due to declined payments.
---
7. Paid
Paid is a modern billing and subscription management platform for all kind of businesses. With its advanced billing and subscription handling feature, you can optimize the recurring billing and management of your organization.
Use the API key of Paid and effortlessly integrate it with your business.
---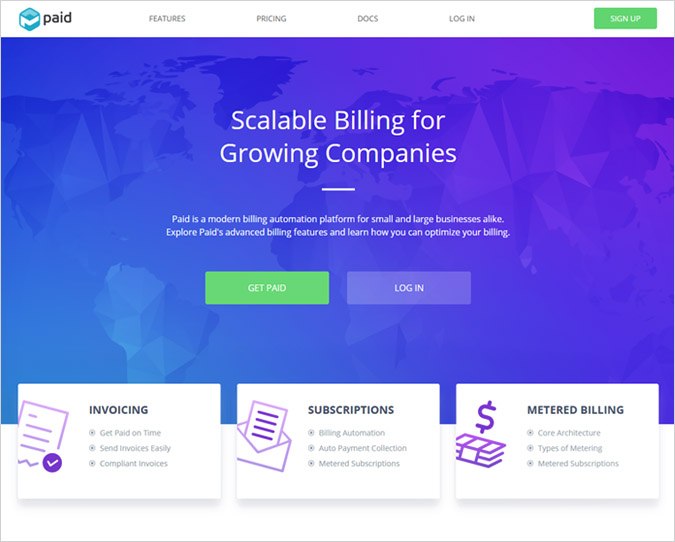 ---
Pricing Plans
Paid gives 3 pricing plans that scale with your business easily. It also provides a 14-days free trial pack with its Go Plan.
Free Plan
The FREE Plan is complete cost-less for first 10 invoices and if generate invoices more than it then you have to switch to the other plan of this service.
Pay As You Go Plan
The second plan of this software is PAY AS YOU GO Plan in this you have to pay $1 per invoice.
i.e if you generate 100 invoices in a month than you have to pay $100 for it.
Enterprise Plan
The ENTERPRISE Plan is suitable for those who generate invoices more than 100. To know it pricing plan you have to contact the Paid support team.
Characteristics
Check Lockbox
This feature of Paid will help you make deposits easily and also to keep records perfectly. Here you can also match the checks to invoices.
Complete Details Of Insights
Outstanding view of each and every report over a single dashboard which will keep you up to date about all the information.
Payments And Collections
Paid accepts payments with several methods such as Stripe, PayPal, Wirecard, Switch, American Express and much more.
---
Conclusion
I hope that you have seen in the above-mentioned recurring billing API tools that can help you in the growth of your business. Through most of them, you can do a lot of things on the unlimited basis such as subscriptions, invoices, coupons, products, plans etc. 
So for your profit, I suggest you to choose any of the subscription management and recurring billing service from the above list and integrate one of them into your organization by using their API key.
I hope this blog provides you a meaningful information. For more related guidance, visit the following blogs:-
If you have any query or suggestions, comment below. We'll reply you shortly!