You must be familiar with the word Email Marketing that lets you send and organize email campaigns. You can use email marketing either for personal purpose or for marketing your product. 
There are numerous benefits that are added with Email Marketing through which you can :
Increase your brand awareness.

Reach out directly to your customer's inbox

Cost effective that lets you exclude advertisement charges or non-operating charges

Easy to track emails. Like you can easily track whether your emails land your customer's inbox or are marked as spam.
Now the question that revolves your mind is :
   – How should you start your email marketing services?
   – Which tool or software to rely on as there are hundreds of options available in the market. Right?
To help you conquer these questions we have strolled around the 10 most powerful email service providers in the market that have their own unique services and capabilities.
Go for the services that let you create beautiful templates and attracts your customers, add unlimited subscribers list, send bulk/ transactional and automated emails, track your mails and more.
To know more check out the popular list based posts below:-
---
Comparision Of 5 Email Marketing Service Provider Companies
| | | | | | |
| --- | --- | --- | --- | --- | --- |
| Services | Pricing: 10k Users | Email List Cleaning | Canned Replies | Auto Responders | Ratings |
| Pabbly Email Marketing | $29/M | ✔ | ✔ | ✔ | 4.5/5.0 |
| MailGet | $29/M | ✔ | ✔ | ✔ | 5.0/5.0 |
| SendGrid | $19.95/M | ✖ | ✖ | ✖ | 3.7/5.0 |
| Pepipost | $25/M | ✖ | ✖ | ✖ | 4.8/5.0 |
| MailChimp | $55/M | ✖ | ✖ | ✖ | 4.3/5.0 |
---
Start digging each one of them and find the best that can hike your business scale by reaching your targeted customers.
Pabbly Email Marketing is a revolution in email marketing services. This is one of a kind service that has built-in SMPT and doesn't rely on any external ones.
Unlike other services, this allows you to create and customize your email template from top to bottom. Like you can add colors, backgrounds, logos and a lot more. So, there's complete space for custom branding.
It has an easy to use interface. So, it provides exceptional ease of doing work.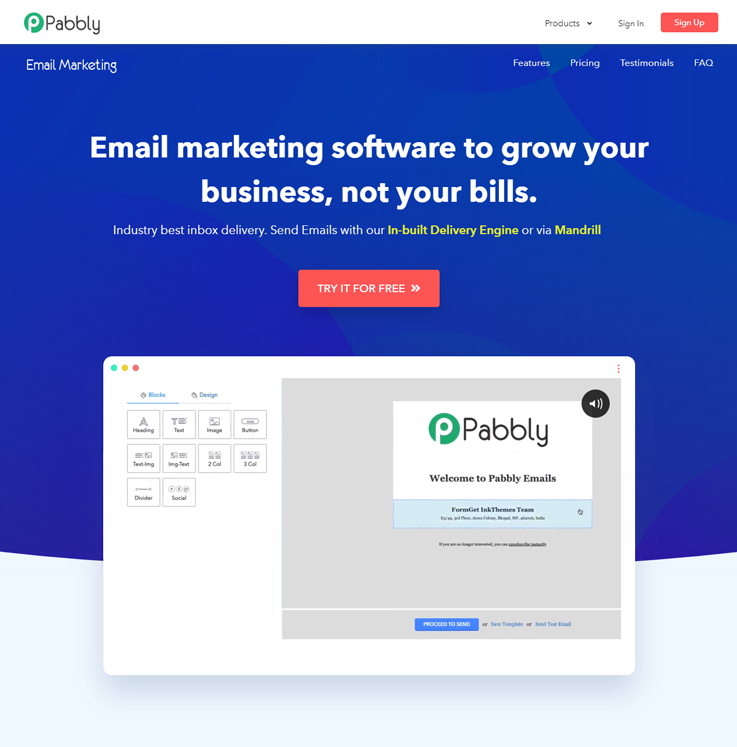 Key features of Pabbly Email Marketing:
It provides drip emailing using which you can schedule the sending of bulk emails. In this scheduling, you can set the date and time when you want the emails to be sent automatically.
There's a feature of autoresponders that generates the auto message after a user submits the form.
It uses drag and drop builder to create email templates.
You can track the complete status of your emails. Pabbly Email Marketing lets you track the sent rate, opened rated and a lot more.
---
2. MailGet
MailGet is a super-affordable email service provider. You neither require hosting nor it involves any complicated steps to get started.
The simple email template builder makes it easier for you to develop a beautiful email template, and you can see the inbox preview of the emails.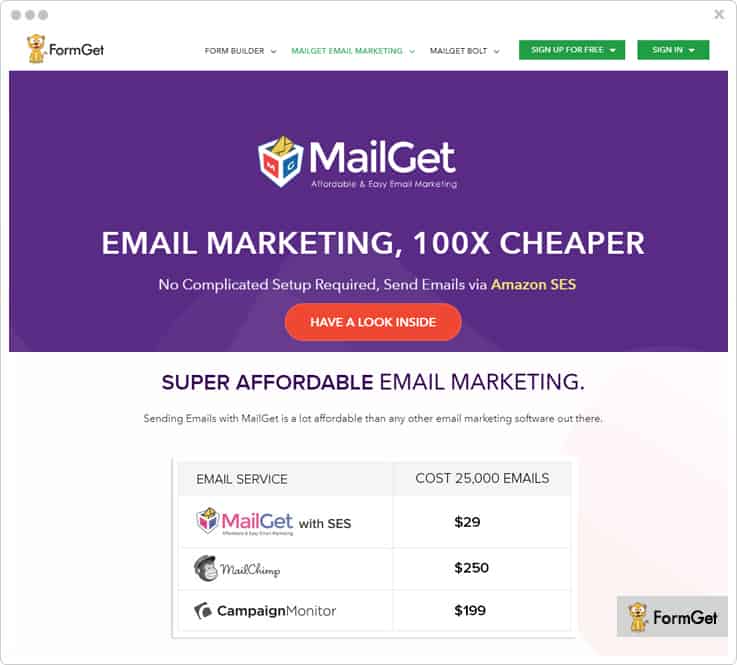 Key features of MailGet:
The email list management feature makes sure the bad or unsubscribed users are excluded from the list. It also allows segmentation of your existing list to find out most profitable and least profitable subscribers.
The email autoresponder feature allows you to automatically send emails to your new subscribers or existing subscribers.
The email drip feature helps you to send a series of emails automatically on a scheduled time.
MailGet maintains an authentic DKIM sign, scan a spam triggers, and more to make sure your emails are delivered to user's inbox.
The MailGet API feature lets you customize and add a subscription form to your website for increasing your subscribers.
MailGet email service package starts from $29/month, which allows you to send unlimited emails to 5,000 subscribers.
---
3. PostUp
PostUp will not only allow you to send emails to your subscribers, but it will also help you to improve your campaign. It provides you insights for the development of the concepts and programs like list growth, promotional programs, and more. The advanced integration feature of PostUp enables you to integrate with the various CRM systems, Business Intelligence API, and more.
Key features of PostUp:
The creative design services provide services like Email Master templates, Responsive email design, hybrid/fluid email design, and more for making your emails more beautiful, effective, and creative.
The campaign management feature enables you to segment your subscribers, customize your targets, and more for efficiently managing your campaign.
The reporting and analytics features will provide you with a comprehensive view of all your previous campaigns such as engagement trending, list attrition, and more, which will provide you a clear picture of your campaign.
The email delivery consultants will advise you on topics like email certification, optimal mail sending settings, and more to make sure your emails are engaging, and they are delivered to the inbox.
---
Pepipost service assists you to send transactional email, newsletter, notification, marketing emails to the customer's inbox. Pepipost's email analytics helps you to track emails in real-time, helping marketers analyze their email performance better. It sends around 8bn+ emails every month. Brands like Swiggy, Ola, Myntra, Tokopedia, SeekAsia, etc rely on Pepipost for their inbox delivery. Pepipost offers 30,000 emails for free for a month and 3,000 emails/month thereafter. Pricing plans start from $25 and you can get discounts by contacting their chat.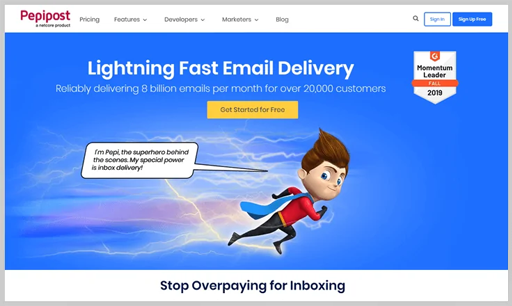 Key features of Pepipost:
24/7 online chat support for all helps you fix every single email delivery issue if any.
Track all email metrics like sent, delivered, clicks, unsubscribe, spam complaints and other information for all your transactional. triggered and marketing emails.
Pepipost mandatorily follows authentication of your email sending domain name through SPF, DMARC, and DKIM record for better email inboxing.
---
5. Mailgun
Mailgun is an email service provider, specially designed for developers. It is very easy to get started with mailgun. It allows you to manage thousands of emails with a single Mailgun account. Every single domain in mailgun is categorized as a sub-account, which allows you to send emails for yourself as well as for your customers. The Mailgun software also automatically manages the delivery process to make sure your email is delivered to your subscriber's inbox.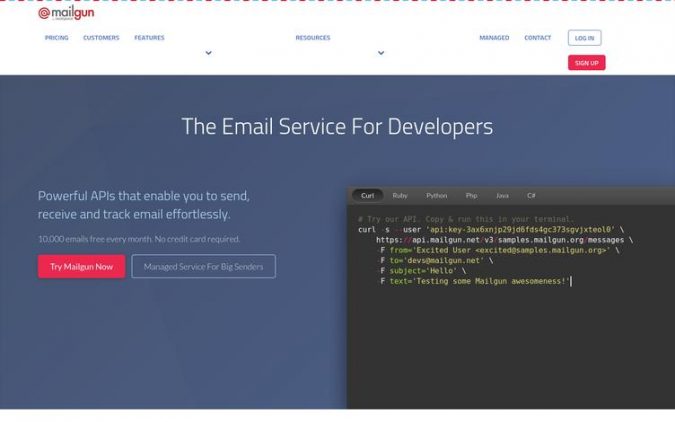 Key features of Mailgun:
The inbound routing feature will clear out spam emails, encode messages to UTF-8, generates text from HTML-only emails, and more to help you manage your inbound emails.
The email log feature will retain account logs for 30 days for research purposes.
The reporting feature will allow you to see and analyze your email campaign by showing you the details about the engagement, delivery, incoming emails, and more.
The email validation feature automatically catches the error in the email address for allowing only valid emails.
mailgun allows you to send up to 10,000 emails/month for free. It offers a pay as you go pricing plan after 10000 emails.
---
6. SparkPost
SparkPost allows you to quickly open an account, and you can start sending emails in minutes with its quick to set up cloud service. It is used by many reputed companies like PayPal, Linkedin, Zillow, and more. You can easily analyze the beautiful email templates offered by SparkPost, and also you can create your own personalized emails.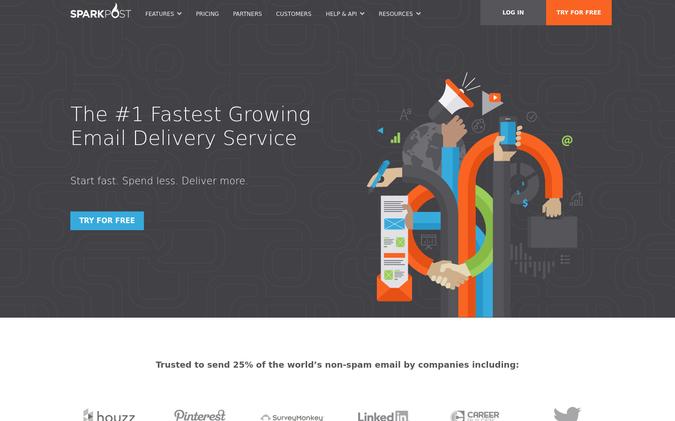 Key features of SparkPost:
Easy to embed analytics tools and transactional email into any app or workflow through its email API.
The email deliverability technology makes sure your emails are delivered to your subscriber's inbox instead of spam.
The analytics feature allows you to assess delivery, customer engagement and more to provide you with the exact information needed to analyze and improve your email marketing campaign.
The advanced support system will help you solve your problems by providing tips, information, email support, and more.
You can try and send up to 100,000 emails/month for free.
If you need to send more than 100,000 emails, then you can send it at $0.00050/email, and the price per email decreases after milestones like after 500,000, 1,000,000 emails, and so on.
---
7. EmailOctopus
EmailOctopus provides all the important tools needed for an effective email marketing campaign. It is harder to manage thousands of emails, and for this purpose, EmailOctopus automatically cleans up all your bounces, complaints, and unsubscribes for better list management.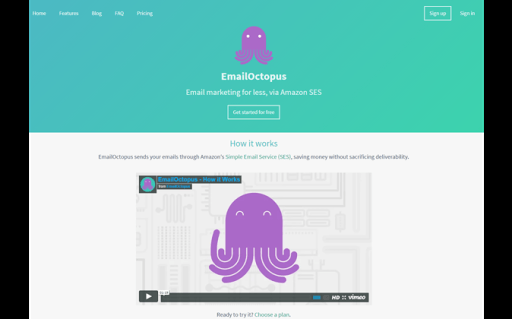 Key features of EmailOctopus:
Each and every package allows you to send unlimited emails.
The Amazon infrastructure is used by Emailoctopus, which ensures your emails are delivered to subscriber's inbox.
The report and analytics features provide a detailed statistics of clicks, subscribed, unsubscribed, and more.
The automatic/drips feature allows you to send a series of emails at specific time.
The contact import feature makes it easy to import existing subscribers through CSV file.
You can integrate EmailOtopus account with your website or application to connect with EmailOctopus.
There are four packages offered by EmailOctopus, and they are Shrimp, Tuna, Shark, and the Whale. The shrimp package allows you to send unlimited emails to 1,000 subscribers for free.
The paid package starts from $15/month.
---
8. MailChimp
MailChimp is a popular email service provider with more than 14 million customers. It offers very easy drag and drop email template builder to develop beautiful customized emails. Also, it provides powerful automation for e-commerce businesses ensuring right emails are sent to the right people. You can easily segment your subscribers, and target emails based on their preferences, previous sales, and behavior.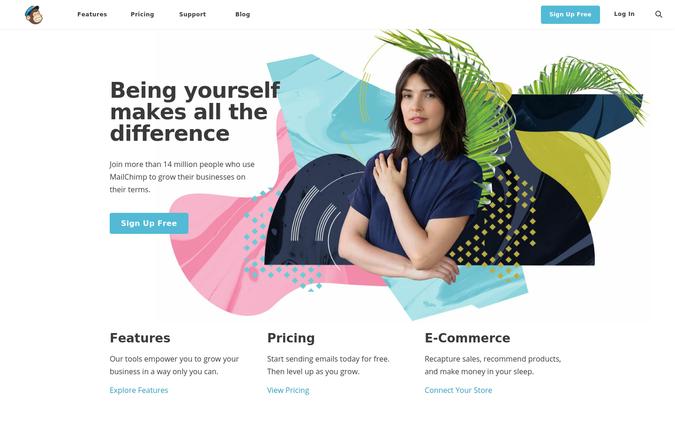 Key features of MailChimp:
The comprehensive report features allow you to see the detailed statistics about delivery, click rate, total opens, and more for improving your campaign.
Further, the mobile suite feature allows you to manage your email campaign with your smartphone.
Also, the integration feature allows you to integrate Mailchimp account with many popular apps and services like WordPress, Shopify, Salesforce, and more.
The starters can get started with MailChimp for free, and the growing business can start with $10/month.
---
9. StreamSend
StreamSend offers powerful and effective email marketing tools to save your time and resources. Also, the smart message delivery feature allows you to repurpose every email that you create into a landing page, a web embed, and a Facebook tab.
Then it allows you to easily add video to your email, and embed third-party functionality like RSS feeds, surveys, and more.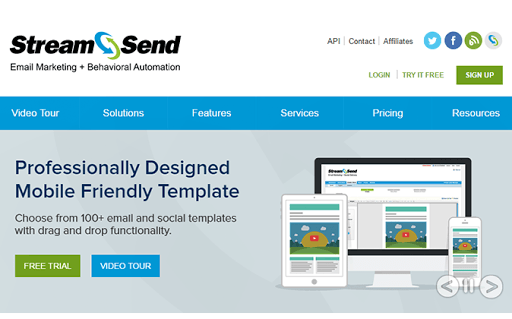 Key features of StreamSend:
The deliverability team ensures your emails are landed in a subscriber's inbox.
Also, the dedicated template library allows you to customize the email designs.
The advanced segmentation feature allows you to segment your customers for increasing open rate and engagement.
You can track your email campaigns with an intuitive dashboard.
The email analyzer allows you to preview how your email will display in 30 email clients.
It allows you to integrate custom template and custom API.
StreamSend offers a free 30-day trial, which allows you to send 200 emails for free.
The starting package costs $19.99/month, which allows you to send 50,000 emails/month to 1,250 contacts.
---
10. Mail.Com
Mail.com lets you create an email account and send emails to different clients. You can collect your emails from different accounts in your inbox with mail.com. It provides unlimited storage to store all your emails, and you don't have to worry about space factor anymore. Its interface is very simple and easy to use.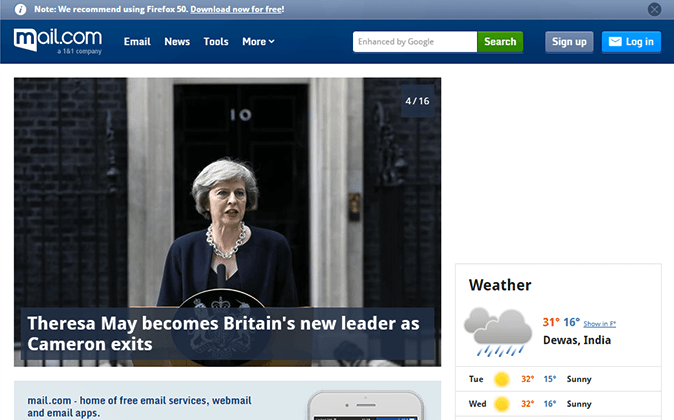 Key features of Mail.com:
The mobile service feature allows you to access your account with your smartphone.
Then, the email archive feature allows you to systematically organize your emails.
It allows you to send up to 50 MB attachments.
Also, the spam filter clears all the spam emails from your inbox.
mail.com allows you to choose from over 200 domains, which are tailored according to your needs.
---
11. SendPulse
SendPulse lets you create beautiful and responsive emails in a quick time with its ready-made templates. It offers more than 100 responsive and professional email templates to get started right away after signing up. Also, the emails created in the editor are responsive, and they adjust itself in the inbox of any devices. Further, this makes the emails look good on all screen sizes.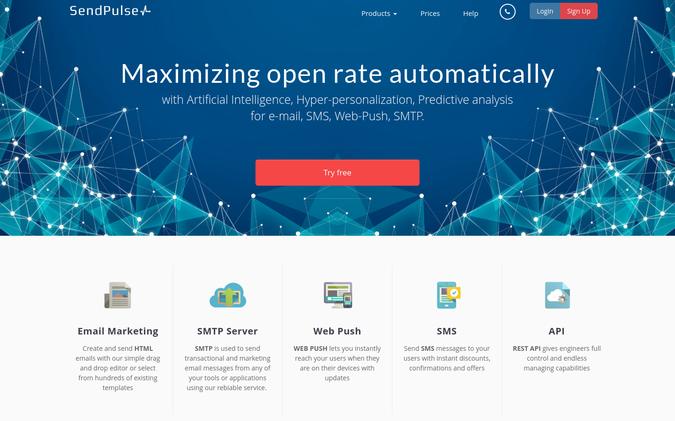 Key features of SendPulse:
A convenient drag and drop email editor lets you build a beautiful email template.
It allows you to personalize your emails by inserting any information you have about your subscribers. For example, addressing them by their name and more.
Then, the segmentation feature lets you segment your subscribers and send different emails to specific lists.
Further, the automatic sending feature allows you to send a series of emails. Also, you can schedule those emails on a specific date and time as well.
Moreover, the analytical feature of SendPulse provides detailed statistics of your email campaign. This includes the number of sent emails, opened emails, delivered mails, and more.
It has the integration feature enables you to integrate SendPulse with your CRM system.
You can get started with SendPulse for free, which allows you to send 15,000 emails/month to 2,499 subscribers.
It mainly offers two types of pricing plans, one is 'monthly subscription' plan which starts at $9.85/month for 2500 subscribers. And another one is 'pay as you go' plan starting at 32 USD for 10000 messages.
---
12. SendGrid
SendGrid provides you a reliable platform that allows you to manage your both transactional and marketing email in a single interface. It offers intuitive drag and drop email template builder to develop professional emails. Moreover, it's emails are automatically optimized for all the devices.
Also, you can increase the effectiveness of your email campaigns by personalizing the emails.
Further, the personalization feature of SendGrid enables you to add subscriber's specific data in your email content and use custom fields to increase the open rate of your emails.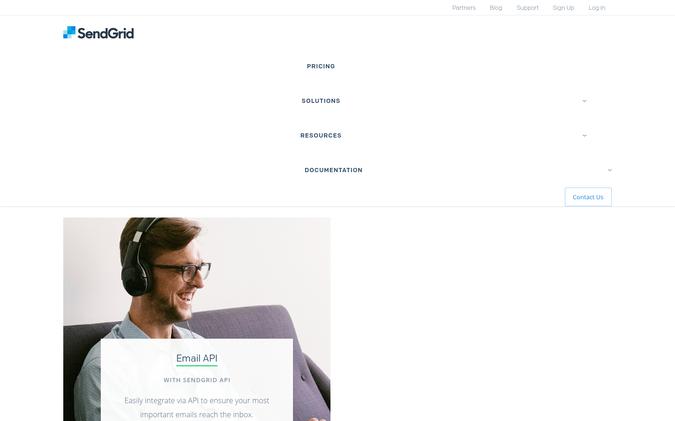 Key features of SendGrid:
The advanced technology used by Sendgrid ensures your email is delivered to subscriber's inbox.
Further, the Sendgrid has a user-friendly interface. This interface allows you to build emails, manage your lists, and schedule your emails.
The segmentation feature allows you to segment your subscribers according to various factors.
Also, the real-time analytics show the detailed statistics of your delivery, bounce rate, opens, and more.
The starting package costs $9.95/month.
---
Conclusion
A handy email service will enable you to complete all your email related task in a fast and productive way. You can use email service providers in many areas like personal use, companies, blogging and email marketing. So, choose a fast, secure and reliable email service provider that meet your requirements.
However, for more related information, check out the following stuff –