Why are Transactional Email Service Providers now beneficial for customer information based organizations?
We all know that transactional email is a vital part of every application based business who wants to transmit information through a reliable source.
In the early days emailing was restricted to only promotional activities of products and services which were sold by a business, but now the scenario has changed, as you can use emailing services to deliver transactional email.
This can be done for services that are not only about promotion but it is useful for organizations that rely on emails to transport notifications, updates, and subscriptions related details.
There are so many tools available for email marketing in the market. So it is natural that you can't choose immediately before considering some key factors. Those factors can be things like your budget, the size of subscribers list, automation facilities, email templates and much more.
Below is a filtered comparison which will help you more in the right selection:-
Comparison Between Best Transactional Email Service Providers
Services
Pricing
Number Of Emails
Third Party Integration
Product Rating
Pabbly Email Marketing
$29
5000
✔
4.9/5.0
Pepipost
$15
100,000
✔
3.9/5.0
Moosend
$10
Unlimited
✔
4.1/5.0
SendinBlue
$25
40,000
✔
4.4/5.0
Now the question arises.
"How to select the best transactional email service, providers?"
Don't bother because here is the ultimate solution to your concern.
In this blog, we have mentioned a detailed description about some of the most popular and reputed transactional email service providers.
So, set yourself to make an intelligent choice as your marketing strategy depends on your selection.
Also have a look at our popular blog posts below:-
---
Pabbly Email Marketing is an email marketing platform that is basically designed for users who want to send bulk emails. Whereas, it offers so many advanced features that ease your work like drag & drop builder, pre-designed email template, etc. Undoubtedly you can add contact list with emails which you want to target and start sending uninterrupted emails.
Meanwhile, Pabbly Email Marketing is quick easy to use & provide affordable emailing services with top class deliverability with high open rates.

Key Features :
You can easily track your marketing campaign Performance easily by Pabbly Email Marketing. It provides a comprehensive report on the marketing campaign, show details about the customers clicks, unsubscribed your campaign, etc.
You can add subscription forms to your website that will help you to grow your email list for higher conversions.
Pabbly Email Marketing drip automation feature helps to send a series of emails to customers automatically.
This software allows you to easily manage all your email contacts and their details from the same place.
By using custom tags you can send personalized emails to your contact list.
---
2. Pepipost – Email Delivery Service
Pepipost is yet another alternative that offers email delivery services. And has announced 10 million free email to businesses who send transactional and triggered emails which are extremely easy to integrate.
More you can collect information about events or any response that is received from recipients in real time with webhooks. With the help of webhooks without having to poll to the API constantly to check for updates, you can directly get all the data in sync form in your system.
Key Features :
Highly optimized inbox delivery to make sure all emails get delivered in the blink of an eye.
Reliable SMTP and HTTP APIs that let you send and receive emails.
Real-time measurable analytics to keep a track of your transactional emails and gather users activity data.
Powerful triggerware rule engine craft dynamic messages for your end users.
Best delivery protocols and guidelines to fight spam.
---
3. SendGrid – Emailing Service
SendGrid is one of the biggest transactional email service providers. It delivers over 15 Billion emails each month for their clients. And their client base is bigger and stronger. Some of their regular clients are Uber, Spotify, Airbnb, and Glassdoor.
It gives Real-Time analysis to optimize the performance of your email marketing campaign. With powerful segmentation and Contact Management tools you can simply send straightforward mail to your targeted and relevant audience.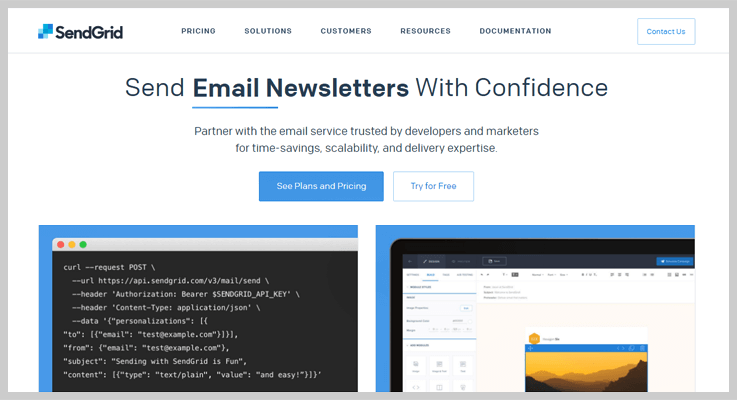 Key Features :
You can build your own preview designs and templates with SendGrid to ensure your email exhibits beautifully and well crafted.
SendGrid has very simple and user-friendly interface so you can seamlessly move from one task to another without any hassle.
You can analyze the results of the emails sent from SendGrid like number of clicks, bounce, number of opens etc.
With Email List Management SendGrid allows you to add, upload and remove contacts in one place to make your list up to date.
You can also use Engagement Segmentation feature to group customers by how much they engage with messages.
---
4. Moosend
Moosend comes a fully manageable email campaigning tool that allows you to communicate easily with a large number of people at the same time. Thus it allows you to grow your mailing lists & increase your email marketing business by sending the right email to the right person.
It presents you with lots of features that support it a lot such as its powerful SMTP, API, drag & drop editor, etc.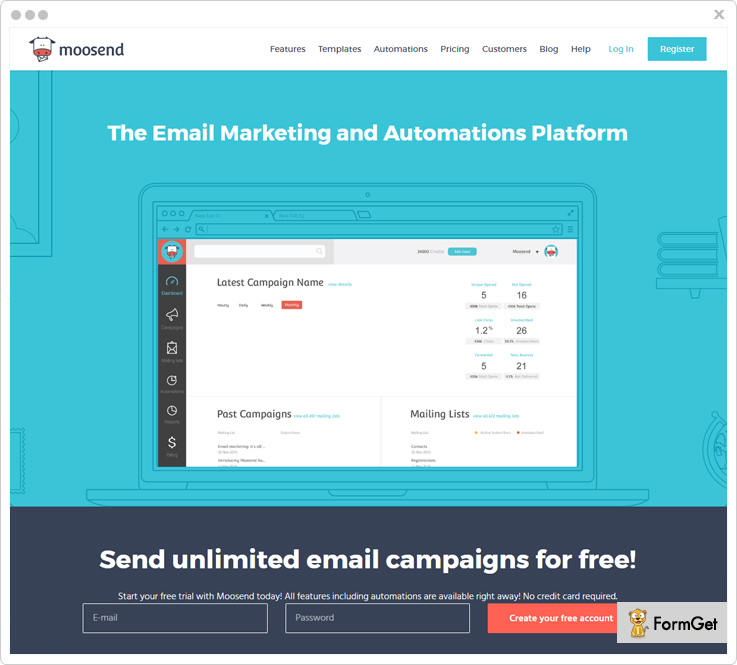 ---
Key Features :
You can use the pre-designed templates that it provide will reduce your work of customizing whole emails. You can use these predefined templates and make some field changes easily for sending the email.
Advanced list segmentation feature of Moosend helps you to segment users in accordance with their priority.
Moosend provides powerful real-time analytics with which you can clearly observe your campaign performance reports and measure their success in real time.
By adding its custom fields feature you can collect verified subscribers' data like their age, date of birth, or anything else you can imagine.
You can preview changes in the emails before sending it to your user's inbox without working on the editor.
---
5. Mandrill – Transactional Email Service
Mandrill is another super fast transactional email service that can be used to send personalized, one-to-one e-Commerce emails and automated emails.
Send emails from Mandrill through the Mandrill API and SMTP integration. Mandrill API can help you send emails, obtain information about your account and parse reporting data in your own system. It provides MailChimp add-on to use its services.

Key Features :
Mandrill IPs are automatically listed for feedback loops with ISPs, So you can track spam.
It uses multiple domains with a single account (No additional Fees).
The Dedicated IP Pooling feature of Mandrill can collect various IPs or Pools to tell Mandrill which pools to send from.
---
6. Mailgun – Email Marketing Automation
Mailgun is email automation service. It is very useful service for developers and offers total cloud-based email service. Rackspace is responsible for this powerful and beautiful service of Mailgun. With Basic Free Plan Rackspace cloud customers can send up to 50,000 emails per month.
Mailgun is capable of combining local postfix service, emails through SMTP and with your existing cloud app. If properly managed this service can deliver from any blogging software and can be used to open source software that requires sending emails.

Key Features :
Software automatically manages the delivery and give your email the best prospect of dropping in the inbox.
Mailgun includes email validation features to check the validity of recipients email addresses. To conduct deeper checks on spam.
Each email that you post to your app comes fully parsed to UTF-8 just because of its powerful email parsing engine.
You can retain each account logs for 30 days nonetheless of the number of matters.
With Real-Time Reporting, you can see why an email hasn't been delivered or Which emails are engaging.
---
7. SendinBlue – Emailing Software
SendinBlue is email marketing, transactional and automation software. It is a French company provides easy-to-use email marketing service. According to SendinBlue, their services are 4 times cheaper than MailChimp. It is the solution for all your marketing transmissions like Email Marketing, Transactional Emails, SMS Marketing, and Marketing Automation.
It supplies unlimited upload of your contacts and unlimited contact details. For the security of the emails, you can use security protocols like SPF, DKIM, and DMARC and can take complete domination of your reputation.
SendinBlue offers free 9000 emails to send for a month without any prior agreement or commitment.

Key Features :
Easy-to-use functions.
Drag and drop email builder.
Easy split testing.
Outstanding real-time reporting.
Segmenting feature.
Understand and optimize campaign reports in real-time.
---
8. Amazon Web Service – AWS
Amazon Web Services provides easy-to-use and cost-effective email marketing solutions. You can send various marketing emails like special offers, order confirmations and other types of stuff such as newsletters. It gives probably the best answer to your marketing needs.
AWS is a subsidiary of Amazon.com, offers cloud computing services. Currently operating in 14 geographical regions across the world, AWS offers more than 70 services. Like, compute, storage, networking, database, app services, transactional and automated emails services and mobile developing tools.

Key Features :
You can send multiple emails at a time with its multiple email sending interface.
High Deliverability of emails despite a large amount of global email spam i.e. 100% Guarantee
Amazon offers various tools to monitor your sending activity like Amazon CloudWatch, Feedback Notification, and Event Publishing.
Email processing option and Mail flow control feature.
You can integrate AWS email services with other Amazon services like Amazon EC2, Amazon SNS, Amazon S3 etc.
---
9. Mailjet – Transaction Email Service
Mailjet is one of the superfluous transaction email service providers. It allows business to create, send and analyze marketing or transactional email with ease. Email marketing almost becomes fun while using Mailjet.
It serves over 32,000 clients worldwide including some big names like trivago, Product Hunt and MIT. Sending two billion emails a month.
It has got some really powerful tools to tailor the content according to customer behavior, demographics, and general interests. Push your campaigns through Mailjet's SMTP and focus on what exactly matters to grow and prosper your core business.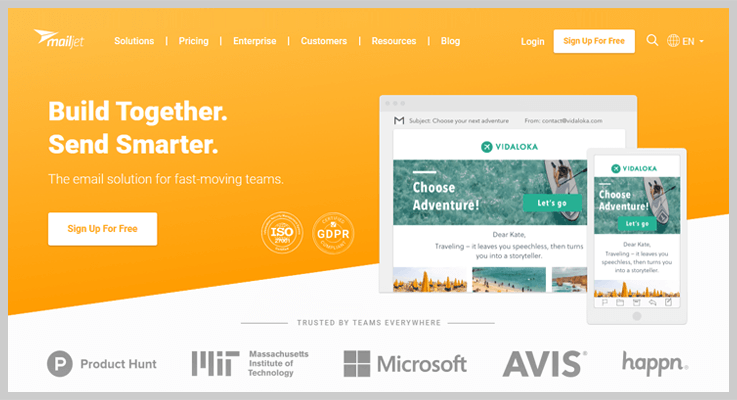 Key Feature :
You can upload your own contact list through TXT or XLS file, Mailjet will automatically identify and reconcile any errors in that list if any.
Easy-to-use drag and drop editor best for Newsletters and marketing emails.
To maintain a long-lasting relationship with your customer you can create automatic customer-centric communications to ensure easy and automated workflow.
Mailjet gives you Campaign Comparison tool that helps you compare multiple benchmark to find latest trends.
NOTE: Some of the features as listed above are only available in Premium Package.
---
10. Postmark – Email Marketing Platform
Postmark operates from the simple app that is very easy-to-use to send transactional emails. You can send mails to your customer for suitable plans or packages to choose from marketing emails only.
Postmark works better with ISPs and it has a very good reputation among various ISPs. Postmarks have the highest response rates from the customers because of their proper content management and accurate delivery process.

Key Features :
100% inbox success rate.
Accurate delivery as only transactional surveys are sent.
You can view history and full content from the last 45 days.
It gives you all the details about recipients like how many people opened the mail and the location of them.
It gives you important statistics like how many tags, welcome emails and invoice have been used.
---
11. Elastic Email – Software
Elastic Email is powerful and efficient email platform for marketing work. Thousands of brands are using it because of its accuracy and cost-saving capabilities.
It has widely reputed service record and strong customer base. With strong A/X split testing you don't have to make any guesswork to make it better. It is easy to maintain contact and segmentation of targeted groups.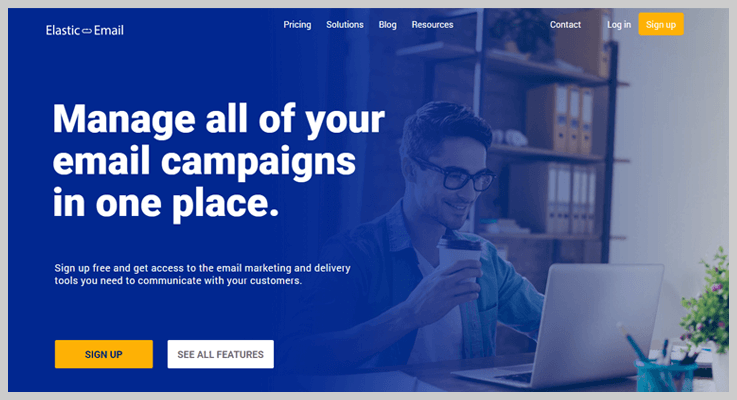 Key Features :
Detailed activity reports.
Custom branding solution.
Lowest cost.
You can use your own domains.
Catchy email templates.
---
12. SparkPost – Transactional Email Service
SparkPost is one of the fastest growing transactional email services. Currently, some well-known brands also use services of it like PayPal, LinkedIn, ORACLE, Twitter etc.
SparkPost provides email services for apps and websites. It has personalized technical account management which is built on AWS platform.
SparkPost is growing its customer base rapidly because of its developer-friendly services. Deliverability aspect of SparkPost is very strong. With ultramodern technology and experienced team, it has proven its credibility in the industry in a very short period of time.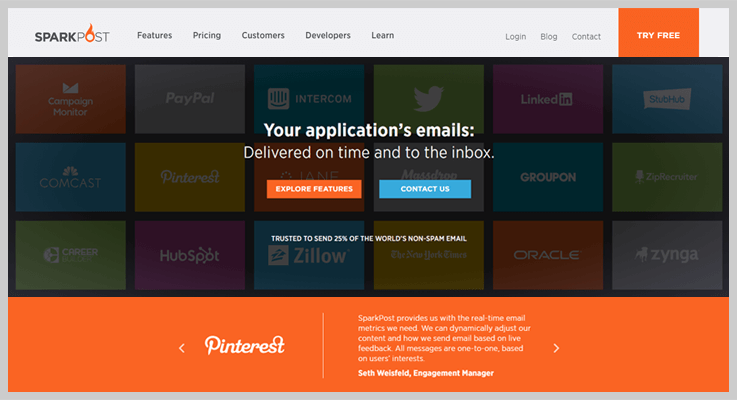 Key Features :
Personalized and total controlled templates.
Almost 25% of non-spam emails are sent from this platform.
Super fast technical support.
Real-time data analysis and integration.
35+ email metrics which are of great importance.
Real-time activity and big data with webhooks.
---
13. MailGet SMTP – Transactional Email Service Providers
MailGet SMTP provides top-class SMTP services with which transactional emailing in bulk becomes extremely easy. In addition, it also gives 99% inbox delivery, highest open rates, and send millions of emails at lightning fast speed using multiple domains.
If you are looking for an affordable and advanced SMTP service which is capable of generating 43% & 29% opens rates on different email campaigns.
In that case, we will suggest MailGet SMTP service as we have personally used it and have got great results that to at 3X time cheaper cost.
Key Features Provided By MailGet SMTP:-
The emails can be sent from multiple verified domains, just by using a single account.

All the servers used by MailGet SMTP are reliable Whitelisted Servers which are best for inboxing.

Email authentication is very important and here you get SPF validation, plus embedded DKIM signatures as well.

MailGet SMTP simplifies the process of bulk emailing and allows you to conduct multiple email marketing campaigns simultaneously.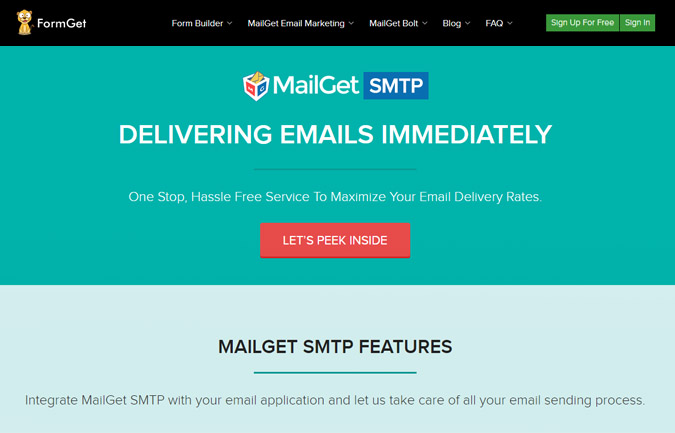 MailGet SMTP has designed a variety of price plan:-
With Mailget SMTP you can send 30,000 emails by paying $10.

$25 will be charged for sending 75,000 emails.

Just pay $50 and you can use 150,000 for bulk emailing.

Other than the above pricing MailGet SMTP offers three more plans.
Conclusion :
Transactional email is a very crucial tool for every marketer. It is the powerful way to engage with your targeted customers at very large scale. Of course, revenue growth is also possible with it.
Now the question is…
"All services looks fine, but how to choose the best one..?"
The Answer is very simple…it depends on only one factor that, how much you are willing to spend.
Yes, spending limit is vital because you can see all the services are best in their respective work quality and accuracy. So you have limited options to decide which service is better.
You must not think about which is better because all service providers are "Above Average" in quality, rather you need to focus on your needs. For example, if you want the cost-effective and hassle-free alternative, then Amazon is best for you. On the other hand, if you want to go for more sophistication of work then you should try between SendinBlue or SendGrid.
I would love to hear from you about any better transactional service provider in the comments below. Doesn't matter if it's good or bad. Share your experiences with us.
Check here for some more related information –