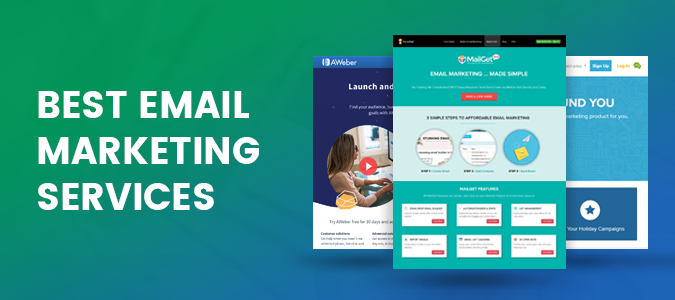 A study suggests, email marketing campaigns generate $38 as ROI for every $1 spent. However, it's not the case with every marketing campaign. The success of an email marketing campaign on a greater extent depends on the email marketing services that you use. Of course, it's the email marketing service which decides whether your sent email will land up either in the inbox or in spam box.
Therefore, you simply cannot bear the risk of going with any random email marketing software. Obviously, choosing the right email marketing service or software becomes one of the most important steps towards a successful email marketing campaign.
As email marketing software generates more leads to your business so, you can converts these leads into the potential customer.
You can consider an email marketing service to be apt for your business needs if it allows you to design the complete email template. Then, if it lets you integrate multiple SMTP or has an inbuilt SMTP to send the emails. Further, if it lets you track the complete cycle of an email template and also provides complete stats on the entire marketing campaign.
Any email marketing software will let you send emails to the subscribers and tell them about the latest offer & deals that you are offering. But only a few assure exceptional deliverability rate along with good server reputation.
In our blog on "8 Email Marketing Services", we'll be peeping into those email marketing services which will substitute your manual work of email marketing with automation. All our listed services provide greater deliverability rates along with good ISP reputation. This in turn, will decrease the spam rates to zero and your email will directly hit the inbox of the people.
For more information check out the following blogs –
---
Comparision Of Top 5 Best Email Marketing Services
---
Without much ado, let's take a deep dive into the email marketing software->
Pabbly Email Marketing is an excellent & powerful email marketing software that provides all the features & functions that any businesses need to run a successful email marketing campaign. The software gives easy to use interface that anyone can access without having any technical knowledge.
It has an inbuilt SMTP so, you can free yourself from the hassles of complicated SMTP setup.
Further, with 500+ free HTML based email templates, you can start your marketing campaign right away.
---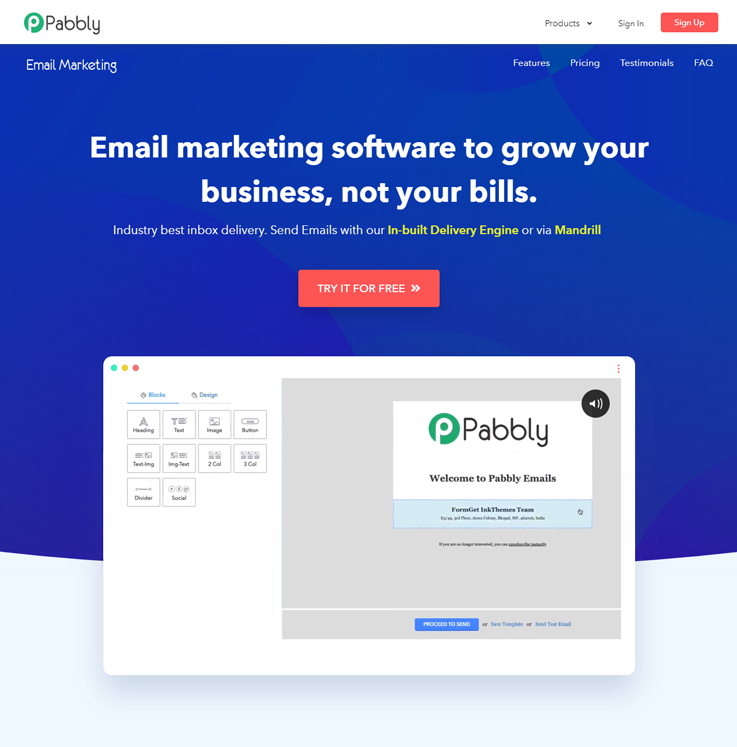 ---
Features of Pabbly Email Marketing:
Drag & Drop Editor
With drag & drop editor, you can design stylish & responsive email templates in few minutes. Just drag the required field from the left-hand sidebar & drop it into the campaign body section.
Marketing Campaign Tracking
The software gives a holistic view of your marketing campaign where you can see how many people opened your mail, how many recipients clicked on a link, how many customers unsubscribed your campaign and a lot more. All these information help you to improve your next campaign.
Drip Automation
Drip Automation is an automated process where a set of emails are sent to the customer at a specified date or time, drip email marketing campaign needs just a one-time setup.
Pricing plans offered by Pabbly Email Marketing:
Free Plan:- Pabbly Email Marketing free version allows you to connect 3 SMTPs and also lets you explore Pabbly Email Marketing at $0.
Paid Plans:- All monthly paid plans are based on the number of subscribers and you will get unlimited emails on every single plan they offer. Here are a few popular plans which Pabbly Email Marketing offers.
$29 for up to 5,000 subscribers
$49 for up to 15,000 subscribers
$99 for up to 50,000 subscribers
$1599 for up to 10,00,000 subscribers
Pabbly Email Marketing – by using this email marketing service you can increase your open rate up to 43%. I have been using this tool for last 2 years and I am pretty happy with the software. So, I would highly recommend you Pabbly Email Marketing to promote your work globally.
---
2. MailGet | Email Marketing Platform
MailGet is another interesting email marketing tool which offers exclusive features to the customer at the lowest price. Moreover, the system can be connected to multiple SMTP such as Amazon SES, Mailgun, Mailjet,  Postmark, SendGrid, and other SMTP services.
You can track the complete cycle of the sent email. Specifically, the open rate, attachment open rate, clicks and a lot more.
Then, it also provides automation to your email marketing campaign with an autoresponder, drip emailing feature.
---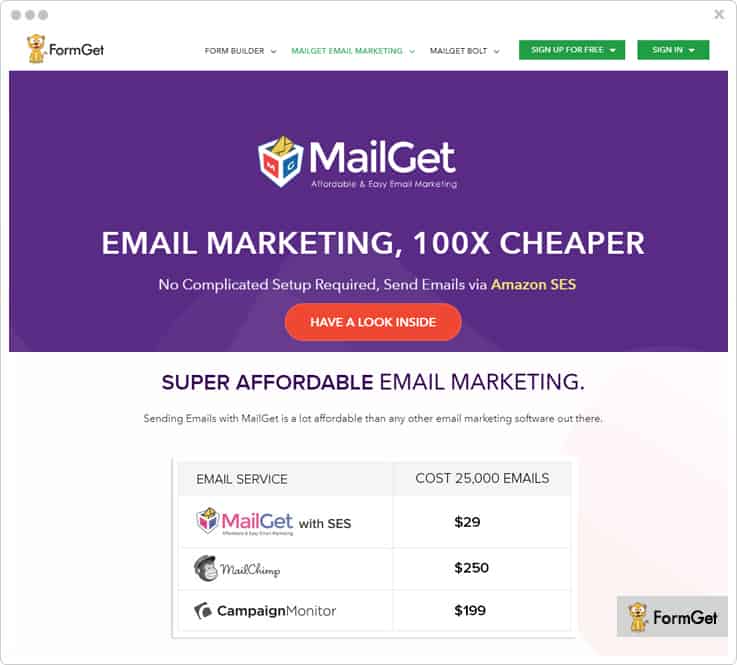 ---
Features of MailGet:
List Cleaning
The software automatically removes all the invalid, bad & duplicate email addresses from the contact list and provides a healthy email list that helps to boost up your marketing campaign.
Subscribers Segmentation
With the help of the subscriber's segmentation features, you can identify your most & least valuable customers in a few seconds so that, you can serve the customers in a much better way.
Responsive & Stunning Newsletter
Moreover, it offers 500+ Free email templates for every business niches that you can customize & change according to your business needs and demands.
Pricing plans offered by MailGet:
Free plan:- Under the free plan, you can explore MailGet without paying any $.
Paid Plans:- MailGet is the cheapest email marketing service that starts their plan from $29/mo where one can send unlimited emails up to 5000 subscribers in a month.
$29/mo: Up to 5,000 subscribers
$49/mo: Up to 15,000 subscribers
$99/mo: Up to 50,000 subscribers
$1599/mo: Up to 10,00,000 subscribers
For more pricing plans, you can visit MailGet official website.
MailGet is one of the cheapest email marketing software on earth which allows you to send UNLIMITED emails in just $29 and ensure you that your emails landing in the customer inbox.
Sign up!! for free and test the functionality of the software before switching to the paid plan.
---
3. SendinBlue | Email Marketing Automation Tool
SendinBlue is one of the easiest email marketing platform in the market that can be integrated with a number of services like WordPress, Shopify, Salesforce, Drupal and many others so, you can do more with your existing data.
---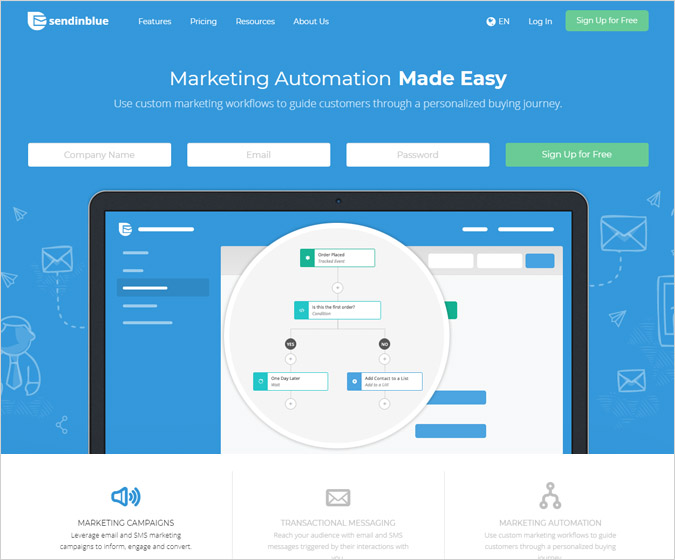 ---
Features of SendinBlue:
Email Designer
Design beautiful email templates through drag & drop editor easily & quickly, the templates which are created by SendinBlue look good on any devices.
Advanced Search & Segmentation
With the help of the software, you can filter your contact list on different segments that will help you to reach the targeted audience.
Real-time Analytics
The marketing automation tool allows you to track every single information related to marketing campaigns such as opens, delivery rates, bounces, spams, link clicks, unsubscribes and much more.
Pricing plans offered by SendinBlue:
Free Plan:- Get started with the free plan where one can send 9000 emails to the unlimited contacts in a month.
Lite Plan:- First is the Lite plan which is the perfect option for the new marketer. In this plan, the user can send 40,000 emails in a month in $25.
Essential Plan:- Next plan is the Essential plan. This is an ideal choice for a growing business where you have to pay $39/mo for 60,000 emails. Under this plan, the user has an advances statistics & can remove the SendinBlue logo from the bottom of the templates.
Premium Plan:- Then, the premium plan is the best solution for marketing pros in which the user can send 12,000 emails in a month by just paying $66.
Enterprise plan:- For pricing details, you have to contact SendinBlue sales team.
---
4. Platformly – Automation Tool For Email Marketing
Platformly is a powerful yet easy to use business management and marketing automation tool for busy business owners who are focused on growth.
Platformly makes marketing attribution easy by precisely tracking interactions across different campaigns and channels throughout your entire marketing funnel.
It helps you understand in unparalleled detail which marketing activities drive the most sales, who your most loyal customers are and what drives growth.
---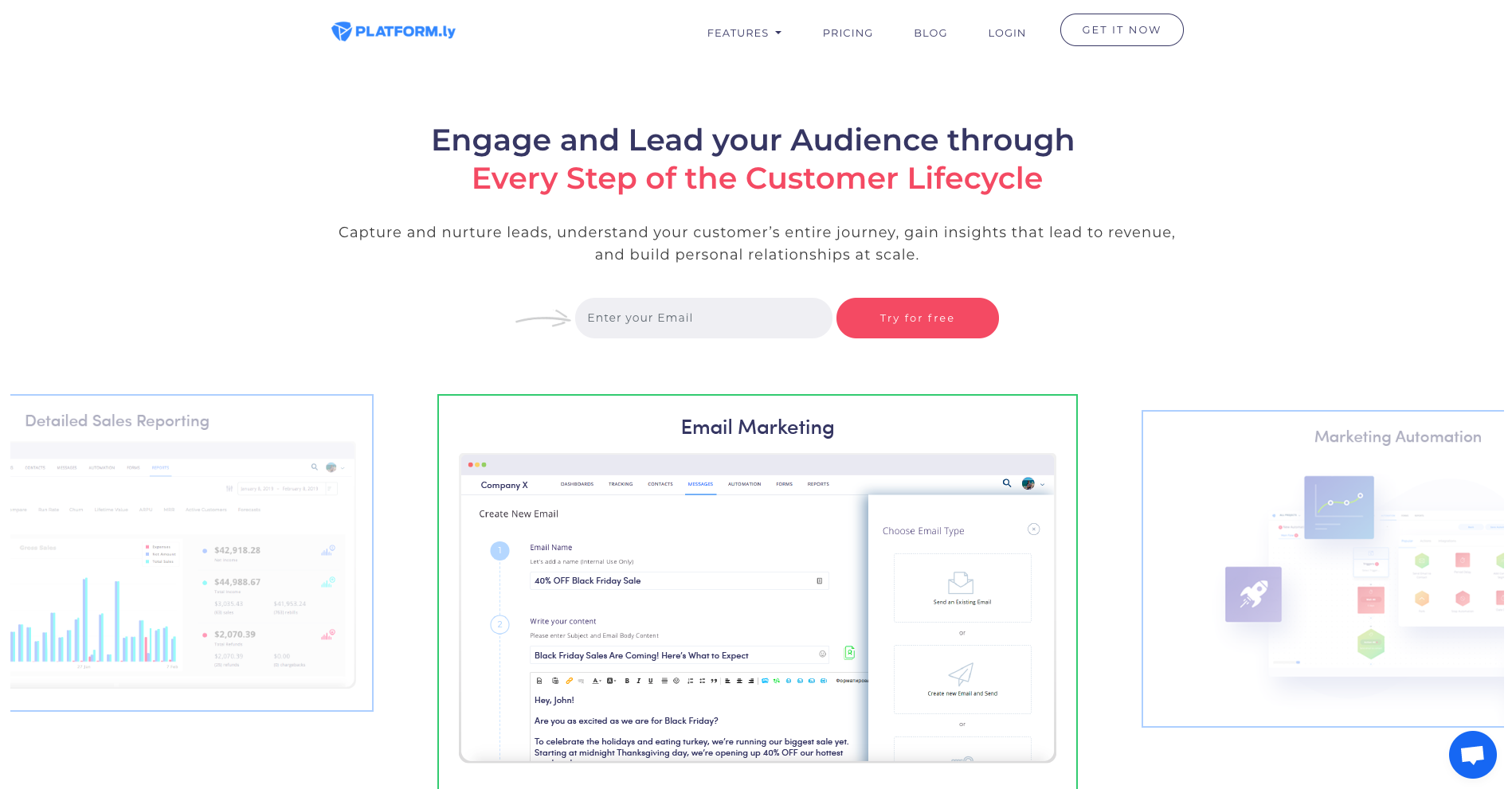 ---
Features of Platformly :
Marketing Automation
Create personalized customer journeys based on actions your customers take – like making a purchase, or signing up for the monthly newsletter. These actions trigger highly relevant emails to keep your customers engaged over time.
Powerful Segmentation
Platformly offers lead scoring and robust list segmentation capabilities that help you deeply understand your audience and who your most loyal fans are.
Email List Cleaning
In case of a hard bounce, Platformly will automatically clean, notify you of removed email addresses and help make educated decisions based on actionable data.
Pricing Plan Offered By Platformly
Free Plan: Try Platformly free for 15-days. There are no limitations in the plan you want to try.
Paid Plans: All monthly and yearly paid plans are based on the number of contacts business have. Here are a few popular plans which Platformly offers:
– 1K contacts – $19/mo
– 2K contacts – $29/mo
– 5K contacts – $49/mo
– 10K contacts – $69/mo
– 25K contacts – $149/mo
You can also choose one of the packages:
Starter: This package is absolutely free and includes such features as 10000 emails/mo, 5 integrations, 1 dashboard, 1 domain, 10000 links and page visits/mo.
Growth: Includes 100000 emails/mo, unlimited amount of integrations, webhooks, 5 domains, 5 dashboards, and much more for $49/mo.
Unlimited: Send the unlimited number of emails to your customers, use unlimited dashboards, domains, integrations, and webhooks. $99/mo only.
---
5. Moosend – Send Automated Emails
Moosend is an email marketing software that is used to create, send or track e-mail campaigns. It allows sending transactional as well as a marketing email. Furthermore, it has features to expand the delivery of – send-time optimization, personalization, free spam test, and dynamic content, etc.
Moreover, it empowers you to send automated emails via creating a drip. Also, you can easily schedule a campaign at a specific date & time.
---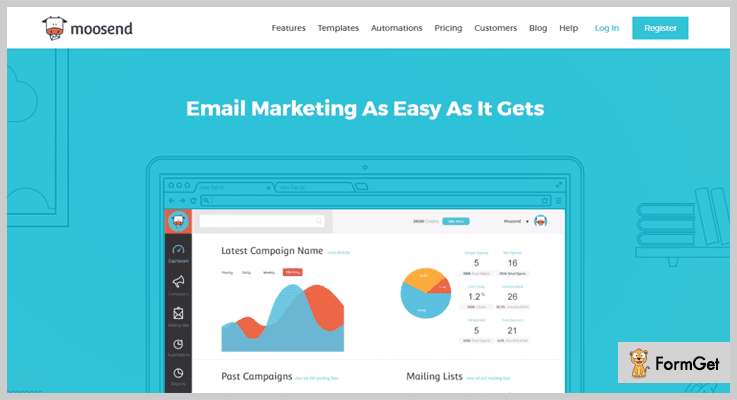 ---
Features of Moosend
Easy Contact Import
It lets you easily import contacts in different formats like CSV .xls, or even upload contacts from basecamp, Google or other online resources. Furthermore, it automatically removes duplicate data.
Get Real-Time Data
You can get real-time data on bulk email marketing campaigns that let you know the number of clicks, opened rate or other important factors.
Spam Tester
Spam tester ensures that email lands directly in the user's inbox. Hence, with this, you can test it before actually sending them.
Pricing Plan Offered By Moosend
Free Plan – Moosend free plan arrive with 2000 credits, each email recipient costs one credit. So, with 2000 credits you can send up to 2000 emails.
Paid Plans –
$10/mo: Up to 5,000 subscribers.
$40/mo: From 5,001 to 10,000 subscribers.
$80/mo: From 10,001 to 25,000 subscribers.
---
6. AWeber
|
Email Marketing Software
AWeber is the finest email marketing software. Using this, you can craft stunning email newsletters with ease & add images, business logo, social icons etc in your templates. Further, you can customize the template according to your needs and send them to the audience to promote your work.
It provides you features like subscription forms, RSS feed, fully featured API and a lot more.
---
---
Features of AWeber:
Subscribers Segmenting
Segment your contact list based on different information like geolocation, demographics & user behavior, all this information help you to determine what the customer expects from you.
Send Auto Follow up
The software automatically sends follow up mail to those customers who have not opened and reply to your email.
Free Migration
If you want to switch from another email marketing service provider to AWeber, then AWeber sales team provides free assistance and solve all the issues that you faced in the migration process.
Pricing plans offered by
---
AWeber:
Free plan:- AWeber offers 30 days free trial where you can get all the tools & features that you need to run your campaign.
Paid plan:- First plan of Aweber starts from $19 where you can send unlimited emails to the 500 subscribers in a month.
Next plan will cost you $29/mo in which the user can deliver limitless emails up to the 2500 contacts.
Another plan allows you to send unlimited emails to the 5000 subscribers in $49/mo.
For more pricing plans, you can contact the AWeber support team.
---
7. iContact | Email Marketing Solution
iContact is a modern email marketing service which provides a user-friendly interface and allows you to design dazzling & professional email templates in a matter of minutes. 
It's good to go for the beginners as iContact provides assistance via phone, chat, emails and also they provide webinars, video tutorials for further assistance.
---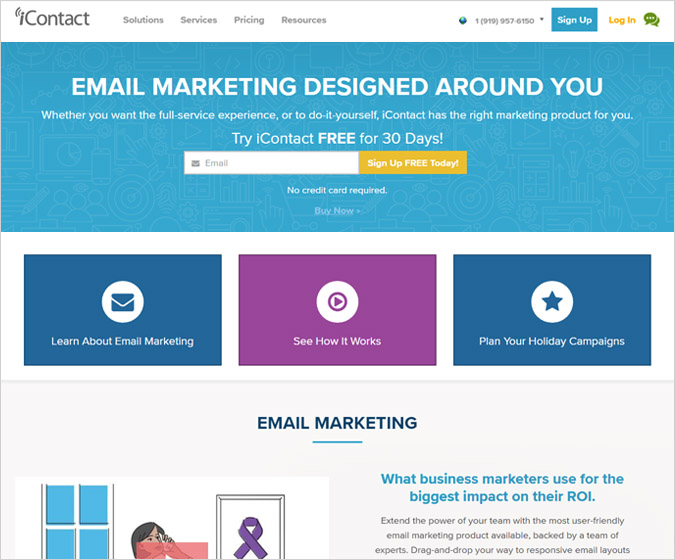 ---
Features of iContact:
A Clear Report
Get a clear picture of your marketing campaign at your fingertips. These reports provide an individual's click behavior that will help you to understand your customer in a better way.
List Management
You can manage and segment your subscribers on the basis of user behavior, geolocation, interaction and more.
Integrations:-
Further, iContact offers a number of integrations such as FormGet, Drupal, Magento, Cyfe, Salesforce and a lot more.
Pricing plans offered by iContact
Free Plan:- iContact free edition is perfect for those businesses who have 100 or fewer subscribers. In the free plan, you can explore the entire system before you switch to the paid plan.
Paid Plans:-
$14/mo: Up to 500 subscribers
$32/mo: Up to 2,500 subscribers.
$52/mo: Up to 5,000 subscribers.
$79/mo: Up to 10,000 subscribers.
$117/mo: Up to 15,000 subscribers.
---
8. Constant Contact | Email Marketing Service
Constant Contact is one of the giants in the email marketing segment. Reason being, it has got the highest years of experience in this email marketing (founded in 1995), comes with great features and better usability at an affordable price.
They have got a huge array of pre-built email templates. Now, these email templates can be used for any business be it a construction business or e-commerce.
However, you can create your own HTML based email template too using its smart drag and drop builder. It allows complete customization which is again a cherry on the top. So, you can add up logos, images, and possibly anything.
---

---
Features of ConstantContact:
Email Scheduling
You can schedule your emails to be sent on a particular date and time in future. The best part about this scheduling is Constant Contact suggests you the best time and date to send the emails on the basis of the segmentation of your email list.
Create Coupons, Surveys and Polls
Using Constant Contact, you can create coupons to keep the people engages. Further, these coupons can be driven to social networking platforms as well to capture more response.
Other than emails, you can create surveys and polls to collect people opinion about a particular product or idea. This can prove out to be an effective marketing and research strategy.
Mobile Optimized Emails with Responsive Mobile Application
With Constant Contact, the emails that you create are mobile optimized and also completely responsive in nature. Further, for Constant Contact, you would not always need a web platform as it has a mobile version too. So, you can simply work from your mobile phone with its mobile application with similar features as of the cloud-based application.
Pricing plans offered by Constant Contact:
Free Plan – It has got a free trial of 60 days and you get almost all of its feature in this trial.
Paid Plans –
It has got two comprehensive pricing plans.
The first plan costs $20 per month. In this plan, you can send unlimited emails. Further, you get a 1GB storage along with 1 user permission. This plan has got all the essential features like list management, apps and integrations, email scheduling and a lot more.
The second plan costs you $45 per month. This plan gives you the key to send unlimited emails and gives access to 10 users as well. Further, it provides a web space of 2 GB.
In this plan, you can create online coupons, surveys and polls as well. In fact, this lets you collect the online donation, do the event marketing, subject line A/B testing and more. The basic feature includes tracking and reporting, apps and integration and the list goes on.
---
9. SendGrid | Email Marketing Software
Launched back in 2009, SendGrid didn't take much time to expand its client base around the globe. This is majorly due to its features and their best in class services.
However, they have really won the hearts for their SMTP services and API's.
As far as email marketing is concerned, it provides all the necessary features that a good email marketing service does.
It has drag and drop tools to create email templates, the created templates can be personalized as well. Then, you'll find feature of email list segmentation. So, SendGrid does the segmentation of your email list on the basis of demography, location, and other factors.
---

---
Features of SendGrid:
Detailed Insights
SendGrid allows you to get a complete overview of your sent emails. It tracks send emails, delivery rates, open rates, attachment open rates, along with bounce rates, unsubscribes.
SendGrid API
SendGrid has API which developers really love. This API manages all the marketing emails to transactional emails on a single platform. Then, with this API you also get complete access on the editing of your templates.
Dedicated Support
SendGrid offers 24/7/365 support. They have got their experts team with a relevant and useful solution for almost every query.
Pricing plans offered by SendGrid:
Free Plan – SendGrid offers a free plan for 30 days. In this plan, you can send 40,000 emails with features such as email templates, A/B Testing and more.
Paid Plans –
It has got various pricing plans which differ on the number of emails that you want to send.
However, the basic plan starts from $9.95 per month. You can send a total of 40,000 emails with this plan. Further, you get almost every essential feature for your email marketing campaign. Specifically, a few of these features are core email API feature, template editors, real-time tracking and a lot more.
Another plan costs you $79.95 per month. In this plan, you can send a total of 100,000 emails. Further, in this plan, you get the complete features of SendGrid. This plan comes with all the major features like core API features, core email marketing campaign features which include segmentation, A/B testing and more. Then, it also contains a dedicated IP. Finally, you get a dedicated support from the SendGrid team and a lot more.
There are also plans in which you can send around 1.5 million emails and more. However, you have to contact the SendGrid team for the pricing details.
---
10. Benchmark Email| Email Marketing Service
It claims to be a simple yet the best email marketing service. However, we don't deny that either.
Benchmark Email is a comprehensive umbrella for everything related to email marketing campaign. You can create email templates using drag and drop builder. Then it works on automation so, you can sit back and relax while it does send all your promotional emails using triggers.
Further, it gives you an in-depth analysis of your campaign with the stats. It provides you with comprehensive reports.
---

---
Features of Benchmark Email:
Apps and Integration
Benchmark provides you integration with 300+ services and apps. These include big names like SalesForce, Zapier, Zoho, Zendesk and a lot more.
Email Template Editor
Upgrade to its drag and drop builder, it has got editors. Actually, live editors where you can make the changes and see the real-time changes side by side. Then, it has a unique feature of photo editing. So, you can edit an image too using its live editor.
Create Survey Polls, Manage List and Do Segmentation
Using Benchmark, you can create survey polls then, you can also add up sign-up forms. So, these sign-up forms will act as a lead capture tool and survey polls will keep the users engaged.
You can also do the segmentation of your email list on the basis of demography and other factors. In addition to this, you can further manage your list with this.
Pricing plans offered by Benchmark Email:
Free Plan – It provides a free trial of 30 days in which you can send 250 emails using its basic features.
Paid Plans –
The price plan starts at $13.99 per month and ranges up to $5,000 per month.
These plans differ on the basis of the number of emails and also on the basis of access to features.
---
Conclusion:
The blog compiled the 8 best email marketing services through which you can create stunning & responsive email newsletters in a matter of minutes. However, the brief description of the services must be enough for you to pick up an email marketing software for your business.
Still, you are not satisfied? If you want more information about email marketing software then you can go through the following blogs–: