Email is the best option to communicate these days and for email interactions, good SMTP service is a must needed thing. We all know that the current market is flooded with numerous SMTP service providers. But in this blog, we are going to talk about 5+ Best SMTP Service Providers that will facilitate your bulk email marketing campaigns.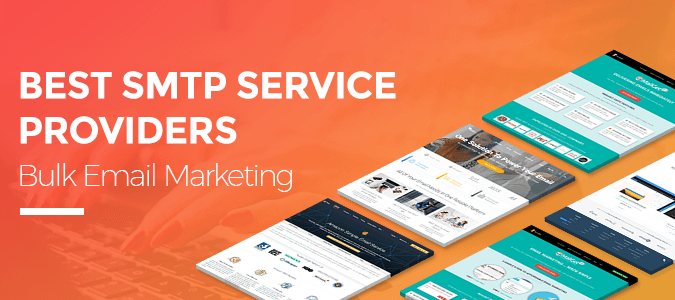 So, if you are trying to decide the best SMTP service which also happens to be cost-effective, easy to integrate, user-friendly, filled with advanced features and have whitelisted servers, then this blog will help you accomplish your goal.
Also, read our latest listing posts:-
Let's dive into the details of these SMTP services.
---
Comparison Of 5+ Best SMTP Service Providers
| | | | | | |
| --- | --- | --- | --- | --- | --- |
| Services | Pricing | No. Of Emails | Multiple Domain | SPF Validations | Ratings |
| MailGet Bolt | $9/mo. | 2.5 K | ✔ | ✔ | 4.5/5.0 |
| SendinBlue | $15/mo. | 40 K | ✔ | ✔ | 4.2/5.0 |
| Pepipost | $25/mo. | 30 K | ✖ | ✖ | 4.2/5.0 |
| Inboxroad | €59/mo. | 100 K | ✔ | ✔ | 4.3/5.0 |
| MailJet | $7.49 | 30 K | ✖ | ✖ | 4.1/5.0 |
---
If you are looking for a complete emailing service then MailGet Bolt will be the right choice for you as it comes pre-loaded with the SMTP service. This means that no hosting or any kind of step-up is required.
This makes MailGet Bolt one of the simplest and easiest services to do bulk emailing as no complicated configuration is needed, just select the plan and start sending emails instantly.
Features –
Send emails to your customers that are 100% responsive, allowing them to access them from laptops, tablets, mobiles and other devices as the email adapts to the screen of the device.
Email tracking is a premium facility of this emailing service using which you can track the performance of your email and monitor opened & click rate of any campaign.
Segment your subscriber list to get higher click rate. You can also send emails to those users who have still not opened your emails of any particular campaign using auto follow-up feature.
---
Bulk Email Marketing
MailGet Bolt is one of the best bulk email marketing services provider that ensures higher delivery rate at an affordable cost. With MailGet Bolt no SMTP connection is needed as it comes preloaded with it.
Conducting bulk emailing campaigns using MailGet Bolt is the cheapest and extremely quick as it has multiple features at low price point.
---

---
MailGet Bolt has both yearly as well as monthly plans which have multiple features and are extremely affordable:-
You can start with the 14-days free trial using which you can send 9000 emails to 300 users. This will help you test and verify all the features and facilities that you get with MailGet Bolt.
First paid plan will cost around $9 for a month. Through this plan, you can send unlimited emails to 2,500 subscribers and use multiple other features as well.
$34/month will be charged if you want to send unlimited emails to 10,000 subscribers.
If you want to send unlimited emails to 25,000 subscribers then $79/month will be billed.
And there are various other plans which may vary in cost as well as the number of subscribers.
Note:- If an annual subscription is opted for any of the plans given by MailGet Bolt, you get a straight discount of 2 months. This means you get 2 months free of cost.
---
SendinBlue helps you in limiting your efforts for bulk emailing. As it offers email marketing, SMTP, and SMS marketing with all the tools required for digitized (especially email) marketing campaign.
Features –
SendinBlue helps you in sending transactional as well as marketing emails.
Further, it helps you in controlling your bounce rate, by delivering emails directly into your user's inbox.
It provides integration with Drupal plugins, WordPress plugins, PrestaShop plugin, Magneto plugin, and custom subscription forms as well.
Bulk Email Marketing

You can send unlimited emails without limits ( but email limit is fixed for a month). You can check the analytics of your email campaign and manage your activities as well.SendinBlue is a secured and most preferred bulk emailing platform. In fact, it helps you in email and SMS marketing.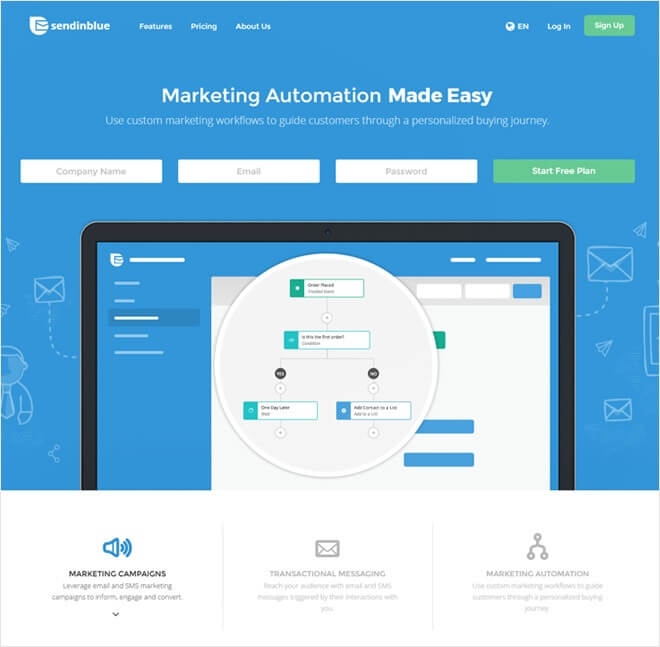 ---
SendinBlue offer free and paid plan for its customers –
Free Plan – It allows you to send 300 emails per day to unlimited contacts with zero expenditure.
Lite Plan – The plan will cost you $7 & lets you send up to 40,000 emails in a month with no email sending limit.
Essential Plan – The plan comes with a price tag of $39 per month and enables you to send up to 60,000 emails per month. Avail the advanced statistics that come with this plan along with the option of brand removal.
Premium Plan – It is available at an affordable cost of $66 with which you can send 120,000 emails and 350,000 at $173. With this plan, you get enhanced functionalities such as checking the send time optimization, edit landing page, unlimited automation, dedicated IP, etc.
Enterprise Plan – It is the highest plan that can be customized according to your business need & is best suitable for agencies, and big scale companies. You can get in touch with the sales team to know the price estimation in detail.
---
Pepipost is one of the most bankable SMTP service providers that ensure high inbox delivery of your emails. You can timely deliver different types of messages such as notifications, transaction alerts, travel receipts, and a lot more to the recipients.
Besides this, you get multiple other facilities such as sub-user management, webhooks, and the support system that works round the clock, etc.
In addition to SMTP relay, you can also use its web API to deliver the emails to the recipients.
Features –
Pepipost suppresses hard bounce emails & notifies you instantly via an automated message so that you can also monitor the bounces.
Its emphasis on data security and hence does not store your emails.

Moreover, the service uses secured cryptographic protocols like SSL & TLS which ensures high-end protection.
The dashboard provides you with real-time reports to have a deeper insight into various elements such as email delivery rate, bounce, open, and click metrics, etc.
Bulk Email Marketing

By now you must have jotted down the reasons we introduced Pepipost to you. This bulk email marketing service is apt to scale your business effortlessly.
The best part is, Pepipost is the only service that rewards you with cash back for all your opened emails that are calculated on successive billing.
---

---
Pepipost offers free and four paid plan for its clients which we can buy accordingly –
Free plan – You can start off with it sending emails up to 30,000 per month.
Starter plan – It comes with a price tag of $15/month and lets you send 1,00,000 emails.
If your requirement is to deliver 3,00,000 emails, the second plan is apt for you that costs only $65 per month.

Subsequently, you can use its another plan that will cost you $145 a month for sending 5,00,000 emails.

Even the higher plan of this ESP is very budget-friendly & costs you $245/month to deliver 10,00,000 emails.
Note:- Every plan has its own "price per 1000 extra emails
---
What makes Inboxroad different than its competitors is in its excellence in deliverability thanks to its unique, personal approach. With a dedicated expert monitoring your sends followed by weekly hands-on actionable insights, clients can increase their ROI.
Inboxroad is renowned as one of the fastest-growing SMTP relay providers based in Amsterdam. The company focuses on creating the best solution for marketers of all levels combining personal approach and hands-on advice.
If you're looking for long term commitments that guarantee personal support and relatability, Inboxroad is ideal and has been named as one of the favorite SMTP relays of the current market.
---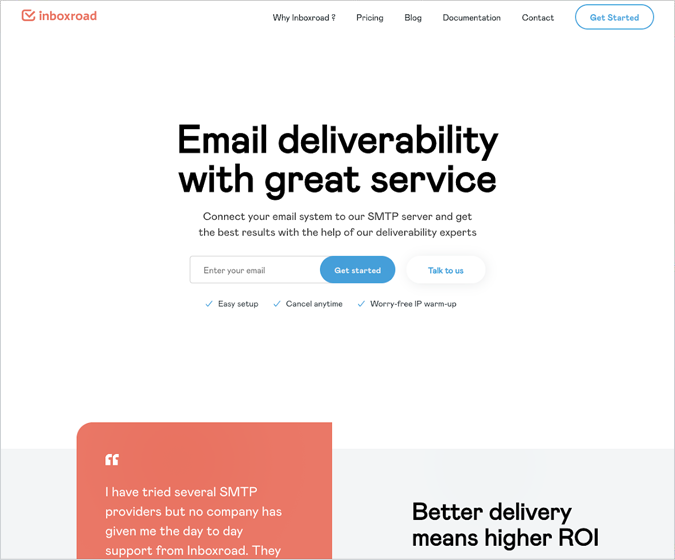 ---
Features –
Quick configuration in only a few minutes makes Inboxroad's SMTP relay extremely user-friendly. With flexibility in connecting to various existing front-ends as well as your own custom made solutions, setup is simple.
Increased ROI is a natural result of your sends successfully reaching the inbox of your recipients. Inboxroad helps make this happen.
With a delivery rate of 99.7%, it's one of the most effective solutions in today's market.
Inboxroad's delivery experts are constantly monitoring and optimizing your sent emails. They provide expert insights into your delivery engagements and weekly actionable advice to improve your campaigns thus increasing your ROI.
Pricing
Pricing is based on monthly volume with no restriction on the number of subscribers.
The lowest basic plan is €59, containing 100,000 emails a month.
If you have more volume, pricing drops to as low as €0.10 CPM.
---
SendGrid is an SMTP relay service that offers higher delivery rates, assured inbox landing, bulk emailing with email authentication and more. For all the listed features you just have to configure the email settings and you can start your email campaigns immediately, all the server and other maintenance will be taken care by SendGrid itself.
Features –
With SendGrid, you can use 7 different development frameworks to integrate SMTP API. Plus, you can custom integrate the SMTP API in just a few minutes.
Perform real-time analytics on the conducted email campaigns like you can track down the delivery, bounce and spam rate with ease.
Send emails that land only in the inbox of your customers, in order to increase the open rate of your marketing campaign.
---
Bulk Email Marketing
This is a proper bulk emailing service which is capable of handling both marketings as well as transactional emails.
With SendGrid SMTP service provider you get access to open and click rate of emails, plus it also ensures inbox delivery, every time bulk emailing is done.
---

---
SendGrid SMTP Service Provider provides free & multiple paid plans for Bulk Email Marketing:-
Free Pack:- Start your bulk email marketing campaigns with SendGrid's free plan. With this plan, you can send 40,000 emails for the first 30 days of registration.
SendGrid SMTP Service also has different paid packages that vary in cost as well as services like
For $9.95 a month you can send 40,00 emails.
Pay around $19.95 and you can send 100,000 emails a month.
Apart from these, there are various other plans which can be calculated as the price calculator available with other details.
---
Amazon SES is a premium SMTP service that allows direct integrations with your existing applications through which you can start sending emails at an affordable price. You can also send promotional and transactional emails with Amazon SES.
Features –
If you are using Amazon SES then you will get a higher delivery rate, which means most of your emails sent via Amazon SES service will land in the inbox of customers.
With Amazon SES, you can send emails by personalizing them according to your needs.
You can also keep a track on valuable insights like the number of deliveries, opened emails, clicks, bounces, numbers of sent emails, unsubscriptions and more.
---
Bulk Email Marketing
You can easily accomplish the task of conducting bulk email marketing campaigns with Amazon SES interface or with Amazon SES API.
With this service, you can send thousands of emails with just a single click. You can test and manage other activities through the console as well.
---

---
Price plan provided by Amazon SES is very affordable and comes with lots of features:-
Free Plan:- Amazon SES is one of the most popular SMTP Service Provider which gives 62,000 emails in a month for free if your application is hosted on EC2.
Paid Facilities:- If you are opting for some other email client or software, then $0.10 per 1000 emails will be charged and $0.12 per GB will be charged for sending attachments.
 Other descriptive pricing details are also available.
---
MailJet provides top-class SMTP relay service using which you can send transactional as well as promotional emails in bulk. It is a complete solution using which you can design personalized emails and do real-time monitoring of your email traffic as well.
Features –
Get the real-time status of users activities on your emails at the dashboard. With this feature, you can easily track user actions like opened, clicked, delivered, unsubscribed and more.
You can use 8 different frameworks to integrate MailJet and send emails which are 100%responsive.
MailJet assures the inbox delivery of emails when sent through it, plus it also has whitelisted servers which are regarded as the best in class.
---
Bulk Email Marketing
Promotion, advertising, sales boost, reminders or any other type of bulk emailing can be easily done once properly integrated with MailJet SMTP service.
It is a secured and safe mass emailing platform which delivers best of its services and bulk emailing is just a few clicks.
---

---
Price plans offered by MailJet SMTP Service Provider are as follows:-
Free Plan:- MailJet Form Building Software has a forever free plan which will give you access to send 6,000 emails every month with 200 emails a day limit. It also allows you to store unlimited contacts and provides full access to API for no charge.
Bronze Plan:- This plan will cost around $7.49 per month and you will get 30,000 emails to send every month. Plus you can save unlimited contacts as well.
There are various monthly plans offered by this SMTP software using which you can do bulk email marketing. These plans start from –
$7.49 a month for 30 000 emails per month.
$27.95 a month for 60,000 emails per month.
and goes up till $666.95 a month for higher email sending limit.
Enterprise Plan:- Other than the above-discussed plan, this is a high-end plan which is specially designed for top consumers. With this plan, you can deliver around 2.5 million emails per month. You can also use multiple other top-class facilities that come along with it. For the price of this plan, you have to contact the sales team.
Note:-
You can also test the premium features for Free. These premium features can differ from plan to plan. However, you can take a free trial of them for up to 30-days.

You can take advantage of some premium features, but to use them, an additional cost has to be paid every month.
---
MailGet SMTP is a top-class SMTP relay service which easily integrates with different email marketing applications and helps you maximize the email delivery rates.
This SMTP service provider offers multiple price plans that are extremely affordable and are stuffed with lots of advanced and futuristic features through which you can send thousands of emails at a lightning-fast speed.
Features –
With this SMTP service, you surely get 99% inbox delivery because of its whitelisted servers. MailGet SMTP gives priority to the inbox delivery of emails.

MailGet SMTP supports multiple domains which means you can send emails via different domains and addresses using a single account.

The SMTP service embeds DKIM signatures to get a higher delivery rate and also sends emails at a lightning fast speed to customers.
---
Bulk Email Marketing
Bulk emailing is the most important facility on which MailGet SMTP gives higher emphasis. If you are using MailGet SMTP service then conducting bulk email marketing campaigns will be just a few clicks job, as all the servers are whitelisted.
This will Save your Time, Money, Resources and will give you the best results.
---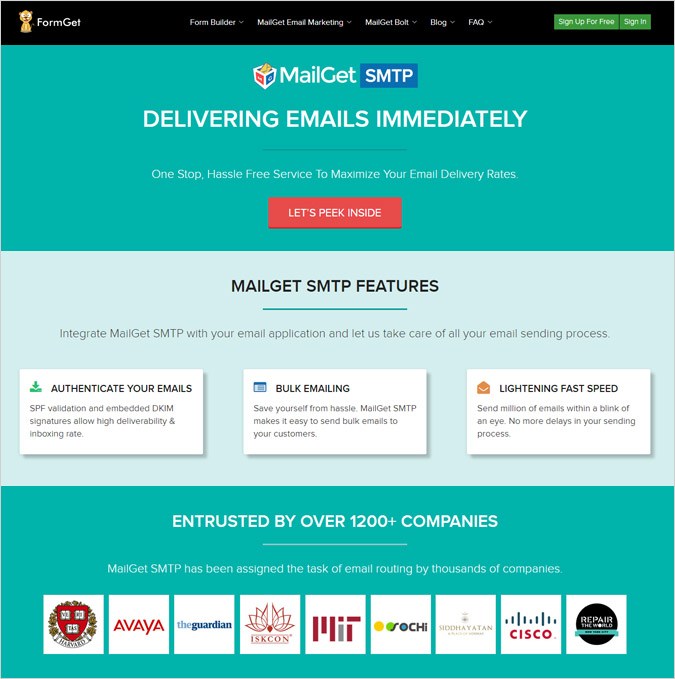 ---
MailGet SMTP service provider has got multiple price plans which are very cost-effective as well as filled with various features:-
The base plan starts at $10 and gives you access to send 30,000 emails.
For the price of $15, you are allowed to deliver 75,000 emails.
Other than the above plans, there are 4 more plans which range from $50 to $200, using which you can send emails ranging from 150,000 to 6,00,000 emails. It totally depends on the needs and requirements of your business.
---
There are various SMTP service providers available in the market but I would like to recommend MailGet SMTP as we have personally used and verified its features.
I can assure you that MailGet SMTP is the cheapest among all and offer higher delivery rate for sending emails.
---
Conclusion
I hope that you have gone through all the SMTP servers and services, their features and pricing plans. You can now make a much-informed decision to choose the best SMTP service provider for bulk emailing needs.
Rest assured, all the above-mentioned SMTP servers are best in class and guarantees the high email delivery in a pocket-friendly way.
If you wish to explore more SMTP services and software, you can go through the following blogs –