"Quality & Affordable Subscription Management Is The Key Element Of A Progressing Business"
The creation and destruction of anything is very easy but the most difficult part of any process is its maintenance. You require consistent effort and assessment which will further need your time. So, in order to make your things easy and simplify your subscription work, you need a subscription management software.
It will manage all your finance related activities and will intimate the customers regarding the expiry of a plan and when their subscription plan is going to end when they need to renew it.
That's why I've mentioned some of the best subscription management providers which will help you in this work. These software will work in such a way that it will synchronize all your subscription and invoice data at very reasonable rates.
Have A Glimpse At Some Best Subscription Analytics Tools
Also, there are some services mentioned in this article which don't stop admins for creating unlimited subscriptions for their customers.
That's what you want as a businessman. In order to get more profitable features, just read out this blog & finalize the best tool according to your needs!
Recommended blogs:-
So without further ado and giving much thought, let's explore these subscription management providers:-
---
1. Pabbly Subscriptions
Pabbly Subscriptions is an all-in-one subscription management service, automatic invoicing and your overall data tracking software. You can use it anytime or from any devices like iPhone, Windows, Android, and others.
It stands for all sized businesses, whether they are small or large. There are to reasons for it:
It has way too affordable plans which everyone can afford.
In all plans, you will be able to create & handle unlimited subscriptions for your customers.
---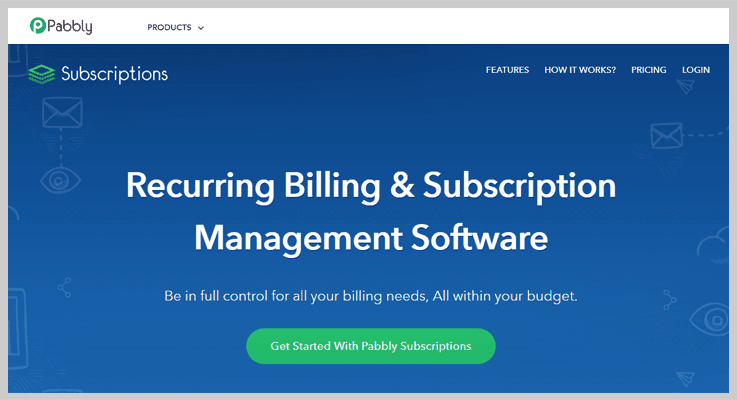 ---
Pricing:-
Starters Plan:- This plan bills only $5 on the monthly basis where you will get to manage 50 customers at a time.
Rookie Plan:- The Rookie plan costs $29 per month for customers ranging from 1 to 1,000 .
Pro Plan:- It charges $59/m for unlimited customers. In the future, it will also have a feature of client portal through which your customers will also get to know about their account details in brief.
Advance Plan:- The Advance package is best for those people who are having big businesses. It costs only $99 on a monthly basis where you will get to work on unlimited customers & also have a custom domain checkout page.
Note: Pabbly Subscriptions does not have any limit on monthly recurring revenue.
Features:-
Pabbly Subscriptions allows maintaining your own revenue growth by giving you the accurate details on the incoming revenue stream as well as on churn.
It has a complete API environment which helps you to manage all billing details, subscription details and many more.
This tool is a customizable invoicing and open- source service that allows its users to keep track of payments.
Important!
How about saving some big bucks on subscription billing service?
Though it is a matter of belief, but you're lucky to get this in front of your eyes!
You can be one of the Pabbly Subscriptions' first 600 customers at just $9/month charge (no monthly deductions, no extra charges).
However, you need to be quick as well!
There is space only for the first 600 customers.
Wait…. or hit the button below!
---
2. Zoho Subscriptions
Zoho Subscriptions is an awesome software which manages your recurring bills and intimation of the prorated amounts. Through this software, you can apply add-ons and discount coupons, group invoices of multiple subscriptions and issue refunds.
---
---
Pricing:-
Standard Plan:- In the standard plan you will be able to handle the subscription management of 500 customers and share it with 3 users in $29.
Here, you will get the features like multi-currency support, dunning for automatic payments and various other features for a month.
Professional Plan:- In the professional plan you will get all the features and services that you were getting a professional plan but for $69 and that too for a year and you can handle unlimited customers share it with unlimited users for a year.
Features:-
The transaction related to Zoho Subscriptions can be captured through the Zoho online accounting software.
Get real-time insights as to how your business is working with the help of subscription metrics, metrics are presented to you in the form of charts which are easy to understand.
Collect customer card information securely through the PCI compliance and make the clients data securely saved through it.
---
3. BlueSnap
BlueSnap is a recognized subscription management software which handles all your financial activities that occur in your business. With the help of the software you can customize any subscription plans and gives you the flexibility to set your recurring revenue model.
---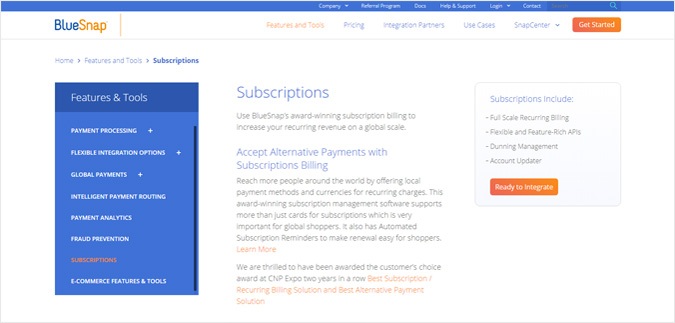 ---
Pricing:-
The Bluesnap provides a plan for which you will have to contact in which you will get volume discounts with all the features and tools included. There will be no annual renewal fees and setup charges & cancellation fees as well.
Features:-
Internal systems of your trade can be integrated with the subscription management APIs. The library of the subscription management's makes it easy for you to switch plans and issue cancellations.
The inbuilt subscriptions have dunning management that retires subscription purchases to maximize customer conversion globally.
Automatic updates are provided to you regarding your subscription payment information that keeps your sales intact.
---
4. Avangate
Avangate is a magnificent subscription billing solution which let you manage subscription and gain insight into the customer value, stats, details and other such things at a glance. Through software, you can update subscription information, issue refunds and track history.
---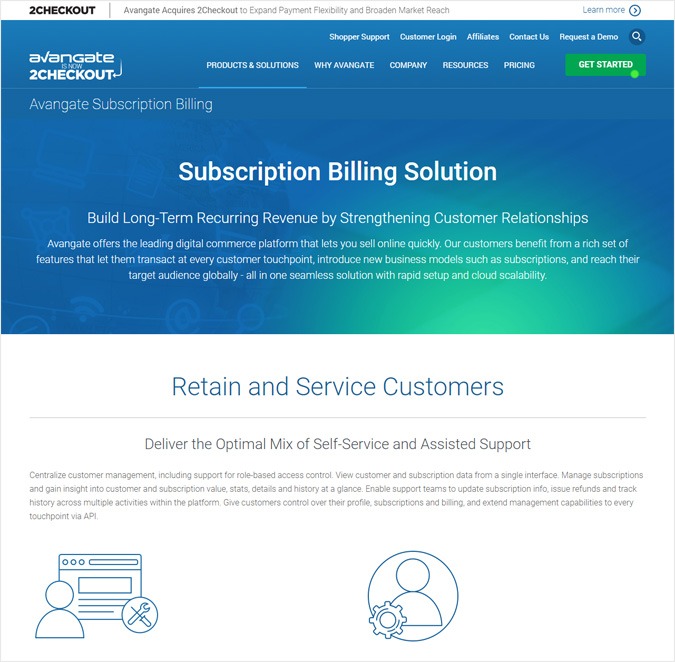 ---
Pricing:-
Growth Edition:- In the growth edition, the plan is like 3.99% per transaction  + $0.99merchant account fees for the revenue limit up to $ 15000 per month.
For example:- If there is a $ 150000 transaction, so the 3.99% of 150000 would be $ 598.5per transaction +$0.99merchant account fees at your business. the total would be $599.49.
Standard Edition:- In the case of the standard edition there is no revenue limit unlike the growth plan and you would have to pay 4.9% per transaction +$2.5 merchant fees.
For eg:-  If there is a $ 150000 transaction, so the 4.99% of $150000 would be $748.5 per transaction + $2.99merchant account fees at your business. the total will be $751.49.
Features:-
The powerful subscription management gives a single-page, 360-degree view of customers' subscriptions, entitlements, updates, renewals and other such features.
Advanced CRM features will help you manage to reduce the churn rate and increase retention by the campaign and lead management, customized email templates and tracking.
Have live web chats with customers to resolve complex issues or transactions, such as contract amendments, prorations & so on.
---
5. FastSpring
FastSpring is a powerful subscription management software that is intuitive e-commerce platform which is fast and tests the entire lifecycle of an order before putting it on the live stream.
---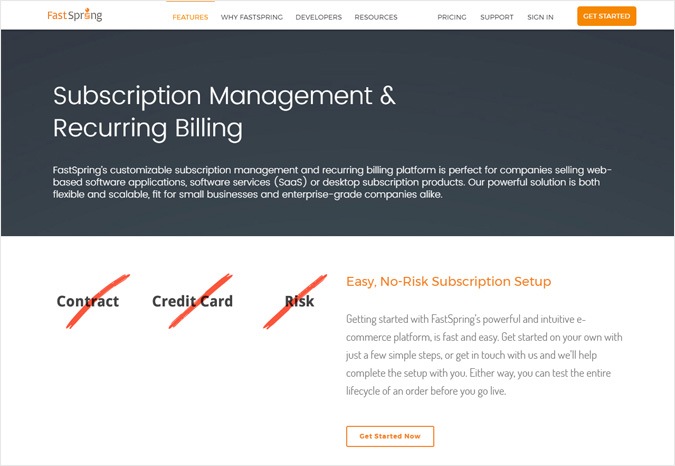 ---
Pricing:-
"Pay as you grow Plan":- As the name suggests the plan offers low competitive rates in which you have to pay 5.9% per transaction + 95 cents for the account fees.
For example:- Suppose there is a transaction of $100 so the calculations would be like 5.9% of the transaction which would be $5.9 + 95 cents that goes as $6.85 that you would have to pay.
Business Plan:- In the respective plan you will get optimized business, in which you will have monthly subscription plus transaction fees, the plan will give you additional premium services starting as minimum as $199 per month.
Enterprise Plan:- In the enterprise plan, you will get multiple pricing structures with tiered volume discounts, the plan will include additional enterprise service for the business patch over 2 million annual sales.
Note:- Business and Enterprise plan are customized plans for which you need to get in touch with the providers.
Features:-
It software supports every kind of subscription model whether it is a free and paid trials, multiple subscription plans, promotional pricing, prorated plans.
The system gives you a diverse selection of features which helps to upgrade subscription management and recurring billing for businesses.
The software offers multiple features which handle refund management, branded order pages, international tax collection and all such traits.
---
6. Scoro
Scoro helps you to manage the subscription features under one roof which includes time spent and billed, planned tasks & meetings, invoices & expenses, comments and files and all the financial transaction related stuff can be managed.
---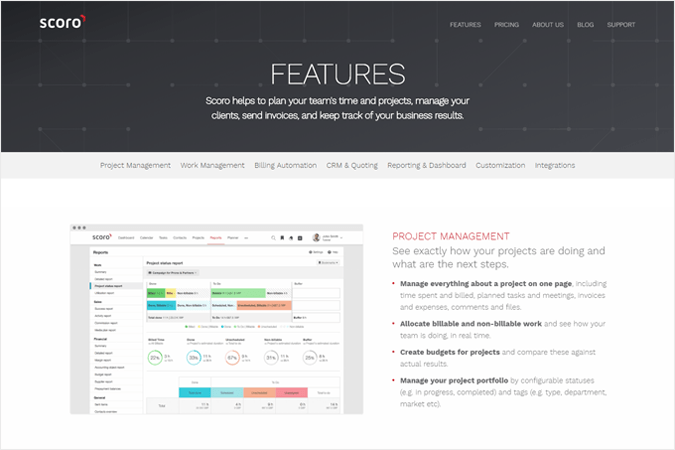 ---
Pricing:-
Plus Plan:- In the plus plan you would be charged $22 per user per month.
Premium Plan:- In the premium plan, the charges would be $33 per user per month.
Ultimate Plan:- For the ultimate plan, you would be charged $55 per user per month.
For the setup or onboard charges:-
Essential:- $899
Standard:- $1699
Custom:- $3,399
These on-boarding charges depend upon the hours taken for business process mapping, admin and team training, data import analysis, etc.
Features:-
Schedule your work and assign your tasks effectively through the software and you can even do the tracking of the projects, statuses and deadlines.
You can manage calendar events and completed tasks through the software reducing your work of managing the timesheets.
Track the billable and actual time spent on a project and automate late invoice reminders, scheduled and recurring invoices.
---
7. Chargebee
ChargeBee is a great platform for handling your financial activities which include the subscription and recurring billing management. The software also offers multiple features like built-in proration in which if a customer switches from a freemium plan to premium plan then the charges are automatically calculated and added to the next invoice.
---
---
Pricing:-
Go Plan:- For the respective plan, you would be charged $99 for a month which includes $25000 per month revenue and if that exceeds then you have to pay 0.5% of the extra revenue generated.
Rise Plan:- In this plan, you would be charged $299 per month up to $50000 monthly revenue and 0.6% for extra revenue.
Scale Plan:- Here you have to pay $599 per month and the bandwidth rises to $75000 monthly revenue and 0.9% of extra revenue.
Features:-
The software gives the flexible trial management, which setup trials which suit your business, the system gives the trial ending reminders as well.
The layer of abstraction and eliminating complexities for the trails and the Chargebee API is built to handle all your billing edge cases.
You can add customizable add-ons which will help you add value without changing a plan.
---
8. MoonClerk
MoonClerk is a productive software which will let the users manage their subscription billing systematically. The software is so made that it doesn't require any technical skills and you can do all your billing management work woth any complications.
---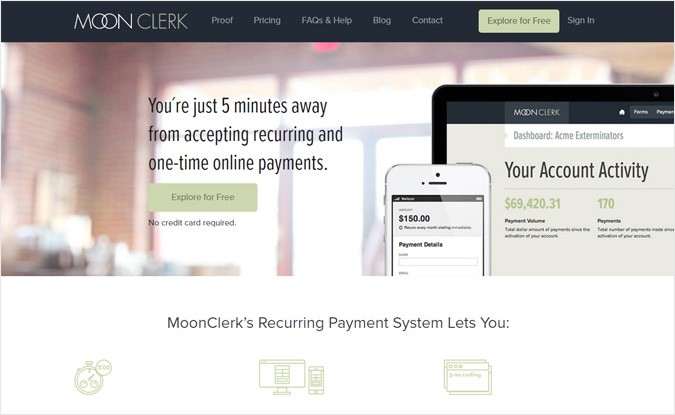 ---
Pricing:-
MoonClerk's pricing varies according to the monthly recurring revenue. It starts from $15 for revenue range $0 – $2,000 to $110 for revenue upto $20,000. For more high volume pricing, contact its support department.
Features:-
Get customizable payment options, the system accepts one-time payments as well as a wide-variety of recurring payment frequencies.
The system provides a higher level of security with the help of full SSL encryption and PCI compliance.
You can manage your data by gathering custom information from payers, send automatic notifications, integrate with third-party software.
---
9. SalesForce
Salesforce allows you to make your financial management easy by automating the entire subscription billing process and eliminating billing errors. The user doesn't need the manual collation of data which the system will manage on its own.
---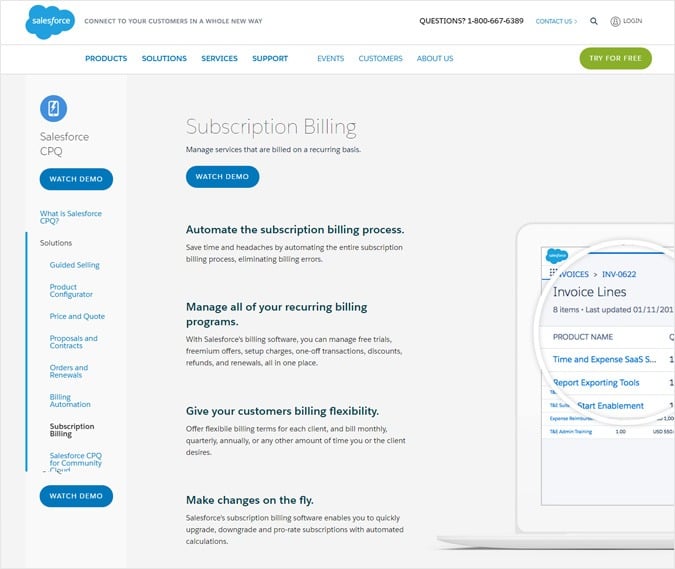 ---
Pricing:-
CPQ:– It costs $75 per user for a month for the product catalog, configuration & selection.
CPQ Plus:- This plan charges $150/m for a deeply customizable CPQ for any kind of business.
Billing along With CPQ Plus:– To know about its pricing, you have to contact the sales department of Salesforce.com.
Features:-
With the help of Salesforce's billing software, freemium offers, renewals, transactions, refunds, and discounts all in a single stop.
Offer your customers billing flexibility for quarterly, monthly and annually and also the amount of time that your client wants.
Salesforce subscription billing system let you upgrade and pro-rated subscriptions through the automated calculations.
---
10. Recurly
To empower your subscription billing management, one needs an effective software and Recurly provides you with that. It software offers you multiple billing models, payment gateways and revenue elicitation.
---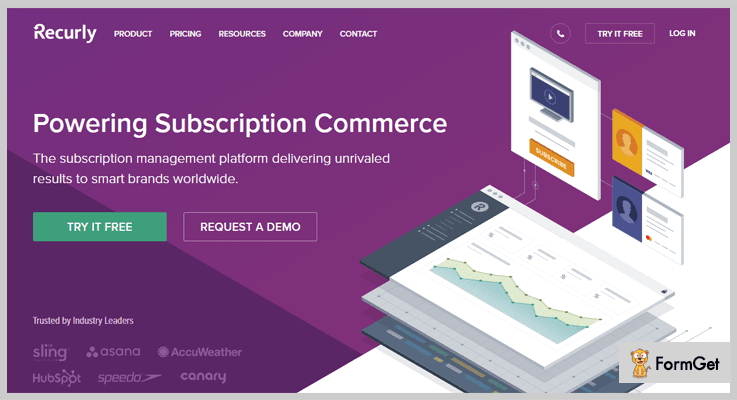 ---
Pricing:-
Core:- The pricing for this plan would be $99 per month of the plan + 1.25% of the revenue generated + 10 cents per transaction.
Professional:- The pricing for this plan would be $299 per month of the plan + 1.25% of the revenue generated + 10 cents per transaction.
Enterprise:- Custom price plan need to contact the service provider.
Features:-
You can reduce churn rate and recover an average of 7% of credit card revenue easily.
The software is a PCI level 1 provider which matches the industry standards in terms of security.
Recurly has a fixed recurring, one-time charge, hybrid and usage-based metering for the assessment of the various plans.
---
11. Braintree
Braintree provides a smart way of handling the subscription management, from hosted fields to drop in UI. You can also easily accept repeated online payment for subscription-based businesses and donations.
---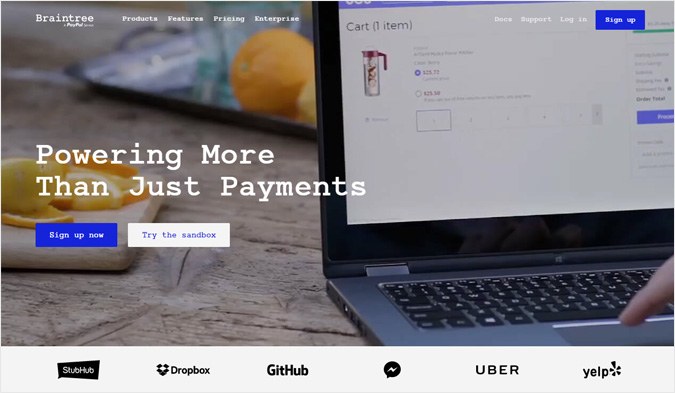 ---
Pricing:-
Standard:-  In the standard plan you would be charged 2.9% per transaction + $0.30 , for example if there is $10 transaction so, then you would be charged 2.9% of $10 =  $2.9 + $0.30 = $3.20
Enterprise:- In the case of this plan you need to contact the service provider.
Features:-
The user can provide custom pricing plans for your clients and setup discounts, add-ons, promotional periods and rewards.
Also, its system provides a prorated subscriptions. It means the software has the ability to upgrade and downgrade the plan at any time.
The buyer can easily update user credit card details with the help of the account updater.
---
Conclusion:-
Above we have covered all the essential features of the respective subscription management providers. We hope you get an in-depth idea of the software through this blog.
You can choose the best among them which perfectly suits your needs and budget. Once you start using any of the software, the subscription and finance related task will get easy. After it, things will get easier for you the financial front.
Also, you can go through the following blogs:-
For any queries or suggestions, drop a comment below & we'll surely get back to you!