If you have stumbled upon this blog, it's because of the reason that you are looking for alternatives & competitors of ChartMogul. 
Undoubtedly ChartMogul is regarded as the best software when it comes to payment analytics & subscription revenue reporting. And, the availability of multiple add-ons/integrations has definitely made it a supreme leader in terms of payment analytics software.
Its pricing plan includes a generous Launch plan which enables you to use ChartMogul for FREE until you've generated your first $10K MRR. The subsequent plan, Mogul is charged based on your paying customers viz. $100 for per 1000 customers.
---

---
But sometimes, the user may be overwhelmed because of all the features, pricing plans and may often look for cheaper alternatives and other similar software.
Luckily for you, the evolving technology and trend have brought some highly efficient & cheap competitor of Chartmogul which will prove to be a great alternative and competitor to ChartMogul.
Let's have a look at the comparison of various Cheap Competitors of ChartMogul

Services
Pricing
Multilingual Checkout Page
Dunning Emails
Unlimited Revenue
Invoice Billing
Pabbly Subscriptions
$5 per month
✔
✔
✔
✔
FirstOfficer
$ 29 per month
✖
✖
✖
✖
Putler
$50 per month
✖
✖
✔
✔
MRR.io
$19 per month
✖
✖
✖
✔
Chargebee
$99 per month
✖
✔
✖
✖
---
Get more related information here –
Let's explore and compare the competitors of Chartmogul individually –
---
Pabbly Subscriptions is one of the cheapest alternatives for ChartMogul Payment Analytics Solution. This is the reason it has been placed on the first spot in this list.
This payment analytics software provides various tools using which you can analyze payments from different gateways, monitor transaction and subscription history via reports and more.
---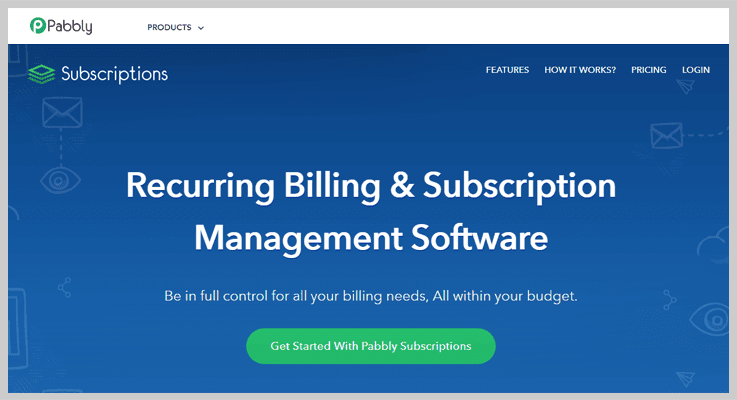 ---
Pabbly Subscriptions vs ChartMogul
One of the major bifurcations between Pabbly Subscriptions & ChartMogul lies in cost. Pabbly Subscriptions charges $5 for a monthly subscription plan. But ChartMogul will cost you $125 per month for the same services provided by Pabbly Subscriptions.
With Pabbly Subscriptions, you can Manage Subscription Bills as well as Analyze Payments from customers. But with ChartMogul you can only perform Payments Analytics on customer transactions.
Plus you also get unlimited access to all the features & facilities, whereas in ChartMogul various limitations are there.
More Details On Pabbly Subscriptions Are Available Here
Pricing:
Pabbly Subscriptions offers you four distinct pricing plans:
Starter- This is the starter plan in which you can create unlimited plans and products for 50 customers at $5 per month. 
Rookie- It allows you to set up unlimited products and plans, invoice billing, etc. It will cost you $29 per month.
Pro- If you want to acquire this plan, you need to pay $59 per month. With this plan, you can easily collect payment from multiple payment gateways, provide multilingual checkout pages, client portal and a lot more.
Advanced: With this version, you can enjoy the seamless features like custom domain, affiliate system, client portal, & all other features. All you gotta pay is $99 per month.
---
2. MRR.io –
This is the most basic alternative to ChartMogul which devotes it services to Stripe (and Paddle). Furthermore, it is capable enough to analyze your payment metrics along with all the important subscription metrics of your SaaS business along with advanced email reporting and metrics forecasting.
---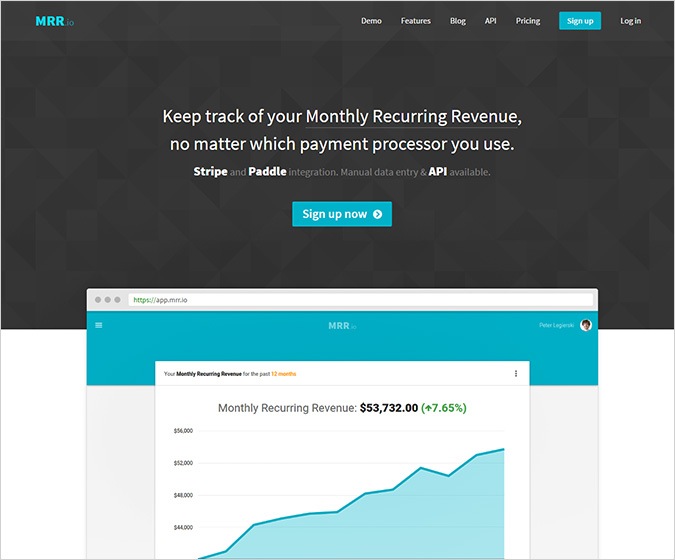 MRR.io vs ChartMogul
The MRR.io provides a functionality of manually entering data in the app or through its read/write API, irrespective of your payment gateways.
Plus, it even allows you to continue using their FREE plan until you have less than 100 paying customers, while ChartMogul allows you to use their services for FREE until first $10K revenue is generated.
Apart from that, MRR.io provide a comprehensive payment analytics and that too within a pocket-friendly budget while ChartMogul starts offering its services with the initial plan of $100.
Pricing –
The payment analytics software is known for its affordable pricing plans –
Basic

– FREE for all metrics & basic email reports for 100 paying customers and 3 team members.
Pro

– This plan covers all the Basic plan features + cohort analysis, forecasting & advanced email reports for the following range of customers –

$19/month for 250 paying customers.

$69/month for 1000 paying customers.

$129/month for 2500 paying customers.

$199/month for 5000 paying customers.

Get in touch with the MRR.io sales team if you have 5000+ customers.
---
3. Putler –
This is an all-in-one analytics software which covers payment, subscription, e-commerce and Google analytics. Keeping payment analytics in mind, Putler provides 4 different payment processors (15+ total integrations), Stripe and PayPal being prominent among them. Putler is also known for its refunds management and growth advice from experts.
---
Putler vs ChartMogul
The biggest difference between them would be their pricing plans. ChartMogul's most basic plan is of $100 per 1000 paying customers while that of Putler's is $25. The most popular plan of Putler comes in $75 which has most of the advanced features.
Lastly, Putler provides a dedicated payment metrics analytics for every integrated payment processors while ChartMogul accumulates the data from all the sources and display them as a whole.
Pricing –
This payment analytics software comes with a three very affordable plan which truly makes it a great alternative to ChartMogul.
Starter

– 500 orders per month (like a SaaS product or an e-commerce product bought), 3 integrations, 2 years historical data and basic features for

$25/month

.
Growth

– 3000 orders per month, 7 integrations, 5 years historical data and advanced features like subscription management, inbound/outbound API, etc. for

$75/month

.
Scale

– 10K orders per month, 20 integrations, 7 years historical data and everything in Growth plan for

$250/month

.
---
4. FirstOfficer –
This payment analytics software is a perfect alternative to ChartMogul if you are only using Stripe as your payment processor. Through the dashboard, in-depth graphical representation of your data such as MRR, CLTV, Revenue, Discounts, Refunds, etc. will help you understand the trend of your numbers and weekly reports will help you analyze your business growth.
---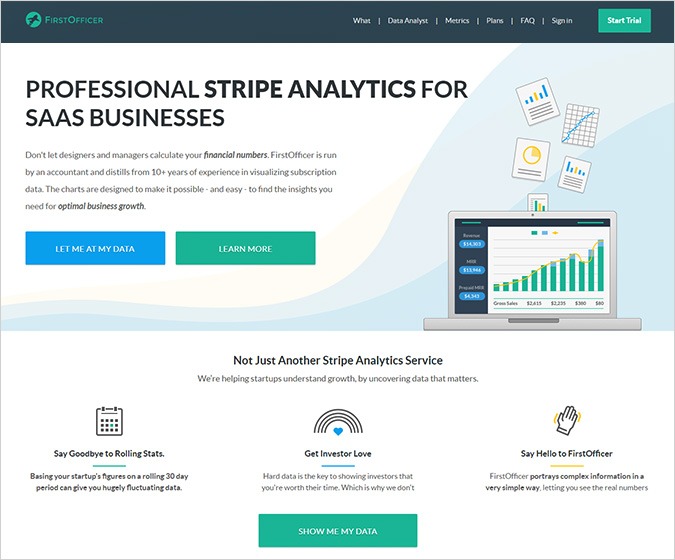 FirstOfficer vs ChartMogul
FirstOfficer is highly efficient in displaying your payment metrics and if you are using Stripe as your only payment processor, then why pay extra for other payment gateway integrations?
This software offers its services at the basic cost of $29/month and it's most popular plan, with all advanced features comes in $79/month. While ChartMogul's basic plan costs $100/month for 1000 customers.
Pricing –
FirstOfficer offers four pricing plans with common features like payment analytics and weekly email reports.
Hobby – $29/month for 250 customers.
Startup – $79/month for 1000 customers.
Professional – $149/month for 2500 customers.
Business – $249/month for 5000 customers.
All the plan comes with 30 days FREE trial and ensures secure environment as all the data is handled via 128-bit SSL connection.
---
5. Chargebee –
If you are looking for a multiple payment analytics software with responsive features then Chargebee is best. Just like ChartMogul, Chargebee provides detailed insights on payment metrics and data integrity. Along with payment analytics, it also an efficient subscription management, billing & invoicing software with multiple payment gateways.
---
Chargebee vs ChartMogul
There is not much difference between them in analytics apart. Chargebee shows all the data of your customer in its metrics dashboard, whereas, ChartMogul will redirect you to the corresponding customer page.
When it comes to pricing, Chargebee is a little bit costly than ChartMogul but it has lots of features as compared to that of ChartMogul. So here Chargebee dominates.
Apart from this, Chargebee has multiple payment gateways according to countries where ChartMogul has some fixed payment gateways.
Pricing –
Chargebee gives three pricing plans according to business growth.
Growing Business –

Go Plan – $99/mo includes $25K/mo revenue & 0.5% of overage revenue for 3 users, multiple products sites, UNLIMITED free trials, tax reports, 1 CC payment gateway, PayPal ACH & many more.
Rise Plan – $299/mo includes $50K/mo revenue & 0.6% of overage revenue for all features of Go Plan with 10 users, unlimited payment gateways, SaaS metrics & many more.
Scale Plan – $599/mo includes $75K/mo revenue & 0.9% of overage revenue for 25 users, advanced invoices, tax profiles, phone support according to ppriorities& many more.

New Business –
For new businesses, this plan is best as your first $50K revenue is on Chargebee. It has all the features of Go plan & starts from 0$ USD.
Enterprise Business –
For big businesses, this plan is too much popular as it is the most flexible plan. Features like adaptable infrastructure, impregnable security, dedicated customer support etc make it more special. For its details, you have to contact them.
---
6. Databox –
Databox is famous among all the businesses as it provides analytics of almost all the business sectors, payment analytics being one of them. Another fascinating feature that makes Databox a cheap alternative to ChartMogul is the availability of multiple dashboards which can be customized using a drag-and-drop editor.
---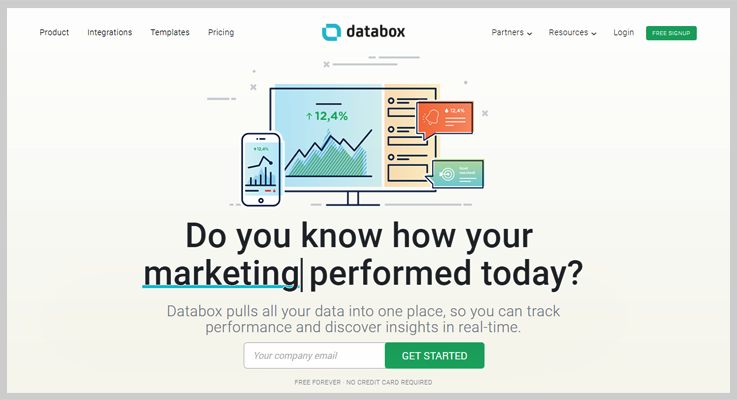 Databox vs ChartMogul
In terms of payment analytics, both the software are equally efficient. They even offer the same programming languages for data source integration.
But their difference lies in the fact that Databox provides 45+ data source integrations while ChartMogul gives only 25+.
In addition to that, Databox has its own FREE mobile app on App Store and Google Play whereas ChartMogul offers a very basic, FREE mobile app only on App Store.
Lastly, the pricing plan of Databox makes it a definite cheap alternative to ChartMogul as the lowest chargeable plan of Databox is $49 (when billed annually) while that of ChartMogul is $100 per 1000 customers.
Pricing –
Databox offers three pricing plans and one Custom plan for bigger needs –
Free

– $0 for 3 data connections/sources, 3 users and 3 databoards/dashboards with data updating on daily basis.
Basic

– $59/mo ($49/mo on yearly basis) for 10 data connections, 5 users and 10 databoards for company branding and hourly data updating.
Business

– $299 ($249/mo on yearly basis) for 50 data connections, 20 users and 50 databoards for all the advanced features and hourly data updating.
All the plans come with a 15 days FREE trial with Business plan features.
---
7. Baremetrics –
Baremetrics can be considered as the diluted version of ChartMogul. Apart from the fact that Baremetrics provide payment analytics for Stripe and other payment processors (not PayPal). The one-click, zero configuration tool highlights insights on metrics like MRR, ARR, net revenue, refunds, charges, etc. Just like ChartMogul, it also showcases detailed customers profiles and activities.
---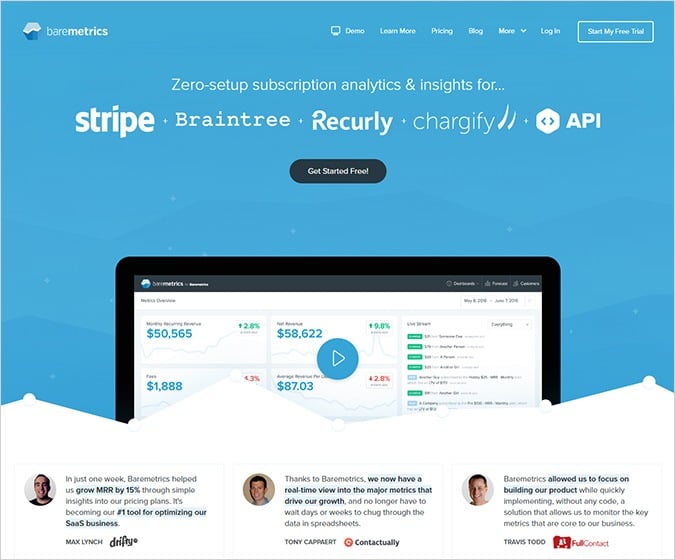 Baremetrics vs ChartMogul
As said earlier, both the payment analytics software are the same in every sense but there are certain features that make Baremetrics a cheap alternative to ChartMogul.
In order to recover your leaking money and customers, Baremetrics offers an additional premium, automated dunning management tool – Recover. ChartMogul doesn't offer such services. And, to top that, Baremetrics incorporates Forecasting feature for metrics projection while ChartMogul doesn't.
Between both the payment analytics software, only Baremetrics provide email notifications and email reports on daily/weekly/monthly basis. Whereas, ChartMogul only sends in-app notifications.
Ultimately, Baremetrics offers its pricing plans based on the generated revenue (initial plan of $50/mo for $10K generated revenue) while ChartMogul charges its users based on their paying customers ($100 per 1000 customers).
Pricing –
All the four plans incorporate advanced features like historical metrics, metrics forecasting, email reporting, cohort analysis, etc. And these are purely based on the monthly revenue generated.
Startup

– $50/month for $10K MRR generated.
Professional

– $100/month for $50K MRR generated.
Business

– $250/month for $200K MRR generated.
Enterprise

– $500/month for $500K MRR generated.
The payment recovery system – Recover has following pricing plans which is added on top of your main plan –
$25/mo – Up to $10k MRR

$50/mo – Up to $25k MRR

$75/mo – Up to $50k MRR

$100/mo – Up to $100k MRR

$150/mo – Up to $200k MRR

$300/mo – Up to $500k MRR

$500/mo – Up to $1M MRR
---
Conclusion –
The blog lists various cheap alternatives & competitors of ChartMogul which will surely help you in switching your current payment analytics software to the much economical one.
Even though the pricing plans are quite cheap and transparent. You will still have to bear an additional charge of payment processing fees which is charged by your payment gateways.
Also, all the software/services guarantee the security of data. Because every bit of information is encrypted and the all integrated payment gateways follow PCI compliance guidelines.
In case you feel confused and want to look for more options, consider reading the following blogs –