Why do we need Recurly Alternatives or Replacements for this subscription management service?
We all know that Recurly has been a market leader for a long time in providing subscription management services, but the scenario has changed now.
Currently, the market is flooded with subscription management tools which possess top class features & facilities which are available at low cost.
---
Some of The Recurly Alternatives
---
So, in this blog, we have bundled up few of the best alternative for Recurly. This software for sure can help in managing your online transactions with much ease and at a veritably lower cost.
Furthermore, we have mentioned all the details like features, pricing plans and lot more. Just go through the list and find out a perfect one.
---
Pabbly Subscriptions is one of the best subscription management software in this list as it offers a variety of features & various services such as client portal, multilingual checkout page and a lot more at an extremely affordable cost.
Moreover, you can create different plans for multiple products which are offered by your business.
Fetching customer details or knowing SaaS metrics becomes very easy as Pabbly Subscriptions provides a dashboard which delivers all the details related to customers, sales, refunds and more on it.
---
What Makes Pabbly Subscriptions A Better Replacement For Recurly
Pricing:- Pabbly Subscriptions charged $5 for monthly access whereas for the same features Recurly is priced around $299/month plus transactional & revenue charges are additional.
Unlimited Access:- Pabbly Subscriptions permits unlimited usage of features, product & plan creation, customer management. But Recurly applies certain restrictions on advanced features & gives limited or paid access to them.
Subscription Management:- You can handle recurring bills as well as perform payment analytics though Pabbly Subscriptions. Trial and plan management also becomes easy with this software. It automates various time-consuming processes like notifications, payment fail reminders and more.
---
---
Features
Pabbly Subscriptions provides you with highly descriptive reports which help you monitor the growth of your business as all the details related to net revenue, MRR, new/active customers, etc are given.
Advanced dunning management facilities automatically notify customers whose recurring payments have got failed. This software allows you to schedule follow-ups and sends customized emails to customers regarding payments.
Accept payments via multiple gateways (PayPal, Stripe), plus it also supports more than 25 different currencies acceptable around the globe to encourage worldwide sales.
With Pabbly Subscriptions, you also get a complete API Framework using which you can integrate this software into any application and manage different aspects of your billing needs.
Pricing
Pabbly subscriptions make it easy for you to choose from 4 varied pricing plans –
Starter – For this plan, you have to pay $5/month and you will be able to access all the features such as – setup unlimited products, setup unlimited plans, unlimited revenue, recurring payments, one-time payments, multiple payment gateways, invoice billing, etc.
Rookie – For availing this plan, you have to pay $29 per month. Moreover, you also get access to various features like dunning emails, invoice billing, unlimited revenue, etc.
Pro – To acquire this plan, the price is $59 per month. Plus, you can collect payment from multiple gateways, in more than 25 currencies and a lot more.
Advanced – If you want to opt for this plan, the price is $99 per month. Also, you can create a client portal, a custom domain, and a lot more.
---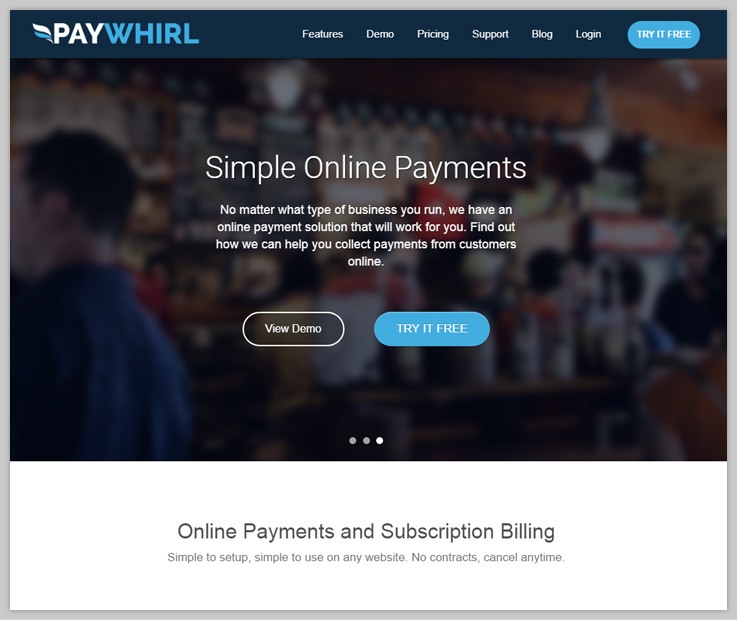 ---
Features
With PayWhirl you get a full-fledged API using which you can easily integrate a recurring billing functionality into the existing or other applications used by your business.
With the help of this software, you get detailed information related to the Monthly Recurring Revenue (MRR), Annualized Run Rate (ARR) and other subscription details.
You can also extract customers details like lifetime value of the customer (LTV), monitor revenue by customers locations and more which will help your business grow.
Pricing
PayWhirl offers three premium plans through which you can optimize recurring bills of your business.
Pro Plan:- Just by paying $49 a month, you will get access to multiple advanced features. The bill will also include 2.0% of transaction fee which will be charged on per transaction cost.
Example

If 10 translation of $100 is done, in that case.

2% of $100 = $2

$2 * 10 = $20

Plan Cost  = $49

Total Bill = $49 + $20 = $69
Plus Plan:- This plan will charge you $149 every month plus additional 1.0% of the transaction.
Example

Similarly, if 10 translation of $100 is done, then

1% of $100 = $1

$1 * 10 = $10

Plan Cost  = $149

Total Bill = $149 + $10 = $159
Ultimate Plan:- The plan is specially designed for large businesses as it costs around $249/month. Also, it adds 0.5% of transaction fees to the bill.
Example

10 translation of $100 is done, then

0.5% of $100 = $0.5

$0.5 * 10 = $5

Plan Cost  = $249

Total Bill = $249 + $5 = $254
---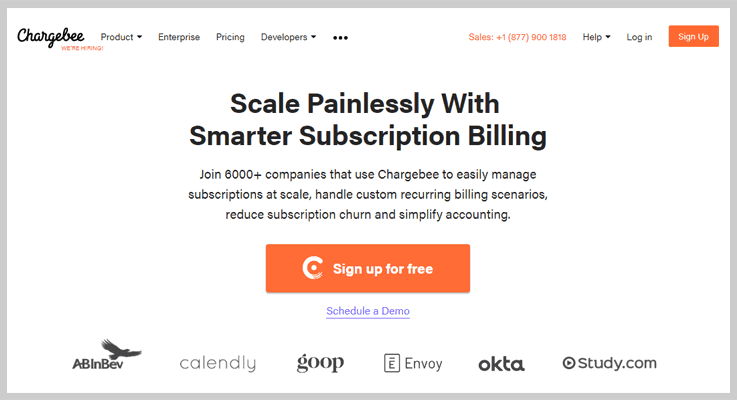 ---
Features
Chargebee also makes plan management as easy task and you can handle multiple free trials, different plans, setup details, etc using this software with ease.
Trial management becomes very simple with Chargebee as you can extend the trial period, automatically send reminders to the customer regarding trial expiry, conduct drip campaigns for trial customers and more.
Chargebee is capable of updating important details and business information in real-time. This means that it updates all the changes like total sales, net revenue, refunds, and plan switches instantly on the dash.
Pricing
Chargebee offers you four different plans to choose from – 
Go Plan:- This is a base plan using which you can easily handle revenue up till 25,000 every month just by paying $99 per month. It adds 0.5% if you overreach the given revenue limit.
For Example

If your business generates $30K monthly revenue, in that case

$30k – $25k = $5,000

0.5% of $5,000 = $25

Monthly Cost = $99

Total Billing Price = $99 + $25  = $124
Rise plan:- For this plan, you have to pay $299 monthly and you will be able to manage revenue of $50,000 every month. Chargebee will charge 0.6% of the revenue if you exceed the limit.
For Example

Suppose you collected a monthly revenue of $60k, then

$60k – $50k = $10,000

0.6% of $10,000 = $60

Monthly Cost = $299

Total Billing Price = $299 + $60  = $359
Scale plan:- This plan is for large-scale organizations as you can process a monthly recurring revenue of $75,000 by paying a cost of $599 with all the advanced features & facilities. Plus, it adds 0.9% extra to your bill if revenue if you cross the max limit.
For Example

If you have received a monthly revenue of $90k in a month, then

$90k – $75k = $15,000

0.9% of $15,000 = $135

Monthly Cost = $599

Total Billing Price = $599 + $135  = $734
---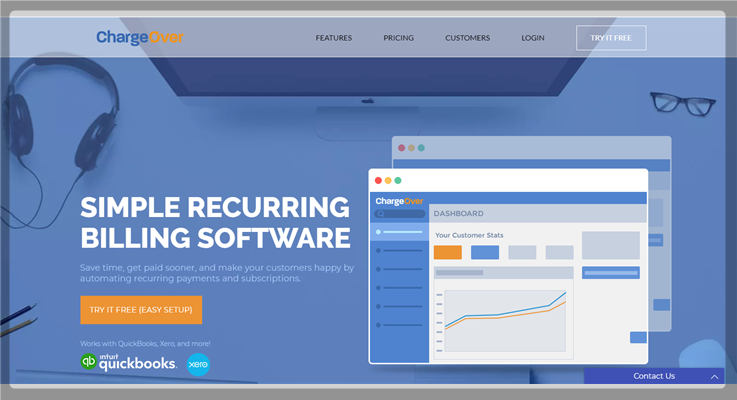 ---
Features
You can create unlimited plans, send custom invoices and schedule bill delivery to customers as this software has the ability to generate invoices, send receipts as per usage automatically to customers.
This software is PCI compliant which makes you eligible to store complex and highly sensitive credit cards and ACH bank details.
ChargeOver supports 22 different payment gateways and also allows third-party app integration as well.
Pricing
ChargeOver provides four different monthly plans- 
Starter Plan:- This plan will cost $65 per month with which you can manage recurring bills for 50 customers.
Basic Plan:- This plan allows you to handle recurring payments for 150 customers every month at a price of $115.
Professional Plan:-  For this plan, charges are $229 through which you can manage subscription payments from 500 customers on monthly basis.
Commercial Plan:- This plan is fully customizable and is specially built for large organizations. For the custom pricing, you have to contact the Sales Team.
---
---
Features
All the major profit affecting metrics are directly accessible through the Dashboard. You can easily overview customer activities like sign-ups, activations, newly added users. You also get churn rate, payment failure and other details from here.
It provides you with multiple payment options like card payments, ACH and gateways are available to collect recurring payments. You can accept payments from PayPal, Stripe and 4 other renown gateways. Offline payment option via cash or cheque is also available.
This subscription billing software is PCI compliant which means you can securely hold credit card details of your customers.
Pricing
Zoho subscription management offers two different price plans
Standard Plan:- This plan by Zoho subscription charges $29 for a month and allows 500 customers and 3 users management.
Professional Plan:- $69 is the monthly price of this plan with which can manage unlimited customers & users.
[Note:- You get a straight 2 months free of charge if you opt for a yearly subscription of any of the above plans]
Zoho Subscription : Recurly Alternative
---
Final Conclusion
Hope you have found a perfect subscription management solution which is suitable for your business.
There are many subscription management software but in this blog. We have filtered and defined some of the best replacements for Recurly.
Also, we have elaborated all the details of these alternatives for Recurly like features, benefits, pricing and other essential information about the Best Recurly Replacements.
If you want to explore more software. So, you can go through the blogs given below –