New Year!!! Sales Hike Up Time!!! Happy Customer!!!
It's the right time to generate more revenue for your business as it's Happy New Year and everyone is celebrating this occasion as holiday time.
Market your business online with best Happy New Year email templates and grab the attention of the customers by providing exclusive deals and offers to them. This blog contains some email newsletters of important business niches. Let's have a look over it –
You can use the same email templates or can re-create it according to your business needs & requirements. Apart from this, the templates are completely FREE, Responsive & Customizable – Download it anytime anywhere!!!
"More 500+ FREE attractive email templates for almost every business niches. Check now and get the amazing one for your business"
These templates are created with MailGet Email Template Builder Software – a flexible newsletter maker tool which allows you to create the number of templates for any business category so, start email marketing of your business with these beautiful and stunning newsletters.
---
#1 Best New Year Jewellery Email Template| Get More Sell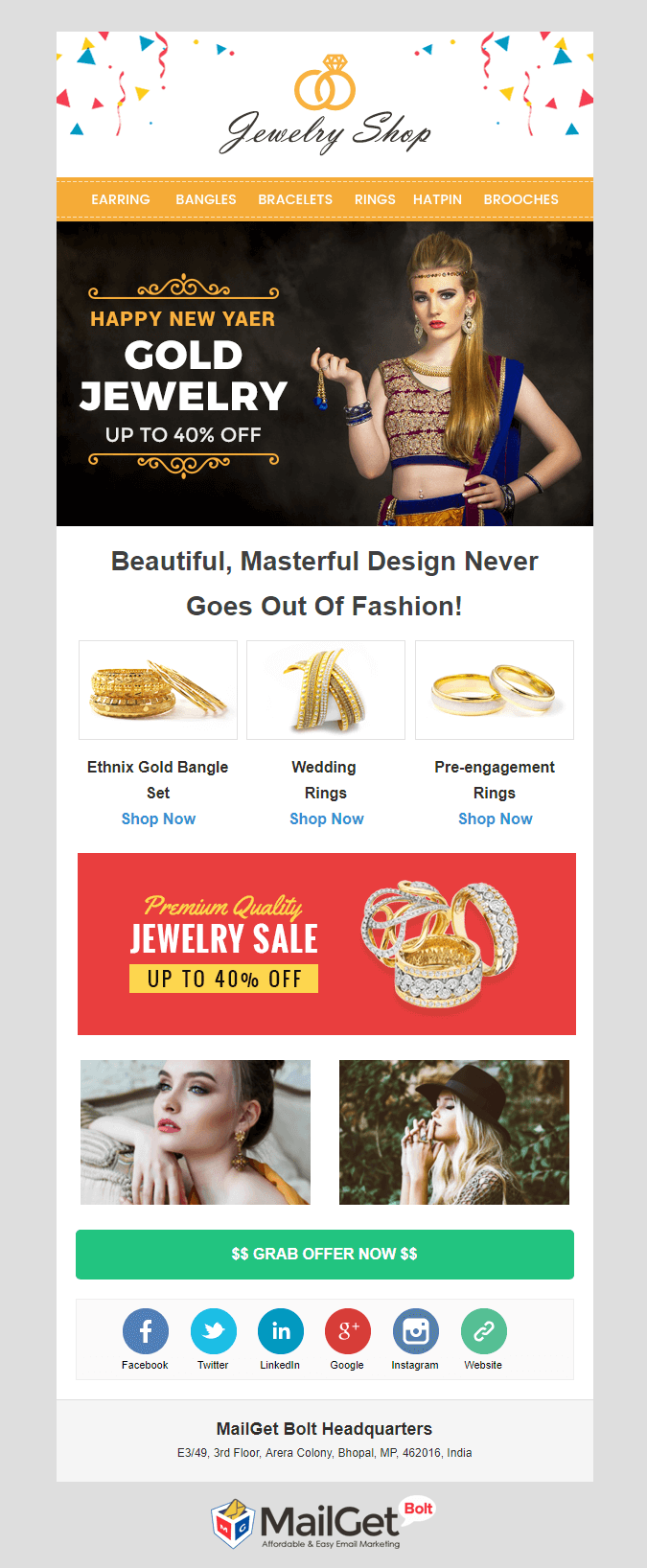 Drag more customers to your store by sending them stunning & creative jewelry email template right in their inbox in this New Year season. These newsletters are customizable and Free for all so, start email marketing of your jewelry business now.
In this glamours world having a luxury car is the dream of everyone make their dream come true by sending email templates of huge deals & discounts on car price. So, this Christmas & New Year gives a hike up to your automobile business.
Campaign Monitor designed these templates specifically for Thanksgiving and Christmas. Any brand can use these versatile templates, but they are best for online food magazines, food blogs, hotels, restaurants, and e-commerce sites.
You can use these templates to share your brand's holiday traditions, promote special offers, or share tips for the upcoming festive season.
These templates feature great image headers, minimalistic and simple grids, and social buttons. They were designed with elegant colors perfect for the holidays and include images that reflect the merry season—all while being fully customizable to suit your preferences.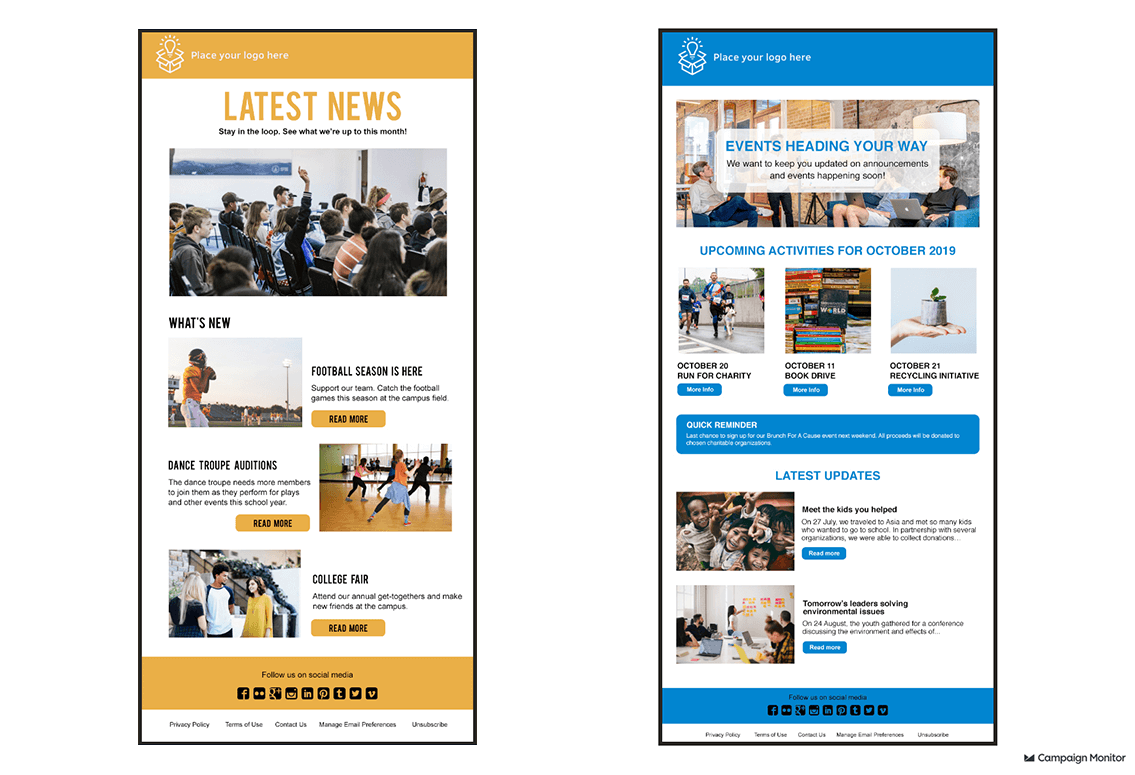 Campaign Monitor designed these responsive email templates for sending announcement emails, news updates, event invitations, and other similar emails.These templates feature eye-catching title and image headers, simple and minimalistic grids, social buttons and text boxes. They were designed using engaging colors and images that a wide range of audiences can relate to. These templates are also fully customizable to fit your branding and preference.

Preview TemplateClone Template - Try Now!
---
#5 Technology In Your Fingertip| Amazing New Year Gadgets Email Template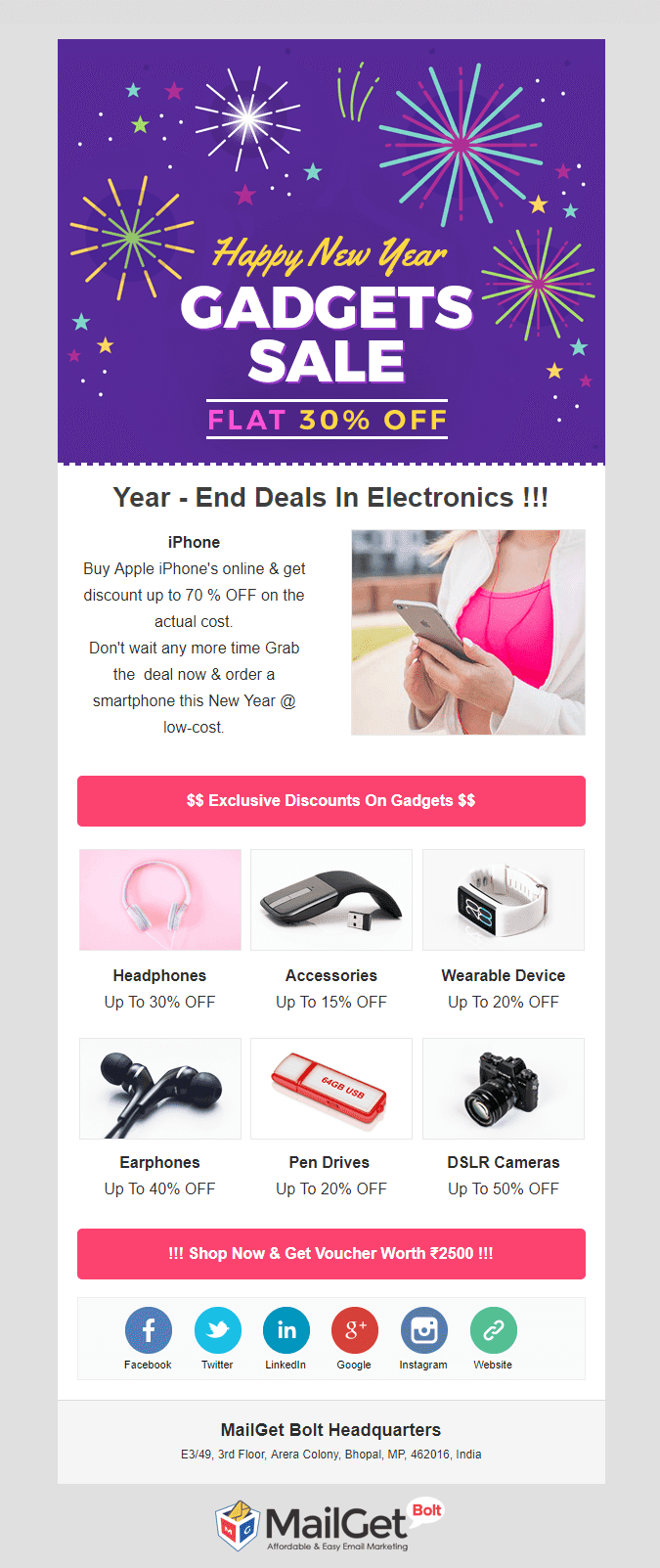 This is a modern technology age where people are surrounded by high-tech gadgets so, New Year is the perfect time to promote your business and generate more revenue for your firm by sending impressive email templates of offers & deals to the customers.
Preview TemplateClone Template - Try Now!
---
#6 Great New Year Time| Best Watches Email Newsletter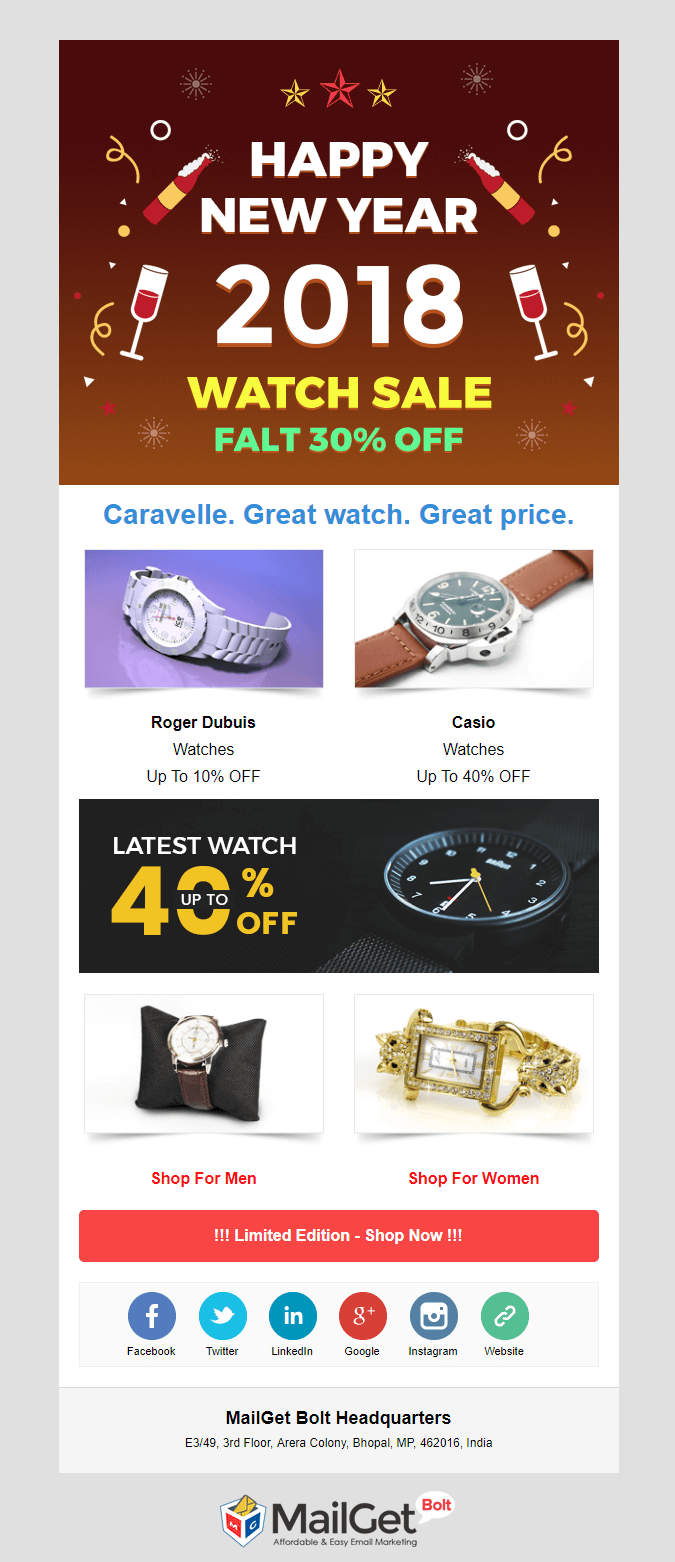 Time is important but watches are more important than it, Grab more customers to your watch store by sending them 

incredible email templates of watches and the deals that you are offering on them.

 Use the same newsletter or can customize it according to your requirement.

Preview TemplateClone Template - Try Now!
---
#7 Spread Your Business All Over The World| Stunning Tours & Travel Email Template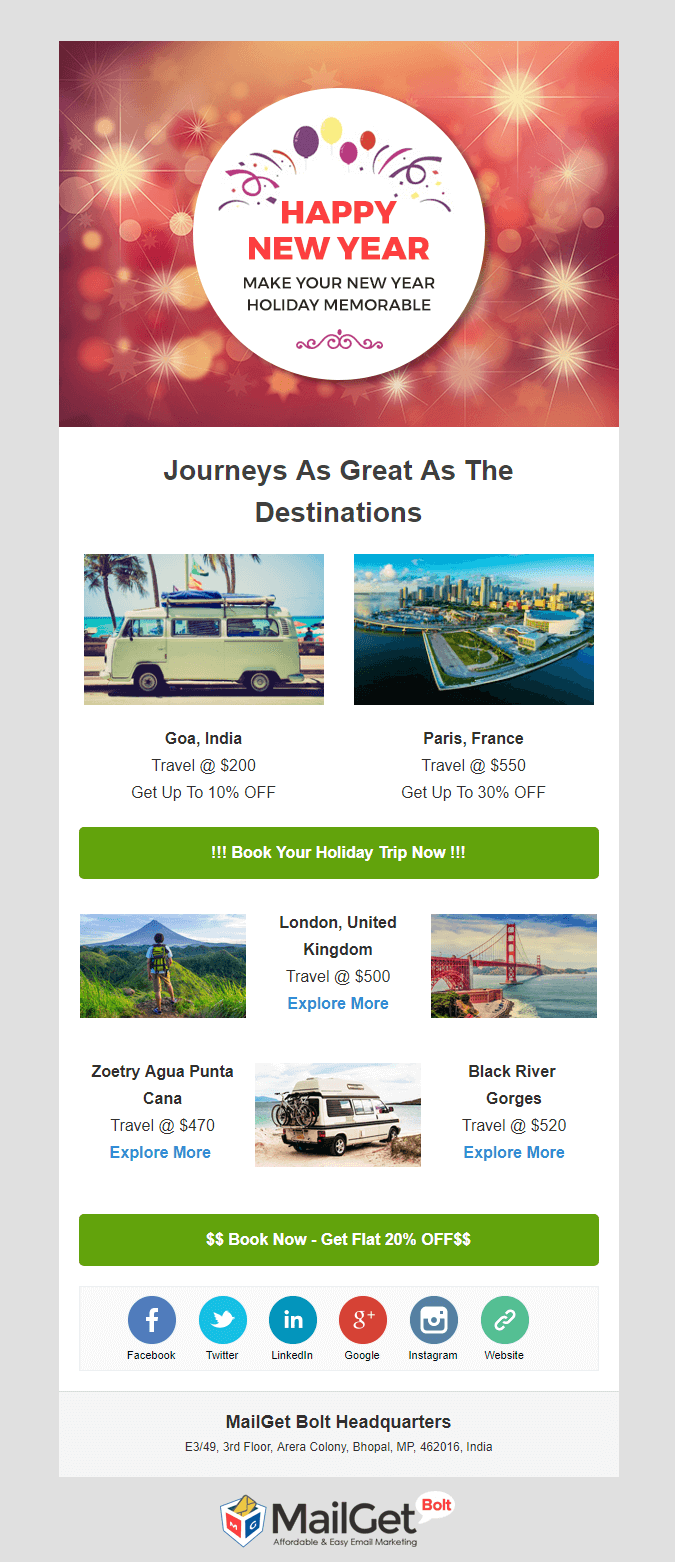 Travel your business brand among the world by doing email marketing of it. Send phenomenal tour & travel email templates to the customers and let them know about the offers & discounts that you are giving on this New Year holidays.
Preview TemplateClone Template - Try Now!
---
Conclusion
Apart from these Happy New Year & holiday email templates, you can design the number of newsletters for every occasion. Rather than that, you can also get ready-made 500+ FREE email templates HERE – Download Now !!!
Give a kick start to your business in this New Year and these email templates will work as a top gear for it. So, don't waste your time anywhere else begin email marketing of your business today.
For more related information go through the following blog –
---
One more important information that I would like to share with you is that –
I tried one of the finest email marketing services MailGet Bolt – with which you can create responsive and amazing email templates in few minutes and can send these templates in bulk to the number of peoples at a time.
In my opinion, this is the best one, Try yourself And See The Result!!!