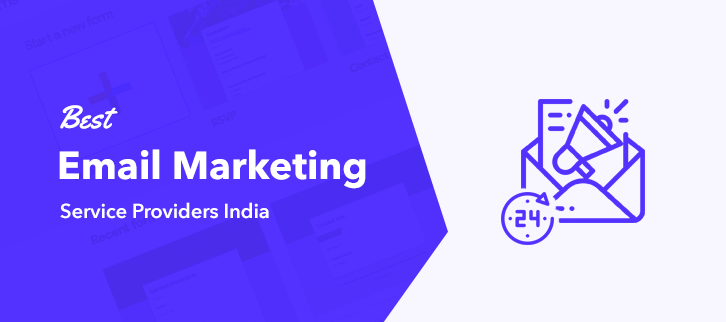 Email Marketing has proved to be a game-changer for multiple sectors of business. Individuals and organizations around the globe are using it for varied purposes. Some of them include soliciting sales, advertisements, request business, and donations.
If you intend to rely on email marketing service providers for your brand, then you are absolutely on the right track. However, most of the users are stuck on finding the right and best program for their marketing needs.
In this read, we have compiled 5 best email marketing service providers in India. Everything, including the features and pricing, has been covered to make it convenient for you. In addition to deliverability and reliability, we recommend you select the one that best suits your needs.
Price Comparison Of Best Email Marketing Service Providers in India
| | | | |
| --- | --- | --- | --- |
| Services | Cost Of Basic Plan   | No. Of Emails  | Multiple SMTP Routing |
| | $29/month | Unlimited | Yes |
| Pepipost | $25/month | 150,000 | No |
| Sendinblue | $20/month | 40,000 | No |
| BrainPulse | $50/month | 1,00,000 | No |
Pabbly Email Marketing has emerged as one of the most trusted platforms for sending bulk emails. It comes with one of its kind in-built delivery engine and SMTP routing. In addition to that, the automation feature of the software highlights a perfect blend of advanced technology and revenue generation. Despite offering such unique features, this email marketing software is the cheapest compared to its competitors.
Usually, when companies use such services, the emails end up in the potential client's spam box. But here they are sent through a secured server and hence are bound to reach your target audience.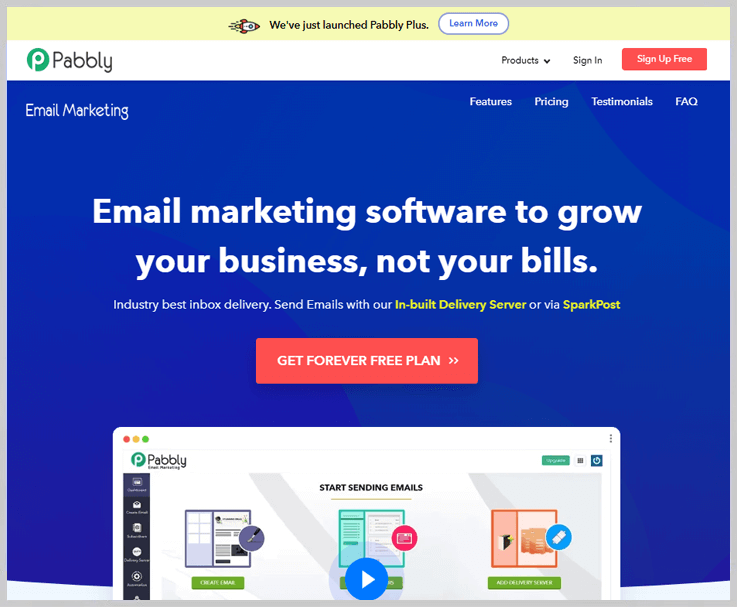 Features
In-built SMTP – It comes with an in-built delivery engine with 98% deliverability rate.
External SMTP's – This feature enables users to quickly connect to external SMTP like MailGun, Amazon SES, SendGrid, and others.
Drag & Drop Email Builder – With this built-in email builder, creating emails will become simple and quick.
MX Cleaner – Before sending the new emails, this tool helps you in cleaning the bad emails. With its list management all the subscribers can be managed in one place.
Marketing Automation – Users can engage with the subscribers as emails are delivered automatically at a pre-set schedule.
2X Open Rate – If the sent emails remain unopened by the subscribers, then a follow-up email will be sent automatically. This increases the opening rate by two times.
Email Tracking – Sent and opened emails for different campaigns can be tracked easily. This helps in analyzing the overall impact and output of a particular campaign.
Autoresponders – This feature enables messages to automatically go out after users have subscribed for it. For example, when a new subscriber joins your list, they will automatically receive a welcome email.
Pricing
Above all, Pabbly believes in transparency with its clients and offers a free trial after sign up. The pricing plans vary depending upon the number of subscribers.
Forever Free – Buy this plan at 0$/Month. Users can send 12000 emails to up to 1100 subscribers. There are restricted features for the users availing this plan.
Rookie – Buy this plan at 29$/Month. Users can send emails to 5000 subscribers.
Pro – Pricing of this plan is 49$/Month to send unlimited emails to 15000 subscribers.
Advance – Buy this plan at 99$/Month. Users can send emails to 50000 subscribers.
Enterprise – Other high volume plans for more than 1 million subscribers are available. Contact the sales team from the website for an exclusive quote.
It is a cloud-based email service provider. Thousands of brands across the globe use Pepipost as their go-to SMTP server. To initiate an efficient and impactful email marketing campaign with this platform, it only requires a few clicks. When you use Pepipost, the delivery of your most important emails is assured. This increases the conversion ratio for your company or product.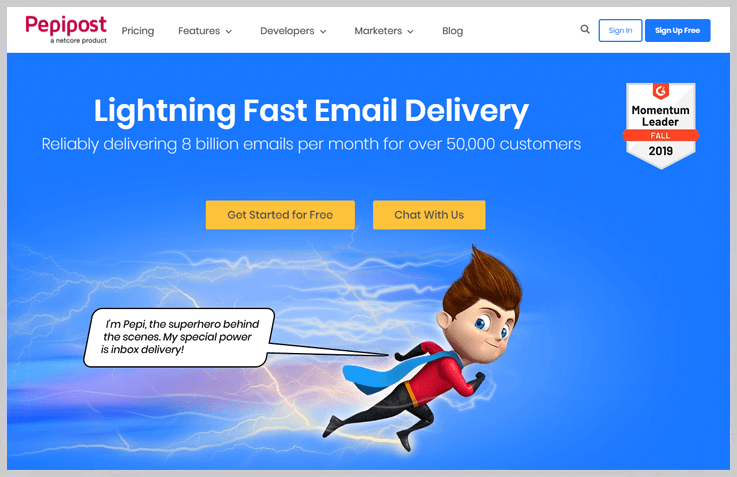 Features
SMTP – Thanks to this feature the users can send emails without worrying about the server due to its robust SMTP relay service. It also enables sending emails in just a few seconds after successful integration.
Template API – The templates offered by them are API ready, which can be passed once and reused in the future. Hence, users can avoid sending repeated sets of data packets.
Email Tracking – The entire history of sent and bounced emails can be traced for a period of 90 days. Details like the scheduled date and time can also be found.
Webhooks – This enables the real-time feed of the email activities. Tracking responses and tacking actions become convenient.
Analysis – Generation and sharing of real-time reports for accurate analysis of tasks.
Subaccount – This is an essential facility for multiple account holders. A single dashboard can manage all the activities of different accounts.
Pricing
Immediately after sign-up, a user can send 30,000 emails free for one month. After the first month, one-hundred per day will be free forever.
Users can send 150000 emails per month at $25. They can opt to buy 1000 extra emails on this purchase at an additional payment of 0.60$.
With this plan users can send 400000 emails per month at $85. If required, 1000 extra emails can be brought on this purchase at an additional payment of 0.55$.
Companies and organizations that have a requirement of approximately 600000 emails per month can buy this plan at $145. They also get an option to buy 1000 extra emails on this purchase at an additional payment of 0.50$.
Corporates or any other agency can suffice their requirements of 1000000 emails per month at $245. Thye can conveniently buy 1000 extra emails on this purchase at an additional payment of 0.45$.
Enterprises can select this plan and send 2000000 emails per month at $445. At an additional payment of 0.40$ they can buy 1000 extra emails.
For higher volume plans, visit the website and get in touch with the sales team.
Sendinblue is a popular digital agency of complete sales and marketing toolbox. It helps businesses around the world to grow, sell, and engage. The requirements of the small and medium scale businesses are at the core while designing the pricing structures. Similarly, it can also efficiently cater to corporate and large scale organizations. Also, it offers multilingual services and has successfully acquired at least 80,000 clients worldwide.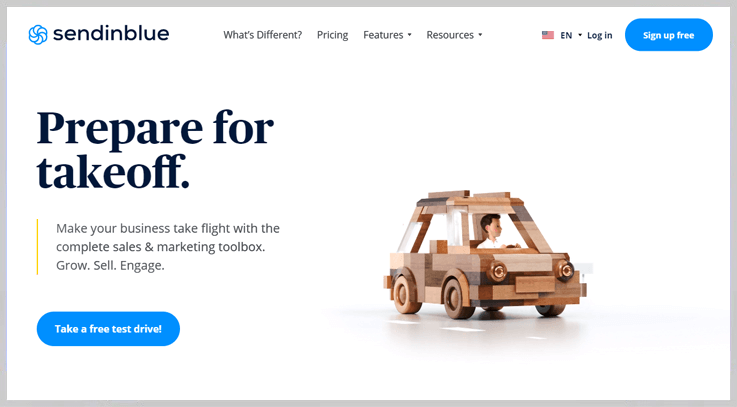 Features
Ease Of Creation – One of the most convenient and attractive interfaces for designing and personalization of the email content. Four easy steps for sending emails i.e. design your message, personalize the content, choose your recipients, and send intelligently.
CRM – Keep track of all the contact details at a single access point through the Customer Relationship Management tool.
Marketing Automation – This feature enables users to experience supreme performance by automating their segmentation and marketing messages. It also saves a considerable time and effort. To shoot the emails all one has to do is to schedule the date & time.
Transactional Emails – Convenient transactional facilities for engagement and deliverability of emails.
Customization – Personalization in each step of the entire journey to ensure that you create an aesthetically appealing email content.
Multilingual – Lastly, six language options including Portuguese, Italian, French, and others.
Pricing
Free – You do not have to pay anything up to three hundred emails per day.
Lite – Get 40000 emails at $29/month. There is no daily sending limit.
Essential – Get 60000 emails at $39/month. It Comes with A/B testing and advanced statistics. Users can also remove the Sendinblue logo from the emails.
Premium – Get 120000 emails at $66/ month. It can include Facebook Ads, landing pages, marketing automation, chat, and multi-user access.
Enterprise – This is particularly for high volume requirements. Visit the website and get an exclusive quote according to your requirements.
4. Brainpulse
Brainpulse Technologies is one of the emerging leaders in brand management, digital marketing, web development, mobile application, and web hosting. It is empowering businesses globally through a focused and result-oriented approach. In other words, It has an exceptionally high delivery-ability for bulk email marketing campaigns. Additionally, it is backed by world-class infrastructure that ensures the reach to the potential target audiences.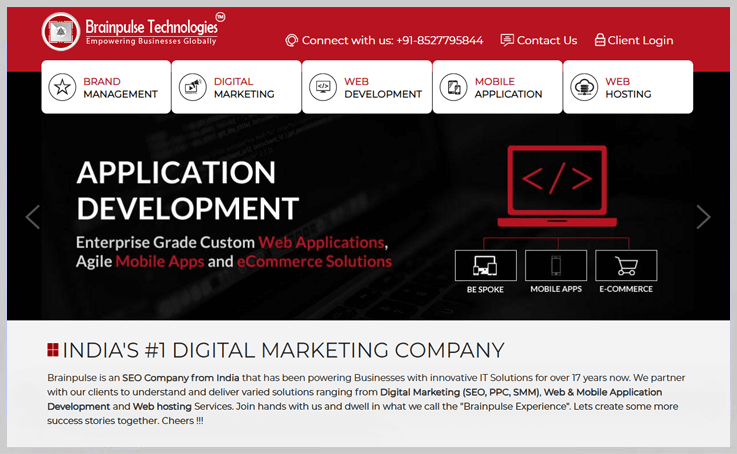 Features
List Management – It comes with advance segmentation features so that users can manage contact lists and efficiently segment them.
Subscription Management – By default, it adds an unsubscribe link at the end of each email. One can also avail personalized URL for updating users' preferences.
Message Scheduling – Select a date/time and quickly schedule your campaign. Get immediate delivery reports and notifications.
Campaign Tracking – Real-time reporting and email tracking for each campaign in minutes
Open and click-through Tracking – Get a detailed and updated response summary for the links or 'opens' of your message. Detailed analysis and comparison on clicks
Bounce Handling – Efficient handling of bounced emails for future projects
Pricing
You can choose from multiple plans to use this robust infrastructure of email marketing for result-driven campaigns.
Basic – $52/month for 100000 email credits
Starter – $191/month for 500000 email credits
Medium – $313/month for 1000000 email credits
Silver – $627/month for 2500000 email credits
Gold – $975/month for 5000000 email credits
Platinum – $1394/month for 10000000 email credits
5. Mail Marketer
This is one of the oldest platforms for providing email marketing services to its clients. Since its inception in 2008, it has maintained a reputation of excellence. Moreover, it offers the latest features like landing page and automation. They have got a plan for small establishments and the corporate sending lakhs of emails in a day. Let us explore the integral features of this platform that ranks it amongst the best.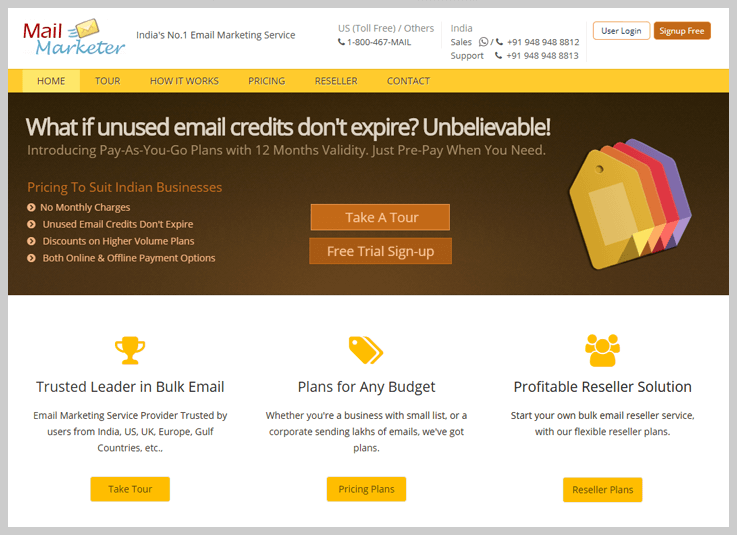 Features
Automatic Bounce Handling – Helps users keep their list clean and take necessary actions whenever required.
Import – Convenient procedure to import contacts in bulk
Real-time reports – Generates accurate reports of open, click, bounce, and others to improve the campaign.
Google Analytics integration – Enables tracking of the campaign through accurate analysis. Helps in improvising the strategy of the campaign.
Newsletter Sign-up Forms – Helps in generating HTML code for the website to create customized sign-up forms. Desired color scheme can be added.
Automatic One-click Unsubscribe Links – In compliance with the CAN-spam laws an unsubscribe link is automatically added in your emails.
Free Built-in Spam Checking – Generates spam reports that help in identifying things to change or modify.
Pricing
It offers a free trial of 30-days with instant setup.
M40K – $29/month for 40,000 emails per month.
M100K – $38/month for 100,000 emails per month.
M300K – $90/month for 300,000 emails per month.
M500K – $130/month for 500,000 emails per month.
1 Million – $222/month for 1,000,000 emails per month.
2 Million – $368/month for 2,000,000 emails per month.
Along with the email credits, all the packs include services like unlimited contacts, intelligent engine, real-time reports, IP monitoring, and phone support. Additional tax of 18% applies to the above-provided rates.
Conclusion
In conclusion there is rising competition of email marketing service providers in India, and new players are evolving each day. Therefore, thoroughly analyze and compare the features and pricing before paying for a platform. Almost all core features of the programs are listed in the above article for your ready reference. However, we recommend you to use the trial version before making your final choice.
You May Also Like To Read: