Email marketing & online promotions are the most beneficial means to expand any business worldwide.
It's the easiest way to interact with new, old and inactive customers and make them aware about the products & services that your business offers.
However, email marketing is meant to reach the masses and that's why we need bulk email marketing services for online promotion.
When we target global audience, the number of contacts maybe hundreds or even thousands.

So, for such kind of promotion, an effective bulk mailing system is required which can automatically handle complicated processing without any manual intervention.

A bulk email service helps you create, design, schedule, track, monitor reports, analyze and deliver emails in customers inbox which gives higher open rates.
But, fetching the correct service for your business is still a hard task.
Therefore, for your comfort, we came up with a list of 5 Bulk Email Marketing Services which defines the best in class mass mailing systems in detail.
So, if you are planning to generate more profits by doing mass email promotions & advertisements, then let's dive in to choose the right service.
You may also like:-
---
Comparision Of 5 Best Bulk Email Marketing Services
| | | | | |
| --- | --- | --- | --- | --- |
| Services | Pricing | Free Demo | Auto Responders | Ratings |
| Pabbly Email Marketing | $29/M | ✔ | ✔ | 5.0/5.0 |
| MailGet | $29/M | ✔ | ✔ | 4.5/5.0 |
| Hubspot | $35/M | ✔ | ✖ | 4.7/5.0 |
| Sendinblue | $25/M | ✔ | ✖ | 3.7/5.0 |
| GetResponse | $49/M | ✔ | ✔ | 4.2/5.0 |
| InfusionSoft | $189/M | ✔ | ✔ | 3.9/5.0 |
---
Things like Quality Service + Affordable Price + Good Quantity are expected from an email service provider and Pabbly Email Marketing is the service which will surely give you all.
This bulk email marketing service comes preloaded with a variety of features like the autoresponder, email editor, drip emailing, inbox preview, tracking and more. These features will let you conduct more effective bulk email campaigns.
---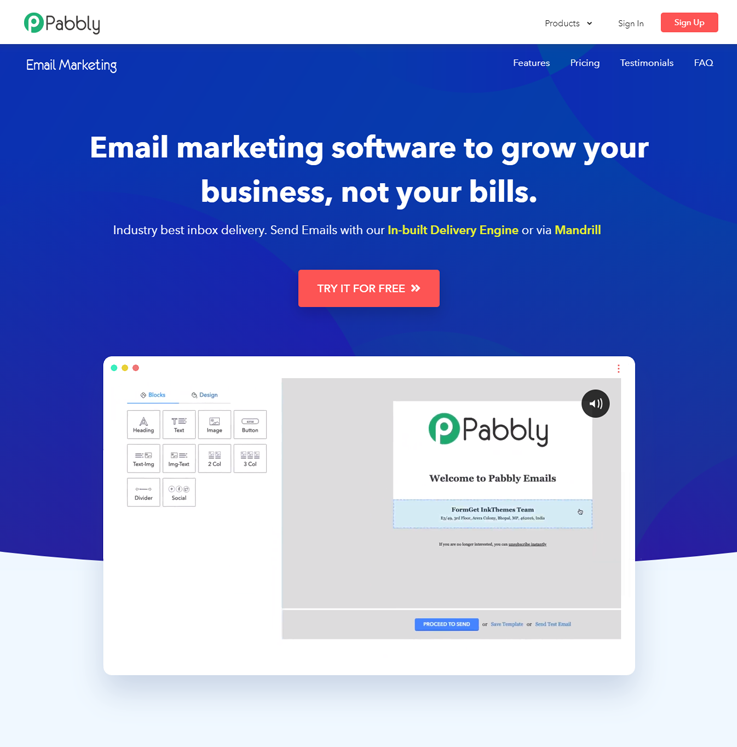 ---
We used to get low open rates while using other email marketing services.
Later switched to Pabbly Email Marketing and you will be amazed to know that now we get more than 2x open rates.
Plus the cost which we paid is $0.0042 for per email.
So, if you want to Pay Less & Send More. I suggest you try Pabbly Email Marketing.
---
Features:-
Create eye-catchy and 100% responsive emails using drag & drop email builder. This is a tool which is extremely simple to use and requires not a single line of code to create emails.
List segmentation is a feature which divides the email contacts into subgroups which helps you target a specific group of contacts.
Tracking user actions like opens, link clicks, country, accessing device, browser and more on different email marketing campaigns. This will help you evaluate the performance of any email campaign and improve the drawbacks as well.
Free Trial By Pabbly Email Marketing Bulk Email Service Provider
Pabbly Email Marketing is a bulk email service which provides a free trial plan with which you can connect 3 SMTP.
Paid Versions Of Pabbly Email Marketing Bulk Email Service Provider
The first plan will cost you $29 a month and permit to deliver limitless emails to 5,000 email contacts.
Next plan is priced $49 for a month in which unlimited emails delivery is allowed to 15,000 users.
Another plan follows $99 a month using which you can target 50,000 subscribers every month.
There are a lot more paid plans offered by Pabbly Email Marketing using which you can do bulk email marketing to different number of users. The range goes up t0 $1599 a month for 10,00,000 subscribers.
More Details On Bulk Email Service
---
2. MailGet | Bulk Email Marketing Service For $5/Month 
MailGet is one of the best Bulk Email Marketing Service if you are willing to send emails using your own SMTP server.
With this mass mailing service, you can attach a variety of SMTP servers simultaneously and avoid emails from going into spam, do load balancing, and reduce bounce rates as well.
---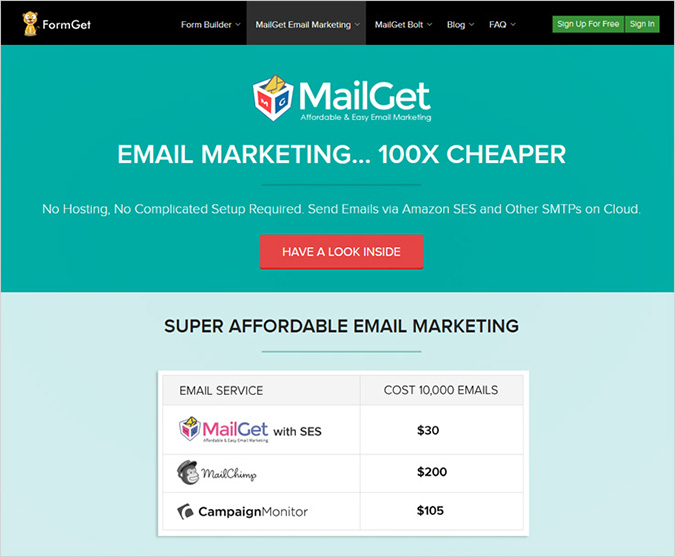 ---
With MailGet you are free to attach any SMTP service for email marketing. No complicated hosting or set-up is required, plus you also get a hand full of features & facilities with it.
If you are integrating MailGet with Amazon SES, in that case, it will charge you $1 for 10k emails delivery plus the cost of the base plan which is $5 a month.
---
Features:- 
MailGet is a Bulk Email Marketing Service which guarantees 99% inbox delivery and higher delivery rates as the emails send using it land in customers inbox that increases conversions.
Drip mailing is an advanced facility which automatically delivers emails at defined time intervals or on user actions. With this, you can send emails to customer at times when they are most available and ready to interact.
SMTP Routing helps you generate more open rates and deliverability by connecting multiple SMTP servers to you MailGet account like Amazon SES, MailGet SMTP, Mailgun, Postmark, SendGrid, Mailjet, Mandrill, and others.
An exclusive facility provided by MailGet brand which helps to get rid of inactive, bad email addresses to reduces bounces, spams, and unsubscription of email campaigns is List cleaning.
Free Trial By MailGet Mass Email Marketing Service
MailGet is one of the cheapest Mass Email Marketing Service which easily integrates with any SMTP services, instead of a free trial it offers a straight 2 months discount on all plans which are billed annually.
Paid Versions Of MailGet Mass Email Marketing Service
Start sending emails in bulk to 5,000 users every month just by paying $5.
Send effective emails to 25,000 email contacts at a cost of $29 a month.
Pay a price of $49 and MailGet will permit you to target 50,000 business contacts every month.
Other than these plans there are 10 more plans designed by MailGet.
More Details On Bulk Email Service
---
With HubSpot Email Marketing, you can create professional marketing emails that engage and grow your audience. With the easy drag-and-drop email builder, you don't need to wait on IT or designers for help.
On top of the email tool, you can use the forever-free HubSpot CRM to create tailored touch-points for your customers. HubSpot Email Marketing is automatically connected with the HubSpot CRM, so you can tailor relevant emails based on any details you have — such as form submissions and website activity.
Using the CRM, you can include personalized content in your emails, like first name and company name, to ensure your contacts feel like they are being personally addressed, all while tracking email activity in the CRM.
Features
Create, personalize, and optimize your marketing emails without waiting for designers or IT.
Get started with one of our goal-based email templates, or choose from dozens of templates in our marketplace that are proven to convert.
You can use an email subscriber's lifecycle stage, list membership, or any information in their contact records to automatically serve up the most relevant subject lines, content, links, attachments, and calls-to-action.
Optimize email campaigns with A/B tests and analytics.
Free HubSpot Email Marketing Up to 2000 Emails/Month
The HubSpot Email Marketing tool is free for up to 2,000 email sends per month.
Paid Versions of HubSpot Email Marketing
Upgrade solutions start at $50 with the Marketing Hub Starter. With this plan, you can send up to 5X contact tier email send per month, based on the number of contacts you have in your HubSpot CRM.
Say if you have 1000 contacts, and upgrade to Marketing Starter, you can send 5 times that number in sends so email marketing send limit per month will be 5000. With the Professional plan, at $800/month, you can send up to 10x contact tier email send limit per month.
More Details On Bulk Email Service
---
Sendinblue is one of the most trusted and user-friendly bulk email marketing services available in the market. This service gives you amazing inbox delivery along with a good open rate. Moreso, it gives you a marketing automation feature where you can create a workflow and boost your performance.
With its easy drag & drop email builder, you can personalize your email and make it more attractive and effective.
---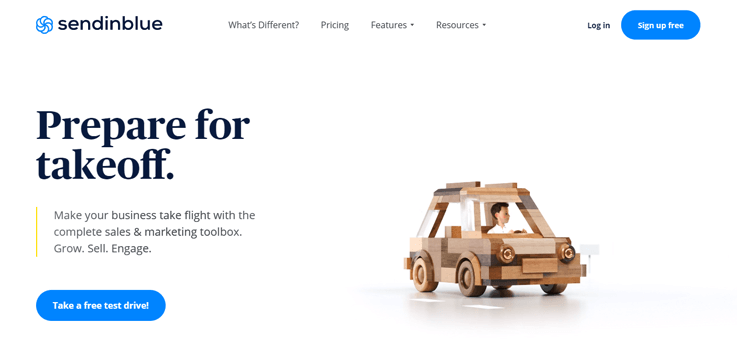 ---
Features
Keep track of all your customer's activities and data at a single place with CRM.
Create a segment of the targeted audience and get more user's engagement with the list segmentation feature.
With this service, you can integrate any API or plugins with Sendinblue and enjoy extended features provided by them.
Enrich your performance by doing A/B testing and choosing the best email for your campaigns.
Free trial by Sendinblue
Just do a simple sign up and get free access to add unlimited customers with daily sending limit of 300 emails.
Paid version by Sendinblue
Lite will cost you $25/m. Here, you can send 40000 emails to unlimited contacts with no daily sending limit.
Essential will allow you to send 60000 emails and also gives you advanced statistics just at $39 per month.
Premium plan will give you many advanced features like marketing automation, facebook ads, multi-user access, etc at a nominal price of $66 per month.
Enterprise will give more all premium feature along with many extended features liked a dedicated account manager, dedicated infrastructure, priority sending, etc.
More Details On Bulk Email Service
---
5. Moosend | Send Automated Emails For 6/mo At 15% Dis
Moosend is an email marketing and automation tool. It lets you send transactional emails directly into the client's inbox. Further, You can find your email address on SMTP server by including the Mailing ID & setting your SMTP password to use this tool.
Moreover, it empowers you to send emails in automation. Also, you can easily schedule the email campaign according to any specific time or date.
---

---
Features:-
It lets you collect leads by adding more links to the emails and this can be done easily by using Moosend email marketing software.
Trace your user's response by location, recipient activity, mobile tracking, or through email analytics.
You can preview changes in emails before sending it to your user's inbox.
You can connect Moosend with the API, SMTP, & can also integrate it with other applications.
 Free Trial By Moosend Email Marketing Platform
Just sign-up and send unlimited emails for up to 1,000 subscribers for 30 days.
Paid Versions Of SendGrid Email Marketing Platform
Essential package to unlimited emails for a $10 plans to more than 5,000 subscribers per month.
Send effective emails for a $40 plan to more than 10000 subscribers.
Enjoy our 6 months and yearly plans that will present you with the rewards of discount up to 15 & 20 percent respectively.
Also comes with the "pay-as-you-go" plan that is only for the occasional senders where they have to pay for each email.
More Details On Bulk Email Service
---
6. SendGrid | Email Marketing Software
SendGrid is capable of satisfying the email marketing needs of any size of business. It provides you a powerful, segmented, flexible and user-friendly interface for bulk email sending.
You can also monitor a detailed report and know user activities performed on your emails and analyze the success of different email campaigns.
---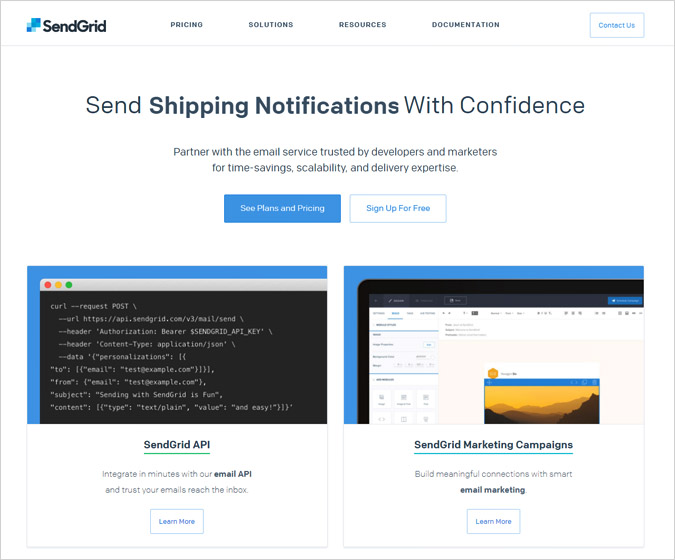 ---
Features:- 
Use drag & drop email editor and design emails which are effective, attractive and responsive in design.
With SendGrid you can easily view, add, upload, remove and manage large list of contacts from a single place.
Upload email contacts in bulk via CSV files which will help you conduct mass mailing campaigns with ease.
Analyze the performance of your email campaigns by tracking email delivery, open rates, bounces, spams, clicks on links, unsubscribes, and more.
Free Trial By SendGrid Email Marketing Platform
Just sign-up and get free access to 40,000 emails for 30 days. Also, send 100 emails free on daily basis.
Paid Versions Of SendGrid Email Marketing Platform
Essential Package allows delivery of 40,000 in a month and bills around $10 a month.
The Pro Package is priced approx $80 a month for 100,000 email delivery.
Next is the Premier Package with which you can handle over a million contacts. For the price details, you have to contact sales team.
More Details On Bulk Email Service
---
7. GetResponse | Mass Mailing Service
Bulk emailing is not an easy task as large number of audience are involved in it, but with GetResponse Bulk Email Marketing Service it can be done with a few clicks.
Test and compare mail subject lines, defined fields, email design, content and more through A/B testing and send emails which are best for your business and get higher percent of deliverability.
---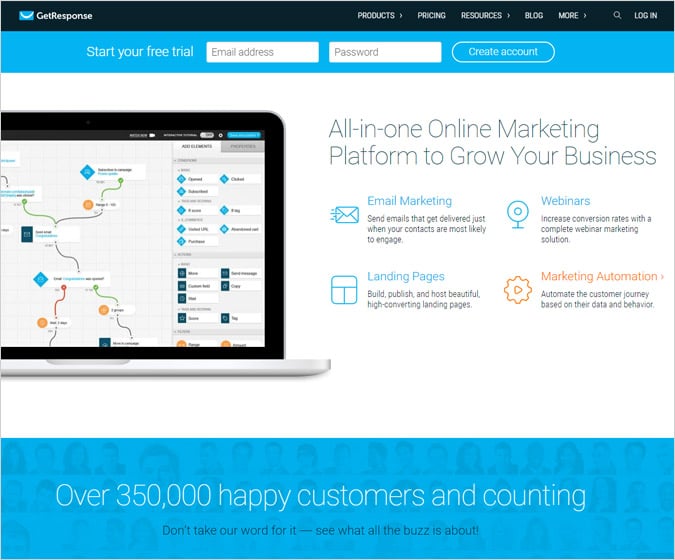 ---
Features:- 
Get free access to over 500 pre-designed emails templates and 1,000 iStock images which can be used for professional emailing.
Send emails that responsive and look perfect on different device screens. With mobile preview, get the exact look of your email designed for delivery.
Segment contacts on the basis of messages, create groups based on location, date, and other contact details.
Perform real-time tracking on different email campaigns and monitor open, clicks, received emails and more.
Free Trial By GetResponse Mass Mailing Service
The free account by GetResponse Bulk Email Marketing Service has recently been replaced by free trial. Now, you can send unlimited emails to 250 contacts and apply all the features on them free for 30-days.
Paid Versions Of GetResponse Mass Mailing Service
Email Plan will cost $15 for a month and allow you to send emails to 1,000 users.
Pro Plan costs $49 through which you can deliver emails to 5,000 on monthly basis.
Next is the Max Plan with which a list of 10,000 email subscribers can be contacted every will for a cost of $165.
Enterprise Plan is designed for organizations having a list of 100,000+ contacts, this is the most expensive plan which is priced $1,199 a month.
More Details On Bulk Email Service
---
8. Infusionsoft | Best Email Marketing Platform
With Infusionsoft you can do smarter email marketing as this service is comes with futuristic features and amenities. Infusionsoft can also handle multiple email marketing campaigns from a single platform. Further, it also manages all your contacts, tracks campaigns details. You also get access to various informative reports with ease.
---
---
Features:- 
Automatically send attractive and personalized emails to large audience at the same time through bulk email campaigns.
View contact details, different tasks, campaigns and other emailing activities from a single dashboard.
With Infusionsoft you can also deliver order forms, invoices and receipts as well.
Free Trial By Infusionsoft Email Marketing Platform
Use Infusionsoft email marketing free for a period of 14 days. During the free trial you get access to all the basic features.
Paid Versions Of Infusionsoft Email Marketing Platform
Pay $50 for a list of 500 contacts every month with ready-made email templates,  mass mailing campaigns, and other features.
For a list of 2,500 email contacts, the charges are $100 a month.
If you want to 10,000 users in a month, then the billing amount would be $37.
And so on the plans will go.
More Details On Bulk Email Service
---
Conclusion
I hope you have got the right Bulk Email Marketing Service which suits all the needs of your business. All the services defined here are top of the line, affordable, user-friendly and easy to use even for beginners.
If you want to know more about Bulk Email Marketing Services in the market, then dig into the following blogs: