In the world of marketing, sending emails to your customers can do wonders for your business. It is one of the best ways by which a company can successfully carry out a campaign. Paid Email marketing services surely have their benefits. It helps to develop better credibility, boosts business sales, establishes a strong relationship with customers, and also works effectively for brand recognition.
However, as the competition is reaching new heights, it is imperative to stand out of the crowd and bring innovations. That is why choosing the paid service is better than the free and cheap email marketing service. Most of the marketing emails end up in the trash or spam folders, but you would not want that to happen to your business. Is that right?
Hence, to help you out of the situation, in this blog, we are going to present the top 3 Best Paid Email Service Providers in 2022 that you can rely on.
Comparison Between Table of 3 Best Paid Email Service Providers
We have given detailed analytics for each service, and you can choose the right service provider based on your needs.
Pabbly Email Marketing is one of the most popular email service providers in 2022 for sending bulk emails. With their help, you can easily go ahead and start an email campaign effortlessly and make them aware of your offers and services. It offers all the top features like Analytics integration, auto follow-ups, email tracking, etc. All the emails from Pabbly are sent through secured servers, so you don't need to worry about them landing in the users' spam folder. Pabbly offers diverse subscription plans, which allows you to choose a preferred campaign according to your budget.
Features
List Management –  One can send the email to the particular list of subscribers from the existing database using the feature.
Autoresponder – Using the autoresponder feature, you will be able to send welcome emails and use personalized emails for the subscribers.
Email Tracking – One of the key features of  Pabbly Email Marketing is their email tracking, where one will be able to track the mail and check if the mail has been opened or not.
Drag and Drop Builder – You can use the "Drag and Drop Builder" for designing informative emails very quickly without the need for coding.
SMTP – Pabbly Email marketing offers in-built SMTP for delivering all the emails through a secure and reliable server path.
Cleaner – Use the MX Cleaner feature for removing all the spam emails in your inbox and keep it away from all the spam messages.
Subscription Forms – With the help of Pabbly Email Marketing, you can easily add subscription forms to your emails for generating better leads on the website you are currently running.
Pricing
Pabbly email marketing offers its users a wide range of pricing plans depending on the number of customers you want to send the emails. You are also eligible for a free trial of the service.
Forever Free – You can start with the free trial, which costs absolutely nothing, and you will be able to connect to 3 SMTPs. Also, explore the other features available.
Rookie – There is a $29 plan where users can send up to 5,000 subscribers in a single month. You in a single day, but 5,000 is the limit.
Pro – For medium-sized businesses, the $49 plan seems to be great, which allows you to send bulk emails to 15,000 customers.
Advance – The most expensive plans are the $99 and $1599, which will enable you to send 50,000 and 10,00,000 emails to your subscribers, respectively, every month.
2. Sendinblue – Email Service Provider
Sendinblue is an affordable and very reliable email service provider with amazing features. Add and welcome your customers to your business in the best possible manner using Sendinblue. Encrypted and highly monitored servers of this service provider, ensure a safe and reliable email delivery always.
You can enjoy various other services that includes SMS, landing pages, & ads. Also, create mobile-friendly emails and use HTML code to personalize whatever you send.
Features
Schedule emails – With the help of Automated features, you can schedule the delivery time of your emails beforehand, and they will be sent to the subscribers automatically.
Segmentation – Use the segmentation feature to get more response and better results from the targeted set of audience on your list.
Transition emails – Transition emails is one thing that they offer in which every email is personalized to the individual receiver.
Analytics – Actionable analytics allows you to get hands-on tools like heat maps integrated with reliable statistics. The analytics help you to plan and improve your marketing.
Sign up form – Use the Sign-Up Form feature to convert your website visitors into members via the simple form attached to the mail.
Pre-installed Features – You get the ability to build a dynamic list of users using pre-installed filters for delivering specific emails to a different set of subscribers in your network.
A/B testing – Sendinblue offers A/B testing to test out various campaign ideas to choose the best one.
Pricing
To help your business grow and effectively benefit from email marketing, you will have to choose one of their plans.
Free – There is a free plan that costs $0 and allows you to send 300 emails every day. You can easily store unlimited contacts
Lite – For sending 40,000 emails per month, it will cost you $25 and no daily limit.
Essential – You can send 60,000 emails per month by choosing the $39 plan. It also comes with advanced statistics features.
Premium – For $66 per month, Sendinblue allows you to send 120,000 emails per month. You can also send 350,000 emails by upgrading the plan to $173 every month.
3. Pepipost – Paid Email Service Providers
With just a few clicks away, you can choose to automate all your campaign emails and send them to the subscribers using Pepipost. Their lightning-fast email delivery service allows you to reach out to your customers without any hassles. You can choose to automate all the emails and send them to the subscribers at any specific time you want to. Pepipost offers safe and secure servers for sending emails to users. Pepipost has over 50,000 customers and carries more than 8 billion emails per month.
You'll be surprised to know that you can even earn while using Pepipost! Yes! For every email opened by the subscribers, Pepipost sends you credit to your account, which is adjusted later on.
Features
Live Tracking – With the help of the live tracking feature one can check whether the emails have been opened or not. Also, you can see whether the subscribers clicked on any attached link.
Mail History – Pepipost allows you to check the email history for the last 90 days. This will help the organization to track and find the past email transactions if required.
Schedule Emails – You can schedule your email for delivery at any specific time of the day when you want.
SMTP – The easy-to-use SMTP integration offers a more secure and encrypted service for delivering mails.
API Integration – Pepipost comes with API Integration that makes way for really easy configuration of the emails you send.
Secured Servers – The data centers of Pepipost are SSAE 18 SOC 2 Type II compliant, keeping the emails secured from all spammers.
Super Fast – High inbox delivery rate feature of Pepipost makes sure that the emails are delivered to the right subscribers.
Pricing
According to the number of users you want to deliver your emails to, Pepipost offers you different plans to choose from. Take a look –
For $15 per month, Pepipost allows you to send 100,000 emails, and for the next 1000 emails, $0.60.
The cost of sending 300,000 emails is $65, and the subsequent 1000 emails will cost you an additional $0.55.
There is a $245 plan which allows you to send 1,00,000 every month and charges $0.45 for additional 1000 emails.
For those who want to send even more emails, they must choose the $445 plan, and that will allow you to send 2,00,000 emails. For sending extra 1000 emails, the charge will be $0.40
4. HubSpot – Email Service Provider and Marketing Platform

HubSpot is known for its CRM and powerful marketing automation platform that are designed to give you insights into your audience and how your marketing efforts are influencing them. HubSpot's email marketing tool does just that. It's easy to use and boasts impressive deliverability rates, but its true power comes from the native integration with all other HubSpot products (as well as hundreds of other popular third-party tools).
There is a free version that allows you to kick off a simple email marketing strategy, but as you move through the paid tiers, you gain access to several more advanced features like robust personalization and A/B testing, as well as greater reporting capabilities, time zone based sending, content personalization, and automation.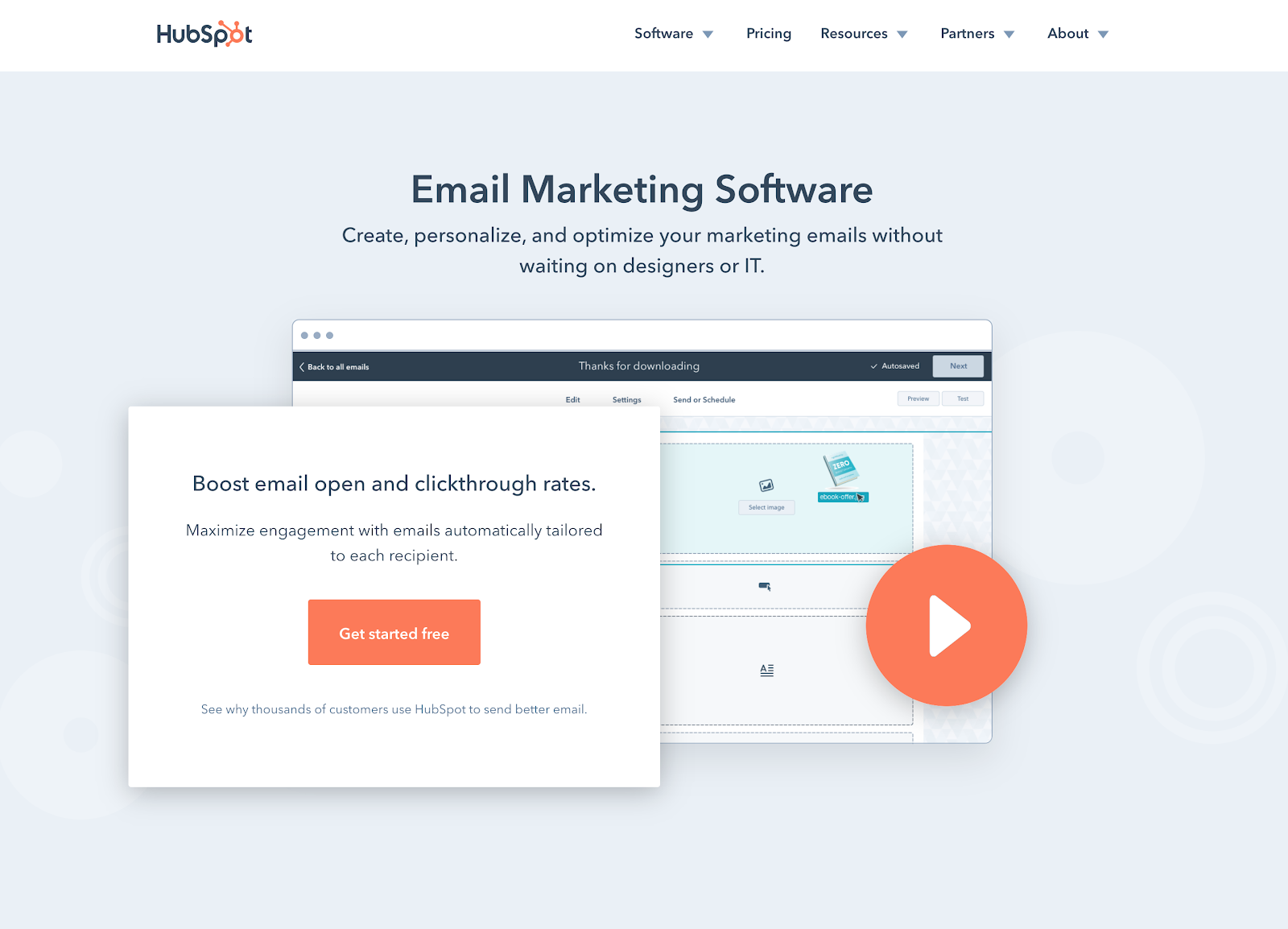 Features
Drag and Drop Builder – You can choose among many goal-based templates and customize the design to match your brand with the easy-to-use drag and drop builder.
Personalization – Use your contacts' data in the CRM to create deeply personalized emails with many segmentation criteria based on your contacts' information and their various interactions with your company.
Marketing Automation – Create custom autoresponders and automation workflows with a wide range of triggers like page views and content offer downloads.
Analytics and Reports – Measure the impact of your emails on your business goals with intuitive visual charts and click maps. You can also create custom dashboards to keep track of the metrics that matter most to you.
Landing page builder with sign-up forms and popups – Create custom signup forms and popups to capture new contacts and leads directly into your CRM. You can directly add them to your website or use HubSpot's landing page builder to create fully customizable landing pages with the same easy-to-use drag and drop builder.
Schedule emails – Schedule your marketing emails with optimization features such as smart time zone sending and the "publish like a human" option to avoid regularly sending emails at clearly scheduled times.
A/B testing – You can use smart A/B testing to optimize your campaigns and HubSpot will automatically detect the winning variation.
Pricing
HubSpot has a few plans to choose from to grow your business:
Free – At $0, you can send up to 2,000 emails per month, regardless of the amount of contacts you have. You also get the free CRM, form and popup builder, live chat, and all of HubSpot's free tools.
Starter – You can send emails up to 5x your contact tier for $50 per month. This plan allows you to remove the HubSpot branding and increase the limits on the free tools for more growth.
Professional – You can send emails up to 10x your contact tier and unlock almost all the automation and a/b testing features for $800 per month. This plan also comes with advanced analytics, calls-to-action, and many more content tools such as blogging and SEO.
Enterprise – For large businesses that need a full marketing automation suite, you can unlock advanced team features for $3,200 per month. This plan is best suited for large teams that need a lot of enterprise-specific features for content management and advanced revenue attribution.
Conclusion
If you have read our blog till this point, then you are now aware of the  3 Best Paid Email Service Providers of 2022. Email service providers are often considered one of the most reliable sources for marketing. We hope that this blog will help you to understand which email service provider is the best for increasing your business reach and productivity.
The comparison in the article will help you find the best service provider who will help in increasing the business reach. You can also use the trial period which will help you determine the right one for your business.
You May Also Like To Read: