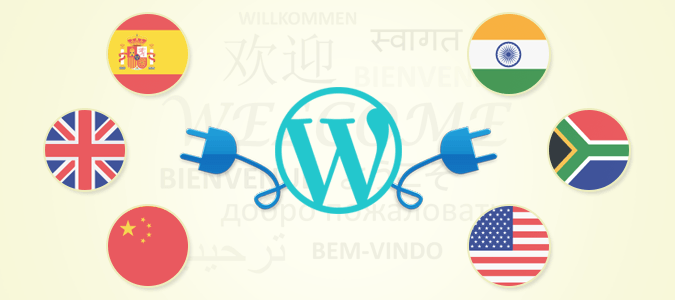 A WordPress site with a great WordPress theme can really work wonders for your business enterprise or endeavour. Installing some useful WordPress plugins will also be a great idea. They will improve, advertise and extend the functionality of your WordPress site.
You would definitely want to reach out to the global market with the help of your WordPress site. Carving a niche in the global market will ensure a smoother functioning and greater profitability of your business. To achieve this end, making your WordPress site a multilingual one is a prerequisite. It is here that you will find the WordPress translation plugins extremely handy and useful.
Learn about the advantages & utilities of WordPress plugins:

Question & Answer forum WordPress plugins
There are hundreds of WordPress translation plugins for you to choose from. We have for you here a quick review of the top ten WordPress translation plugins. This will surely help you in choosing the right translation plugin for your WordPress site.
---

1. Google Language Translator

The Google Language Translator will be a great choice to make. You can get the translation done in an instant with the help of this translation plugin. The translations are provided in various languages. Thus you can quickly change the entire website into any of your desired language without too much of a hassle.

Let's take a look at some of the great features of this plugin.

You can translate the webpage of your site into more than 60 languages with the help of this plugin.
This plugin functions on Google language API.
A language selector box appears at the top of the page. It can be used to change to a new language quite easily and conveniently.
The Google toolbar which appears at the top of the page can also be hidden.
You can either choose the horizontal or the vertical layout.
Shortcodes can be added easily to the pages, posts and widgets.

All in all this is a great translation plugin which will surely enable you to make your business site ready for the global market.

The premium version of this translation plugin is available at an affordable price of $30.

---

2. Lingotek Translation

The use of this great plugin will surely make your WordPress site multilingual. Reaching out to the global market and creating awareness about your brand amongst customers abroad can be done in the easiest and most effective manner with the help of this translation plugin. It has a host of great features and translation is done conveniently with cloud based localisation and translation.

Here are some of the key features of this plugin.

The translation workflows are customisable. You can go in for the free automatic, professional or community translation solutions.
You can easily access new markets and reach out to customers with the cloud-based Lingotek Translation Management Systems.
This plugin automatically downloads and updates WordPress language packs.
It also supports RTL language scripts. Thus you can use any number of languages you want.
The language code in the url or the content sets the language.
Different domains and sub domains can also be used for each language.
The language for each of the posts, post tags, pages, widgets and menus can be defined and translated very easily.
The automatic copy option copies the categories, post tags and other metas whenever a new post or a page translation is added.
The navigation menu has a language switcher which is customisable.
The multilingual admin interface enables you to set the admin language for WordPress.

This awesome translation plugin with its super features will surely improve the functionality and visibility of your WordPress site.

---

3. WPML- The WordPress Multilingual Plugin

Creating your own multilingual WordPress site couldn't have been easier. With WPML you can rest assured that your multilingual WordPress site will be ready for use within no time. You just require a simple WordPress installation and you can easily run your multilingual website.

Let's take a look at some of the main features of this plugin.

You can choose from over 40 languages and also add your own languages using the plugin's language editor.
WPML ensures your pages are optimized thanks to its new development to its String Translation which decreases page load times by more than 50%. In fact, they offer a 12-month money-back guarantee if you're unhappy with your website performance.
Arrange the language contents in the same domain, sub-domains or in different domains.
The plugin is equipped with very strong translation management. It enables the manual translation and offers the best professional translation services.
With WPML you can easily run an e-commerce site that is multilingual with WooCommerce.
Translating texts is hassle-free with the String Translation Interface.
You can also avail of affordable professional translation. You will be connected to the leading translation services in case you need help.
This plugin is compatible with most of the WordPress themes.
You will also be provided with reliable support so that your site functions smoothly at all times.

Thus, once you have WPML, you no longer need to worry about making your site translation ready. The plugin's easy functioning and superb features will surely make it the translation plugin of your choice.

---

4. Ceccepa Multilingua

If you are looking for a translation plugin which is easy to use and allows multilingual content management, then this plugin is the one for your site. This plugin offers a host of very simple and convenient to use features which enable quick and smooth language translation.Let's take a look at some of the great features of this theme.

Different SEO and URL can be used for each language thus enabling you to create separate posts and pages for each of the languages.
You can use the quick edit mode quite easily to edit the main content and its translations.
The widgets can be filtered by language.
The widget titles can also be translated.
You can switch between languages and translations with a simple click.
Each language is provided with a different menu.
The navigation label for each language is customizable.
You can also translate the tagline or title of your site.
The list flag of available languages is shown at the top or the bottom of a page/post.
It shows the least read, most read or most commented posts in the language selected by the user.
Change the WordPress locale according to the current language.
The browser is redirected according to the user's language.

This easy to use translation plugin is surely worth going for. The great features and convenient usage of this plugin has made it the favourite of users.

---

5. Multilanguage by BestWebSoft

The Multilanguage WordPress plugin is a very good quality plugin which ensures easy and smooth translation for your WordPress site. This analytical plugin has a set of features which are very convenient for every user and enables you to create content in different languages. You can define the language for each of the posts or pages which you have created or edited.

Here are a few of the main features of this plugin.

There are 87 pre installed languages for you to choose from. You can also add unlimited number of languages to this list.
You can display the language switcher in the form of a drop down list of flag icons, flags icons or a drop down list of languages.
The language switcher can also be added to the site menu.
The language switcher is customizable.
You can search with the help of the default language selected or with all the languages which are available.
The plugin settings allow you to change the priority of the language display very easily.
Translation can also be done easily in the admin interface.
You can also add links for each language to your current page.
The language code in the url or the language switcher sets the language.

Thus, this great plugin will most certainly enable you to create a multilingual WordPress site. The translations however have to be done manually with the help of this plugin. There are no professional or automatic translation services in this plugin.

---

6. GTranslate- Google Translate

The use of this WordPress translation plugin will enable you to make your WordPress site visible to the maximum number of internet users. This plugin translates your WordPress website with Google power. The Google Translate automatic translation which this plugin uses facilitates a smooth translation of your WordPress site. More than 500000 websites across the world are powered by this plugin.

Let's take a look at some of the main features of this plugin.

The Google automatic translation feature enable quick translation of your website.
You can choose from more than 103 languages.
Once the translation is done, the plugin hides Google top frame.
The 'suggest better translation' pop up is also hidden.
The plugin also ensures fast loading since all the flags are combined in one file.
The plugin also features Google Analytics integration.
Correct the translations manually.
The translation of URL is also possible.
Different styles like Flags, Dropdown, Flags with Dropdown and Nice Dropdown with Flags are available.
A sub directory or sub domain URL structure is also available in this plugin.

With such great features on the offering, going in for this plugin will surely be a good choice to make. The plugin is widely used across the world and users will surely vouch for its great functioning.

---

7. GTS Translation Plugin

If you are looking for good human quality translation for your website then this plugin will be the perfect choice. After the translation is done by the translation server, the human translators post edit the content through the online editing system. This plugin assures maximum international traffic & social advertising to your website since the translated content is stored in the WordPress database and also indexed by the search engines.

Here are some of the main features of this plugin.

You can choose from over 30 languages for translation.
The plugin automatically translates a new post in the selected language once it is published.
Publish the translated content immediately or after the approval.
The Permalink URL names and meta tags are also translated.
It uses a secure and private translation server.
This plugin guarantees atleast a 30% increase in traffic in your website after two months.
Post editing is a lot easier because of the side-by-side editor.
You can also retweet the translated posts.
You can create your own translation community and moderators for each language by making use of the GTS admin panel.
Crowdsource your translations using your translation community.

This great plugin will surely guarantee more international readers for your website. This plugin has been used by hundreds of WordPress sites and they have experienced a marked increase in traffic.

 Download and Install

---

8. Transposh WordPress Translation

This is one awesome translation plugin which adopts a novel approach to translation. This plugin facilitates a combination of human and automatic translation. The in context interface is also quite simple to use. This surely is one great plugin to go for.

Let's take a look at some of the key features of this plugin.

This plugin provides support for any language.
You can choose from multiple options for widget appearances.
The automatic translation mode translates all the content.
Translate external plugins without .po or .mo files.
You can search all the translated languages.
This plugin even translates RSS feeds.
The link tags, meta contents, titles and hidden elements are taken care of.
You can use the drag and drop interface to choose the languages to translate.
The plugin also provides professional translation.

This good quality plugin will surely cater to all the translation needs of your WordPress site. Its unique approach to translation has found many takers in the market today.

---

9. Bing Translator

Bing translator is a super plugin which enables all the visitors of your site to translate any page of the website. The translation is possible by simply clicking a bookmark without having to leave the page.

Here are some of the main features of this plugin.

You can translate the contents of your site in over forty languages supported by this plugin.
This plugin is very light weight.
The plugin is cross browser compatible.
You can set your desired colour scheme options.
The visitors of the site can also suggest translations.
You can select a dark or light version of the site to suit your website.
The translation settings allow you to set manual or automatic translation according to your requirement.

This plugin works really well and is very easy to use. You can easily install this plugin and you'll get some great translation for your site.

---

10. Goo Translate Widget

This is an excellent WordPress translation plugin which allows you to make your WordPress site a multilingual one within minutes. This service for multilingual machine translation has been provided by Google to translate websites easily and conveniently. Your site will be powered with Google automatic translations with a simple click.

Let's take a look at some of the main features of this plugin.

This plugin supports over ninety languages for translation.
Visitors of your site can get the contents of your website in your native language.
Use Google Analytics to track the translation traffic.
Manual translation is not required for this plugin.
Programming skills are also not essential.
The plugin is extremely lightweight and there is no performance impact.
With a simple click you can put the widget on the sidebar and allow visitors to get your site in their native language.
Google automatic translations will enhance the global reach of your website.

This translation plugin with its excellent features will most certainly improve the global reach of your website. Getting good translation of your website will no longer be a problem with the use of this plugin.

---

The reviews of these translation plugins will certainly prove helpful when you go about choosing a good translation plugin for your WordPress site. All these plugins have their own set of excellent features and function extremely well.

Create a perfect landing page for your website & enhance business worth with an appropriate plugin: