Web forums are internet bulletin boards where users post their reviews or ask questions anonymously.
The forums help to build credibility for the organizations, as forum members recognize the company's effort to reach out to the public.
Installing a forum on your site may help you to boost your web presence, strengthen your online brand and establish a healthy relationship in your niche or industry.
So are you looking to start a Forum on your WordPress website?
Then here is the list of best plugins that can be very helpful to you while you start a forum.
We also recommend you to read out the below article:-
Here we go.
1. DW Question & Answer
DW Question and Answer is one of the best WordPress Plugins for the user to build up a fully featured question and answer website. It is accomplished with powerful features and is convenient to use.
Similar to Quora and Yahoo Answers, it enables your user to submit questions, search, and filter questions by status and add a solution to others issues. The best of all it offer its users to comment and answer to a question. Not only this, but it also asks the users to vote for the best answer and mark the best answer to their question.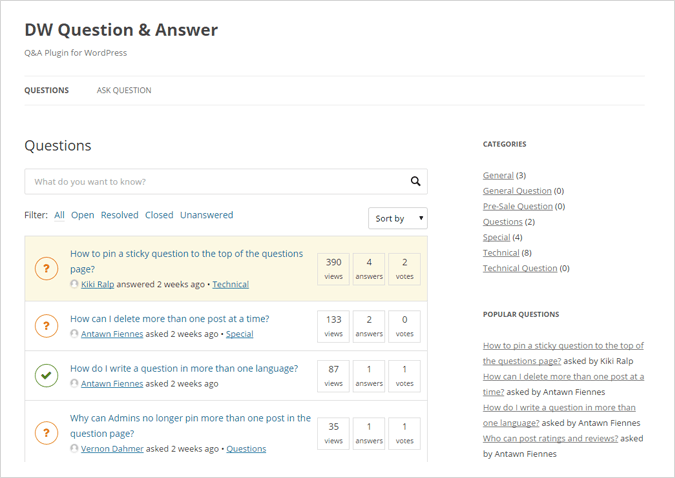 Key Features:
Choose the best answer.
Manage items by status.
15+ languages supported.
Customizable Notification Email.
Captcha using reCAPTCHA by Google.
Support comments, questions, and answers.
Shortcodes available.
Price: Free
---
2. AnsPress
AnsPress is just not another question and answers WordPress Plugin. It is highly customizable and provides an easy to use override system for the theme. It offers clean and simple layout.
The plugin is highly flexible in adding question and answer section. It is enriched with great features like distinguishing between questions, comments, answers with the smart use of colors. Additionally, it allows its users to subscribe to tags, categories or question and get notifications of all activities.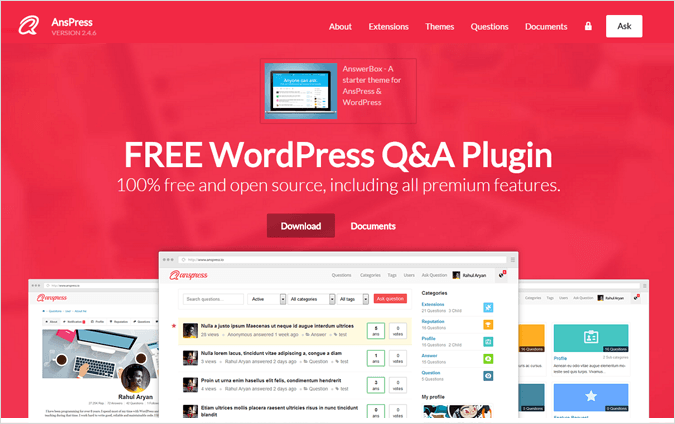 Key Features:
Inbuilt menu item and user page.
Offers the registered user to vote and down on both question and answers.
Tag extension by adding a tag (taxonomy) support for questions.
Provides more than 5+ inbuilt widgets for showing AnsPress contents and links anywhere on your site.
Possess inbuilt image uploader.
Allow visitors to add codes in question and answer and highlight it.
It holds new posts for moderation and allow the community to flag posts.
Enable the user to ask questions privately which are only visible to user level above moderator.
Price: Free
---
3. CM Answers
CM Answers is another excellent WordPress plugin which enables the users to post questions and answers. It is enriched with unique features which allow customization of administrators.
CM Answers Plugin's Dashboard offers authorship permissions, discussion, powerful answer sorting, and auto-approvals. In addition to it, the plugin is enriched with social media registration using Facebook, Google+, Twitter, etc.
The best out of this plugin is that it enables the users to keep a watch on the most responsive, the most viewed or the highly voted answers by the users with its display settings for sorting.
Key Features:
Allows the users to upload file attachments to their questions or answers.
Enables to receive notification.
Categorize your questions and answers in multiple ways.
Integrates with BuddyPress API.
Customize the appearance & style.
Support showing ads and banners inside forum.
Enables to upload multiple files on the users discussion forum.
Shows the geographic location.
Price: Free
---
4. bbPress
bbPress is an excellent plugin for those who have been disappointed with the slow forum or lazy bulletin board software. bbPress is highly focused on integration, usage, web standards, speed.
The plugin is an open-source project with GPL-licensed. On the contrary to older forum software, it is not bulky and doesn't require too much of resources. It can create multisite forums, with its customizable templates, thus offering a simple way to add a forum to a WordPress website. It is light weight and can easily mingle into the WordPress themes.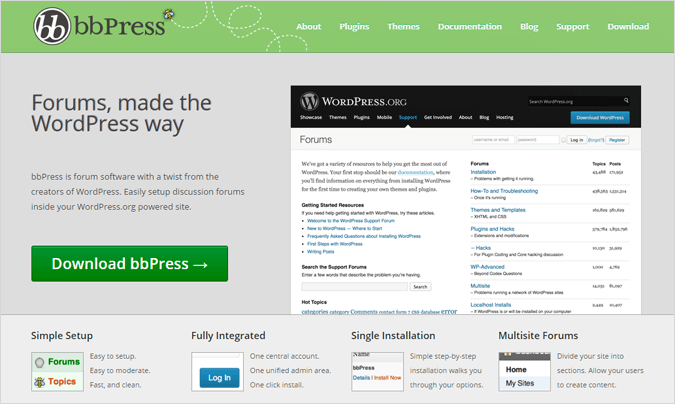 Key Features:
It has simple, fast, clean setup which is easy to moderate.
bbPress is fully integrated with a single unified admin area.
It divides your site into sections and allow your users to create content individually.
It is enriched with a simple and intuitive interface and customizable templates.
It is supported by Akismet thus offering a strong weapon against spamming.
Price: Free
---
5. BuddyPress
BuddyPress is best suited for modern, sound, and sophisticated social network software. It opens source and thrives on user contribution.
The plugin is adorned with many features that are considered best for an online community like notification, user profiles, groups, activity watch, etc.
The major advantage of BuddyPress is that if anyone wants to use a few features of it, the plugin will automatically adapt, bestowing only the menu items, pages, and buttons for the features you want.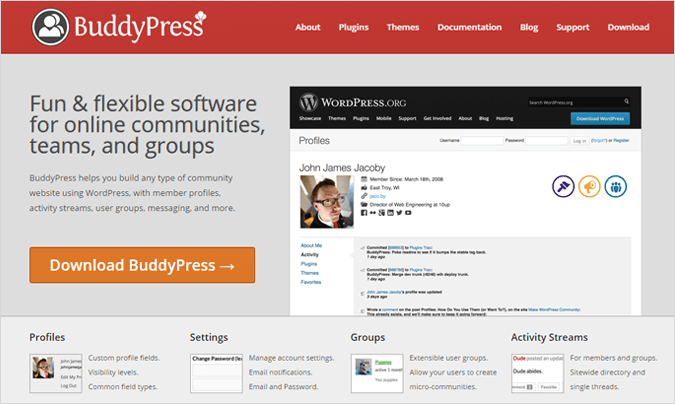 Key Features:
It offers custom profile fields, visibility levels, and standard field types.
It allows your users to create groups/ micro-communities.
It helps the users to manage account settings, email notifications, and Password.
BuddyPress is fully integrated.
BuddyPress with extended with hundreds of third-party components.
Price: Free
---
6. WP Symposium
WP Symposium is one of the excellent social network plugins for WordPress. It helps users to create a social network forum on your WordPress website.
The Core WP Symposium Pro plugin gives the user profile pages, activity, friends, and extensive forums. It can be considered best for clubs, schools, business organizations, support sites, gaming sites, dating sites, etc.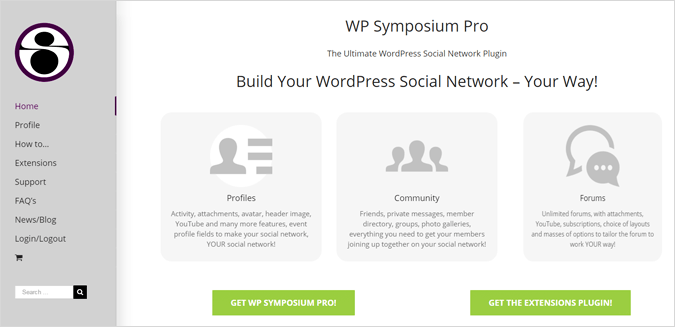 Key Features:
It offers to go through member profiles and activity log.
It has shortcodes with options galore which further helps the user to design social network pages the way you want them!
It offers host features like uploading images and videos, sticky posts, privacy settings, etc.
It helps the user to list your events with a booking facility.
It also offers the user to create a photo album.
WP Symposium is easily compatible with CubePoints and Come chat.
Price: Free
---
7. Bublaa Forum and Comments
Bublaa is a simple, stylish forum for blog users and appears as a micro-blogging platform. It provides real-time discussions platform to the website users.
Bublaa forums and comments give its users a different experience. It brings comments from all public forums under one roof, that gives a multi-forum experience to users.

Key Features:
It is responsive with excellent forum interface.
It prevents bugs.
Highly SEO friendly.
Offers social login and sharing facility.
Bublaa Activity widget displays the discussions on any page.
Helps to write comments with rich text, pictures, and video.
---
8. SabaiDiscuss for WordPress
SabaiDiscuss is another great fully responsive and flat designed WordPress plugin for question and answer. It provides an ideal platform for building question and answers community website thus leading to a knowledge base or helpdesk portal discussion forum.
It searches question and answers according to the keywords and category thus answers them according to custom fields. It also has many fantastic features like integrated markdown editor like HTML, Markdown Text, Number, CAPTCHA, single line text, etc.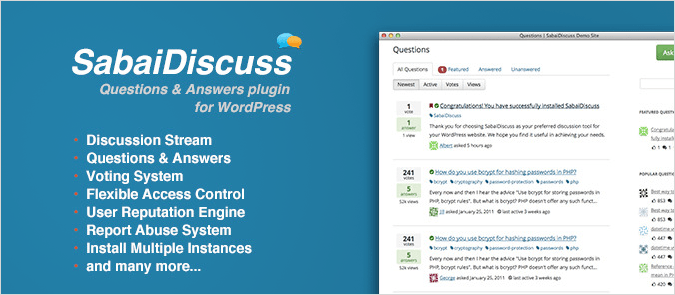 Key Features:
Includes 9 widgets and five shortcodes.
Works with any theme.
Enables live preview with PHP Markdown editor for posting questions/answers and editing tag descriptions.
Post questions/ answers from the frontend and comments too.
Supports RTL language.
Integration with the Cubepoints plugin.
Updates automatically.
Price: $23. One time payment. Single site license.
---
9. Groups Forums
Group forum is lightweight but powerful WordPress plugin for Forums. It is accompanied by several widgets, shortcodes, and many other exciting features which enable the user and group members to post and give feedback topics on the forum which is also visible to the public simultaneously.
The plugin is helpful in maintaining the unlimited number of forums all together with their rules. For example, a user can create a forum where anyone can post whoever signs up or may create a forum where only members of a particular group can post.
Key Features:
Submits topic from the front-end and the back-end.
It comes with several widgets like Forums, Topics, Topic Tags, and Topic Search.
Theme-neutral default templates support theme templates.
Provides topic notifications for site admin, moderators, and authors.
Offers to provide front end and back end topic submission.
Contains sticky topics.
Price: $27. One time payment. Single site license.
---
10. Simple: Press
Are you planning to give your website a professional and a clean look? Then this plugin is best for you. It is considered best to integrate seamlessly into your WordPress website.
It is faster and driven by many templates and themes which customize your forum to design into a reality. It is integrated with many leading WordPress plugins, tools, and services like ShareThis, BuddyPress, etc.
Apart from this, it is completely localized for language support and is SEO friendly.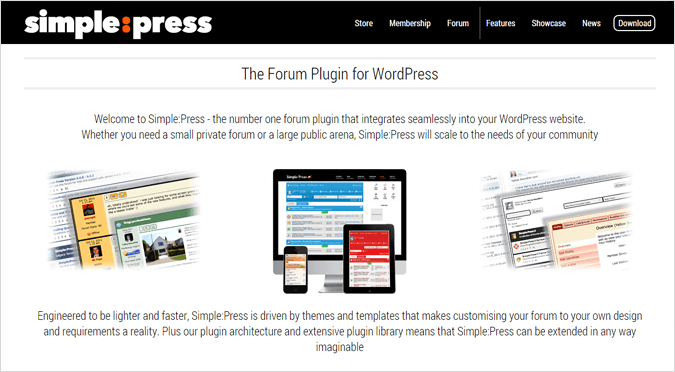 Key Features:
Uses best coding practice to ensure that they are fast and secure.
The plugin is best compatible with all internet browsers.
Fully integrated with WordPress logins.
Creates SEO friendly permalinks.
Uses WP style of action.
Provides powerful user group and permission system.
Price: Free
---
That's All For Now
There were some free and paid plugins that I found best to come up with.
However, If you have implemented a forum on your WordPress site earlier, and have used either of the plugins listed above, your feedback in the comments below can help others make a choice.
So feel free to share if have something.
About The Author
Peter Gomes is a senior web developer in Designs2html Ltd which is a top-notch Photoshop to WordPress conversion company. Peter has a constructive background in writing various articles and content. Above he shared best WordPress plugins 2022.