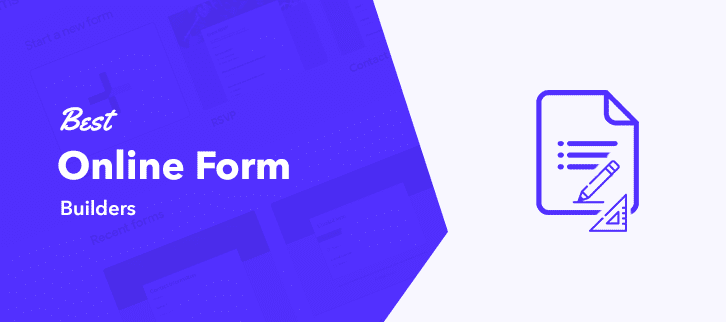 Are you tired of scrolling many websites in hunt of the best online form builder for your business? Or, you are finding answers to questions like can a free form builder gives you everything you need or it would be better off investing in a paid plan?
Then, look no further!
Here, in this piece of write up, you will obtain the best solution to your problems. For this, we've created just the perfect list of affordable & top-class form builders for you!
Since online forms are such an important part of your website because of so many reasons. But, nowadays, there are plenty of online form builders available these days. So, it becomes too hard to find which one is the best for your needs.
As one form builder can be the best for someone but it isn't necessarily the best one for you. That's why we've examined and compared all the uppermost form builders and put together this comprehensive list for you.
Check this table out to find which one is the best form builders 2022
| | | | | |
| --- | --- | --- | --- | --- |
| Service | Price | Submission | User | File Upload |
| Pabbly Form Builder | $15/mo | Unlimited | Unlimited | Unlimited |
| | $24.99/mo | 5000 | 1 | 150 MB |
| Paperform | $12.50/mo | 1000 | 1 | 10 MB |
| | $37/mo | 250 | 2 | NA |
| HubSpot Forms | $50/mo | 1000+ | 2 | 500MB |
Now, without further ado, get ready to explore more about these 5+ form builders.
Let's begin,
"Compared to other form builders, Pabbly Form Builder is the only software that  doesn't restrict users on features by & enables them to collect unlimited submissions, file uploads, payment, and much at the cheapest price."
The first in our list is the Pabbly Form Builder, the cheapest as well as the most feature-full online form builder available in the market. Along with the basic features like drag-&-drop editor, templates, etc, it is providing unlimited advanced features in the price of a single form. Such as unlimited form submission, file uploads, storage, user access, and much more.
Apart from that, the tool is well packed with growth focussed features like conditional redirect, autoresponder, integrations, Webhooks, etc to take your business to another level. Further, it supports PayPal & Stripe for collecting payment. It is a GDPR compliant service and provides SSL encryption for payment security.
The most interesting thing about this software is it doesn't restrain users on features. This means you can enjoy everything in a basic plan too which most of the form builder forbids. In one line it is a one-stop destination for all business requirements.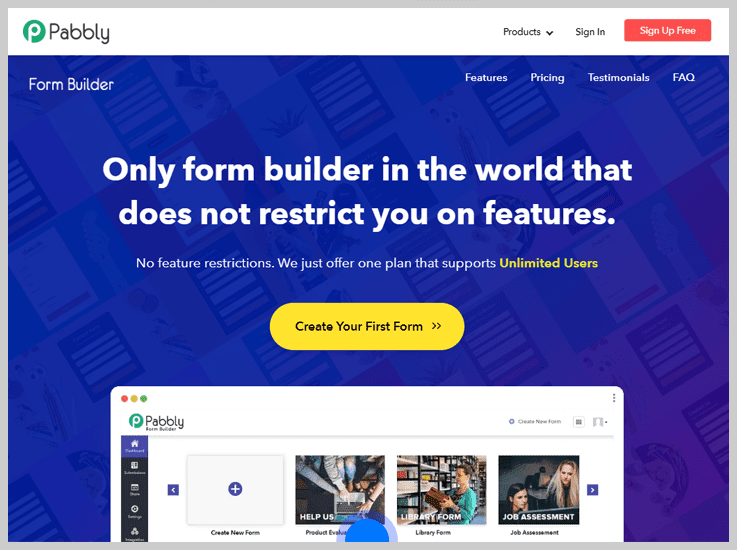 Features
Embedding – This tool offers 3 different kinds of embedding for both WordPress or normal websites which are sliding, pop-up, and full form.
Conditional Redirect – Using it, one can redirect the respondent to their website which can be a major help to draw traffic on their business.
Email Autoresponders – It lets you send the beautiful customized confirmation email automatically for situations like successful submission, payment received message, etc to all the
Collect Payments – This allows one to collect unlimited payments via forms. For this, it supports payment gateways such as PayPal, Stripe, and Razorpay which will ease the whole process.
Integrations – Further, the tool is packed with unlimited webhooks and integrations. Without trouble integrate your form with third-party apps like Google Analytics, Dropbox, Mailchimp, etc.
Partial Form Submission – This tool offers a unique feature that is actually a time saver when it comes to long-form. With it, the respondent can save the form and resume it later according to their availability.
Pricing
Single Plan – It cost $10 for a single form including all the advanced features like unlimited views, submission, embedding, and much more.
The second best software to create forms in our list is 123FormBuilder that can be an excellent choice for small businesses. You can easily use it for collecting payments with Stripe for single-user access. So, whether you create an order or registration form, you can do that easily in just the blink of eyes.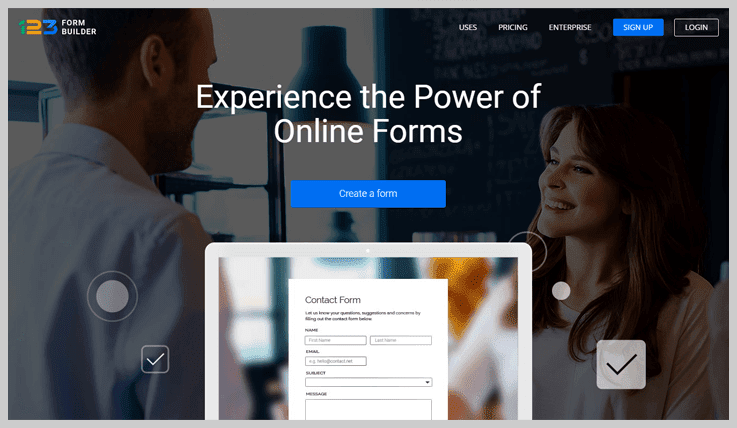 Features
Data Security – This software provides strong security as it has SSL encryption support. Also, the features like Captcha make the respective form builder a reliable system.
Tracking – With the feature of analytics, you can track the performance of the online form in a jiffy. Further, you can have graphical reports from the real-time form builder.
Storage – 123FormBuilder enables you to use 500 MB to 2 GB storage space based on your plan.
Form Submissions – Using this, you can collect up to a maximum of 20K form submissions.
Payment Collection – This tool offers a variety of options available to choose from for payment collection. You can implement this feature using integrations like Stripe, Paypal, etc.
Pricing
123FormBuilder offers 3 pricing plans based on the features it unlocks on each plan.
Basic – This plan is a free plan in which the user will get 10 fields/form, 5 forms, and 100 submissions per month.
Gold –  In the gold plan, the buyer would be required to pay $24.99 per month with extended limits. Here, he will get unlimited field/form, 20 forms, 5000 submissions per month.
Platinum – With the platinum plan, the buyer would be required to pay $44.99 per month for which he will get unlimited fields per form, and 20,000 submissions.
3. Paperform – HTML Form Builder
Paperform is a powerful form making software with a modern UX in which you can include advanced form features. With a focus on customization, Paperform is a robust solution for designing beautiful and advanced forms that suit your specific needs. Plus, you can integrate it with Stripe and Braintree + PayPal subscriptions / recurring payments straight to form pages. Further, you can easily embed and share your forms, access advanced form analytics and set up automatic email responses.
Features
Simple Interface – With this feature, the software enables you to create forms from scratch and includes images that you can choose from the template gallery.
Third-Party Integrations – It supports several third-party payment gateways like Stripe, Paypal Business, Braintree, and Square. This helps you to collect payment directly from your form.
Appointment Booking – Here, you can use its Bookings for Paperform solution and schedule appointments seamlessly with the rest of your form in a jiffy.
Customization – This tool helps you in giving customers a personalized touch as per the region they belong to and choose the language and customize as per requirement.
Email Responses – Using this, the user can send personalized email responses with submission summaries, attachments, and conditional logic direct from software.
Pricing
Essentials – You can buy this plan at the cost of $15 per month and get access to create unlimited forms, 10,000 views, 1000 submission, 1 payment account, and much more.
Pro – For this plan, the user will have to pay $39 per month and get the freedom to create unlimited forms, views, and submission, along with 3 payment accounts.
Agency – In the agency plan, the user has to pay $99+ per month and get access to create forms for clients and across teams.
4. LeadFormly – Website Lead Capture Software
Leadformly is a flexible online form builder that lets you create forms and get a higher conversion rate for your leads. It is one of the best choices for lead generation as you can create high converting lead capture forms using it. It is packed with many powerful features like multi-step forms, icon library, expert review, Webhooks, and much more.
Further, this tool segments your leads for you to deal with each of them distinctly and convert them into customers.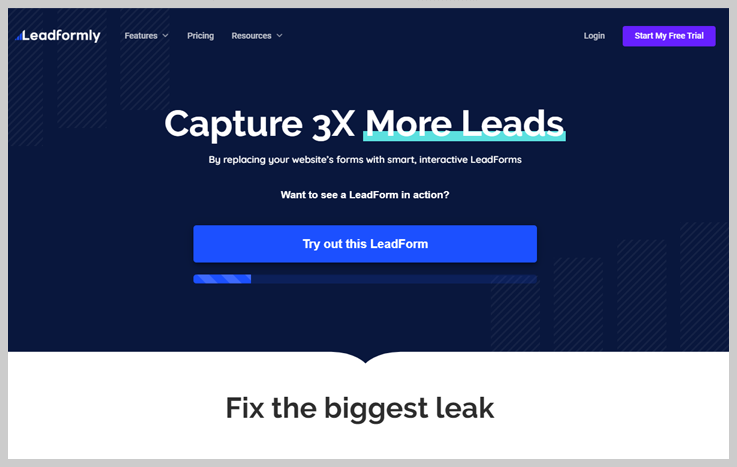 Features
Report & Analytics –  Every form created by this tool has an in-built form tracking feature, so you can better understand your audience, track your conversion, and launch A/B split tests in a matter of clicks.
Lead Segmentation – Leadformly comes with an automated lead segmentation feature that separates and groups the leads based on certain principles. Hence, making it easier for you to market to your leads.
Integrations – With Zapier integration and Webhooks, you can send leads instantly into your CRM, email marketing tool, or any of the 2,000+ third-party apps.
GDPR Compliant & SSL Encryption – This tool is GDPR compliant and comes with SSL encryption for security reasons. Hence, keeping the data private and integral.
Smart Spam Block – Leadformly has its own "Honeyspot spam trap" that blocks spammers who attempt to access your forms.
Pricing
Pay As You Go Plan – This plan starts at $37/month. It grants access for unlimited forms and up to 250 leads per month. Also, you can assign 2 other users to create forms with the same account.
HubSpot is an all-in-one growth platform that comes with a suite of powerful free tools to help you grow your business. The form and pop-up builder has an intuitive drag-and-drop interface so you can easily capture your website visitors' information, but it does so much more than that.
HubSpot will collect your form submissions and automatically add those new contacts into the free CRM. You can then segment your contact database into lists and send them personalized emails using any CRM property. You can also connect your forms to HubSpot's free ticketing software so that each submission automatically creates a ticket for your support team. You can report on how your forms are performing with visual analytics reports. You can also easily connect your forms to most third-party tools and, if you're using WordPress, you can easily add HubSpot forms to your website with the plugin. And all of this is free!
Features
Intuitive Interface – HubSpot makes it easy to create forms with a drag and drop builder and a selection of pre-designed form templates that you can customize as you see fit.
Email Marketing – Send personalized emails to anyone who submits a form.
CRM – Log your new contacts' information in a free CRM and use this data to personalize your marketing campaigns at scale.
Analytics – Measure how your forms are performing with intuitive visual charts and customizable dashboards to keep track of the metrics you care about.
Integrations – HubSpot forms works with most of the popular third-party apps, so you can easily connect your forms with the tools you are already using. For WordPress, you can use the HubSpot plugin.
Pricing
Free – The free plan lets you create an unlimited amount of forms and popups with access to all form fields. In addition to forms, you get a CRM to collect your contacts' information, email marketing, live chat, ticketing, and more. You also get basic analytics.
Starter – This plan costs $50 per month and allows you to remove the HubSpot logo from your forms, set up sequential followup emails, and access full analytics reports. You also get more functionality out of the rest of HubSpot's marketing tools.
Professional – If you want a full marketing automation platform, you can get this plan for $800 per month. For the form builder, you get all of the advanced features like smart fields, conditional logic, and popup scheduling. The real value of this plan, however, comes from the full stack of marketing tools that will help you grow your business, including smart A/B tests, calls-to-action, content management, and advanced marketing automation.
6. Wufoo – Form Creator Software
Last but not least, Wufoo is the top online form creator which comes with a cloud storage database. Hence, if you want to create forms and produce reports with useful data then this software is the right option for you. With the help of this service, you can conduct online surveys, collect payments from multiple modes. Further, you can create custom responsive forms that enable you to do registrations, collect leads, and more. Additionally, you can also share them via emails or on a website, along with 400+ templates and a lot more.

Features
Drag-&-Drop Editor – Wufoo form building software has a drag & drop facility to create forms that require no coding. You can also customize pre-designed themes by adding a custom logo, color, and give a personalized touch to the form.
File Upload Type – These forms can accept multiple files, images, applications, and other types of uploads. The files uploaded can easily be collected, organized, and stored with this software in a very great manner.
Payment Collection – It allows you to process online payments through third-party integrations like PayPal, Stripe, and Authorize.Net.
Real-Time Analysis – With Wufoo's out-of-the-box reports, you can analyze your data with ease by creating custom reports right in your account. Further, you can also export the data in your desired format and begin analyzing the responses in a jiffy.
Data Security – All the data on our forms are protected with 256-bit SSL encryption and CAPTCHA options. In addition to this, Wufoo's servers live in a SOC 2, Type II audited data center with industry-leading security measures in place for protecting your data.
Pricing
Free – Here, with this plan, you will get 5 form creation, 100 entries, 10 fields, and single-user access free of cost.
Starter – This plan costs you around $14.08 for a month where you will get access to create 10 forms. Further, you can integrate forms with various gateways, and single-user control.
Professional – To buy this plan, you need to pay $29.08 per month. In it, you can create unlimited forms, handle 5,000 entries on a monthly basis, and get support for 60+ integrations and more.
Advanced – For this plan, you will be charged around $74.08 every month. In it, you get unlimited form creation, 25,000 entries, 20 users access, 10GB uploads, and more.
Unlimited – This plan is intended for bigger organizations and it comes with 60 user access, unlimited forms. Further, it has unlimited reports, 200,000 entries just at the cost price of $183.25 per month.
Conclusion
In this blog, we have discussed some of the most popular online form builders. We have handpicked all the software after performing the comparison between several form builders available in the market on different parameters. These are the most affordable form creators that come with a comprehensive set of features.
Now, we hope that you definitely find the good and profit-generating form building tool for your business needs from here.
Stay tuned with us for more form builder blogs.
You May Also Like To Read: