Many users are often confused about various options available for software in SaaS. Limited knowledge about the features makes it an overly complicated issue with an unscalable solution. Therefore, this article will help you know everything about Subscription Billing and Management for SaaS.
SaaS means Software-as-a-Service, and software for SaaS enables customers to pay for it on a recurring basis. The main goal is to automate the complex billing process and focus on other operations like sales and marketing. The three essential factors to keep in mind while selecting an automated billing software are ease-of-use, speed, and extensible.
If it has an easy interface, you will not face difficulties in using it. If it is fast, then it will save considerable time in assigning the automation instructions. Above all, if it can integrate with other tools, it can enhance the functionality and thus is extensible. Depending on your needs, the pricing also matters.
Comparison between 5 Best Saas Billing Software 
| | | | | |
| --- | --- | --- | --- | --- |
| Services | Pricing | Additional Transaction Fee | Affiliate Module | Unlimited Revenue |
| Pabbly Subscription Billing | $19/mo | No | Yes | Yes |
| | Customized Pricing | Yes | No | No |
| | $14/mo | Yes | No | No |
| FuseBill | $295/mo | Yes | No | No |
| Zoho Subscriptions | $39/mo | Yes | No | No |
"Enjoy unlimited revenue and customers with this one of a kind software that offers exclusive integration with Affiliate Management System. Now is the time to stop paying additional transaction fees and switch to with Pabbly Subscription BIlling."
Users have multiple billing requirements, and this software is capable of handling it all. Pabbly Subscription Billing has a proven track record of managing various aspects of top billing software. The software enables users to create unlimited products and plans as required. The checkout page is convenient and has a good user-interface. Besides this, users can track all the details of customers and subscriptions from a single window. Accuracy and deliverability are the core features to look for when selecting an automated billing software. Pabbly Subscription Billing ensures maximum deliverability with high accuracy. This is the only software in the industry that comes with an inbuilt affiliate management module.
All the subscription billing and management software in the industry charge a fixed or variable transaction fee from their users. If you use this software, you will not pay a single penny extra for transaction fees or revenue sharing. In addition to that, it offers integration with leading payment solution networks like Stripe and Paypal.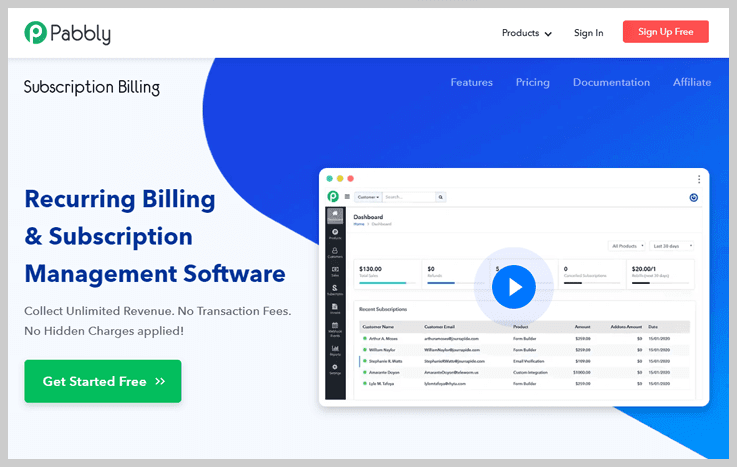 Features
Recurring and One Time Billing – Depending upon the needs of the business, this software helps in collecting both recurring and one-time payment from the customers.
Offers – Users can create and offer unlimited coupons to their customers. It is also possible to provide a flat or percentage-based discount to the users with this feature.
Integration – Pabbly Subscription Billing comes with an inbuilt Webhook integration that enables users to perform all the required tasks. It helps in tasks like purchase, modification, cancellation, special instructions, and others. The best part is that with the help of API keys, it is compatible for integration with any SaaS external application.
Client Portal – Client portal helps the customers to manage their subscriptions and payments. It offers a dedicated portal for them to manage all the activities. In this way, clients are recipients of privileged services.
Zero Transaction Charges – This is a cheap subscription billing software because the user is not liable to pay any transaction charges. Users are also not liable to share any percentage of their revenue with Pabbly Subscription Billing.
Affiliate Management System – Affiliate management is an important aspect for companies offering SaaS. This is the only platform offering a unique combination of the pre-integrated affiliate management module and subscription management in a single software.
Tax Management – Based on the type of business, commodities, and country, users can add separate tax provisions. This helps in facilitating the needs of international clients.
Dunning – This is one of its kind features that recovers failed or delayed payments through a dedicated dunning management system.
Pricing
Starter – The price of this plan is $19/m. Users can manage subscriptions of up to 50 customers.
Rookie – Buy this plan at $37/m for use by up to 100 customers.
Pro – This is the most preferred and popular plan at $57/m. Subscription management of up to 150 customers is possible.
Advanced – This plan is particularly for users having high-volume requirements. Buy it for $79/m and manage up to 250 subscriptions.
Irrespective of the selection of the pricing plan, all the features are available for the users. This makes Pabbly Billing Software the best SaaS & recurring payment management software.
2. FastSpring – Automated Billing Software
Fast Spring is a global and reliable SaaS billing software. It offers services like acquisition activation, renewal, upgrades, and other fully-loaded e-commerce solutions. Users can easily manage the entire subscription lifecycle and optimize the recurring revenue from their dashboard. The subscription management features include automated correspondence, churn reduction, trial management, recurring payment processing, and plan management. Furthermore, it comes with multiple integrations of various essential services that help you in sticking to only one platform for all your needs. FastSpring has the potential to evolve your business model for prospering growth.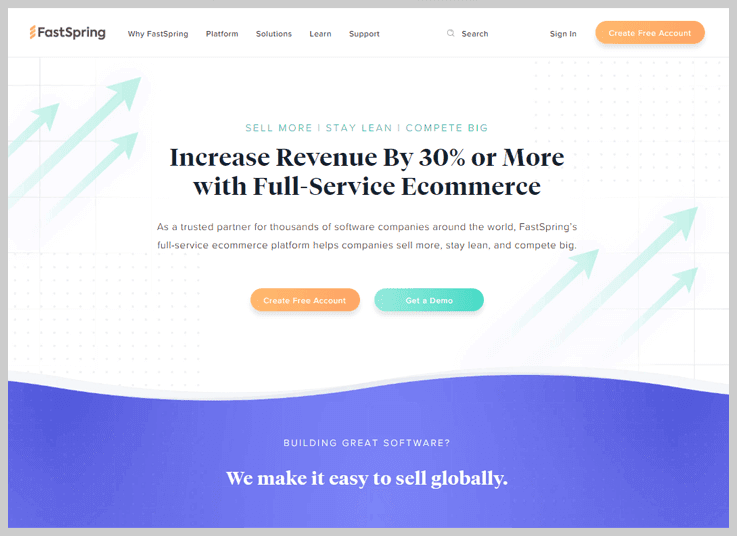 Features
Branded Checkout – Users can build branded, custom, and frictionless shopping experience for their customers. It provides a standard solution for users accessing from desktops and mobile phones.
Risk Management & Compliance – FastSpring offers a 15-factor fraud detection algorithm to reduce chargebacks for users. In addition to that, it always remains up to date on global compliances like PCI DSS, GDRP, and others.
Integration – This feature offers seamless integration for third-party solutions like Google Analytics, Impact, WordPress, Adroll, and others.
Automated Notifications and Reminders – Users can automate invoices, receipts, and renewal notices for maintaining a direct line of communication with the customers. Automation is also possible for notification of events like payment due, payment overdue, and cancellation of the subscription.
Dunning Management – This feature reduces churning and disruptions for recurring revenue. It automatically retries for reminders and payments to the customers. Thus, it improvises the overall efficiency of the software.
Pricing
FastSpring does not offer any specific pricing plans. You can request for an exclusive quotation from the website by mentioning your requirements. This is a customer-centric pricing approach because users only pay for the services that they want to use. This makes it an affordable subscription billing software.
3. Subbly – Billing Software
Subbly is a reliable SaaS billing software and it helps you in growing your subscription business. It comes with a drag & drop builder and does not require any coding. Users can easily embed the shopping cart on any existing website. Additionally, it comes with high converting and secure checkout. Users have the benefit of monitoring the pulse of their business from a single platform with Subbly. It is dynamic, mobile responsive, and comes with a free trial period of fourteen days. Moreover, it offers international support and is multilingual. Subbly offers automation and synchronization features for delivering an out-of-the-box experience for users and customers.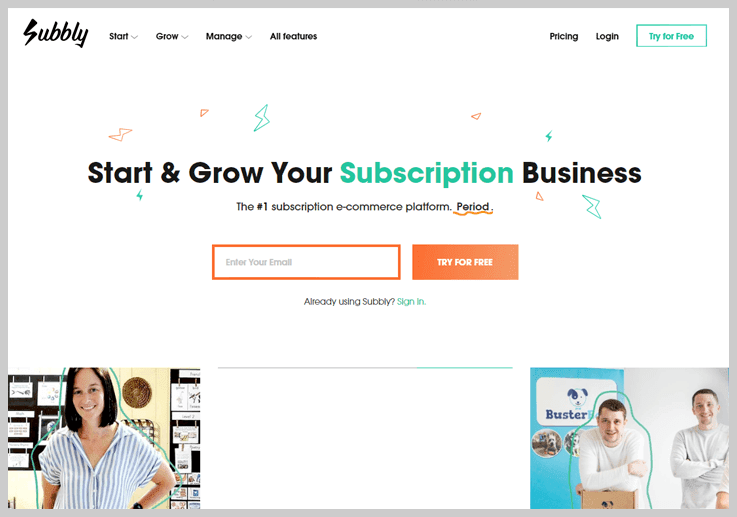 Features
Flexible Subscription Billing – This powerful feature at the core makes complex billing requirements simple for users. Users can automate recurring payments from customers. It is easy to set up cut-off and renewal dates for repetitive tasks. It is also easy to create a customizable billing and shipping cycle.
Basic E-Commerce – Subbly is a unique club of subscription billing and basic e-commerce needs. Normal e-commerce purchases can be managed directly from this platform. In addition to that, it is easy to manage combined subscriptions and one-time purchases. Facilities like tax calculations and multiple payment gateways help in enhancing the revenue.
360 Degree Integrations – Users can quickly integrate shipping platforms like PirateShip and ShipStation. This helps in producing customized shipping labels. This feature also ensures automatic updating of the same on the Subbly database.
Reducing Cart abandonment – This feature helps in increasing conversion and improving the cost of acquiring customers. It comes with cart-abandonment recovery tools to help customers relocate their carts. Users can target additional compounding growth with recurring revenue.
Advanced Filtering and Search – Users can search details of any order, subscription, or customer from any page instantly. It is also possible to search orders by applying advanced filters. They also provide exceptional customer support for any problems.
Pricing
Checkout Only – Buy this plan at $14/m. Users get access to all checkout related features and can embed it on any site. Other features include live chat and community & email support.
Website + Checkout – Users can buy this plan at $29/m. All core features of Subbly are available in this plan.
Subbly Enterprise – This is a customized plan for big businesses. Request for an exclusive quote from the website with advanced customization options.
4. Fusebill – Subscription Billing Software
Fusebill empowers businesses worldwide with a flexible subscription commerce engine to ignite their growth. From the initial sales process itself, the users have a customized and enterprise experience. Moreover, it offers customized and automated solutions for customer communications like failed payments, past due invoices, expired credit cards, and others. The dashboard provides immediate insights into key subscription metrics that help in carving an accurate standing of the business. Users can launch the products faster and eliminate billing bottlenecks. Above all, users do not need any dedicated resources to manage Fusebill. In addition to the monthly and quarterly billing schedules, it is possible to have a customized schedule according to the requirements.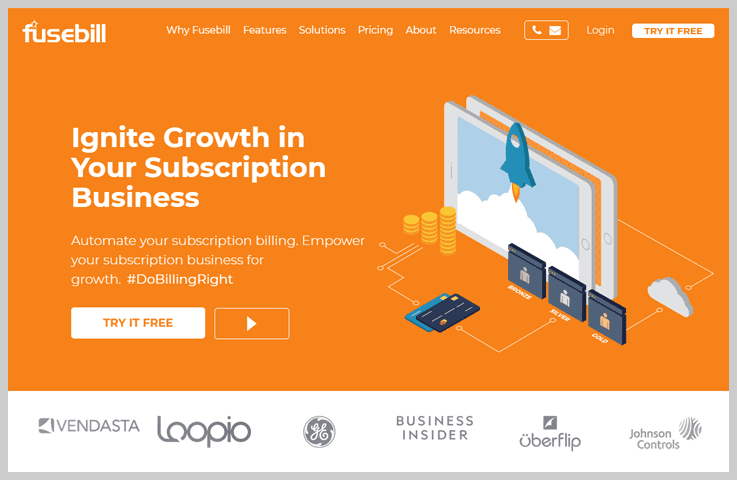 Features
Payment Management – This automated billing software supports over 20 recommended gateways. Customers have a wide range of payment options like Credit Card, Paypal, ACH, and offline.
Analytics and Insights – This feature helps in tracking all the key business metrics like monthly recurring revenue, annual revenue, churn, LTV, cash collected, and others, in real-time. Elegant dashboards display all the available data in the form of exportable reports.
Security – This is a PCI Level 1 certified software. They claim that the system offers an uptime of 99.95% at any given time. This helps in securely handling the most sensitive data of the customer.
Integration – Users can connect Fusebill with the desired CRM, revenue recognition, payment gateways, accounting & business management tools, and other third-party applications. This helps in achieving an enhanced customer experience.
Recurring Billing – Recurring billing is an integral aspect of SaaS subscriptions. This feature provides three unique payment options one-time, usage-based, and tiered billing. Users can also redeem the facility of coupons module and flexible discounts.
Pricing
Startup – Buy this plan, at flat pricing starting from $295/m. In addition to the full feature set, it includes integration for Salesforce, HubSpot, NetSuite, and Quickbook. It best suites organizations, with <$1M annual revenue.
Rapid-Growth – Users can buy this plan, at flat pricing starting from $895/m. In addition to all the features of the Startup plan, it comes with enhanced boarding and fixed monthly cost. It is suitable for organizations with an annual revenue range of $1M to $10M.
Enterprise – This is the best plan for users having an annual revenue of more than $10M. You can request for the pricing of the same according to your requirements on the website.
5. Zoho Subscriptions – SaaS Payment Software
Zoho Subscriptions is another best SaaS billing software. Users can easily manage the entire billing cycle of a customer with ease. The design of the recurring payment solution is according to the requirements of the growing businesses. Due to this, particular features help in addressing the problems of payment failure and payment overdue. This software is the talk of the town because of its multi-currency feature. It helps companies to easily deal with international clients. Thanks to Zoho Books, there is no need for any manual entry. All the transactions are constantly in synchronization. Above all, it is possible to automate integral tasks, and it offers the best integration options.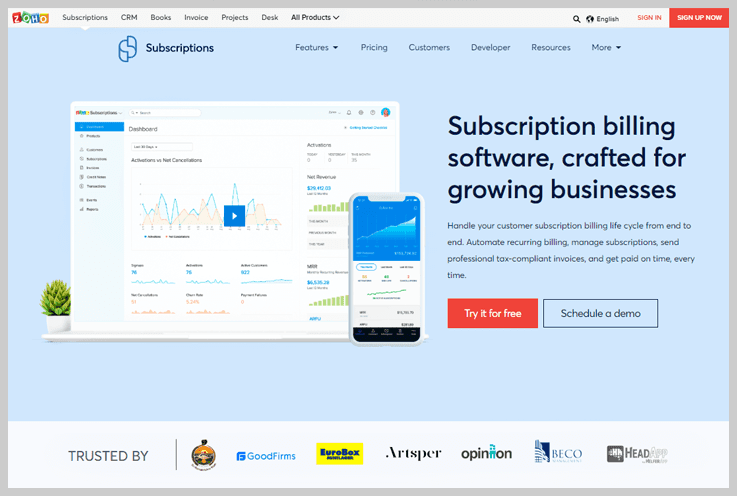 Features
Billing to Customization – Users can automate the subscription billing with this feature. In addition to that, all the invoices are tax-compliant. One can easily set up billing frequencies, automate proration, and securely store payment information
Process Payments – This feature ensures that users can pay for their subscriptions in multiple ways. It indirectly boosts the payment rates. It is possible to collect payments both online and offline and in multiple currencies. Also, it is possible to retry involuntary failed payments.
Subscription Management – Users can conveniently set up products & services and add pricing plans. It is also possible to integrate them with add-ons and offer coupon discounts. Managing multiple subscriptions from a single dashboard is also possible.
Key Business Metrics – Zoho Subscriptions evaluate the decision making with metrics. Users can get 30+analytic reports and all the information on subscription activity. It is possible to know about encompassing sales, churn, and revenue with just a click. It is also possible to extract details of tax liabilities.
Developer-friendly API – Thanks to this feature, users have access to open API. This directly helps in customizing it to an advanced level. Comprehensive API documentation is a part of it and helps in different stages of the setup process.
Pricing
Basic – Users can buy this plan at $39 per organization per month. Three automated modules and 500 customers are manageable with this plan.
Standard – The price of this plan $79 per organization per month. Users can manage 2000 customers and ten automated modules.
Professional – This is a high volume plan available at $199 per organization per month. It comes with ten automated modules, and the management of 5000 customers is possible.
Conclusion
Selecting the best SaaS billing software is a tough task. But, the above list of core features and overall pricing details will help you in making the right decision. In conclusion, we recommend you to critically compare the top two software that fits your requirements and then make the final decision.
You May Also Like To Read: