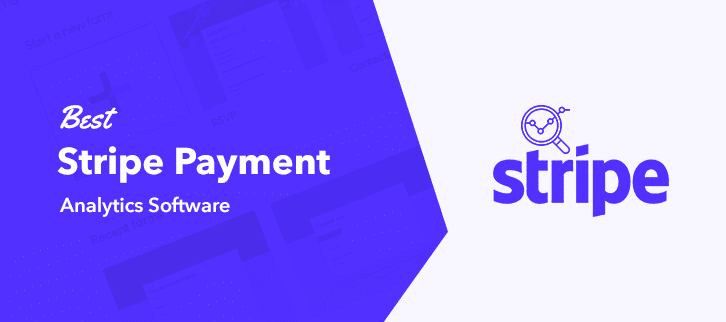 Are you looking out for the Best Stripe Payment Analytics Software to accept payments for your organization? Or do you want to keep an eye on every activity of your business such as recurring payments, funds, refunds etc. on a single platform?
If yes, then don't worry your search is over..in this article I have described the Best Stripe Payment Analytics Software to help you out in selecting what's the most affordable option for you. Most of the growing companies use subscription management and recurring billing for collecting the payments. For that, they either choose Stripe or PayPal. But Stripe is mostly preferred by tech-savvy coders as it is a stable and reliable option with no monthly fees, low transaction rates and it supports almost 25+ currencies across the globe.
But the question here arises why Stripe? Because it is one payment processor that stands out for all the kinds of transactions of goods and services. The set up is also quite simple, easy and it provides great documentation for website developers. Also, it offers ACH, API and software developer kit.
Basically, payment analytics software keeps track on all the online payments for e-commerce or subscription-based businesses. This software consolidates the payment data from multiple sources to monitor customer payments. If your business is expanding and you are using Stripe payment software, then it becomes important for you to add a third-party analytics tool. Further, let's have a quick comparison between the best Stripe analytics.
Quick Comparison Between Best Stripe Payment Forms Software
| | | | | |
| --- | --- | --- | --- | --- |
| Services | Pricing | Recurring payments | Sales Analytics | Unlimited Revenue |
| Pabbly Subscription Billing | $19/mo | Yes | Yes | Yes |
| | $29/mo | Yes | Yes | No |
| Baremetrics | $50/mo | Yes | No | No |
| Chartmogul | $125/mo | No | No | Yes |
| MRR.io | $19/mo | Yes | Yes | No |
With the help of these software, Stripe reporting and analytics becomes just a few click job. Even some of the above-mentioned tools allow people to collect one time as well as recurring payments via multiple payment methods. Why wait?
Let's know more about these online payment software in detail.
"An Online tool that doesn't include any transaction fees or invisible charges to generate unlimited revenue. Have access to several unique features such as unlimited plans & customers, Webhooks, tracking pixels, add-ons and many more."
Coming to our first Stripe Analytics i.e., Pabbly Subscription Billing, it is recurring billing software that automates the entire billing cycle. Moreover, it provides you with an organized dashboard where you can easily manage all the transactions, plans, products, etc. underneath one roof. Also, Pabbly Subscription Billing not only supports Stripe but other payment gateways like PayPal too.
By using this online payment software you can manage invoicing and payment processing easily and create unlimited products & plans. Other than this, it has several unique features such as extensive reporting, dunning management, integrated affiliate management system, email integration, and many more.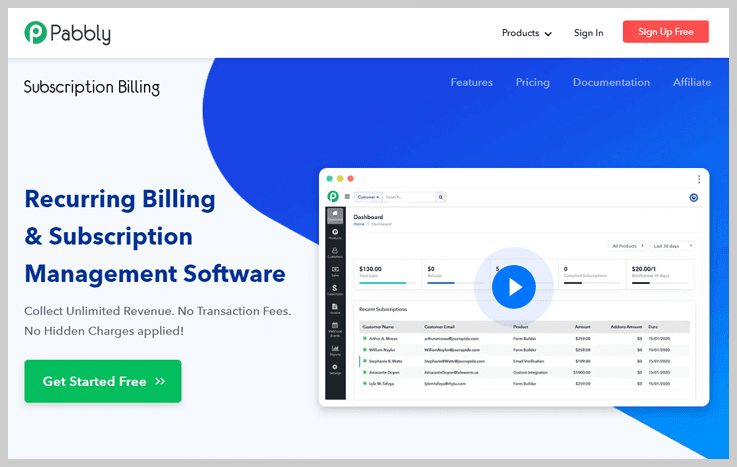 Features
Supports 25+ Currencies –  You don't have to worry about the overseas business as this software system accepts the payment from more than 25+ different countries around the globe.
Easy Invoicing – It keeps track of all the payments and maintains their systematic records.
Unlimited Products & Plans – You can make use of unlimited products and plans within a single account.
Get Sales Insight – The details of sales of Stripe or other payment gateways can be analyzed by using this software. Apart from this, you'll also get access to complex information such as refunds, total sales, subscriptions, customer info, etc. straight from the dashboard.
API Environment for Trouble-free Integration – This tool has an API using which you can easily integrate this software with various SaaS and other applications.
Affiliate Management –  This feature of Pabbly Subscription Billing assists the merchants to grow their business. This is the only service where subscription management and affiliate management go together.
Recurring & Single Time Billing – By using this feature, you can collect both recurring and one-time payment according to the needs of your business.
Pricing
Starter – As the name suggests, the Starter plan is the beginner level plan. It is available at $19/month in which you can manage 50 customers at once and can explore all the essential features of this tool.
Rookie –  The Rookie plan charges $37/month in which you can add or manage up to 1000 customers. What more you can do is you can customize your checkout page into whichever language you want.
Pro – It is the most popular plan as you can set up the accounts of unlimited customers without any restrictions at just $57 per month.
Advance – And the last is the Advance plan, it costs $79 per month. By using this plan, you can add unlimited customers to your account and get access to a lot of features.
2. Putler – Analytics Software
The next stripe analytics in our list is Putler which is considered an ideal analytics tool. It runs on autopilot, gives accurate analytics and business insights, and takes care of the daily tasks. It is powerfully aggregated with many businesses, payment gateways, eCommerce systems, and currencies. Also, it is an affordable tool. Other than this, there is a lot to Putler which is described below.
Features
Amalgamates Multiple Stores & Visitor Analytics – Putler lets you import e-commerce data from multiple sources like Payment gateways, shipping carts and google analytics in a single dashboard.
Clear Analytics – It has clear and useful analytics that people always want. It easily monitors 153+ vital performance indicators, recognizes the details of macro and micro trends.
Growth Tips – Here you will get experts advice and tips to grow and expand your business.
Pricing
Putler offers the following three packages:
Starter – This is a beginner's pack which starts at $29/month and takes up to 300 orders. It also issues refunds and manages subscriptions
Growth – Next is Growth, it starts at $79/month and takes up to 3000 orders. Apart from issuing refunds and subscription management it also provides many features like RFM segmentation, Inbound and Outbound API, and many more.
Scale – And the last is Scale which starts at $249/ month and takes up to 10,000 orders. It is a huge plan that offers a lot more benefits.
3. Baremetrics – Dunning Management Software
Moving on to our third online payment software i.e., Baremetrics which is a subscription analytics software. This tool is best for every kind of business, it offers a browser-based interface that supports automate reporting and data analysis in all industrial applications.
Moreover, it is a captivating tool that offers a number of services such as financial reporting, forecast, report export, segmentation, trial insights, customizable dashboard, and many more. To know more about its features, read further.
Features
SaaS-Based – Baremetrics is a SaaS-based business analytics tool that helps in executing the benchmarks of business efficiently.
Forecasting – It is an intelligent software as it assists in analyzing the revenue and predicting the future revenue forecasts accurately.
Recovers Lost Revenue – This feature helps in recovering the lost revenue or loss at $1500 per month. There is a unique feature called Dunning with the help of which you can recover up to $100/day.
Pricing
It comes up with four plans and it offers a free trial too. The pricing plans are as follows:
Startup – The start-up pricing plan starts at $50/month with MRR $10,000 or less.
Professional – Next plan starts at $100/month which includes MRR up to $50000.
Business – This plan ranges from$250/month with MRR up to $2,00,000.
Enterprise – And the last plan is of $500/month and includes MRR up to $5,00,000.
4. ChartMogul – Subscription Paltform
Our last-second online payment software is ChartMogul. It is also a SaaS (Software as a service) analytics software. It has application programming interfaces for custom integration. Most importantly, it gives you permission to connect to the service of your choice and analyzes the matrics.
Features
Consolidation –  ChartMogul allows you to connect multiple data sources or billing systems. And when you connect various data sources, it doesn't let you do the individual billing rather it shows accumulated aggregated MRR data.
Multiple Currencies – ChartMogul supports almost 169 currencies. A standard currency is already set in your account for reporting the revenue but if customers have different currency then it automatically converts the MRR amount into your currency.
Segmentation – Segmentation is the main part of ChartMogul reporting and analytics. By using segmentation, you can compare the results or performances of different customers.
Pricing
Launch – Launch pricing plan is free up to $10K in MRR. Its motive is the growth of business and includes all subscription metrics, billing integrations, access to API, and many more.
Mogul – Next is Mogul which starts at $100/month.It includes everything from the launch plan plus custom charts, customer lists, email support, etc.
Volume – This is for those subscription businesses whose run rate is more than $10M. It starts from $2000/month and includes dedicated CSM and guided onboarding.
5. MRR.io – Stripe Analytics Software
Here comes the last Stripe analytics of our list i.e., MRR.io. It is a monthly recurring revenue, churn, lifetime value SaaS metrics for your business. It helps in forecasting future revenues and allows you to report performance even when there are numerous subscription terms. Moreover, it is one of the most significant business metrics which comes with great additional features like metrics forecast, cohort analysis, advanced email reports and many more.
Features
Integration – This tool can be easily integrated with Stripe and Paddle as data sources. Apart from this, you can also enter the data manually as and when required or via the API provided by this software.
Multiple Payment Processor Support – The various payment software like PayPal, Braintree, Chargebee etc. are supported by this stripe analytics.
Dashboard – It has a user-friendly dashboard which shows all the related statistics.
Bulk Import – The users can import data from Stripe account and Paddle account. They can also import data in bulk from Excel files and CSV.
Pricing
MRR has two pricing options available for you. You can use the Basic plan until the number of customers in your account is below 100.
Basic –  The basic plan just charges $O. Yes, it's Free up to 100 customers and 3 team members. Other than this it also provided basic email support.
Pro Plan – In the Pro Plan you get access to unlimited customers, unlimited team members, forecasting and advance email reports at just $19/month.
Conclusion
This is it! I guess, now you all are very well aware of the significance of Payment Analytics Software in your business. With them, you can perform a lot of functions like a collection of payment from multiple sources, tracking of payments through the analytics feature, and so on.
I have mentioned the 5 Best Stripe Analytics Tool above for you to opt what's best for you. Why wait? Don't think twice, just integrate one of the above-mentioned tools with Stripe and earn unlimited revenue without any restrictions and complications.
You May Also Like To Read: