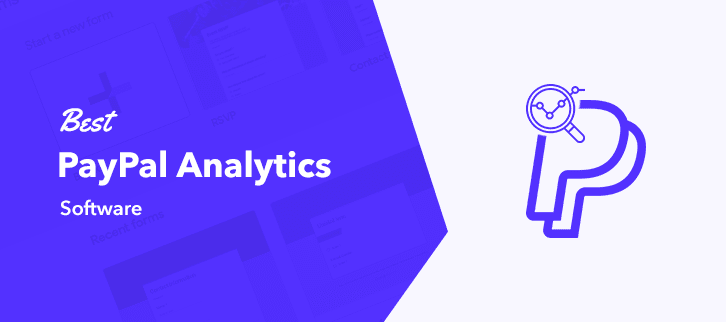 PayPal is a popular payment gateway used for carrying out secure online transactions. Many SaaS business owners have incorporated PayPal into their business practices. But in today's competitive business world, this is not enough to become the top dog. Your payment metrics tell a lot about how your business is performing, and through parameters like MRR, CLV, ARR, and Churn Rate you get to know every detail about your performance. For this reason, many small and large business owners are using PayPal payment analytics software to analyze their payments, reversal reports, refunds, and other transactional parameters.
Using a payment analytics tool for your transactions will bring you more success and higher revenues. A reliable payment analytics software can answer pressing questions like whether you are spending more to draw in customers, and whether you are making any profits out of selling your products. This way, you can adjust your business strategies and increase your profit margin to a great extent. But the fact of the matter is, there are thousands of these tools you can find on the internet. To select the top online payment software, you must study all their features and pricing details. This will help you select the right software for your business needs.
Comparison Chart of the 5 Best PayPal Analytics Software 2022
| | | | | |
| --- | --- | --- | --- | --- |
| Services | Basic Plan | Custom Domain | Dunning Management | Unlimited Revenue |
| Pabbly Subscription Billing | $19/mo | Yes | Yes | Yes |
| Putler | $29mo | No | Yes | No |
| Fusebill | $295/mo | No | Yes | No |
| PaySketch | $7.99/mo | No | No | No |
| ProfitWell | $0/mo | No | Yes | No |
Your business will generate raw data that you need to convert to useful information. With a PayPal payment analytics software, this is made possible. While choosing software for your business, you should keep in mind your transaction limit, your international transactions, and the nature of your business. Every business has different needs, and to help you with your decision, we have presented a list of the 5 best PayPal analytics software.
"Pabbly Subscription Billing sets itself apart from the rest by providing you with a custom domain for your checkout page. Unlike many other services, it has no limit on the business revenue, so you get full freedom with this software."
Pabbly Subscription Billing is a cheap PayPal analytics tool that lets you track your active subscriptions, new subscriptions, cancelled subscriptions, refunds, and the total sales amount. With this software, you can manage your recurring billing on a cloud-based platform that lets you do your job in a more organized manner. Pabbly Subscription Billing provides an advanced analytics tool so you can easily find any particular customer on the dashboard using filters and study his billings and payments.
You can effortlessly manage PayPal transactions through this software because it supports more than 25 different global currencies. So, for international business owners, there is no chance of losing a payment. Furthermore, it is one of the only software in the market that has an affiliate management feature. Using this feature, you can integrate with your affiliate partners who can help promote your business. The software also helps you retain your customers by sending them dunning emails.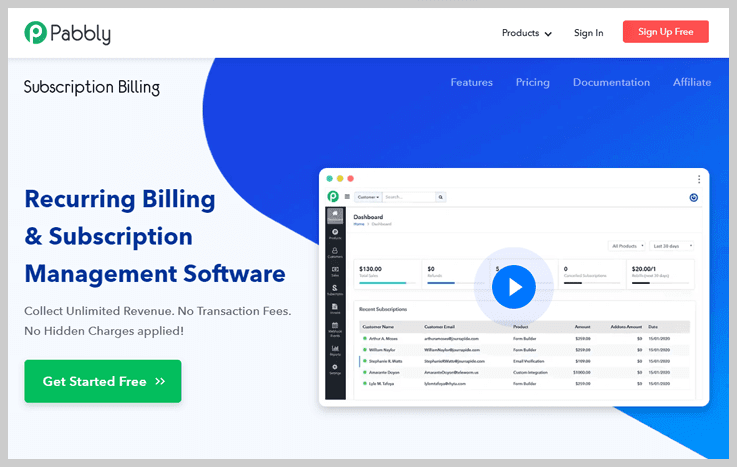 Features
Client Portal – All the details of customer subscriptions and payments are present in the client portal. This makes for better customer experience, and they are more eager to do business with you.
Sales and Analytics – With this affordable online payment software, you get detailed data about your business performance. All the sales parameters can be checked on the dashboard itself, letting you conduct your business in a more organized manner.
API Access – This software gives you access to API so that you can manage every aspect of your business. You can perform actions like creating new customers, creating their subscriptions, cancelling their subscriptions, arranging them in a list, etc.
Webhook Integration – Every customer event on your website triggers a webhook. This helps you keep track of every customer event, and reach out to them if needed.
Tax Management – Tax calculation is a cumbersome task, but with this software, you can easily calculate the tax depending on your country or region. Tax filing is also efficiently managed by this software.
Pricing
Starter – By paying $19 per month, you get to bill 50 customers.
Rookie – $37 per month lets you bill 100 customers.
Pro – Bill 150 customers by paying $57 per month.
Advanced – $75 per month, lets you bill 250 customers.
Enterprise – If you have more than 50,000 customers, you can buy this plan with custom features and pricing.
Putler is regarded by many as a reliable payment analytics software for the fact that it converts the reports generated by PayPal into a simple graphical form. From studying these graphical charts, you can get a sound idea about how your business is performing. With Putler, you can effortlessly analyze your hourly and weekly revenue, total sales, and net revenue. Putler also has pre-built dashboards where you can get all this information at the same place, presented in an organized manner.
With this software, you can manage subscriptions and analyze PayPal report 10 times faster. Furthermore, Putler creates detailed profiles for each customer, so you can get to know details about them beyond their purchases. Also, this helps you send them personalized emails and offers that can enhance customer engagement and lead to more conversions. This software can also manage data from multiple sources like shopping carts and payment getaways.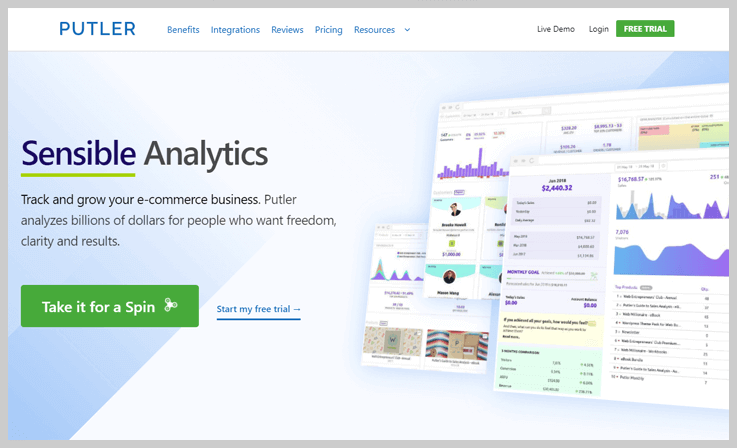 Features
Artificial Intelligence – Using big data and AI algorithms, Putler provides you with business suggestions based on how it is performing. You get a business insight, and a list of actions you can take to make more profits.
CRM Tool – The Customer Relationship Management tool gives you valuable information regarding each customer, that you can use to drive your campaign. You can also add your notes to customer profiles and order summaries.
Segmentation – This top online payment software lets you segment your customers into different groups based on age, race, sex, location, etc. This helps you differentiate between customers and know about their preferences.
Recurring Analysis – You can get information about recurring revenue, churn rate, reversals from this software. You can get to know which of your products is performing better and which is not.
Integration – You can integrate Putler with multiple businesses and services to automate different business processes. You can connect this software to your PayPal account and get details regarding customers, orders, transactions, sales, and products.
Pricing
Starter – Spend $29 per month for 300 orders.
Growth – For $79 per month, you can get 3000 orders
Scale – For 10,000 orders, you need to pay $249 per month.
3. Fusebill
Fusebill is a PayPal payment analytics software that you can trust, since their accounting, payment, and billing data is always secure. It provides you with key information regarding your business like MRR, customer churn, and the lifecycle of the customer. In a single interface, you can see details about your weekly, hourly, and monthly business performance. Moreover, with this software, you can better manage your recurring bills and catalogues. This allows you to make quick changes based on changing customer demands.
With Fusebill, your business can quickly adapt to product changes. This software also sends automated dunning emails to customers, reminding them about pending payments. The handy customer portal allows customers to view and make changes to their profiles. Moreover, Fusebill can integrate with systems like Salesforce, so you don't need to switch programs while entering customer information. With this software, you can maximize your revenue and streamline the customer lifecycle management.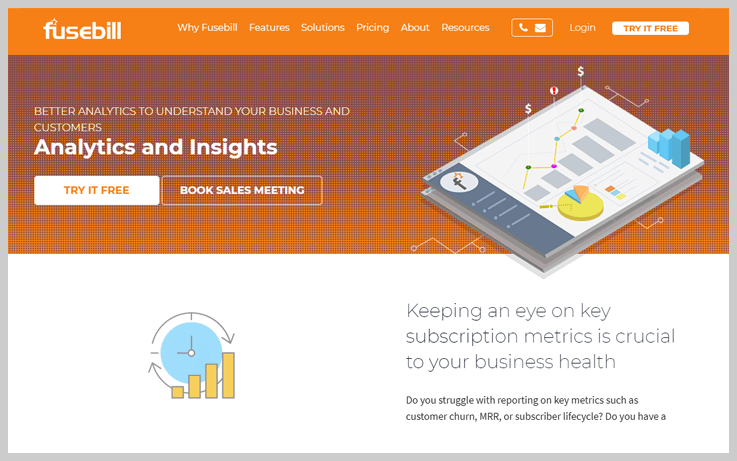 Features
Subscription Reporting – Fusebill provides you with detailed information about your subscription. With this valuable data, you can get to know how a particular product is performing.
Financial Calendar – With the financial calendar, you can easily view the billing activities for any particular day. You can also predict future payments and take steps to minimize failed payments.
Customer Dashboard – This software makes the work of your billing team easier through the customer reporting on the dashboard. You can gain an insight into your business, allowing you to modify your service offerings to maximize profit.
Dunning Management – Your customers might sometimes forget to make payments, in which case, a dunning email will be sent to them. This acts as a reminder for customers and ensures steady cash flow for your business.
Segmented List – This paid payment analytics software allows you to manage your customer segments better by presenting a segmented list of customers. Customers are segmented based on parameters like demographics, age, sex, etc.
Pricing
Startups- This plan is for less than $1 million total revenue and it costs $295 per month.
Rapid-Growth – This plan is for a total annual revenue that lies between $1 million to $10 million. It costs $895 per month.
Enterprise – This is a plan with custom pricing, best suited for more than $10 million annual revenue.
4. PaySketch
Analysing the data, your receipt from PayPal is easy with PaySketch since it helps you to monitor all your transactions live and automatically synchronizes them. This is a paid online payment software that helps you analyze your sales data with the help of statistical data. It also shows important trends, so that you can know in which direction your business is heading. Furthermore, it can set accurate sales projections for the future and track every payment to avoid running out of balance.
With this software, you can easily download the reports on products, customers, and payments. You can understand this data better by the means of charts and graphs which can also be downloaded. PaySketch gives you a greater degree of control over your PayPal account, by letting you segment the transactions. Moreover, you can easily keep track of your account balance and send money within a few seconds.
Features
Business Analytics – This affordable payment analytics software shows you metrics like order frequency, customer loyalty, and order time all in a single interface. There are separate dashboards dedicated to sales history, transactions, product performance, payments, etc.
Process Refunds – There will always be some customers who will not be happy with your products and services, and will ask for refunds. With PaySketch, it is easy to process refunds by entering a note and the refund amount.
Automatic Synchronization – This feature allows the software to automatically download transaction data while it is connected to the internet. For high-selling products, you can set updates to be sent at short intervals.
Secure Payment – PaySketch communicates with PayPal via the secure HTTPS protocol. Sensitive data is encrypted with a complex encryption code. So your transaction data is always safe and secure.
Dynamic Search – This feature lets you browse through a long list of transactions. You can search for these transactions using the email address, name, amount, transaction type and status, etc.
Pricing
Standard – For $7.99 per month, you can get access to 5000 transactions.
Business – Access 20,000 transactions by paying $9.99 transactions.
Professional – For 50,000 transactions, you have to pay $11.99 per month.
5. ProfitWell
ProfitWell is a free payment analytics software that provides you with detailed insight into the revenue growth for your business. With this software, you can calculate monthly recurring revenue, upgrade growth, new customer growth, and the value of the average customer lifetime. Such data helps you better allocate your budget and provides you with clear data regarding business performance. Also, you get a lot of information presented in an organized manner with advanced dashboard and reporting tools,
Additionally, you can reduce customer churn with the help of the Retention tool, which gives you data regarding customers who have little or no activity. Moreover, you can manage all your customers in one place and let them use cash, credit card, cheque, and other payment methods. It's easy to set default values for billing dates, invoicing, dunning, and grace periods with this software. You can override these values for individual customers.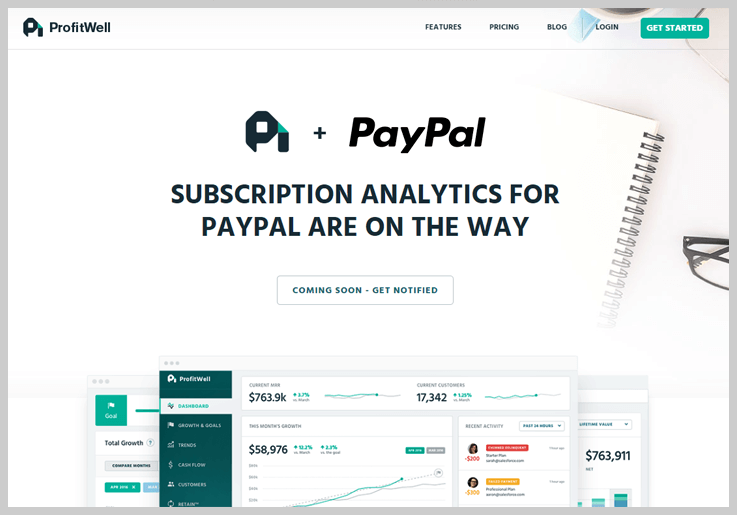 Features
Integration – This cheap PayPal analytics tool lets you integrate with multiple payment gateways like Braintree, Stripe, Chargebee, and Zuora. By integrating with these gateways, you can automate a large part of your payment process.
Intelligent Metrics – With this feature, you compare your business performance with other reputed companies. This helps you realize where your business stands and where you need to concentrate to grow your business.
Tracking – With ProfitWell, you can easily track customer engagement and usage in terms of the plan, ARPU, customer size, and other factors. This helps you better plan personalized campaigns to enhance customer engagement.
Cohort Report – You can get an idea about how long are your customers associated with your business. Thus, you can reduce churn rate by tracking retention based on the plan, time, and other factors.
Dashboard – This user-friendly dashboard lets you view all our business performance data in one place. With the data presented to you in such an organized manner, you can better understand what you need to do to improve your business performance.
Pricing
Free – Using this free plan with limited features, you can bill unlimited users.
Additional Plans – This plan consists of the Retain product which charges according to revenue, and Recognized, which costs $1000 per month.
Conclusion
While reports generated by PayPal may be difficult to make sense if you are using it for the first time, you can easily understand them using payment analytics software. After going through the above list of products, you know about the best PayPal analytics software in the market and the features they provide.
You can select the one best suited to track and manage your transactional data. It is prudent to choose the software that offers the best value for money. Many of the software provide free trials for a few days, so you can check out the features to see whether they are ideal for your business.
You May Also Like To Read: