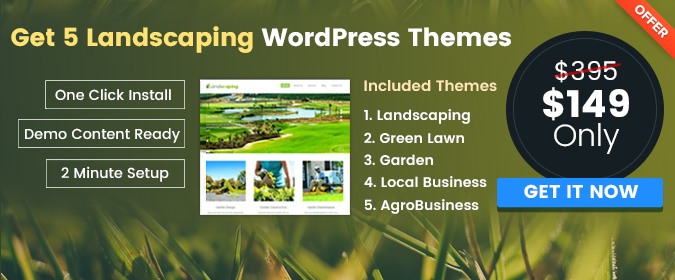 Ready to get your exterior landscaping or gardening designing business online with a graceful website? Look no further! We've manually selected the  11+ best Landscaping WordPress Themes for you.
Welcome to this bunch of amazing WordPress themes crafted for landscapers and gardeners.
You might get confused in selecting the best among others as one theme says simply is the best, and another one says larger is better, and some feature in a theme will make you realize its essence.
And so to help you get out of this confusion, I have covered 11+ best landscaping and gardening WordPress themes for landscapers and gardeners. Most of them are mobile responsive, SEO optimized and easy to customize.
You might also be interested in:
---
So get ready to pick the best theme –
1. Landscaping WordPress Theme
Landscaping WordPress theme is designed specifically for use in landscape related applications, be it work regarding paving, construction, bricklaying, turfs or lawns.
The prime importance of the theme is to present the highlights of your gardening or landscaping business, right on the front page.
This neat categorization makes it easier to acquire new customers as it enables them to understand the essential services that your business provides without any unnecessary obfuscation.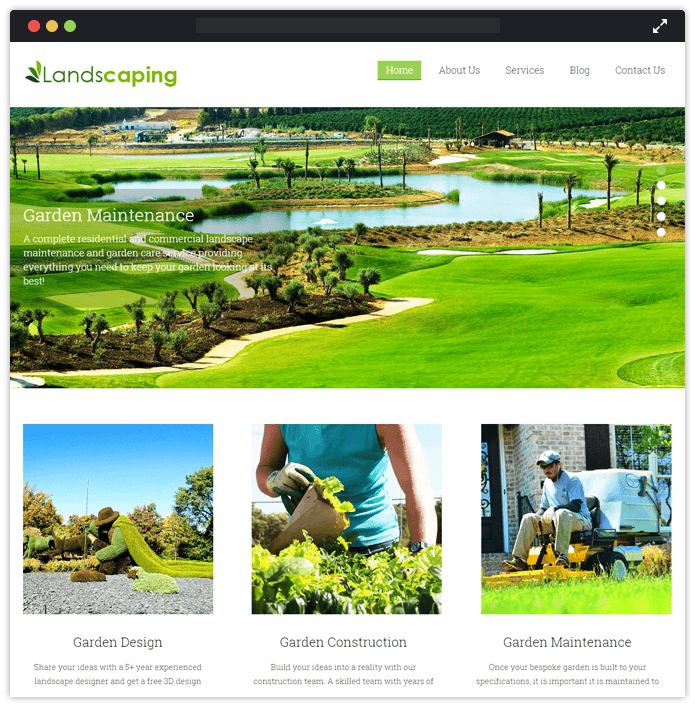 The theme highlights articles on the home page and a messaging system allow prospective customers to address you directly. As well as under the slider, you can feature your component services that are provided to customers.
These features make Landscaping a fairly well-rounded theme for the business purpose it is designed for.
Key features of Landscaping include –
In-built SEO controls.
Cross-device and browser compatibility.
Wide choice of theme colors and accents.
Built-in templates for various sections and scenarios.
Designed to work with mobile browsers and touch responses.
---
2. LandScaping WordPress Template
LandScaping is built with the trendiest design, chosen from a catalog of hundreds of great designs. This WordPress theme looks like just another landscaping theme for gardeners and landscapers.
The theme is a robust and an aesthetic choice, on the other hand, it is easy to use and you can have your website up and running in just a few seconds. It offers full control on the theme and has great flexibility with many options to choose from.  
It also provides a modern and seamless design with tonnes of options, lightweight drag and drops page builder, no coding experience required, impressive effects in gallery and portfolio and fully WooCommerce compatible theme that let you sell gardening tools and products which was never been easier before.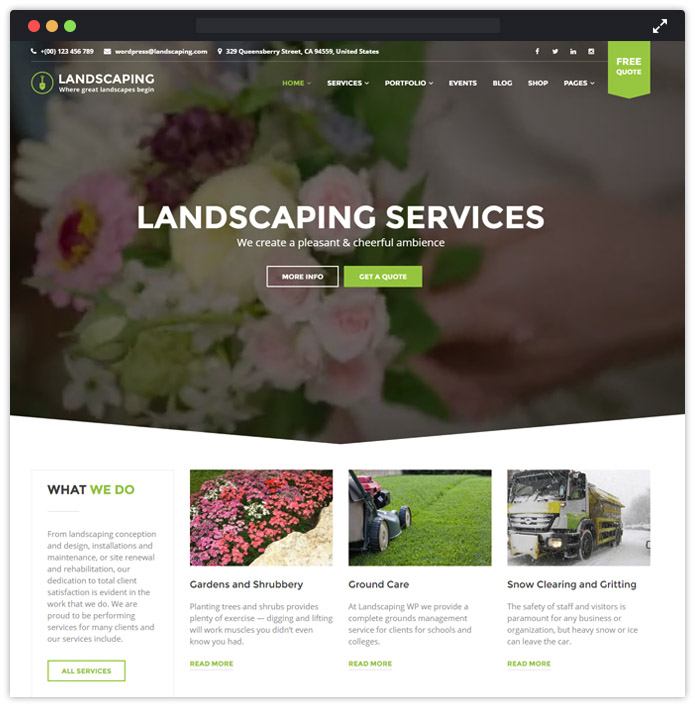 It is undeniable that WooCommerce plays a key role in every business's website, and it is even more correct with the case of gardening and landscaping business.
You will be able to promote your business in a more efficient manner to your customers.
Key Features Are –
Acute sticky menu.

Slider header with Revolution Slider.

3+ Landscaping demos, a new demos to sell products coming soon.

Video header.

Live customizer.

700+ fonts and 1600+ icons.

Multilingual ready and RTL support.

Smart events management.

One click demo importer: build your site in just few minutes.
---
3. Green Lawn WordPress Theme
Green Lawn is a gardening WordPress theme made specifically for businesses that provide services related to garden decoration and lawn care.
It provides you with an attractive layout that is designed by keeping in mind to promote a business venture related to landscaping and lawn designing.
The theme provides quick access to the various sections of the website, viz. Home, Services, Gallery, Blog and Contact, and is accessible from all pages. This approach not only reduces data consumption and loading time on the client side but also increases the usability of the website.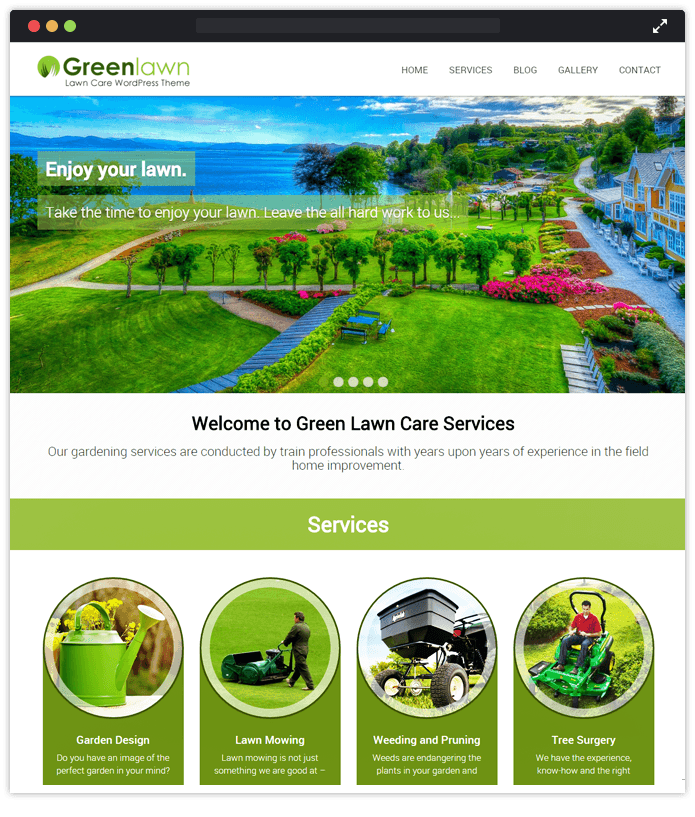 The Green Lawn theme also offers a full-screen slider element to showcase attractive pictures and graphics. It also can feature textual content like short descriptions or explanatory notes to the images as well.
You are not the only one enthralled by its look there are many more who loves the nature involved work of this WordPress gardening theme.!! Highly Recommend. 
Some unique features of Green Lawn WordPress gardening theme are –
Hexagonal portfolio section with dedicated filters.
One page layout with quick navigation.
Featured blog posts on the homepage.
Parallax scrolling.
Widgets in the sidebar and footer.

Assemble snapshots.
---
4. Garden WordPress Theme For Gardener
Garden is a divine general purpose gardening WordPress theme that is suitable for businesses dealing with landscaping, exterior design, gardening, landscape architecture, and consultation, etc.
The theme utilizes the efficient Blackrider theme layout and provides a very attractive and functional presentation for the services. Garden allows categorization of your services in four broad sections distinguished by columns.
It can be easily outdated from other themes with its lead generation/contact form that looks awesome.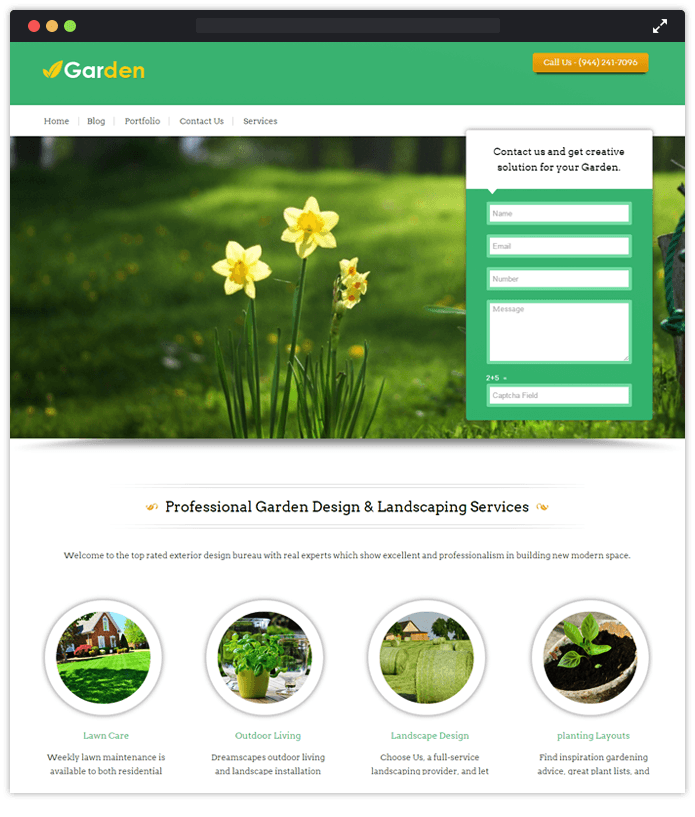 The theme has a slider element that spans the entire width of the webpage to offer enhanced functionality in the header section. It can be used to feature flagship items or showcase attractive images related to your business or past work.
Garden WordPress theme also provides a dedicated photo gallery that hosts all images in one location for easy reference and access which makes your portfolio as the center of attention. It allows prospective clients to form an impression of your work and the level of service that you provide.
Key features of Garden include:
Hover effects for enhanced usability.
In-built lead capture forms.
Homepage slider element.
Social media promotion is in-built.
Compatible with all WordPress plugins.
---
 5. Local Business WordPress Theme
With its commercial design, the local business WordPress theme is a more conversion focused (business oriented) theme.
It has the simplest theme designs that you would have ever found. People are running businesses in local areas, including landscapers and gardeners, of course, can get their website running in a minute keeping away from coding hacks.
The theme has a built-in lead capture feature that allows visitors to submit their queries to you by filling in the relevant fields.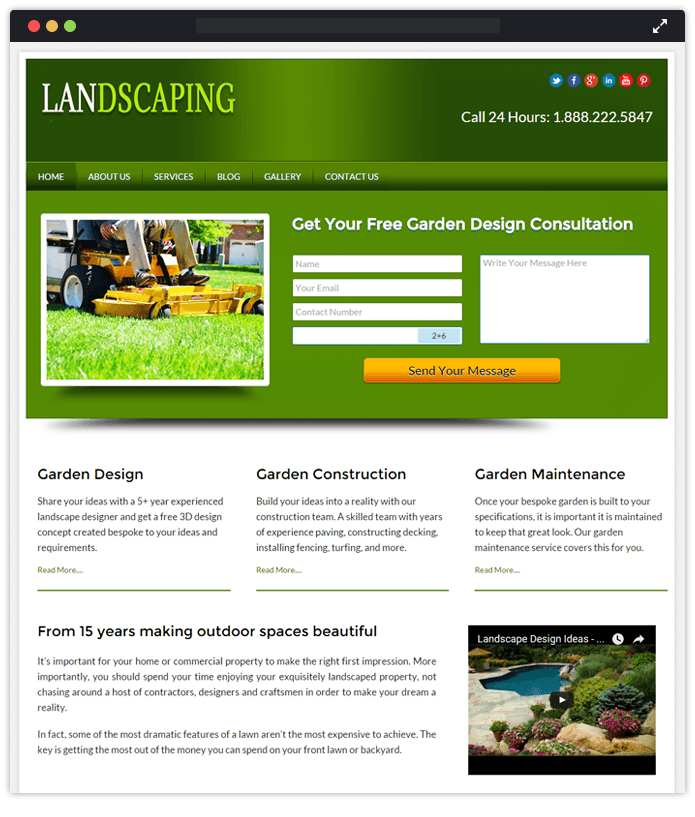 Key features of the Local Business theme includes –
Easy to set up no coding requirement needed.
Tap to Call feature for mobile devices.
Social widgets and video embed support.
Ready to use slider images.
---
6. Turf 
Turf is one of the premier WordPress landscape theme designed specifically to be used in websites pertaining to landscaping, gardening, lawn work, etc. The theme is designed by ThemeLab and uses natural and earthy colors in its design that resonates with its business agenda.
Turf features responsive design, meaning it changes automatically to fit whatever device or browser it is viewed on. This results in a consistent user experience across all platforms and device sizes.
It also provides a host of color schemes to suit any particular brand requirements or customization and uses a static top bar to categorize and provide links to articles with definite overviews such as Home, Services, About Us, Testimonials, Blog, Design, and Contact.
Categorization improves the overall structure of the blog content and also helps in contextualizing and referencing content in the future.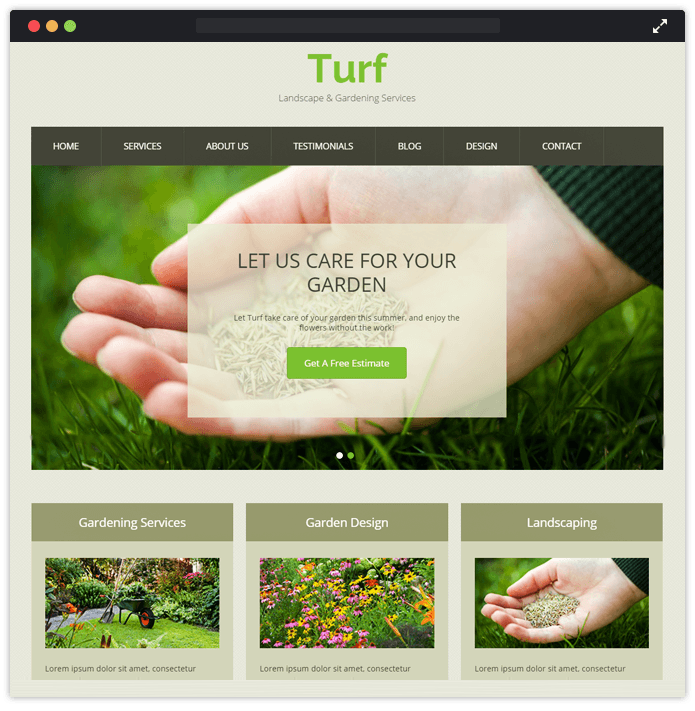 Headlining in prime placement is a slider element that acts as a carousel featuring important news or key parts of your business that might be effective in acquiring more customers. The carousel can be customized by featuring images, text and responsive links on each slide.
Turf has been designed keeping in minds the needs of online promotion. This is why it enables easy controls for SEO and also employs custom methods for faster recognition.
Key features are –
Earthy and natural color choices
SEO ready
Responsive design
Retains usability even on mobile devices
Included templates for varied content types
---
7. Landscaper
Landscaping WordPress theme is designed by Nexus Themes and is extremely focused on its singular appeal to prospective customers in the landscaping and outdoor design and decoration industry.
The theme uses the solid design, a very modern and fresh look, ideal for business promotion. On the other side, Landscaping has very straightforward installation procedures and requires minimal reconfiguration to get ready and online.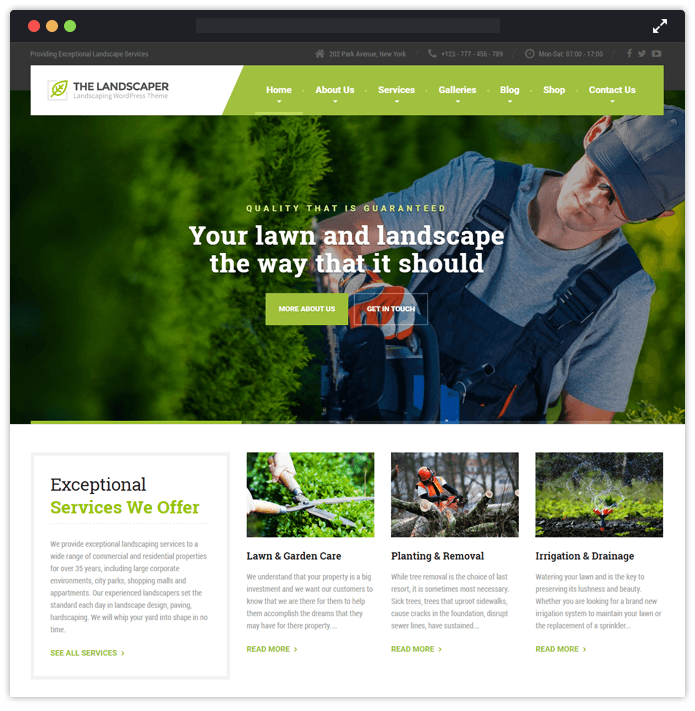 The testimonial section allows you to easily feature the warm wishes of past clients and can be expanded into a dedicated page of its own. It has support for an infinite number of color schemes and a front-end tool is available for administrators to maintain and edit the look of the site.
Key features of landscaping WordPress theme are –
Turnkey installation
Classic blog design
Full page dedicated sections for all featured subsection
Useful sidebar
Strong and useful backend
SEO out of the box
---
8. Exterior Design
The Exterior Design gardener WordPress theme embraces the conventional approach to a website, going for a static masthead with categories. This is not only a natural form of presenting information, mimicking tabs on a folder but is also intuitively usable.
The theme is used mostly by for landscaping and gardening. It provides beautiful sections to showcase your work and is inbuilt with a call to action button to grab more visitors.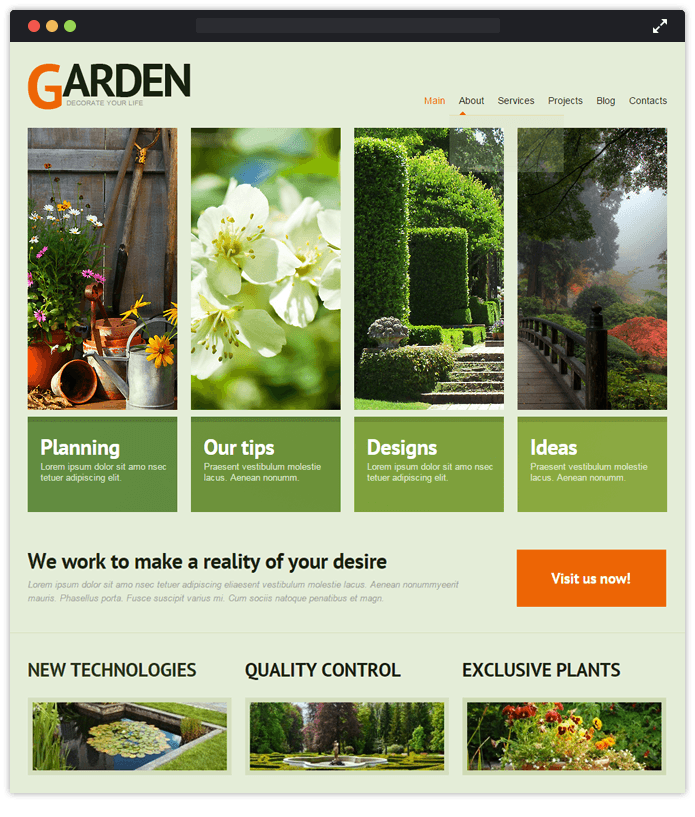 The interactive slider element occupies center stage just under the masthead and can be used to feature and promote key points or attractive shots of your landscaping business.
The service panel can be used to briefly break down your gardening business components so that interested people might have an easier time on deciding whether they want to go with your company or not.
Key features of the theme are –
Large slider element
Static masthead anchors the content to the page
Preset color combinations related to the outdoor decoration business.
News scrolling element and gallery element to feature images.
---
9. Avante
Avante is a powerful theme and brings a lot of functionality to the table. It comes with multiple slider elements, each customizable in position and content to feature.
It also has built-in blog layouts that help content writers easily tailor content to the look, feel and form of the website's past work or set guidelines. This gives an idea of continuity in the content.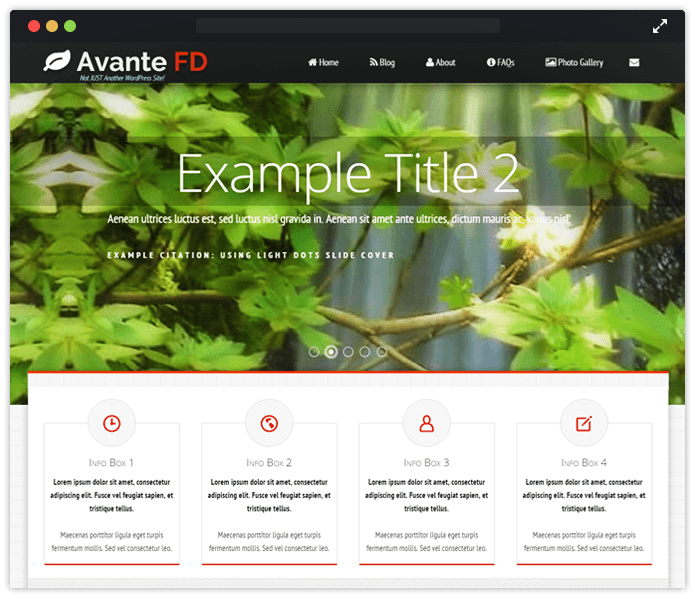 The theme features a host of custom and WordPress ready widgets that are fully compatible with any applications and also has a redesigned sidebar that can hold multiple elements and widgets and is fully customizable.
Avante is able to extend the functionality of the website by incorporating powerful plugins and apps.
Key features are –
Responsive design.
Developed using HTML5 AND CSS3.
Offers the simplicity and modern look of a flat design.
---
 10. LawnCare
LawnCare is an angular blogging theme that lends itself very well to landscaping and outdoor design projects. Its sharp edges and boxy shapes and elements create a stark contrast with the curves and natural shapes that are encountered in real life.
With a very clean and white look in the background, the images stand out very easily and allow the content to take center stage on the website. The Home section layouts the various subcategories in rectangular formats for an overview of the site's content.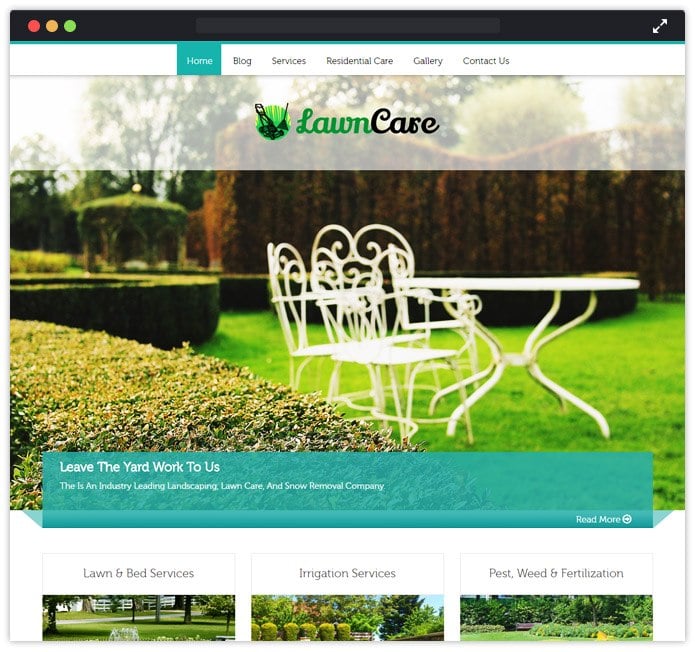 The text is featured in hover cards giving a very attractive and sleek look on the page.
Being a traditional, albeit modern, WordPress theme LawnCare also offers a blog section which can be used for communicating with clients, offering general purpose advice to enhance the company's goodwill or announce the news.
Key features of LawnCare WordPress theme are –
Angular design.
Lightweight back end and fast performance.
Responsive design for cross-platform compatibility.
Focus on the visual content.
Grid style homepage helps in grabbing immediate attention.
---
11. Stigal
Stigal is a modern look WordPress them playing in the colors of autumn, going for warm and dark tones as an accent to bright whitespace. This creates a unique look in the landscaping and gardening domain.
Featuring full responsive design, sites made with Stigal are guaranteed the same great user experience irrespective of the device they are viewing the content on.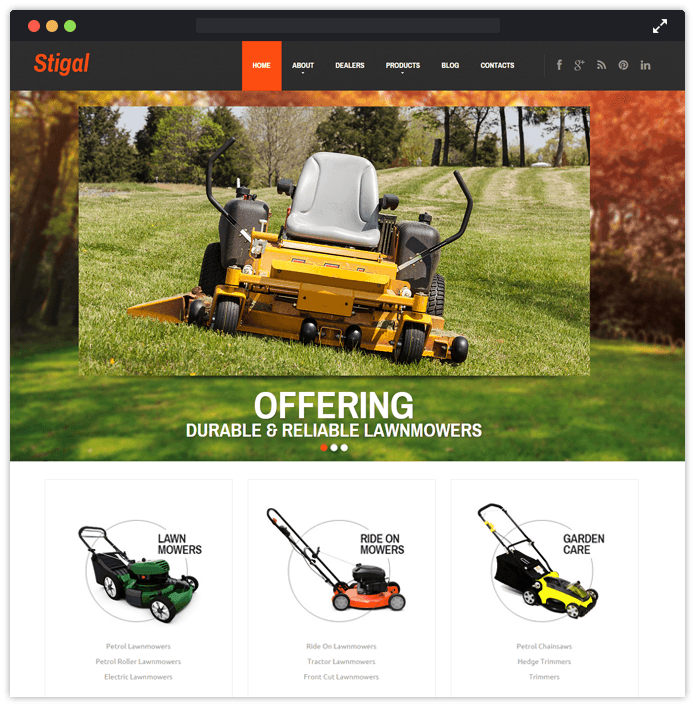 By intelligently changing the layout on the fly, Stigal ensures that the continuity and focus on the content are not broken.
Stigal features front-end editor controls and features custom templates and formats to shape your posts and is WPML certified, allowing you to create multilingual versions of your website.
Also, shortcode based design approach makes it easy to format content right inside the text editor window, saving time and hassle.
Key features of Stigal landscaping WordPress theme are –
Easy installation.
Customizable typography supported by Google Fonts.
SEO ready.
Comprehensive front end editor suite.
---
 12. AgroBusiness
AgroBusiness is a transforming WordPress Theme. Agriculture is going to create huge opportunities in India, this theme is fruitful for Agriculture Engineering,  Agriculture Science, Agroecology, Agroforestry and Monoculture Farming.
Service Section of the Agro helps you to display Crop Production services such as Soil Sampling, Tissue Sampling, Field Scouting and Application Precision. Full-width Slider in homepage allows you to show testing techniques, you can create an attractive and rich Blog page where you can share numerous topics related to your work.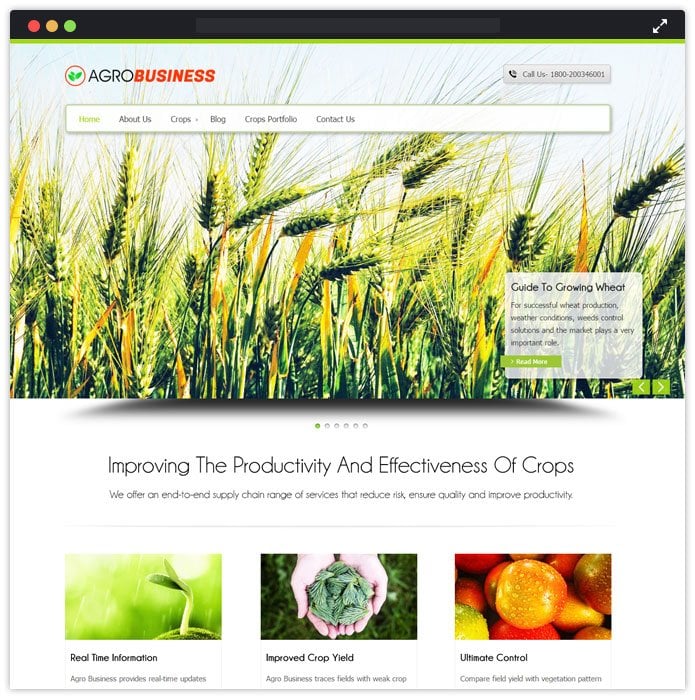 Agro also gives a space known as testimonial area, where your clients can give proper feedback about your products & services or any recommendations they feel is relevant.
Powerful Agro Theme Features are –
12 Eye Soothing Color Skins.

Fully Responsive, i.e. Accessible in all types of Devices.

4 column widgetized Footer.

Google map integrated into the Contact Page.

Lifetime Update.

Fully WPML Compatible – Translation Ready With Mo/PO Files.
---
 13. GardenCare
GardenCare is a bright, attractive, intelligent and dynamic WordPress Theme for gardeners, florists, lawn decoration, groundskeepers and landscape architect. Crafted with devoted efforts this theme has features which will let you create an amazing website.
Theme clever tools combine the freedom of visual composer with the appeal of making the website look perfect. Its responsive design with classy color options, boxed slider, and sections like a blog, testimonial completes your website. A theme is integrated with newsletter subscription so that any events, news or happenings can be informed through emails to your customers.
To know more about a theme and how its features can improve your website to access our live preview.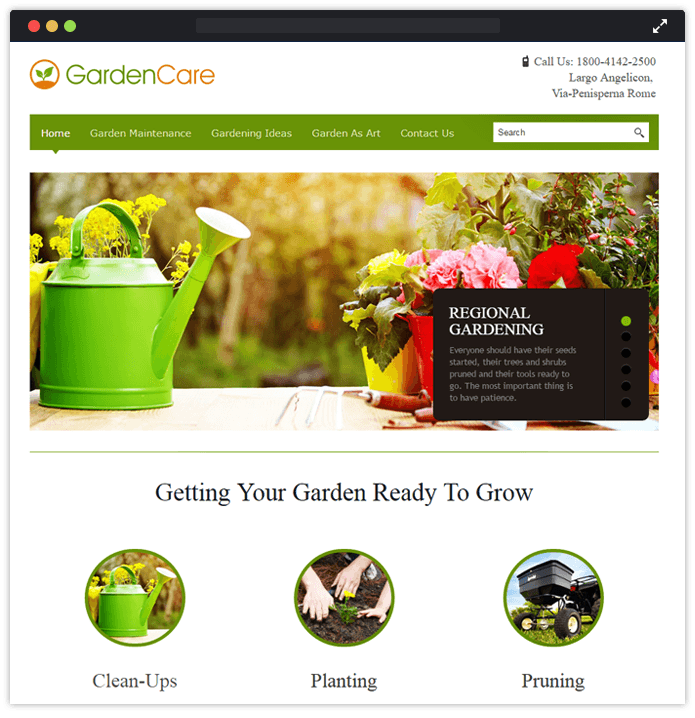 Key Features Of GardenCare Include –
6 boxed slider.

9 column gallery listing & Inbuilt gallery templates.

Homepage contact details.

Business tagline with multiple color schemes.

Integrated contact form.

SEO Optimised with Single click installation.

Easy setup and Clean code.
---
Conclusion –
I hope you've found the best landscaping WordPress theme you were looking for. I will be adding more themes in the future, so don't forget to bookmark the list.
Something Extra – Have a look at our famous blog posts –