"One cannot think well, love well, sleep well if one has not dined well". Dining in the present day is a multi-billion dollar industry and after extensive research, I am listing here 10 Best Food WordPress Themes by which you can create a powerful food website to share the delicious recipes & meals and become the best food brand all over the world.
Now maintaining digital presence will no more be expensive and complicated. In less than hundred dollars, your brand can get the website it deserves.
Become the dominant player or the best brand in this food industry that is loved by all.
Branding is the most important thing in a food business and several companies spend lavishly on branding via billboards and TV advertisements but pay no heed to their website.
A good looking and clean website is the most important pillar of your digital presence but, and now you can get your restaurant to a web platform for a few bucks.
Just feast on this list of 10+ Best WordPress Food Themes that we have curated keeping your business in mind
You might also be interested in:
---
1. HomeChef – Home Recipe WordPress Theme
Specially designed for – Chefs, caterers, and food truck owners.
The first one on the list is HomeChef WordPress theme that is completely customizable. You can change every feature of it so that your business derives maximum benefits. Every care has been taken to include options required to grow your business.
The best part about HomeChef WordPress theme is its lightness; it does not take much time to load. The theme also comes with developer's license and you can use it for multiple purposes! It lets you create as many pages as you want, and you can also have a dedicated gallery exclusively for your latest gastronomical creations.
The artistically designed and visually appealing theme is a must-have for all the chefs, caterers, and food truck owners. It consists 6 normal and layered slider to select, the theme has 3 or 4 column feature area to share your food services.
---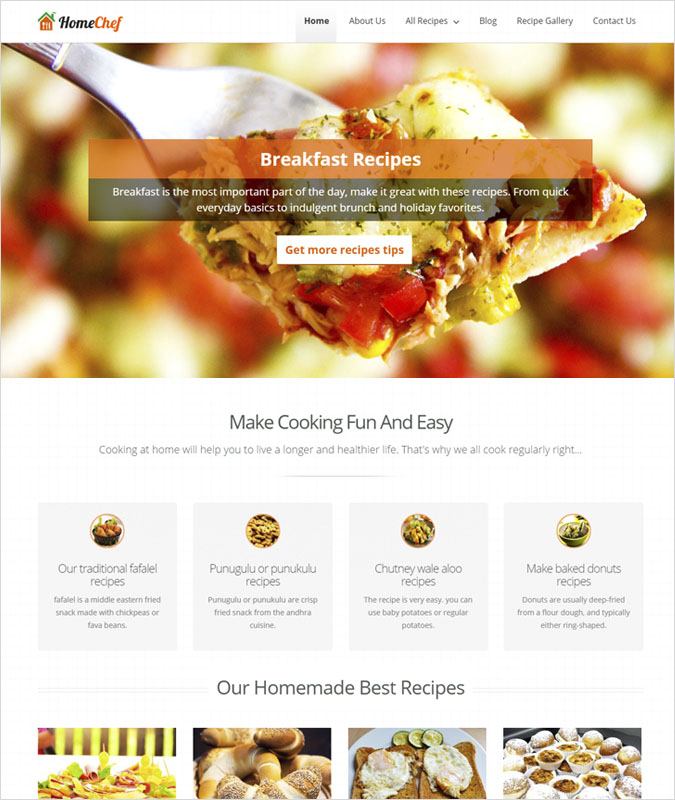 ---
Salient features of HomeChef WordPress restaurant template are:
Sliding blog area on the homepage.
Testimonial & review section to share the feedback.
The product is made accessible instantly!
Upload your business images in sliders and highlight it to the world.
Inbuilt contact form.
Completely responsive template.
Compatible with all the browsers, be it Google Chrome, Opera Mini, Internet Explorer, Mozilla Firefox or any other browser your potential customers may use.
---
2. FoodRecipe – Recipe Blog WordPress Template
Crafted For – Chefs, caterers, and food truck owners.
The Foodrecipe theme was designed keeping in mind the best possible ways through which food business can connect with customers or food lovers. This theme enables easy sharing of mouth-watering recipes. The recipes shared will automatically be arranged in order so that your visitors can easily assess them. It's a completely responsive template that a food business must have as most of the people access the website via mobile or tabs.
In addition to allowing easy customization options, the theme can be navigated easily. This Food WordPress template is enhanced with 8 glittering colors that give you a vibrant and resplendent effect to your theme, SEO options include meta keywords with description and author name.
---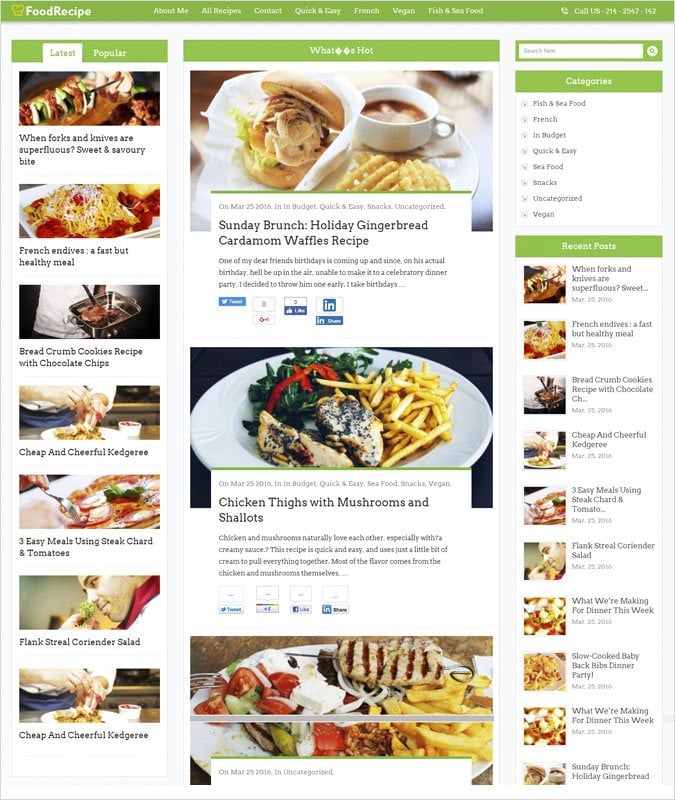 ---
The major features of FoodRecipe – Recipe Blog WordPress Theme are:
Embedded with a slider in the bottom of 2 sidebars.
Tap to call button at the top of the site.
Inbuilt contact form.
Multiple social sharing icons.
Compatible with all the browsers so that visitors from across the globe can easily access your business.
---
3. iCOOK – Food Recipe Blog WordPress Skin
Perfect For – Food blogger, foodies & recipe magazines websites.
You Cook, You Share and You Grow. Yes, this theme is a must have if your focus is on food.
It's an amazing food recipe blog theme enabling you to share content pertinent to your food items and recipes, the theme has a unique feature that is that gives you the privilege to re-write your blogs.
Its excellent design enables culinary skill sharing like never before. The theme is beautifully crafted and easily navigable; it ensures utmost importance is given to every single recipe you share.
The caterers and food truck owners will find a hidden friend in this theme as this theme was designed after going through the problems faced by them. It's clean and crisp layout will truly mesmerize the visitors, so grab this iCOOK theme at a heavily discounted rate now!
---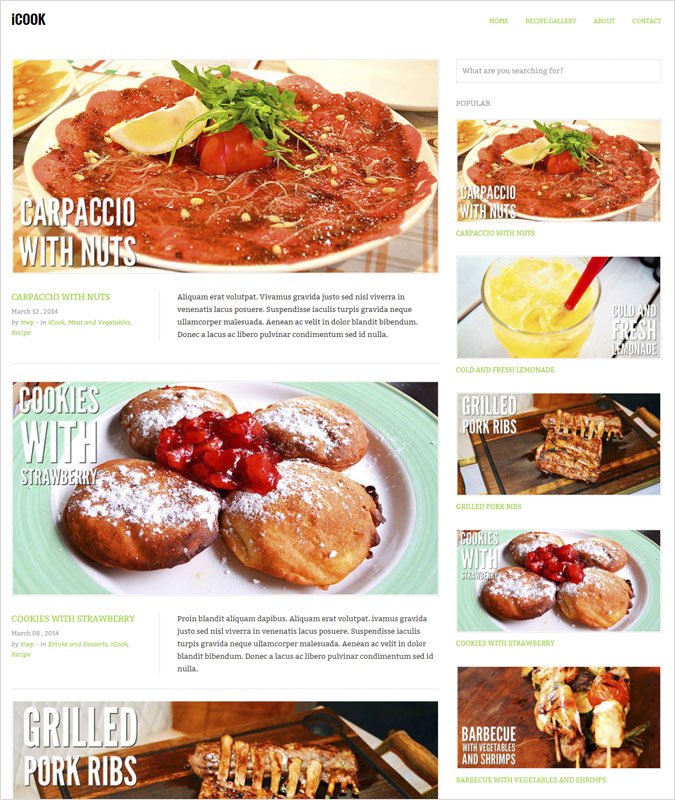 ---
Features of iCOOK – Food Recipe Blog WordPress Theme
The themes come with multiple color schemes, allows the user to design a website the way they want.
Instant product access and regular product updates!
Multiple colors to make your site attractive.
The admin panel gives total control to the user. You can customize complete functionality without affecting theme coding.
No matter what browser the visitor uses, your website will be accessed by all.
---
4. ChefKing – Chef WordPress Theme
Relevant For – Restaurants, Cafeteria and coffee shops.
ChefKing is a theme, which is designed to put minimalist responsibilities on your shoulders. The chefs, caterers, and street vendors will discover that their business will see stupendous growth by using this theme. The theme comes in ten different visually appealing colors, it allows you to connect to customers easily and keep your visitors informed about the latest happening in your company.
To let you trade and supply your food items the theme offers you a WooCommerce feature, to allow your customers to shop through your food site and enjoy food products that you make. The theme also encapsulates a product plugin to display and describe your food products.
---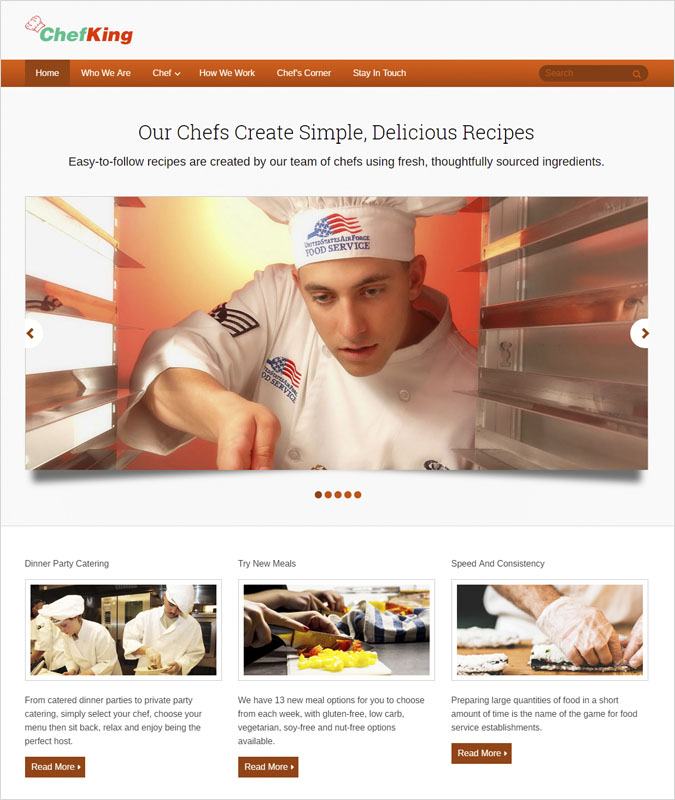 ---
Most important features of ChefKing – Chef WordPress skin
Inbuilt contact form.
Allows easy displaying of events and blog posts.
The beautifully designed personal blog area allows easy sharing of recipes, tips, and quick kitchen hacks!
The theme is integrated with "Lead Capture Plug-in'', with this you can easily capture customer's leads and keep them informed about your business always.
The slider allows easy display of everything that is food!
Browser compatibility so that your business is discovered by all.
---
5. FineFood – Food Truck WordPress Template
Perfect For – Food carts, ice-cream trucks & street food industries.
Good Food leads to Good Mood. Such sayings are totally fine, but don't you wish that your good food is discovered by all? In order to make it discoverable, an online presence is a must. When going online there is no better way than to host a site on WordPress. This theme specially designed for WordPress is a must have for chefs, caterers, and food truck owners.
The fully responsive Finefood theme has unique full-width slider and also has tools for quick navigation. You get several color options and the theme allows you to link your business social media profiles easily. The theme promises to spoil you with several color choices and templates because every business deserves to be unique.
Apart from lead capture plugin, it has a number of features in its theme option like homepage client setting, homepage gallery setting, it consists of awesome font icons to enhance your three column feature area, all these settings can be easily managed through our FineFood.
---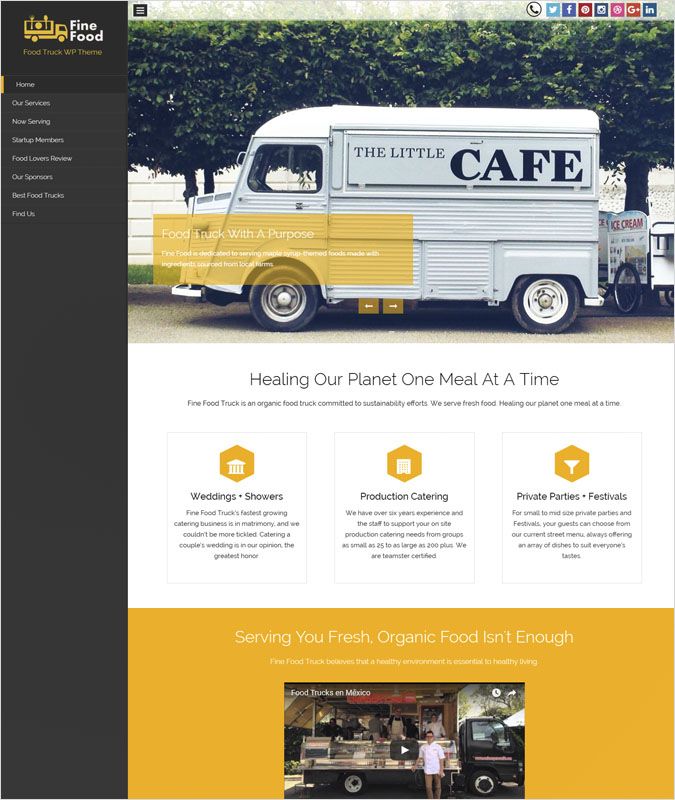 ---
Unique features of the theme are:
Allows you to flaunt mouth-watering creations with crisp descriptions in the slider.
Highlight the best dishes in the gallery section.
Display testimonials from your visitors on the site.
Add video and information about your wonderful team!
Responsive in nature.
Compatible with all the browsers so that your business is accessed by all.
---
6. OnePage
OnePage is a luminously bright and crispy layout WordPress theme which delivers enterprise-level tools for creating a single page website of restaurants, hotels, motels, etc.
This theme is packed with so many features but one of the unique features is team member section where you can expose your restaurant professional chefs along with the name and cooking specialty, you can manifest your contact number at the header of a homepage.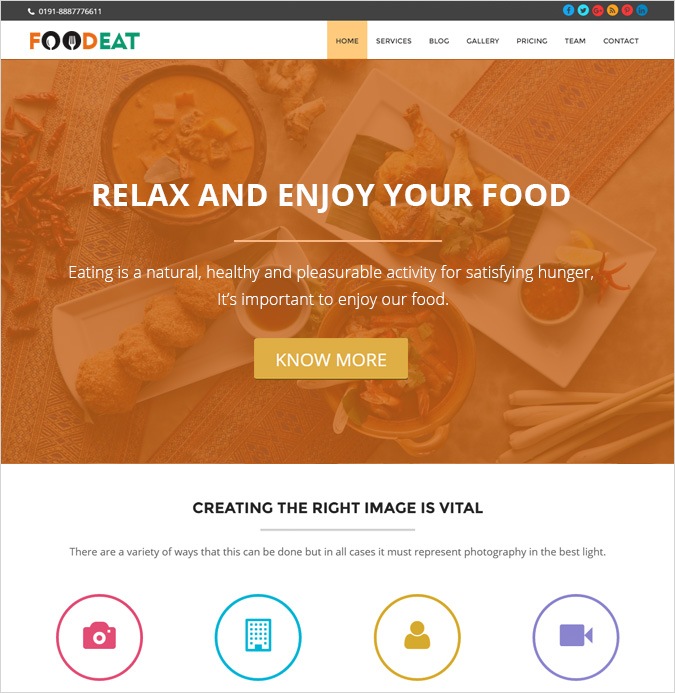 ---
Outstanding Features –
One page template.
Pricing table feature.
Integrated social icons.
Four column feature area.
Butter like scrolling function.
Don't Miss This Prime Chance To Get Free One Page
Live DemoDownload NowClick Here To Know More
---
7. FoodCater – Food Catering Service WordPress Skin
Ideal For – Caterers, cafe's, and restaurants.
The simplistic and elegant design is the trademark of this theme. It is designed to fulfill the needs of chefs, wedding planners, caterers, party organizers, event managers and food truck owners.
The most important feature is the unique home page, which enables easy highlighting of your gourmet dishes and signature offerings! Businesses need to capture instantly and this theme does just that. A contact form is embedded on the homepage so that you get customer's details easily.
FoodCater encapsulates tap to call feature, you can add unlimited testimonials using shortcodes in the testimonial section, And styling options to create a colorful display of the theme.
---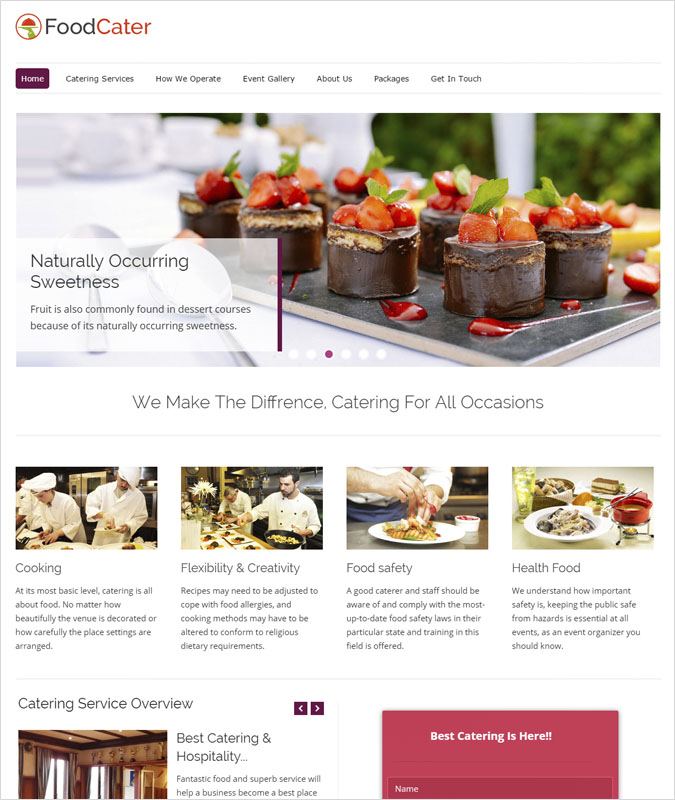 ---
Other highlighting features of this WordPress restaurant theme are:
Allows you to seamlessly publish testimonials from your regular customers.
A dedicated blog area that is uniquely designed for food businesses allows you to share stories instantly!
Comes embedded with Social-Media links and also gives you freedom to add as many widgets as you want.
Eight different colors, so that you do not run out of options.
Inbuilt SEO to make your business easily discoverable.
Compatible with latest versions of WordPress.
Guaranteed lifetime support for one website.
Compatible with all browsers.
---
8. FoodEat – Online Food Ordering WordPress Theme
Specially built for – Pizzerias, cafeteria, & large food businesses.
Enable your website to take orders online seamlessly and on a real-time basis. The FoodEat is a restaurant WordPress theme that is designed for the restaurant owners who want to give best possible online experience to their valued customers.
This theme allows you to capture the growing number of customers who prefer ordering online. In addition, you can also enable online bookings and this system runs 24*7. The beautifully crafted theme displays delicious offerings in a manner which will surely make your visitors mouth water.
The FoodEat has a WooCommerce plugin to ensure great and prompt online ordering of your food beverages, it consists of 5 sliders with button text and linked to redirect, It also envelopes a homepage plugin category list which shows you different categories of the food.
---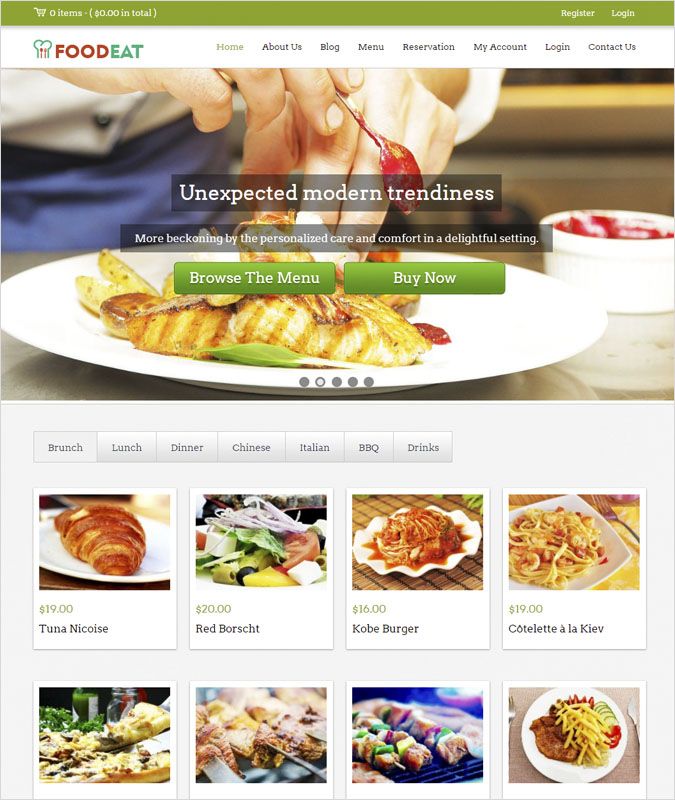 ---
Other major features of this template are:
Allows easy sorting of food based on different categories.
A specially designed tool allows you to feature your restaurant's top offerings.
Comes integrated with the Payment system, e.g., PayPal, Cash on Delivery etc.
Allows directing your visitors to Social Media Profiles such as Facebook, Twitter, Pinterest, Instagram etc.
Seven color options.
You latest blog posts can appear on the home page.
Booking dates can be enabled and disabled; also, visitors will receive an email once the booking has been made.
Fully responsive so that your customers access it from the device they want.
Completely optimized for SEO and comes embedded with Google Analytics to track your visitor.
---
9. Yumblog WordPress Template
Constructed For – Food Caterers, Fast Food Corner, Street Vendors, etc.
Yumblog is a very clear and responsive theme, which is loved by food industry professionals spread across the globe.
The theme's specialty lies in its simplistic designs that elegantly presents your restaurant's menu and any recipe which you might share with your visitors. The theme boasts of being retina ready so that visitors can spend hours on your site without straining their eyes.
It is enabled with rating option and an advertising section to display banner and a call to action button to redirect the user to the buying section and avail products and items as per their need.
---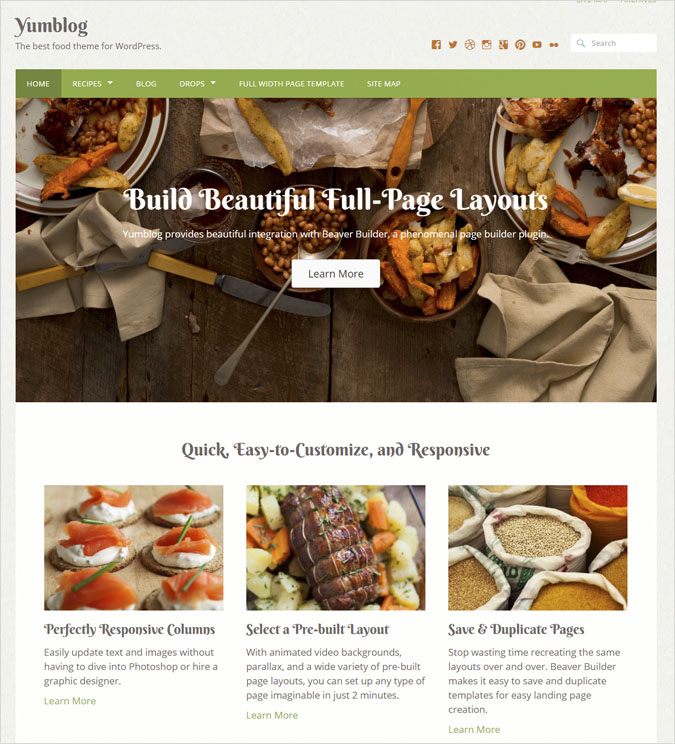 ---
Salient features of YumBlog theme are:
The inbuilt Beaver Builder allows you to drag-and-drop the tools at places convenient to you. Using this you can change the page layout according to your desire.
The very responsive theme that can be accessed from PC, tablet or mobile phones.
Great discounts offered on the yearly purchase.
Allows website creation easily.
Compatible with latest versions of WordPress.
Allows easy linking to Social Media Profiles.
---
10. Spices Food OpenCart Skin
Composed For – Online food websites,  home chefs, cuisinier, etc.
Easy to use WP template embedded with full-width slider and also has an e-Commerce options activated so that your business sells globally and not just locally.
Large and clear display of products makes this theme visually appealing, several widgets gives freedom to business owners. Using these widgets, you customize your website completely.
It consists of products feature area where you can share some of your progressive products and a map at the bottom to make you navigate by your users.
---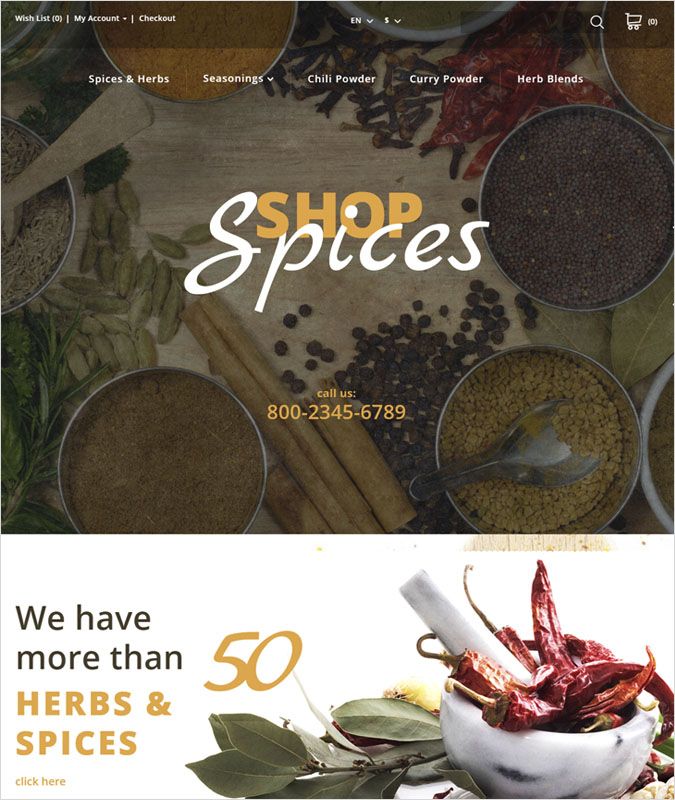 ---
Other major features of the Spices Food OpenCart Template are:
Fully responsive template.
Allows integration of Google Map so that your business is easily discoverable.
Easy integration of your website with Social Media profiles.
Completely enabled for e-Commerce with Carts, Billing, and Payment Gateway integration.
The search bar is present so that customers easily get what they want.
Supports multiple currencies!
---
11. GeoCraft
GeoCraft is one of the most popular WordPress themes for creating a directory website that gives geographical details of restaurants, luxurious hotels, food trucks, motels, etc.
The theme has an integrated business ad listing module that allows site owners or advertisers to place their commercial ads on a website, site admin can place ads on two bases ( one-time payment & recurring payment), website owners can also set ads to expire notification.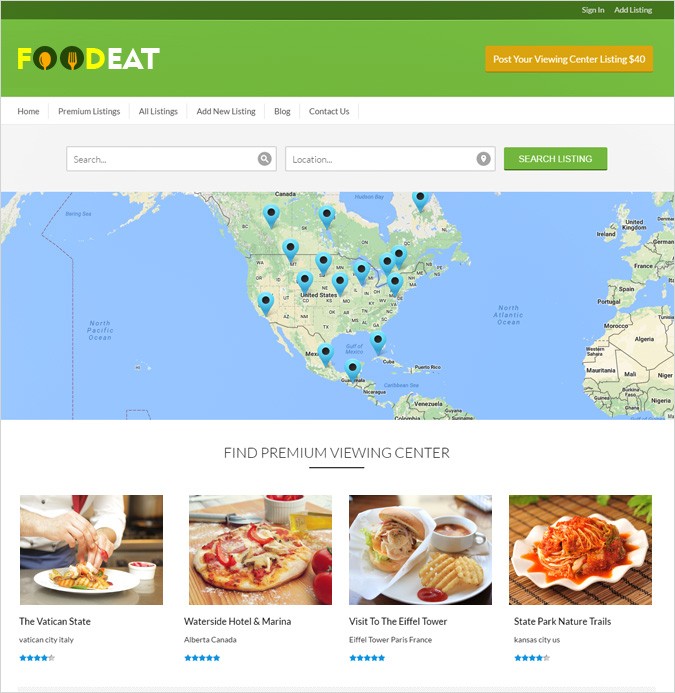 ---
Amazing Features –
Ad banner spaces.
Ad claim option.
100% responsive layout.
Search by name & location.
Inbuilt lead capture form with premium listings.
Download The Template For Free & Create Restaurant Directory Website
Live DemoDownload NowClick Here To Know More
---
12. Fooyx WordPress Theme – WordPress Cooking Theme
Created For – Snackbar, bistro, coffee bar, Cafes.
Give it a shot to make your food business opponents to roll deep down on growth chart and elevating your brand name on the top by picking up Fooyx WordPress theme. This theme comes enabled with all the features needed to grow your business exponentially.
The template has a back to top button on the homepage, a service area where you can mention your variety of delicious dishes, multilingual headings and 80+ shortcodes, royal blog area to share your descriptive content, etc.
---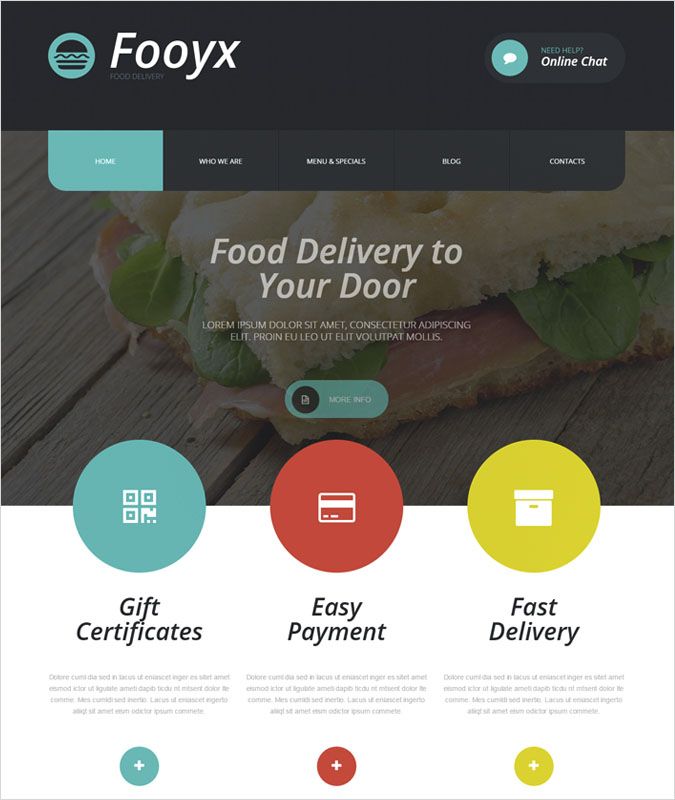 ---
Major features of this theme are:
Beautiful sliders to highlight your restaurant specialties.
Fully responsive and compatibility with all the browsers.
Multiple color options to match your business color.
A dedicated feature section to flaunt your signature dishes.
Allows Google Map integration and easy embedding of Social Media links.
Leve chat.
---
A Tip For You
All these food website templates are completely responsive and best suited for catering, cooking and food recipe businesses.
So, if you want to grow your cafeteria and food ordering restaurant online then choose one elegant template from the above list of 10+ Best WordPress Food Themes To Share Recipes.