Visit these 15+ best Restaurant WordPress Themes 2022 and create an attractive website in few minutes.
Food is something that we all love, irrespective of anyone's age, everybody has a flair for the food.
People search for a nice and delicious food restaurant that can serve all the mouth-watering dishes to them.
If you have one such food outlet then you ought to open it online.
Having a dazzling restaurant website drives curiosity in the food lovers to try all the yummy food items that you sell online.
Therefore it's a necessity nowadays to mark a slot in the web world in order to reach out to maximum people and advertise your food items.
It's important that all the food-related information is shared with full description and details, the respective WordPress themes will let your restaurant be presented in the most impressive way.
Read some related articles –
---
1. ChinFood – Chinese Restaurant WordPress Theme
ChinFood is an amazing theme that you will love to use for your restaurant, cafe or other business. The theme has a full-screen slider which is the best way to show your food items, building a menu for your restaurant will be much more organized.
The gallery page is so eye-catching that customers will definitely pay a visit to your place after going through plenty of images in the respective section.
The blog section further lets your delicious food items to get explored in more depth, resulting in more customers getting knowledge about the restaurant. The food template has some amazing features like contact us page and google map that allow customers to reach out to you easily. The theme is totally responsive and can easily work on devices like mobile, tablets, etc.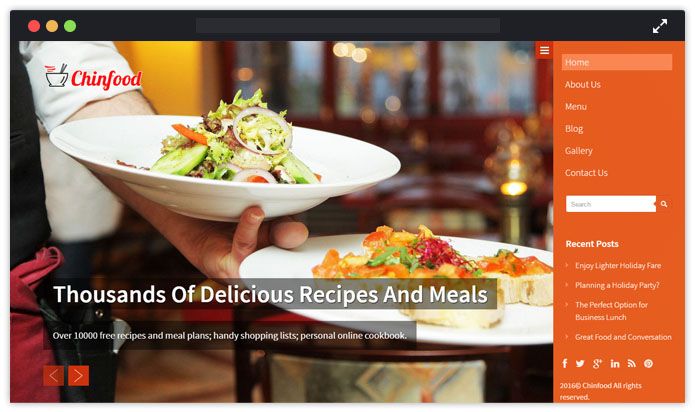 Make an attention-grabbing website for your cafe with wonderful features of ChinFood theme –
Full page slider – to show full-size images of your food recipes.
Add the logo of your cafe- so that customer can remember you easily.
A sidebar- to display all the menus, sections, and recent related articles.
Create a menu with all your food details and its price which helps the customers to place their order easily.
Showcase food gallery with tasty images of dishes.
12 unique color skin template.
Google Analytics – Google Analytics section to track website.
Contact page – Contact Page with beautiful form and Google map
Theme Info + DownloadLive Demo
---
2. Foodeat – Online Food Ordering Theme
Another theme that could give you a better experience for your business is FoodEat. The theme is specially designed for online food ordering system where a customer easily places an order to your restaurant, and you can deliver that order to their home and in this way can earn a lot of profit.
The full-width slider has its own uniqueness that is unmatched, the food dishes that you will share on the theme will definitely bring in a lot of customers to the restaurant, just to try it. The theme is enabled with WooCommerce plugin, that is used to shop online, the through this plugin the customers will be able to order food online.
The theme consists of a beautiful homepage where you can show all the menu items and special recipes to your customers, show different categories of food say Chinese, Italian, Indian, drinks, etc. It gives ease to your clients while selecting and ordering the food.
Make an attention-grabbing website for your cafe with wonderful features of FoodEat theme –
Slider – a Beautiful slider with text descriptions and buttons.
Online order & payment options – Accept order and payments with all the required details.
Google Analytics – help to track the visitors.
SEO – Helps to increase the rank of the website
Responsive – Work on all the browsers and devices.
Color template – 7 different color templates.
Theme Info + DownloadLive Demo
---
3. Red Wine Shop WordPress Theme
Red Wine is an amazing theme for your hotels and restaurants. If you own any hospitality business then you can make complete use of this theme.The theme features a full-width slider which enables you to depict all your refine and vintage wines in a classy way. The 4 column feature area is used to share services that you offer in your wine shop like- home delivery of wines, facts about wines and much more.
Let your visitors know the amount of quality and services you maintain and offer. You can flaunt your dishes and cuisines your hotel business offers in a presentable manner.
Customers can reach your locality as the theme has contact details and google map integration to guide you all the way down. The theme also offers you to maintain your blogs and that can in return bring traffic to your website.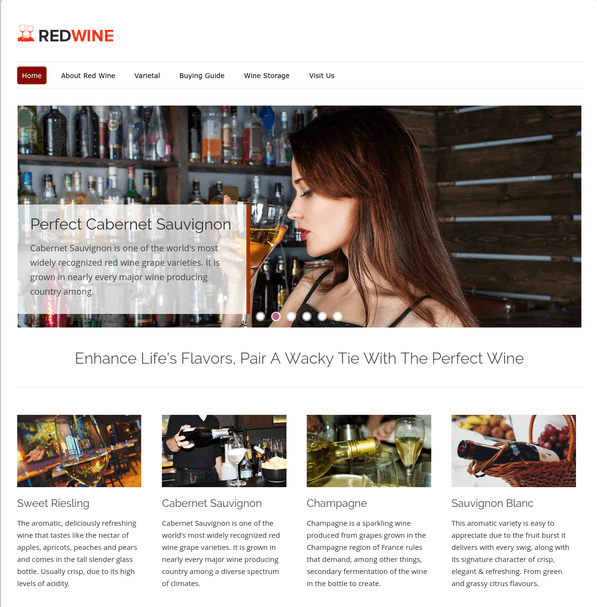 Make an attention-grabbing website for your cafe with wonderful features of Red Wine theme –
AJAX based powerful admin panel.

Theme option customization.

Flaunt your Images/Videos on Homepage Slider.

Access to the member's area.
4 Column feature area.

8 classic color skins.

Blogs and Testimonials sections.

Complete documentation.

Fully Responsive and Cross browser compatible.
Theme Info + DownloadLive Demo
---
4. CafeHouse – WordPress Theme For Coffee Shop & Restaurant
Coffee is the is the best beverage that most of the people choose when they want to meet somewhere, and if you have a coffee shop and want customers to hang out at your place then CafeHouse is the theme where you can feature all your coffee shop commodities, the theme has an amazing 3 column feature where variety of coffees can be displayed.
CafeHouse is one of the best themes to create a coffee shop and beverages website for your business and grows it rapidly online by sharing coffee products and ingredients on the blog a section. The Boxed slider section is the best part of the whole theme as it gives a unique look at your site and more customers could impress from it.
Show your coffee shop images in the sliding area, let your customers know the opening and closing hours, showcase latest events, news, latest offers, special deals so you can share these stuff to your customers, easily display your menu with food item each with a specific name, image, and price with a small description and much more.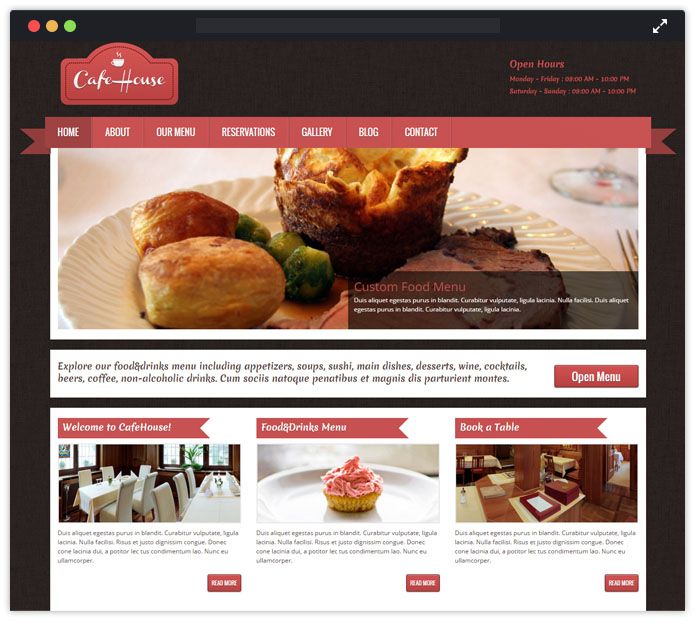 Make an attention-grabbing website for your cafe with wonderful features of CafeHouse theme –
Choose unlimited color templates.
Design your page with your templates.
Online table booking system – so the customer can reserve a table of data at their home.
Multiple sections to show the recipes along with the price.
Theme Info + DownloadLive Demo
---
5. FoodCater – Food Catering Service WordPress Theme
FoodCater is an enchanting appealing looking multipurpose WordPress Theme for Food Caterers, Restaurants, Cafe's, Wedding Planners and all type of Party Organizers, Event Managers & Coordinators. You can build a complete website for your business. It also has lead capture form that will allow you to capture leads and convert them.
The theme supports a layered slider where all your delicious food items can be shared, the theme also encapsulates a 4 column feature along with the blog section where all the food-related services and information can be shared.
The testimonial section allows to receive feedback from customers and upgrade your work accordingly. The theme has a contact section where customers contact details can be received and used for future reference.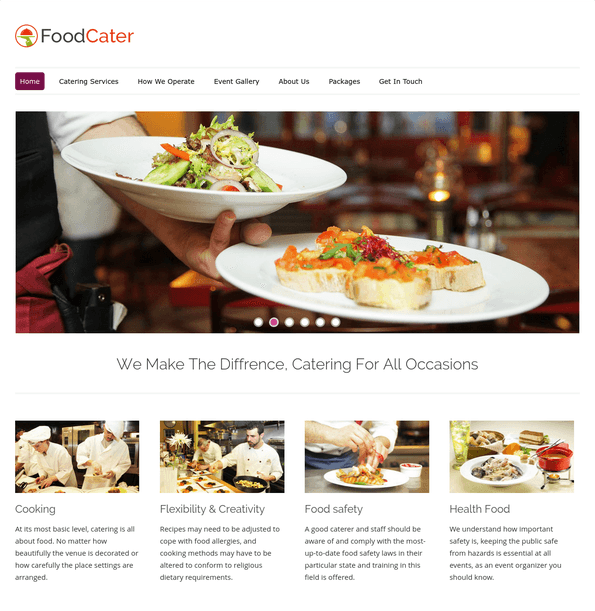 Make an attention-grabbing website for your cafe with wonderful features of FoodCater theme –
Fully Responsive theme with an Elegant and simple design.

Powerful admin panel.

Inbuilt Lead Capture Form.

4 Column Featured Area.

Testimonial and Blog Section.

4 Column Widgetized Footer.

Single Click Installation.
Theme Info + DownloadLive Demo
---
6. Gourmet – Restaurant Business WordPress Theme
A restaurant is what everybody looks for when they are hungry, all they need is a good meal, and if you have a restaurant business then a website is a great way to showcase  your dishes online, a descriptive content is a must which should be provided in proper and clear way and for that theme is enhanced with a blog section.
The template has an exclusive menu section where all the main course and desserts can be shared. The theme also has grid gallery section where plenty of images can be shared. The contact us page enables you to receive the contact details of the customers.
Give the details of your chefs, staff or owners of the restaurant to build a personal connection with your customers. Showcase your stats like a number of coffees sold, a number of events organized in your restaurant and so on.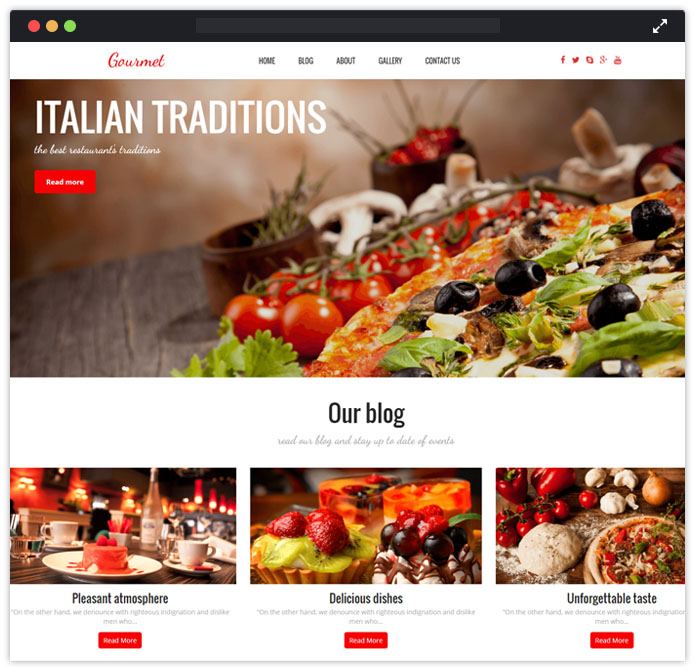 Make an attention-grabbing website for your cafe with wonderful features of Gourmet theme –
Pricing table – Put your restaurant menu chart on your website
Gallery – Full-width responsive gallery
Showcase your menu, recent blogs, etc.
Contact us section.
Show your location on a Google map that helps customers in finding you.
Theme Info + DownloadLive Demo
---
7. Loca Food – Locavore Restaurant WordPress Theme
It takes a lot of hard work to run a restaurant business, and to utilize your restaurant business to the full potential it is necessary that you advertise it on the world wide web, one such theme that makes your business go leaps and bounds is the 'Loca Food' Locavore Restaurant WordPress Theme. The features embedded on full-width background will drag customers attention on the theme in a jiffy.
The elegant gallery will develop an interest in your restaurant, and increase the probability of the customers visiting your restaurant. Testimonial section to receive feedback and team section to share your partner and chefs profiles will take your business to the next level.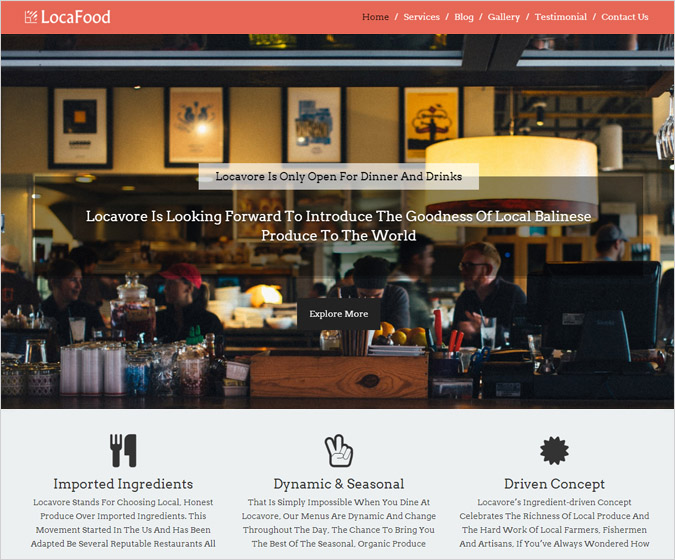 Make an attention-grabbing website for your cafe or restaurant with wonderful features of Loca Food Theme –
Upload customized logo & favicon on the website.
Fully responsive layout that is compatible with different devices.
Support multiple latest browsers.
Dedicated mobile header styling options.
Custom menu in the header & footer is also available.
Add attractive videos & clips in the widgetize footer area.
Well-documented PHP, CSS & JS files.
Powerful admin panel.
Theme Info + DownloadLive Demo
---
8. Covera – Flexible Multipurpose WordPress Theme For Restaurants
Covera is a multipurpose WordPress theme designed for bar and restaurant websites. It comes with a simple design and an engaging homepage that consist of a search bar to give ease to your clients while searching for dishes.
The theme has a boxed slider which can be used to display your services to the website, add Menu with price list and a little description on it so the visitors can easily get the information about the product they need. A testimonial section is also given to which you can add the reviews of your customers.
The 3 column feature area enables you to share all your food services in a unique way allow customers to gain knowledge about your food items and dishes,  The portfolio gallery has an elegant look to exhibit all your mouth watering food items, and all your recent posts can be shared on the sidebar of the homepage where all your food-related articles can be provided.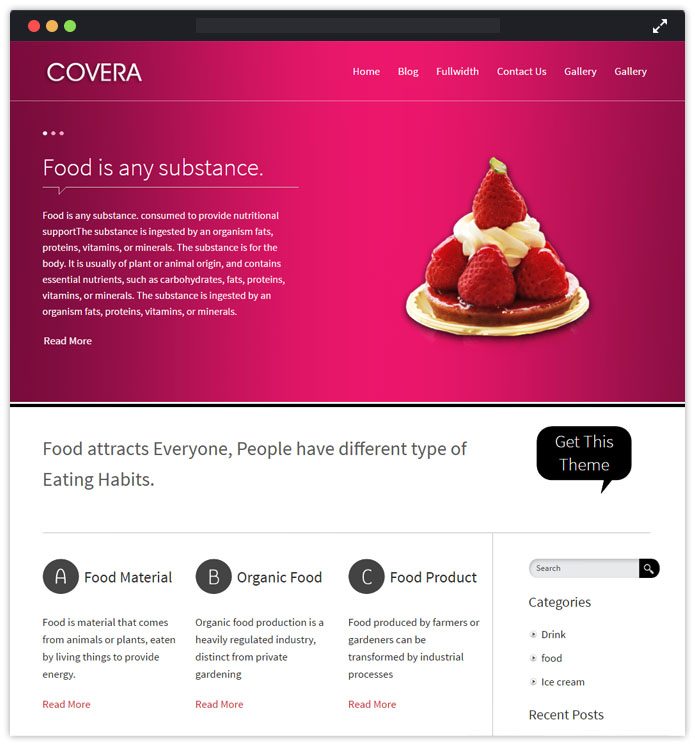 Make an attention-grabbing website for your cafe with wonderful features of Covera theme –
Featured section – Showcase the most important features of your business.
Price list – The theme gives the price list of all the product or services of your business.
Team member – This section will allow you to add your team member to your website.
Post format – 5 post format.
Maps – Full-width google map.
Theme Info + DownloadLive Demo
---
9. Barbecue – Restaurant WordPress Theme
Everyone needs a good food and if you have a restaurant that serves delicious food items then a web presence is a must, and for that what better than an amazing WordPress theme, one such theme is 'Barbecue'.
The full-width slider is so magnificent that it will display all your food items in the yummiest way. The services that are available at your restaurant is best shared on the 3 column feature area of the theme. The most dynamic feature of the theme is its exclusive video section, where you can virtually make them understand what and how you actually prepare because people often believe what they see.
Profiles of your top chef can be shared in the team section of the theme present on the homepage, which develops a trust among the customers for your customers. Further enhancing your theme by testimonial section and a gallery to receive feedback from customers and share plenty of images of your restaurant.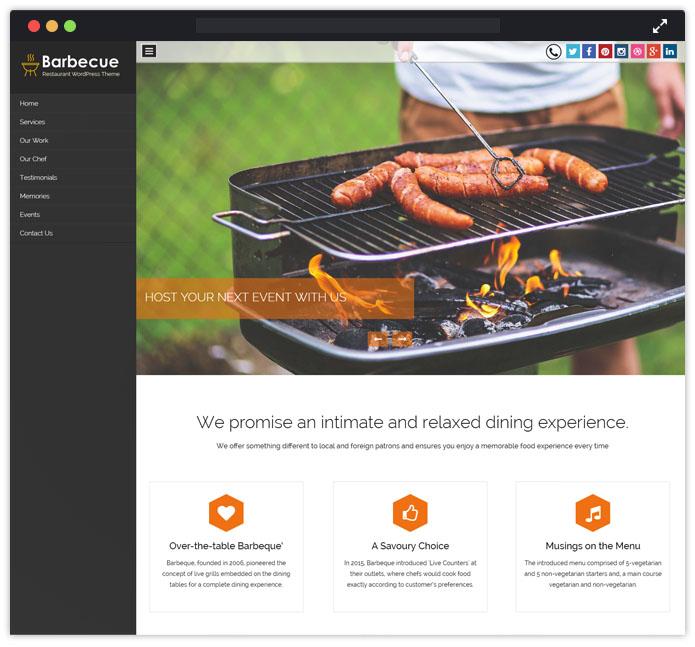 Make an attention-grabbing website for your cafe with wonderful features of Barbecue theme –
Contact Section with Google Map.
Dynamic sidebar with single page scrolling.
The menu panel pops in and out from the left.
Full-width slider with menu hide.
10 different styling options.
Parallax effect in a gallery.
Theme Info + DownloadLive Demo
---
10. CoffeeDay – The Coffee Shop WordPress Theme
Coffee is the best stress buster one can have,  and to have one such outlet where people can come and relax is the need of the hour, and it's equally important to have an online platform for the coffee business, 'CoffeeDay' is the best theme for you.CoffeeDay is an astonishing elegant, professional WordPress theme for coffee shop and coffee restaurant business.
A Layered slider area is present on the homepage that will surely attract your customers and gives an elegant look to your site.The template consists of the latest blog section to post new blogs and updates on the business. The 3 column feature area can be utilized to dispense your coffee shop services.
Know what customers have to say about your coffee shop via testimonial section of the theme. The main feature of this theme that makes it attractive is its style switcher. It has 8 different colors that can be used easily and see the changes in real-time.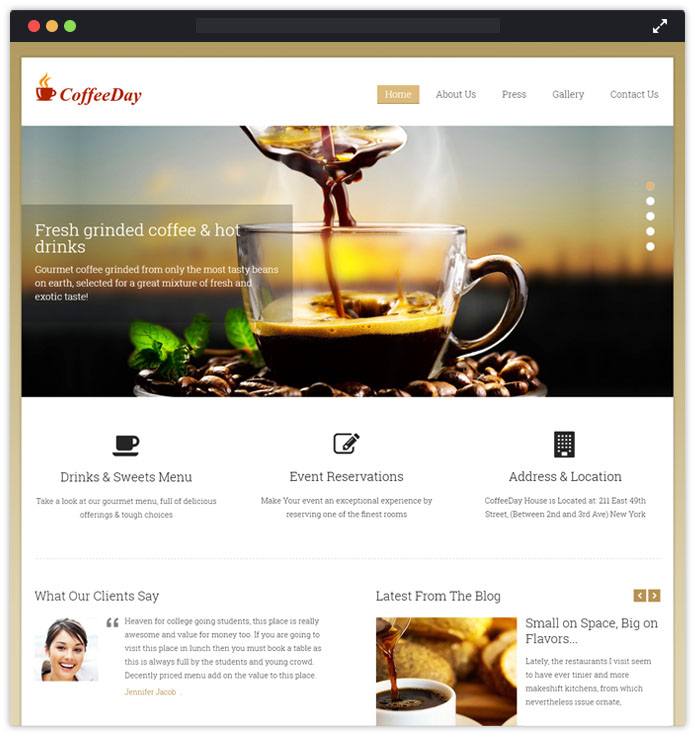 Make an attention-grabbing website for your cafe with wonderful features of CoffeeDay theme –
Create your own custom form and also collect the desired data that help to manage easily from back-end panel.
Color – 10 different color template
blog section – Homepage blog section with carousel effect
Admin panel – Ajax base theme option panel
3-column feature section
Theme Info + DownloadLive Demo
---
11. iCook – Food Recipe Blog WordPress Theme
If you are a cook or chef want to impress everyone with your delicious food recipes then 'iCook' WordPress theme is for you, the food that you offer to customers can be depicted on the theme which will draw more customers to your food business, Food recipe theme is basically a blog theme where all your multiple food information can people who want to learn cooking.
The theme has multiple descriptive sections where all the food recipes and be described.The theme lets you display your recipes, culinary skills, delicious food and other services that attract your customers.It has a powerful frame that lets you customize the theme without touching any complex or difficult code. You can also share your videos and stories on your website which could build a healthy relationship with your clients.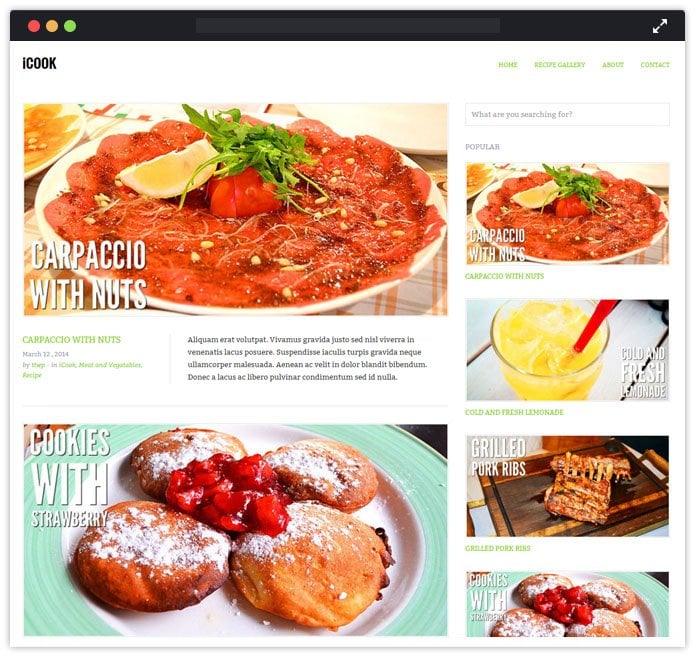 Make an attention-grabbing website for your cafe with wonderful features of iCook theme –
Clean Framework Theme.
Neat and flexible page layout to display posts of new recipes and items.
Sort your recipes according to the category.
Various type of Colors to style.
Allows to share Food images, videos, and contents.
Iconic design layout for WordPress Food Theme.
Theme Info + DownloadLive Demo
---
12. Exo Meal – Exotic Foods Restaurant WordPress Theme
The restaurant is the most productive business one can have, if you are the owner of one such restaurant and searching for an online medium to project all your services, then 'Exo Meal' – Exotic Foods Restaurant WordPress theme is the destination for you.
The highlights of the theme can be provided in the feature area which will definitely bring lots of customers to your restaurant, The template has an independent descriptive section where all your restaurant related data can be shared, which eventually increase the traffic of the customers to your theme.
The gallery page will allow you to show multiple images to be shared, in addition to that the contact us page will let your customers leave their contact details for you to communicate with them for future offers.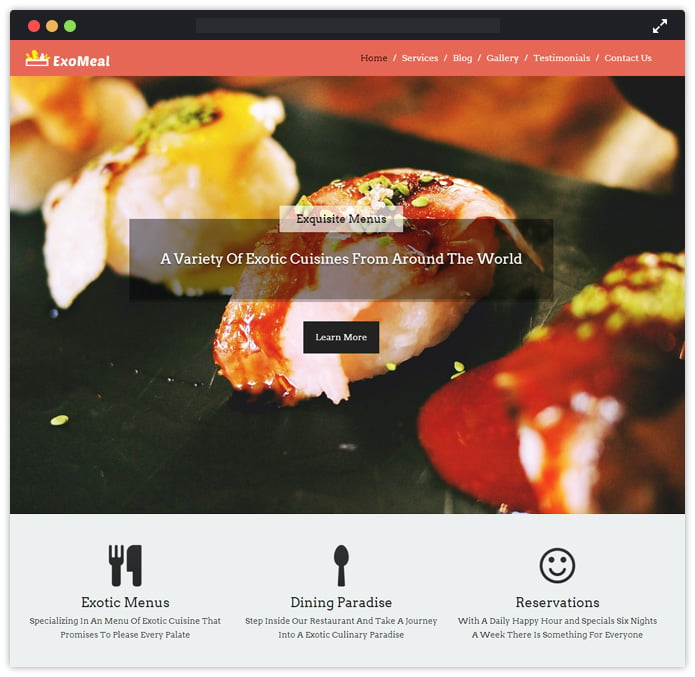 Make an attention-grabbing website for your cafe with wonderful features of Exo Meal theme –
Multiple slides support of images and videos.
Unlimited color option.
Font icon is awesome.
Unlimited drop down levels.
8 built-in color schemes
Theme Info + DownloadLive Demo
---
13. Harrington – Super WordPress Theme for Business
Expanding restaurant business is one the challenging job one faces, to simplify things for you and make your restaurant business more popular it's really very important that you present it online, one such medium for you to cater your food items and services on the web is 'Harrington'- Super WordPress theme.
The astonishing boxed slider will definitely leave a lasting impression on your customers, the 3 column feature area is vivid and classify all your food and restaurant features in the most dynamic way, the three column boxed blog area will add value the restaurant theme, to further modify the theme , testimonial section is induced to receive feedback from customers.
The Harrington is basically a multipurpose theme, which can be used by restaurant owners and food serving outlets, the template is unique and will match up to your expectations.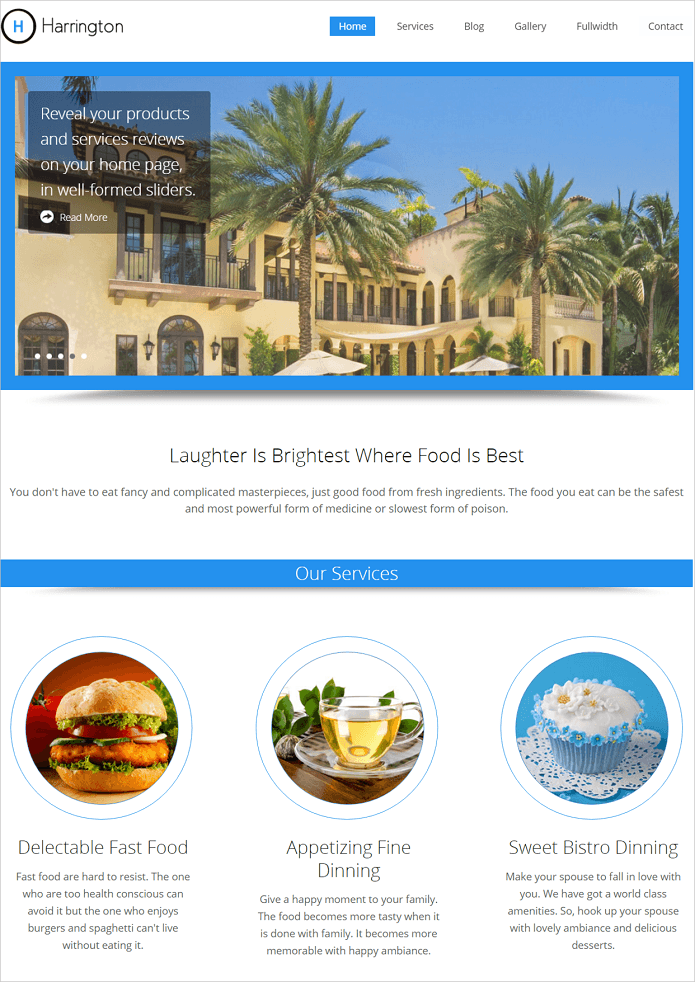 Features of Harrington theme are –
Ken Burn's Slider – place your restaurant's pics here
Display testimonials from your clients
Prebuild templates and multiple widgetized areas
Compatible with iPhone, iPad, tablets, smartphones, etc
Works great with all latest browsers and is fully SEO optimized
Theme Info + DownloadLive Demo
---
14. Woodpecker – WordPress Professional Theme
Woodpecker is another multifunctional WordPress theme that comes loaded with tons of astonishing features. Like its parallax enabled full-width image slider, where you can put striking features of your restaurant with a short description and a button on it. The classic look of this theme will build your website look in such a way that it will easily entice people.
Moreover, gallery and blog page will help you establish a thriving website for your food and restaurant business by sharing images and content pertinent to your food items and dishes. The 3 column feature area will exhibit services in an organized manner.
The most amazing feature is its dual video section to give presentations to your clients and customers along with showing multiple delicious cuisines The tagline feature along with a call to action button would be a cherry on the cake for your template.Definitely, this theme is a good choice to go with if you want to expand your business by leaps and bounds.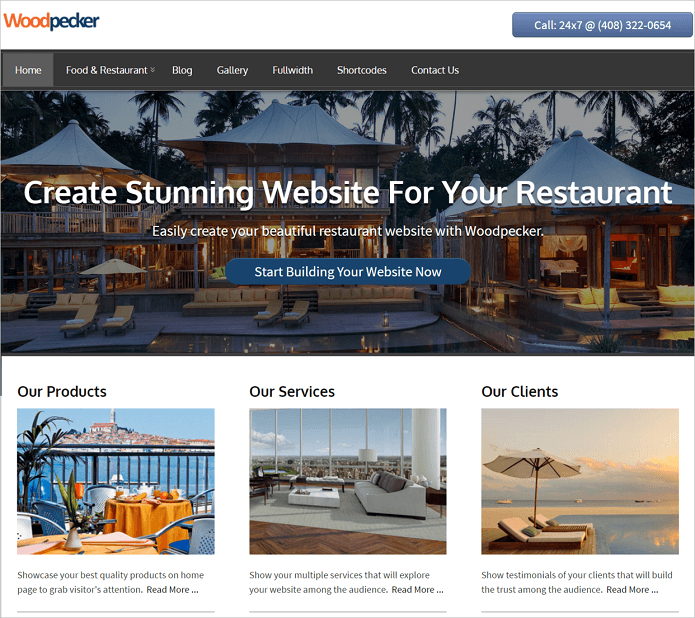 Key features of Woodpecker theme are –
Mobile ready and responsive layout
10 predefined colors template available
Powerful theme settings panel
Widgetized sidebar and footer area
Structured on Bootstrap 3.0 framework
Theme Info + DownloadLive Demo
---
15. Blackbird – WordPress Unique Theme
Every foodie wants a restaurant where he can find all his favorite dishes, one such food outlet, and people will hang around your restaurant with their family and friends, so in order to make everyone aware of your business an online theme would a really good help, for that, BlackBird will be an ideal theme for you.
The boxed slider that has been used in the theme will let share all your restaurant highlights, the 3 column feature area is a unique section where all your restaurant services can be shared, The client's testimonial will further allow you receive feedback from customers. The blog section of the theme is a unique feature which serves your purpose of describing all your food items.
Some features of this theme are –
10 different color skins template available
Individual Page/Post Customisation – Change layout of each individual page as per your choice
Enhanced theme customization options available
Fully responsive and retina ready theme
Theme Info + DownloadLive Demo
---
16. GreenTea – Tea Shop WordPress Theme
The first thing that majority of the population need every morning is a tea, it keeps you alert and awake, and if you have a tea shop or an outlet and wants to showcase it online then 'GreenTea' WordPress theme is an appropriate option for you. You can cater all sorts of the teas that you offer on your tea shops like green tea, herbal tea, black tea, lemon tea, ice tea, ginger tea and various other types of tea can share.
The theme has a layered slider where all your beneficial tea products can be depicted, rolling down to the theme you will have a 3 column feature area, which acts an integrated section where all your services and specialities are demonstrated, progressing according to the customers need will now be possible through testimonial section, The blog section adjacent to the testimonial section will further allow catering all your tea products and ingredients.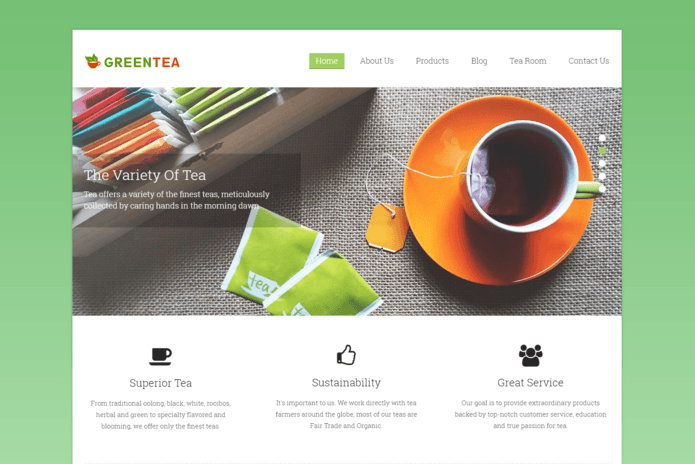 More Added Features Of GreenTea Are –
SEO optimized & Cross browser compatibility.

Documentation included.

Maintained high performance –  For giving fast & reliable services to the website.

Animation effects – Adds effects to your website.

Easy to use and Clean code.

Customized 9 column gallery.

One click installations & Retina ready.

More than 350 custom icons for feature sections.

Variety in Blog post Formats – gallery, videos, quotes, link, and standards.
Theme Info + DownloadLive Demo
---
17. CHEFKING – CHEF WORDPRESS THEME
The chef is the most important person when it comes to cooking, it all depends on the chef that how a particular dish will be made and served, so if you are a chef or owns a restaurant business then projecting it online would be a great idea. And for that, we have a wonderful WordPress theme, that is, 'ChefKing' WordPress theme.
The theme has a boxed slider, where all your tempting dishes can be flaunted, adding value to the theme is a 3 column feature area, The most productive feature is the lead capture form, where you can generate leads from your site visitors, eventually, creating a database for your restaurant business.
The blog area is an amazing feature to describe the dishes and your other restaurant specialties. A small independent video section is provided on the homepage of the theme which will enable customers to have a virtual of your restaurant business and work.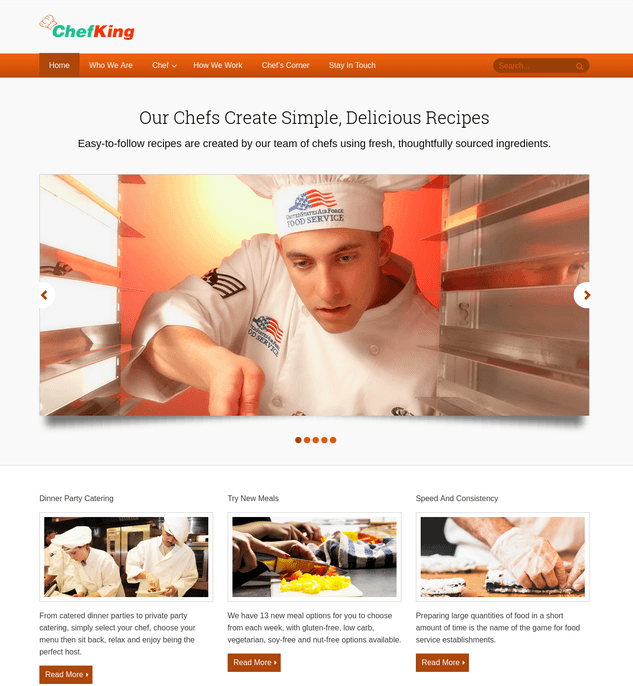 Make an attention-grabbing website for your cafe with wonderful features of ChefKing theme –
Customization services included.

10 Classic theme colors.

Social icon bars in the footer.

Retina Ready images.

SEO optimized and Cross Browser Compatibility.

Inbuilt Lead Capture Plugin.
Theme Info + DownloadLive Demo
---
18. ChickenHunt- Chicken Shop & Restaurant WordPress Theme
If you are chicken shop owner or roster restaurant, barbecues, and anyone who wants to prevalence your chicken business, to highlight your delicious dishes, ChickenHunt is a perfect convenient one page WordPress theme for your business website.
ChickenHunt comes with a full-width slider on the homepage where you can portray your restaurant services. The tempting images of food adorning the gallery section make a pleasant contrast with the elegant parallax effects in the theme.
Apart from this, put the address, website name, map location in the contact section. Use Google map by just putting the iframe code in the contact section.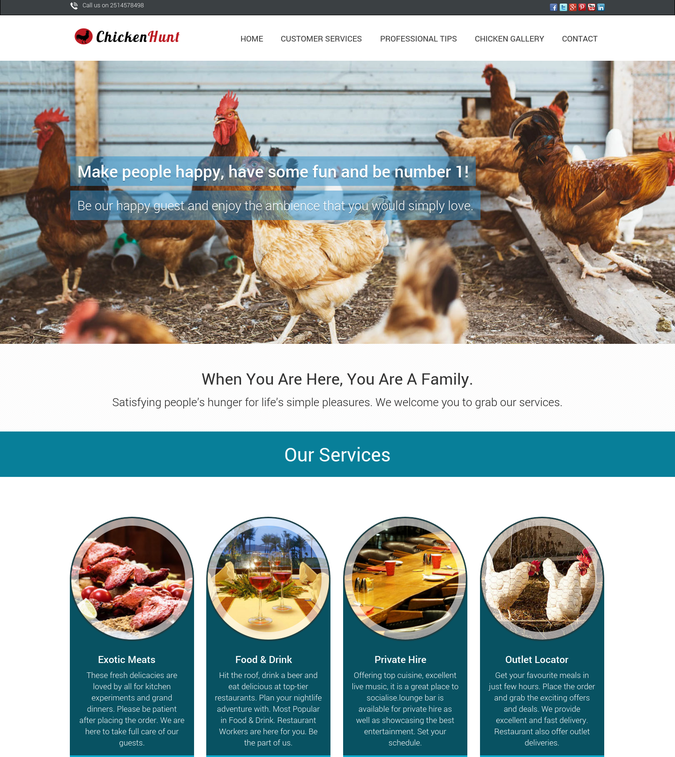 Make an attention-grabbing website for your cafe with wonderful features of ChickenHunt theme-
8 Amazing Styling Color Options

4 Column Feature Area

Recent Blog Posts On Homepage

Clear Widgets And Footer Area

Compatible With All Browsers And Devices

Masonry Effect In Gallery Section

Clean HTML5 Code

WPML Compatible
Theme Info + DownloadLive Demo
---
Conclusion
So, which theme you like the most. Share with me in the comment section below.
And, tell me how can I serve you in a better way.