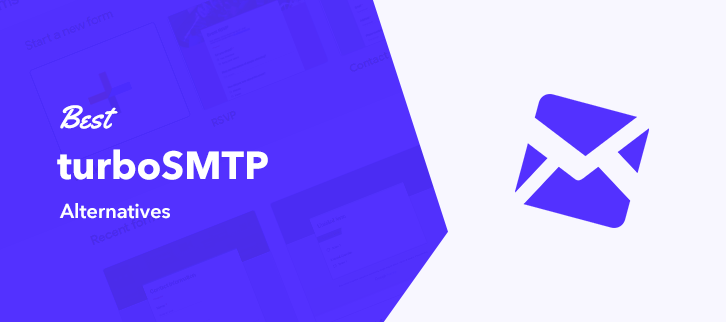 A good SMTP service is an integral part of an email marketing campaign. You might have been using turboSMTP for a while now for your marketing campaign. It is a good service that lets you send emails securely and efficiently, but nowadays there is other software available that lets you send emails with higher deliverability rates. Hence, you should take a look at the best turboSMTP alternatives that are available in the market.
Users have mentioned in turboSMTP review that it is good for sending a few emails each day, but for bulk mailing services, there are much better options available. They also ensure that your emails get sent more swiftly and in a more personalized manner for enhanced audience engagement.
Comparison Chart of the 5 Best turboSMTP Alternatives 2022
| | | | | |
| --- | --- | --- | --- | --- |
| Services | Basic Plan | Number of emails | Features | Multiple SMTP Routing |
| Pabbly Email Marketing | $29/mo | Unlimited | All | Yes |
| | $25/mo | 150,000 | All | No |
| Benchmark |  $10.92/mo | Unlimited | Restricted | No |
| |  $9.65/mo | 30,000 | Restricted | No |
| SMTP | $25/mo | 50,000 | Restricted | No |
While searching for affordable turboSMTP alternatives online, you will come across many software with attractive features and special pricing offers. Your marketing campaign might have some very specific requirements because of which you will be looking for specific features in your software. Here we have presented a comprehensive list of the latest products in the market and their features.
"The best thing about Pabbly Email Marketing is that unlike others, it offers all of its features with its basic plan. So, you can get all the useful features at an affordable price. And what's more, it always lets you send unlimited emails."
If you are looking for cheaper turboSMTP alternatives, Pabbly Email Marketing is the one you should go for. It is definitely the cheapest solution to all your email marketing needs. With Pabbly Email Marketing, you don't have to worry about your mails landing in the spam folder. Moreover, it allows you to send emails via multiple vendors to ensure delivery.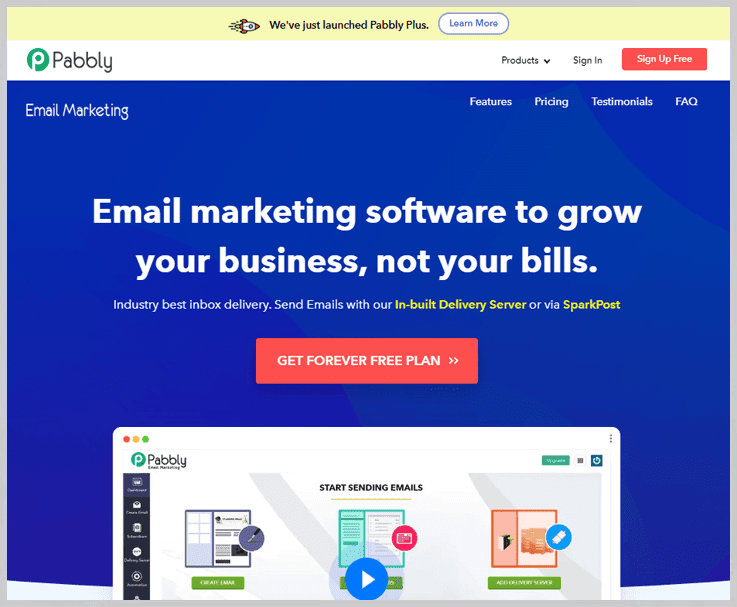 Features
Autoresponders – Autoresponders send an email to an individual when they subscribe to your mailing list. This enhances audience engagement which makes them eager to access your content.
Subscription Forms – You can get better lead capture with attractive web forms. These web forms use non-traditional user interface elements which makes them easier to fill.
Connect External SMTPs – Pabbly Email Marketing allows you to connect with more than 50 external SMTPs for delivering your emails. Unlike other software, it doesn't place a limitation on the number of connections.
List Management – Upload all your contacts and manage them in one place for convenience. You can segregate them based on their demographics, age, sex, and other parameters.
Marketing Automation – Using the Marketing Automation features, you can program emails to be sent out automatically, based on a certain trigger event, like someone's birthday. This leads to increased audience engagement.
Pricing
Forever Free – For absolutely free, you can 12,000 emails to 1100 subscribers.
Rookie – For just $29, you can send unlimited emails to 5000 subscribers.
Pro – Spend $49 per month to send unlimited emails to 15,000 subscribers.
Advance – This plan allows you to send unlimited emails to 50,000 subscribers and costs $99 per month.
Enterprise – This is a custom plan with custom pricing and features, to get the details of which, you must get in touch with the sales team.
Compared to turboSMTP, Pepipost provides faster and more accurate email delivery, hence it can be added to the list of reliable turboSMTP alternatives. With the power of artificial intelligence, Pepipost ensures your emails always land in the right destination. Additionally, it gives you real-time updates and statistics regarding the performance of your marketing campaign, so you can adopt better strategies in the future.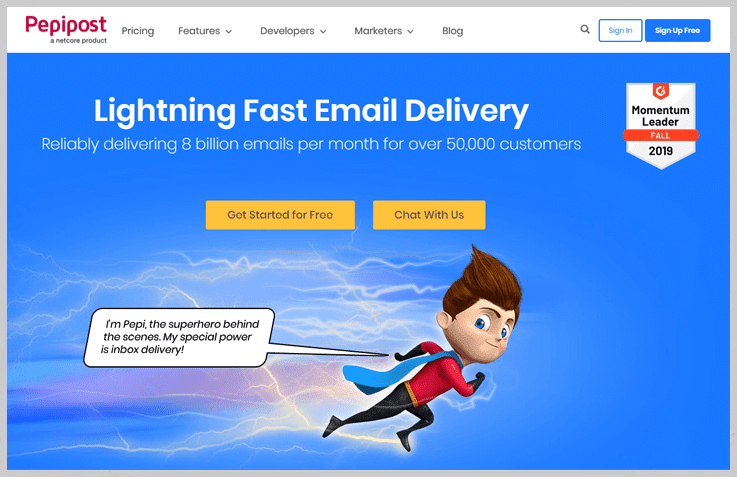 Features
Email API – Pepipost lets you access functionalities such as templates, dashboard metrics and other programmatic features. It also allows for integration with development frameworks such as Ruby, Python, Perl, Java, Node.js, etc.
Webhooks – Control your marketing campaign more efficiently by placing webhooks for unsubscribes, bounces, opens, delivered, etc.
Data Security – Pepipost ensures your data is never breached with a state-of-the-art security system.The emails are encrypted using HTTPS and TLS to ensure that they are being delivered securely.
Subaccount Management – You can create multiple subaccounts with different features, and control it all under one account.
Artificial Intelligence – Based on your email performance, this software will auto-adjust the rate of delivery using artificial intelligence technology.
Pricing
Free – Send 30,000 emails per month for free.
Basic – Send 150,000 emails every month by paying only $25.
Popular – For $145, you can send 600,000 emails.
If you are not happy with the services of turboSMTP, you may be searching the market for top turboSMTP alternatives. In that case, you should consider Benchmark, because unlike turboSMTP, benchmark ensures high delivery rates. This software uses advanced automation features to always send the right emails to the right person. Furthermore, has a simple interface that even an intern can use since it requires no coding knowledge. It allows you to collect more sales leads through strategically placed signup forms.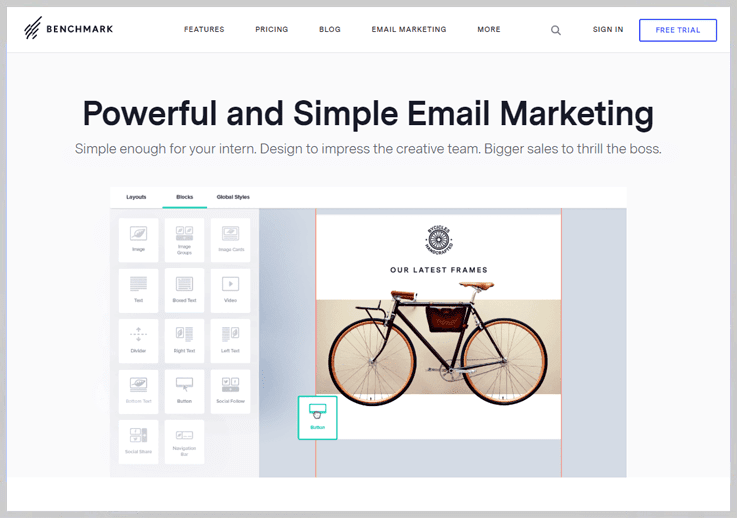 Features
Attractive Templates- Benchmark has the right email template for every occasion. These templates are highly customizable and easy to modify, using the drag and drop tool.
Responsive Emails – The emails from Benchmark are designed to impress the audience. They adjust to the screen size of tablets and smartphones, to improve the experience of the audience.
Code Editor – For special features, there is the option to edit the HTML and add custom code.You can view the result of the changes in real-time using dual view.
Automation Pro – Send automated emails based on audience engagement on your website.
Integration – Easily integrate with more than 300 services such as Google, WordPress, and Facebook.
Pricing
Free – Without spending a penny, you can send up to 250 emails for 30 da
 Pro – Send unlimited emails just at $11 per month.
Medium – Send unlimited emails to 600 subscribers for just $13.99 per month.
Large Sender – This plan costs $285.99 per month and lets you send 770,000 emails to 55,000 subscribers.
Unlike turboSMTP, which still uses old features, Mailjet lets you install your SMTP server in a matter of minutes and send bulk emails with better delivery rates. On that basis, it can be said that it is one of the best turboSMTP alternatives in the market today. With this software, it is easy to segment and manage your contact list to build a personalized marketing campaign guaranteed to succeed.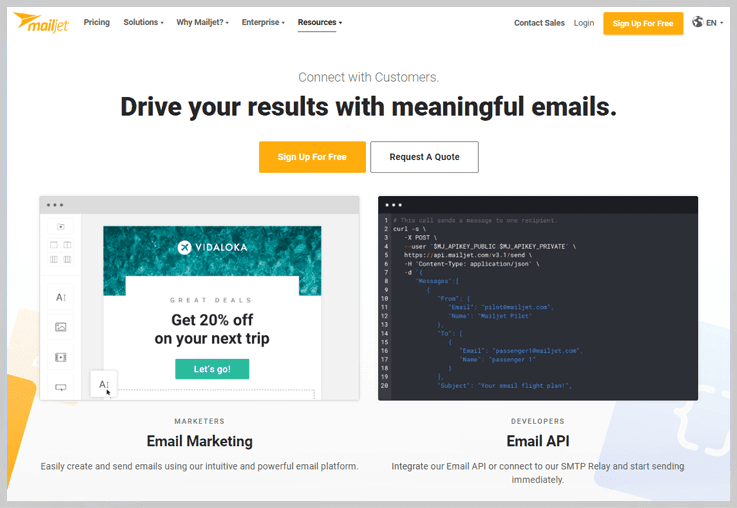 Features
Analytics – Monitor your email performance using real-time data like open rate and click rate, to improve your strategies. Each link in your email has tracking code in it, to record how recipients engage with them.
Simple Email Builder- Create attractive and responsive emails in a jiffy using the email builder.
Email API –  Integrate the email API of Mailjet with your current configuration by writing a few simple lines of code and start sending out emails immediately via Send API or SMTP relay.
SMTP Relay – It takes just a moment to set up the server and send bulk emails that are guaranteed to reach their destination. The free SMTP server provided with this software can integrate with any system. Multiple ports are available for greater flexibility.
Documentation – Easy to understand documentation to give you all the information needed to form your campaign.
Pricing
Free – Send 6000 emails per month without spending a single penny.
Basic – For $9.65 per month, you can send 30,000 emails with no daily sending limit.
Premium – By spending $20.95, you can send 30,000 emails per month with advanced features like marketing automation and A/B testing.
Enterprise – This custom plan includes an expert who will help you with your marketing campaign. You need to get in touch with the service team for details regarding this plan.
5. SMTP
With its advanced integration features, you can send mails more swiftly using SMTP, than you can with turboSMTP. This software has been in the market for 20 odd years, and it can certainly be added to the list of best turboSMTP alternatives. It provides more reliable delivery than turboSMTP and maintains your reputation by regularly checking your mailbox for spam mails, and cleaning them. Moreover, this software surely is a much more efficient solution to all your email marketing needs.
Features
Secured Sending – This software is supported by authentication standards such as DMARC, SPF, DKIM, so your emails are encrypted, and can never be read by third parties.
Advanced SMTP API – This software provides for simple integration based on REST architecture, which makes email sending more efficient. With this software, it is easy to integrate custom apps and services using an API that supports more than one development platform.
Email Tracking – Access comprehensive reports on your email performance based on bounces, clicks, opens, etc.
Reliable Email Delivery – Using technology and IP reputation management, this software ensures your emails always reach the inbox of the audience. SMTP emails have a 99% uptime and 98% delivery rate.
Triggered Emails- By studying user behaviour, you can segment them and send personalized and triggered emails based on a certain audience event. This helps improve audience engagement and leads to better revenue and sales.
Pricing
Essential – Send 50,000 emails for $25 per month.
Starter – Send 100,000 emails for $80 per month.
Growth – By spending $300 per month, you can send 500,000 emails.
Enterprise – This plan costs $500 and lets you send 1,000,000 emails per month.
Conclusion
After going through the above list of products, you have a sound idea regarding all the alternatives to turboSMTP there are in the market and what are the features they provide. You want to choose software that lets you send more emails at reliable rates, but that is not all. It matters how efficiently your emails are being sent and whether they are reaching the audience's inbox or not. For this, you need to choose a product that uses all the latest technology to make sure your email reaches its destination.
You May Also Like To Read