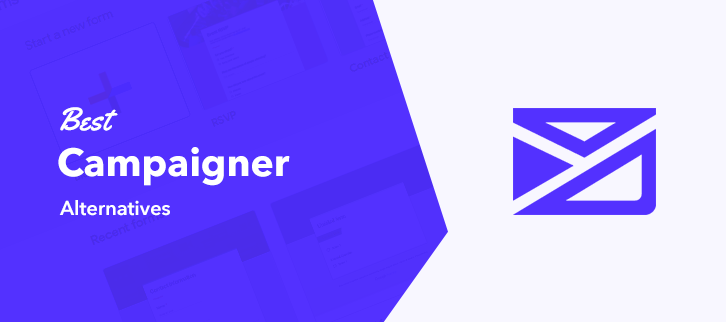 Campaigner email marketing software is veritably one of the most popularly used bulk emailing service providers by digital and email marketing professionals. But one big question which inevitably pops up in this aspect is whether these email marketing campaigns are effective enough or not. The research by the apex bodies and trusted sources reveal that 75% of the receivers of these promotional emails don't even bother to open the emails. Furthermore, amongst 95% of the receivers who open these emails don't even bother to click on the links which are there in the email contents.
By now this is a proven fact that none of the receivers of these promotional emails would bother to open these emails and go through them until these emails are eye-catchy and effective. Now the saviour is the various evolved email marketing software options that are deemed to be the best Campaigner alternatives. These effective email marketing software options facilitate you in creating a strategy and design eye-catchy & communicative email templates.
Comparison Chart of the 5 Best Campaigner Alternatives 2022
| | | | | |
| --- | --- | --- | --- | --- |
| Services | Basic Plan | Drip Emails | SPF Validation | No. of emails per month |
| Pabbly Email Marketing | $29/month | Yes | Yes |  Unlimited |
| | $25/month | No | Yes |  40,000 |
| Moosend | $10/month |  No | Yes |  Unlimited |
| | $5/month | No | No |  10,000 |
|  Mailjet | $9.65/month | No | No |  30,000 |
Moreover, it is possible to analyze your overall email marketing success and several other useful tasks by using these reliable Campaigner alternatives. Now, let's dive in and have a detailed analysis of the best alternatives to Campaigner which would be apt for your organization.
"Pabbly Email Marketing is the easiest and user-friendly email marketing tool using which building an email campaign is a breeze. One of its best thing about Pabbly Email Marketing is it allows you to send unlimited emails at cheaper price with no restriction on the features."
Pabbly Email Marketing has an in-built SMTP, so there is no requirement for any complicated setup. The user can add & verify the email address which you will be using for conducting effective email campaigns.
This reliable Campaigner alternative enables you to add your own DKIM and Domain keys that further helps you to avoid spam filters and ultimately proves that your email is not a copied or duplicate one.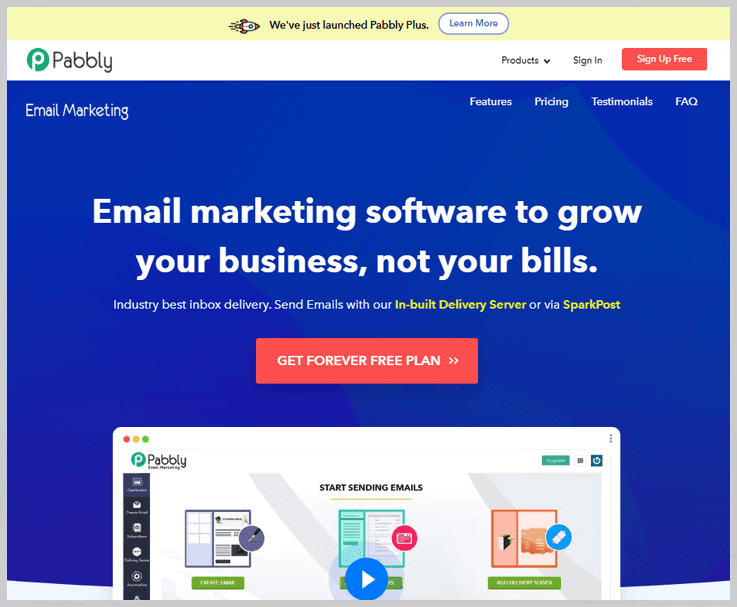 Features
MX Cleaner – This has a powerful list cleaning feature which is very useful in cleaning out the bad, inactive & duplicate emails from your contact list. This very effectively facilitates in decreasing spams, bounces & also increasing the subscription rates effectively.
List Management – This feature enables you to export the email list in CSV format. Alongside this, you would be able to manage the customers' data & email lists effectively using this tool for email marketing.
Email Scheduling – This feature facilitates you in creating and scheduling your emails and you can send them later as per your directed time.
Capturing Leads – The admin would be able to capture leads using the subscription forms and creating sign up forms for generating more and more leads. This will considerably reduce the spam rates as the customers who are willing to receive your emails would sign up and receive your daily or periodic newsletter.
Email Tracking Feature – You would be able to track the behaviour of the users by using this feature present in this particular service. Also, you can opt to integrate Google Analytics account with this particular service in order to track emails that you can preferably enable or disable as per your discretion.
Pricing
Forever Free – This is the free version where you can enjoy sending 12000 emails per month to 1100 subscribers absolutely free of cost.
Rookie Plan – By opting for this plan you pay a minimal cost of $29 per month and enjoy sending an unlimited number of emails to 5000 subscribers.
Pro Plan – You can opt for this plan by spending $49 per month and you enjoy the privilege of sending unlimited emails to 15,000 subscribers with the dynamic custom tags and also the live support system.
Advance Plan – The Advance Plan will cost you $99 per month where you can send unlimited emails to as many as 50,000 subscribers and enjoy the access to all the advanced features of this top Campaigner alternative.
This is amongst one of the affordable email marketing tools that optimizes your email campaigns very effectively and brings certain insightful reporting to your desk. There is absolutely no issue if you do not have any experience in high-end email designing as you just need to drag and drop the desired fields & design email campaigns simply using the set directions. One of the best aspects of this tool is that you can personalize your emails in various ways very easily and you can opt for various advanced email personalization options. Moreover, you have unlimited contacts and lists in Sendinblue & using all the features, creativity has no limits while using this email marketing tool.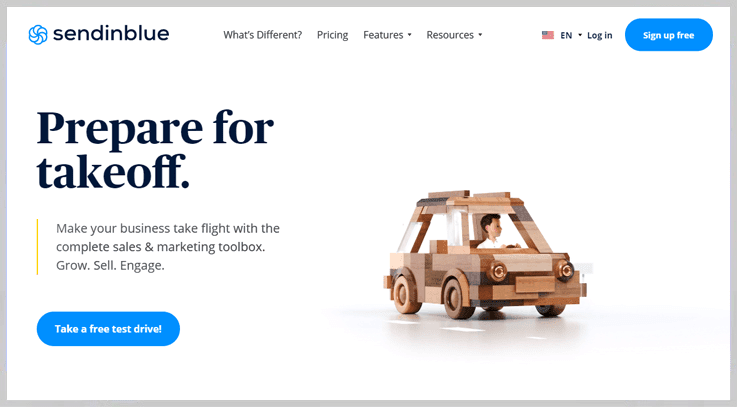 Features
Testing Tools – This provides you with two testing tools which are test list and inbox test. These can be used to test your email before scheduling them.
Contact Segmentation – The admin can manage their contact list by using contact segmentation feature where they can manage their segment contacts, custom contact fields and several more.
Sorted Dashboard – SendinBlue comes with a sorted dashboard where you can receive an overview of all your conducted marketing campaigns. You can keep a watch on the metrics for opens, deliverability, hard bounces, click & several more things.
REST API – This particular email marketing service offers you with a very comprehensive REST API. You can utilize this particular APT and can access all the functionalities like creating accounts, managing contact lists etc.
Pricing
Free Plan – Using the free plan, you can send 300 emails per day along with certain basic features.
Micro Plan – This plan is available at $7 per month and using this plan you can send 40,000 emails in a month and enjoy access to all the essential features offered by this service provider.
Bronze Plan – This plan costs $39 per month and you can send 60,000 emails per month & certain advanced features using this plan.
Silver Plan – This plan costs $66 per month and you will get to send 120,000 emails in a month and alongside full support from the service provider's support team.
Moosend is one amongst the most affordable Campaigner alternatives which is very user-friendly and at the same time offers adequate support to create professional & attractive campaigns of email marketing. This offers several useful features to the users like own automation, list management, reliable analytics etc. which immensely help in growing your business.
Additionally, this software boasts the advanced level of automation that email marketers can easily achieve using this particular tool. Moosend is very well-designed to automate the overall process of email marketing workflows so that users can perform all their tasks faster and engage with visitors.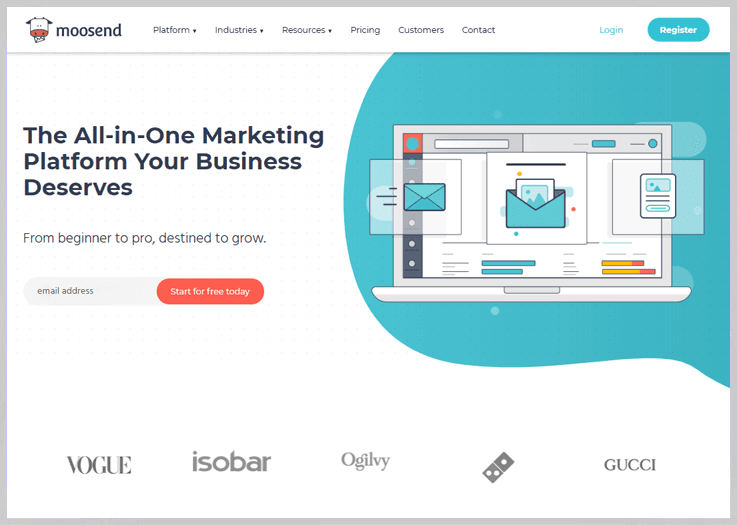 Features
SMTP Service – The SMTP service facilitates you in sending your transactional emails very fast and eventually helps in increasing its rate of delivery in their inbox using their world-class infrastructure.
Predefined Templates – You can use the predefined templates in order to reduce your work hours in customizing the whole emails. With the predefined templates, you can make small changes in the field while you use them.
Unlimited Emails & Segmentation Feature – You can send unlimited emails to your customers and there is a special segmentation feature which helps in dividing your database into subgroups which facilitates the delivery of the emails to the right users.
Subscription Forms – There are convenient subscription forms which are compact & to-the-point. This will facilitate you in collecting the leads faster.
Pricing
Free Plan – The free plan allows you to send unlimited emails to 1,000 subscribers each month.
Pro Plan – In this plan, you need to pay $10 monthly and enjoy sending unlimited emails to 2,000 subscribers.
Enterprise – This is a customizable plan and can be planned in consultation to a dedicated account manager. The pricing can be discussed with the service provider's sales team and can be finalized.
You can make your email marketing easy by utilizing this powerful email marketing software. The user can easily create & share professional-looking emails by incorporating your own images, logos & colours and customize them as per your requirement. The email marketing automation feature of Constant Contact keeps all your audience engaged & eventually builds strong customer relationships.  Furthermore, this is also a perfect tool for e-commerce email marketing & the e-commerce tools of this service provider helps your online store grow considerably.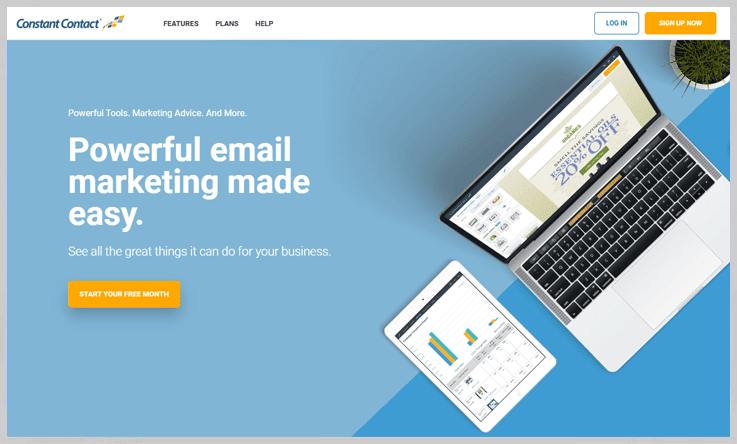 Features
Real-time Reporting – As this offers real-time reporting, you can easily track all the details of your emails like opening, reading, sharing etc.
Contact Management – The admin can easily organize their contacts with easy uploading of these from Gmail, Excel several other platforms. Also, there is a flexibility of collecting client email addresses from Facebook, website or mobile by using the list building tools etc.
Automatic Notifications – You will receive instant automatic notification of your bounces, unsubscribes and inactive emails by using this tool.
Dynamic Forms – You will enjoy the advantage of growing your customer list with least effort by using the customizable signup forms.
Pricing
Lite – In this plan, you will be able to send 10,000 emails monthly for $5.
Email – Here you can get access to all the features and send unlimited emails by paying $20 monthly.
Email Plus – This plan costs $45 monthly and lets you send unlimited emails with certain advanced features.
Mailjet is a dynamic email marketing software which can be used to build, send and monitor your email marketing campaigns. Their collaborative and intuitive tools help you in focusing better and creating attractive and successful campaigns which engage the readers big time. The contact management and analytics are the best features of this popularly used email marketing software. Another very important aspect of Mailjet is that the responsive emails that you create with this tool are optimized for all inboxes & screen sizes. The MJML rendering engine which is being used in Mailjet ensures the perfect and optimal display of the emails in all your gadgets – computer, tablet and Smartphone.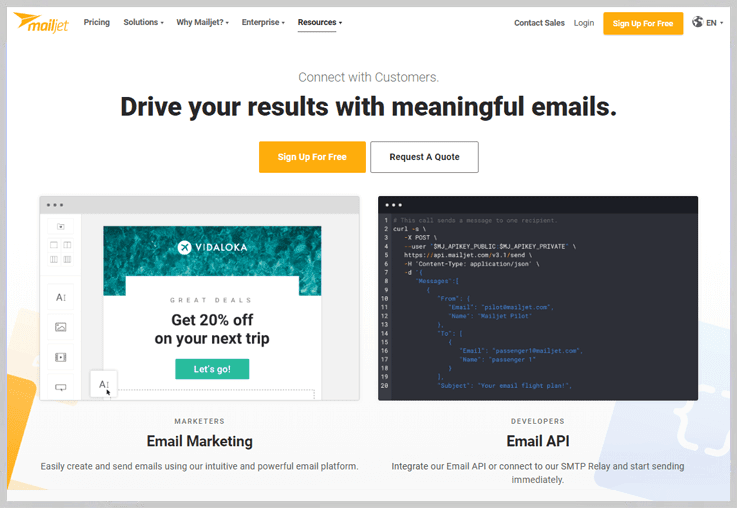 Features
Intuitive Online Email Marketing Builder – Their intuitive online email marketing builder named Passport helps the users to send ready-to-use responsive email newsletters have a great on-screen look and can be used without any code.
Email Marketing Personalization – This tool helps in improving your email campaigns by bringing in a human touch. You would be able to personalize your email based on your contact's properties. You will also be able to add dynamic content which can be displayed only to a chosen segment of your list.
Contact Management – You can easily build your target audience and also be able to manage all your contact groups. You can simply install the opt-in widget on your website and then start capturing email addresses and also automatically sync to the existing contact lists in your account. You can also upload TXT, CSV or XLS files.
Role Management – You can work as a team from the same Mailjet account. You can separate all your activities using sub-accounts and invite an unlimited number of users. After that, it is possible to control what all of these users do by defining their roles and by advanced permissions.
Pricing
Free – This is a free plan where you can send 6,000 emails monthly (with a daily limit of 200 emails per day).
Basic – This plan costs $9.65 monthly and you can send 30,000 emails per month with no daily sending limit.
Premium – You will be charged $20.95 per month if you opt for this plan. Here you would be able to send 30,000 emails monthly and at the same time enjoy certain advanced features like A/B Testing, Multi-user Collaboration, Marketing Automation etc.
Enterprise – This is a customizable solution ideal for big businesses which are high-volume senders. Here you would be getting dedicated account management services.
Conclusion
This list would indeed give you a fair idea of the best Campaigner alternatives in 2020 that are available in the market. These are affordable Campaigner alternatives which you can adopt to give a head start to your email marketing campaign. Adopting any of these tools depending on your budget and requirements will help you in capturing potential leads which would eventually help you in enhancing your sales. So, choose judiciously and finetune your email marketing campaigns like never before.
You May Also Like To Read:
Make sure to sign up for their newsletter. cialis cost south africa Also like all good succulent vendors, they have a monthly subscription for new plants on the reg.