The "free of cost" Google Forms must have fascinated you in the first place but as soon as you encounter numerous drawbacks like limited flexibility for design customization, lack of conditional logic, SSL security etc. Then, you must be looking for best Google Forms alternatives.
So, in this article, we will find some of the best affordable Google Forms alternatives which are ruling the market ever since they have been launched.
Firstly, you need to understand why we have compiled the following form builder tools for you. The reasons are as follows:
They consist of several integrations with marketing apps, CRM, data synchronization and applications.
Usage of conditional logic which helps you in making your forms more precise and user-friendly as well.
High-end security by the usage of advanced technologies for your online forms.
Enables you to custom brand your web form in order to promote your service/brands.
Autoresponders & email notifications.
Comparison Chart of 5 Best Google Forms Alternatives
| | | | |
| --- | --- | --- | --- |
| Services | Starter Plan | Submissions Per Month | Fields Per Form |
| Pabbly Form Builder | $10/mo | Unlimited | Unlimited |
| 123FormBuilder | $24.99/mo | 5000 | Unlimited |
| Ninja Forms | $49.50/mo | Unlimited | Limited |
|  HubSpot | $35/mo | NA | 1000 |
|   Zoho Forms | $10/mo | 10000 | Unlimited |
Now, let's have a glimpse of the best Google Forms alternatives and analyze the major features and pricing plans of those.
"Pabbly Form Builder is an affordable and only form builder tool which offers you unrestricted features like unlimited fields, unlimited users, unlimited uploads, unlimited views, unlimited submissions, unlimited storage, unlimited webhooks etc."
This software lets you create various forms and present them in several ways like popup, sliding etc. You can effortlessly add forms on your website, blog or social media platforms using this form creator. Moreover, you will be able to manage all the forms very easily and receive the entries seamlessly from a single location. However, the most noteworthy feature of the Pabbly Form Builder is the conditional logic feature. It can help you to hide or show some particular field entries according to the requirement and submission of your client.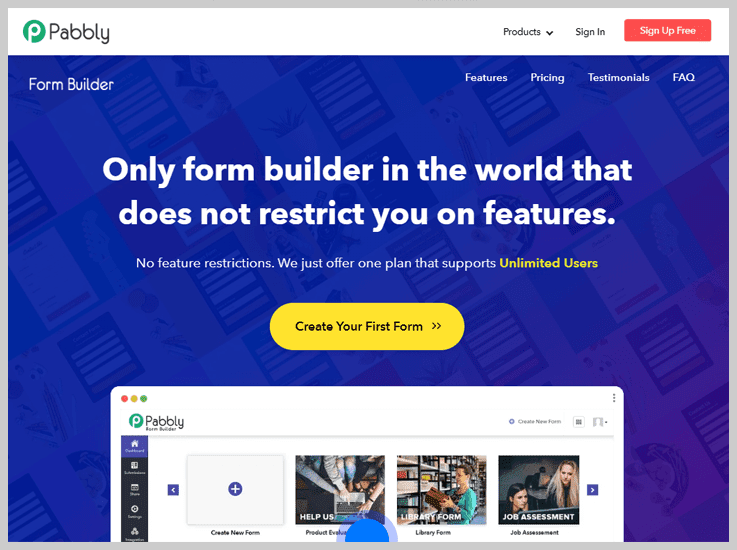 Features
Form Validation – This is one amongst the crucial aspects of the validation of the inputs from the users. With the help of this particular service, you would be able to easily validate the form fields and check whether or not the required field is filled and determine if the entered email is in the correct format or not.
Team Collaboration – The admin can be able to band together with the team members & provide them with the selected form access. By giving user roles and permission to staff members, you would be able to manage the collected data and forms easily.
Integration of Email Marketing App – Since email marketing is a very generic way of collecting leads, you can easily drive the subscribed users to your email marketing solution through subscription forms.
Payment Collection – You can collect one-time payment or even recurring payment for the services/products from the customers through dedicated payment gateways like Stripe and PayPal.
Pricing
The pricing plan of Pabbly Form Builder is very simple and affordable. If you want to access a single form, then you need to pay just $10 per month if you opt for a yearly plan. There is also the flexibility of opting for the plan on a monthly basis without a commitment of using the plan for one complete year. In this case, you would have to pay $15 per month. You will be able to access and utilize a long list of features at such an affordable price plan.
Ninja Forms is a form creator that is largely adopted by several business owners and digital marketing professionals. This software is designed and developed in such a manner that it makes form building absolutely simplified. You can easily get access to user-friendly & beautiful WordPress forms which will make you feel like a professional web developer. This software being very simple to use, you can very easily adopt this without any specialized technical or web development skills.
The best part is that you can also enjoy access to certain advanced features which do not require a developer to build. You can conveniently upload files in your forms. You can also export or send the submission as Excel files, PDFs and Google Sheets.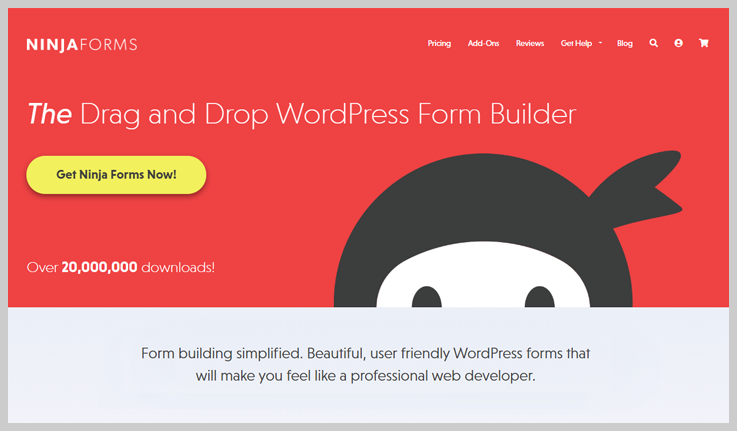 Features
Beginner Friendly – If you are not a tech person, even then you can adopt this form creator for creating interesting forms for various purposes. You do not require any special coding skills and still design complex and beautiful forms like a pro. There is also a dedicated support team to resolve your queries which makes the entire process a cakewalk.
Accept Donations and Payments – You can accept credit card payments and PayPal easily and securely from any of your WordPress forms created by this software. Subscriptions or single payments, fixed, variable or user-entered amounts can be accepted from the donors or customers.
Fully Customizable Lead Generation Forms – You can experience creating fully customizable signup or a lead generation form for your business. You can enjoy the leverage of growing your mailing lists and create new leads very effectively like never before.
Advanced Features – You can upload files in your created form. You can send or export submissions as Excel files, PDFs or Google Sheets.
Pricing
Addon Plan – You can purchase the addons individually with the price ranging from $29 to $129 per year and you can access all the updates and features for one complete year.
Personal Plan – You can upgrade to a personal plan for $99 per year and you can enjoy the Builder Pro addons pack for use on one site in this package.
Professional Plan – Purchase this plan for $199 per year and enjoy the Builder Pro addons pack that can be used in 20 sites.
Agency Plan – Buy this plan for $499 per year and enjoy all addons for use on unlimited sites.
3. 123FormBuilder – Affordable Google Forms Alternative
123FormBuilder provides a proven intuitive way of building online forms & surveys with the help of drag-and-drop in real-time. You can very effortlessly create contact forms, HTML forms, event registration forms, order forms and several other types of web forms.
Furthermore, this service provider also offers more than 1000 web form templates like inquiry, appointment, booking forms etc.
This specific software also aids you with several functionalities like easy form publishing on various platforms, data analytics and at the same time includes a graphical report for the purpose of data mining.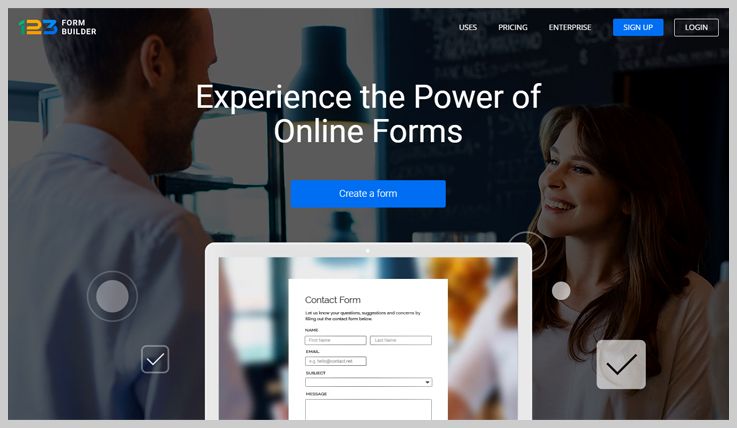 Features
Integration – You will be able to connect the online forms to several other applications and at the same time automate the task of information gathering. For instance, you can opt to use MailChimp in order to populate mailing lists or just optimize the workflow through Salesforce integration.
Logical Branching – With the right usage of conditional logic in your web form, the fields will branch out based on the conditions that you set. This specifically makes your form user-specific and precise.
Security – This provides high-end security to all your web forms which might contain sensitive information by using Captcha and SSL technology.
Transaction Processing – The user can seamlessly integrate one or even more trustworthy payment processors like Stripe, PayPal, Square, Authorize.net etc. in your payment forms.
Pricing
Basic Plan – The Basic Plan does come for free and provides you with 5 forms and 100 submissions every month.
 Gold Plan – This specific plan comes with a price tag of $24.99 per month and you will receive 20 forms, 5,000 submissions per month and live chat support as well.
Platinum Plan – This particular plan will cost you $44.99 per month and gives you unlimited forms, 20,0000 submissions per month and also payment integration.
Corporate Plan – This plan starts at a price of $84.99 per month and specifically includes certain high-end features along with Salesforce integration.
4. HubSpot – Online Form Builder
HubSpot is a popular form creator which can be used to build custom forms which connect to your contacts database. Using this tool, you can create online forms within seconds using the drag-&-drop form builder. Every user who fills out your form will be automatically routed into HubSpot CRM. You can also manage the relationship with that person by calling them, setting reminder tasks or sending them a personalized mail. You can easily add your form onto your website within a matter of seconds or opt to use a standalone form page to quickly share your form with others.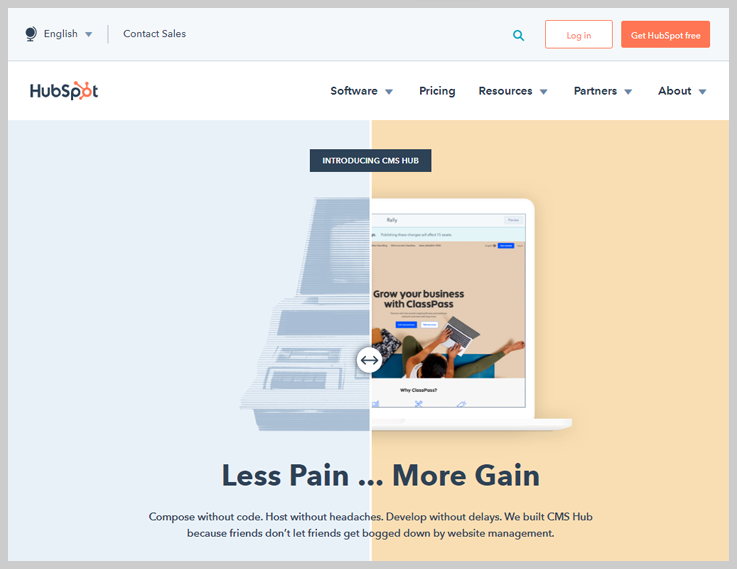 Features
Information Customization – The users customize the information which they collect with up to 1,000 form fields and one dozen of different field types. You can use any field type you require to create custom form fields. Everything from the text field types to date pickers to checkboxes is all at your disposal.
Setting Reminder Tasks – Managing relationships with your customers is easy as you would be able to set reminder tasks or call them or send personalized email using this tool.
Easily Unloadable to Website – By adopting this tool, you can very conveniently upload a form to your website within seconds.
Standalone Form Page Creation – A standalone form page can be easily created and this can be quickly shared with your customers.
Pricing
Starter – The starter plan cost $35 per month and this is an annual plan. This includes 1,000 contacts.
Professional – The professional plan comes at a monthly cost of $560 and is also an annual plan. This plan also includes 1,000 contacts.
Enterprise – The enterprise plan costs $2240 per month and this is an annual plan as well. This included 10,000 contacts in the package.
5. Zoho Forms
Zoho Forms is a popular and prestigious name in the market of online form builders. This provides you with several responsive themes and templates which are apt for various purposes. Besides customizing the look-n-feel of the themes here, you can also opt for custom branding of your service by integrating your custom message, logo, etc.
There are several facilities which you can avail like sending certain personalized follow-ups and integration with campaigns, CRM and desk applications. You can also create PDFs of the collected data, collecting the payments through the secured payment gateways and usage of conditional logic, etc.
Features
Formula Field – With this particular feature of the form creator, you will have the liberty of easily doing the calculations in the form itself. For example, you can add up the cost in the product form itself, grade quizzes and conduct a lot more math with the help of this form builder.
Email Alerts – You can get notified on every form submission and later on define the user roles to the team members for receiving an effective workflow.
Form Publishing – You can very easily embed the forms on your web pages, share them via email campaigns, social networks, and links. Also, you can outreach the offline forms to the users with the help of printable QR codes.
Analytics – With this feature, you can very easily monitor the critical metrics like error scores, traffic source, page views conversion rates etc, in order to create reports that are based on these statistics. Also, you have the option of exporting your record database in CSV/PDF format or even Google spreadsheets as well.
Pricing
Free Plan – This free plan will allow 500 submissions per month and 200 MB of storage.
Basic Plan – You can receive this plan at a monthly expense of $10 for 1 user and avail 10,000 submissions per month along with 500 MB of storage and more.
Standard Plan – This plan will cost you $25 per month and is allowed for 10 users and gets facilitated with 25,000 submissions per month and 2 GB of storage etc.
Professional Plan – You can avail this particular plan for just $50/month and can be used by 25 users for 75,000 submissions with 5 GB of storage space.
Premium Plan – This plan will cost you $100 monthly and is applicable for 100 users and you can avail 150,000 submissions per month with 10 GB storage.
Conclusion
There was a major reason why we familiarized you with these Google Forms alternatives. You will be paying an amount now which was not required at all while using Google Forms. So, this is your right to spend only on a form builder software which is apt for your nature of business and provides you with the right value. You should ideally choose the one which suffices your business needs in the best possible manner. The price shouldn't be the only consideration while you choose, rather the utility and value matters.
You May Also Like To Read