Have you been scouring the internet for the best cheap conditional logic forms for your website? Look no further because we have tested and compiled the top ones for you.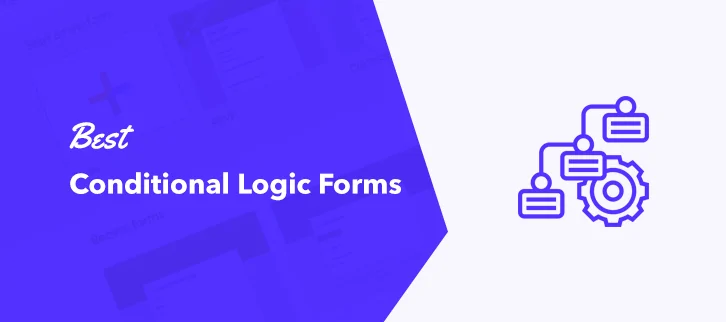 First off, an online form is an important marketing tool, especially for small businesses. It collects important customer data and information that a company can use for the betterment of their brand. However, most consumers tend to leave them unanswered because most of them are long, complex, and boring.
To address this, marketers opted for a more personalized and interactive way to get their target market's data; and that is by using conditional logic in online forms.
Conditional logic forms follow the "if this, then that" principle, but only in form style. Basically, it is a smart form that automatically changes or shows a new set of questions based on a particular response. It allows you to customize and streamline your form for the benefit of the users.
If it sounds too technical, don't worry. We have listed and discussed the best conditional logic forms builder available on the market.
Quick List of Comparison of the Best Conditional Logic Form Creators
| | | | |
| --- | --- | --- | --- |
| Service Name | Basic Plan | Submissions | Payment Method |
| Pabbly Form Builder | $10/Year | Unlimited | Stripe, Paypal (Unlimited Payment Accounts) |
| Formstack | $19/Year | 700/mo | Propay only |
| NinjaForms | $49.50/Year | Unlimited | Paypal Express |
| Formidable Forms | $99.38/Year | Unlimited | Not Supported in Basic Plan |
| Paperform | $12.50/Year | 1000/mo | Stripe, Square, Braintree, Paypal (1 Payment Account/User Only) |
1. Pabbly Form Builder – Top Conditional Logic Forms Builder
"Pabbly Form Builder is a software that allows you to create unlimited conditional logic forms using all of its features like unlimited form submissions, file uploads and payment collections for a single price."
It allows you to create advanced conditional logic forms to enhance users' experience by providing an interactive and innovative way to fill-out smart forms. This feature runs on the if/then conditions that allow you to hide or show a specific field based on the user's answer. You can add/remove "in fields," customize a thank you message, and even link form responses directly to your Drive.
Design each form to cater to different types of users, add or hide additional items based on answers given on previous numbers and have users fill out questions that are relevant to them.
With Pabbly Form Builder, you can create an effective and easily comprehensible form without restrictions. All the features are open for use even with the basic plan!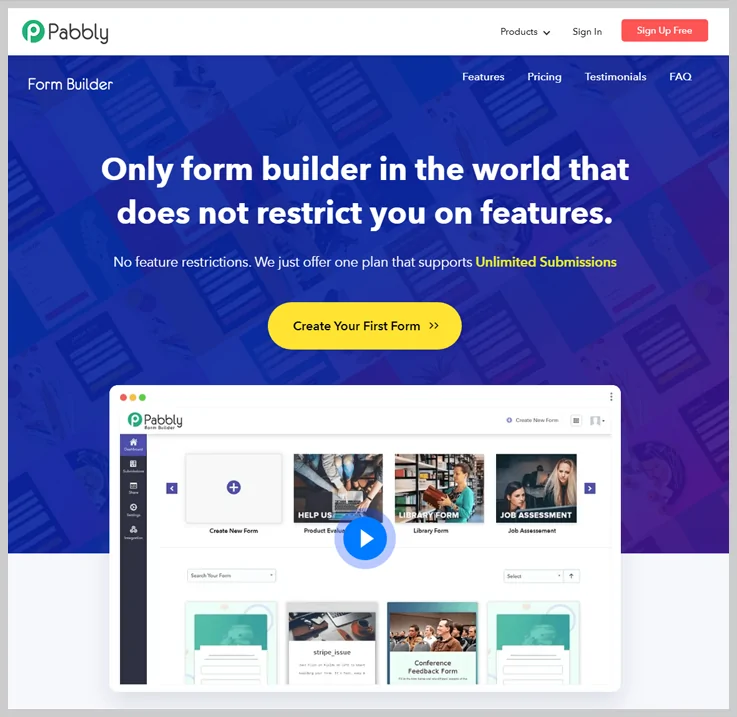 Features
Drag And Drop Editor – Creating forms has never been this easy. This feature provides an easy-access list of important information such as name, date and time, email, number, image, and video that you can incorporate on your forms. Moreover, you can also conveniently include additional fields such as an upload button, dropdown menu, captcha, and rating button.
Ready-To-Use Templates – Pabbly Form Builder offers 250+ ready-made templates that suit your business niche, design and layout. These pre-built, conversion-optimized forms are also mobile-friendly to accommodate every user.
Limitless Integration – Furthermore, the app allows unlimited and seamless third-party website integrations. Among the numerous sites are Paypal, WordPress, Dropbox, and Google Analytics. The form builder allows an easier data transaction that benefits you and your user.
Email Autoresponder – Lastly, it features a customizable email autoresponder that sends a specific message to users after they submitted their forms. Your personalized message will be based on the user's purpose, whether it is a payment, a reply, or a query.
Pricing
Free Trial – The site offers a free trial where you get to experience every feature it offers. You can create forms in a snap and embed it to your website, widget section, or share it on any platform.
$15 Per Month Plan ­– With an affordable price, you can now enjoy unlimited form submission, embedding, file upload, and payment accounts. It also includes access to the advanced, unrestricted feature.
2.  Formstack – Versatile Multi Step-Form Builder
The second list topper is Formstack that promises a secure and healthy way to create versatile forms for your website and business. The software allows you to create, collect, and send online information with ease. It automates your gathered data, updates your CRM, and manages your email subscriber list. It allows over 40 intuitive form integrations with a bunch of categories to choose from  such as accounting, healthcare/HIPAA, and analytics.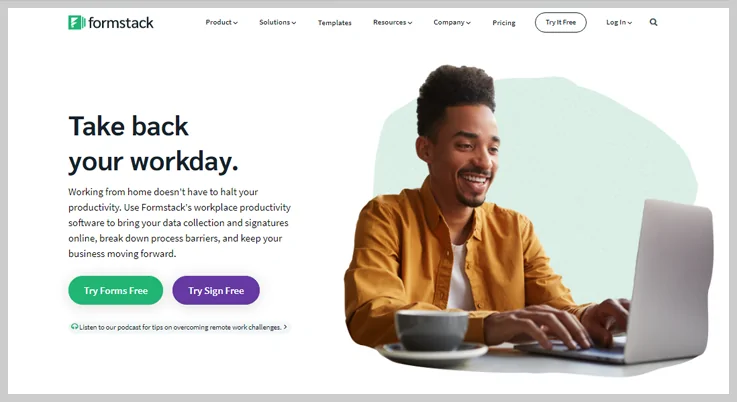 Features
Custom Webhooks – Connect your online forms to multiple apps and websites such as Google Drive, Dropbox, Zapier, and Slack to allow seamless workflow.
Conversion Kit – The form conversion kit allows you to evolve your marketing strategy by providing you with useful site data and analytics. It helps users improve forms using conversion rate optimization tools such as UTM tracking and Form A/B Testing. It analyzes customer insights, provides built-in analytics, and optimizes your forms.
A/B Testing Feature – This feature lets you test two forms to see which one is better. This can help you optimize your form designs to the fullest!
Partial Submissions – This unique feature allows you to view information users have already filled out before exiting your form prematurely. Let's face it; some users don't have the patience to go through the entire form! This feature can help you salvage important information (like contact details) even when the user clicked away before submitting.
Field Bottlenecks – Reveal problem areas in your form that make people quit before finishing using this unique feature.
Pricing
Bronze – For $19 a month, you can create 5 forms per 1 user and enjoy the basic features that it offers.
Silver – Next is the silver plan where $59 per month gets you to access different tools and integration systems to aid your data collection.
Gold – The most popular plan gets $99 of your money in exchange for a month of unlimited access to its features, as well as, a complete solution package for your growing enterprise.
Platinum – Lastly, the platinum plan promises access of over 1000 forms for 10 users. Every advanced feature and powerful customization is at your disposal.
3. NinjaForms – WordPress-friendly Form Builder
NinjaForms is a beginner-friendly form developer that requires no coding skills. The software allows you a simplified way of data collection, subscriptions, and payment transactions. It lets you develop an interactive form via its conditional logic feature.
With it, you can build any kind of form that automatically changes or updates based on your user's preferences. This helps them fill out fields that are relevant to them, improving their overall experience with your website. On top of that, the site also boasts a real-time customer support team to address any issues.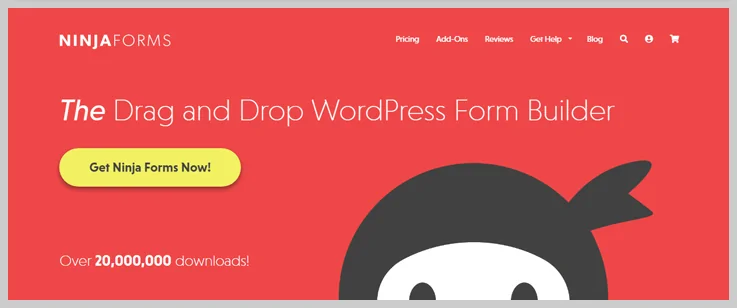 Features
WordPress Integration – Aside from other websites, the software prides itself on its capability to be incorporated on a WordPress site. With its cheap multi-page forms, you can now create long forms without it seeming like a time-consuming ordeal. Sort and organize your form via the software's drag and drop interface.
Customizable – The interface allows a pleasing layout and style editor to accommodate your business and users. Adjust columns, add backgrounds, and resize fields with ease.
User Management – This allows users to register and create their very own profiles on your website with the ability to manage and customize it based on their liking.
Instant Notification – What good is a finished form if it takes you too long to respond to it? Worry no more. NinjaForms let you stay connected with your users by notifying you with every form submission. You can connect your SMS and even your Trello and Slack channels to respond to users in a snap.
Save Progress – This feature lets your users save their unfinished work today, and get back to it tomorrow without any hassle. Your user can do multiple saves and edit saves when filling out your WordPress form.
Pricing
Personal – The $49.50 plan gives you access to the basic form-building essentials, email marketing, and payment forms on PayPal.
Professional – The $99.50 plan includes everything a Personal plan entails together with an empowered user management feature and CRM integrations.
Agency – Finally, they have the $249.50 plan that includes every NinjaForm add-on there is. It also promises a full discount on future add-ons they release.
Next on the list is the Formidable Forms, a data-driven software that enables you to make simple yet reliable conditional logic forms in a variety of designs. Also, conveniently build forms through its drag and drop interface, save and continue feature, and flexible layout designs. This software can help you customize forms so that it fits your user-base easily.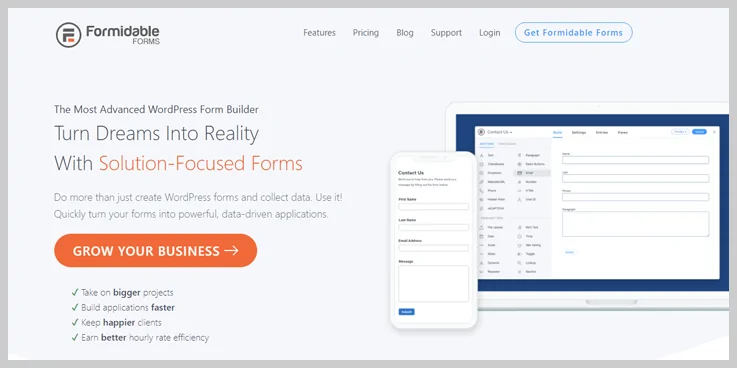 Features
Easy-to-do Smart Forms – The easiest way to get your users to fill out your forms is by making it interactive and fun. Smart forms tailor your questionnaires and surveys to only respond to the given information of your user. You can hide irrelevant fields, build reliable conditional logic forms, and add a submit button, all for your user's convenience.
Statistical Information – After users fill up your forms, what's next? Formidable Forms make and display your collected data statistics in stunning graphs and charts. It provides easy visual comprehension of complex data trends and comparisons from your gathered information.
Form Calculation Tool – It provides real-time calculation of potential quotes and product costs. This tool boosts user experience, as well as conversion.
Flexible Layout – The in-app CSS layout allows you to create a visually-pleasing form within minutes.
Repeater Fields – Lastly, allow users to add fields or sections on your forms that they deem important. This feature lets users customize their forms by adding form fields to include additional information.
Pricing
Basic Plan – For $99.38 a year, you get to enjoy basic features such as unlimited forms and entries, review before submission feature, and basic integration.
Business Plan – The $199.43/year plan includes every basic feature together with selected advanced add-ons such as user registration, quiz maker, and campaign monitor.
Elite Plan – The $399.53/year boasts unlimited access to every basic and advanced feature. It also comes with unlimited sites, elite support, and hundreds of app integrations.
5. Paperform – Most Affordable Online Forms
The fifth best conditional logic forms builder is the Paperform, an expert online form crafter. The website offers a cheap form-making app without compromising its quality and uniqueness. With over 100+ templates to choose from, you can come up with unique designs for your surveys, payment forms, and subscription forms.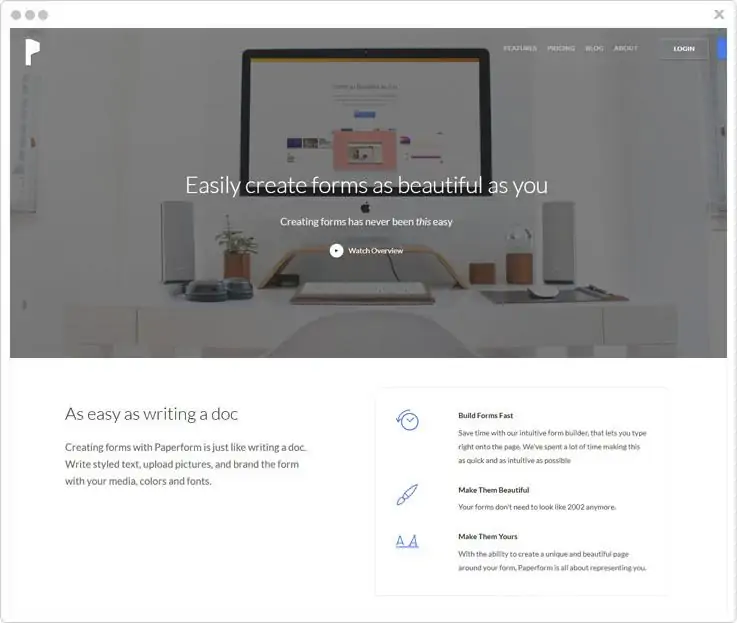 Features
Powerful Editor – Its flexible dashboard allows you to edit your work like that of a document.
Conditional Logic Feature – The affordable app allows you to incorporate cheap branching logic in your forms. This feature allows your form to only present relevant sets of questions for your users. It makes a simple questionnaire more personable, fun, and still functional.
Pagination – This feature carries out a page break system to conveniently separate forms into sections, allowing it to show or hide a specific section based on your user's action.
Surveys and Quizzes – Aside from website feedback, the app also allows you to create engaging surveys and interactive quizzes for your users. It also has a conditional logic feature and a built-in scoring system to engage users.
Customizable – The software boasts over 100+ of unique and ready-made templates to choose from. Create wedding invitations, booking forms and even an updated COVID-19 form.
Versatile Forms – Lastly, the software features an easy way to gather data and information. It captures more than just the names and emails of your user. It engages them through its interactive layout and design.
Pricing
Essentials – At $15 per month, you get to create an unlimited number of forms. You are also entitled to 10,000 form views and a thousand submissions per month.
Pro – The $39/month plan allows you unlimited access to forms, views, and submission. It also has extra features such as URL customization and a scheduling feature through interactive calendars such as Google.
Agency – Lastly, we have the $99+/month plan which boasts multiple features including advanced CSS customization and domain support.
Conclusion
Online form making has never been this easy (and cheap!), especially with affordable conditional logic forms available on these websites. In addition to that, you can also create reliable branching logic surveys, set up cheap form dependent fields, and incorporate paid multi-step forms in your website.
So, that ends our elaborate comparison of the top 5 online form builders with conditional logic as a feature. The listed prices and unique attributes of each software should allow you to choose one that best suits your business.
You May Also Like To Read: