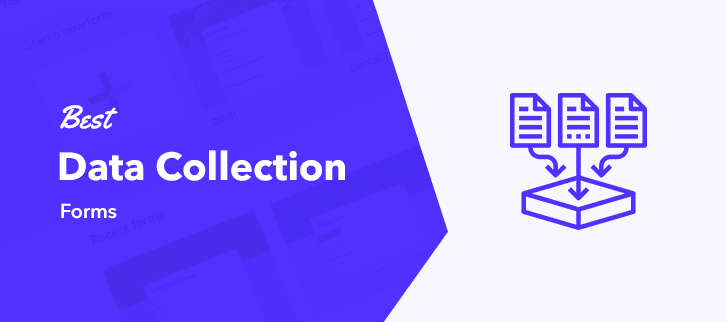 In this age of Information & Technology, data is undoubtedly the new gold. If your organization or business can effectively collect, manage, and measure data, then you are offering a cut-throat competition in the market. You can use the best data collection form on your website, as it will make the task of collecting information convenient.
Forms can include any standard information about your audience that can be helpful for your sales, operations, and research team. A reliable data collection form assures you of a consistent and organized stream of data. But, many times, it becomes difficult to prepare such efficient and attractive forms.
In this read, we have compiled a list of software that can help you in preparing top data collection form online. You can learn about their core features and pricing, which will help you in selecting the best.
Comparison of Best Data Collection Form
| | | | |
| --- | --- | --- | --- |
| Services | Pricing | Submission | All features included in all plans |
| Pabbly Form Builder | $10/month | Unlimited | Yes |
| Formstack | $19/month | Limited | No |
| | $99.38/month | Limited | No |
| Gravity Forms | $59/annum | Unlimited | No |
| | $49.50/month | Unlimited | No |
"With zero restriction in features and unbeatable pricing, Pabbly Form Builder provides a world-class user experience to make impactful and attractive forms."
Pabbly Form Builder offers the largest collection of ready-to-use form templates. In addition to being conversion-optimized, all the templates are mobile-responsive and customizable. Users can quickly create multiple forms with drag & drop functionality. For a smarter and enhanced lead generation, the audience can upload a file/document along with the relevant data. The facility to integrate unlimited secure payment collection makes it the most reliable data collection form online. Furthermore, users can easily create data collection forms related to payments, landing, lead capture, survey, and event registration.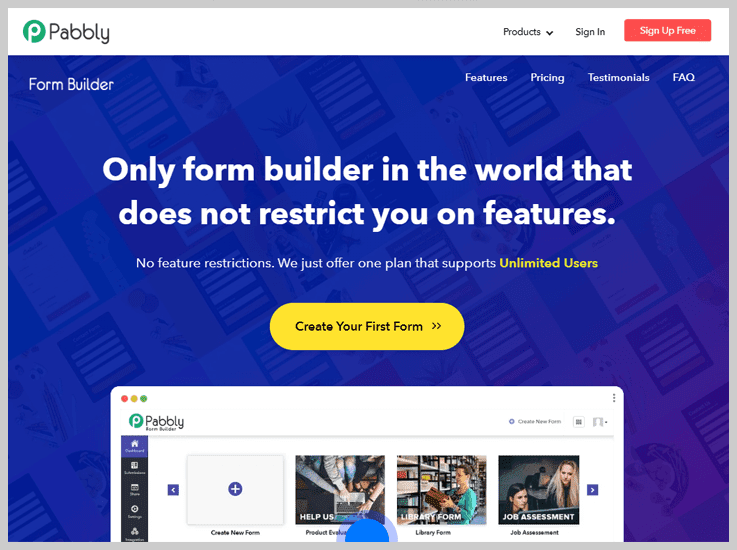 Features
Limitless Integration – This form builder, offers support for unlimited data integration and Webhooks. Above all, users can conveniently opt for third-party integrations like Paypal, Dropbox, Stripe, Google Analytics, and others to automate the workflow.
Conditional Redirect – The audience can be easily redirected to the desired URL after they select a particular option in the form. Even after submitting, it is possible to configure the form.
Collect Payments – Hassle less collection of payments by the quick configuration of payment accounts, product stock, and billing details. Fields label style and item style can be modified as required.
Email Autoresponders – When the audience submits an entry successfully, this feature will automatically send an email notification. Users can easily customize the content for email notification and set them on/off accordingly.
Conditional Logic – This feature allows admins to customize the forms according to the particular needs of the audience. Depending upon the inputs received from the audience, the form displays respective options. Thus, based on the audience's response, a user can configure particular fields to display or hide in the form.
Partial Form Submission – This is a one of its kind feature that enables adding a page break to a lengthy form. As soon as the admin adds a page break, the rest of the form moves to the next page. The audience can choose to fill a partial form anytime. Email notifications help in ensuring that they resume adding information on the form at a convenient time.
Pricing
Users can easily create an affordable data collection form, with Pabbly Form Builder. All the features, along with unlimited usages like, payment accounts, file upload, submission reports, and others are priced per single form.
The monthly cost for a single form is $15/m.
Similarly, the annual cost for a single form is $10/m.
Considering its features and plans, it is undoubtedly the best data collection form.
Ninja Forms is a popular, simplified, and easy to use form builder for WordPress powered websites. Coding or other technical skills are not required to create impactful and beautiful forms. It offers dedicated team support to its users, for the resolution of all kinds of issues. Also, it offers a wide range of add-ons for enhanced functionality and better user experience. Users can create multiple forms, and store the results in the WordPress database, along with the rest of the content. Furthermore, it releases regular updates and comes with 27+ field types.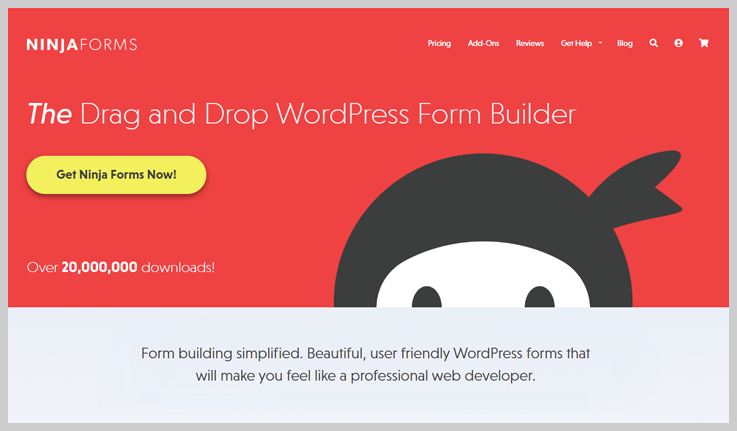 Features
Conditional Logic – When a user fills out a form, specific fields can be displayed and hidden with the help of this feature. Redirection to single or multiple pages is also possible. Admins can also decide on sending certain emails according to the criteria opted by the audience.
Multi-part forms – This feature enables dropping fields between pages. Users also have an option to add a progress bar, breadcrumb navigation, and other related features.
File Uploads – It is possible to add an upload field option with any form. Controlling file type and size has never been easier.
Zapier –   If the users cannot find a required add-on integration on this platform, then it can be integrated through Zapier. At least 1500 services can be connected.
Securely Accept Payments – Ninja Forms can easily accept payments from Paypal Express, Stripe, Elavon (for credit cards), and Recurly.
Pricing
Personal – This is an annual plan priced at $49.50. It can be used on a single site and comes with priority support. In addition to accepting payments, users can use email marketing and form-building features.
Professional – This is the best value annual plan priced at $99.50 and offers compatibility for use on twenty websites. In addition to the features of the personal plan, users can use client empowerment and payment integration features.
Agency – This is a comprehensive annual plan priced at $249.50. Users can use it on unlimited sites, and they will have access to all the features.
A La Carte – Just as the name says, this is a customizable plan ranging from $29 – $129. The price will vary depending upon the selection of the add-ons. Users can opt to upgrade for membership plans at any time.
Formstack ensures that building custom online forms does not become a difficult task. It is an easy to use website form builder, which enables you to gather customer data, collect payments, and automate tasks in just a few clicks. It offers integration for at least 40 web applications, including Facebook, Salesforce, WordPress, and others. Furthermore, users can also get useful tips on online form design from their blogs. Give it a shot and make a free data collection form online with its trial version.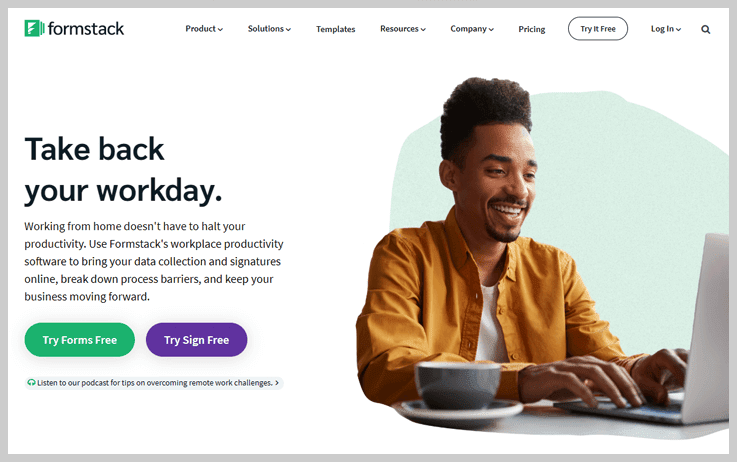 Features
Responsive Forms – Users can easily create responsive forms, to be filled by the audience from anywhere and on any device.
Form Importer – Forms can be imported from other platforms and systems with just one click. This saves considerable time and enhances productivity.
Themes & CSS – It offers users pre-built templates that help in designing impactful forms from scratch.
Save & Resume – This feature allows the audience to save a form and return at a later time to resume filling the information. Thus, it adds more value to customer relations.
Social Autofill – The audience has an option to prefill the form fields with the data from their social media handles.
Team Collaboration – Users can easily create streamlined workflows and collaborate with the team. It becomes easy to comment, approve, or deny the submitted data. Conveniently provide edit and share access to the team. Manage file access permission for selected team members.
Pricing
Bronze – It comes with all the basic features that help in creating an affordable data collection online form. The price of this plan is $19/m for one user per five forms.
Silver – For seamless data collection, this plan has more tools & integration options. Buy this plan at $59/m for one user per twenty forms.
Gold – This plan has powerful customization options for addressing business needs. The price is $99/m for five users per hundred forms.
Platinum – This plan comes with priority support and advanced data collection features. The price is $249/m for ten users per thousand forms.
Enterprise – This plan is for high-volume requirements and comes with robust data management & security. Contact the team from the website for exclusive pricing.
This is an exemplary form builder with a versatile drag & drop feature. In addition to data collection forms, it creates complex forms like registration forms, profile forms, payment forms, and others. Just like other forms, this also comes with conditional logic that uses user-behavior to display or hide questions. Additionally, Formidable forms are solution-focused forms preferred for all kinds of projects. Its visual styler ensures that creating attractive forms becomes an easy task for users.
Features
One-Click Add-on Installation – Users can install 30+ available add ons with just a single click to enhance the functionality.
Ease-of-Customization – It comes with customizable HTML and 125+ hooks for convenience in customization.
Dynamic Fields – The form fields are populated automatically with saved entries, user meta, and other available information.
Integrated Views – Users can transform entries from forms into directories, listings, calendars, and powerful front-end content.
Statistics – Users can see statistics in the form of charts, reports, and graphs. Such statistics are generated from the form data and displayed in an eye-catching manner.
Summary – This feature empowers the audience to review their data before submitting the form.
Pricing
It has a moderate price range, and therefore, it is best if you want a cheap data collection form.
Basic – Users can buy this annual plan at $99.38. It can be used on one website and comes with all the basic features like unlimited forms, unlimited entries, file uploads, and others.
Business – The price of this annual plan is $199.43. It can be used on fifteen websites and comes with priority support. Other significant features include Zapier, WPML integration, Campaign monitor, and others.
Elite – This plan comes with all the features, and its annual price is $399.53. It offers functionality for unlimited sites.
Gravity Forms helps users in gaining valuable leads to grow their business. It offers tons of time-saving tools & features. It does not consume time in building and publishing forms. Embedding the forms on the WordPress site is handled by its in-built tool. It is packed with features like limited form entries, multi-page forms, and save & continue. Moreover, it has a conditional logic feature that can hide/show the fields and sections according to the audience selection. The basic add-ons help users to quickly connect with other third-party services.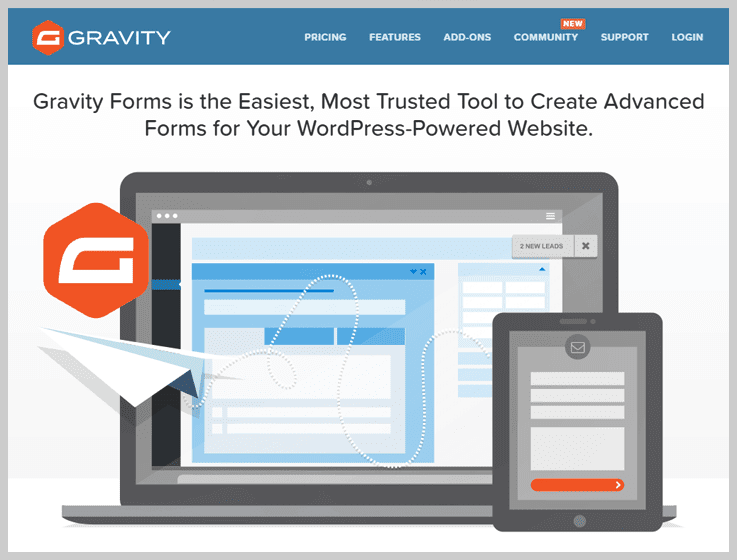 Features
Email Notifications – The email notifications keep the users updated every time a form is submitted. This helps in effectively monitoring the lead generation process.
Calculations – In addition to a form builder, this feature makes it a math wiz. It can perform advanced calculations from the field values of the submitted forms.
Fight Spam – Gravity Forms include advanced security options like Google ReCaptcha, Akismet Options, and simple Captcha. Such security measures help in fighting spam emails and keep the inbox clean.
Integrations – There are endless integration possibilities with Gravity Forms. It helps you in integrating your forms with services & applications like Stripe, MailChimp, Paypal, Dropbox, and others.
Save and Continue – The data collection process includes the submission of lengthy forms. This feature helps the audience to save a partially filled form and return later to finish it.
WordPress Post Creation – This is a unique and out-of-the-box feature that makes it the best data collection form. It is possible to convert audience-generated content into WordPress posts, with the help of front-end forms.
Pricing
Basic License – Pay $59 per year to buy this plan. The plan comes with all the features and basic add-ons.
Pro License – Buy this plan at $159 per year for use on three websites. In addition to basic add-ons, this plan includes Pro Add-ons.
Elite License – This best value plan costs $259 per year. Users can use it on unlimited websites to create unlimited forms and entries. It includes all the add-ons.
LeadQuizzes is an online quiz maker and form builder that is very practical for increasing leads and learning about your audience.
Their forms can easily be embedded anywhere on your website and they have over 75+ pre-designed form templates you can use right away!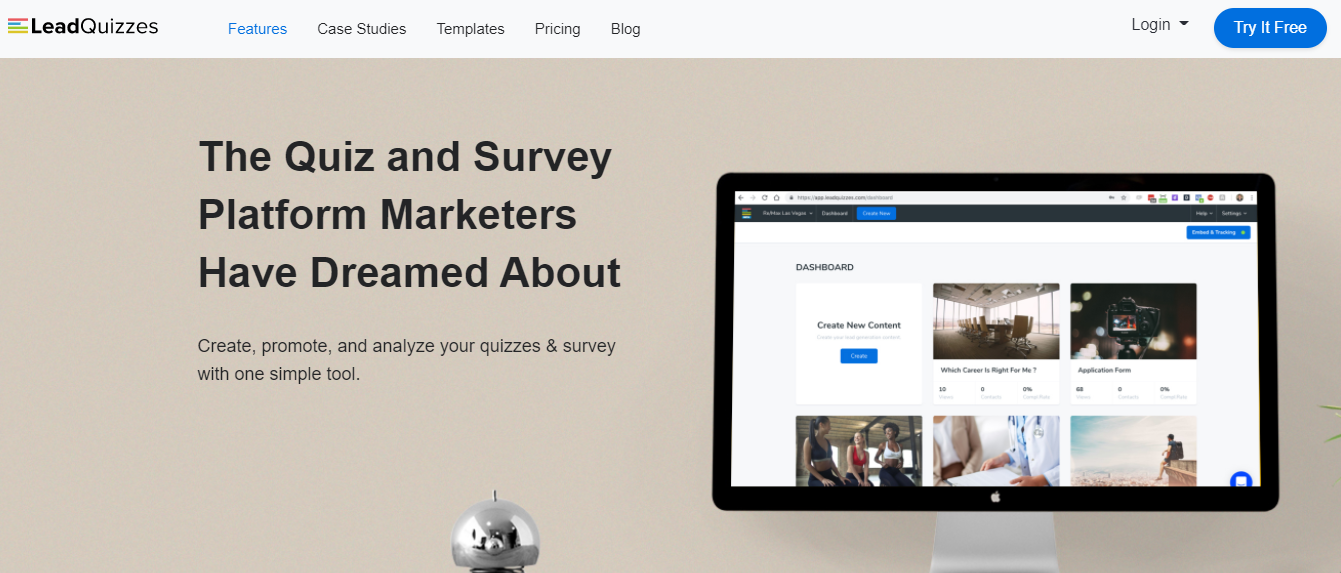 Features
Fast installation – Create your online quiz, survey, or form in minutes from one of our professionally designed and written templates.
Design Flexibility – Don't like the pre-designed form templates they offer? Easily customize them to meet your particular needs without having to build them from scratch.
Ease customization – Create custom form fields to capture information like name, email, phone number, zip code, and much more.
14 Days Free Trial – and if not happy they also guarantee 30-days money back. When choosing the plans, you can choose between monthly and annual billing,
Pricing
Standard – $49/month; great for entrepreneurs and small businesses.
Premium – $99/month; great for businesses and agencies with high traffic and multiple websites.
Pro – $249/month; great for businesses and agencies with very high traffic and lots of websites.
Conclusion
Every form-builder has unique features and some disadvantages. Some of them are exclusively for the WordPress platform, and others have limited features. The prices also vary accordingly. In conclusion, we recommend you to analyze all the parameters and pricing before making the final call.
You May Also Like To Read: