Whether you want to collect leads, do market research, get customer feedback, or just want to create a quiz for students, you need to create a form for all this. Online form builders software helps you create highly customizable and job-specific forms with an intuitive cloud-based interface. Hence, with the help of such tools, you can focus more on collecting information rather than wasting time form creation.
Now, you know that every form builder software that is currently available on the web claims to be the best. But you know that this is the biggest lie! You might be able to create forms with those form creators. But the applicability is questionable!
Hence, there comes the need for the best online form builder software that have evolved in both style and functionality. Also, it allows you to be inventive and creative when it comes to achieving your form-related goals.
Now, the question is, which form creator software is the most suitable for your needs?
Don't worry!
After analyzing, testing and reviewing many form building software, we came up with the list of 5+ best form builders. All these tools are best in terms of features, pricing, usability and provide just enough functionality for you to achieve your goal.
Comparison Between The 5 Best Form Builder Software
These form builder services not only come with basic features like drag-n-drop editor, advanced customization & themes but also supports many extraordinary features like conditional logic, form validation, reCaptcha, etc.
Now, without further wasting much time, let's take a close look at the best form builder software and find the one that perfectly meets your business needs.
"Pabbly Form Builder is the cheapest form creator available in the market that does not superimpose any kind of limits on the usage of its feature."
This means it is the only tool that comes with features like unlimited form submission, file uploads, payment collection, storage, and many other conversion rate optimization features.
With it, you can create unlimited forms from any niche and embed it on your website without any trouble. Further, you can also customize the entire form according to your brand as it offers several advanced customization & branding options like the field distance, color, text, backgrounds, font styles, and more. Besides, you can easily manage the submissions of the form as it comes with various pre-built filters such as "New" or "needs Response".

 Features
Embedding – Pabbly Form Builder offers four types of form embedding options: slider, pop-up, or full form, that you can use to get leads directly from your website.
Unlimited Submission – It is the only form builder that does not put any boundaries on submissions. With it, you can collect limitless submission & manage them in an efficient manner.
Payment Integration – This tool offers advanced payment collect options as it supports PayPal & Stripe integration.
Help Desk – Further, it's the only tool that comes with a built-in help desk feature that helps you send instant replies to the respondents.
Email Notification – Using its email notification feature you can send a personalized email to your customer at different activities performed by the user.
Conditional Logics – This allows you to create logical forms, that is, you can add the ability to display and hide different fields or classes based on conditional logic. By doing this, you can shorten the length if it is made.
Pricing
You can buy this plan at the rate of $15 per month and get features like unlimited submissions, file uploads, views and many more. This means it is the only form builder that does not put any limit on accessing its features.
123FormBuilder, a leading SaaS-based online form builder for web and mobile using which you can build any type of online form, manage workflows and collect accurate data with ease. It helps you to create and conduct your own smart and free online survey. Further, you can make surveys, forms & questionnaires using various types of fields and rules that can be used to create an organized and exciting experience for your respondents. These fields can be anything like single choice fields, dropdown lists, multiple-choice fields, conditional survey rules and much more.
With it, users are provided with the ability to create their forms visually, obtain the script in a few clicks and start collecting data on their web pages within a few moments. Further, it integrates with many third-party applications, such as Google Docs, SalesForce, MailChimp, and many more. Apart from this, it gives a Facebook application and plugins for the major publishing platforms like WordPress, Blogger, and Google Sites.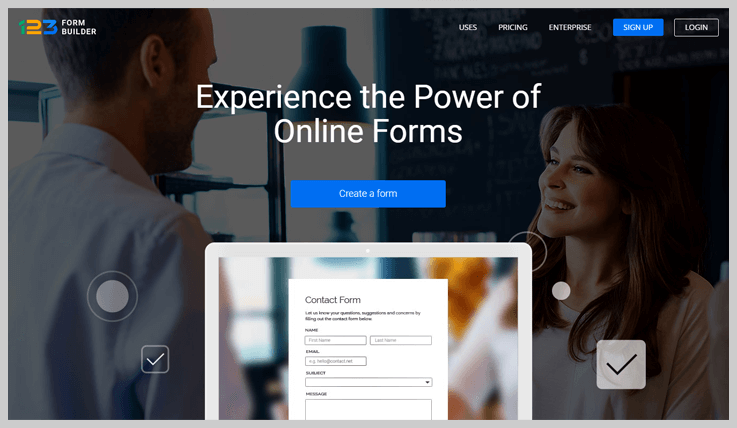 So, enjoy the experience of building professional web forms and surveys without using codes.
Features
Form Editor – This form builder comes with an easy-to-use drag-&-drop editor that allows you to create custom forms just in a blink of eyes. Further, if you don't want to create forms manually then you can also use its pre-built templates to use your task.
HTML Fields – It comes with 20+ predefined HTML fields like text, multiple-choice, file uploads, Likert scales, and email, etc, that you can include in your forms.
Data Security – With it, you can protect your form data with numerous security options, such as smart CAPTCHA, reCAPTCHA, SSL, password protection, country filters, and data encryption.
Payment Collection Form – With 123FormBuilder, you can turn your simple form into an order form with the help of various third-party payment integration like PayPal, Authorize.Net, and Stripe for automating your sales funnel.
Report & Analytics – Besides, you can also track your online form performance through its in-depth analytics feature.
Pricing
Basic – It's a fully free package that comes with the basics for creating up to 5 forms and collecting 100 submissions every month.
Gold – You can buy this plan at a cost of $24.99 per month. With it, you can create 20 forms, collect 5000 submissions, get unlimited API calls, and more.
Platinum – For this plan, you need to pay $44.99 per month. With it, you can create unlimited forms, collect 20,000 submissions, get unlimited API calls, and much more.
HubSpot's form builder is one of the most complete leads capture solutions – and it's free. You can create standalone forms, embedded forms, popups, slide-in boxes, and dropdown banners. The drag-and-drop form builder makes it quick and easy to convert your website visitors into leads. You can create as many forms as you want and as many fields as you want. And if you need a little inspiration, you can choose from a selection of pre-designed form templates that you can then tweak as you wish.
HubSpot's free form builder comes with a collection of free marketing tools that make it that much more powerful. Once someone fills out your form, they are automatically added to the HubSpot free CRM, where you can set reminder tasks, set up calls, and send personalized emails.
HubSpot's form tool integrates with many of the most popular tools like Mailchimp or Salesforce. If you're using WordPress, you can easily install the HubSpot WordPress plugin to easily add your forms to your website.
Features
Drag and Drop Builder – You can choose among a series of goal-based pre-designed form templates and customize the fields with the easy-to-use drag and drop builder to create beautiful forms and collect the information you need. You can also customize the colors and even add images to match your brand.
File Upload – The file field allows your visitors to upload any type of file with their submission, which can be useful if you'd like to receive certain images or videos from them.
Email Marketing – HubSpot's form builder comes with a free email marketing tool so you can easily send your new contacts personalized emails. You can also use marketing automation to set up autoresponders when someone submits a form.
Free Ticketing – Create a support form that will automatically generate support tickets from each submission, which you can then manage in HubSpot's free ticketing software.
Report & Analytics – Keep track of how your forms are performing through visual charts and custom analytics dashboards.
Pricing
Free – HubSpot's free plan is deeply powerful and often more than sufficient as you can create an unlimited number of forms of any kind that are customizable and connect them to a variety of tools, including CRM, email marketing, live chat, and ticketing software.
Starter – For $50 per month, you can remove the HubSpot branding from your forms, set up sequential followup emails (the free version only allows for a single followup), and access complete analytics reports. You also unlock advanced features for the rest of HubSpot's marketing suite.
Professional – To benefit from HubSpot's full marketing automation platform, pay $800 per month, and get additional features like smart form fields, conditional logic, and custom targeting and scheduling. And of course, you unlock a ton of the marketing tools that will help you grow your business like CTAs, A/B testing, and advanced marketing automation.
4. Wufoo
The next top online form builder is Wufoo. It is a web application that helps anybody build amazing online forms. When you create a form using this tool, it automatically builds the database, backend, and scripts required to start collecting and understanding your data easy, and fast. With it, you can create wonderful forms just in a few clicks & save yourself from manual coding. But, in it, you will have to craft some custom CSS code to style the forms to your choice.
Besides this, it also allows you to share your form and embed your form with JavaScript and iFrame, as well as on WordPress.
Wufoo works with the most popular payment processors in the world, including PayPal, Stripe, Authorize.Net, Worldpay, and more, so you can easily process online payments right from your form.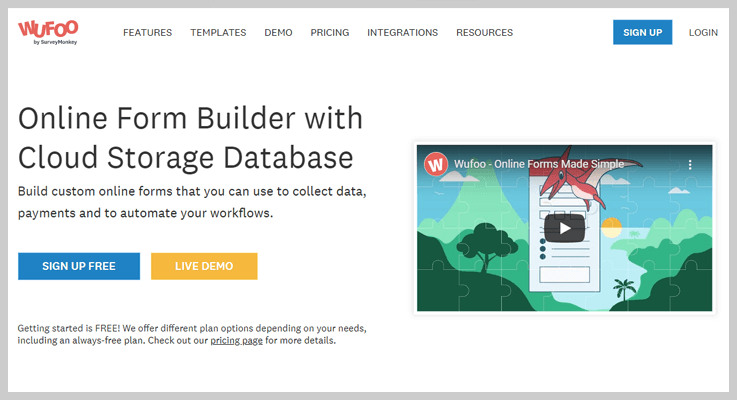 Features
Branding – With Wufoo, you can add your organization's logo and brand elements to your form to match your own brand.
Payment Integration – The software allows you to collect payments online in a jiffy through gateways like Stripe, PayPal, and Authorize.net. Further, you will get its updates with the help of a dynamic analytics dashboard about all the payments and orders.
Data Security – Wufoo gives you powerful security as well, through 256-bit SSL encryption and smart CAPTCHA to deter form abuse.
Form Templates – It provides 400+ fully customizable templates that are highly responsive and looks attractive on different devices.
File Upload Option – With this tool, you can collect, store and manage different types of media files uploaded via forms very easily.
Integration – You can integrate multiple tools like Salesforce, MailChimp, etc., with Wufoo to facilitate its working.
Pricing
Free – You will get 5 form creation, 100 entries, 10 fields and single-user access free of cost.
Starter – This plan charges around $14.08 for a month where you will get access to create 10 forms and 1000 entries. Further, you can integrate forms with multiple gateways, and single-user control.
Professional – Pay $29.08 per month for this plan. With it, you can create unlimited forms, handle 5,000 entries on a monthly basis, support 60+ integrations and much more.
Advanced – This plan will cost you around $74.08 every month. With it, you get flexibilities like unlimited form creation, 25,000 entries, 20 users access, 10GB uploads and more.
Unlimited Plan – This plan is designed for bigger organizations and it comes at the rate of $183.25 along with 60 user access, unlimited forms, unlimited reports, and 200,000 entries.
4. Paperform
Paperform is a cloud-based platform that enables you to build forms or product pages quickly, intuitively, & to brand them as you want with even writing a single line of code. It is much more than just a form builder. This is a great option if you want to build forms that look like landing pages. Further, it intends to make the form creation process as simple as writing a document. For this, it comes with the ability to style text, upload pictures, embed videos, tweaks colors and fonts, and much more to match your brand.
Besides this, it includes features like robust editor, multiple payments gateway support, custom emails, and much more. If that's not enough, it can also integrate with a wide range of third-party apps via Zapier to further extend its functionality.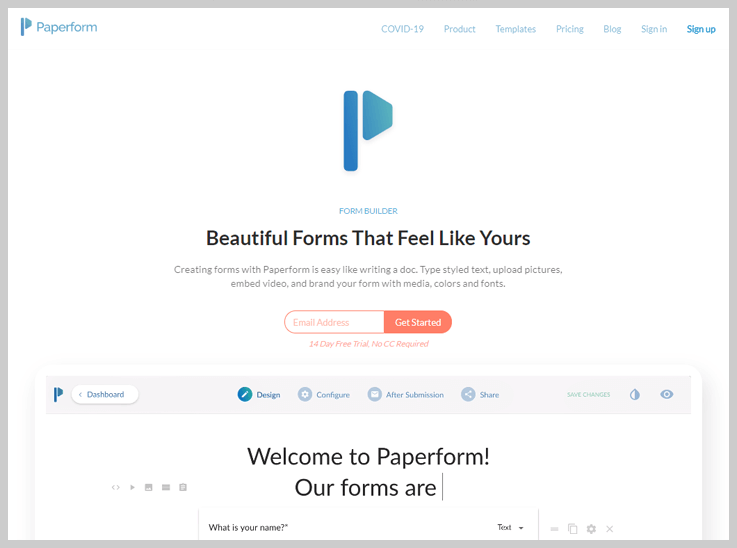 Features
Rich Content & Theming – With it, you can insert pictures, videos and styled text anywhere in the form. Further, this generates a separate link for every form, so you can share the form with or without your own website.
Third-Party Integrations – It supports several third-party payment gateways like Stripe, Paypal Business, Braintree and Square. This helps you to collect payment directly from your form.
Conditional Logics – Using its advanced conditional logics feature, you can show or hide any questions, pages, and sections of your form to craft a personal narrative for your audience.
Appointment Booking – Further, you can use its Bookings for Paperform solution and schedule appointments seamlessly with the rest of your form.
Multiple Forms – With this form builder, you can create several types of forms like lead capture, landing forms, event registration, payments, client onboarding, surveys & quizzes, and application forms.
Pricing
Essentials – You can buy this plan at the rate of $15 per month and get access to create unlimited forms, 10,000 views, 1000 submission, 1 payment account and much more.
Pro – This plan costs $39 per month and offers the freedom to create unlimited forms, views, and submission, along with 3 payment accounts.
Agency – To purchase this plan, you need to pay $99+ per month. With it, you get unlimited forms, views, submission, and payment accounts.
5. JotForm
JotForm is an online form creation platform that helps customers to create custom online forms without needing to write a line of code. This B2B SaaS productivity tool helps people, teams, and companies automate data collection and streamline processes.
It is a full-featured tool that is 100% mobile-friendly. In addition to this, it also offers 100+ integrations and 380 widgets, JotForm provides vast customization opportunities and powerful functionality like payment integrations, thousands of templates, HIPAA compliance, etc.
Besides it, its downside is you need to purchase the most expensive plan if you want unlimited forms functionalities.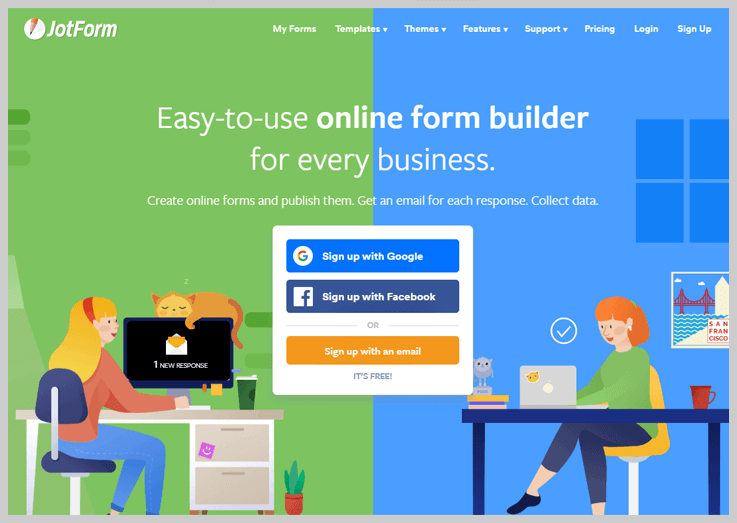 Features
Assign Form – Using it you can share & assign your forms with your team just by entering individual email addresses. Further, if you have a long list of assignees, you can upload them all at once with the CSV upload option.
JotForm Mobile Forms – No matter where you are, with JotForm Mobile Forms, you can gather & access data offline. Also, you can manage the data directly from your phone or tablet.
Payment Collection – It assists you in designing & integrating secure order forms with popular payment gateways like Square, PayPal, Authorize.Net, and more.
Data Security – The forms created via this tool are securely processed by its reliable 256-bit High-grade SSL encryption which ensures 100% secure transactions.
WYSIWYG Interface – This feature allows you to design your forms in addition to branding them without needing any coding knowledge.
Third-Party Integration – JotForm gives third-party integration with many services like Dropbox, Zoho, MailChimp, SalseForce, GetResponse, etc.
Pricing
Starter – With this free plan, you get access for 100 monthly submissions, 10 payments, 100 MB available space, 5 forms, 1,000 views, and much more.
Bronze – For this plan, you need to pay $29 per month. In this plan, you get features like 1,000 submissions, 100 payments, 10 GB available space, 25 forms, etc.
Silver – To get this plan, pay $39 per month and get 10,000 submissions, 1,000 payments, 100 GB available space, 100 forms, unlimited views, etc.
Gold – You can buy this plan at a cost of $99 per month. In it, you can get 100,000 submissions, 1 TB available space, and unlimited payments, forms, and views.
Conclusion
Here, in this blog, we have mentioned the best form building software along with each and every important detail about them. These form builders will surely help you to generate more leads and conversion for your business. Also, this will help you to enhance your relationship with your clients.
Now keeping anything in mind, we are hoping that this post must have helped you to get the best for your needs. So, without thinking twice, you can buy anyone out of these 5 best form builders software depending on your business requirements.
You May Also Like To Read: