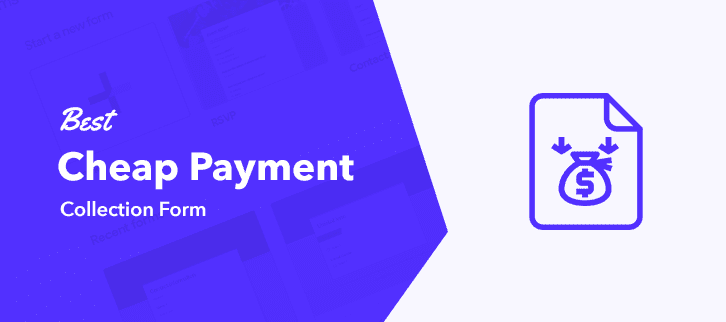 Form builders work in a relatively straightforward manner. You wish to collect some pieces of information and for this you need to create some questions and labels. Your customers then use these fields to provide you with the information you need. These fields can be in the form of text boxes, radio buttons, or dropdown lists. Payment form builder apps vary in complexity, and while some of them are simple and minimalistic, others have advanced and reliable tools for processing  data.
An online form builder should be flexible, so that you can use it to build all kinds of forms, starting from a basic contact information form to a survey spanning multiple pages. Furthermore, form builders should be fast and work on any website. Deciding which form builder to buy might be a daunting task, given the sheer number of options available in the market. Nevertheless, here is a short comparison chart of the five payment collection form builder software. We have made all the comparisons on the basic plans of the software. So, by taking only one look at it, you will be able to find out the most efficient one among them.
Comparison Chart of 5 Best Cheap Payment Collection Forms 2022
| | | | | |
| --- | --- | --- | --- | --- |
| Services | Basic Plan | User | Submissions/Month | Number of Forms |
| Pabbly Form Builder | $120/year (Yearly plan) | Limitless | Unlimited | Unlimited |
| | $99.38/year | One | Unlimited | Unlimited |
| Formstack | $228/year | One | 700 | 5 |
| 123FormBuilder | Free | One | 100 | 5 |
| JotForm | Free | One | 100 | 5 |
So, here is the list of the best form building software programs.
"Pabbly Form Builder is a cheap payment collection form builder that is very easy-to-use and does not prevent the users from using its prominent features like form submissions, receive unlimited payments, file uploads, etc."
The Pabbly Form Builder is considered to be the best payment form builder for several different reasons. It is crisp, effective, user-friendly, and can help you to build a payment form in a jiffy. Furthermore, unlike a few other form builders, this one also does not have any hidden cost at all. Moreover, to use it, you would have to only pay a one-time-fee and start doing your work right away.
Another amazing thing about Pabbly Form Builders is that it enables you to upload unlimited files without any restriction. Moreover, just by subscribing to its basic plan, you can also enjoy unlimited submissions and take as many payments as you wish to.  However, the most noteworthy feature of the Pabbly Form Builder is the conditional logic feature. It can help you to hide or show some particular field entries according to the requirement and submission of your client. Besides, it can also help you add some branches to your form to make it look unique.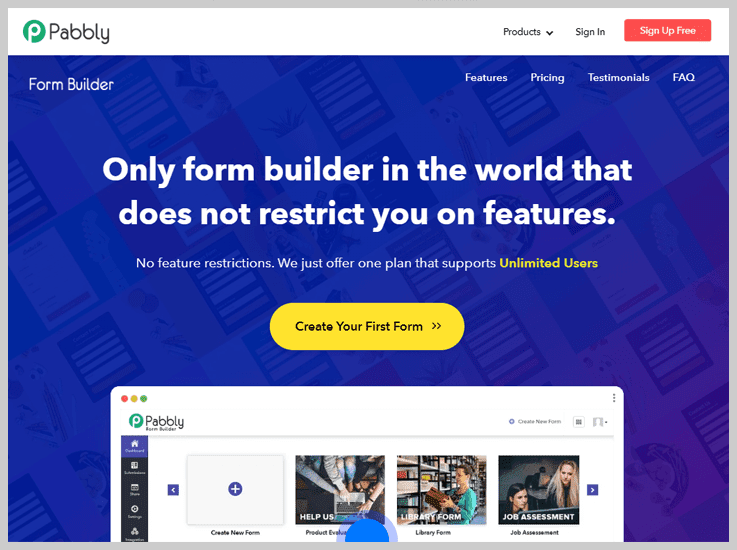 Features
Email Notification System – Whenever any client of yours makes a booking or pays you for your services, you will know about it instantly through an email notification  Hence, with this feature, you can keep a proper track of your essentials.
reCAPTCHA Function – it can prevent the scams on your website by stopping the malicious bots from affecting your forms. Thus, your site will be harm-free and properly protected.
SSL Encryption – The forms, made by Pabbly Form Builder, are SSL encrypted. Therefore, the hackers won't get any trace about the commitments between you and your clients.
Drag-and-Drop Editor – The Pabbly Form Builder comes with a Drag-and-Drop editor that can help you to create your form quite easily. With it, you can add the necessary blocks, such as coloring, sizing, titles, etc, quite easily. For that, all you have to do is to drag them from the right side of the editing page and drop them on your form template..
Email Autoresponders – It helps you to send automatic responses, such as 'Thank You for submitting the form!' to your client. Furthermore, it also aids you in letting your clients know about any events or other important notifications through an email.
Pricing
The Pabbly Form Builder currently has only one pricing method. To access and manage a single form with it, you would have to pay $10/month (yearly-basis). On the other hand, if you want to pay them on a monthly basis, then you would have to pay only $15/month. However, by paying this small amount of money, you can access all the features of the software without any issue.
Formidable Forms is a high-end and reliable WordPress form builder, which enables you to create advanced payment forms quite easily. Whether it is simple forms or multi-page ones, you can do anything and everything on this program. There is a lite version of the software available on the web, which lets you use its basic features. However, if you want to create a high-quality form with a lot of features, then you would have to upgrade to its pro version.
Features
Repeater Fields – This saves you the trouble of creating multiple forms, by allowing the user to dynamically add form fields. This is especially useful in case a user wants to add the details of more than one person.
Integration Views – Formidable Form also supports integration views in your premade forms. Therefore, with this feature, you can easily change the outlook of a normal form entry to an exclusive high-end form. It can be applied on calendars, listings, as well as directories.
Calculated Fields – The form builder enables you to calculate all the product options quickly and get online estimates in an instant. Thus, with it, you would have to search everything manually to keep a track of your records.
Autoresponders – With it, you can create and customize personalized email notifications and send them to your clients automatically.
HTML Customization – With this form builder, you can also change the HTML of your form to use a wide range of styles, layouts, and functionalities.
Pricing
Basic: – The basic plan of Formidable Forms costs $99.38/year and lets you create unlimited forms and upload unlimited files. However, you can use all these on only one website.
Business – Pay $199.43/year and you can use all the basic features and some extra advanced components of the software. Moreover, you can use them on up to 15 different websites.
Elite – The Elite subscription costs $399.53/year and enables you to use all the advanced features on unlimited websites.
Formstack Form Creator is a feature-rich software program, which lets you create forms with payment integration quite easily. With it, you can create multiple advanced forms at the same time. Furthermore, there are some high-end add-on tools available in this software that can help you to gather all the data in one click. The software program also comes with a flexible customization option, which can help you to make quick changes as per your requirements or choice.
Features
Conditional Logic – Aids you in showing or hiding some particular questions.
Interaction Tracking – Lets you know about the location and the browser that your client is using to fill up the forms.
Drag and Drop – Build your form quickly just by dragging the blocks and dropping them on your form.
Data Collection – Enables you to collect all data and payments with just a simple click.
Multiple Payment Gateways – The Formstack Form Creator supports several payment gateways, such as Beanstream, WePay, PayPal, Stripe, etc.
Add-on Tools – It also has a plethora of add-on tools, which include portals, conversion kits, workflows, etc. Therefore, with them, you can collect a high amount of data almost instantly.
Pricing
Bronze – The basic or Bronze plan costs $19/month and lets you use all the basic features and create five different forms.
Silver – With the silver plan, you can accept around 1000 submissions and create 20 forms. However, you would have to pay $59/month.
Gold – By paying $99/month you can use almost all the advanced tools and create 100 forms.
Platinum – Enjoy all the advanced features and create 1000 forms with the platinum subscription by paying $249/month.
4.  123FormBuilder
123FormBuilder is one of the cheapest and most effective payment collection form builders in the market. With it, you can create your payment form in the easiest way possible with the drag-and-drop editor. Furthermore, you can make several different types of forms, such as online surveys and order forms, with its versatile customization system. In addition, you can also collect payments from several different applications, such as Stripe, PayPal, Square, etc, with it.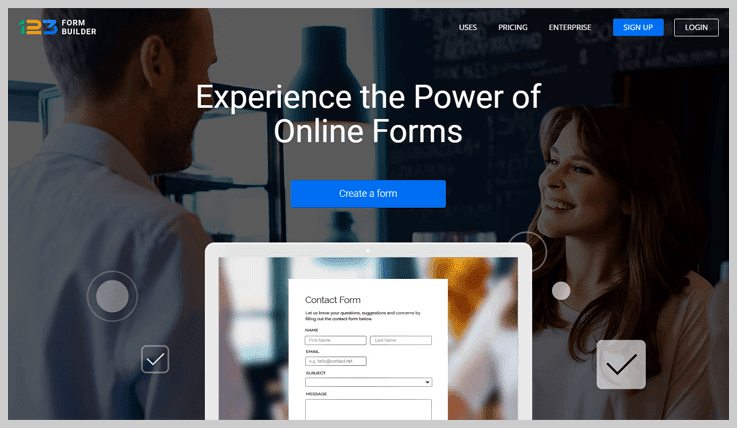 Features
Email Notifications – Lets you send email notifications to your clients automatically.
Digital File Functionality – With this form creator, you can also make digital forms. Hence, through it, your client can send your images, videos, or upload resumes.
Platform Integration – The software is integrated with almost every platform and can help you to collect data from anywhere and everywhere.
Multilingual Compatibility – The 123FormBuilder supports multiple languages. So, with it, you can create forms for the customers from any region of the world.
Custom Branding – With this feature, you can add various types of images and logos to increase your brand awareness among the clients even more.  
Pricing
Basic – With this free-of-cost plan, you can create five forms and collect submissions accordingly.
Gold – By paying $24.99/month, you can acquire data through all the third-party apps and create customized reports and employ conditional logic. Moreover, you can also create 20 forms with this subscription.
Platinum – With it, you can create unlimited forms, get more submissions, and acquire payments from any online payment application. However, you would have to pay $44.99/month to use all these features.
 5. JotForm
Widely known as one of the top free form builders with payment integration in the market, JotForm lets you both create online forms and record the responses of your customers at the same time. Furthermore, it can also help you to create leads, conduct client surveys, and manage job applications in a proper manner. JotForm supports almost all the payment applications and lets you add various widgets like image sliders, date selections, checklists, etc.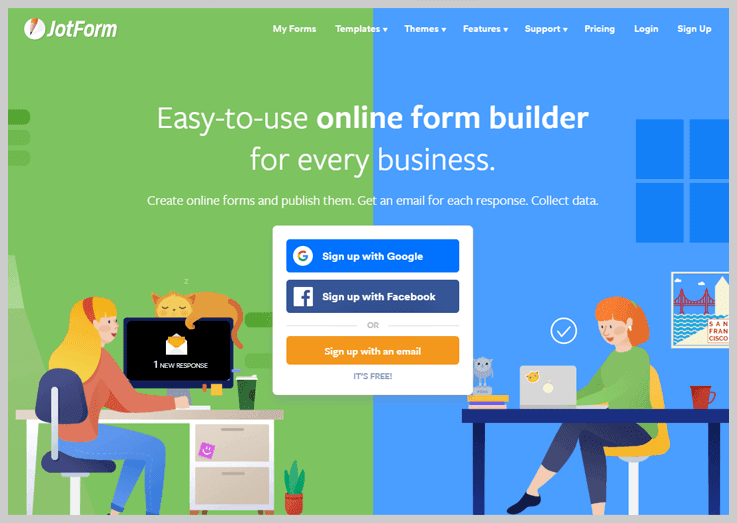 Features
CSS Inject – The CSS Inject feature enables you to customize all the visuals in your form. However, you would require a little bit of CSS knowledge to employ it properly.
Drag and Drop Customization – Create your form easily and quickly by dragging the add-ons and dropping them on your form.
Infinite List Widget – With it, your form respondents can provide as many entries as they want for the form field. Hence, you can use it for creating a survey or gather suggestions before organizing an event.
Form URL Customization – With JotForm, you can customize the URL of your form in your own way. It will help you to boost the aesthetics of your form and the branding of your organization.
SSL Security – The forms that you make with JotForm are SSL encrypted. Therefore, no one else, other you and your client, can access or make changes in the forms.
Pricing
Starter – With it, you can make five forms and get unlimited reports. This plan is absolutely free-of-cost.
Bronze – By paying $24/month, you can create 25 forms and get an unlimited amount of submission storage.
Silver – The silver plan costs $29/month and lets you create 100 HIPAA compliance forms.
Gold – With the Gold subscription, you can create an unlimited number of HIPAA compliant forms and get an infinite amount of monthly form views. However, you will have to pay $79/month for it.
 Conclusion
These are some of the cheap yet highly-effective form builders that can help you to build your payment collection forms quickly and conveniently. Using these software products, you can collect online payments and user information on any devices such as mobile, tablet, or desktop. Bloggers, marketers, and freelancers prefer to use these form builders because of their payment integration features and flexibility.
As you have seen already, each of them has a set of unique features, which can play a crucial role in a particular field. So, make sure to choose the one, which suits both your budget and your requirements.
You May Also Like To Read: