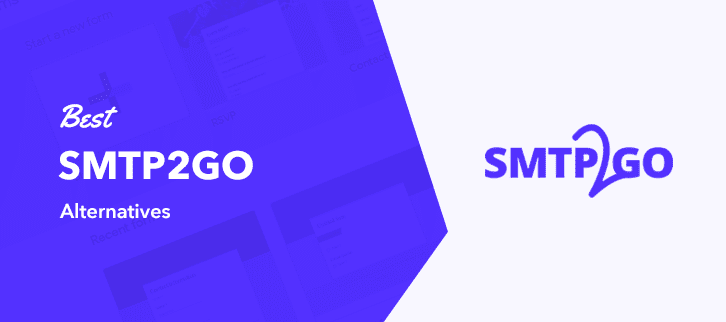 Are you seeking out the web for finding the best SMTP2Go alternative that comes at an affordable price and an advanced set of features?
Then, stop your search right away because we have tested and compiled the top services for you that are the cheapest alternative to SMTP2Go.
Definitely, when it comes to the best SMTP service provider, SMTP2Go makes sure to be present in the list because it is renowned for sending bulk emails at the lightning rate.
Yes, SMTP2Go is one of the ideal choices of various businesses. It is trusted by many of the people in the market.
But, if everything is great about it and people are loving it all around the globe then, why are you looking for its alternatives!
The reason behind this is it has major issues that have given people a really hard time with their email campaign.
One of the major issues we found about SMTP2Go is that the transactional emails don't always land in the inbox and are marked as spam sometimes. Resultantly, it affects your IP reputation.
Further, the reviews about this email marketing tool reflect a negative side of it. It says that people were not happy with their slow interface and their support team was claimed to be ineffective in resolving issues.
Hence, to overcome these issues, we've come up with the top substitutes for SMTP2Go. These alternatives do not just provide assured inbox delivery but also provide you a veritably better service & features at an affordable price compared to SMTP2Go.
Here, you can go through the comparison between these substitutes for a once and analyze the best service according to your requirements.
Look At Comparison Between SMTP2Go Alternatives
| | | | | |
| --- | --- | --- | --- | --- |
| Service | Pricing | Number Of Emails | Number Of Subscribers | SMTP Routing |
| Pabbly Email Marketing | $29/mo | Unlimited | 5000 | Yes |
| | $100/mo | Unlimited | 21500 | No |
| Mailjet | $9.65/mo | 30,000 | Unlimited | No |
| | $14.95/mo | 1000 | Unlimited | No |
| Amazon SES | $0.10/mo | 1000 | 1 | No |
Now, without further ado, let's dive into these SMTP2GO Alternatives for getting detailed information about them:
"Pabbly Email Marketing is the only alternative to SMTP2Go that is providing multiple SMTP routing, in-built SMTP, and all features accessible even in the basic plan."
Since Pabbly Email Marketing mainly has built-in SMTP, you can send bulk emails at a high inbox delivery rate up to 99%, which is higher than the industry benchmark. This is why Pabbly Email Marketing is known as the top & cheapest SMTP2Go alternative.
Another thing is to forward Pabbly Marketing Email in this category is its SMTP routing feature. With this, you can add various external SMTPs like Amazon SES, Yahoo, Gmail, Sendinblue, etc, for sending emails. In addition, you don't need much technical knowledge for running your campaigns using it.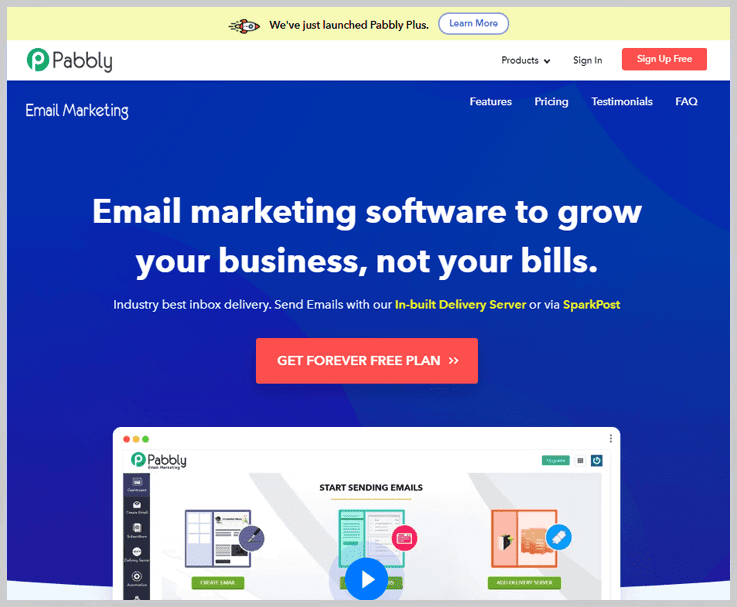 Features
2X Open Rate – To double the open rate, it has a mechanism where if the user missed opening any email at a particular time then it resends that mail.
MX Cleaner – With this, you can remove bad messages, invalid and unrealistic email addresses from your list to increase the deliverability rates.
Email Tracking – This feature helps you to easily track the performance of emails delivered by you like the open, clicked, unplanned, spam email rates.
Marketing Automation – With this, you can automatically deliver an email to a predetermined schedule to attract your customers.
Autoresponder – Further, it also facilitates an autoresponder for sending automatic welcome, thank you, birthday wishes, etc, emails.
Pricing
Pabbly Email Marketing comes with four pricing plans for sending unlimited emails along with all the premium features-
Forever Free – The aforementioned plan is absolutely free & you can send 12K emails to about 1.1K subscribers.
Rookie – You can send unlimited emails to around 5K subscribers. This plan can cost up to $29/month.
Pro – For this plan, you need to pay $49 every month and you will be able to send unlimited emails to about 15K clients.
Advanced – This particular plan ranges from 50K to 100K subscribers where the price ranges from $99 to $1599 on a monthly base.
2. Moosend – Top SMTP2Go Alternative
Moosend is another reliable SMTP2Go alternative that comes with almost all the basic to advanced features from templates to real-time analytics. Apart from this, its SMTP service lets you send transactional emails fastly to your user's inbox without any problem.
Further, Moosend practices innovative subscriber behavior analysis to activate automated workflow and trigger-based action. Moreover, there are numerous pricing options to choose from and all contain tons of advanced features for you.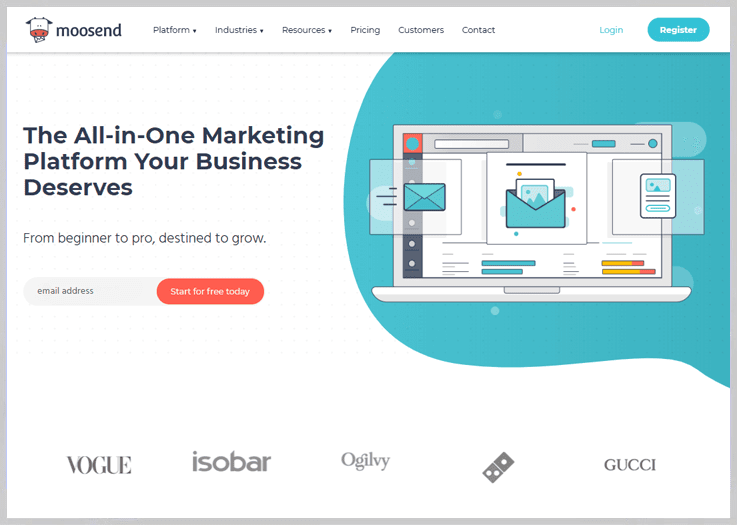 Feature
List Management System –  Bifurcation of the contact list is important to send the right kind of campaign to the right customer. With this feature, you can achieve the same.
Drag-&-Drop Editor – This service provides an easy to use email builder with simple drag and drop element options.
Automate Workflow – With this, you can create unique marketing automation workflows that amp up conversion rates while you sit back and relax.
Advanced Personalization – It offers simple, sophisticated personalization options that allow you to send customized emails with subscriber custom fields and keep up with your customer's expectations.
Integration – Apart from Moosend's API and SMTP, it also supports several integrations with services like Zapier, Pabbly, MailChimp, etc.
Pricing
Free – With this free plan, you get features like unlimited emails, sign-up & subscription forms, reporting & analytics, etc.
Pro – To get features like landing pages, transactional emails, phone support, and SMTP server, you need to pay $100 on a monthly basis.
Enterprise – For knowing the pricing details of this service, you have to contact the sales team of Moosend.
3. Mailjet – Reliable SMTP2Go Competitor
The third service in the competitor list of SMTP2Go is Mailjet that is a top email marketing tool available in the market. It enables you to focus on creating attractive, successful campaigns to engage readers, professional bloggers, and marketers. It comes with an advanced email builder through which you can design responsive emails in just the blink of eyes. Using its comprehensive builder, you can add different fields, columns, buttons, images, text, and much more. Moreover, it claims to ensure the deliverability of emails directs into the user's inbox.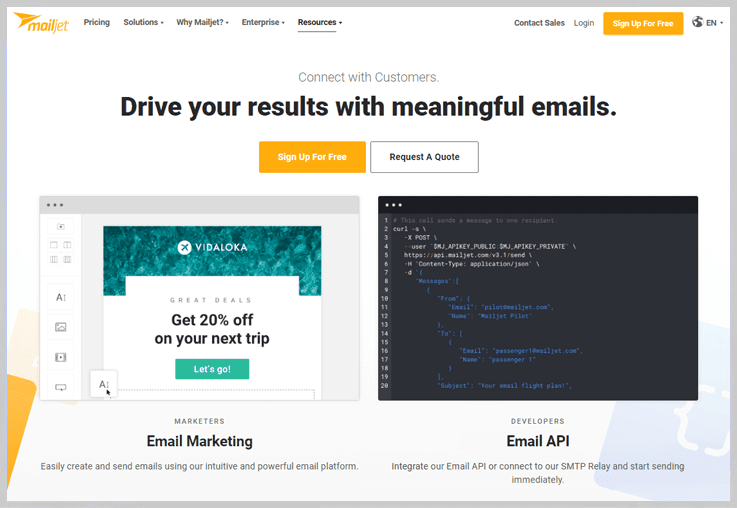 Feature
Email API – With this, you can integrate its Email API to your platform and allows you to easily send your emails immediately directly from it.
SMTP Server – You can use Mailjet's inbuilt and free SMTP Relay to send bulk emails in minimum time.
Contact Management – This service allows you to manage email contacts efficiently since it allows you to create different segments for your customers' details like name, city, hobbies, and more. Hence, you can send personalized emails to your customers based on their interests.
Analytics – Email tracking and analytics feature lets you know the performance of your emails with details like open rate, bounce rate, unsubscribes, and more.
Gureentied Email Delivery – Mailjet email marketing software ensures the deliverability of your emails directly into your customers' inbox and reduces bounces.
Pricing
Free – With this plan, you can send 200 emails per day and 6,000 emails per month for free of cost.
Basic – This plan will cost you $9.65 per month and allows you to send up to 30,000 emails per month.
Premium – To get access to features like segmentation, A/B testing, etc. , you need to pay an amount of $20.95 per month. Also, it enables you to send 30,000 emails.
Enterprise – To acquire this high volume plan, you have to contact the service provider.
4. TurboSMTP – Best Competitor Of SMTP2Go
The fourth service in our list is turboSMTP which is one of the world-leading SMTP providers. It helps you to make your emails get directly into the inbox of your client and provides you a high deliverability rate for all your transactional emails. Plus, you can automatically deal with bounce, spam & unsubscribe emails with this service provider.
Further, it comes with a complete step by step video tutorial, so you can configure your mail client with turboSMTP in minutes.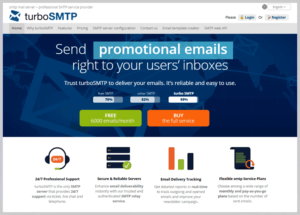 Features
Details Report & Analytics – This service gives you the complete details about the emails you sent as it showcases the exact time when your customer opens your emails and clicks on the links provided by you in emails and more.
Email Validation Tool – With this, you can perform screening of your contact database before sending your campaign, and discover how many valid and potentially dangerous or non-existent contacts are there.
Compatible With All Major Mail Clients – This service works perfectly both with free email software and professional tools like Mozilla Thunderbird, Windows Mail, etc.
Sub-account – You can create sub-accounts that will allow you to split your relays with your team members as well as resell them to your users.
Events Notification Webhooks – turboSMTP offers Webhooks to notify your server, in real-time, about what events occurred to your sent emails.
Pricing
turboSMTP is available at different pricing plans these are –
Free – With this free plan, you can send up to 6,000 emails every month, 200 a day, for 12 months.
Basic – This plan is available at $14.95 where you will get 1,000 relays/month.
Professional – Buy this plan at $79.95 along with 1000 relays/month and advanced features like 3,000 email validations, premium support, etc.
Enterprise – To purchase this plan, you need to contact the sales team.
5. Amazon SES – Paid SMTP2Go Alternative
Last but not least, Amazon SES is one of the best cloud-based email marketing solutions that offer you SMTP services. It is a highly-scalable email sending platform that you can integrate this into your email marketing software in just a fraction of time. With it, you can send emails in bulk to your customers & notify them about the latest updates. These emails can be of any type kind advertisements, newsletters, special offers transactional emails, and a lot more.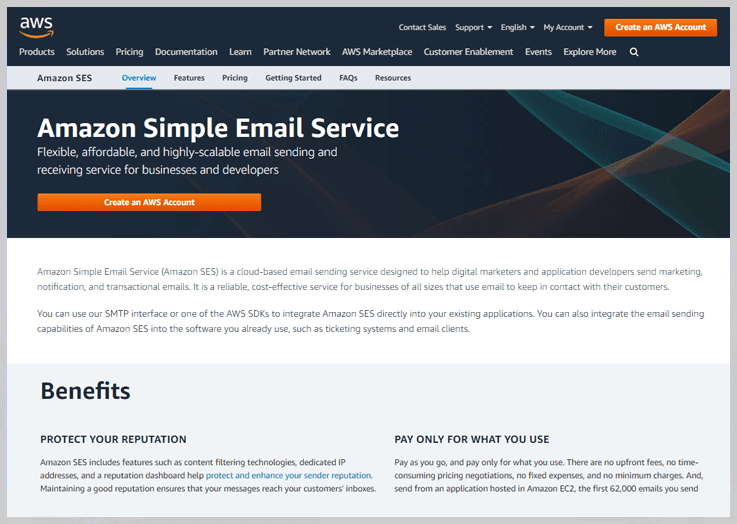 Feature
Mailbox Simulator – The Amazon SES mailbox simulator makes it straightforward to test how your application handles certain scenarios, such as bounces or complaints, without impacting your sender reputation. Using it is as easy as sending a test email to a specific address.
Easy Configuration – You can make your own rules for sending emails using Amazon SES through its Configuration Sets.
AWS Integration – This service can integrate seamlessly with other AWS services, including Amazon EC2, AWS Elastic Beanstalk, AWS IAM, and many more.
Dedicated IP Addresses – Amazon SES provides you the options to choose from both dedicated IPs and shared IP addresses.
High Deliverability – This service sends emails via trusted servers & filters the content through technologies & use dedicated IPs to provide high deliverability.
Pricing
If you are an EC2 user that means you are already a customer of Amazon service providers then you can send up to 62,000 emails/month at $0.
But, if you are delivering an email from an email client or other software packages then, you have to pay $0.10 per 1,000 emails sent.
Conclusion
Now, keeping everything in mind lets wrap it up!
We have arrived at the end of this blog, so, I suggest you should try and test all the SMTP services which are providing you the necessary features and facilities.
The point of this article was to help you clear the delusion that SMTP2Go in one of the best SMTP service in all means. Here, we listed the 5 best SMTP2Go alternatives for you. So, choose the best one now out of this list.
Now, if you have any dilemmas related to the services defined above or any other technical query, do let us know in the comments section below. We will get back to you as soon as possible.
You May Also Like To Read: