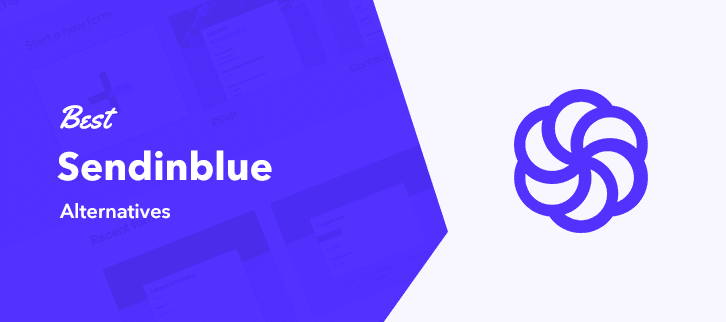 Are you looking for the best Sendinblue alternatives?
Don't worry as we got you covered. In this article, we have listed the top Sendinblue alternatives based on the reviews of many successful businesses.
Email Marketing is the basic need of the growing business. It is a cost-effective marketing tool that helps in growing a business by gaining potential customers. The email marketing tool plays a very important role in growing a business.
Hence, selecting a good email marketing service is very crucial. If you don't pay attention to the nature of software you are using then you will end up spending more money for much fewer features and bad quality services. Although Sendinblue works fine as an email marketing software, there are better options than it which provides much better service at a cheaper price.
With that said, let us introduce you to the best and cheapest Sendinblue alternatives.
Before proceeding further, have a look at this comparison table to have a general idea about the enlisted services.
Here is a quick comparison between the best Sendinblue Alternative Services
"Pabbly Email Marketing is a software that doesn't restrict users on features by offering unlimited emails, in-built SMTP, marketing automation and much more."
The first and the best alternative to Sendinblue is Pabbly Email Marketing. Infact, it is a complete solution for your business. It is one of the best and cheapest email marketing software at present. The best part is, it is bundled with a number of advanced features like Google Analytics integration, autoresponders, email tracking etc. at an incredibly low price. Also, it doesn't put any limit on the number of emails. Thus, you are free to send unlimited emails to your subscribers without worrying about the extra charges. It lets you increase your customer engagement without adding up your bills.
Additionally, Pabbly Email Marketing software comes with an in-built SMTP delivery server and also allows the users to use other SMTP services like Amazon SES, Sparkpost, etc.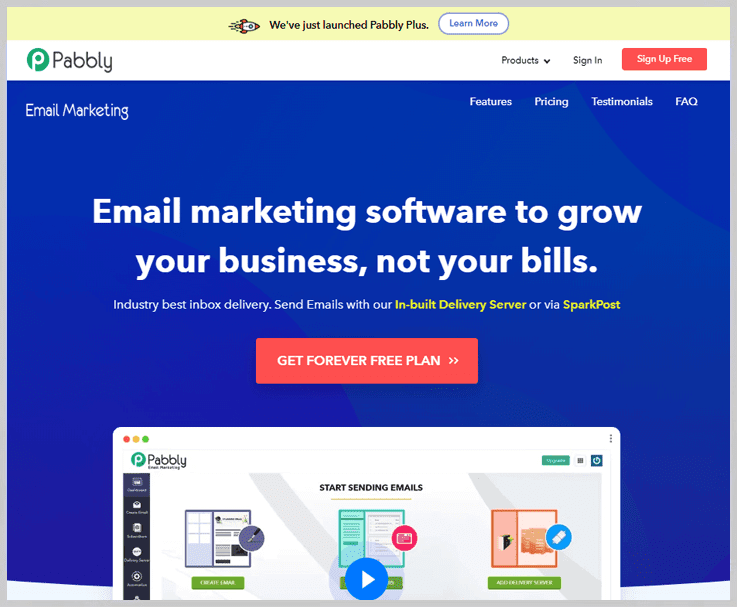 Features
Subscription Forms – It allows you to add subscription forms in websites and leads. This feature helps you in gaining new customers.
MX Cleaner – This feature allows you to clean your email list and discard the invalid and spam contacts.
In-built SMTP – This is probably the best feature of Pabbly Email Marketing. It comes with an in-built delivery server that ensures about 98% deliverability.
Autoresponders – By using this feature, you can send a welcome mail to each one of your new subscribers. This promotes healthy customer relationships.
List Management – With the help of list management, you can organize your subscribers in different categories according to their interests.
2X Open Rate – Double open rate means a follow-up mail will be sent automatically to the customers for all the unread emails.
Email Tracking – This feature allows you to monitor your email campaigns. It tells you whether or not the email has been delivered and also provides the details about its opening status, if it's opened, unopened, read or unread.
Pricing
Talking about the price, Pabbly Email Marketing software provides 5 ultra-affordable plans.
Forever Free – This is a free plan in which you can send up to 12,000 emails to your 1100 subscribers at negligible price i.e $0 per month. You can enjoy this free plan  if your subscribers are equal or less than 1100.
Rookie – This is the base plan which allows you to send unlimited emails to  5000 subscribers at $29 per month.
Pro – By selecting this plan, you can send unlimited emails to your 15,000 subscribers at $49 per month.
Advance –  This plan covers up to 50,000 subscribers at $99 per month.
Enterprise – Lastly, this is the biggest and the most economic plan for large enterprises and businesses with high demands. Hence, if you have more than 1 million subscribers, you can avail it by directly contacting the company.
Pepipost is one of the best SendinBlue-alternatives that help business owners establish a solid line of communication with their customer base. Unlike SendinBlue it has no complicated setup process, and while SendinBlue offers only a few free templates for you to use, with this software you get more than 100 attractive templates for free. Furthermore, Pepipost has 24*7 live chat support service, something which SendinBlue lacks. This allows you to quickly resolve any issues with the software.
Using Pepipost's artificial intelligence, you get to know how your customers are interacting with your website and your emails. This allows you to build personalized campaigns that lead to increased conversion rates and ROI. With SendinBlue, the interface is slow to load, and sometimes there is a delay in sending messages. But Pepipost ensures faster delivery and its simple interface never takes too much time to load.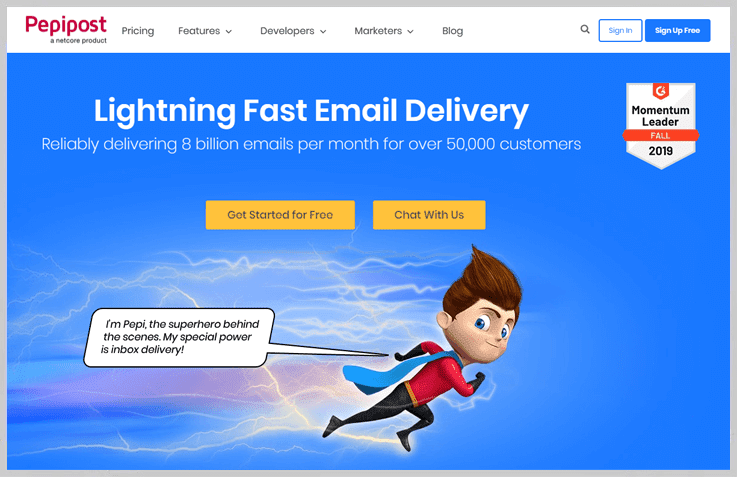 Features
Email API – It is easier to send transactional emails with this software, because of its Email API integration and its SMTP relay setup. With this feature, you get access to various functionalities such as dashboard metrics, templates, etc.
Bounce Forwarding – When your email is rejected by the recipient server, it is said to have bounced. Pepipost always notifies you when your emails have bounced so you can keep track of them.
Subaccount Management – With Pepipost, you can create multiple child accounts under a single master account. You can share your email credits with these child accounts and configure them independently.
Email Security – Pepipost servers are located in secure data centers. These centers are spread throughout the globe to ensure that your emails get delivered even during crisis situations.
Artificial Intelligence – This software uses artificial intelligence to maximize the efficiency of email delivery. It considers factors such as email priority, email delivery speed, number of connections opened parallelly for a single sender to achieve the best results.
Pricing
Free – 30,000 emails per month for free
Basic – 150,000 emails for $25 per month.
Popular – 600,000 emails for $145 per month.
Moosend is a much cheaper alternative to SendinBlue that provides you with quality content that you can leverage to enhance audience engagement. The basic plan of this software starts at $10 per month, which is much cheaper compared to SendinBlue which demands $25 per month for its basic plan. Furthermore, Moosend offers better marketing automation support when compared to SendinBlue. Most importantly, while SendinBlue places a cap on the number of emails you can send, Moosend always lets you send unlimited emails.
With Moosend's advanced email analytics, you can get a better return on investment(ROI) by making use of metrics such as click rates, open rates, bounces, forwards, etc. Using the simple drag and drop builder, you can perform more customizations with your email templates. Additionally, Moosend gives you a preview of how your emails will appear to the receiver, so you can take action to improve their appearance.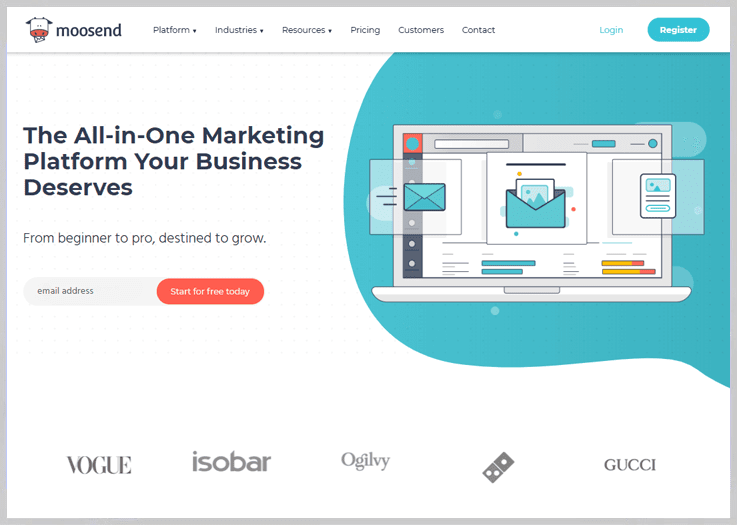 Features
Automated Emails – This feature allows you to reduce your manual work by pre-configuring emails to be sent out at a particular time. You can also program the emails to be sent based on an event, for example, a customer's birthday.
Geolocation – This is a handy feature that lets you know where exactly your customers are located. Based on this location, you can track which areas are showing more engagement and target your audience accordingly.
Data Analytics – Having a detailed overview of your email marketing campaign is essential for its success. When you have access to metrics such as bounce rates, click rates, and open rates, it is possible to know which areas need improvement.
Drag and Drop Tool – With Moosend, you get a large number of templates that make your emails look more attractive, so the customers are more eager to engage with them. You can use this simple tool to add content to your emails.
Advanced Personalization – You can create a more personalized experience for your customers by adding custom fields such as name, employer name, etc. This makes your emails look more personal, so customers are more likely to engage with them.
Pricing
Free – Unlimited emails for free.
Pro – Unlimited emails to 2000 subscribers for $10 per month.
Enterprise – Custom plan. To know the details, contact the sales team.
Finally, the last best alternative to SendinBlue is GetResponse marketing software. It helps you to create content and increase traffic on your website. With the help of its features like landing pages and autoresponders, you can design and launch effective marketing campaigns which will increase customer engagement. By using its Sales Funnels and Marketing Automation, you can take your online business to the next level by increasing the sales. GetResponse offers many more advanced features than these.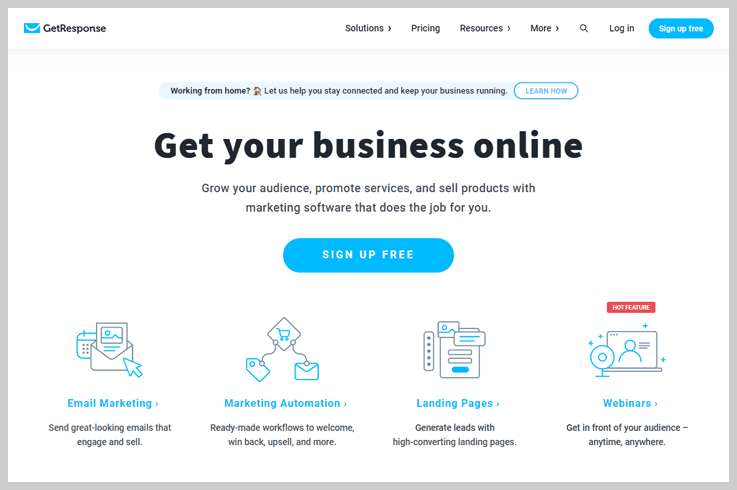 Features
Autoresponders – This feature will send an automatic greeting mail to your new subscribers.
Video Email Marketing – By using this feature, you will stand out in your business by sending impressive video emails to your subscribers.
Marketing Automation – This feature lets you to build a directed workflow based on your customer's demands. The automation tools help in personalizing and managing the messages. It also includes segmentation tools that enable you to divide your contacts into groups and send emails accordingly.
Landing Page Builder –  GetResponse comes with an amazing drag and drop builder that allows you to create 100% responsive landing pages on your websites.
Comprehensive Reporting – GetResponse comes with strong reporting capabilities. The dashboard provides a brief overview of the success of the campaign with the help of numbers and pie charts.
Pricing
The pricing structure of GetResponse is divided into four plans. With each plan, you will get a free month trial.
Basic – It is the base plan that includes a list size of 1,000 at $15 per month. It included benefits like autoresponders, unlimited landing pages, unlimited automation templates etc.
Plus – This plan includes a list size of 1,000 at $49 per month. It offers benefits like automation builder with 5 workflows, Webinars with maximum 100 attendees, contact scoring and tagging, 5 sales funnels and 3 users etc.
Professional – This plan starts from $99/mo for the same list size of 1000 and offers benefits like unlimited, automation builder, webinars upto 300 attendees, unlimited sales funnels, unlimited webinar funnels, and maximum 5 users.
Enterprise – Lastly, this Plan includes a list size of  100,000+ at $1,199 per month. The benefits include scheduled demo, transactional emails, account manager, dedicated IP address, deliverability, etc.
The second one in our list is the Constant Contact email marketing software. It offers complete email marketing tools to boost your business and gain new customers. It is loaded with advanced features like mobile-customized templates, drag and drop editor and real-time tracking tools to name a few. Moreover, it also includes some built-in tools that can help you in scaling your email marketing projects to other social media platforms. Another highlight of Constant Contact is the live support and expert advice which can help you whenever you're stuck.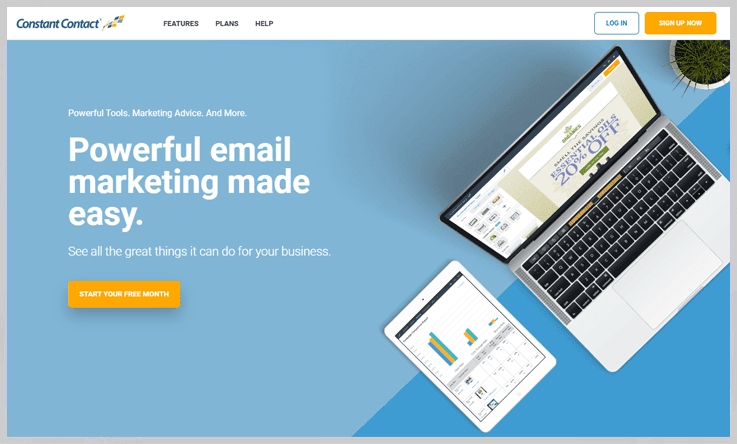 Features
Drag and Drop Email Builder – This feature helps in editing and customizing the email templates and allows you to design more prominent and professional emails.
Automation – This feature helps by keeping your customers engaged by sending them automated mails which overall improves the customer relationships.
Contact Management – This feature helps in managing the contacts in a very easy and organized manner.
List Building Tools – These tools help you to classify your subscribers on the basis of their interest. So, you can easily group them accordingly and send different emails to different categories. This makes emailing more organized.
E-Commerce Tools – With the help of these tools, you can grow your online store. You can send emails to your target audience and thus, increase the sales and can promote your products. You can also integrate with other E-Commerce platforms like WooCommerce and Shopify.
 Real-time Tracking Tools – By using these tools, you can track and monitor your emails in real-time. It creates reports of your email marketing campaigns and different social ads. Thus, you can see how your contacts have responded to your emails.
Pricing
The Constant Contact email marketing software has divided its pricing into three affordable plans. The best part is, you will get the first month free by selecting any of the given plans. All the prices depend upon your contact list.
Lite – This is the base plan that allows you to send emails to 10,000 subscribers at $5 per month. It includes customizable templates and 500MB file storage.
Email – By selecting this plan, you can send unlimited emails to your customers starting at just $20 per month.
Email Plus – This plan is suitable for large enterprises and growing businesses. It allows the user to send unlimited emails at a starting price of $45 per month.
Conclusion
That's all about it. These are the best alternatives of SendinBlue at the present time. All the software listed above are completely safe, secure and fully trusted by many successful business owners. You can choose anyone that matches your demands and provides you with the best services while not being heavy on your pockets. Although, all of these services are highly affordable, their services are a bit different than each other. It is totally up to you what kind of services you want.
So, go ahead and choose the best for yourself!!
You May Also Like To Read: