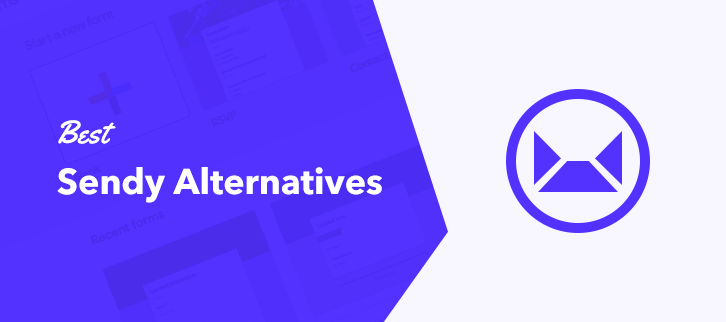 If you've been using Sendy, you have surely wasted a lot of money on a service that is not maintained properly. Sendy is difficult to set up and configure according to your requirements because it requires you to upload the product files manually on your server. Hence, it is advisable that you look for the best Sendy alternatives in the market.
Sendy is a self-hosted email marketing service that requires you to have considerable technical expertise. But there are some cloud-based services available that act as Sendy alternatives and save you from the trouble of setting up your software and looking for updates regularly.
Here is a Comparison Chart of the 5 Best Sendy Alternatives 2020
| | | | | |
| --- | --- | --- | --- | --- |
| Services | Basic Plan | Number of emails | List Cleaning | SMTP Routing |
| | $29/month | Unlimited | Yes | Yes |
| | $10/month | Unlimited | No | No |
| Sendinblue | $25/month | 40,000 | No | No |
| Benchmark | $11/month | Unlimited | No | No |
Many business holders aim to find the cheapest bulk email service, but in the process, they often forget about the special features of the products.
Everyone's requirement is different, and just because you're getting a cheap plan, doesn't mean it'll satisfy your needs. Thus, this is imperative to choose an email marketing tool which fulfils all your requirements aptly without digging a hole in your pocket. Now, let us have a look at the best Sendy alternatives to their features.
"Pabbly Email Marketing is an effective software which enables you to always send unlimited emails & to use its services, unlike other products that restrict the users by placing a cap on emails."
Unlike the other services out there, Pabbly Email Marketing has no hidden costs and provides you with 99% deliverability rates for your emails. Pabbly Email Marketing is not only the cheapest email service provider but it also a reliable provider of SMTP service, which provides you with all the latest features of email marketing software. Even with a basic plan, you can get features like email tracking, Google analytics, and auto-response, which is not possible with other products. With so many attractive features, it can be said that Pabbly Email Marketing is the best email marketing service out there.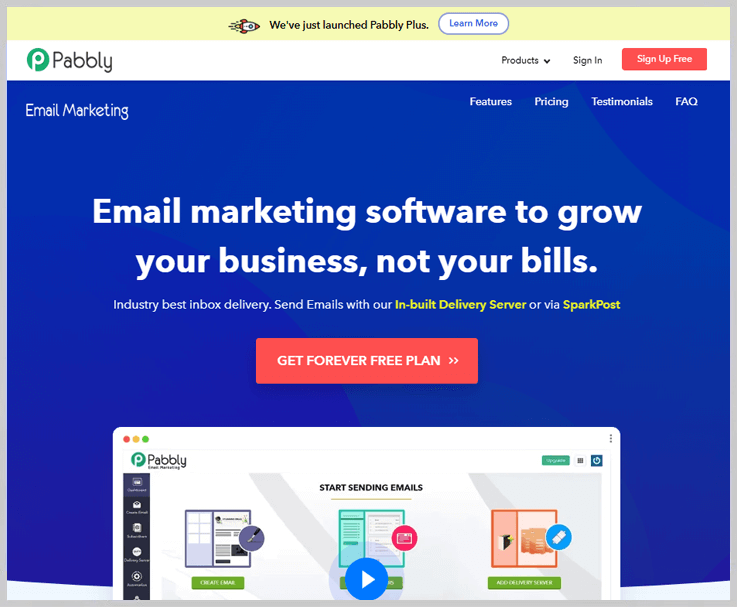 Features
In-Built SMTP – An integrated SMTP server is provided with Pabbly Email Marketing, which lets you avoid errors due to manual configuration and integration of SMTP. Furthermore, you can connect with more than 50 SMTPs while delivering a lot of emails at once, to avoid glitches. Pabbly also provides a dedicated IP address for every account.
Marketing Automation – You can configure the emails to be sent to a particular person or group, based on triggers. The triggers can be time or event-based.
List Cleaning – This feature allows you to free up space in your inbox by removing inactive, duplicate, and invalid addresses from your mailing list. Other services might be full of spam emails, which leads to your ISP blocking the service, but with Pabbly, you don't have to worry about it.
Better Open Rates – When an email doesn't get opened, Pabbly email marketing resends it. Hence, Pabbly email marketing has better email open rates than other services, and you don't need to worry about unopened emails while using this service.
Email Tracking – This is an extremely useful feature that provides you with a report regarding the number of emails delivered, how many emails were opened, and how many people clicked on those mails.
Pricing
Forever Free – You can send 12000 emails each month to as many as 1100 subscribers with this plan.
Rookie – This plan lets you send emails to up to 5000 subscribers every month by spending just $29. You can use features like Import Emails, MX Cleaner, and Subscription Forms with this plan.
Pro – This popular plan is best suited for sending bulk emails. By paying 49 dollars a month, you can send mails to 15,000 people.
Advance – This plan costs $99 per month and allows you to send emails to a maximum of 50,000 people each month. The subscriber count can be upgraded by upgrading the plan.
Enterprise – This custom plan has the highest subscriber count. To know the details, you need to get in touch with the company itself.
Moosend is an email marketing platform that is cloud-based and is best-suited for managing mailing lists, multiple email campaigns, newsletters, etc. Therefore, this service is considered by many to be one of the best Sendy alternatives. Moosend also has a code view provided for technically proficient people, from where they can do customization using HTML and CSS.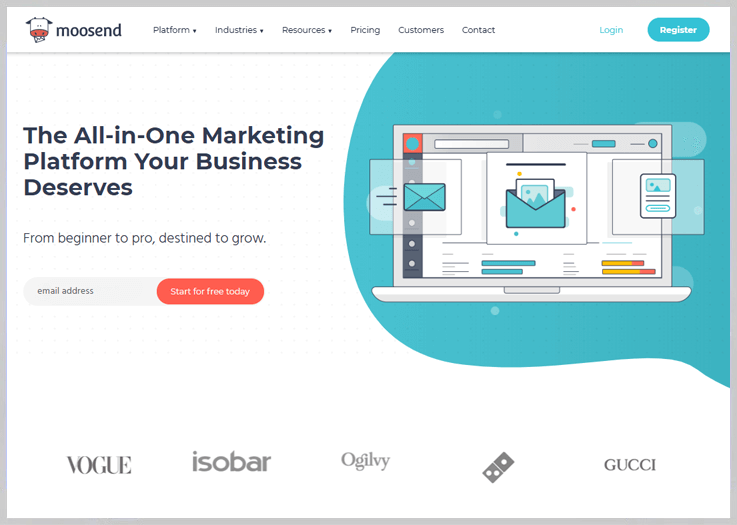 Features
Automation Tool – This feature allows you to add filters, select events for triggering emails, and configure actions for automating the workflow.
Segmentation – Moosend allows you to split your list of subscribers using a simple user interface to create dynamic groups of recipients based on information like gender, age, and demographics.
Fast Data Analytics – You can get a thorough understanding of your campaign's progress so far, through metrics such as open rates, unsubscribes, forwards, and bounce rates.
Subscription Forms – There are convenient subscription forms that enable the users to collect all the customers' data effortlessly.
Advanced Personalization – Keep your customers interested through personalized emails containing custom fields.
Drag and Drop Feature – You can easily create professional email designs without any coding knowledge using the drag and drop tool.
Pricing
Free – Send unlimited emails for free and also get reporting and analytics features.
Pro – By paying just $10 per month, you get access to features such as transactional emails, SMTP servers, and phone support.
Enterprise – The custom plan provides you with a dedicated account manager and custom reporting. You need to get in touch with the service team for pricing details.
This email marketing service lets you create professional-looking emails in a jiffy. It also lets you personalize your emails, adding information from your contact database into your email templates, which lead to higher open rates. You can create small contact segments and use a targeted email campaign for better results. This product is one of the foremost Sendy competitors in the market today.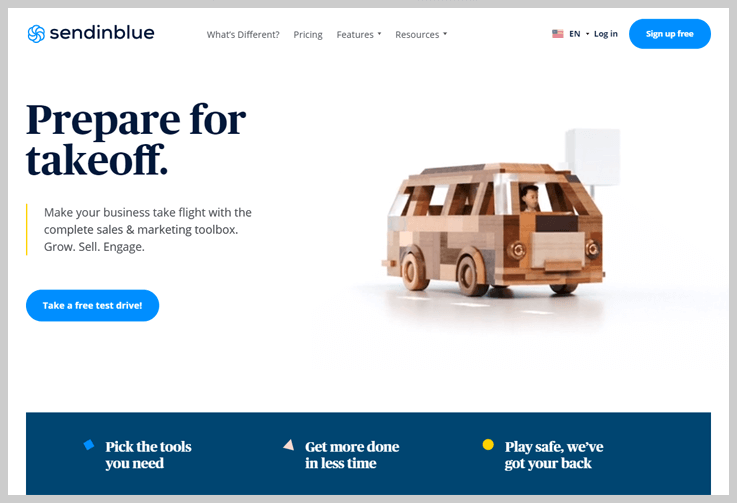 Features
Responsive Templates – All the templates are customizable and highly responsive. So, you can use them in any device with any screen size.
Social Media Links – You can add links to your social media handles in the email templates which would help customers connect with you.
Triggered Mailing – You can program the emails to be sent out at a particular time, or based on a particular event.
Drag and Drop Tool – You need no coding knowledge with the simple drag and drop feature which you can use to build your templates.
Intelligent Mailing – This software lets you find the best message and sends them at an optimized time using machine learning.
Pricing
Free – This beginner plan lets you send 1000 emails per day for free.
Lite – This is a basic plan which allows you to send 40,000 emails every month by spending $25 per month.
Essential – By spending some more money, you can get access to quality features such as advanced testing and statistics. This $39 plan lets you send 60,000 emails per month.
Premium – This plan costs only $66 and allows you to send 1,20,000 emails every month. By upgrading this plan to $173 per month, the email count can be increased to 3,50,000.
Enterprise – This is the custom plan with custom features. You need to contact the service team for details.
Those who have an eye for creativity and prefer simplicity for their email marketing services can use Benchmark as a Sendy Email Alternative. Benchmark has the right email template for any occasion and lets you customize these by adding your custom features. These templates are responsive, meaning you can use them with any device.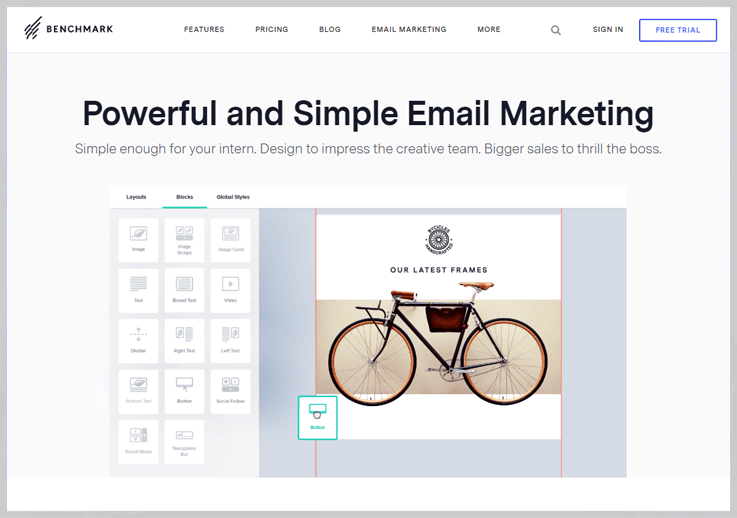 Features
Live Editor – With this feature, you can make updates to your email template on the go, and get a preview of what it would look like to your audiences.
Photo Editing – With Benchmark, you don't need Photoshop since you can edit the images using the email editor.
Code Editor – If you have special requirements for your email template, you can edit the HTML and add some features to the template.
List Management – This product provides you with an optimized email list so that you can segment your recipients on the basis of certain factors and send targeted emails.
Capturing Leads – This software effectively captures the details of customers by providing informational and entertaining signup forms.
Pricing
Free – With this beginner plan, you can send up to 250 emails for 30 days.
Pro – The paid plans start at just $11 per month, and lets you send unlimited emails. You also get access to features like A/B Testing, Data Security Pin, and Targeted Emailing.
Medium – This plan starts at $13.99 per month and lets you send unlimited emails to 600 subscribers. The price increases with subscriber count, and for 50,000 subscribers, you need to pay $254.99 per month.
Large Sender – This plan is for those who have more than 50,000 subscribers. It starts at $285.99 per month which lets you send 770,000 emails to 55,000 subscribers. The price increases with subscriber count.
5. Zoho
Zoho is one of the top Sendy alternatives out there, with features such as live analytics, automation tools, and minimalistic editors. Hence, many businesses and individuals are using Zoho nowadays for their email campaigns. Zoho tracks your emails efficiently, letting you know about the number of clicks, unsubscribes, etc. Thus, you can formulate a better campaign plan with this service.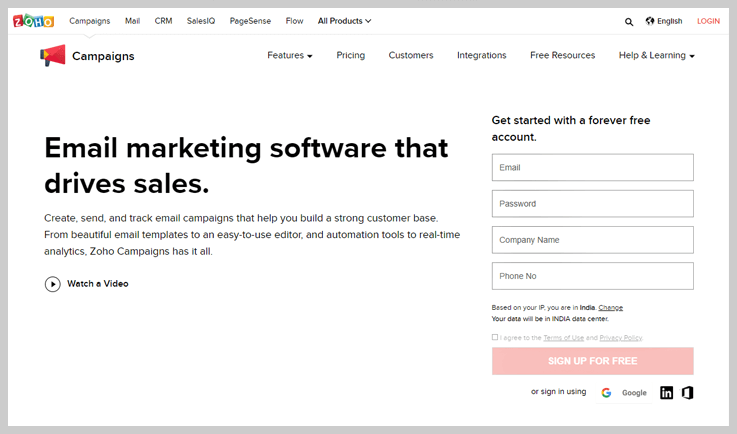 Features
Dashboard – This is one of the key features of Zoho which displays metrics such as activations, signups, ARPU, MRR, churn rate, etc.
Products Tab – Using this feature, you can set multiple plans for each product.
Customer Monitoring – You can view complete details about the customers and their activities.
Custom Reports – This feature lets you assess your business performance in the form of graphs and charts.
Flexible Campaign – With this product, it is easy to manage campaigns by setting privileges and roles for your team members.
Pricing
Forever Free – This plan lets you send 12,000 emails per month for free.
Email-based Plan – The paid plan starts at just $1.32 per month and it lets you send up to 500 emails. This can be upgraded, and you can send up to 1000 emails per month by spending a little above $2 and so on.
Subscriber-based Plan – This plan starts at $3.95 per month, and lets you send unlimited emails to 500 subscribers. The rate increases with subscriber count.
Pay by Email Credits Plan – This plan lets you pay via email credits and for $1.97 per month, you can get 250 email credits and so on.
Conclusion
Now you know about the best software options out there with which you can replace Sendy, and have a much better experience with cloud-based software. This list will help you select the best alternative to Sendy after going through all the features and the prices.
You May Also Like To Read: