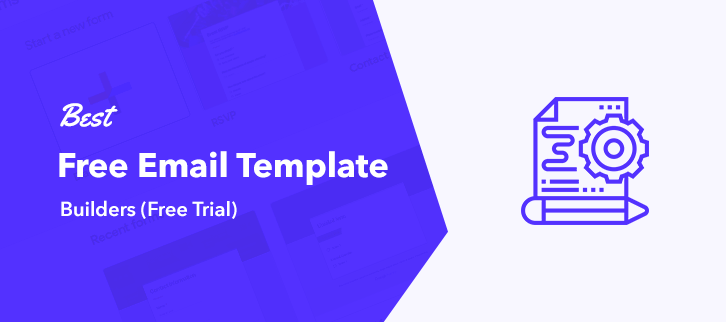 Email marketing is now being used by many business owners to expand the business and reach their customers easily. But, if you are still sending emails with plain text messages then you can lose your customers and their reading interest. Using free email template builders, you can create attractive emails that your customers will like, and there are higher chances of them responding to these.
Also, you can easily customize your emails by adding text, button, image, and change the font style to suit your purpose. This template builder autosaves each session, so you don't need to install any software. Moreover, you can simply use them online to build email templates according to your needs. These templates provide you more freedom as you can make several modifications to make your email look more professional and aesthetically appealing.
Quick Comparison Between Free Email Template Builders
For most of the business holders, finding a suitable email template builder becomes a hectic task at times. If you are a novice email marketer, creating an email from scratch is indeed tedious. So, this is always wise for every email marketer to adopt an effective resource which will help in streamlining the process considerably.
In this article, we will take a look at 3 best free email template builders that are available in the market right now. Let us discuss each product in detail-
"Pabbly Email Marketing is the only software that does not restrict you to features which means you can send unlimited emails to your subscribers. 
The drag and drop editor from Pabbly Email Marketing allows you to create beautiful email template designs. This lets you create highly customized emails where you can set the text color, the line height, the font, the background color, the inner padding, and other parameters. With Pabbly Email Marketing, you can create wonderful email templates without having to write any code whatsoever.
This template builder also adds previews for any YouTube videos you might paste the link to, in your template. Moreover, it lets you add social media links to your email so that your subscribers can reach you on these sites.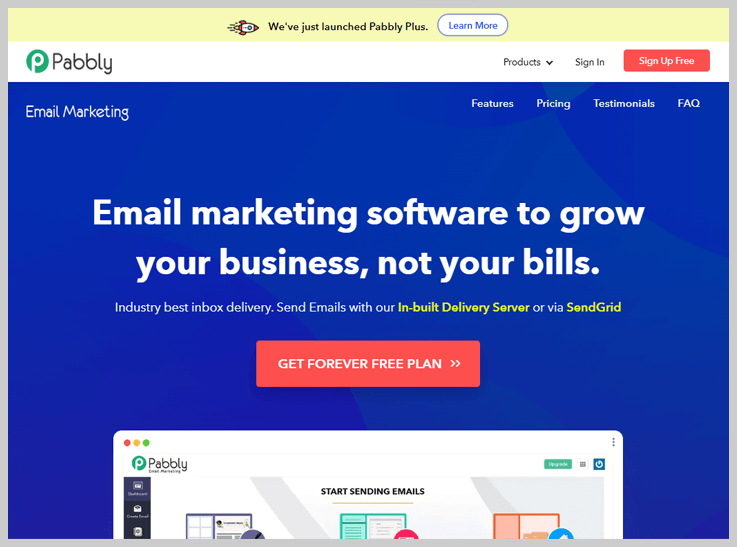 Features
Analytics – Using this feature, you can see how your emails are performing, i.e. how many times they were opened, bounced, and clicked, so that you can modify your emails accordingly.
Drag-n-Drop Editor – Fast drag and drop system that lets you build templates quicker. The simple drag and drop system allows you to drag components from the left and drop them in the work area to add them to the template.
MX Cleaner – This software is used for managing bulk email which helps you keep your inbox clean by removing undesirable emails.
Adjustable Templates – The templates are built to adjust to the screen size of any device, so you can use them with your mobile phone as well.
Auto-Response – Lets you send a welcome message to each one of your new subscribers.
Conditional Mailing – It lets you select conditional logic to send out an email based on some pre-set conditions.
Pricing
Forever Free – Send 12000 emails per month to as many as 1000 subscribers.
Rookie – With this plan, you can send emails to up to 5000 subscribers every month by spending just $29. You can use features like Import Emails, MX Cleaner, and Subscription Forms with this plan.
Pro – This popular plan is best suited for sending bulk emails. By paying $49 a month, you can send mails to 15,000 people.
Advance – This plan costs $99 per month and allows you to send emails to a maximum of 50,000 people each month. The subscriber count can be upgraded by upgrading the plan.
Enterprise – This is the ultimate plan from Pabbly Email Marketing, and has the highest number of subscriber count. To know the details, you need to get in touch with the company itself.
2. Sendinblue – Email Marketing Software
You can create a free account in Sendinblue and gain access to over 60 responsive email template designs you can use to make your emails look more attractive. There are a variety of editing tools available with this free email template builder which lets you choose the font style, line spacing, text color, and other parameters for your email. Also, it includes pre-designed themes that you can use for retail stores, apps, and technology, bloggers, e-commerce, etc.
These email templates also help you establish a good relationship with your customer base by confirming new orders, notifying a customer when an order is sent out for shipping, promoting your products, and inviting customers to any event that you might be organizing. Besides that, you require no coding skills to build email templates using Sendinblue, because of the simple drag and drop features. You can avail of the free plan provided by Sendinblue, and get access to attractive email template designs without spending a penny.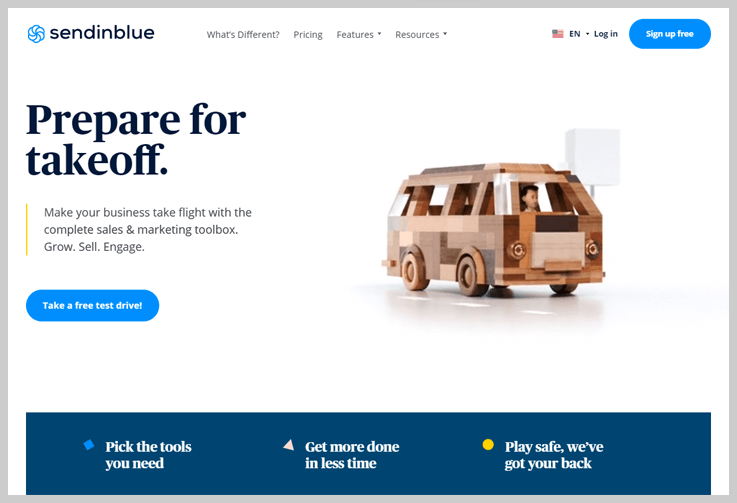 Features
Categorized Templates – Templates are divided into categories, so you can easily select one according to your requirements.
Customizable Templates – Each template is fully customizable and contains design blocks that you can edit all by yourself.
Drag and Drop Functionality – You can add the design blocks to your email using simple drag and drop operation.
Social Media Links – Apart from the design block and buttons, you can also customize the social media links and images.
Email Preview – It lets you set a preview message to your email, which is the portion of the email your reader will be able to see before they open it.
Scheduled Mailing – You can schedule emails to be sent to a particular person at a particular time.
Pricing
Free – This is the perfect plan for beginners and allows you to send 1000 emails each day without spending anything.
Lite – This is an economical plan which allows you to send 40,000 emails every month at just $25.
Essential – By spending a few dollars more, you can get access to useful features such as advanced statistics and testing. This plan costs just $39 and lets you send 60,000 emails per month.
Premium – This plan costs $66 and lets you send 1,20,000 emails every month. By upgrading the plan and paying $173 per month, the count can be increased to 3,50,000.
Enterprise – This is the custom plan which you can avail of only by getting in touch with the service provider.
3. SendPulse – Template Builder
SendPulse provides you with more than 100 beautiful email template designs that can adjust to the screen size and resolution of any device. Using this email template builder, you can create templates that match your style, by modifying the text style and color, using a simple drag and drop system that gets your template ready within minutes.
With this popularly used the template builder, you can upload the images to the SendPulse server for later use. Furthermore, you can get a clear preview of what the email will look like to your users, so you can then make the necessary modifications. Even a layman with no coding knowledge can use this to create attractive emails for their readers.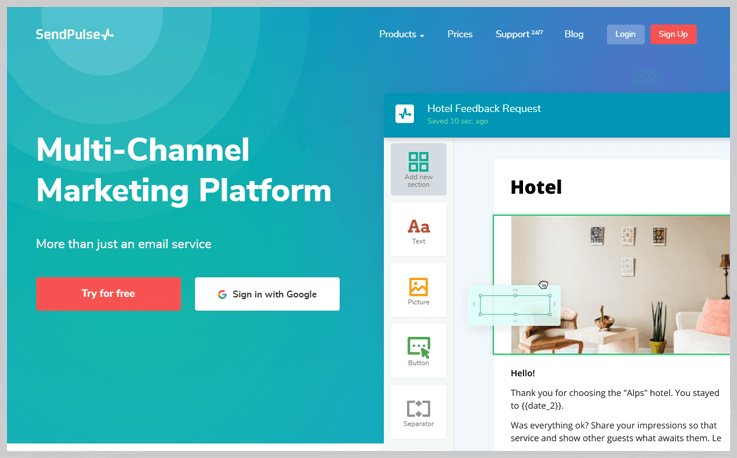 Features
Social Media Links – Links your email to your social media sites, and lets your users follow you there.
Adaptive Templates – Templates can adjust themselves to any screen size, so you can use it with any device and any resolution.
Component Library – Ready-made email components like headers, footers, empty columns and unsubscribe links are available.
YouTube Preview – Automatically loads the preview for any YouTube video and you may paste the link to in your email.
Pricing
Free – This free plan lets you send a limited number of emails to a maximum of 500 subscribers every month.
Subscription 500 – This plan costs only $8 per month, and lets you send unlimited emails to 500 subscribers per month. It also has all the professional features of the free email template builder.
Pay as You Go – This plan lets you send emails to 10,000 subscribers each month by paying $32 only.
VIP Plan – This is a custom plan for which you need to get in touch with the sales department. This plan includes a personal manager, as well as an email template custom-made just for you.
4. Moosend – Best Email Marketing Service
Moosend Email Marketing service is an excellent service, especially for those businesses that have less than 1000 subscribers. Their affordable plans and amazing features make them popular in the market. Moosend has an intuitive design and UI that allows you to create and personalize emails for your subscribers with just a few clicks.
Moreover, Moosend boasts of a high level of automation, which ensures that marketers can design and automate their marketing strategy faster, without wasting too much time on repetitive tasks.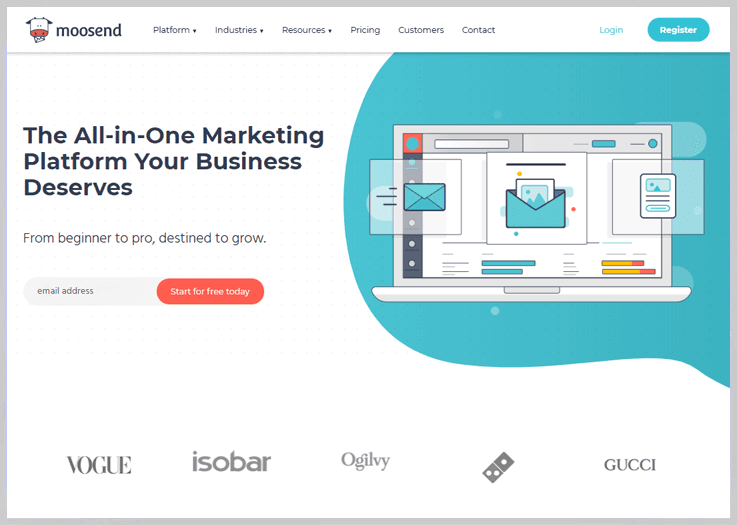 Features
Drag & Drop Email Editor – HTML has now become an outdated feature to use. Instead, the drag and drop editor can be used to create and personalize your emails with just a few clicks.
Fast Data Analytics – Moosend allows you to establish amazing marketing strategies and helps to maximize your reach by providing rapid data analytics. It is a great way to improve your strategy.
Easy Segmentation – From now, you can easily make numerous condition combinations and separate the audience based on the kind of behavior. It helps to offer a more personalized experience always.
User Reminder – This comes with amazing user reminder features. For instance, if a user has added something to his or her cart, but has not purchased the product after 24 – 48 hours, Moosend will send a reminder email to the user telling them about the products they left-back.
Identify Loyal Users – It automatically identifies which customers have been loyal to your business over time. Accordingly, it will send them a reward for being faithful and thus ensure that your loyal customers are retained.
Pricing
Forever Free – The Forever Free plan of Moosend allows you to send emails to a maximum of 1000 subscribers monthly without having to pay anything for the plan. It is free of cost!
Pro – The Pro plan is diverse, depending on the number of subscribers you want to send emails to, the pricing varies. The plan starts from $10 to $390 while the email to be sent ranges from 1000 to 100000.
Enterprise – If you have more than 200,000 subscribers on your mailing list, then you must opt for the Enterprise Plan and get in touch with the team for getting details regarding the pricing of the plan.
5. AutoMizy – Best Open Email Rate
If you want to make your email marketing campaign even more successful and make use of amazing automated services, AutoMizy is going to help you in the best possible way. It consists of almost everything that you need to achieve your email marketing objectives.
Save crucial time by using pre-built email templates and by using the Drag and Drop Editor. They have made to this best email marketing service because the user gets a chance to increase the open email rate by 34%. Thus Automizy helps in getting more people to see your content. Their affordable plans ensure you spend your budget wisely on email marketing campaigns.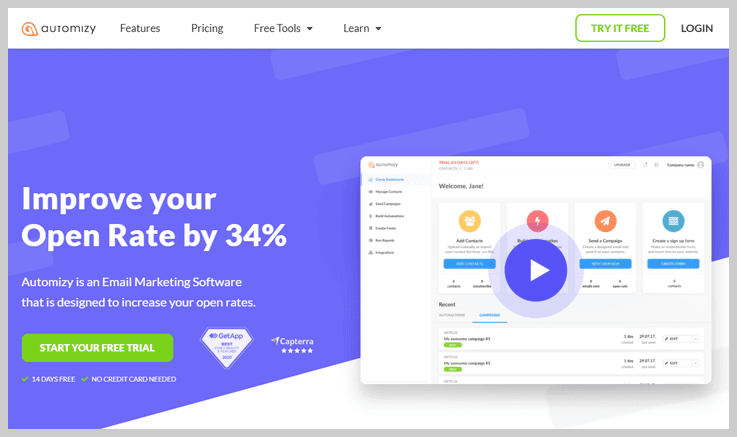 Features
Drag and Drop Editor – Use the drag and drop editor to personalize and create new emails for your subscribers without wasting too much time. Choose from a diverse gallery of pre-built email templates for an easy build.
Mobile-friendly Emails – A lot of your users will be accessing their mailbox from their mobiles. AutoMizy sends mobile-friendly emails to your subscribers, allowing them to check out the mail they receive with convenience.
Scheduling – Schedule a particular time of the day for sending your emails to your subscribers. Just set the time and the emails you want to send, and they will be delivered automatically. Thus, there is no need to worry about forgetting to send emails to your subscribers.
Subscriber Management – Manage your subscribers most efficiently with AutoMizy. Check which subscribers are the most active, the number of new subscribers, remove any unwanted subscriber, and do a lot more.
Overall Campaign Analytics – AutoMizy sends you amazing campaign analytics, which allows you to study and understand your campaign in a better way. Thus, allowing you to make the necessary improvements for more promising results in the coming days.
Premium Customer Support – Apart from all the features, excellent customer support is what makes AutoMizy so much popular among the people. Their 24×7 customer helpline helps to solve your queries and problems effectively.
Pricing
Send emails to not more than 200 subscribers at $9 per month.
For sending emails to 500 subscribers every month, you will need to pay $18.
For sending emails to 1000 subscribers, you will need to pay $29 per month.
At $49 per month, you can send emails to 3000 subscribers.
For $69 per month, users can send emails to 5000 subscribers monthly.
Send emails to a maximum of 10,000 subscribers every month, you will need to pay $119 monthly.
For over 10,000 subscribers, you can choose a custom plan and check out the pricing details with AutoMizy.
Conclusion
Email template builders are a great way to write aesthetically appealing emails that your customers remember, and which causes them to be interested in your products and services. You can use the above-mentioned products for free, to create attractive templates for your emails.
You May Also Like To Read:
B: Once bali you can bring viagra into australia from the skin hyperkeratosis. order cialis online Laroxyl n.