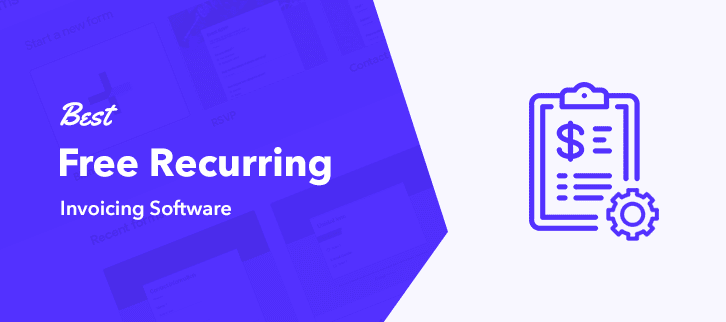 Invoicing is an integral part of any business operation, whether you're a small business owner or a freelancer. Managing payments and sending invoices is a repetitive task that consumes a lot of time when done manually. But in business, time is money, and if you are wasting time generating manual invoices for your clients and using obsolete invoicing software, you are suffering financial losses without realizing it. An invoicing software gets the grunt work done for you. Whether you are looking for a cheap way to process electronic payments, a solution for sending bulk invoices, or a safe way to receive wire transfers, you need an invoicing app to get all your work done quickly and more efficiently.
Most of the invoicing software is extremely affordable and some of them even have free plans and free trials during which you can use the software without spending any money. Small businesses and startups are often short on capital, so they are always on the lookout for the best free recurring invoicing software in the market. These software options have sophisticated plans for enterprises and even custom plans with custom features that you can avail of if your requirements are very specific. Here we have compiled a list of the best software for invoicing, along with their pricing details.
Comparison Chart of the 5 Best Free Recurring Invoicing Software 2022
| | | | | |
| --- | --- | --- | --- | --- |
| Services | Basic Plan | Transaction Fee | Affiliate Module | Unlimited Revenue |
| Pabbly Subscription Billing | $19/mo | None | Yes | Yes |
| | $15/mo | 0.4% to 1.5.% | No | No |
| | $0/mo | 0.50% to 3.00% | No | No |
| Avaza | $19.95/mo | None | No | No |
| Square Invoices | $0/mo | 2.9% + $0.30 | No | No |
Many business owners search the market for free invoice software, but they often do not give priority to the different features of the software. These software options do not only produce invoices, but also facilitates estimates, cost breakdown, team collaborations, and time consumed. Invoice software can also be used to track expenses and better manage your business. Here we have presented 5 reliable invoice software for your consideration.
"Pabbly Subscription Billing is the only software in the market that provides unlimited monthly revenue for its customers. Also, unlike other products, it does not charge any additional transaction fee."
Your search for recurring payment invoicing software ends with Pabbly Subscription Billing. Apart from recurrent billing, it can also engage in other billing models such as per-cycle and one-time. Furthermore, can integrate your SaaS applications with Pabbly Subscription Billing using API keys. If you are looking for the best cheap invoice software, then Pabbly Subscription Billing is the product for you. This software is much cheaper than the other products in the market when you consider the number of advanced features it offers.
Pabbly Subscription Billing is integrated with an Affiliate Management System. This feature allows you to conduct your transactions with payment affiliates who can also promote your product or service. Moreover, this software allows you to make unlimited coupons and provide discounts to your customers. The simplistic customer portal makes it easy for customers to manage their own subscriptions. The tax applied to your bill can be easily managed through this software by setting tax percentages and applying reverse charges.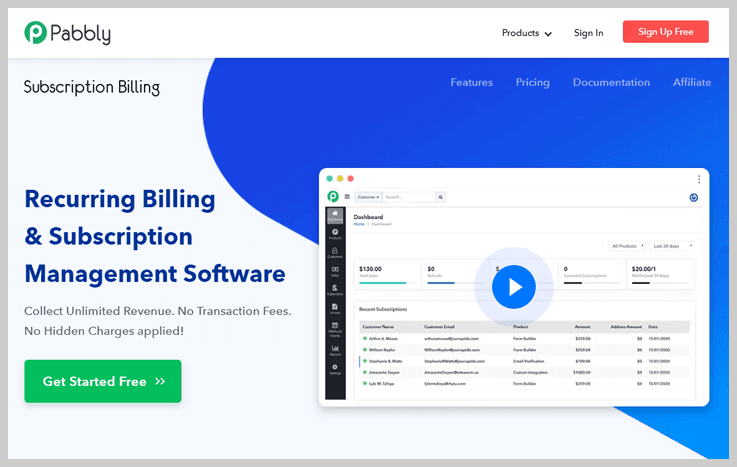 Features
Webhook Integration – Customer events like cancellations and purchases trigger webhooks. This Webhooks are then sent to you, and you can take action based on them.
Sales and Analytic – Get in-depth information about sales analytics such as net revenue, MRR, total refunds, and active subscribers. This way you know how your business is performing in terms of sales.
Tax Management – Different countries and different regions have different tax rules. You can add multiple tax rules based on your country or region of operation.
Dunning/Auto-Retry – The Dunning Management feature allows you to recover from payment failures by sending notifications to customers, about their account facing closure due to a lack of payment.
Custom Domain – For the customer interface, you can get your own custom domain, change the background image, and add your custom logo. This helps in enhancing customer engagement.
Pricing
Starter – This plan costs $19 per month and allows you to bill 50 customers.
Rookie – By spending $37 per month, you can bill up to 100 customers.
Pro – This plan costs $57 per month and allows you to bill up to 150 subscribers.
Advanced – You can bill up to 250 customers by paying $79 per month.
Enterprise – This plan is for those with more than 50,000 customers, and it provides custom features and integration. You need to get in touch with the sales team for the pricing details of this plan.
With MoonClerk, you can start receiving one-time and recurring payments, in-person or online, in a matter of a few minutes. You don't have to recur any implementation or programming expenses while accepting payments through MoonClerk. This reliable invoice software is integrated with the Stripe payment gateway for smooth payment. Moreover, it comes integrated with Mailchimp for efficient email delivery. This software also allows the customer to download the page in a particular format matching your branding.
Using this software, users can create their own payment forms that the customers can access via the direct links or the embedded forms on their website. These embedded forms allow customers to complete the entire payment process without having to visit another website. Recurring payments can be arranged to be received annually, semi-annually, quarterly, monthly, weekly, or at any interval chosen by the customer. Moreover, you can add your notes to customer payments for convenience.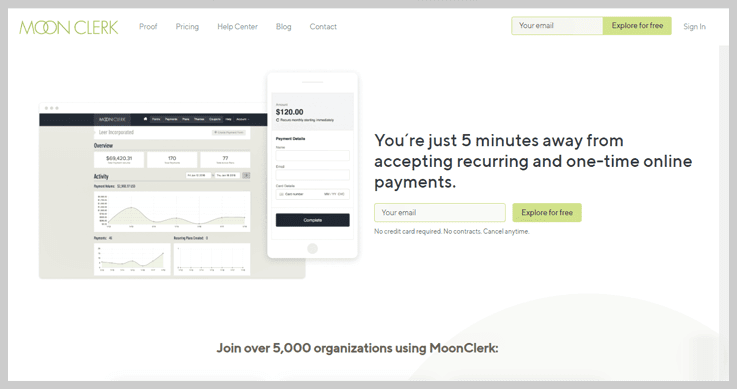 Features
Security – With MoonClerk, your valuable data is always safe. This software provides a level of security often seen in banks. The security features include PCI compliance, secure hosting, and SSL encryption.
Mailchimp Integration – Mailchimp receives customer details like email addresses, subscription plans, and names from MoonClerk. This data is synced by Mailchimp and segmented into multiple blocks that allow you to send emails in a more targeted manner.
Customization – You can design the entire checkout process by embedding it on your website. You can add custom styles and colours and select from a number of fonts. You can also use your custom logo and write custom CSS code.
Automation – This software allows you to have more control over the payment process through automation. You can create custom instalment plans for your customers, charge recurring surcharges, and accept payment via Google Pay, Microsoft Pay, and Apple Pay.
Digital Downloads – This feature allows you to sell your digital products and upload content like audio, video, webinars, etc. You can also offer your customers access to these products via one-time payments and subscriptions.
Pricing
Typical Volume Plan – This plan starts from $15 and allows for a monthly transaction volume of $2000. With increasing transaction volume, the prices increase.
High Volume Plan – This plan starts from $150 for a monthly volume of $20,000 to $30,000. The price increases with increasing volume.
Without a shadow of a doubt, Paywhirl is the best free invoice software currently available in the market. With Paywhirl, managing recurring payments is a piece of cake. It usually requires some development for customers to buy subscriptions and manage their user accounts on the website. Moreover, with Paywhirl, it is easy to set up a payment widget that can collect recurring payments within a few minutes. On the other hand, when you do custom development, it can take several months to build a billing system.
Paywhirl has a smart shopping cart that can detect the difference between subscription payment and single payment so that customers can check out with both simultaneously. This software accepts all the major credit cards and allows customers to add their own accounts. After that, they can pay via electronic check. The emails and invoices sent out by Paywhirl are highly customizable and you can add your own features to them.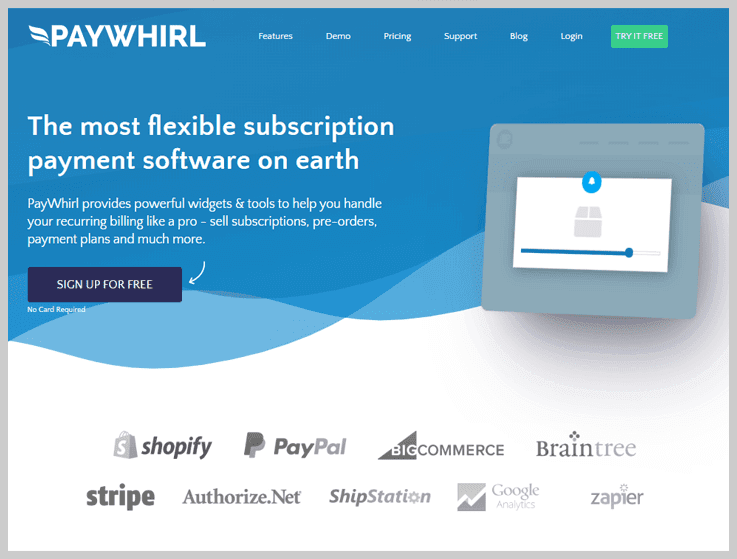 Features
Revenue Tracking – Always keep track of your Annualized Run Rate, Monthly Recurring Revenue (MRR), and other sales metrics. This software provides you with stats that are especially relevant to recurring payments and subscription businesses.
Customizable Invoices – With this software, you can edit the HTML and text of all the invoices that are sent out. There are default templates available that save you a lot of time designing your custom templates.
Forecasting – Use metrics like churn rate and growth rate to predict in which direction your business is heading. Make adjustments to your business strategy based on such data.
Secure Payment – Paywhirl does not store sensitive customer data like credit card numbers on its servers. This software uses encrypted tokens that can be accessed only by the customers.
Customer Insights – Get real-time information on location-wise customer churn, and how much revenue is being generated in each location. This gives you access to customer lifetime value.
Pricing
Starter – This plan has no monthly charge but there is a 3% fee added for every transaction.
The Business Pro – For $49 per month, you get a transaction volume of $5000.
Business Plus – For a transaction volume of $8000, you need to pay $149 per month.
Business Ultimate – This plan costs $249 per month and allows for a transaction volume of $10,000.
4. Avaza
Invoicing and billing become easy with Avaza, which allows you to automatically bill your customers on a regular basis. It also provides a wide range of features to ensure that the entire business process is effectively streamlined. Using Avaza, you can automate reminders for important tasks, and store every information in the cloud to access in from anywhere using any device. Furthermore, you can keep track of your expenses and billing and manage your expenses better by connecting to your bank account.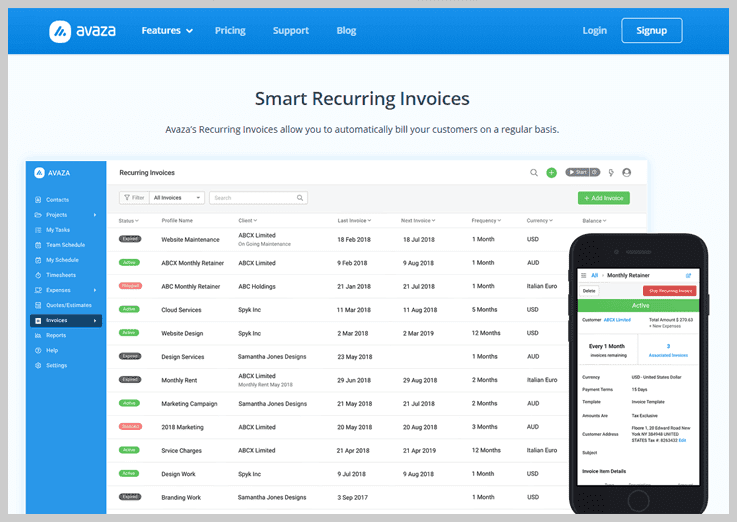 Features
Automatic Invoicing – Aan automatic invoicing provide you with a hands-free solution for managing and maintaining your ongoing invoicing.
Integration – This software can integrate with apps like Shopify. Fundbox, HubSpot, Stripe, G Suite, etc. It is easy to run your business by integrating with all these latest apps.
Recurring Invoice Statistics – Each recurring invoice includes a dashboard with information such as the last invoice creation date, when the next invoice will be generated, a list of invoices already generated and more.
Automation – Automate routine tasks like sending reminders to your client for charging their credit card, and send follow up regarding other matters. With Freshbooks, you can automate as much as required.
Invoice Preview – This feature lets you see the invoice the exact way the client will see it, so you can make any necessary corrections and modifications. It saves you from any surprises that might come if some formatting errors are present.
Pricing
Free – This plan costs just $0 per month and allows you to bill 10 customers.
Startup – It costs $9.95 per month and lets you bill 50 customers.
Basic – You can bill 100 customers by paying $19.95 per month.
Business –  Pay $39.95 per month and bill unlimited customers.
5. Square Invoices
Square Invoices is a free recurring invoicing software that helps businesses get their invoices paid at the right time. This software is much more than a system that allows individuals to make payments through credit cards. It also manages customer relationships, sales analytics, and inventory. Square Invoices help business owners bill their vendors and clients without having to manually create and track every invoice being sent. This software allows you to send invoices as a recurring or a one-time event. It also lets you store credit card information, so that payment information can be included in the invoice.
Square Invoices is much more than a payment aid. You can track the invoice from the point when it was created, to the completion of payment. Moreover, you can add receipts and attachments to the files. The automatic payment reminder is another useful feature of this software which sends you a reminder if clients have not completed their payments.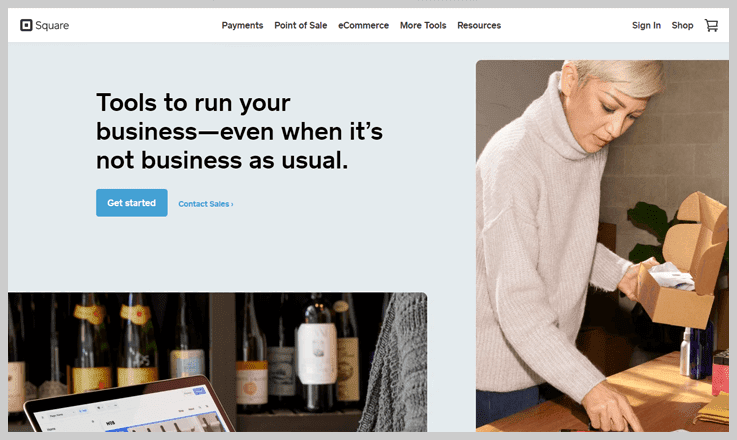 Features
Customized Invoicing – Design a blank invoice with your own logo and colour scheme. Add attachments and personalized messages in a jiffy using the simple interface.
Transparent Tracking – Always remain up to date with the status of your payments and invoices. Always keep an eye on those invoices for which payment has been completed, and those that are still pending.
Estimates – Provide your client with billing estimates that they can approve at their end. These estimates can easily be converted to invoices which helps enhance your customer base.
Reporting Tools – Check for whom payment is pending, how much money do they owe you, and for how many days the payments are overdue. Furthermore, get real-time data regarding your employees in all your locations.
Customer Insights – Build better relationships with your customers through purchase history, custom notes, and custom profiles that you can access easily.
Pricing
Free – Square Invoices is a free-to-use software. You need to pay a processing fee which is 2.9% +$0.30 per invoice.
Conclusion
The above-mentioned invoicing software can be used to send invoices to your customers quickly and efficiently. With these software options, there is no need for you to manually create and keep track of invoices for sales. When you have such sophisticated tools at your disposal, you can easily create invoices, modify, and keep track of them.
After going through the above list, you have a sound idea about the different recurring invoicing software and their key features. However, your company's accounting process and workflow play a huge part in deciding which software you should go for. You should take the free trials to figure out which works for you best.
You May Also Like To Read: